In Loving Memory of
K9 LEO
December 13, 2010

Handler: Ofc. T. Roberts
Fort Worth Police Department
add:

Fort Worth Police Dog Dies
The Fort Worth Police Department is mourning the loss of one of its service dogs."Leo," died on Monday after developing a gastrointestinal blockage following incurable tumor development, veterinarians said. The decision was made to put Leo to sleep. Leo had been with the Fort Worth police department for nine months, and was handled by Officer T. Roberts. K-9 dogs are trained for tracking, searches, drug detection, suspect apprehension, and handler protection. The dogs used by the FWPD are specially trained at an elite facility in Germany, and cost around $3,500. They continue their training each week with their handlers. "Leo was a great asset to our department. He loved the job and he loved his handler. We are deeply saddened and our hearts go out to Officer Roberts and our K-9 Unit," said Chief Jeffrey Halstead.
By Alice Wolke | MYFOXDFW.COM
Click here to learn more about the Fort Worth PD K-9 Unit.
At the K-9 training facility located on the grounds of the Training Academy sits a donated tombstone dedicated to the canines that have loyally served the department. The first dog buried at the site was "Tex" the canine partner of Officer Bob Denton, one of the first K-9 officers, with "Bandit" canine partner to Reserve Officer Jim Ewing as the second dog to be buried there. The K-9 unit began as part of the Burglary Prevention Unit in May, 1962 with three handler/canine teams and the first call was to the Williamson-Dickie building. By 1969, the unit had grown to nine handler/canine teams, and training was done at the Water Department off N. Forest Park on an obstacle course built by the officers using their own funds.

In 1976, the K-9 unit was disbanded by then Chief of Police A. J. Brown. Although no longer a unit, the officers continued to train with their canines and even assisted Stephenville in searching for two convicts that had escaped from an Oklahoma prison. After 45 days, the citizens of Fort Worth made a strong appeal to the city council to reinstate the K-9 unit, and it has been in existence since that time.

Today, the K-9 unit is located at the North Division headquarters. Each K-9 officer is responsible for a patrol division to assist other officers. The normal duty hours are 2100 hrs. to 0500 hrs., seven days a week; however, each officer has a pager for 24 hour call-back. The unit is supervised by a sergeant.

Before being selected for the K-9 unit, each canine is thoroughly tested to determine its natural prey drive, play desire, courage, and socialization. The best age for training is two years old. Until 1988, the officers had to rely on donated dogs from citizens or purchase their own dogs, often costing over $3,500. Today, many of the dogs are imported from Germany and are specifically bred for police work. The handlers assist in the selection of the dog so that the officer can better form a strong bond with the animal. If the officer is new to the unit, the officer will use this bonding time to build a special kennel at their home for the dog and will take 40 hours in an emergency aid and care maintenance course put on by the K-9 unit veterinarian. One of the most difficult facets of the handler's training is learning to understand what the dog is trying to communicate to the handler; the dogs cannot lie but they can cheat, so communication is through body language, and this can be difficult to learn.

Training of a new dog and handler lasts anywhere from eight to ten weeks with two weeks consisting of street-type situations. Besides basic obedience, canines are trained in tracking, building and outdoor searches, narcotics detection, apprehension, and handler protection. Most of the commands to the canines are in German and the canines train around other canines, humans, traffic, gunfire, and any other conditions they may encounter in real situations. Complete control of the dog by the handler is a must. Dogs use their sense of smell for searches and are able to cover a larger area much faster and more efficiently than a team of officers. The training of the dogs is an on-going process that continues as long as the dog is a working member of the unit. The handler/canine team is required to have at least four hours of continuing training each week.

Since the beginning of the K-9 unit, only two handlers have been wounded by a suspect. The most recent was on October 2, 1998, while tracking a man suspected of shooting a Department of Public Safety officer, Officer Brad Thompson and his K-9 partner, Argo, were fired upon by the suspect. Both Officer Thompson and Argo were hit. Officer Thompson was saved by his bulletproof vest. Argo received the best care possible; however, on October 3, Argo died from his injuries. Argo is credited with saving the lives of the other officers that were on the scene. Because of his actions, Argo was awarded the Police Cross and the Medal of Valor.

Another officer, Z.S. Eads would have been shot had it not been for his partner, Ring. Ring was awarded the U.S. Police Canine Association Medal of Honor for saving his partner's life.

Tragedy struck on September 24, 1998, when Officer Ken Robertson's K-9 partner, Canto, was overcome by smoke from a small fire in the patrol vehicle and despite extraordinary efforts from officers on the scene, Canto did not survive. He is buried in the K-9 cemetery on the Police Academy grounds. These outstanding K-9 partners gave their best to their partners, the department, and the citizens of Fort Worth.
K-9
Most officers will agree that when faced with having to search a dark building for a dangerous suspect, they feel a little safer when the K-9 unit drives up on the scene and the dog enters the building first. It is difficult to know how many officers have been saved from possible injury or death because of the dogs. Many times just driving up in a K-9 vehicle is all that is needed to defuse a potentially hostile situation. submitted by Jim Cortina, Dir. CPWDA
---
In Loving Memory of
K9 Lydia (MWD)
August 29, 2010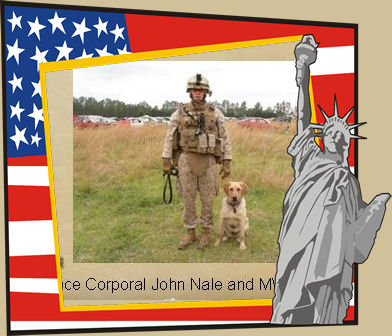 US Marine Canine Corporal "Lydia" was killed in action on August 29, 2010 while deployed
to Afghanistan with the 1st Battalion/11th Marines India Battery.
ubmitted by Jim Cortina, Dir. CPWDA
---
In Loving Memory of
K9 LOGAN
November 17, 2010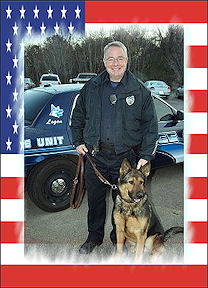 Handler: Police Officer Mark McDonough
Coon Rapids Police Department
11155 Robinson Drive Northwest
Coon Rapids, MN 55433-3761
(763) 767-6481
The Coon Rapids Police Department no longer has a canine unit.
Logan and his handler, Coon Rapids Police Officer Mark McDonough.
Logan, the department's lone police dog, was found dead in his kennel at the home of his handler, Officer Mark McDonough Nov. 17. He died in his sleep, McDonough said. "Logan's death was a big shock and we have no idea as to the cause," he said. "He was eight years old and very healthy." He had scheduled Logan for an appointment with a vet that day because he was having a problem with one of his paws, but he had been on duty with McDonough the day before and had not missed any time, according to McDonough. "Logan had been in the house the night before playing and was happy as a loon," McDonough said. A canine officer for 18 years, McDonough said that Logan's death was a personal loss. "I was closer to Logan than any of the other dogs I've had," he said. Logan's death was completely unexpected and a great loss for the police department, according to Coon Rapids Police Chief Tim Snell. In June 2009, Coon Rapids' other police dog, Rohm, died from cancer, but he had been in ill health for a couple of months. That dog has not been replaced. Snell hopes it will be possible to continue the canine unit by bringing in a new dog to replace Logan, he said." He was an excellent police dog and very well trained by Mark," Snell said. Police dogs not only catch criminals, they also help to keep officers safe at crime scenes and are great public relations tools for the department through demonstrations, he said. "Mark is interested in continuing to be a canine officer," Snell said. "I hope we won't be without a police dog for too long." McDonough, too, believes the city should replace Logan, and Rohm, too, to keep the canine unit operating, he said. "Coon Rapids was one of the first departments to have a police dog in 1966," McDonough said. "I hope we never lose that." Logan was the third dog that McDonough, who has been a police officer for 27 years, has trained in his canine officer career. The others were Mac and Razor. Logan, who was born in the Czech Republic, joined the Coon Rapids Police Department in 2004.McDonough is a close friend of a man in the Czech Republic – Rohm came from the same breeder – who breeds dogs for law enforcement purposes near the Czech capital of Prague. McDonough has also helped facilitate the purchase of other police dogs from that breeder for other law enforcement agencies in the state as well as help train them when the dogs arrive in this country. "Logan was an excellent, very, very effective police dog who caught many criminals," McDonough said. Earlier this year, it was Logan who tracked a suspect in Fridley, who has now been charged with a series of sexual assaults on the elderly, according to McDonough. "We were called in when an 82-year-old man was sexually assaulted in his home and Logan tracked the suspect back to his residence, which was in the same neighborhood," McDonough said. But the man was not charged right away because he passed a polygraph test, he said. "But I knew Logan had the right man," McDonough said. And that was borne out when a DNA match was found and the suspect was charged, he said. In the past two weeks, Logan also tracked a suspect who had fled from a stolen car for three blocks before apprehending him, McDonough said. And McDonough credits Logan with saving his life late last year when the pair were tracking a man with outstanding warrants who had run from a Coon Rapids home as officers arrived to arrest him. According to McDonough, when they caught up with the man, he produced an arrow and came at McDonough, but Logan attacked the man before he could use it. "I would be dead, but for Logan," McDonough said. One of Logan's more memorable apprehensions came in 2006 when he successfully tracked two suspects for a mile in a swamp in what is now the city of Columbus. Like other canine units, McDonough and Logan were on call all over Anoka County and the Twin Cities area. Logan also did very well in police dog trials. In 2007, McDonough and Logan placed 15th in a field of 132 teams in the United States Police Canine Association's national police dog trials in Florida. As well, Logan and McDonough placed second and third in obedience and suspect search, respectively. In addition to his success apprehending criminals and in police dog trials, Logan was also a great at public relations for the police department, especially interacting with children at police dog demonstrations, according to McDonough. "He was built like a bear and was excellent catching bad guys, but he had the gentlest demeanor and was wonderful with children," McDonough said.
"His death is like losing a police officer."
submitted by Jim Cortina, Dir. CPWDA
article by: Peter Bodley is at peter.bodley@ecm-inc.com