In Loving Memory of
MWD K9 GRIEF
October 24, 2010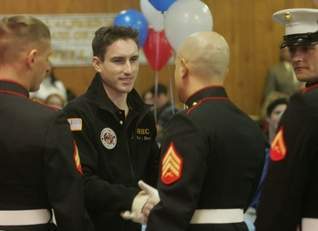 Handler: Marine Lance Cpl. Al Brenner
Jackson, NJ
Injured Marine Canine Handler who lost his K9 receives welcome home

"I got knocked out by the force of the blast. It was a little like dying. I saw a light, then after I regained consciousness, I realized I was alive but my dog was hurt badly," Brenner said. Brenner was rushed to Kandahar Hospital, then to a hospital at Bagram Air Force Base in Afghanistan. He was finally sent to the National Naval Medical Center in Bethesda, Md., where he underwent numerous surgeries and skin grafts. He suffered severe flesh wounds to his arms and legs, a fractured right arm and he lost the pinky finger on his left hand.
His dog, Grief, died from wounds suffered in the explosion. On Sunday, Brenner was the guest of honor at a welcome-home party at Fire Station 55. More than 300 people turned out. Brenner, who gave a speech about his experience, said he was humbled by the standing-room-only crowd at the firehouse. "It was freezing cold, and there were people standing outside the door listening to my speech," he said. "It was incredible." Jackson Mayor Michael Reina said the party had been months in the planning.
"We can't do enough for our soldiers," said Reina. "The welcome homes are all organized by volunteers. I wish we had the money to fund it, but we don't. So many businesses in the community are gracious enough to send donations for the welcome home. "Our community is behind the soldiers. We want them to know we are there for them and we can't do enough for them. This is who we are. This is Jackson," Reina said. Brenner joined the Marines even though no one in his family had been in the service. "It was a surprise to us. I asked him why he did it, and he said, "Because I can,' " said his father, Al Brenner.
"He was always a very determined person." Brenner enlisted after graduation from St. Rose High School in Belmar. He is attached to the 1st Marine Expeditionary Force, Marine Headquarters Group, Military Police, K-9 Platoon. "I was a high school senior, and I didn't know what I wanted to do," he said. "So I went to the recruiters and I picked the Marines because they were the first door on the right." Brenner said he enlisted for the college benefit. The Marines sent him first to Camp Pendleton, Calif., for boot camp.
After that, Brenner went to military police school in Missouri and, later, was selected for K-9 training in San Antonio. "So I haven't been to college yet," he said. Brenner said he volunteered to work with the K-9 unit. "It's a selection process. Of the people who volunteer, only 5 or 10 percent ever go on to become canine handlers," he said. His dog, Grief, a German shepherd, was assigned to him. Brenner said he wasn't certain Grief would work out as a Patrol Explosives Detection dog. "He wasn't attentive and he wasn't listening to commands at first," Brenner said. "Then he started to come around."
Brenner deployed in June 2010.After the explosion, he called his wife, Megan, 20. She was at dinner with Brenner's parents, Al and Tracey. "That was my first call, to my wife to let her know," he said. "It worked out well in timing because she was with my parents." Brenner continues to undergo therapy as an outpatient at the hospital in Bethesda. He said more surgeries are scheduled for February and March. His brother, Sean, 20, also recently enlisted in the Army and is in boot camp now. Brenner said his brother also enlisted for the college benefits and to follow in his brother's footsteps.
Brenner, who is living in New Egypt with his wife, plans to travel back to California to Camp Pendleton after his surgeries. Brenner said he won't return to the same explosive detection duty. "I'm not going back out searching for bombs," he said. "But I can go back and help others learn how to do it more safely, look out for more things and not have happen to them what happened to me." Brenner credited his wife with helping his recovery. "For a while, she had to do everything for me when I came back because I couldn't do anything," he said. "And she's so young.
She's just 20. She's one of those people that is able to do so much. I can never thank God enough for giving me such an amazing wife." Brenner said the explosion and his injuries have also given him a more focused outlook on life. "I remember laying on the ground and I realized they were taking off my boots, so I realized that I still had my feet," Brenner said. "You realize you're alive. And I believe that everything happens for a reason. There's nothing I regret."
submitted by Jim Cortina, Dir. CPWDA
---
In Loving Memory of
K9 GERTIE
December 2, 2010



Handler: Keith Wilke
Harris County Sheriff's Dept.
Harris, TX
Harris County K-9 "GERTIE" passes away at 13 years of age on June 15, 2010. "GERTIE" was a great pet, friend, and loving K-9. She was used in schools for drug education and responsible for seizure of thousands of dollars and large quantities of illegal narcotics. "GERTIE" left Houston, Texas Task Force at the age of 8, and was enjoying her family until her passing. "GERTIE" will be missed by the S.O. and always remembered by Keith and the Wilke family.
submitted by Jim Cortina, Dir. CPWDA
---
In Loving Memory of
K9 GRIFF
August 4, 2010
Handler: Deputy Brian Miller
Stafford County Sheriff's Office
1225 County Road 630
Stafford, VA 22554-7108
(540) 658-4400
WEBSITE - http://www.staffordsheriff.com/
(cannot find any data on K9 Griff)
submitted by Jim Cortina, Dir. CPWDA
---
In Loving Memory of
K9 GINO
August 10,2010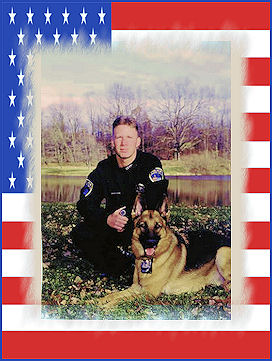 Handler: Officer Dominic Perella
Cuyahoga Falls Police Department
2310 2nd Street
Cuyahoga Falls, OH 44221-2583
(330) 928-2181

Cuyahoga Falls -- A police officer is mourning the loss of a partner with whom he shared his home for nine years, even after his partner retired. Falls Police Officer Dominic Perella was the handler of a police canine named Gino that had to be put to sleep in August due to serious health problems. Gino was a big German Shepherd, Perella said, weighing between 95 and 100 pounds in his prime. Because he was a tall dog, he said, Gino looked leaner than what he really was. Along with his size, Gino had an intimidating bark. "It's part of the function of a police dog," Perella said. "It's a deterrent."
Police dogs, however, are not trained to be mean to scare people, Perella added. "In that breed [the German Shepherd] is a lot of confidence and a strong drive to please the master, a desire to have a purpose," he said. Many people have the misconception that a police dog is mean and vicious because it was mistreated. "In fact, it's the exact opposite," Perella said. "That's a dog that is proud to be doing what it's doing, because it wants to, and it loves what it's doing."
Perella said canines are very protective of the police car. If anyone besides the handler, other officers included, gets close to the vehicle, Perella said the dog will "go absolutely crazy," barking and stamping its feet, causing the car to shake from side to side. At home, Gino was a normal dog that craved affection, Perella said. Gino often curled up next to guests in the Perella home and wanted to be petted.
"They couldn't believe he was the same dog," he said. "Most of the guys I work with who only saw Gino at work, absolutely could not fathom that he could be the dog he was at home, which was pretty much a regular dog," Perella said. "There are a lot of guys who probably had a heart attack when they got anywhere near my cruiser when Gino was inside."
Trained to find things:
Perella said Gino was trained for article search. Gino could find things that were once handled by a person, as long as it wasn't outside in the elements long enough for the lingering scent of a human to dissipate. Once Gino found an article with a human scent, he could indicate to Perella where it was. Several years ago, Perella and Gino were called to assist officers in searching for a loaded gun they suspected a man threw away while he had been fleeing from police on a bike. Perella said it wasn't long before Gino found the weapon. Unlike what is often seen in movies and on television, Perella said, a trained canine does not sniff something belonging to the suspect before they begin an article search. The dog is trained to locate anything with a human scent. In another incident, Gino was able to find the knife used in a stabbing several hours after the suspect got rid of it. "It was down deep underneath the blades of grass ... I stooped down close to the grass, and there it was. There was a knife with blood on it."
Hard to say goodbye
Perella worked with Gino from 2001 until 2006 when Gino retired. Six months after his retirement, Gino started to limp. The veterinarian determined Gino had an advanced case of osteoarthritis, which had been progressing for the last 18 months, as well as a spinal disease. For about a year, Gino had been working despite pain and inflammation in his joints, never letting on because of his desire to perform and please his handler. "A regular dog would have shut down and not gotten off the floor ... but with the strong drive he had, he wanted to do things," Perella said. "He did not want to just be a lay-on-the-floor type of dog." Although Perella gave him daily doses of medication, Gino's arthritis got worse. One night when Perella told Gino it was time for bed, Gino jumped to his feet and fell down. Each time he tried to stand, his legs shook and he flopped back down on the floor. Perella carried the dog upstairs to bed and gave him an extra dose of medicine, hoping he'd be better in the morning.The next morning, Gino still couldn't stand on his own. After talking it over, Perella and Gino's trainer, Sgt. Perry Tabak, decided that because he was in pain and only getting worse, euthanasia was the only answer. Gino, who had turned 12 in April, was put to sleep on Aug. 10. "That was one of the toughest things I've ever been through in my life," Perella said, "and something I'll never, ever forget." "He was in a lot of discomfort," said Tabak, who raised Gino from a puppy. "It would have been selfish to keep him around any longer."
Perella noted that he was not good with dogs before he met Gino, and Gino was patient with him as Tabak trained them to work as a team. Perella said he gets emotional when he thinks about his nine years with Gino, and having to say goodbye to such a loyal friend. "Whatever I would have asked him to do, he would have done," Perella said. "And he would have protected me from any threat. All he wanted in return was to be loved and be with me. He didn't have to accept me as his master, but he did." E-mail: swiandt@recordpub.com
---
In Loving Memory of
K9 GOTTO
July 13, 2010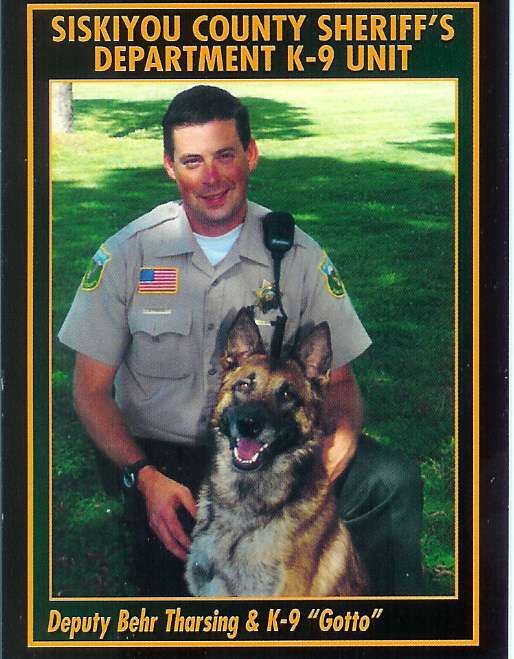 Handler:
Deputy Tharsing

Siskiyou County Sheriff's Office
305 BUTTE STREET
YREKA, CA 96097
PHONE (530) 842-8300

Siskiyou sheriff's dog shot
A Siskiyou County Sheriff's dog was shot and killed early Tuesday after escaping from his pen to romp in a neighbor's yard. Gotto, a 12-year-old 80-pound Belgian Malinois shepherd, had worked eight years as a sheriff's dog. He was a month from retirement, according to a press statement. Gotto helped deputies find missing persons and track down suspected criminals. He also specialized in sniffing out drugs, once finding 3 ½ pounds of crystal meth, according to the press statement.
An unidentified Montague man arriving home early Tuesday morning found Gotto in his yard. The neighbor's own dog was in heat and he had sheep on his property, Sheriff's Capt. Jim Betts said. The neighbor, who did not recognize Gotto as a police dog, tried to get him to leave. But the dog would not obey and became confrontational, Betts said. The neighbor felt threatened and shot Gotto, said Betts.
That same neighbor later brought Gotto to law enforcement authorities after learning his identity, he said. The sheriff's department is not releasing the man's name, citing the sensitivity of relations between neighbors, said Betts. The sheriff's department, judging the shooting an accident, will not press criminal charges, Betts said.
*******************************
MORE about K9 Gotto

Gotto is a three-year-old Belgian Malinois from Czechoslovakia. He has been working for the Siskiyou County Sheriff's Department since June of 2002. Gotto is cross trained in patrol work, narcotic searches, tracking, and handler protection. Deputy Tharsing and Gotto patrol the northern area of Siskiyou County. Together they routinely conduct building searches, area searches, vehicle stops, and the service of arrest and search warrants. When Gotto is not working, he lives at home with Deputy Tharsing and enjoys playing with his two best friends, Blaze and Arson, who are Dalmatians. Deputy Tharsing and Gotto both attended the Mar-Ken International Police K-9 School in Santa Cruz.
PERSONAL MESSAGE

"Gotto would like to thank all the citizens of Siskiyou County who donated their time, effort, and money to support the K-9 Team. With such generous support we will continue to be one of the strongest K-9 Teams in Northern California
.
submitted by Jim Cortina, Dir. CPWDA
---
In Memory of
K9 GAGE
July 13, 2010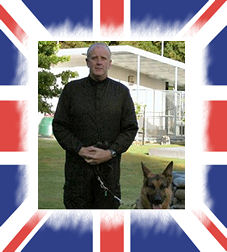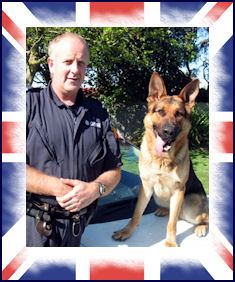 Handler: Constable Bruce Lamb
Christchurch, New Zealand
Canterbury District
Police dog 23rd killed while on duty
A police dog lies dead following a confrontation with a gunman in Christchurch - Source: NZPA

A six-year-old police dog shot dead in Christ Church today was the 23rd dog to die in the line of duty.
Two police officers were also shot during a routine check at a Buccleugh St. house in suburban Phillipstown this morning.
Senior Constable Bruce Lamb, a 51-year-old senior constable dog handler with 32 years of experience in the police force, was shot in the jaw and is in a serious, but stable condition. Also; Constable Mitchel Alatalo,
a 39-year-old constable, who has three years experience in the police, was shot in the leg and is also in a serious but stable condition.
The dog, a German shepherd named Gage, died at the scene and was left in the middle of the road until the incident was over. Six other police dogs have been shot dead on the job.
The New Zealand Police dog section was set up in 1956 and played and integral part in everyday policing, the NZ police website said. "Over the years the Dog Training Centre (in Porirua) has developed an enviable record for its expertise. The quality of the training provided is recognised internationally."
The last police dog to die in the line of duty was three-year-old Enzo, which was drowned during a manhunt in the lower Kaimai Ranges in August 2007.
submitted by Jim Cortina, Dir. CPWDA Dir.
update - more
"A senior constable was shot in the face, another police officer shot in the leg and a police dog killed when a routine operation became a shooting drama in Christchurch today. Canterbury District Commander Inspector Dave Cliff said the two officers who had been shot were senior constable Bruce Lamb, 51, a dog handler, the second was Constable Mitchel Alatalo, 39.Lamb was undergoing surgery after being shot through the jaw, which was shattered in four places. Alatalo was shot in the thigh left but the bullet has passed though the leg. "The bullet has come very close to the femoral artery if that had hit that the results could have been tragic," said Cliff.Six-year-old German shepherd police dog, Gage, was also shot and died at the scene.Police stormed the house on Buccleugh St and took a man – handcuffed with his face covered in blood and his shirt and trousers torn – away in a police car. A second man has also been arrested. Police say a 34-year-old man is being questioned…"

Police dog Gage farewelled

Published: 5:15PM Friday July 16, 2010 - Source: NZPA

Police dog Gage - Source: ONE News

The police dog shot dead in Christ Church this week was farewelled this afternoon. Senior Constable Bruce Lamb, his family and other police said goodbye to Gage in a private ceremony. The dog was killed when Lamb and colleague, Constable Mitchel Alatalo, were shot after entering a dwelling in suburban Phillipstown. Both men, taken to hospital, were discharged yesterday and have made good recoveries. A police statement said the short service was a chance for Lamb to say a final goodbye and words to his "courageous good mate who has worked alongside him for the last six years".The farewell was also attended by handlers from Customs, Corrections and Aviation Security Service who have strong ties with police dog sections throughout New Zealand.Gage, pedigree name Trentham Gage, was the 23rd police dog killed on duty. "Gage was a dog with character who was strong and keen to work," said Sergeant Alastair Sim, acting head of the Christchurch police dog section. Sim said Lamb and colleagues appreciated the many messages they had received. "We know that people would have liked to attend the ceremony but this had to be a quiet moment for Bruce, his family and for those of us who worked alongside Gage." Gage's body, wrapped in a New Zealand police flag for the service, will be cremated.
update - more
Police Remembrance Day falls on September 29, the feast day of the Archangel Michael, the patron saint of Police.

Search and rescue dogs which helped search for trapped people in rubble after the Christchurch earthquake will be among the canine heroes recognised at this weekend's national dog show. All New Zealand dogs that have behaved in an outstanding way will be celebrated as part of the 125th New Zealand Kennel Club National Dog Show at Manfeild from April 29 to May 1. The dogs being celebrated include police dog Gage, killed in the line of duty in Christchurch last year, and the urban search and rescue dogs. Kennel Club's director and secretary Richard Brown said having the USAR dogs that performed so dutifully after the earthquake would be extra special. "It seems the opportune moment to celebrate and focus on the urban search and rescue dogs, when we also present a Canine Heroes certificate for Gage." This year 2500 dogs are set to take the stage at the show for the judged events including breed, agility and obedience competitions. The overall winner of the main show goes to the world's premier dog show in England. Manfeild chief executive Heather Verry said the show had become one of the big events at the facility. "This is our third year as the show host and we've seen it grow from strength to strength." The weekend's programme also included the Dancing with Dogs Saturday night public show. "There's a lot for the public to see and with this show being held during the school holidays, I'd imagine that we'll see more people coming along," Mr Brown said. "Dancing with Dogs was very successful for us last year. "If you're interested in dogs and you want to see what's out there then you want to come during the day. It all gets pretty serious on the Sunday with judging for the overall winner." The Young Kennel Club junior dog handlers event will also be held at the Feilding stadium on April 28. "Thursday is probably when you'll see the biggest mix of dogs. Again, it's very busy but also a great chance to see a lot of action." This is the third year the show has been held at Manfeild stadium. The shows are traditionally staged in October but this year's event was moved forward to April to avoid a clash with the Rugby World Cup.
UPDATE:
---
In Loving Memory of
K9 GRIEF
June 21,2010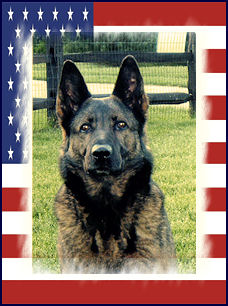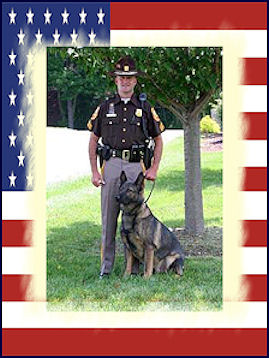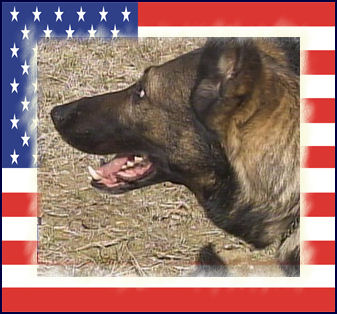 Handler: Cpl.Anthony Scelsi
New Castle Delaware Police Department
3601 N. Dupont Hwy.
New Castle, DE 197200

K9 Greif had advanced stage of cancer and the humane thing to do was put him down and out of pain. He was only 8 years old, needless to say his handler Anthony is very distraught. More information will be posted.
submitted by Dawn Lanham

(Previous information about Greif)
Corporal Anthony Scelsi and his canine partner "Greif" successfully tracked and located a victim who was in serious danger after he walked away from his Mannette Heights home early Sunday (2/15) morning. The victim's wife called 911 after she awoke in the morning and found her husband missing. At 5:23 a.m., several county police officers responded to the area of Ethel Circle for a report of a male subject (who suffers from dementia) who walked away from his home wearing only his pajamas. Corporal Scelsi and his partner Greif responded to the home to provide canine support as officers began searching the area. Canine Greif "scented" items that belonged to the victim and then immediately began tracking from the driveway area of the home toward Limestone Road. After several hundred yards, Grief took a sharp right turn and crossed over both of the north and south bound lanes of Limestone Road. On the other side of the highway, Greif found the victim's slippers and cane in the driveway of a home in the 1900 block of Limestone Road. At approximately 5:53 a.m., the canine and his partner located the victim near the front door of a residence. He was suffering from injuries to his hands and effects of exposure to the cold, but otherwise appeared to be in good condition. He was transported to the Christiana Hospital for treatment.
More to come regarding service
---
In Loving Memory of
K9 GASTON
September 7, 1998 - April 15, 2010

Handler: John Mahon
Southington Police Department
69 Lazy Lane
Southington, CT 06489-1763
Ph: (860) 378-1600
WEBSITE - http://www.southingtonpolice.org/Start.html
First Southington police K9 passes away
The police department announced Wednesday the death of the town's first police dog Gaston after nine years of service. The police department announced today the passing of the town's first K9 officer, Gaston. At 12 years old, Gaston retired earlier this year after serving nine years in the department netting more than 100 arrests. Gaston passed away at the home of his partner/trainer Officer John Mahon. He was awarded several commendations in his time of service with the PD. Gaston was born in the Czech Republic, got trained in 2001 and then earned certified by the North American Police Work Dog Association and the Connecticut Police Work Dog Association. Gaston specialized the detection of narcotics, criminal apprehension, tracking, evidence recovery and building searches. Gaston had participated in numerous school and public demonstrations and was a member of the Central Region Emergency Response Team. Over the past couple of months Gaston had been adjusting to life as a pet in Mahon's home. Mahon said in the past that along with his wife and three chidlren, Gaston was a big part of the family. submitted by Jim Cortina, Dir. CPWDA

MORE:
K9 Gaston......We will miss you
It is with deep regret that the Southington Police Department announces the passing of K-9 Gaston. Gaston passed away at the home of his partner/trainer Officer John Mahon. Gaston was twelve years old. Gaston will be greatly missed as he was the first Southington Police K9 and his service to the Department was outstanding. He was awarded several commendations in his time of service with the PD.

Gaston was born in the Czech Republic on 9-7-98. He was trained in January of 2001, and then certified by the North American Police Work Dog Association and the Connecticut Police Work Dog Association. Gaston specialized the detection of narcotics, criminal apprehension, tracking, evidence recovery and building searches. Gaston assisted with the apprehension of many felony and misdemeanor suspects and located several missing persons. Gaston had participated in numerous school and public demonstrations. Gaston was also a member of the Central Region Emergency Response Team. Our condolences also go out to Officer Mahon and his family on the loss of their loyal family member.

---
In Loving Memory of
K9 Sgt. GORDO
April 7, 2010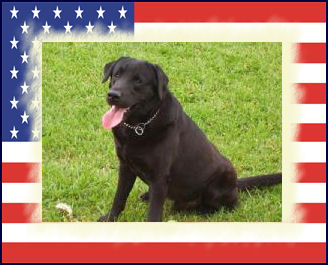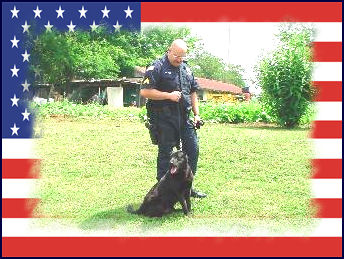 Handlers:
Officer Jeremy Legan & Officer Ryan Albaugh
Decherd Police Department
201 South Diagonal Street
Decherd, TN 37324-3183
(931) 962-1675

Officers Investigated After K-9 Found Dead - 1 Officer Has Resigned
Two police officers in Franklin County are under investigation in the death of a police dog.
The Franklin County Sheriff's Department is investigating the death of a K-9 officer. According to Decherd Police Chief Ross Peterson, Sheriff Tim Fuller has been asked to assign an investigator to handle the death of the Decherd Police Department's K-9 officer.
The K-9 was found dead on April 7 at around 4:07 p.m. "I ordered that the K-9 be immediately be sent to the veterinary office for investigative purposes," Decherd Police Chief Ross Peterson stated. Chief Peterson stated that the Decherd Police officers and city officials are very saddened with the situation.
"The sheriff's department investigators will have the complete support and cooperation of all Decherd Police Officers in this investigation," the chief stated. He stated that he realizes the investigation will take time.
Two Decherd Police Officers have been suspended from their duties without pay pending the completion of the sheriff's department's investigation.

MORE:
Two mid-state police officers have resigned following the death of a police dog. Decherd officers Ryan Albaugh and Jeremy Legan stepped down after being placed on unpaid suspension Thursday. Franklin County's sheriff said the K-9 officer was found dead in a crate in the back of a police pick-up truck Wednesday afternoon. The dog was sent for an autopsy, but preliminary results indicate it died of dehydration. Investigators think the animal may have been left in the crate for at least 24 hours.
Sgt. Gordo, a black Lab, was found dead Wednesday afternoon. The police chief said an autopsy is pending but that it appeared the dog died of dehydration after being left out in warm weather. Jeremy Legan and Ryan Albaugh have both been suspended without pay. One of the officers has already resigned.

submitted by Jim Cortina, Dir. CPWDA