In Loving Memory of
K9 FUDGE
December 9, 2010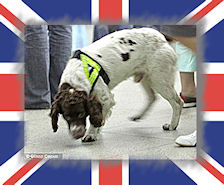 Handler:
Leicestershire Police
( England )

Police dog dies chasing ducks on frozen lake
---
In Loving Memory of
K9 FALCO
December 9, 2010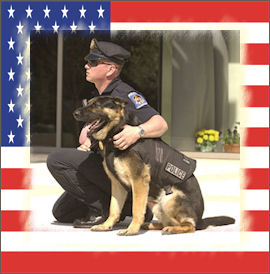 Handler: Officer Leif E. Henry
Allentown Police Department
8 North Main Street
Allentown, PA 08501-1607
(609) 259-6300
Allentown police dog losing battle to cancer
Allentown Police K-9 Officer Leif E. Henry and his partner, Falko, shown in April, 2004.

Falko, the Allentown police dog who had his spleen removed in late October, has lost his battle to cancer and will have to be euthanized on Thursday after his condition worsened, doctors said. Doctors at Valley Central Veterinary Referral Center in Whitehall discovered a ruptured tumor on Falko's spleen and performed emergency surgery to remove it on Oct. 27. Falko was released to his handler, Officer Leif Henry, after three days at the veterinarian center. In the following weeks, under the care of Dr. Ronald Hodges, doctors began chemotherapy treatment on Falko and he appeared to be responding well, said Allyson Tolliver, Valley Central's hospital administrator. Falko's condition improved enough that he was able to return to work, she said. Since then, the cancer discovered in his spleen spread to his liver and now even further, she said. Tolliver said Falko will be euthanized at the veterinary center, which will be followed by a police procession. Falko has been with the department since 2003 and has made several dramatic arrests in recent years. This summer, he chased down and caught an armed man in east Allentown, biting the suspect during the arrest. Two years ago, he chased down a hit-and-run suspect, leaving his mark when the suspect failed to comply.
Submitted by Jim Cortina, Dir. CPWDA
---
In Loving Memory of
K9 FILO MWD
October 26, 2010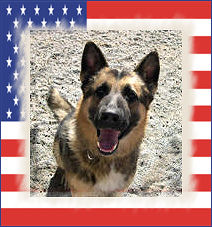 Handler: Zeke Sena Inman
Security - American Embassy
Kabul, Afghanistan

Filo says goodbye after years of service
Filo, a service dog that once had carried out security detail at the American embassy in Kabul, Afghanistan, was euthanized after cancer was found in his liver.
Filo had some health problems in recent months, evident from his slowing steps and rapid weight gain, but no one knew the extent of them until he went into surgery two weeks ago today. Indeed, tumors peppered the liver of the 10-year-old German Shepherd, a service dog that once had carried out security detail at the American embassy in Kabul, Afghanistan. The unfortunate discovery prompted two Las Cruces veterinarians to recommend that Filo be euthanized. And his owners, after hearing the diagnosis, agreed.
"We said our good-byes to him," said Filo's owner, Zeke Sena Inman of Las Cruces. "He was a good trooper until the very end, such a loving guy." Though the dog's life spanned just a decade, Filo - pronounced "FEE-low" - was well-traveled. He was born in Germany, where he was placed in a foster home in preparation to become a service dog, and was taken from there to Holland for his "basic training," said Inman, 59, a retired staff sergeant for
the Las Cruces Police Department.
Eventually, Filo was selected by a U.S. company that trains such canines for security work and was transported to Texas, he said. Next, Filo was assigned to the U.S. Department of State and worked at the embassy in Kabul, from 2002 to 2005, right around the start and escalation of the Iraq and Afghanistan wars. Inman said Filo, trained as a search and guard dog, patrolled the building and grounds of the embassy. The discovery of a spinal problem - Filo started wincing as he carried out training maneuvers - led to the canine's retirement.
That's when Inman and his wife, Bridget Inman, also a former police department employee, entered the picture. Zeke Inman was the officer responsible for launching LCPD's first dog unit in 1991, where he gained expertise in handling security canines. Though he retired from the department in 2002, he said he maintained a special place in his heart for German Shepherds. So, nearly five years ago, when the Inmans were offered the chance to adopt Filo, they took it.
And the former security dog moved into the Inmans' Las Cruces household, alongside the couple's two chihuahuas. Zeke Inman said the 65-pound Filo, despite being much larger, got along well with the smaller dogs. Filo's protective nature continued to be apparent in the home. Zeke Inman said if he was in one room of the house and his wife was in another, the dog would pace back and forth between, checking on them. Plus, Filo shadowed Zeke.
"If I got up from my home office and walked into the kitchen, he was constantly right there," he said. "I miss that." Filo was trained to fetch the morning newspaper. And though the dog had German roots, it developed a penchant for tortillas and red chile. "When we would string ristras, Filo would abscond with several raw red chiles, wolf them down and not even be phased by it," Zeke Inman wrote in an e-mail. Inman, who speaks German, was able to address Filo in the language in which the dog was trained.
Strangely enough, when Filo was set to be euthanized on Oct. 26, one of the veterinary technicians on duty was German and spoke to the dog in that language. The Inmans opted to have Filo cremated at Getz Funeral Home. Zeke Inman said he was surprised and grateful to learn that the business cremates the remains of service dogs for free. Lucille Getz, of Getz Funeral Home, said she appreciates the work that service dogs do, helping to keep people safe. And the Inmans should be recognized, too, for taking Filo in, she said.
"What Filo did and Zeke and Bridget did is much larger than what we did," she said. Though sad, Zeke Inman said he's on the lookout to adopt another retired service canine. "They do risk their lives. They're focused on their jobs, and they love doing it, too," he said. "In their latter years, whatever family takes them in, it's important they show them a lot of love."
submitted by: Jim Cortina, Dir. CPWDA
---
In Loving Memory of
K9 FOX
August 15, 2010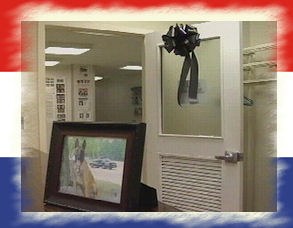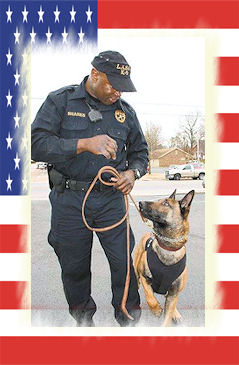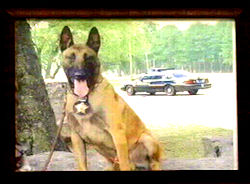 Handler: Deputy Joe Shanes
Lauderdale County Sheriff Office
200 South Court Street,
TEL. (256) 760-5757
Police Dog Dies in Heat
The death of a deputy's canine partner to heat stroke in Lauderdale County has served as a reminder that the sweltering temperatures across Alabama can affect pets as well as humans. The 11-year-old tracking dog, named Fox, had been the partner of Deputy Joe Shanes since arriving as a 9-month-old pup. Fox had seemed normal and playful Sunday morning but was found limp and unresponsive and died that night after being taken to a vet in Decatur. Lauderdale County Sheriff Ronnie Willis said Fox was like a member of the department. A large black bow was placed on the door of the sheriff's office Monday in memory of the canine partner.
submitted by Jim Cortina, Dir. CPWDA
---
In Loving Memory of
K9 FREDDY
May, 2010
(help with info)
Handler: Brenda McNeely
Painesville P.D.
---
In Loving Memory of
K9 FREIDAL
April 8, 2010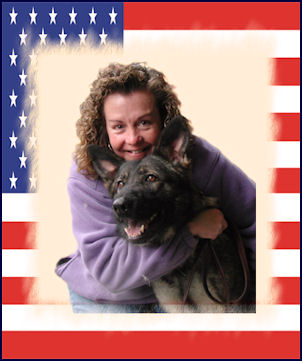 Handler: Donna Hiorns
<eyedog4u@yahoo.com>
Granville, MA

It is with very heavy heart to say I have lost Freidal. Last Wednesday and Thursday she spiraled downhill. Thursday morning was horrible.at that point she was unable to lift her body or move at all and seemed to be going blind again. The vet thinks she had another brain lesion like the one she had in the fall and survived and also either had a disc sitting on her spinal cord or a tumor. I was alone and trying to get my sweet 83 pound girl lifted into my SUV took every ounce of my strength. To hear her crying just broke my heart. the longest couple of hours of my life. I sat with her at the vet where after the sedation was given she was so much more comfortable. We spent a very long time talking and I was loving her and kissing her and I could not believe I was losing her. I will bring her cremated remains to Maine where they will be lovingly placed in the ocean by my family memorial bench. My heart aches and poor Git Ander seems so confused. again she is alone but I think her confusion is really my being upset. She loves the one on one with me and all the loving to her and not sharing me with anyone else.
"Freidal rest in peace, my dear sweet loving girl, til we are together again forever!"