Ashtabula police - Adrian, an Ashtabula Police Department dog, died recently.
Officials had a memorial service Tuesday for Ashtabula police dog Adrian, who died July 26 of a medical condition. His trainer, Sgt. John H. Koski, said Adrian began working for the department May 5, 2000 and has made 37 apprehensions, many involving weapons and drugs. Three of the men arrested with Adrian's help were convicted felons with loaded guns and criminal records.

Adrian also made many searches for drugs in houses and cars, resulting in forfeited money and vehicles worth $200,000. He frequently was used in demonstrations at schools in the county.
Contributions in Adrian's memory can be made to the Ashtabula F.O.P. Lodge 26 K-9 Fund.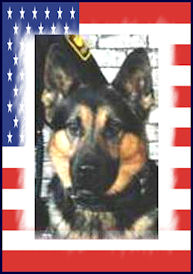 Police K-9 Adrian - Star Beacon
ASHTABULA — K-9 Adrian, partner of Ashtabula City Police Department, Sergeant John H. Koski, ended his watch on Monday, July 26,2010, as the result of an unforeseen medical condition. He began training on March 1, 2000 and was sworn in on May 5, 2000. Since that time, Adrian had 37 apprehensions, many involving weapons and drugs. Three of those apprehensions involved convicted felons with loaded firearms and lengthy
criminal records. Adrian completed numerous narcotic searches in residences on search warrants and on vehicles for the Ashtabula City Police Department and the Ohio State Highway Patrol. From these searches, money and vehicles have been forfeited with an estimated value in excess of $ 200,000 (over $50,000 in 2007 alone). One vehicle was able to be used by the department for many years.
Adrian was a frequent visitor to area schools from pre-school to Kent State University, performing demonstrations and assisting Sgt. Koski in explaining their mission. Nothing gave the more sat satisfaction than seeing children's eyes as they watched in amazement as Adrian showed them what a Police Dog did and the confidence that he showed. He had a gentle nature with children, yet the ferocity when he attacked the bite sleeve did not go unnoticed by policemen and citizens alike. It will never be known how many officers or citizens may have been assaulted if not for Adrian's presence. He had been punched, kicked and beaten in the line of duty, but remained the even-tempered partner that he was. He was truly proud of being a Police Dog and will be sadly missed by his department, the citizens of Ashtabula and his family, the Koski's, John and Jill, and his favorite playmates, Christian and Connor.

A Memorial Service will be held 4:30 p.m.,Tuesday, August 10th,at North Park in Ashtabula.
All are welcome and citizens are encouraged to bring a lawn-chair for seating.

Contributions in Adrian's memory may be made to:
FOP Lodge #26
K-9 Fund
DUCRO FUNERAL SERVICES AND CREMATORY,
4524 Elm Ave.
Ashtabula, Ohio
Ashtabula is in charge of arrangements.
Obituary at - www.ducro.com and starbeacon.com.

submitted by Jim Cortina, Dir. CPWDA