In Loving Memory of
K9 XWODIN
June 4, 2009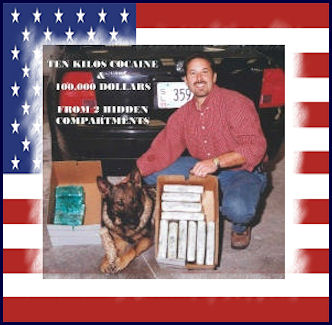 Handler: Officer Alex Fyfe
Portland Police Bureau
Portland, OR

Officer Alex Fyfe's drug detection dog, Xwodin (pronounced "Zodin"), passed away some time last night in his kennel of what appears to be natural causes. Xwodin was 11 1/2 years old, and served the Portland Police Bureau for 10 years. Over his distinguished career, Xwodin assisted with the seizure of more than $2 million dollars in cash and more than $15 million dollars worth of illegal narcotics.
His was a valuable member of the Drugs and Vice Division and his service made our community safer. Please join me in extending condolences to Officer Fyfe on the loss of his partner and friend.
John Eckhart
Commander
Detective Division
Portland Police Bureau
Email: jeckhart@portlandpolice.org
Police dog saluted after death for decade of drug busts
K9 cop - Xwodin, a German shepherd, and his handler, Officer Alex Fyfe, earn medals
Saturday, June 13, 2009 GILLIAN FREW The Oregonian Staff

Not many successful partnerships begin with bite marks and bruises.
But for Officer Alex Fyfe and Xwodin, a talented German shepherd he trained to sniff out drugs, the ordeal led to a lasting bond and produced big breakthroughs for the Portland Police Bureau. After 10 years of dedicated service, Xwodin (pronounced ZWO-dun) died last week of natural causes at age 11. Hundreds of e-mails expressing condolences poured in from officers across Oregon and southwest Washington, where Fyfe and Xwodin were deployed more than 2,000 times.

They helped with investigations for about 20 law enforcement agencies, responding to their last call a couple of days before Xwodin died.
On Wednesday, Xwodin was posthumously awarded a Distinguished Service Medal for his achievements, which Fyfe accepted along with his own at a police bureau awards ceremony. Police Chief Rosie Sizer acknowledged the partnership before a crowded auditorium at David Douglas Performing Arts Center. Fyfe said about 20 other dog handlers who knew Xwodin surprised him at the ceremony.
"It's a celebration of how much Xwodin did for the community," said Sgt. Michael LeDuc of the Gresham Police Department's K9 narcotics unit. LeDuc assisted with Xwodin's training and called him "an extraordinary dope dog" whose skills served not only the Portland area but also Salem and Hood River. "He was a difficult dog to work at first," LeDuc said. "We had to figure out how to take all of that energy and all of that ambition and focus it in the right direction." Over the course of his career, Xwodin recovered about $15 million in concealed narcotics and $2 million in tainted cash. Fyfe said there were hundreds of times when cases could not have been solved without him -- quite a responsibility for the partnership during the four years when Xwodin was Portland's only drug dog.
"Asking one guy and one dog to be available 24 hours a day, seven days a week, to support the needs of a city this big was pretty exhausting," Fyfe said. "But it made us good fast."
Police dog saluted after death for decade of drug busts
K9 cop - Xwodin, a German shepherd, and his handler, Officer Alex Fyfe, earn medals
Xwodin was trained to trace drugs such as heroin, cocaine, methamphetamine and marijuana by scratching at the source of a smell. With drugs sometimes concealed inside sheet rock or even in powdered laundry detergent in suspects' homes, Xwodin's skills were often pivotal to solving the case, Fyfe said. When Xwodin needed hip surgery in 2003, the bureau decided to add a second dog team for the first time, primarily based on the success of Fyfe and Xwodin. Teaching Xwodin to be a good drug dog who was safe around people was tough, especially for a first-time handler like Fyfe. Xwodin started out biting him nearly every day during training exercises, often drawing blood or ripping through clothing. "I wanted to quit every day for the first year," Fyfe said. "He challenged me more than I've ever been challenged by anything before." The partners learned from each other. As Fyfe became more confident as a trainer, Xwodin's aggression abated, although his obsession for the hunt never did. When Xwodin accidentally ingested an overdose of meth during a search and almost died, Fyfe said, "That's when it hit me that I really do love this dog."
Fyfe started a family, and by the time his oldest son Ryan, now 4, was old enough to tease Xwodin, he trusted the dog to play nice. Xwodin lived at home with Fyfe and his wife, Christina, and was adored by their three children, who called him "Zo-Zo."
Fyfe is now a state certified dog trainer for the Oregon Police Canine Association and has led training workshops throughout the region. His next challenge will be finding a new partner, but he doubts any other dog could rival Xwodin's drive.
"You couldn't stop him," Fyfe said.
---