In Loving Memory of
K9 PONCH
2009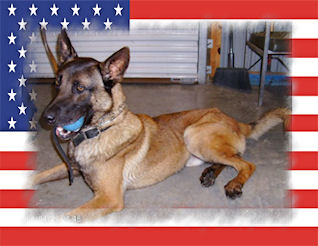 Handler: Ofc. Gleason
Panama City Beach Police
Panama City
Police Department
1209 E. 15th St.
Panama City, Florida 32405
Poncho's remains come home
4/7/11 - Florida found in 2011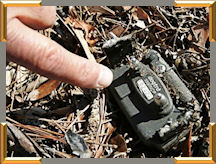 After their K9 went missing, Panama City Beach officials held a solemn funeral for Poncho the police dog and named a portion of Frank Brown Park after him. On Wednesday, Panama City Beach officials announced Poncho's remains finally had been brought home and that he is at a final, eternal rest. Beach Police Chief Robert Harding said his department now has closure in the case."There had been a lot of rumors flying around. This dog was seen at the Hombre golf course" and other places, Harding said. "This puts an end to those rumors. The dog was lost."
Poncho, a Belgian malinois similar to a German shepherd, went missing July 10, 2009, while searching for three felony suspects who fled from officers into a wooded area north of Back Beach Road and west of Alf Coleman Road. Poncho did his job well that day — the suspects came out of the woods and were caught — but Poncho never answered his handler's call. Search teams and a helicopter were used to find Poncho, but the wooded area was too thick and until this week no one was able to locate the dog.
Crews from the St. Joe Co. found the dog's remains and his collar this week while clearing the area. Poncho will now be buried in his park in a quiet simple ceremony, Harding said. Two of the suspects captured on the day Poncho was lost, Christopher Leigh Ashley and Brandon Garrett Ashley, have been ordered to pay $15,000 in restitution to the city of Panama City Beach for the loss of Poncho, Harding wrote in a news release. He added there will be no criminal charges against them now that the remains have been found. "We're not going to be able to prove anything," Harding said. "He could have gone down to heat exposure. It could have been snakebite. We really just don't know."

submitted by Jim Cortina, Dir. CPWDA (in 2011)
---
In Loving Memory of
K9 PHILOS
date 2009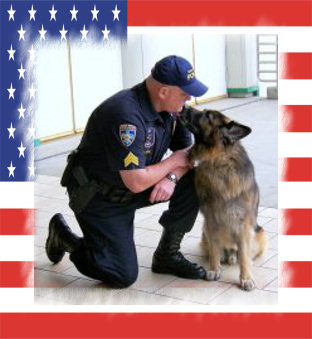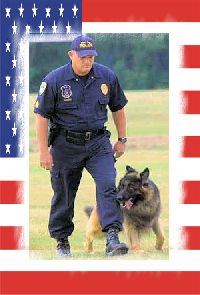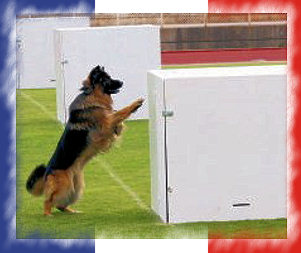 Handler: Lt. Robert "Bobby" Glaser
Baton Rouge Police Department'
704 Mayflower St.
Baton Rouge, LA 70802
Non-Emergencies
(225) 389-2000
Administration
(225) 389-3800
Jeff Leduff-Chief of Police - brpdinfo@brgov.com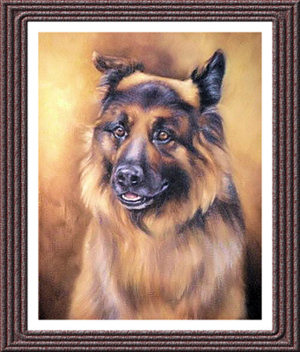 (Painting by Tracy)

Baton Rouge police dog died and his police handler was injured today when their patrol car was broadsided. Philos, an 8-year-old German shepherd who was part of the Baton Rouge Police Department's canine unit, was taken to a local veterinary hospital where he died from injuries he suffered in the accident, Sgt. Don Kelly, a Baton Rouge Police Department spokesman, said in a news release.
Lt. Robert "Bobby" Glaser, 50, Philos' handler, suffered moderate injuries while the other driver, Jesse Isiah Farris, 22, of 10061 Moss Lea Drive, suffered minor injuries, Kelly said.
Farris was booked into Parish Prison on counts of DWI, first-degree vehicular negligent injuring, reckless operation, driving the wrong way on a one-way street and driving with a suspended driver's license, Kelly said.
The accident occurred when Glaser was driving westbound on Government Street at about 1:30 a.m.
Farris was driving a 2006 Lincoln pickup truck southbound on St. Charles Street — which was the wrong direction on the one-way street — when the pickup truck broadsided Glaser's police unit, Kelly said.
The impact caused Glaser's Dodge Charger patrol car to roll over, eventually coming to rest on its wheels.
Glaser was removed from the vehicle by rescuers and taken to a local hospital where he is expected to recover from his injuries, Kelly said.
The police lieutenant had returned to work in late June after being shot four times in February by a 16-year-old armed robbery suspect whom Glaser was trying to question. The shooter was later arrested by other Baton Rouge officers.
Philos is the first Baton Rouge Police dog to die in the line of duty in over 20 years, Kelly said.
Two other dogs died in the 1980s from injuries suffered while they were working, Kelly said.
Brute died in 1988 after being bitten by a brown recluse spider while tracking a robbery suspect. Max was shot to death in 1985 while chasing a car thief.
submitted by Jim Cortina, Dir. CPWDA
---
In Loving Memory of
K9 PHANTOM
2009
(to do .. need more info)
Handler:
New Orleans Police Department
Louisiana
WEBSITE -
http://www.cityofno.com/Portals/Portal50/portal.aspx
( death from fall )
submitted by Jim Cortina, Dir. CPWDA
---
In Loving Memory of
K9 PRIMO
2009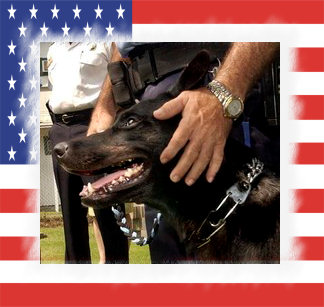 Handler: Officer Jason Lewis
New Orleans Police Department
Heat killed police dog left in car, report says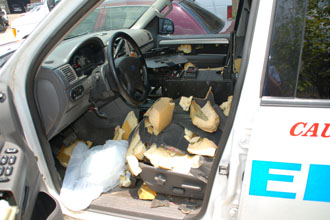 Primo's car....
Animal Groups Hold Ceremony For Police Dog
Primo The K-9 Died Of Heat Exhaustion In Locked Car. Animal rescue and humane organizations held a memorial service Wednesday in honor of Primo, the police dog believed to have died of heat exhaustion after being left in a locked squad car. Primo died May 27 after he was left in an unattended police car by his human partner, New Orleans Police Officer Jason Lewis. The groups performed a wreath-laying ceremony at noon in front of the New Orleans Police Department headquarters on Broad Street.
"We have heard from people from different parts of the country and world, all expressing their outrage over Officer Lewis' action and sadness for Primo's suffering and untimely death. If NOPD is hoping that this latest incident involving the death of a dog by one of its officers will go away quickly, they are mistaken," said Jeff Dorson, executive director of the Humane Society of Louisiana, the organizing group for Wednesday's ceremony. The Humane Society is hoping that Primo's death prompts change in the police department and ensures that all officers have the training they need to care for animals in their custody. The group is also pushing for criminal charges against Lewis. The case is currently being investigated as an administrative matter by NOPD, but the Metropolitan Crime Commission has also pushed for a criminal investigation. A law passed several years ago makes it a specific crime to injure or kill a police dog, according to the Humane Society. It is a felony, with penalties that range from a fine of not less than $2,500 to not more than $3,000 and not less than one year in jail with or without hard labor and not more than three years, or both.
Besides the Humane Society of Louisiana, representatives from the Muttshack Animal Rescue Foundation and the Animal Rescue Front will be on hand to participate in the wreath-laying ceremony.
follow up: July 22, 2009

NOPD Superintendent Riley defends K-9 unit care after death of police dog
Batina Brockamp, Chris McLaughlin and NOPD assistant superintendent Marlon Defillo place flowers at Sirgo PLaza in front of NOPD headquarters Wednesday, July 22, 2009. The flowers were placed in memory of Primo, a police K-9 who died while unattended in a police unit. Brockamp is with Muttshack Animal Rescue while McLaughlin is with the Animal Rescue Front. McLaughlin has called for the prosecution of the police officer responsible for the death of Primo.
New Orleans police dog that was left in a locked car tore the inside of the police cruiser to shreds before collapsing and dying of heat. New Orleans Police Superintendent Warren Riley today said police dog Primo, who died of apparent heat shock in late May, should have been kept cool by a system in the K-9 unit vehicle where he was left unattended for an undisclosed period of time before being rushed to a veterinarian's office. "We are not sure what the cause of his death was. It is under investigation," Riley said at an afternoon news conference at police headquarters.
If Officer Jason Lewis, the dog's handler, left the animal in the car without these protective systems turned on, "he certainly would be facing charges," Riley said. "The early indications are the systems in the car were on and the systems were working." Riley said it is his understanding that Primo was left in the SUV with the air conditioning running. Plus, if the vehicle is turned on, there is an emergency system that rolls down the windows and turns on the ventilation system if the internal temperature in the vehicle rises above 86 degrees, Riley said.
Dr. Gary Levy, the veterinarian contracted to care for the New Orleans Police Department's dogs, noted that Primo's autopsy showed his temperature was 109.8 degrees when brought to a clinic. "This is consistent with heat stress, heat stroke," Levy said at the news conference. "However, that can happen independently of being in an overheated vehicle. You can have a dog in a 70 degree room and through a seizure or other anxiety level attacks can generate that level of body heat."
Primo did not have a history of seizure or anxiety disorders, Levy said. The Metropolitan Crime Commission obtained a copy of the necropsy report referenced by Levy, which was done by the Louisiana Animal Disease Diagnostic Laboratory. While the report did not rule out any medical cause for Primo's death, it concluded that the most likely cause of death was "shock due to heat stress." The MCC, which asked the Orleans Parish district attorney's office to investigate the dog's death, also released photographs of the inside of the car, which showed Primo shredded the front seats down to the metal frames before he was taken to the veterinarian clinic.
Rafael Goyeneche, president of the Crime Commission, said the photographs show the level of distress experienced by the dog. Orleans Parish District Attorney Leon Cannizzaro has said he is investigating whether there was any criminal negligence associated with Primo's death. The NOPD's Public Integrity Bureau is also conducting an investigation. Goyeneche said the investigation needs to focus on a number of still unclear issues, such as ensuring that Lewis is not the only source for the assertion that the air conditioning was turned on when Primo was left in the car.
"It is imperative that somebody other than the officer corroborate that air conditioning and everything was operating at maximum efficiency when that dog was in the car," he said. He also noted that the necropsy report did not show that Primo, a Belgian Malinois described as being either 6 or 7 years old, had any other medical conditions, such as a brain tumor, that would lead the dog to have seizures for a reason other than heat stroke.
( submitted by Jim Cortina, Dir. CPWDA)
UPDATE- 9/1/10
Lewis was sentenced to a six-month suspended jail sentence, six months of probation
and restitution of $12,000, the cost to replace a trained police dog.
"We see this case as a result of a good team effort between multiple agencies and departments cooperating to see justice served for Primo," said HSL Director Jeff Dorson. "We also thank the Orleans District Attorney's Office for aggressively pursuing this matter to its rightful conclusion."
MORE: 9/1/10
A former New Orleans police officer pleaded guilty Wednesday to an animal cruelty charge in connection with the death of Primo, his police dog.


Officer Jason Lewis admitted leaving his K-9 partner, a 6-year-old Belgian Malnois, in his locked police car last summer, according to the Humane Society of Louisiana. Necropsy reports showed that Primo suffered from heat exhaustion, experienced at least three seizures after his temperature reached more than 108 degrees, and died while receiving treatment at the Southeast Veterinary Clinic in Metairie on the same day, the group said. Images released by the Metropolitan Crime Commission showed how the dog shredded the seats inside the cruiser in an attempt to escape. Lewis was sentenced to a six-month suspended jail sentence, six months of probation and restitution of $12,000, the cost to replace a trained police dog. "We see this case as a result of a good team effort between multiple agencies and departments cooperating to see justice served for Primo," said HSL Director Jeff Dorson. "We also thank the Orleans District Attorney's Office for aggressively pursuing this matter to its rightful conclusion."
Oct. 8, 2010 update:
Judge Terry Alarcon sentenced Lewis to probation and a suspended six-month jail term. On Friday, the court approved the $11,500 in restitution. submitted by Jim Cortina, Dir. CPWDA
---
In Loving Memory of
K9 PATTON
July 7, 2009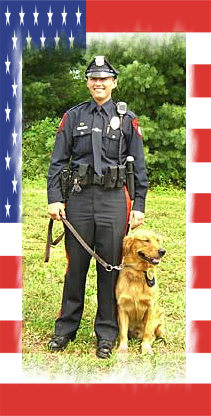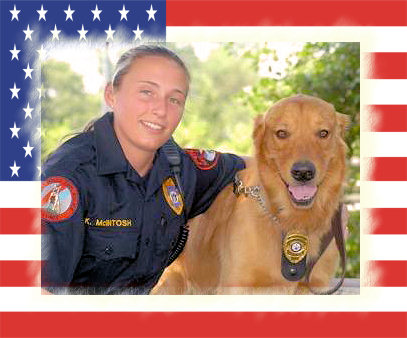 Handler: Officer Kara McIntosh
Mount Holly Police Department
Chief Steve Martin
23 Washington St.
Mount Holly, NJ 08060
(609) 267-0170 x 102 - FAX (609) 267-6627 - (609) 845-1150
SPCA looks into police dog's death
The New Jersey SPCA is conducting an investigation after the death of a dog assigned to Mount Holly's police force. Patton, the township police dog used to sniff out explosives and other weapons, is dead, and one person said it's because he was left in a hot car too long. The 4-year-old Golden Retriever died Tuesday. One source, who asked to remain anonymous, said Patton died as the result of being left in a hot car for an extended period of time. The source said Patton was found close to death in the car and taken to an animal hospital, but died. The source added that the dog, its training and the specialized vehicle needed to transport the animal officer were funded through a state grant worth over $100,000.
Police Chief Steven Martin confirmed yesterday that Patton had died but did not release any other details. Martin said Patton's handler, Officer Kara McIntosh, was not in yesterday, and he wanted her to compile a biography of the dog listing his achievements over his three years with the department. Published reports said Patton was acquired by the department in 2006. He was rescued from an animal shelter when he was 1½. McIntosh, then only three years on the force herself, was assigned as the dog's handler, taking the dog home with her, even when off-duty. State SPCA spokesman Matt Stanton said the agency is conducting an "active investigation," but gave no specifics. Mount Holly police also will conduct an investigation, Martin said. submitted by Jim Cortina, Dir. CPWDA
---
In Loving Memory of

K9 PARI
July 2009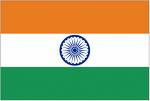 Coimbatore India
India Environmental Portal
Coimbatore
Sniffer dog dead

Coimbatore (PTI)(India Environmental Portal) A sniffer dog, which won several medals, in its decade-long association with the Bomb Detection and Disposal Squad died here on Friday. The dog, Pari, joined the Bomb Detection and Disposal Squad, in 1999 when it was two months old and had six months training in Chennai. The 10 year-old-dog had won 28 medals including 16 gold medals, in various competitions and 'retired from service last year.' Pari was instrumental in detecting explosives stored illegally in a factory at Hosur and also sensing a bomb on a railway track near Erode in 2001, police said.
MORE>>>>>>>>>
Tamil Nadu - Coimbatore
Sniffer dog, Rana bids adieu to service to retire... K9 Pari was part of the team

SELDOM HAVE dogs got their due for the service rendered to mankind. `Rana', did more than that to keep the residents of Coimbatore safe, during the tumultuous years of 1997-98, when the city was raked by sporadic incidents of communal rage. Rana, a German Shepherd was born on December 11, 1995 and inducted into police service when hardly two-and-a-half-months-old. It completed the basic training in obedience and sniffing explosives at the Tamil Nadu Commando School (Chennai), before going through the rigours of the Central Reserve Police at the Chennai Commando School. Posted to the Coimbatore city police's bomb squad in September 1997, the violence during the serial blasts marked the beginning of an arduous schedule for the canine.
Its services proved invaluable for the Anti-Sabotage Team, as it was the only single sniffer dog available at the peak of the crisis, say the Bomb Detection Disposal Squad in charge Sub-Inspectors, N. Karnan and K. Maniyan. Rana is credited with having successfully managed the entire workload on its own when the bombs had been planted in the city during
height of the communal violence.
Going by the number of calls Rana had to attend every day, the police brought in two more sniffer dogs, Pari, a Doberman in 2000, and Meghala, a Labrador in 2001. Their entry reduced the workload for Rana to a great extent. Today the police have Seetha and Nelson, German Shepherds, and Madhavi, a Doberman for crime detection and tracking. This apart, the canine also romped home with the `Best Breed' trophy at the State Police Duty Meet at Chennai in 2002. Recalling the service rendered by Rana, the police say it had attended as many as 487 calls, of which around 50 led to detection of live explosives. At this juncture it would only be noteworthy to state that, but for the invaluable services rendered by Rana, the loss of lives in the
serial blasts would have been much greater.

On February 14, 1998, a fiat car packed with RDX was parked on Lokmanya Tilak Street in R.S. Puram, a few hundred metres away from the dias on which the then Union Home Minister, L.K. Advani, was to address a public meeting. Police estimate that had the bombs detonated, a major part of R.S. Puram would have been blown to smithereens. Nevertheless, the serial blasts that took place in 17 places, resulted in the loss of 58 lives and caused injuries to more than 200 people, in addition to the destruction of private and government property, worth Rs. 17 crores. The subsequent calls from the public on suspicious objects found abandoned in various areas forced Rana to work almost round-the-clock. The other significant breakthroughs were the detection of a bomb planted in a tea can on Thirumal Street, buried pipe bombs and explosive materials at Maniyan Thottam.
After a brief lull, when extremists attempted to plant an explosive at Variety Hall Road-police quarters, it was Rana again who foiled their plans. With several cases under its belt, this eight-year canine is finally retiring. And the city police are leaving no stone unturned to make life
comfortable for him after its retirement.
A public auction has been organized at the City Police office on Sunday, wherein interested persons can deposit Rs. 3,000 and make a bid to own the coveted canine, said some bomb squad personnel. The handlers have also planned to visit the dog once in a week to ensure that Rana settles down comfortably with his new master. Owners of big bungalows and private security agencies have already shown interest in participating in the auction. Once Rana retires, efforts would begin to bring another pup to replace him. Until then, it would be up to Pari and Meghala to keep the city safe.
submitted by Jim Cortina, Dir. CPWDA