In Loving Memory of
K9 NOVA - MWD
2009 - Australia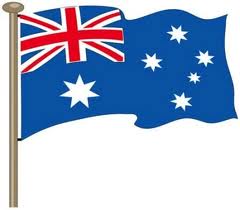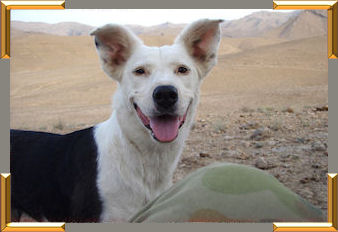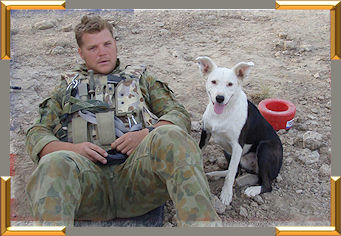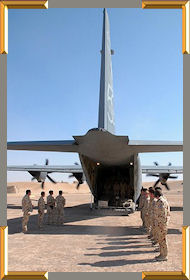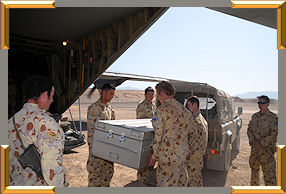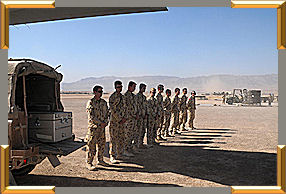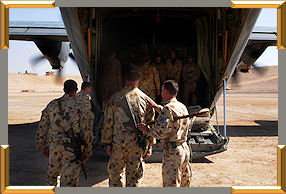 An Australian Army dog has been killed in Afghanistan. Nova, the bomb detecting dog, died in a car crash that was part of a training operation. A statement from the Department of Defence said medics tried to save Nova but she was put down by the regimental medical officer. Heartbroken soldiers farewelled Nova as her coffin was loaded on board an RAAF cargo plane for the flight back to Australia. Commanding officer Peter Connolly said the loss of Nova had been keenly felt. ''Explosive detection dogs are a critical asset in our fight against improvised explosive devices. The dogs save countless lives,'' Lieutenant Colonel Connolly said in a statement. Nova will be cremated.
++++++++++++++++
Nova and her handler, Sapper (SPR) Rueben Griggs, enjoy a break while on patrol. Photo: Department of Defence
+++++++++++++++
Explosive Detection Dog Nova. The two year old was killed in an accident at Camp Holland in Afghanistan. Photo: Department of Defence
++++++++++++++++
Explosive Detection Dog, Nova, with her hearing protection on and handler in tow, on patrol in Afghanistan. Photo: Department of Defence Explosive Detection Dog, Nova, with her hearing protection on and handler in tow, on patrol in Afghanistan. Photo: Department of Defence
++++++++++++++++
Australian soldiers conduct a farewell ceremony for Explosive Detection Dog Nova, who was killed in an accident at Camp Holland. Photo: Department of Defence
++++++++++++++++
Warrant Officer Darren Murch comforts Nova's Handler, Sapper Rueben Griggs, as the soldiers farewell Explosives Detection Dog Nova. Photo: Department of Defence
submitted by Jim Cortina, Dir. CPWDA
---
In Loving Memory of
K9 NIKO
July 23, 2009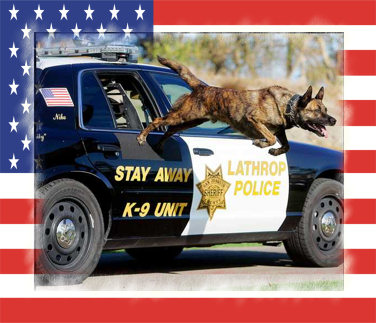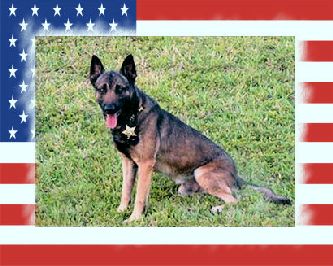 Handler: Officer Judy Lieberman
Lathrop Police Department
15597 7th St
Lathrop, CA 95330-8779
(209) 858-5551
U.S Marshall Bit By K9, Shoots And Kills Police Dog
A U.S Marshall has shot and killed a Lathrop K9 after being bit by the dog during an incident involving a criminal investigation, according to authorities. The K9, which belonged to a Lathrop police officer, was shot while local and federal authorities were investigating a wanted criminal in the Lathrop area. It is unknown at this time why the K9 bite the U.S Marshall or why the shot was fired. Authorities are conducting two separate investigations to find out more. The K9 was a six-year-old Dutch Sheppard. Authorities say that there was
a pit bull present in the home when the incident occurred, but it is unknown whether the dog was a factor or not.
+++++++++ MORE++++++++
Niko, shown above during a demonstration, served five years protecting the people of Lathrop and San Joaquin County and helped apprehend over 50 suspects and assisted in over 400 arrests.
A Lathrop Police Department K-9 officer was shot and killed Thursday afternoon during an incident involving a Multi Agency Task Force
serving a fugitive arrest warrant in the 1200 block of Louise Avenue near Cambridge Drive. According to Deputy Les Garcia, a public information officer for the San Joaquin County Sheriff's Department, the police dog identified as Niko was struck by "friendly fire."
The 3 p.m. incident also included a pit bull terrier, with a U.S. Marshall accidentally striking the 6-year-old Dutch shepherd.
"The dog expired," said Garcia, who noted that Niko had died some 90 minutes later. The police dog received medical treatment for the gunshot wound at a local veterinarian. Niko was a five year veteran credited with apprehending over 50 suspects and assisting in
more than 400 arrests. Niko's partner is Judy Lieberman.
The pit bull escaped serious injuries and was locked up in one of the rooms of the duplex as the Multi Agency Task Force – included are
the Lathrop Police Department / San Joaquin County sheriff deputies, the state Department of Corrections and U.S Marshalls,
to name a few – arrested 42-year-old Glen Franklin Hughes on the felony warrant.
Hughes had been arrested on Wednesday evening when a Delta Auto Theft Task Force officer noticed he was driving a 2001 Chevrolet Silverado stolen out of Tracy. The earlier incident included a high-speed 100 mph pursuit that began on Airport Way and Yosemite
Avenue, continuing along south Manteca and into rural Ripon. That chase ended in the arrest of another suspect. Dillion Gardner,
30, was arrested on auto theft charges after being treed Wednesday in a Ripon orchard by Manteca Police K-9 officer Gage.
Officers indicated at the time they never would have found Gardner – a Redding resident wanted in his hometown on multiple felony
charges – if it hadn't been for the dog. Sheriff's deputies, meanwhile, are conducting an investigation of the dog bite while
U.S. Marshalls will look into the shooting, Garcia said. An initial report from dispatch indicated that ambulance had declined
service for the K-9 Unit. Dana Solomon, chief executive officer for Manteca District Ambulance, told the Bulletin that
the ambulance board policy does include transporting a police dog. But that's if one is available.
+++++++++ MORE++++++++
Services pending for Lathrop Police K-9 Niko
Niko was the K-9 partner of Deputy Ryan Biederman. Rather than wait for an ambulance, the San Joaquin County sheriff of the Lathrop Police Department acted quickly when his canine partner was critically injured from a gunshot wound by a federal marshal that was part of a multiagency task force serving a fugitive warrant last Thursday. Biederman rushed Niko to San Joaquin General where the emergency staff had been informed of the injured police dog. Meanwhile, Medic 51 and Lathrop Manteca Fire Department were dispatched to the duplex in the 1200 block of Louise Avenue.
"When they arrived the K-9 unit had been taken from the scene by the officer (Biederman)," said Leonard Larsen, manager of the Manteca District Ambulance Service. That's contrary to an earlier report by the Bulletin that indicated that service for the police dog had been declined. "On MDA's part, ambulance response was never declined," Leonard added. "The crew was advised and they were responding to an officer involved shooting with a K-9 unit down."
The ambulance did transport the canine from the hospital to a local veterinarian, where Niko died about 90 minutes after the
shooting incident.
The 6-year-old Dutch shepherd reportedly attacked the deputy marshal, causing what Sheriff spokesman Les Garcia called "friendly fire." He noted that the Sheriff's Office is conducting the investigation on the dog biting incident while the U.S. Marshals Service is looking into the shooting. Garcia said Friday that services for Niko are pending. The multiagency task force arrested parolee Glen Hughes, 42, who was a suspect in several crimes including auto theft. A day earlier, he eluded police in a high-speed chase in a stolen vehicle that took place in south Manteca and rural Ripon. submitted by Jim Cortina, Dir. CPWDA and Roger Bull, LA
+++++++++ MORE++++++++
Fallen K-9, fearless friend b

y

August 06, 2009 12:01 AM
LATHROP - In his first two months on duty, Niko was twice hit by cars, once when chasing a felon across a Lathrop street and the second time by a carjacker who was fleeing the dog and his handler, county sheriff's Deputy Ryan Biedermann. "He literally hit the ground running," said Sgt. Steve Walker, one of Niko's trainers. Those close calls came in late 2004. On July 23, the 61/2-year-old Dutch shepherd was shot and killed by a federal marshal he had bitten during a struggle with a wanted man. Niko's badge number, 21, was retired Wednesday at a memorial ceremony in front of the Sheriff's Office, attended by dozens of people, some of them police dog handlers who had traveled from as far as Salinas and West Covina. Over the course of his career, Niko collected 57 street apprehensions and helped with more than 400 felony arrests. Walker said Niko was so well known that the Lathrop restaurant Mikasa named a sushi roll after him - the Spicy Niko Roll. In 2007, Biedermann and Niko were named officers of the year by the Italian-Athletic Club. When he took the podium Wednesday afternoon, Biedermann said he had never really been a man of many words, then paused for a long time before continuing. "I just wanted to say thank you," he said. "He was always there. He saved me several times. He was always fearless and dependable." The Sheriff's Office is investigating the circumstances that led to the confusion in which Niko bit the wrong person, a federal marshal working alongside the Sheriff's Office to catch fugitive Glen Hughes. The U.S. Marshals Service is investigating the shooting itself. The marshal did not know Niko was a Sheriff's Office dog when he fired, a spokeswoman has said. Sheriff Steve Moore said Wednesday that the U.S. Marshals Service will help acquire a new dog to replace Niko. Moore also said the Sheriff's Office will build a memorial to fallen service dogs.
Contact reporter Christian Burkin at (209) 546-8279 or cburkin@recordnet.com.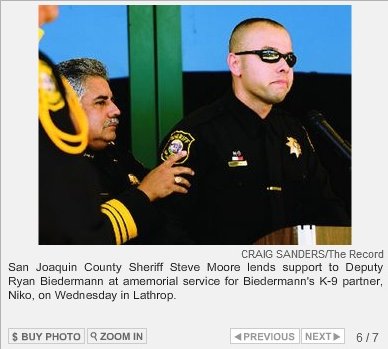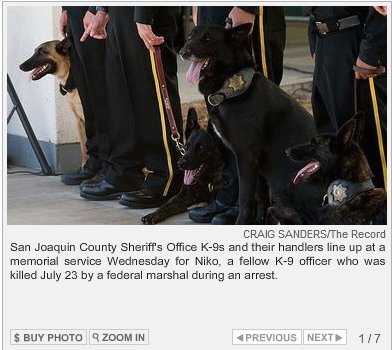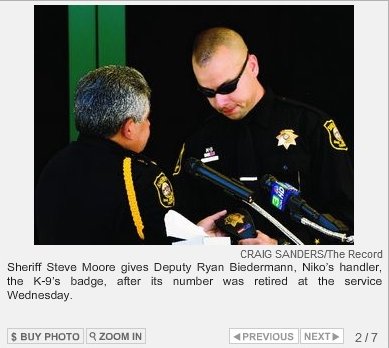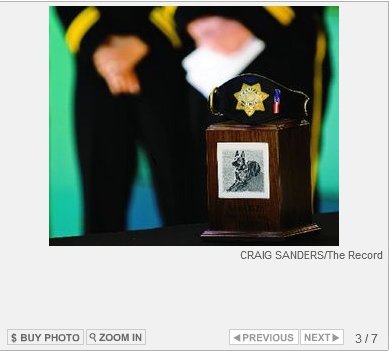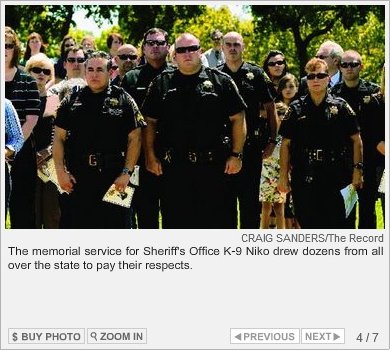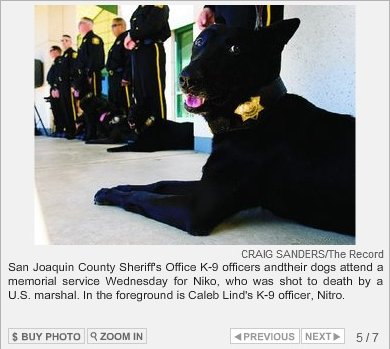 ---
In Loving Memory of
K9 NERO
June 17, 2009
photo to come....
Handler: Sgt. Dan Smith
Martinsville Police Department
55 W. Church St.,
Martinsville, VA 24114
(currently with Sheriff of Patrick County - VA)
We had a retired K-9 (Nero) that had to be put down due to age and health reasons. I was Nero's handler for seven years.
Nero, age 13 ½, passed away on June 17 of this year. Nero was in service from 1997 until 2006. He was retired and lived with me for the remainder of his life. He was a tried and true partner and his love and dedication was unconditional. He had numerous apprehensions and drug finds throughout his career. Not only was he a member of the law enforcement family, he was a member of my family. He was great with my two sons and my wife and he never left our side. I laid him to rest on my property behind his kennel. I have a photograph of him that I am going to email to you. He was the best. Thank you for your interest,
Dan Smith, Sheriff- Patrick County, Virginia
(Former K9 handler and patrol sergeant w/ the Martinsville Police Department)
submitted by: Tim Porter TPORTER@ci.martinsville.va.us and Sgt. Dan Smith - dmsmithpcso@kimbanet.com
---
In Loving Memory of
K9 NITRO
July 10, 2009


Handler: Sgt. Charlie Walker
Winfield Police Department
200 Cleveland St
Winfield, TX 75493
(903) 524-2020
Winfield drug dog Nitro is killed in line of duty
Winfield Police officers, along with all area officers, are mourning the death of Nitro, the Winfield drug dog and partner of Sgt. Charlie Walker, who was killed in the line of duty as he worked Interstate Highway 30 Friday morning. "We're just still in shock right now," said Winfield Chief J.R. Reyes. Nitro, a black Labrador Retriever, was working along Interstate Highway 30 at the 154 eastbound mile marker with Walker at approximately 2:20 a.m., when he separated from Walker and, in an apparently youthful burst of enthusiasm, began running along the Interstate.
"He was only 2 and ½ and, really, that's still young for a Lab," said Reyes. It was the wrong time for Nitro to want to run. Charlie was calling him back when Nitro was struck and killed by an 18-wheeler," said Reyes. According to Reyes, Nitro died instantly when he was struck. "It's just devastating for Charlie and for all of us," said Reyes. "Nitro didn't normally do things like that. I mean, yes, he was sometimes hyperactive like most Labs, but he normally didn't behave that way when he was working," Reyes said. Nitro was 2 and ½ years old and had been working with Walker for more than a year.
He and Walker not only worked drug interdiction on the Interstate as part of their duties with the Winfield Police Department, they also assisted the Mount Pleasant Police Department and the Titus County Sheriff's Office when those agencies served search warrants or searched vehicles during traffic stops.
"I don't know for sure how much dope and money was seized or how many people were arrested on felony charges because of Nitro, but I do know he was responsible for a lot of drugs being taken off the streets," Reyes said. A memorial service is being planned for
Nitro at this time. submitted by Jim Cortina, Dir. CPWDA
---
In Loving Memory of
K9 NELLIE- SAR
Born: February 15, 2005 - Died: July 7, 2009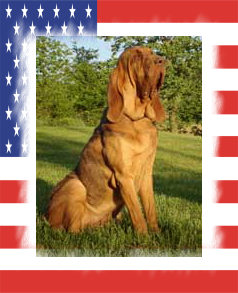 Patti & Allen Means
Red Rose K-9 Search & Rescue
Lancaster County, PA
Search Dog Dies

A Lancaster County couple devotes their own time and money to help the community. Patti and Allen Means are the founders of Red Rose K-9 Search and Rescue. With their certified trained Bloodhounds, they help police find missing people and criminals. Back in 1999, their dogs were credited for taking escaped prisoner Norman Johnston into custody. Nellie was one of the top dogs the couple had ever worked with or owned. Among other things, she helped find missing hikers, was instrumental in providing evidence in the shooting of Lititz Police Officer Jevon Miller, and helped obtain a confession for the Pennsylvania State Police for a DUI hit and run accident involving an Amish buggy in Lancaster County. Recently, the 4 year old Bloodhound died unexpectedly. Not only do they now have $8,000 in vet bills, they also have to buy and train a new Bloodhound to continue volunteering at the level they have for the past 21 years.
They are hoping the public they have served so unselfishly for two decades will help them be able to do that.
A fund is set up at Sovereign Bank under "Nellie Fund." Cash or checks are acceptable and any donation is tax deductible.

NELLIE – "Knock Knock Heather It's Nellie"

Nellie was born in Canada at the home of Heather & Peter Whitcomb. Her mother was Ch. Quietcrk Triumph for Heather and her father, Ch. Heathers Knock on Wood ("Knotty"). Nellie's partner and handler is Patti. Nellie started her training at 10 weeks of age and worked her first criminal case at the age of 8 months, involving the shooting of a police officer. Nellie is one of the youngest Bloodhounds in the country to have achieved the Mantrailer Excellent Certification through the American Bloodhound Club at the age of 16 months. Her favorite pastime is swimming with her family and taking good care of her little sister, Heather.
submitted by Jim Cortina, Dir. CPWDA
---
In Loving Memory of
K9 NIK
Aka; "BOY"
June 15, 2009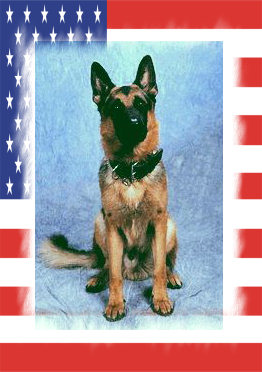 Handler: Detective Michael Colby
Conneaut Police Department
294 Main St
Conneaut, OH 44030
(440) 593-7440
Conneaut K-9 partner succumbs to illness
A veteran member of the Conneaut Police Department, canine officer Nik, succumbed to cancer Monday morning, said Safety Director Jon Arcaro. Nik, the partner of Detective Michael Colby, died en route to the veterinarian's office, Arcaro said. The dog became ill earlier this year, he said. The 8-year-old German shepherd had been a member of the police department since 2003, Arcaro said. "He was the second dog in the program since it was revived in 2002," he said.
Nik was an active police department member; thus, a memorial to Nik will be cremated and displayed in the City Hall lobby, Arcaro said. There are no immediate plans to replace Nik, Arcaro said. The department recently added a new dog, and the canine fund is depleted, he said. The new dog, Ghost, is the partner of Patrolman Tim Rose. "Our canine program is supported solely through donations," Arcaro said. The department has one other dog, Wladk, who works with Sgt. Curtis Distel. submitted by Jim Cortina, Dir. CPWDA
---