In Loving Memory of
K9 L.E.
May 10, 2009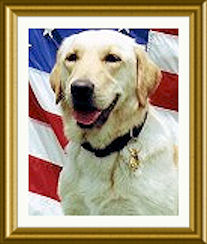 United States Department of Justice
Bureau of Alcohol, Tobacco, Firearms and Explosives
U.S. Government
Explosives Detection K9 L.E. was killed when she was attacked by an alligator while conducting her daily training search in Fort Lauderdale, Florida. The alligator pulled K9 L.E. underwater and she never resurfaced. Her submerged body was recovered following a five hour search. K9 L.E. had served with the ATF for two years.
submitted by Jim Cortina, Dir. CPWDA
---
In Loving Memory of
K9 LENA
November 16, 2009

Handler: PPB Ofr.John Blair, Commander
Portland Police Bureau
The Transit Division
503 962.5835
It is with sadness I report the death yesterday of one of our canines, Lela an 8 yr old German shepherd. Lela and PPB Ofr. John Blair have worked together for the last two years as a valuable asset to our Division. Lela was a highly skilled and certified Explosive Canine Detection team member since 2006. She suffered from a particulary aggressive form of internal cancer that was only detected on Saturday, and it had progressed to a point that nothing could be done to save her; it was a extremely difficult decision to put her down, but it was the best decision. She had recently received a good bill of health at her last exam, so this cancer came on very fast. As you know, the dogs and their handlers become very close and form a bond that goes beyond the work environment. It is particularly difficult for the young members of Ofr. Blair's family that will miss Lela as a pet and a member of the family rather than a work associate.
The Transit Division has two working EDCT with Sergeant Simms and Ofr. Wells. Our Division is regularly supplemented by other local EDCT teams from the Port of Portland and FPS. I anticipate no interruption of Transit EDCT service or response; in the near term we are formulating a plan to acquire another canine to begin work in Portland as soon as we can.
Please call or e-mail if you have any questions. Thank you
VINCENT L. JARMER
---
In Loving Memory of
K9 LUCA
June 2009 (?)
.jpg??
Handler: Officer Sean Lawlor
Hemet Police Department
450 E Latham Ave
Hemet, California 92543
(951)765-2400
LUCA was medically retired after needing a couple of transfusions, and the vet not thinking he would get better. Approximately four
weeks later he succumbed to his condition (immune disease) and had to be put down. Luca had some form of anemia, and we never determined what the cause was. His handler was officer Sean Lawlor. Luca was nearly seven years old, and was with our department for nearly 5. He was a great patrol dog, and was highly trusted by officers. He was cross trained in narcotic detection, and had many significant drug finds over the years. He was a great patrol dog and partner.
Officer Lawlor transferred to another police department recently, but Officer Long is also a handler and could possible provide you more information if needed. His e-mail is: plong@cityofhemet.org

Duane Wisehart
Patrol Lieutenant
Hemet Police Department
(951) 765-2418
---
In Loving Memory of
K9 LANDO
1998 - June 28, 2009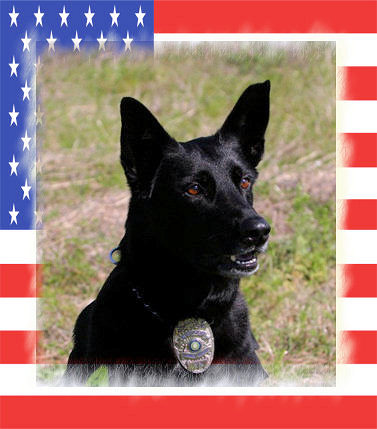 Handler: Gabrielle Guerra
Harker Heights Police Department
402 Indian Trail
Harker Heights, TX 76548
PH: 254.953-5420
website: http://www.ci.harker-heights.tx.us.us/default.aspx?name=pd.welcome
Fallen canine 'Lando' remembered by police
7/5/09Texas
Scruff McGruff touts in his cartoons about taking a bite out of crime. In Harker Heights, Lando, 12, did not need fictional cartoons – though a portrait was drawn of him. His real crime fighting in Harker Heights beat any cartoon. Lando, 12, possessed a nose for narcotics that would make even a seasoned detective jealous. His nose seized more than $400,000 in street drugs. He detected buttered popcorn, his favorite food with even greater tenacity, Gabrielle Guerra, Harker Heights police K-9 handler, said.
In Guerra's home, Lando did not need to see the family huddled around the TV to know it was movie night. He smelled the popcorn and begged, which the Guerras often gave into, sometimes along with French fries. Lando, a community icon and nationally recognized detector dog, died June 28 in his sleep at Guerra's home. He died two days before his 13th birthday. Lando was to be retired July 14 after more than 10 years of service. He was to be replaced when "Rocky," a 2-year-old canine, was to be sworn into the force. Instead, Lando decided it was time, Chief Mike Gentry said.
HHPD purchased Lando, a Belgian Malinois, in 1998 for $5,500. He more than made up for his fee in dangerous missions, drug seizures, nationwide awards and fame. He became Bell County's first patrol dog and was one of the longest serving canines in the United States. His death devastated a department that grew with him, Gentry said. Lando's purchase was a watershed in HHPD history, symbolic of the city's renewed commitment to public safety. The commitment resulted in success over the last decade, Gentry said.
His dark distinguished face became the department' public identity. Lando attended all National Night Out events and most Harker Heights public functions.
He, with Guerra at his side, became the first police canine to throw a first pitch at a Texas Rangers baseball game several years ago. Lando inspired children to read. He co-founded the Paws in Print Reading Program with Guerra. His infectious charisma drew children to the Harker Heights library where they read to Lando. Children as young as two years old visited the library to pull Lando's ears, pet him and bask in his joy, Lt. Houston Johnson said.
Lando's death crushed Guerra, who needed all of Monday to pull herself together. She spoke Tuesday flush red, holding back tears, with a somber smile on her face.
"Gabby lost a family member. Lando, he cared for her and she for him," Gentry said. Lando was at her side at home and on the job. When she stopped to fill her car with gas, he crawled into the driver's seat. The loss shocked her 8-year-old daughter, Ashleigh, who adored Lando. Ashleigh carried Lando's food bowl, his favorite blue rubber ball and her favorite photo of him around the Guerras' home with her Monday, Guerra said.
Guerra traveled throughout the country, leading training seminars with law enforcement agencies. "When people wanted to see how it was to be done, they looked at her and Lando," Gentry said. Brett Blenden, a Killeen police K-9 officer, described Guerra and Lando as an ideal bond between a strong trainer with a perceptive voice and a disciplined canine with an attentive ear for his handler. Fans, friends, acquaintances and fellow handlers inundated Guerra with 100s of text messages, phone calls and e-mails, she said. Guerra's memories of Lando pulled her through the first several days.
She remembers proudly a few years ago when Lando saved another officer's life. Three officers stopped two men in a car at a night club. An officer stood next to a passenger who was fumbling around inside the car. Guerra let Lando loose and he immediately barked, sensing trouble. He barked loudly, prompting the passenger to stop fumbling and drop a knife he was holding that could have stabbed the officer. "I always said it was him who taught me everything," Guerra said.
MORE

Lando is a German Shepherd and Belgian Malinois mix who was born in Europe. He came to the Department in 1998 and is a four-time medal winner in the 2000 Police K-9 Games and has consistently placed in the top 5 in the National Narcotic Detector Dog Association (NNDDA) competitions, man-work, obedience, and over-all qualifications. He was assigned to the Department in September of 2006 and is certified in both Narcotics and Patrol.
Officer Guerra is recognized among her peers as one of the top K-9 handlers in the Nation. Officer Guerra serves as a guest instructor for K-9 training when her schedule allows. Officer Guerra placed 3rd overall in the NNDDA competition in 2004. When needed, several officers of the Patrol Division assist the K-9 officers with training and practice drills. Officer Villella placed 4th in the NNDDA competition in 2008.
UPDATE:
K-9 hero remembered at final farewell
Memorabilia from the late K-9 police dog Lando, rests on a table during a memorial to the canine Friday at the Harker Heights Police Department.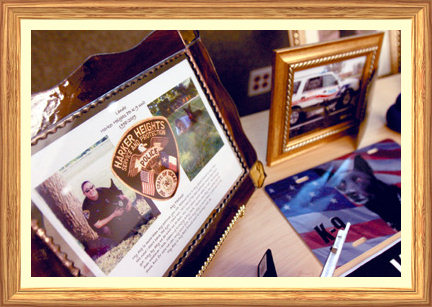 Harker Heights Police Chief Mike Gentry speaks as Gabrielle Guerra, Lando's handler, wipes away a tear during a memorial for the dog Friday at the Harker Heights Police Department. Lando died June 28 at Guerra's home.
"Lando" was more than man's best friend. He was an officer's best partner. Lando, a black Belgian Malinois, did more than change the life of fellow Harker Heights officer Chris Villella. He saved it. Lando was remembered Friday at a memorial service attended by Villella, almost 60 mourners and Lando's owner/handler, Officer Gabrielle Guerra.Tables adorned with Lando's leash, his vest, photos, awards and memorabilia encircled a crowd inside a meeting room at the Harker Heights Police Department. Outside everyone gathered around a memorial stone that read "Forever and always a guardian of the night."
Lando, a community icon and award-winning detector dog, died June 28 in his sleep at Guerra's home. He served more than 10 years with HHPD. He died two days before his 13th birthday and a few weeks before his July 14 retirement. Villella experienced love at first bite with Lando, even though he belonged to Guerra. Villella joined HHPD five years ago to be a K-9 unit handler. Villella was hooked when Lando bit him the first time during a training exercise. A little over a year later, Lando saved Villella's life. Guerra, Villella and another officer stopped two men in a car outside a night club.
Villella stood next to the passenger door, unaware that inside the passenger fumbled with a knife. Lando sensed trouble. He barked loudly when Guerra released him from the patrol car. Lando barked so loud he frightened the passenger who dropped the knife beneath the seat, which saved Villella from being stabbed. "We were close back then, but after that, it made us permanent," he said. Lando possessed impeccable discipline, said Rick Opperud with the Brazoria County Sheriff's Office.
Lando developed a rare ability to be perfect in competition and on the streets, where he seized more than $400,000 in narcotics. Opperud was joined by law enforcement from across Central Texas and the state Friday. "I told her (Guerra) she'll never have another dog like him. He was a once-in-a-life time dog," Opperud said. Guerra, with tears in her eyes, shared stories of a canine partner that became a family member. Guerra's husband, Tim Palma, described Lando as "the son I never had."
Lando's death left an irreplaceable hole in their home, they said. Lando was the big brother for their daughter, Ashleigh Palma, 8. Lando followed Ashleigh everywhere, and in return she played ball with him. When tired from playing ball, he became her pillow and they slept, Palma said. "I think what I miss the most is the twinkle in his eye and his warm smile whenever he greeted everybody," Guerra said. Lando's loud bark no longer greets Guerra when she arrives at her Falls County home, but she knows he will wag his tail for her again someday. "When it's my time to leave this world for the next, a beautiful black Malinois will be sitting at the gates of heaven," Guerra said. "Thank you for being the best partner I could ever ask for." submitted by Jim Cortina, Dir. CPWDA