In Loving Memory of
K9 GUNNER
August 6, 2009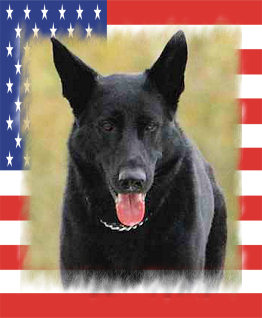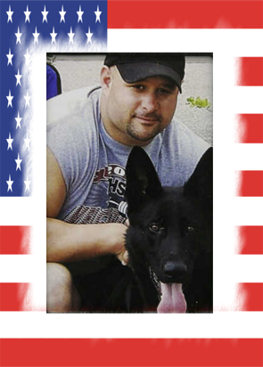 Handler: Officer Joseph Rinaldo
Zephyrhills Police Department
6118 8th St
Zephyrhills, FL 33542-3504
(813) 780-0050
Police dog run over, killed pursuing suspects in Zephyrhills
A police dog was killed in action early Thursday morning, according to the Zephyrhills Police Department. Gunner, a 4-year-old German Shepherd who was partnered with Officer Joseph Rinaldo, was hit by a car while pursuing suspected burglars across Gall Boulevard at 1 a.m. Thursday. The suspects — Kathleen J. Harpst, 36, and Charles L. Boulanger, 51 — were caught and are being held at the Land O'Lakes jail. They are accused of breaking into a store on Gall Boulevard in Zephyrhills. Both are charged with burglary and possession of burglary tools. They were also charged under the obstructing justice statute, which makes it a third-degree felony punishable by up to five years in prison to kill or injure a police dog. Funeral arrangements are pending, according to the Zephyrhills Police Department.

submitted by Jim Cortina, Dir. CPWDA

another version:
ZEPHYRHILLS - A police dog was killed Thursday as it helped officers chase a burglary suspect across U.S. 301.
Gunner, a 4-year-old German shepherd, had been with the Zephyrhills Police Department since May 2006. Gunner's handler during his time with the department was Officer Joseph Rinaldo. "It's a pretty raw deal for all of us," said Capt. Jeff McDougal. Officers responded to a burglary at 5747 Gall Blvd. about 1 a.m. Thursday. The suspects were still inside the business when Rinaldo and Gunner arrived. Gunner was sent in through the back door and chased the suspects as they ran from the store. Backup officers arrived and joined the chase, McDougal said. As Gunner chased one of the suspects, he began getting closer to one of the pursuing officers. That's when Rinaldo called Gunner off and had him recross U.S. 301. But as Gunner crossed the highway, he was struck and killed by a sports utility vehicle." Joe really had one choice and that was to call that dog off," McDougal said. "The dog can't tell the difference between the burglar and a police officer in those kind of situations, so he really prevented serious injury to one or more officers by calling him off." Police arrested Charles Lee Boulanger, 51, and Kathleen Harpst, 36, at the nearby Magnuson Hotel; they face charges of burglary, possession of burglary tools and interfering with a police dog. Florida law provides for the prosecution of people who harm police dogs and horses. One provision in the law requires anyone convicted of such an offense to pay for the replacement of the animal. Boulanger and Harpst, both of 36919 North Ave., were being held Friday in the Land O' Lakes Jail with bail set at $3,100 each. According to police reports, they entered the business by breaking a deadbolt lock on the back door and stole $2 in cash, 40 postage stamps and a laptop computer. The items were recovered
by police. reporter TODD LESKANIC | The Tampa Tribune. Leskanic can be reached at (813) 731-8098.
MORE>>>>>>>>>>>>>>>>
Service for Zephyrhills K-9 killed in line of duty Friday
A memorial service will be held Friday, August 14th for Gunner, the Zephyrhills police dog who died in the line of duty Thursday during a burglary call. The 4-year-old black German shepherd, who was partnered with Officer Joseph Rinaldo, had responded to a burglary in progress at a business and was struck by an SUV and killed when trying to cross Gall Boulevard after being called off when pursuing the suspects. Both suspects in the burglary were apprehended by backup officers. The canine's memorial service will be at 2 p.m.
at Zephyr Park directly behind Alice Hall, 38116 Fifth Ave
.
MORE>>>>>>>>>>>>>>>>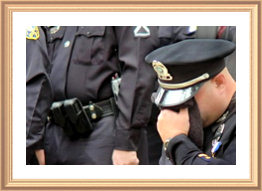 Fallen K9 mourned by officers, fellow units 8/14/09
Zephyrhills Police Department K-9 Officer, Joe Rinaldo mourns the loss of his partner, K9 Gunner, during the memorial service at Zephyr Park.
The 21-gun salute was followed by the barking of a dozen German shepherds - police dogs who came to mourn the loss of one of their own.
Zephyrhills Police today laid to rest Gunner, a 4-year-old German shepherd killed in the line of duty, with all the dignity of a fallen comrade. Gunner was hit by an SUV on Gall Boulevard on Aug. 6 after chasing a pair of burglary suspects across the busy street. His handler, Officer Joe Rinaldo, had called the dog off and Gunner was returning to him when he was struck and killed.
Pasco County Sheriff's Office Deputy John Rux, who trained Rinaldo and Gunner, spoke of the unique bond between the K-9 officer and his handler. "He was always so excited to show Joe what he had found," Rux said. "Gunner lost his life doing what he loved most - working – and even more, running back to you." During his career, Gunner helped locate more than 40 people and was involved in 25 narcotics cases. He also tracked, and ultimately helped save a suicidal person who had overdosed on drugs.
The decorated police dog also had a weakness for potato chips, which drove his handler crazy. "We'd all slip him Pringles," Rux recalled.
"Gunner was an awesome dog," PCSO K-9 handler Joe Liddick said. "He was beautiful. I would have liked to have had him – and that's a huge complement coming from another handler." Rinaldo, who had worked with Gunner since May 2006 and trained for hundreds of hours, was devastated by the loss. Man and dog had bonded immediately, but the work did not come easily.
"Early on, my instructors didn't think I'd complete the training," he said. "But looking down at Gunner was all the motivation I'd need." The team eventually graduated from patrol school and completed narcotics training. In 2007, they competed in national police canine competitions.
"The greatest lesson I could have ever learned from a partner. He said, 'I never quit on you, so don't you quit on me,' "Rinaldo said. "With that in mind, I will not resign from the K-9 unit." Zephyrhills Police Chief David Shears,
who traveled to Punta Gorda to pick up Gunner, took the loss especially hard.
"When I was a patrol officer, I always wanted to be part of a K-9 unit," he said. He expects to make the same trip to pick out another dog before too long. "We'll wait 'til Joe's ready," Shears said. "When he gives me the green light, we'll contact the same breeder." More than a hundred law enforcement officers, city employees and others attended the memorial service Friday at Zephyr Park. Some even brought their dogs, including one woman who brought a three-legged Chihuahua to pay its respects. As the bugler played Taps, an officer held a police radio to the microphone. The dispatcher called Gunner's badge number: ZH403. "ZH403 is 10-7 for eternity," the dispatcher said. "He has served us well. May he rest in peace."
MORE>>>>>>>>>>>>>>>>ZEPHYRHILLS
The service was over, taps played, guns saluted, flag folded and presented, and just as people were invited inside for cookies and punch, Officer Joe Rinaldo stood up and walked to the podium. The crowd hushed. It was his partner who died, a police dog named Gunner. It happened a few minutes after 10 p.m. Aug. 6, when Gunner was hit by a car while chasing a burglary suspect. Rinaldo and Gunner had been called to a burglary at a hearing aid business to flush out the suspects and nab them, just as they had done dozens of times before. Gunner — a 4-year-old German shepherd, glossy black, nearly 100 pounds, always the biggest, tallest one at police dog training sessions — chased one suspect across Gall Boulevard, where another officer picked up the pursuit. Rinaldo called off his partner, and as Gunner started coming back, an SUV seemed to come out of nowhere and hit him. The driver stopped. It was an accident. The call quickly went out through the Zephyrhills Police Department that Gunner was dead. He was one of two canine officers with the force. And he was the first officer to be killed in the line of duty with the agency, which began with one man and a revolver in 1914. Police Chief David Shears jumped in his car and raced to the scene. He will never forget what he saw: Rinaldo, 34, big and brawny, quiet and not prone to outward emotion, cradling Gunner's body on the grass by the side of the road. He hadn't moved. He wouldn't leave his partner. The chief and Capt. Rob McKinney coaxed Rinaldo away and into the back of a car. They took Rinaldo back to the station, where he was joined by his girlfriend, Becky Bolton; his father, Dan Rinaldo; and his stepmother, Sue Rinaldo. Dan Rinaldo had never seen his son like this before and he felt helpless. He traveled with his son and Gunner when they competed in police dog events. He watched Gunner when his son was out of town. He said Gunner, the big working dog that tracked bad guys in the dead of the night, was a normal dog off the clock. He loved tug toys and biscuits. He liked to put his paws on people's shoulders — hug, they all called it. He was so tall on his hind legs, he could look a man in the eye. Gunner often rested his head on Dan Rinaldo's lap as they watched sports together. Dan Rinaldo grieved deeply, too. He loved that dog. At the memorial service for Gunner on Friday afternoon, Pasco sheriff's Deputy and police dog trainer John Rux said people who aren't in canine law enforcement can't understand the bond between a handler and his dog. They go through thousands of hours of training together. They entrust their lives to each other. They work together and go home together, sometimes having seen and dealt with the worst society can offer. Both can switch it on and off; work, home. Other police dog handlers from across the country called and wrote, as well as community members. More than a hundred people showed up for the service at Zephyr Park. Handlers from Polk, Lakeland, Sarasota and local agencies came with their dogs. The Pasco Sheriff's Office handled Zephyrhills' calls, so all of the department's officers could attend. Capt. Jeff McDougal held a radio to the microphone, so everyone could hear a dispatcher sending a final call to Gunner — his call sign, 403, and 10-7, out of service. This is what is done for officers who die doing their duty. Officer Rinaldo wasn't on the program. He took a few days to write out what he was going to say. He talked about Gunner, their first meeting in 2006, their training. He thanked everyone for their support. He said Gunner taught him the greatest lesson in life: "I will never quit on you — so don't you quit on me," he said, struggling to not cry. So he made an announcement.
"I will not resign," he said, of staying in the K-9 unit. His voice boomed. "I will return." He is going to get another dog.
He left the podium and his dad was there to embrace him. Rinaldo's big shoulders heaved, his face buried. Later, his girlfriend's 7-year-old son, Cody, ran to find Rinaldo, who is like a father to him. He had something to tell him. When he grows up, Cody said, he wants to be a K-9 officer, too. Just like him. Erin Sullivan can be reached at esullivan@sptimes.com or (727) 869-6229. submitted by Jim Cortina, Dir. CPWDA, plus Karen Estes, and Joe Stanton
---
In Loving Memory of
K9 GRIZ
Born 09/16/1997 - Died 06/29/2009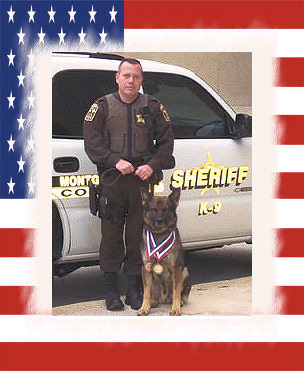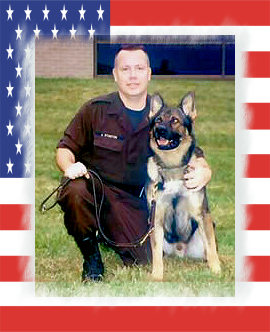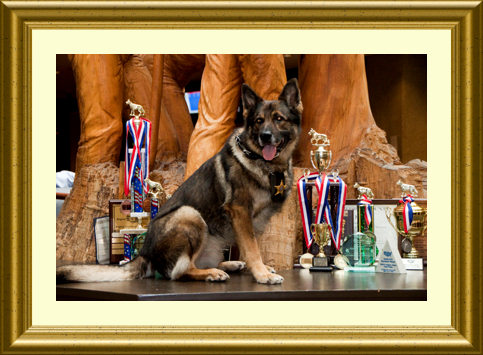 Handler: Sergeant Joseph Stanton
Montgomery County Sheriff's Office
50 Maryland Avenue
Rockville, MD 20850
Ph: 240 777-7000 fax: 240 777-7148
In 1999, K9 Griz was imported from the Czech Republic and assigned to his handler, Sergeant Joseph Stanton. Sergeant Stanton and "Griz" attended 13 weeks of Explosive Detection training with the Maryland State Police and 14 weeks of Canine Patrol training with the Montgomery County Department of Police. During their 10 1/2 year career together, Sergeant Stanton and Griz were active members of the United States Police Canine Association, Region 3, and competed in regional and national K9 events. The team received numerous awards in the areas of Explosive Detection, Obedience, Criminal Apprehension, and Tracking. Griz also earned the region's "Triple Crown" award for three consecutive years.
Griz was responsible for numerous arrests and finds during his career. Griz located lost children, recovered evidence which led to convictions in crimes, and made numerous apprehensions of criminals, including murder suspects. Griz was also called upon to help protect three former Presidents of the United States with his explosive detection capabilities. Griz once appeared on the television show "America's Most Wanted" to assist in the reenactment of an escaped prisoner. Sergeant Stanton and Griz were heavily involved in the 2002 "Sniper" incident which took place in Maryland, Virginia, and the District of Columbia. After their capture, Griz was assigned to the security of Snipers during all of their transports and court appearances in Maryland.
K9 Griz never hesitated to put his life on the line to protect his handler and best friend. Griz will be so greatly missed, but will remain in the hearts of those who loved him and of those whose lives he made a difference in.
He dedicated his life to protect others. God Bless Him..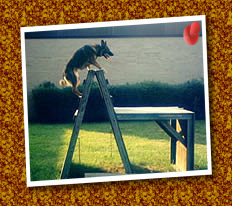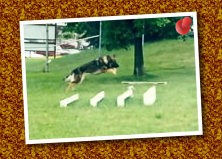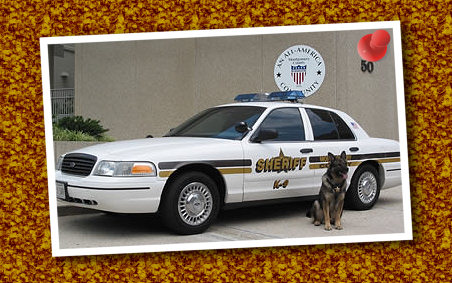 K9 Griz's painting is by Tracy .... go to http://littlevalleystudio.photoshop.com

My three boys. Left is "Griz", Middle is "Justus", and Right is "Mako".
Mako has now taken over all of Griz's responsibilities as a police dog.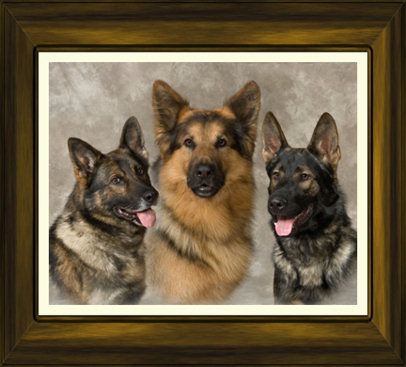 ---
In Memory of all 26 K9s @
Glassboro Police Department
1 South Main St., New Jersey, 08028
l (856)881-1501
1958 - 2009
K-9s
Bear, Bento, Blitz, Bodo, Bruno, Bullwinkle ,Buster,
Caesar, Duke#1, Duke#2, Duke#3, Faro, Gero, Grizz
Hans#8, Hans, Jake, Jesse, Kato, Kahlua, Max,
Nando, Rex, Samson, Starsky, & "3-D"
For more information, go to:
http://www.angelfire.com/nj4/glassboropolice/k9past.html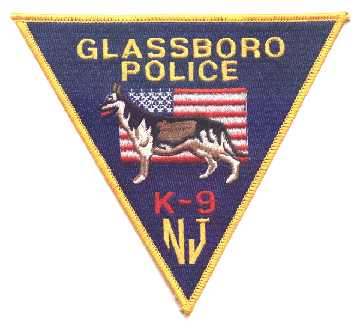 ---
In Loving Memory of
K9 GUNNER
April 16, 2009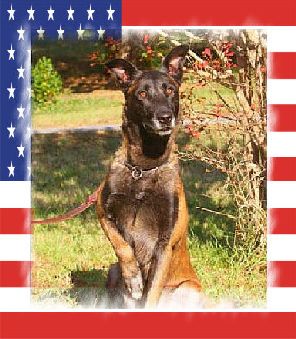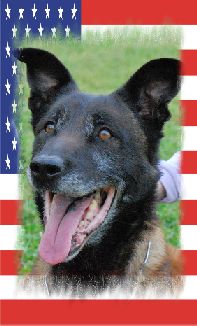 Handler: Jess Dillard
Conyers Police Department
1194 Scott St. N.
Conyers, GA 30012 PH: 770.483.6600
Gunner was nine years old. He was imported from Holland, where he was trained to compete in the Koninklijke Nederlandse Politiehond Vereniging (KNPV) trials. Gunner obtained a lifetime title in KNPV. Gunner was shipped to the US in 2004, where he was trained by me while going through an instructor's course at Kasseburg Canine Training Center in New Market, AL.
Upon completion of the 10-week course, Gunner and I hit the streets. While mainly working drug interdiction, Gunner located large amounts of cocaine, marijuana and ecstasy, as well as assisted in the seizure of large amounts of illegal drug currency. Gunner was also responsible for apprehending a known drug dealer that decided he would try to outrun a dog. Gunner assisted in numerous building searches and located several suspects by tracking their scent.
Gunner was a great family dog. He was able to separate his work from his family. Gunner loved our two small children and had a Golden Retriever for a girlfriend at home, who he loved to chase all over the yard. Gunner was laid to rest on April 16th, 2009 as a result of liver cancer. He was laid down in his front yard in my arms, surrounded by his family. Gunner was buried next to our fellow partners, K-9 Shadow and K-9 Bolo.
Sincerely, Jess
--
"In God, and K-9's, we trust"
jess.dillard@conyersga.com
submitted by:
R. Todd Wood / Lieutenant
Conyers Police Department
1194 Scott Street
Conyers Georgia 30012
770-929-4209
K-9 Gunner BIO
K-9 Gunner, affectionately referred to as "Gunny," immigrated from Holland in 2004 in order to become a law enforcement K-9 here in the United States. In making the move to the U.S., Gunny joined the ranks of the Conyers Police Department in December 2004 under the direct supervision of K-9 Officer Jess Dillard. In Holland, K-9 Gunny held the life time title of Koninklijke Nederland's Politiehond Vereniging (KNPV), which is the highest title in Holland. Gunny successfully obtained a full P S D certification through the North American Police Work Dog Association, which is the highest certification NAPWDA offers. He also held certifications through the National Narcotic Detector Dog Association (NNDDA). Gunny was not only used by the Conyers Police Department, but was often called in to assist to law enforcement agencies in Rockdale County, Newton County, Walton County, GSP,and the DEA and ICE. Gunny was able to separate work from play. At work he would apprehend a suspect on the slightest, whispered command. He would come out of his car in a manner that were referred to as "auto-pilot" and immediately begin looking for narcotics. At home, he was as gentle and playful as a puppy. He was loved by K-9 Officer Dillard and his entire family. Gunny will go 10-42 at 1 K-9 Officer Dillard's home on April 16, 2009. Gunny will be laid to rest on K-9 Officer Dillard's property, where he will join the ranks of K-9 SHADOW and K-9 BOLO.
---
In Loving Memory of
K9 GRANIT
February 4, 2009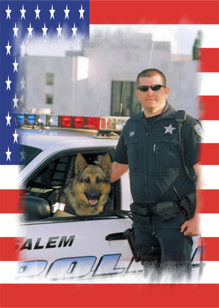 Handler: Officer Ryan Demmer
Salem Police Department
555 Liberty St SE,
Salem Police Mourn the Death of Canine 'Granit'
The loss has left the Salem Police Department with the unexpected need to obtain and train another canine for our program, a cost of approximately $14,000. It is with great sadness that the Salem Police Department announces the unexpected death of one of their patrol canines, Granit. Lt Dave Okada with Salem Police, says Granit died on the evening of February 4th from "bloat," which is a condition of the esophagus and lower intestine. There are multiple causes of this condition, but it frequently occurs after exercise, as it was in Granit's case. Granit was born on July 20, 2001 in Bebra, Germany and joined the Salem Police Department on March 15, 2005. He was certified to Oregon Police Canine Association Standards and began active duty on May 2, 2005 with his handler, Officer Ryan Demmer. Although Granit had a short career with the Salem Police Department, he and his handler were very active and were involved in hundreds of deployments, including patrol work, narcotics sting operations, SWAT missions and searches for the elderly, sick and young children. Granit and Officer Demmer participated in the search, capture and arrest of 416 criminal suspects that resulted in 751 criminal charges being filed in Court. One of Granit's most remarkable captures was that of Oregon State Hospital escapee Michael Sands. Sands escaped from the State Hospital, stole a car, fled from officers in the car, rammed a patrol car, actively fought and resisted officers, attempted to take a taser away from an officer and also attempted to take an officer's firearm in the process. According to records, Officer Demmer and Granit arrived on scene and Granit was able to take control of Sands until other officers could arrive and take him into custody. Sands was aggressively fighting with the officer at the time that Granit arrived, and had Granit and Officer Demmer not arrived to assist, the suspect may have been able to wrestle away the officer's firearm and deadly force would have been the likely result. Instead, the suspect sustained bite wounds and was later returned to the State Hospital. Okada says Granit was loved within the Salem Police Department and will be greatly missed by not only department members, but also Officer Demmer and his family. He also says this tragic loss has left the Salem Police Department with the unexpected need to obtain and train another canine for our program, a cost of approximately $14,000. "The last four canines purchased by the Salem Police Department have been largely through the support and generosity of the community," Okada said. Donations have played a very large part in the police department's ability to maintain the canine program at the high level of proficiency to which our community has become accustomed. "The Salem Police Department is asking for support in this very worthwhile investment in the safety of our community." Okada says tax deductible donations can be dropped off at the Salem Police Department or mailed to the Salem Police K9 Unit, 555 Liberty St SE, Salem, OR 97301. Questions can be directed to the K9 Unit supervisor, Sgt. Darrell Wood, at 503-589-2001 ext 11196.

submitted by Jim Cortina, Dir. CPWDA
---