In Loving Memory of
K9 FREDDY
October 28, 2009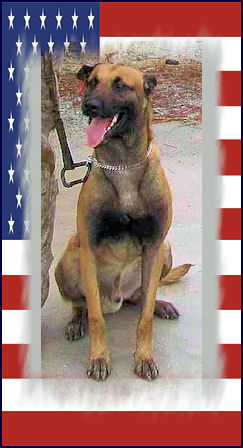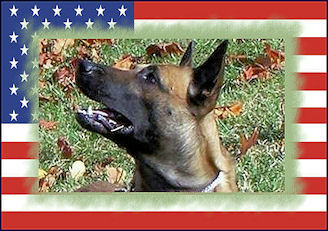 FBI Detroit contact: Special Agent Sandra R. Berchtold
(313) 237-4218
FBI K-9 Killed in the Line of Duty
On October 28, 2009, Federal Bureau of Investigation K-9 Freddy lost his life in the line of duty. Freddy will be returned home to Quantico, Virginia. A memorial will be held at Quantico and Freddy's name will be added to a memorial wall. Freddy was a Belgian Malinois. Freddy was born on February 17, 2007 and entered on duty with the FBI on September 8, 2008. In the line of duty, Freddy gave his life for his team. He will be missed by his FBI family.
Anyone who wishes to send a card to Freddy's team members, please send them to the address below and they will be forwarded to the team:
Freddy's Team
c/o FBI
477 Michigan Avenue, 26th Floor
Detroit, Michigan 48226
Anyone wishing to donate money to a K-9 Law Enforcement Memorial in the memory of Freddy:
FBI Agents Association
Attn: K9 Fund-Freddy
PO Box 12650
Arlington, VA 22219
Freddy, a Belgian Malinois killed in the line of duty in Michigan Wednesday, will have his name added to a memorial wall at FBI headquarters in Quantico, Va., the agency said Thursday.Freddy was killed by gunfire at a Dearborn warehouse during a raid on members of a group the FBI described as a radical, violent and separatist black Muslim group. Killed in the raid was Luqman Ameen Adbullah, the imam of the Masjid Al-Haqq mosque in Detroit and the alleged leader of the group, according to the Detroit News.
The FBI said in a news release that Freddy's body will be returned to Quantico, where the dog was based.
"Freddy was born on Feb. 17, 2007 and entered on duty with the FBI on Sept. 8, 2008," the FBI said in a statement. "In the line of duty, Freddy gave his life for his team. He will be missed by his FBI family."
Donations to the K-9 Law Enforcement Memorial can be sent to the FBI Agents Association, Attn: K-9 Fund Freddy, P.O. Box 12650, Arlington, VA 22219.
========
FBI Remembers K-9 Killed During Michigan Raid
A 3-Year-Old Dog Named Freddy Died in Shootout in Dearborn
Like most dogs, he served loyally, alongside federal agents in the line of duty -- and in a violent shootout earlier this week with alleged terror suspects, he took a bullet for the team. Authorities claim the suspect sought to create an Islamic state in the U.S.
An FBI K-9 named Freddy, a three-year-old Belgian Malinois, was was killed Wednesday while federal agents raided the hideout of men suspected of involvement with an organized crime ring and who were also allegedly part of a radical Islamic sect.
Luqman Ameen Adbullah, under investigation by the FBI's Joint Terrorism Task Force in Detroit, was killed in an exchange of gunfire after the FBI says he refused to surrender to agents executing an arrest warrant at a warehouse in Dearborn, Mich. It was during this exchange that Freddy was hit by a bullet.

====MORE
2 shots to the neck killed FBI dog, tests show 5/26/10
On Oct 28, 2009, Federal Bureau of Investigation K-9, Freddy, lost his life in the line of duty.
The FBI dog killed during a raid involving Imam Luqman Ameen Abdullah was shot twice in the neck, according to a veterinary report released today by a Muslim group.
Freddy the dog was used by the FBI during the Oct. 28 raid in Dearborn to arrest Abdullah and his followers on suspicion of dealing in stolen goods. Abdullah was shot and killed during the raid by FBI agents.
The FBI has said Abdullah first shot Freddy, after which agents returned fire. Family members and some advocates say it's unclear who shot the dog, raising the question of whether the dog could have been shot by friendly fire. The veterinary report, known as a necropsy, talks about bullet fragments found in the dog, but does not indicate what type of bullets were used. It also says there were four wounds noted on the dog, but does not indicate whether some of those were from exit wounds or other bullets. It says, "Multiple small bullet fragments seen."
The dog arrived Oct. 28 at Veterinary Emergency Service of Madison Heights, which did the report. The veterinarian named on the report is currently on vacation and another involved with the report is not at work now, the company said today. The report was released by the Michigan chapter of the Council on American-Islamic Relations, which has been critical of the FBI's killing of Abdullah, a Muslim leader who headed a mosque in Detroit.
The FBI, which used informants to monitor Abdullah, has said Abdullah made statements that were anti-government and advocated violence. "The necropsy report raises more questions than answers," said Dawud Walid, head of the council. "It doesn't tell us what bullet calibers were found. So we don't know if friendly fire was involved or not." The FBI said it had no comment today on the report. The head of the Detroit FBI, Special Agent in Charge Andrew Arena, has said previously that his agents acted appropriately. Speaking in West Bloomfield two weeks ago, Arena said he worried that Abdullah or his followers might attack police officers. submitted by Jim Cortina, Dir. CPWDA
---
In Loving Memory of
MWD K9 FLAPOOR
June 30, 2009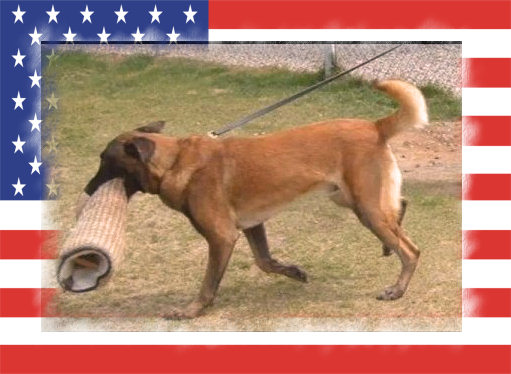 Handler: Marine LCpl.Brown
U.S. MARINES
IRAQ
Marine War Dog Hero Dies

Video Tribute http://www.youtube.com/watch?v=ph5U1eeb2Oc&feature=player_embedded
MWD Flapoor was one of our great military working dogs who was on the front lines with our Marines during Operation Iraqi Freedom. His handler, Marine LCpl Brown, made this tribute video so we can all remember one of our beloved K9 heroes. MWD Flapoor did two tours in Iraq. During his first tour, in 2005-2006, MWD Flapoor and his handler at the time, Cpl Poelart, were providing security at an Iraqi police recruitment center in Ar Ramadi when a suicide bomber blew himself up outside the building. The bomb killed dozens of Iraqis wanting to become police and wounded dozens more.
The bomb set a precedent in that the first military working dog handler, Sgt. Adam Cann, was killed in action during Operation Iraqi Freedom. MWD Flapoor and his handler were both wounded and awarded the Purple Heart. Cpl Poelart was eventually honorably discharged while MWD Flapoor recovered from his wounds and went back for a second successful tour in Iraq. Thank you for making this tribute LCpl Brown so we can all remember this amazing dog for his sacrifice and service to our country.
submitted by Jim Cortina, Dir. CPWDA & Roger Bull
---
In Loving Memory of
K9 FIN
August 10, 2009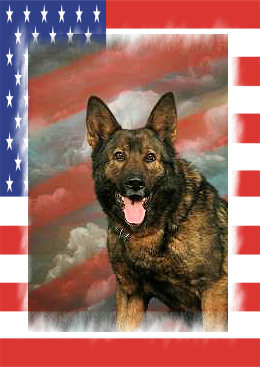 Handler: Sgt. Billy Downey
Gaston County Police Department
420 West Franklin Blvd.
Gastonia, NC 28052
Phone 704-866-3320 Fax 704-862-6322

WEBSITE -
http://www.co.gaston.nc.us/GASTONPD/
K9 Fin passes away -
K-9 led police to murder suspect, sniffed out $2 million in drugs
Fin, a 12-year-old German shepherd, led police to more than $2 million in illegal drugs in five years as a Gaston County Police K-9.
When the murder suspect's footsteps faded, Fin's nose led police to his hiding place. The Gaston County Police K-9 collared the accused killer, a Shelby man traced to a home in Bessemer City, more than four years ago. His handler, Sgt. Billy Downey, said the successful track is just one of Fin's many crowning achievements. "It was a difficult track because (the suspect) got over two six-foot privacy fences," Downey said. "He was the most wonderful police dog I've ever worked with, and not just because he was my own."
The 12-year-old German shepherd died Monday after his veterinarian found an inoperable heart tumor. Fin had been diagnosed with hip dysplasia and retired from service in December 2006. He lived with Downey and his family. County police bought the dog from a Charlotte trainer when he was 4 years old. Fin received training in schutzhund, a working dog sport that tests canine agility and protective traits, and Downey trained him to perform article searches, track humans and sniff out illegal drugs.
Fin led police to more than $2 million worth of cocaine, heroin, marijuana and other drugs during his five-year career, Downey said. Police K-9s live with their handlers, and Fin transitioned well from a family pet to a duty dog. "When he was at home, he was playful and he got along with everyone," Downey said. "He would let the kids ride on his back and pull his ears. As soon as he got in the back of the police car, his demeanor changed. He knew he was going to work."
In summer 2006, Fin developed hip dysplasia, a genetic condition common to the German shepherd and Belgian malinois breeds favored by law enforcement. He was retired that year and continued to live with Downey — who earned his sergeant's stripes the same month. Fin's health had declined, and he wouldn't have survived an operation to remove the tumor. Downey had him euthanized to relieve his suffering. "I've got hundreds of stories about him, about the things he's done," Downey said. "He was a great watchdog, and he loved being in the backyard, playing with the kids. The family misses him bad already."
Another version:
On Monday August 10, 2009 retired Gaston County Police K9 Fin passed away. Before his passing, Fin had been diagnosed with an inoperable heart tumor. Fin was retired from service in December of 2006 due to the onset of hip dysplasia. He resided with his handler, Sgt. W. P. Downey and family. During his 5-year career Fin was responsible for over 100 track finds. He conducted hundreds of vehicle searches and found in excess of $2 million dollars of illegal street narcotics, including marijuana, cocaine, heroin, and other illegal street drugs. One of the highlights of his career was locating a murder suspect wanted from Shelby, North Carolina on a track.
For additional information contact Sgt. W. P. Downey at 704-866-3320 or 704-629-2235.
submitted by Jim Cortina, Dir. CPWDA
---
In Loving Memory of
K9 FOSTER
July 26, 2009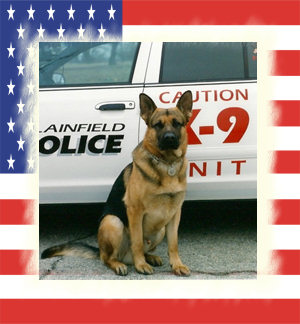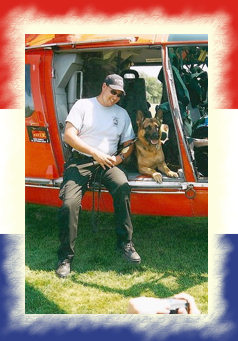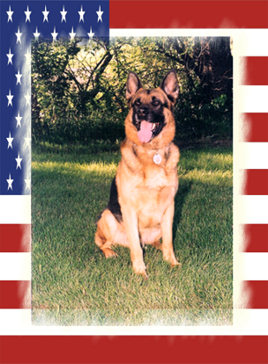 Handler: Officer Jim Caliendo
Plainfield Police Department
14360 S. Route 59
Plainfield, IL 60544-8988
(815) 436-6544
Veteran Plainfield Police K-9 dies
A veteran southwest suburban police dog, who in his nearly eight-year career was responsible for taking more than $2 million in drugs and property off the streets and conducted more than 20,000 searches, has died. Foster, who began work with the Plainfield Police Department in November 1998 with his partner Officer Jim Caliendo, retired in July 2006, a release from Plainfield police said. Foster died on Sunday, after a short illness. In addition to the drugs and property he found and the searches performed, he performed several hundred demonstrations for neighborhood block parties and D.A.R.E. graduations. In November of 2006, Foster was honored by the Illinois Legislature for his dedicated service to the people of the state of Illinois, release from Plainfield police said.

Jim has been with the Plainfield Police Department for 15 years. He has spent the last 6 years in the K-9 unit. K-9 Foster is from Germany and has served the department well over the last 6 years seizing over $150,000.00 in drugs,
money and property.
More about K9 Foster
Foster to be honored for career on Plainfield police force - (8/19/09 - Illinois)
Plainfield police are preparing to commemorate a departed colleague credited with performing some 20,000 searches during his 8-year career. Police Sgt. Jim Caliendo said the memorial service for his former canine unit partner, Foster, will be Aug. 28 or 29. Foster retired from the Police Department in 2006 and continued to live with Caliendo and his wife until his death last week, a few days shy of his 13th birthday. The German shepherd spent most of his career focusing on the Plainfield area. The canine unit was frequently called in to search for drugs, and to track missing and wanted persons.
Caliendo estimated that he and his partner also performed 25 to 50 checks at Plainfield-area schools. Caliendo accounts for the 20,000-search estimate by explaining that the unit spent its first two years working with the U.S. Customs Service. "We searched trains, planes and buses. We were busy," he said. Foster capped his career during his last year by sniffing out a 400-pound shipment of marijuana at a now-closed truck stop. His retirement prompted a commemorative resolution in the Illinois House in 2006, Caliendo said.
In retirement, Foster remained committed to Caliendo: "He was the last 'person' I'd see going to work in the morning and the first person I'd see coming home at night," he said. That loyalty initially worried the Caliendos when their first child arrived. But Foster, initially puzzled by the newcomer, soon showed a paternal side: He slept in the infant's room and would hurry to the parents' room at night to alert them when the baby awoke. "We went through some tough times together," Caliendo said. "He was my partner and my friend.
all information ....submitted by Jim Cortina, Dir. CPWDA
p.s. Our Heidi, GSD, would not let anyone go upstairs to our new babies room!! We still miss her! (We are now grandparents and we still talk about her)
---
In Loving Memory of
K9 FAGAN
June 20, 2009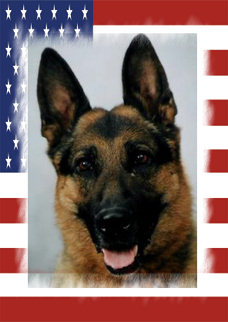 1ST Handler-Officer Wayne Perkins (1996-2001)
2nd Handler-Officer Macon Moore ( 2002 - 2007)
Southaven Police Department
Southaven officers recount bravery of police dog Fagan -
Retired K9 dies; was known for courage
Fagan, a Czech shepherd retired police dog who participated in hundreds of narcotics cases over an 11-year span, died Saturday. "He was 13 or 14 years old, but a combination of the heat and his old age apparently did him in," said Lt. Mark Little of the Southaven Police Department. Fagan was a combo dog, trained for both pursuit and narcotics detection. He excelled at both." He was handled initially by Wayne Perkins (1996-2001), but when Perkins was promoted to lieutenant, he was turned over to Macon Moore," Little said.
Moore, now training officer for the DeSoto County Sheriff's Department, turned Fagan back over to Perkins when Perkins became commander of Southaven's K-9 unit in 2002. It is unusual for a police dog to have different handlers and still be able to function at a high level, but officers said Fagan, who retired in 2007, was an extraordinary dog. "We had one pursuit that raced into Memphis, where the driver bailed out and ran into some woods," Little said. "Perkins released Fagan, who followed the suspect into the woods, found him and then brought him back out of the woods.
"As Fagan got the driver, the driver hit him in the head, but after a few minutes of recovery time, Perkins then released the dog on the trail of the passenger in the vehicle. "Fagan tracked the passenger to an apartment house about 100 yards away. "He made both catches on the same case even though he had been hit," he said. Dep. Chief Steve Pirtle said Fagan was one of the most dependable dogs the department has had. "He was absolutely fearless. "Fagan was truly a working dog and he loved to work," he said.
When asked how many injuries to police officers the dog might have prevented, Pirtle said, "The only term that comes to mind is countless." Little said officers familiar with the dog had often talked about his exploits. "We always said that if we could have taught Fagan how to drive, that his handlers would have been out jobs," he said. "He was just that good." Fagan has been buried on the Southaven Police Firing Range on Tulane. The department has four working dogs.
submitted by Jim Cortina, Dir. CPWDA