Memorials to Fallen K-9s


2009-E
The F.A.S.T. Co. donates sets of memorial cards to all partners
I need your help to inform me of such losses.


Dept. addresses available for those who want to

send condolences

to officers. See below
---
In Loving Memory of
K9 ELVIS
July 23, 2009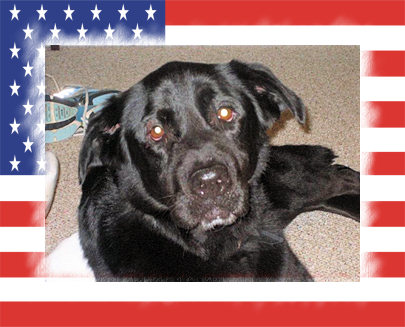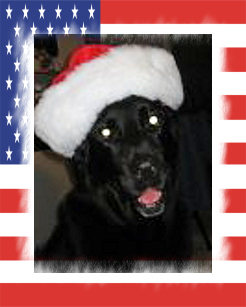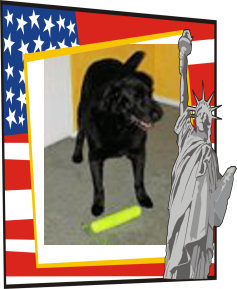 Handler: Sean Mulligan
Retired with Judy .....
US Customs and Border Protection
Washington State
Hate to give you some bad news…Sean's work-dog , Elvis was put down today. He was retired for 3 years and living the life with his new mom Judy. It was pretty sad, as it always is. He was 11. I know Sean will be contacting you about him. It is pretty hard on Judy—this is the first dog she has had to put down. submitted by: Steph Gardner Mulligan. You can go to www.facebook.com and get all the goods.
---
In Loving Memory of
K9 ELWAY
May 2009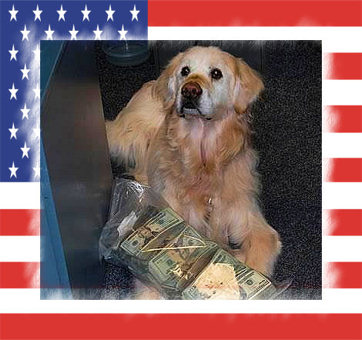 Handler: Officer Kevin O'Malley
San Francisco Police Department
Chief of Police Heather J. Fong
Assistant Chief Jim Lynch
850 Bryant St., #525
San Francisco, CA 94103
(415)553-1551. Fax (415)553-1554
Police dog made a name with his nose
He had the perfect nose for fighting crime.
In a short lifetime, he helped law enforcement agencies sniff out more than $5 million worth of drugs and illegal cash. In one record bust at San Francisco International Airport, he flagged 315 pounds of marijuana and uncovered $165,000 in drug money.
But the selfless heroism of a police pooch named Elway has come to an end. The record-setting drug-detection dog, who spent the majority of his storied career sniffing luggage at SFO, died peacefully late last month after 12 years on the job, police said. He was 14.
Now Elway, who was employed by the San Francisco Police Department and regarded by officers as "the leading dog in Northern California for drug and money seizures," is being honored by his fellow crime fighters for a job well done. The secret of Elway's success was rather simple: His constant smile and good looks often made the work of detecting drugs much easier, said Officer Kevin O'Malley, Elway's handler at SFO.
"People would walk up to him with their suitcase to pet him," he said. "[Meanwhile], they were getting searched."
The SFPD staffs two drug-detection dogs at SFO and another 10 bomb-detection dogs, O'Malley said.
Some are German shepherds, others are Belgian Malinois and one was a Labrador retriever. Elway was the only golden retriever on the canine team, he said.
Golden retrievers "have that inherent instinct to retrieve and a really strong play drive," O'Malley said. And it was that doggedness that made Elway such a strong asset to law enforcement.
Elway was not only used at the airport, but for major narcotics busts carried out across the Bay Area, he said.
Michael McCarron, SFO's chief spokesman, said he knew Elway well and will miss him dearly.
"Whenever I would see Kevin and Elway, I would always ask how Kevin's 'partner' was doing," McCarron said. "Kevin would usually respond with a smile, 'He's getting all the glory and never doing any of the paperwork.'"
While O'Malley is saddened by the loss of Elway, he hopes to have a new "partner" soon. Right now, an 11-month-old golden retriever named Jackson is vying for the position. The young pooch will learn whether he's earned the job following a three-month training program,
O'Malley said.

submitted by Jim Cortina, Dir. CPWDA
---
In Loving Memory of
K9 ECHO-Utah
apr/may 2009(dod?) DIED - LAST WEEK ( congestive heart failure )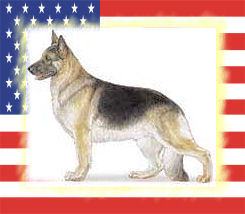 Handler-Former Sheriff's Deputy - Kurt Wright
Washington County Sheriff's Office
750 South 5300 West
Hurricane, Utah 84737
(435) 656-6500 (called for more info)
Washington County's first dual purpose police dog passed away last week from congestive heart failure brought on by advanced years. Echo, a purebred German shepherd, with specialties in narcotics detection and criminal tracking and apprehension was 13-years-old and had been the constant partner of former sheriff's deputy Kurt Wright. When Wright retired from the sheriff's office in June 2002 to work as the Springdale Police Chief full-time, Echo also retired and remained with Wright as his pet.
Wright said he got Echo when he was two-years-old and the two worked together for four years. "He was an amazing dog and was very intelligent," Wright said Echo was purchased with confiscated drug money and came from a line of dual purpose police dogs. Echo's father and grandfather worked for the Kansas City, Mo., Police Department. Washington County Sheriff Kirk Smith said Echo and Wright were a great team. "Echo paved the way for dogs in law enforcement in Washington County," Smith said. "There were lots of positive things that were accomplished."
Jean Hooks, DMV, said one of her fondest memories of Echo was when Echo and Molly, a bloodhound, with the Sheriff's Office, tracked two suspects in the rain for about a half mile before finding the two men. Hooks said what was amazing was that one of the suspects complimented the officers for their good work and also praised the dogs. "I enjoyed working with Echo as a co-searcher and as a patient," Hooks said. Pam Humphreys, a retired Washington County Sheriff's Office Patrol Sergeant said Echo was her hero.
"He was so protective - a great family dog and was very sweet," Humphreys said. "As a working dog, he was exceptional. He didn't hesitate - he knew what he was supposed to do." Humphreys said she observed Echo on the job over many, occasions and said the dog was highly trained. "I will miss him tremendously. He was a good loyal friend," she said. When he worked with the Sheriff's Department, Wright said Echo was on call 24-7 and never missed a day.
As a four-footed officer, Echo even had his own bullet-proof vest and until his and Wright's retirement, was a familiar site on the east side of Washington County where the two patrolled. Wright said during the years the two spent together on the job, the dog spent 12 hours a day with him on patrol and the two did many public demonstrations. "He was my best friend and will be sorely missed," Wright said
submitted by Jim Cortina, Dir. CPWDA
---
In Loving Memory of
K9 EGON VOM DUNKELSTERN
05/07/1995 - 02/04/2009
13:29:06 - 0600

Handler: Jack Richards
Houston ISD Police Department
Victor L. Mitchell, Interim Chief of Police
3500 Tampa
Houston, Texas 77021-1244
District Mail Route 2
Main: 713-842-3715 Fax: 713-842-3752



Egon, my German Shepherd Police K9, was born on May 7, 1995. His parents were Vador Vom Fourniermuhlenbach (Sire) and Ascha Vom Waggoner (Dam). His father was a champion show dog out of Dallas, Texas. His mother was from Spring, Texas.

I purchased Egon in June of 1996 when he was 13 months old. He had been trained for Narcotics Detection work and Man-Tracking. When I first got Egon, I must admit that I didn't know the first thing about handling a working police K9. When I brought Egon home for the first time, my wife and I sat in the living room of our home as Egon sat across the room looking at us. We just looked at each other and asked, "What the hell have we just done?" Looking at him I said, "I know that you know what to do, but I don't have a clue. I sure hope I don't mess you up."
At the time I got Egon I was employed as a police officer for the Houston Independent School District. H.I.S.D. They had never had a K9 program in it's history. I started "selling" Egon to the department due to the fact that we were working the night shift searching school buildings when we would get burglary alarm trips in our buildings. Many times we would check the buildings with one patrol officer and very little, if any, back-up. I continued to push the department command staff to give us the opportunity to implement Egon's learned skills and training to help the responding officers when conducting searches. They told me that they would let me conduct Narcotic/Contraband searches in the various schools as need per the principals who were assigned to these schools. I immediately started to contact and meet with the school principals throughout the district. Many of them were very receptive and onboard with the idea of a trained police narcotics dog coming to search lockers and parking lots for illegal substances. I would work my night shift and then get off work and go home and pick up Egon and we would go to the schools that had requested us. We would search until about 12:00 noon. After about 6 months of doing the searches, one of my Lieutenants came and asked me if Egon could search buildings for burglars. I responded, Absolutely! I knew that if he could find Narcotics, he could find a man. It just required more training to teach him and me of what to do. She told me she had been talking to the Chief of the department and he was willing to implement a K9 program on a temporary basis to see how things would work out. They had a fear of the liability of working an apprehension police K9 in a school setting. I assured them that he was a very civil dog and I had total control over my partner. They decide to let me work him on a trial basis in December of 1996.
The very first arrest we made was a burglary call at an elementary school in southeast Houston at approximately 2:30 AM.
When we arrived at the school five suspects were exiting the temporary buildings behind the school after causing extensive damage to the classrooms of three of the buildings. I was able to observe them as they were running to the rear of the property toward the perimeter fence. I announced that I had a K9 and to stop and get to the ground or I would deploy Egon. They continued to run to the fence and climbed over before Egon could get to them. I went to the gate and managed to get the lock open. The suspects had run between the houses and were gone. I took Egon to the last place that I had seen them and told him to "search." Egon then started to track their scent. As we came to fences, I would help Egon over the fence and we continued to track. He followed their trail for 3 blocks and was able to located one of the suspects hiding in a shed behind a house. He was taken into custody and charged with felony
burglary of a building.

As we continued to work as a K9 team and make arrest and recover stolen property, the department became more supportive. We were invited to Lamar High School for an H.I.S.D. in-house taping to run on the H.I.S.D. channel. The H.I.S.D. media was interested in watching how Egon searched lockers for narcotics. I placed a pseudo cocaine hide in a locker and told the film crew that when he finds it he will sit down. As they were filming us, Egon checked a top locker and gave us an alert by sitting down. I knew that this was not the locker with "my" hide and continued to work him to find the one I had placed. After they stopped filming my supervisor asked me if Egon had given an alert on the top locker. I said that I thought he had. We cut the lock and recovered 6 grams of marijuana in a students backpack. He was charged with possession of marijuana.
Over the years that Egon and I worked together, he searched buildings or tracked and located approximately 70 felony burglary suspects. Egon, on several occasions was able to run tracks and recover stolen property. He assisted various other law enforcement agencies during his time in service. On one occasion the Houston Police Department was requesting a K9. We responded to assist and learned that the Harris County Major Offender's Task Force, the Louisiana State Police and the Houston Police Department were going to conduct a felony traffic stop on a vehicle with a suspect wanted for 4 capital murders in Louisiana and they wanted a K9 standing by. When they conducted the stop, the suspect was ordered out of the car. When he heard Egon barking he gave up and was taken
into custody without incident.
Egon and I have done many demonstrations and seminars about police dogs. We demonstrated how they can assist not only law enforcement, but can truly be a man's best friend. He never ceased to amaze me of his incredible heart and willingness to work and play my game. Without Egon, I can truly say that I would not be in the place I am today. I have not only learned about dogs, but have learned many life lessons from him, such as patience and self control, the importance of leadership and teamwork. I am blessed to have had the time with him that I did. He was my partner and my buddy.
I retired my partner Egon on May 1, 2001. He lived a good life with Fiona and I having the opportunity to be with him every day. He was always there at the gate to greet the customers and their dogs as they would come and go. Egon soon became a fixture at "Privileged Pets." He was in a commercial for Powehouse Church where he chased the devil, who was really my brother in a mask and bite sleeve, out the back door. He received a standing applause. "Way to go buddy!!!!! "
On Tuesday, February 3, 2009, after the last few years of seeing him continue to get older and having a harder time getting up, we decided to make the very difficult decision to finally let him rest. On Wednesday, February 4, 2009 Egon went to sleep. We were with him to the end and thankfully had the opportunity to say good-bye to my beloved K9 partner.
Egon, time will soothe my pain, but it will never erase my memories. You were a GREAT FRIEND. You will be missed.
---