In Loving Memory of
K9 WES
June 23, 2008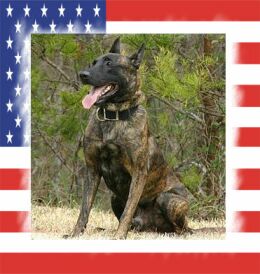 Handler: Deputy Bank
Greenville County Sheriff's Office
4 McGee St.
Greenville, SC 29601
Tel 864-271-5210
Police dog killed, store clerk shot, Wes, the K-9, shot by deputy
A Greenville County Sheriff's Office K-9 was killed after a deputy mistakenly shot the dog while trying to arrest a suspect involved in a shooting that injured a store clerk, Sheriff Steve Loftis said in a statement today. The K-9, named "Wes," was released to help in the arrest but began to bite the leg of the deputy, who "feared for his safety" and did not know the dog had been released, Loftis said. Darkness made it difficult for the deputy to see the dog, Loftis said. Sheriff's deputies responded to a shooting in which a convenience store clerk was shot by a man arguing with another woman this morning. Antwaun Demarcus Whitmire, 26, was arrested charged in the incident, according to Loftis and jail records. The incident began shortly before 5 a.m. when a man and woman were arguing in a car at the Hot Spot convenience store on 3000 W. Blue Ridge Drive, Lt. Shea Smith said. The woman went into the store to make a telephone call, and the man came in shortly afterward and attempted to drag her back to the car, Smith said. The woman was able to escape and ran back inside the store. Smith said the man then got a handgun from his car, went into the store and fired several shots. The store clerk was struck by at least one of the bullets, Smith said. He said she was transported to Greenville Memorial Hospital and was treated and released with non life-threatening injuries. Smith said the suspect fled the store on foot, but police were able to learn where he lived. Several units, including the K-9 unit, went to the hosue on Alice Avenue where they had been told the suspect lived. Police chased the suspect on foot, and during the struggle, the K-9 was shot, Smith said. The suspect was not injured. Deputies rushed "Wes" to Upstate Veterinary Specialist, where the dog died. "Wes" was a five year old Dutch Shepherd. The dog served the Sheriff's Office for three years.
submitted by Jim Cortina, Dir. CPWDA
---
In Loving Memory of
Mounted Police Horse, WALTON
February 15, 2008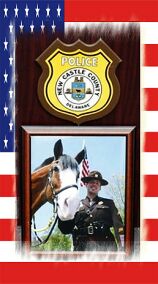 Partner-Handler: Officer Andy Guyton
New Castle County Police Department
New Castle County Delaware
3601 N. DuPont Hwy
New Castle DE 19720
ph 395-8171

stables at: 3700 Limestone Rd
Wilmington DE 19808
ph 995-7610
Beloved police mounts, canines mourned, missed New Castle County officers say a final farewell to
their partners -
By TERRI SANGINITI, The News Journal
A New Castle County police officer salutes during the playing of the National Anthem at a memorial service Thursday at Carousel Park for police horses and canines that died recently. Walton began as a scrawny Clydesdale, but grew into a horse often called "Thunder" or "The Rock." He died two weeks ago.
County officials and friends took time out Thursday to mourn two New Castle County police
mounted horses and four retired K-9 dogs that died recently. Two weeks ago, county police mount
Walton died of complications from surgery, devastating his partner, Officer Andy Guyton,
and volunteers at Carousel Park who cared for him. As part of Walton's memorial,
county police also paid tribute to retired police K-9s Britta, Astor, Cinta and Brian, and 25-year-old retired police mount Wellington. The service at Carousel Park featured
"Amazing Grace" on bagpipes. Col. Rick Gregory, county police superintendent, said the animals
were more than just law enforcement tools. They were loved by members of the officers' families.
"We miss the ones we lost and appreciate the ones we have," Gregory said.
For the last seven years, Guyton was partnered with Walton, the once scrawny Clydesdale
dubbed "Wooly Mammoth," who filled out to become a horse officers called "Thunder"
and "The Rock." "Up until the day he got sick, he was patrolling," Guyton said. "He did
protect the citizens of New Castle County and he brought joy to the kids in rough neighborhoods."
The police mount helped represent Delaware at the 2005 presidential inauguration in Washington.
Tears flowed from Gale Askew, a Carousel Park volunteer for the mounted unit, as she spoke
about Walton, who she had cared for at the farm on Limestone Road. "I walked him, I tended to him for the last three years and he learned to trust me," Askew said. "I will never
forget him and I'll always love him. I have to say goodbye, which is the hardest thing I ever did."
Like Guyton, tears came to the eyes of the K-9 officers when they spoke of their partners.
"These police service dogs are not just invaluable police tools, they are partners," said teary-eyed
Senior Cpl. Charles Sayers of his K-9 partner, Brian, who died last year.
Senior Cpl. Anthony Scelsi said K-9 Britta had to be euthanized in August for health reasons.
The German shepherd served for eight years before being retired in 2004.
Cpl. Terry O'Conner's canine partner, Cinta, had a stroke in December.
As each of the officers shared memories of their service animals, a trio of mounted
horses and six K-9s and their handlers stood by at attention.

submitted by Dawn Lanhan