In Loving Memory of
K9 TURBO
December 15, 2008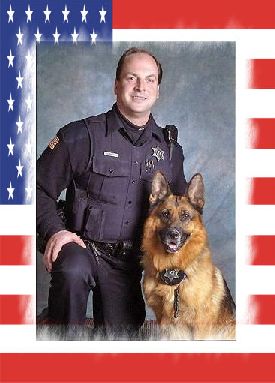 Handler: Officer Tim Mazurkiewicz
Norridge Police Department
4000 N. Olcott Avenue
Norridge, IL 60706
Phone: 708-453-0800 - Fax: 708-453-9335
Norridge loses beloved K-9
The Norridge Police Department is mourning the passing of the force's K-9 Officer, Turbo, who died unexpectedly Dec. 15, aged only 8 years old. Diagnosed with lymphoma in mid-November, Turbo was being treated at the Buffalo Grove Veterinary Medical Center when he contracted pneumonia. He is loss is felt by his fellow officers; his partner, Officer Tim Mazurkiewicz; the entire Mazurkiewicz family, with whom he lived when off duty; and his numerous fans throughout the community.
---
In Loving Memory of
K9 TRAPPER
November 10, 2008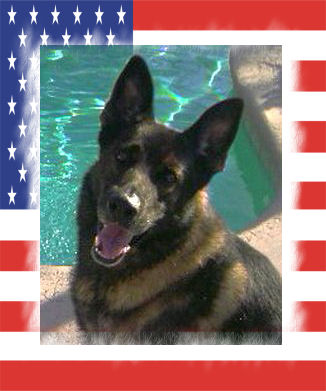 Handler: Lt. David Black
Key West Police Department
1604 No. Roosevelt Blvd.
Key West, FL 33040
Tel: 305. 809-1111
Member of the Key West Police Department's K-9 Unit dies
A loyal and long-serving member of the Key West Police Department's K-9 Unit died Monday. Trapper was nearly 12 years old, and retired from a proud career catching drug dealers in Key West. Trapper came on board in October, 1999 as the first of a newly formed K-9 Unit. The Key West Police Department had used canines a decade before, but the program disappeared. But with some grant money, the department brought in Trapper and Rocky. Trapper learned quickly. In fact, he sniffed out $60,000 cash in one drug bust before he even graduated K-9 school. Canine officers not only work with their human police counterparts, but they live with them. Lt. David Black says he lost a colleague and friend with the death of Trapper. "We did a lot of programs at the schools over the years," said Black. "Trapper really paved the way for our current K-9 Unit." Dogs have been especially helpful in sniffing out drug dealers who work from their cars, and Trapper, says Black, helped seize hundreds of thousands of dollars in forfeitures that helped pay for special training and equipment. In addition, drug-related arrests doubled with the help of the K-9 Unit that Trapper started. Trapper was retired two years ago. submitted by Jim Cortina, Dir. USPCA
---
In Loving Memory of
K9 TOKO
August 13, 2008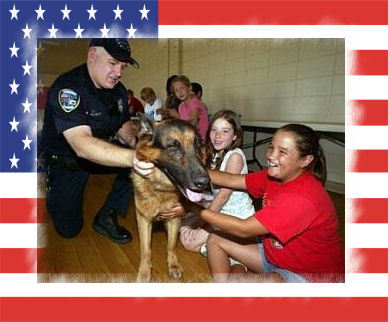 Handler: Officer Matt Seipert
Chico Police Department
1460 Humboldt Road
Chico, CA 95928

Ailing K-9 police dog is euthanized
Chico police officer Matt Seipert and his K-9, Toko, do a demonstration for students at Bidwell Junior High School in 2006.
A police dog still considered to be on active duty, but sidelined last week with an aggressive form of cancer, was humanely euthanized Wednesday night. Toko, a German shepherd who joined the Chico Police Department in the fall of 2002, was 9 years old. According to a department news release, Toko wasn't expected to survive advanced medical procedures to treat the cancer. He was given steroid medication in recent days to make him comfortable. When it was determined the medication could no longer alleviate his pain, euthanasia became the only remaining option, said K-9 Sgt. Dan Fonseca. Toko had been partnered with Matt Seipert for nearly six years, and lived with the officer and his family. Lt. Mike Weber, a K-9 team administrator for the department, said Seipert started to notice a change in Toko and had him examined. Initially, Weber said, Seipert thought Toko was responding to cancer treatments and might even return to duty. "He was well-regarded and thought of not as a dog, but as a team member dedicated to the job and the protection of his handler," Weber said. A posthumous retirement, what Weber described as an appreciation ceremony, is scheduled for Sept. 15. He said it's yet to be determined if Seipert will obtain another dog and remain a member of the K-9 team. "It's really up to the officer," Weber said.
submitted by Jim Cortina, Dir. CPWDA
---
In Loving Memory of
K9 TUCKER
June 23, 2008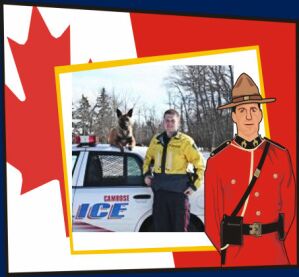 Handler: Const. Matthew Rolfe
Camrose Police Service
6220 - 48 Avenue
Camrose, Alberta T4V 0K6
Tel (780) 672-8300
Police dog killed in road accident
A police dog in training with Camrose police died in a vehicle accident Monday, cops confirmed yesterday. The dog, a Belgian malinois named Tucker, was on the side of a gravel road Monday morning when the vehicle hit him. He had just finished several training scenarios. The accident didn't involve a cop car, said Camrose police Insp. Lee Foreman. Tucker was working with Const. Matthew Rolfe. "The loss of Tucker has not only affected Rolfe, but is felt by the entire membership of the Camrose Police Service as (his) training was progressing extremely well," Foreman said in a statement.
submitted by Jim Cortina, Dir. CPWDA
More:
While the Camrose Police Service has had four police service dogs over the years, 2007 marks the beginning of a new dog program. Cst. Matt Rolfe was selected to take on the very demanding role as the service's dog handler. In late July he took possession of Tucker, a purebred Belgian Malinois puppy brought here from Holland. Tucker is expected to be ready for patrol in the fall of 2008. Cst. Rolfe is assigned to patrol section and will in essence have a full-time partner with him. A fully equipped police service dog car has been recently added to the fleet . In the meantime Matt and Tucker will be training hard in the areas of criminal apprehension, tracking and drug detection. When put into full service Matt and Tucker will also enhance the community relations program by putting on demonstrations for schools and community groups.

---
In Loving Memory of
K9 TAYLOR 2C-18
May 12, 2008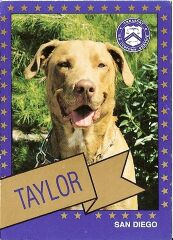 Handler: Barbara Trice
U.S. Customs @ San Ysidro Port of entry
in San Diego, CA
Taylor was one day away from euthanasia when U.S. Customs found him in the Long Beach Humane Society and sent him through the U.S. Customs Canine Enforcement training Academy. K9 Taylor, a Staffordshire Terrier/Lab Retriever Mix was one of our highest drug seizing dogs who started Customs in 1996. He was featured in many news casts and even had his story in Dog Fancy magazine. Taylor was an "Extraordinary" narcotic detector dogs here in San Diego. Taylor retired to live the good life with his handler, Barb, about six years ago. He died early this morning in Vancouver, Canada, close to being 16 years old. submitted by USA Custom K9 Handler, Jan Everett

---
In Loving Memory of
K9 TROOPER
January 14, 2008
----
-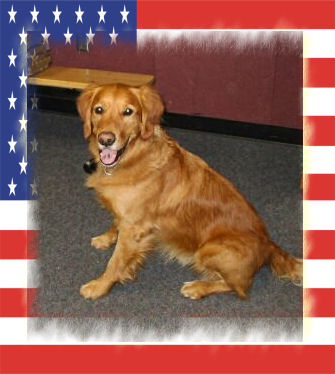 Handler: Trooper 1st Class Colleen McCurdy
Maryland State Police
15 Turnpike Drive
Perryville, Maryland 21903
410-537-1150 (phone) 410-537-1152 (fax)
email: jfkhwy@mdsp.org
"My partner and my dog"
State police in Perryville dedicate stone monument to Trooper -- golden retriever, ace drug-sniffer
Died - Liver Cancer / Euthanized
Maryland State Police Trooper 1st Class Colleen McCurdy talks about her dog, Trooper, who was her partner in police work for eight years. McCurdy suggested her pet Trooper for police work when her first drug dog didn't work out. Cecil County Deputy Mike Davis and his partner, Rex, salute a memorial at the Maryland State Police barracks in Perryville that is dedicated to Trooper, a drug dog that died in January. For eight years, Trooper sniffed for drugs on Interstate 95, helping the Maryland State Police seize more than a ton of marijuana, cocaine and other drugs. The golden retriever with big brown eyes, floppy ears and spotted tongue was always excited about work, state troopers said. After an arrest, he would even trot into the room as the suspect was processed. Whenever his owner, Trooper 1st Class Colleen McCurdy, got ready for work and put her gun in the holster, the golden retriever would wait for her at the door. "Trooper gave more than 110 percent everyday to me, to our team, to the agency," McCurdy said. "He loved to come to work." To remember Trooper, who died in January, officers dedicated a memorial stone at the JFK Highway Barracks in Perryville where he worked. The stone, which was purchased through donations, reads: "He was my partner and my dog. He was faithful and true until the last beat of his heart." In a ceremony held Thursday, several police dogs were brought from Baltimore City, Wicomico County and Harford County to say goodbye. There was even a moment of silence and a bagpiper. After the stone was unveiled, each of the eight canine teams paid their respects. Described as a "wonder dog," Trooper scanned vehicles and searched buildings, finding more than 1,600 pounds of marijuana, 661 pounds of cocaine, 71 pounds of heroin and more than 22,175 ecstasy pills, according to state police. Photographs showed the honey-colored dog sitting next to bricks of drugs and stacks of cash that he helped discover on I-95. But Trooper seemed more interested in a ball and rope in his jaw than the millions of dollars of contraband he recovered. A smile forms on Cpl. Mike Conner's face when he talks about the golden retriever. "Every single day, he wanted to come out to work," Conner said. During a traffic stop, Trooper got to the scene and trotted around the vehicle. He stopped near the rear fender. His tail stopped wagging, his mouth closed and he sat on the ground looking at McCurdy. "I remember hearing Colleen say, 'Show me,'" Conner said. "Right when she said that, Trooper raised his right paw and stuck it on top of the fender. We searched the vehicle and right where he had put his right paw, there was a kilo of cocaine. That was a mark of how intelligent he was." McCurdy bought Trooper from a New Jersey family and for the first three years, he was a house pet. When she was assigned to work with canines and her original dog didn't work out, she urged her boss to let Trooper go through the 14-week training. Winfield Baker, the training director for the Maryland State Police canine unit, was reluctant at first. "House pets usually don't want to work, they want to lay around," Baker said. "But Trooper had the desire. He wanted to work." Trooper proved to be more than capable of doing the job -- he found more than $6.5 million in drug-related money during his career. "He worked until the day he died and I don't think he would have wanted it any other way," McCurdy said. The 11-year-old dog began losing weight after developing liver cancer. He was euthanized Jan. 14.
submitted by Jim Cortina, Dir. CPWDA
photo by: SGT. Dan Fairburn #1139
Drug Enforcement Division -
PACE Team - Cell: (443) 807-8353
---
In Loving Memory of
K9 TERA
January 16, 2008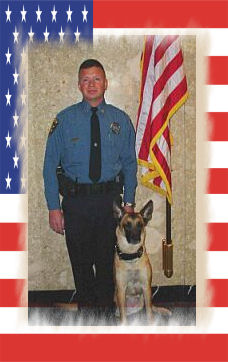 --
Handler: Sgt. Harold Weary, Jr.
Cumberland County Sheriff's Department
Sergeant/ K-9 Handler
Carlisle Barracks Police Department
400 Forbes Ave. (Lower)
Carlisle Barracks, PA 17013
(717)245-4831
Tera was Cumberland County's 1st bomb detection K-9. She served Cumberland County from 9-11-2001
until 01-14-2008 when she passed away due to a blood clot.
Tribute for K-9 Bomb Dog
The Cumberland County Sheriff's Department is mourning the loss of a very special member of its department. A tribute was held Wednesday for Tera, who was the county K-9 unit's first bomb dog. Her first day on the job was sniffing out potential bombs at the Army War College and other places in the county on September 11th. Tera also went to several K-9 demonstrations. "My favorite part of the job was going to schools. She would plop in the middle of 100 kids. They would crawl all over her. And she did many numerous missions, received a lot of awards and letters many from the war college because she had protected VIPs," says Sgt. Harold Weary, Carlisle Police Department. Weary says she was not only special to the department but to him especially, since Tera was his partner.
and:
In August of 2001, The Cumberland County Sheriff's Office received a donation from Giant Foods, Inc. for the purchase of an explosives detection dog. Bill Castle, owner of Castles' K-9 Inc., purchased an eighteen month old female Belgian Malinois named Tera from Czechoslovakia in July of 2001. Deputy Harold Weary, Jr., was selected to be Tera's handler and partner. Deputy Weary and Tera completed an extensive six week training and certification course for explosives detection at Castle's K-9, Inc. in Mechanicsburg, Pennsylvania. Ironically, Deputy Weary and Tera officially went into service on September 10, 2001. They have responded to numerous calls in and out of Cumberland County since they have been activated. Deputy Weary and K-9 Tera's favorite part of the job is doing demonstrations for the public. Tera loves kids very much; she will lie on the floor and roll over for children to scratch her belly. Deputy Weary and Tera must train one day each month and recertify every year. In addition to their normal duties, Deputy Weary and Tera also routinely provide protection services to the U.S. Army War College located in Carlisle. They have provided protection for such people as Secretary of State Colin Powell, Secretary of Homeland Security Tom Ridge and numerous other VIP's. Deputy Weary and K-9 Tera enjoy working hard to keep the community and public safe.
update:
Couple recalls service of explosives-finding K-9 officer Tera
By Heather Stauffer, Sentinel Reporter, January 17, 2008
To the end, Tera the explosives-detecting K-9 had good timing
"Shortly after four Monday morning we both got awake suddenly," said Harold Weary, who served as Tera's handler for almost four years before passing the leash to his wife, Valerie Weary, in 2005. They had decided just the previous day to have Tera euthanized Monday, Harold Weary said, but that wasn't necessary. "It was the strangest thing," added Valerie Weary, explaining that after they awoke simultaneously and went to check on Tera, they found her taking her last breath. Doctors surmised that Tera, who had three bulged discs in her spine, a torn knee and arthritis, died from a blood clot in the spine. But Harold Weary had a different idea. "I think it was her way of making it easier on us," he said. The Wearys and several other law enforcement officials gathered Wednesday for a brief memorial at Castle's K-9 Inc. in Mechanicsburg, where Tera was trained. Valerie Weary is a deputy in the Cumberland County Sheriff's Department and her husband, who formerly filled the same role, now serves as a dog-handling sergeant. Standing near two tables filled with pictures, newspapers articles, letters and challenge coins, Harold Weary reminisced about his first day on assignment with Tera. After completing weeks of training with the dog, he said, the Wearys took 10 days off for their wedding and honeymoon. They arrived back at midnight on Sept. 10, 2001, he said, with no clue that the next day would thrust them into the aftermath of a terrorist attack. "We had five calls that day," he said, explaining that they got to help authorities at the Army War College and other entities be sure that their meeting rooms were secure and free from explosives that day. Although not all Tera's subsequent workdays were that busy, the Wearys said Tera stayed active making sure local schools and public buildings were safe, as well as making about 300 public demonstrations and keeping VIP visitors to the Army War College safe on more than 500 occasions. Although most of the times when Tera alerted turned out to be only residual traces of explosives, Harold Weary said one time in March 2003, the threat was real. Weary and Tera were called out to North Middleton Township and taken to a building where police thought there might be explosives, Weary said. She sat down promptly upon going through the door, he said, and a number of homemade explosive devices were later removed safely. "My favorite part was going to the schools, meeting people," Harold Weary said. "You could let 100 kids pile on her and pull her tail." Although Tera had a serious job, Valerie Weary said the Belgian Malinois had a unique, friendly personality that made her a great pet as well. "She could open up interior doors in the house," she said, and with her husband pointed out pictures showing Tera enjoying beach vacations with them. They liked her so well, she said, that they eventually purchased a second Belgian Malinois strictly as a pet. "You can learn a lot about loyalty from a dog like that," she said. Taz and Tera got along well, she said, and now Taz is getting to know Zuza, a 13-month-old who is now being trained in drug detection. Ron Anderson, chief of the Cumberland County Sheriff's Department, said he saw Tera often when one or the other of the Wearys worked at the courthouse and brought Tera to wait in a cage in the offices. "As long as you were in uniform, she would never bother you," Anderson said. When Tera first joined the sheriff's crew, he said, there weren't many other explosives dogs in the area. Now, he said, the department's other dog — Voelz, handled by Deputy Sheriff Ron Hoover — is trained to detect explosives, so Zuza is being trained to detect drugs. "Just a powerful 'Thank you' from the War College," said Paul Withun, captain of the Carlisle Barracks police at the Army War College. Tera did such a good job through the years, he said, that she was instrumental in helping the War College decide that after 9-11, it would be a good idea for it to have a dog like her on the base. submitted by Jim Cortina & Sgt. Harold Weary, Jr.

---
In Loving Memory of
K9 THOR
January 14, 2008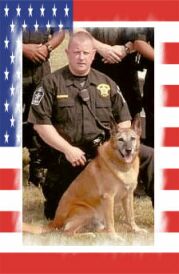 Handler: Deputy Roy Wilbourne
Wake County Sheriff's Office
330 S. Salisbury St.
P.O. Box 550 Ph:(919)856-6900
Raleigh, N.C. 27602
Police Dog Mourned By Canine Unit 1/15/08 North Carolina
According to the Wake County Sheriff's Office, a police dog made famous by finding 70 pounds of cocaine has passed away after health complications. The Wake County Sheriff's Office said yesterday in a media statement that Thor, a narcotics-sniffing police dog, had died from age and health complications. The Sheriff's Office said Thor, a 13 year old Belgian Malinois, had been with the Sheriff's Office since he was 15 months old, and at one time, was the only dog working with deputies. According to police, Thor served in various functions with the canine team, but his last assignment was as a narcotics dog. Thor work with his handler Deputy Roy Wilbourne in the Impact Team, a drug interdiction unit that most recently made big headlines when in July, Thor found more than 70 pounds of cocaine that was hidden in the tires of a tour bus that had driven in from Texas. As a result, Thor was responsible for the largest drug bust since Sheriff Donnie Harrison took office in 2002. The Sheriff's Office says that Thor was popular with children during visits to schools and community events where he performed canine demonstrations. Hoping to give him a retirement last August, the Sheriff's Office said they had a hard time finding a replacement for Thor worked until the day he died, but the Sheriff's Office said that he probably would not have wanted it any other way. "Thor loved to come work," said Sheriff Harrison in a statement to the media. "We will miss his drive and his energy. He worked just as hard on the last day he lived as the first day he came to work for us."
submitted by Jim Cortina, Dir. CPWDA