In Loving Memory of
K9 QUINCY
November 3, 2008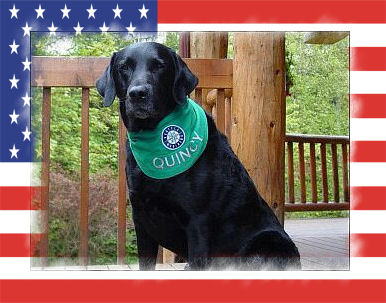 Handler: Deputy John Decker
King County Sheriff's Office
516 Third Avenue , Room W-150
Seattle, WA 98104-2312
TEL. (206) 296-4155

King County deputies mourn loss of bomb dog
King County Sheriff police dog Quincy
King County Sheriff's deputies are mourning the loss of their first "bomb dog" Quincy. Quincy died on Monday at the age of 12 due to natural causes. Sheriff spokesman John Urquhart says the Black Lab was an explosives detection dog for the sheriff's office for over 10 years. He came to the Sheriff's Office in late 1999 as the only ATF-trained explosives dog in the Pacific Northwest and one of only 18 in the country. Through his career, Quincy and his handler, Deputy John Decker, were deployed as needed by federal police agencies, including to the Rose Bowl and Rose Parade, as well as the Salt Lake City Olympics in 2002. He also provided dignitary protection for President Carter, President Clinton, President Bush and other VIP's. Quincy retired in early 2006 and lived with the Decker family.
submitted by Jim Cortina, CPWDA DIR.