In Loving Memory of
K9 NITRO
2008





Handler: Constable Howard Rutter
Vancouver Police Department
240 Cordova Street East
Vancouver , CANADA- (604) 717-2564

Make no mistake about it, a police dog, often called a K9, is considered by every police officer as one of the force. Police dogs are highly trained animals and assist police and other law-enforcement personnel in so many areas of their work, they have the respect of all in the area of criminal justice and law enforcement. This documentary is a tribute to Nitro, a German Shepherd who died in the line of duty. In telling his story, we learn of the important role these dogs play in the police force, of the bond that occurs between two partners, and we maintain the memory of Nitro, who symbolizes all the dogs who heroically serve the public. Here we meet Howard Rutter, a Constable with the Vancouver Police Department, who worked with Nitro for seven years. We learn of a bond that existed between the two partners built on mutual trust and respect, and the knowledge that they would always look out for one another; it was a bond so strong and lasting that only death could break it. And as officer Rutter explains, "Nitro was not only my partner, he was my best friend," we are reminded of how much we owe to these courageous animals and their trainers. 2008 IJSCA 15 min.
---
In Loving Memory of
K9 NICK
June 16, 2008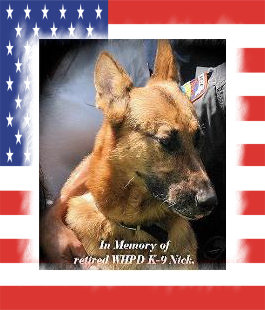 Handler:
West Haven Police Department
200 Sawmill Road
West Haven, CT 06516
203 937.3900


Our Friend K-9 Nick who was retired from the WHPD, passed away at home with his family on June 16th 2008. The West Haven Police Department's K-9 Unit was started in 1986 with one K-9 team assigned to the Patrol Division. The K-9 Unit was eventually expanded to three K-9 teams. Each K-9 team is scheduled to work a particular shift. The K-9 teams are a great asset to the West Haven Police Department, surrounding towns and the public in general. Besides performing normal police duties, the K-9 teams have performed many demonstrations for the children and adults of the city of West Haven.
---
In Loving Memory of
K9 NITRO
June 9, 2008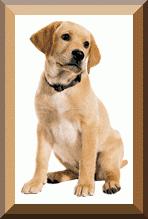 Handler: Officer Jeff Webb
Harrisburg International Airport
208 Airport Dr.
Middleton, PA 17057
Nitro, a 'very social' explosives-detecting dog
On June 9, Officer Jeff Webb let Nitro, his former canine partner, outside for fresh air. "I went outside and saw him lying there. I thought he was sleeping," Webb said. "I went to do something else. After a while, I realized Nitro had not moved. I checked him. He was gone. It was terrible." Nitro, a yellow Labrador retriever, had a long and varied career in law enforcement with more than 3,000 explosive-detection searches under his belt and more than 100 school and business searches. Nitro retired as a explosive-detecting dog at the Harrisburg International Airport three years ago. The airport gave Nitro to his longtime partner to spend his last days at home with Webb, his wife and two sons, Ethan, 5, and Tanner, 3. Webb, 37, joined the HIA force in 1998, the same year Nitro became his partner. Though Nitro was new to detecting explosives, he had already spent time in the field as a tracking dog for the University of Wisconsin police department. "He did that for about one-and-a-half years. The officers there told me that Nitro found a lot of bad guys. We did some tracking training with him, and he was unbelievable. We never had to use that skill, but it was good to know he had it." Webb said that he had hoped for a Belgian Malinois, which resembles the German shepherd and is widely used in police work. "I kind of thought, oh, well. But as it turned out, Nitro was the best dog I could have gotten," Webb said. "He liked people, he was very social. He'd walk around with me at the airport, off-leash, and enjoyed meeting people. He was very friendly." But at work, he was all business. "At the time we started, there were only two explosives dogs in the area -- now there are about 10 -- and we were going everywhere," Webb said. "The state police used to pick us up in a chopper and off we'd go." Nitro found two pipe bombs in his career, one in an alley by a home in Middletown. "I didn't believe it," Webb said. "But it was real. That taught me to always trust your dog. Your dog will never lie to you." The second bomb was found in a factory in Lower Paxton Twp. That bomb, too, was the real deal. He said no explosive devices have ever been found at the airport. "I definitely think it was a deterrent. We do a lot of random bag checks, vehicle checks and we use the dogs as much as we can," Webb said. K9 Rocket, a Malinois, started on the team in 2003, a couple of years before Nitro's retirement. Rocket is still on the job and, like Nitro did, he lives at the Webb home. "Looking for explosives is a game to them, and their retirement is based on their interest in the game, and their ability to get around. I probably could have worked Nitro until he was 14, but he was having trouble getting around the last year or so because of some hip problems typical of his breed," Webb said. Training dogs such as Nitro and Rocket involves a six-week course, involving 16 hours a day, five or six days a week, with regular "refresher" sessions. Nitro was trained at Castle's K9 Inc.in Mechanicsburg. Owner Bill Castle said now and then a dog comes along that he wants to keep. Nitro was one. Castle knows dogs. He has been training them -- about 5,000 so far -- for law enforcement agencies for 40 years. "He was a great dog," Castle said. "He was very happy, very social, but when you told him to work, he went to work. He and Jeff bonded real quick, and the chemistry between dog and handler is really important. It was a match made in heaven. It hit Jeff hard when Nitro died." Castle said Nitro loved kids. "He was really close to my family," Webb said. "Ethan, my 5-year-old, was really close to him. He was devastated." Webb said that in the near future, there will be a memorial service for Nitro at the front of the HIA terminal. The amiable bomb-sniffing dog's ashes will be buried there, where he spent most of his working life. "He was the airport's first canine patrol dog," said Webb. "He was my boy."
T.W. BURGER: 255-4123 or tburger@patriot-news.com submitted by Jim Cortina, Dir. CPWDA

---
In Loving Memory of
K9 NIX
March 9, 2008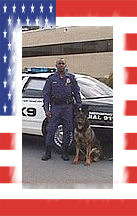 Handler: Detective Jock Coleman
Oak Ridge Police Department
200 S Tulane Ave - Ph (865) 425-4399
Oak Ridge, TN 37830
Retired police dog dies
Retired Oak Ridge Police Department canine officer, Nix, died Sunday morning at the home he shared with his partner, Oak Ridge Police Detective Jock Coleman. Coleman said he found Nix dead when he went out Sunday morning to feed him and did not know the cause of death. Nix and Coleman worked together for about nine years. Nix and Coleman worked with patrol and narcotics investigations until they were officially reassigned to narcotics in 2004. Nix also performed a Oak Ridge schools during special programs and canine demonstrations. Nix officially retired from duty in 2007. He had been on light duty for several years prior to his retirement. Nix was the subject of one of The Oak Ridger's "Day In the Life of" features on Jan. 20, 2003.
submitted by Jim Cortina, Dir. CPWDA

---
In Loving Memory of
K9 NIKO
2008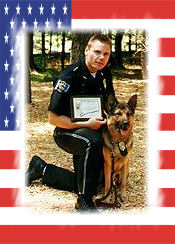 Handler: Officer Jeff Angell
Windsor Locks Police Department
4 Volunteer Dr.
Windsor Locks, CT 06096
(860) 627-1461
K9 Niko of Windsor Locks Police Department, CT. He was the departments first K9 and served with his handler, Officer Jeff Angell, for almost a decade. During Niko's career with the Windsor Locks Police Department, he and Jeff won the honorable Daniel Wasson Award along with other well deserved awards. Jeff has also been retired due to a work related injury that occured approximately three years ago. Niko was 13 years old.
update:
The Police Department lost one of its finest New Year's Eve when Niko, the town's first police dog, died of old age after a long and successful career serving the community. His handler, retired police Officer Jeff Angell, who started the program in Windsor Locks with Niko in 1994, said the German shepherd worked faithfully for the town until he retired in 2005, and was living with his family until the end. "I bought him when he was 3 months old, and he was my partner and the family pet," Angell said. "He made it through 13 years - almost to his 14th birthday in February." From the day he started training Niko, Angell said it was clear he had a special dog who loved his job and was fully committed on duty, but off duty was loving and extremely tolerant with children. "Niko was one of those dogs who was public-friendly," Angell said. Angell recalled that after one of many public demonstrations, about 180 children came rushing up to touch Niko, pulling at his fur and grabbing him in the hot sun without incident. "All of them rushed forward. There had to be 10 to 15 hands petting him at once, and he was fantastic," Angell said. Once he was on duty, however, Niko was all business. "We used to say he could turn into demon dog once he was in the police car on the way to the scene," Angell said. "But off duty he would roll over and scratch his belly, and the kids could pull his ears and never have any problem." When the Windsor Locks program began in 1994 with Niko and Angell, few departments in the region had police dogs, so the two would often assist other towns tracking suspects, lost children, and missing elderly, as well as searching for evidence and narcotics. "We did a lot of traveling," Angell said, explaining that he and Niko went to Cromwell, Middletown, Hartford, Manchester, West Hartford, Bloomfield, East Hartford, Suffield, among other towns. Through the years Niko had seen his share of action and had three surgeries for replacement teeth, as well as other surgeries, plus many small injuries for cuts, scrapes, and bruises. One time Angell said while they were tracking a bank robbery suspect Niko fell about 15 feet through a drop ceiling straight to the floor of a bank. He was bruised and sore for a few weeks, but didn't break any bones. To stay in shape for what Angell calls the toughest job, but the best and most rewarding job on the police force, Angell said he and Niko would run between three and five miles a day. "I could trust him to do the worst case scenario and not have any concerns," Angell said. In 1995, early in Niko's career, they won the Daniel Wasson Memorial Award for successfully tracking an Ellington woman who had attempted suicide by overdosing and running into the woods in the winter, Angell said. About 90 percent of the calls they went on were at night, Angell said, and its seemed the weather was invariably awful - usually forcing the two to contend with snow, rain, and sleet. Angell said there was a robbery incident during an ice storm in the 1990s where he and Niko successfully tracked and apprehended three suspects in snow about 3 feet deep in East Granby. Niko would disappear in the snow and pop up like a rabbit, only to disappear again in the next snowdrift, Angell said, smiling at the memory. There are many more stories of the accomplishments the two shared over the years. In the end, Angell said he would never forget Niko. "He was a fantastic dog. He was my partner for 10 years," Angell said. "He is going to be sorely missed." submitted by Jim Cortina