'Our Chloe' was not a K9, but she was our bird dog. She taught us to appreciate the work of all dogs,
that's why we can understand the work of K9s.
In Loving Memory of
CHLOE KRAUSE
April 15, 1997 - August 6, 2008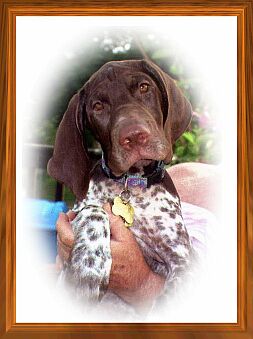 Loved by: Bob & Lulu Krause, Leesy & Bella (also GSPs)
Cape May, NJ
owner www.k9memorialcards.com

German Shorthaired Pointer
"One of the best bird dogs ever"








WE ONLY WANTED YOU
A million times we needed you,
a million times we cried.
If love alone could have saved you
you never would have died.
In life we loved you dearly,
In death we love you still.
In our hearts you hold a place
no one could ever fill.
If tears could build a stairway
and heartache make a lane,
We would walk the path to heaven
and bring you back again.
Our family chain is broken,
and nothing seems the same.
But as God calls us one by one,
the chain will link again.
Author unknown
We recently discovered she ate Pedigree dry dog food from PA distribution area with Salmonella.
The numbers on 52 lb. bag matched. She was too old to fight to live. We have no proof... she was cremated. Can't bring her back!
Sam's Club denies all.............
---
In Loving Memory of
K9 CHEVY
October 4, 1994 - June 6, 2008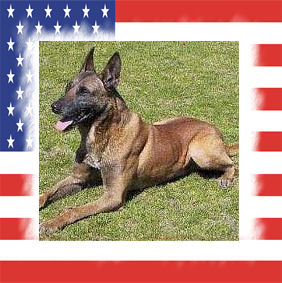 Handler: Officer Flaherty, Jr.
Waterbury Police Dept.
Connecticut

Belgian Malinios, K9 Chevy was handled by Officer Steven J. Flaherty Jr. of Waterbury Police Department, Connecticut.
Chevy has medals for narcotics, finding murderers, and missing people. K9 Chevy also has first place trophies
from the CPWDA. K9 Chevy was retired after having several seizures from the heat later in his career in 2007.
He will be missed by Officer Flaherty, Jr. and his family forever. Submitted by Jim Cortina, Dir. CPWDA
---
In Loving Memory of
K9 CHAR & K9 MICK
Summer 2008


Handler: Herbie Vaughan
Milam County Precinct 3
Temple, Texas
Drug dogs have their day in court
CAMERON - Starting today, V-Jaks Von Erzengel will join his sidekick, veteran drug-sniffing dog Probable Cause Von Erzengel (or PC), as duly trained deputized canine law officers working with owner-trainer Herbie Vaughan, Milam County Precinct 3 constable. Vaughan volunteers his dogs' tracking and narcotics drug-sniffing capabilities to seizing illegal drugs, finding lost people and chasing down criminals. V-Jaks and PC will be appointed as official Milam County deputies and recognized as U.S. Tactical K9 Law Enforcement Training Academy graduates certified in detecting marijuana, cocaine and methamphetamines from automobiles and buildings, as well as the apprehension and tracking of people during a meeting today of the Milam County Commissioners' Court. Certification will provide the dogs an umbrella of protection under the law against criminal retaliation, Milam County Judge Frank Summers said. "Once we appoint them as deputies, if someone harms them, it is assault on a peace officer," Summers said. "If dogs are going to be doing drug work we normally appoint them as deputies so they have protection." Texas is among most U.S. states that protect police dogs. Offenses may be prosecuted as felonies depending upon the severity of the case ranging from injury to death, or as misdemeanors for minor offenses such as releasing a dog, restricting the handler's control of the animal, or taunting, tormenting or striking a police-service animal, or feeding the animal without the handler's consent. Vaughan can relate to the reality of this threat because several years ago, drug dealers in Milam County put a price on the furry head of his first drug-sniffer dog, Char. Hence, Vaughan's dogs are very well cared for and protected. Last summer during a training session, Char died suddenly of a heart attack. Cameron's police dog, 11-year-old Mick, died of natural causes last summer, three days after Vaughan lost Char.Vaughan reserved a replacement, but his AKC registered German shepherd, PC, age 5, would not accept a female replacement for Char, thus, U.S. Tactical K9 Law Enforcement Training Academy trainers recommended he choose a male to match PC's bossy temperament. Vaughan paid $5,000 for V-Jaks, a 3-year-old American Kennel Club-registered male German shepherd. He spent last week in a 60-hour training session with the dog, and brought him home to Milam County last Saturday. Vaughan paid $2,500 for PC and voluntarily offers his highly trained dogs to police agencies.
"They are a valuable asset, just another tool we can use," Sheriff David Greene said. "I try to get the drugs before it gets to the schools, and get them away from our kids," Vaughan said. "Too many of our kids are ruined by narcotics and if I can do a little bit of something to stop it, I will. When V-Jaks finds his first dope he will pay for himself." Currently, Vaughan's two police canines are the only ones operating in Milam County, but Vaughan and his deputy dogs are available around the clock to the sheriff's department, Texas Department of Public Safety, and police departments in Cameron, Rockdale and Thorndale. Rockdale Police Chief Thomas Harris said Vaughan's drug-sniffing canines are valuable and "Herbie comes out any time of the day or night to help us." Vaughan is a Rockdale Volunteer Fire Department member, a former Houston firefighter and paramedic, and a former member of the Rockdale EMS. He is more than willing to donate his training and his dogs to drug enforcement.
PC is a passive alert dog, while V-Jaks scratches walls and cars when he detects drugs, Vaughan said. The drug-sniffing dogs "are extremely valuable resources," Cameron Police Chief Patrick Guffey added. "You can't put a price tag on them," Guffey said. Vaughan said one major ingredient to a successful trainer-dog relationship is
to have "faith in the dog's nose." "The trainer says the brain starts at the other end of that leash and comes up toward the human," Vaughan said. "The dogs don't miss. Their noses are so sensitive; they can pick up things we would never notice."
---
In Loving Memory of
K9 CARSEN
December 2008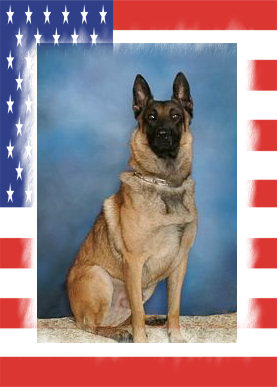 Giles County Sheriff Department
200 Thomas Gatlin Dr.
Pulaski, TN 38478
931 363.3505
WSLS News Staff news@wsls.com Published: December 15, 2008 Updated Monday 5:33 a.m.
Officers will hold a memorial today for a K-9 unit dog accidentally killed during a police investigation.
Giles County Deputies say Carsen's memorial will be today at the Glen Lynn Church Of Christ.
It starts at 1:00 p.m.
***********
The Giles Co. Sheriff says a K-9 unit dog was accidentally shot Friday while officers were investigating a church break-in. Sheriff Morgan Millirons says investigators received a call about a breaking and entering at a church. He says a couple of agencies responded, including a K-9 unit from the sheriff's office. He says the dog, a three-year-old Belgian Malinois named Carsen, was conducting a search of the building when he was accidentally shot and killed. The sheriff says Carsen had been with the sheriff's office for eight months. The sheriff won't go into details about the shooting or release the name of the officer who shot the dog. He is saying the officer is excellent, top notch, and one of the best around. Police are still looking for a suspect in the church break-in.
A memorial service will be held next week for the dog.