In Loving Memory of
K9 BART
November 25, 2008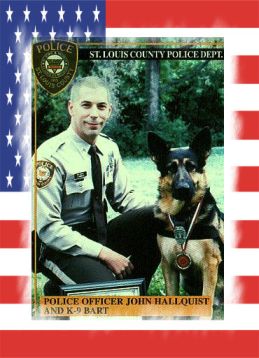 Handler: Officer John Hallquist
St. Louis County Police
7900 Forsyth Boulevard
Clayton, MO 63105
General Information: (314) 889-2341
K-9 dedicated life to law enforcement
Bart dedicated life to law enforcement
He retired in June after seven years on the street, but Bart never got much of a chance to enjoy his free time. He helped confiscate more than $6 million in cash and drugs and took almost 700 crooks off the streets. Not bad for a 9-year-old. And then he died in his partner's arms just two days before Thanksgiving. K-9 Bart and his partner, St. Louis County Police Officer John Hallquist, now assigned to the Wildwood precinct, touched many lives throughout their time together.
Hallquist was formerly assigned to the Affton/Southwest precinct before he and Bart became part of the Canine Unit. In 2006, Bart won the drug detection category of German Shepherd Dog Club of St. Louis' competition by conducting 300 searches for over 30 different agencies and departments. During those searches, he was responsible for the seizure of more than $750,000 in drugs and nearly $1 million in cash. In 2007, Bart again won the drug detection category by conducting more than 160 searches for federal, state, and local law enforcement agencies and seven school districts. And he was responsible for the seizure of approximately $1 million worth of narcotics including marijuana, cocaine, crack cocaine, heroin, methamphetamine and ecstasy. Bart is credited with assisting in the seizure of nearly $300,000 in drug money.
"We were watching TV and he was lying on the floor at my feet and when he went to get up he fell back down," Hallquist said when recounting Bart's death. "He had this look on his face, a look of sheer panic, and knew something was wrong." Hallquist rushed Bart to a near-by veterinarian. "We got there about 15 minutes later and he took his last breath and that was it," Hallquist said. The whole incident was so painful Hallquist decided he did not want an autopsy performed.
"Thankfully, we were at home when he got sick and I got to hold him as he took his last breaths," Hallquist said. "I shudder to think what would have happened if I had been at work or gone somewhere and came home and found him like that. "Bart didn't get paid a dime. The only thing he got was food and a chance to play with his Kong, a little black rubber ball," Hallquist said. "That was his life, to make me happy and play with his Kong. It's a pretty big void in the house without him there."
To make things worse, Hallquist and his wife, Ann, lost their beloved Rainey the day after Thanksgiving. Rainey was a 17-year-old Schnauzer mix, so-named because Ann rescued her during the floods of 1993. "Another great little dog," he said. "I never in all the years heard her bark. Not once." A cop's life on the street is full of danger, and the partners experienced that first-hand several years ago. Hallquist and Bart had stopped a drunk driving suspect on Tesson Ferry Road one night and while Hallquist sat in his patrol car writing up the incident, a second drunk driver slammed into the back of his car.
The crash sheared off the back of the car and knocked Hallquist out cold. When he awoke in the hospital Hallquist learned he suffered eye and hearing damage. He was relieved to learn Bart suffered no injuries. Hallquist estimated he and Bart met more than 10,000 school students, parents and teachers over the eight years they had together, and "all just loved Bart." When word filtered out that Bart had died solace came in the form of hand-written cards of condolence to from school children all over the county.
St. Louis County Police spokeswoman Tracy Panus remembers Bart from her days as a D.A.R.E. (Drug Abuse Resistance Education) Officer at Christ Prince of Peace School in West County. "Bart was a sweet dog and was always a good dog in class," Panus said. "He helped the children to learn the DARE lessons and gave them a hands-on learning experience. He will be truly missed." One student touched by Bart was 10 year-old Truman Elementary School fourth-grader Sean Gordon, whose hand-made sympathy card Hallquist said touched him like no other.
"I was about 6 or 7 when I met Bart," Sean said. "I met him because my dad (Lindbergh School District Student Resource Officer Paul Gordon) introduced him to me. I though he was pretty cool dog. He was one of the blackest German Shepherds I've ever seen." Sean said he made a pop-up sympathy card that included a gold badge for Hallquist and sent it to him because Bart "was pretty cool and a smart dog." Both Hallquist and Bart left a lasting impression on Sean. "I think it would be fun to be a canine officer," Sean said. "It has its advantages and disadvantages but that's what my plan is." submitted by Jim Cortina, Dir. CPWDA
---
In Loving Memory of
K9 BENI
December 17, 2008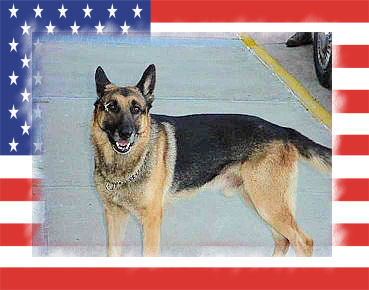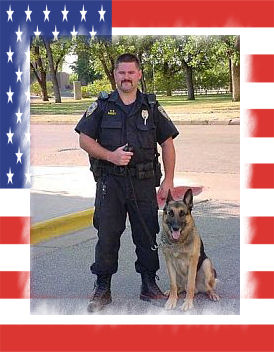 Handler: Officer Kevin Easley
Abilene Police Department
450 Pecan Street
P.O. Box 174
Abilene, TX 79604-0174
Phone - 325-673-8331 Fax - 325-676-6606
WEBSITE - http://www.abilenepolice.com/
Ailing retired police dog put to sleep
Abilene K-9 Officer Beni, a Czech German shepherd who was put to sleep Wednesday after becoming ill and paralyzed. Abilene police officer Kevin Easley was the final handler for K-9 officer Beni, who was euthanized Wednesday.A retired K-9 with the Abilene Police Department, was put to sleep Wednesday after falling ill and becoming paralyzed. Beni, a 13-year-old Czech German shepherd, had a long and distinguished career with the Abilene Police Department, winning five medals and two trophies in the 2000 Texas Police Olympics, according to Sgt. Keith Shackleford, current spokesman for the department and a former K-9 handler. Beni joined the department around 1998 and retired in 2007. After his retirement, Beni lived with his final handler, officer Kevin Easley. "He was a great partner, and we will truly miss him," Shackleford said. Services for Beni are pending. The Police Department formed its K-9 unit in January 1996 after several public fundraising projects, according to the department's Web site. Officers volunteer for the program and must go through a selection process. Once selected, extensive training is done to ensure a positive bond between the handler and the K-9. All K-9s are cross-trained in handler protection, criminal apprehension, tracking, article search and narcotics.
submitted by Jim Cortina, Dir. CPWDA
---
In Loving Memory of
K9 BUFFY
2008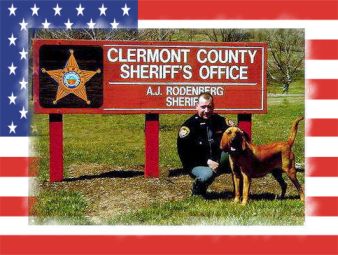 Handler: Cpl. Chris Stratton
Clermont County Sheriff's Department
4470 State Route 222
Batavia, Ohio 45103-9777
Tel - (513) 732-2231

Sheriff's K-9 was asset to force
For the last 10 years, she was a dedicated officer for the Clermont County Sheriff's Department. She went on more than 300 missions and was injured during many. She'd been attacked by dogs, sprayed with Mace, kicked, she'd broken toes and feet and once even became bloated and had have her stomach stapled to her rib cage. Buffy had been decorated yearly with awards, but she wasn't doing it for the recognition. All she wanted was a little praise, perhaps a treat for good work and a scratch behind the ears.Clermont County's bloodhound will be hard to replace. Buffy was euthanized recently after a harsh, year-long battle with cancer. She, and her handler, Cpl. Chris Stratton, had been a necessary part of the police force. Over the last decade, she'd found suspects, victims, and thousands of dollars of people's property, Stratton said. A bloodhound is so important to the department that they've begun searching for a new one. "If people had seen Buffy in my back yard, lying on the furniture, they would think she was a spoiled pet," Stratton said. "You would never picture her as a dog that put in the miles and went through what she went through."
An all-brown purebred with floppy ears and long pink tongue, Buffy was purchased by Clermont County in April 1999 when she was 1. She was the fourth bloodhound they've had and cost $1000, Stratton said. Buffy crushed the stereotypical image of the lazy bloodhound, flopped out on the floor, Stratton said. Her energy was unbridled from day one. "I lost over 40 pounds the first year I had her from all the miles we ran through the woods," he said. A working bloodhound lives a different life than other dogs, Stratton said. They go through intensive training their whole life. And when they get hurt on the job, they need to keep going. "Buffy would just run over things like barbed wire fences. Her tail had been cut open so many different times, it calloused," Stratton said. "We got to a point where Neosporin and duct tape was her remedy to get back working." Buffy had searched for escaped inmates, fleeing criminals, suicidal men and women and lost children. In order to track, bloodhounds are given a person's scent article. This could be a car seat, blood, clothing, or a pillowcase for missing kids.
So did Buffy get her own ceremonies and medals for her hard work like they do for police dogs in the movies? "Well no, that would be silly," said Clermont County Sheriff A. J. Rodenberg. "What's she going to do? Sit there and bark, 'Thank you?' " Still, her work did not go unnoticed. Stratton has a file full of plaques, certificates and letters of commendation for him and his canine partner. Buffy's incredible sprit and work ethic are what made her illness so hard, Stratton said. After she was diagnosed with cancer in September 2007, the department decided it wasn't going to put her through chemotherapy. "We decided we would work until she couldn't work any more," Stratton said. That's exactly what she did, and was happy to do it. In June, when deputies were chasing fugitive Chris Crosby through the woods, Buffy ran four miles before Stratton had to stop her. By this point she had nearly doubled her normal weight, going from about 40 to 80 pounds, and was going blind from the cancer, but she wanted to hunt. "She wouldn't quit for anything, but I wasn't going to run her until she died," Stratton said. Cancerous masses had started to appear on her body for the last year, but they weren't causing her pain, Stratton said. When they started to, though, he knew it was time to put her down. "That day she couldn't even get out of her dog house. But I got the leash and she went running up to the patrol car," he said. "She really liked working." Clermont County is searching for another bloodhound, as well as a new officer to partner with it. Stratton doesn't want to do it anymore for personal and emotional reasons. Three officers have applied for the position and the deadline is the end of the week. The department also has contacted breeders around the country about finding a new dog, Rodenberg said. "The new dog is going to have tough shoes to fill, although Buffy didn't wear any," he said. "If we get a dog that's Buffy's equal, we'll be very fortunate." There is no question that the department needs a bloodhound, no matter how much energy and money the dog takes. "Bloodhounds are costly for doing only one service. They don't do drug work, they don't do cadaver searching, they don't do bombs or buildings. They're not really obedient," Stratton said, "but their purpose is to find people, and they do that well."
submitted by Jim Cortina, Dir. CPWDA
---
In Loving Memory of
MWD K9 BRITT
September 11, 2008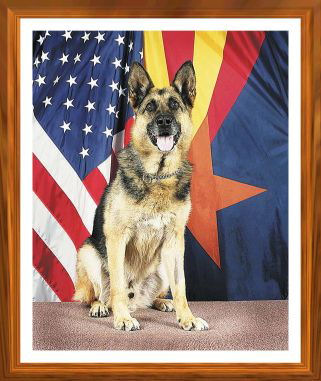 Handler: Sgt. Megan Hobson
SERVICE - Fort Huachuca, Dec. 3 at the Southern Arizona Army post.
**************
Britt, military working dog, earns last rites befitting hero
Britt the bomb-sniffing dog, who served overseas in Bosnia, Kosovo, Iraq and Afghanistan, will get a funeral befitting a hero at Fort Huachuca. The ashes of the Army canine, recently put down due to neurological illness, will be interred behind the kennels that served as his home base as a military color guard looks on. The 11-year-old German shepherd was euthanized on Sept. 11 and will be buried Dec. 3 at the Southern Arizona Army post.
Following tradition, taps will be played and a flag folded and presented to Sgt. Megan Hobson, Britt's last handler. "We lost a fallen comrade," said Hobson, 24, a Utah native serving with the fort's 18th Military Police Detachment. "He may have been a piece of Army equipment, but I loved that dog," said Hobson, who was with Britt when he died. The German shepherd held the rank of staff sergeant — military dogs always outrank their handlers by one stripe, to discourage ill treatment of a superior.
He had several Army medals to his credit and had worked as an explosives detector dog since 1999. Overseas, he took part in numerous missions that likely saved lives, officials said. On patrol in Iraq, he unearthed weapons caches and makeshift bombs, and even collared an insurgent by chasing him down. Hobson, Britt's handler for three months, arranged for the canine to spend his final days in the Huachuca Mountains doing his favorite things.
"They let me have a couple days with him where he was just a dog, he didn't have to work," she recalled.
She bought him doggie delicacies — sirloin steak with mashed potatoes from a Texas Roadhouse restaurant — and they played fetch with his favorite squeaky toy. Britt had a reputation for nipping people — "love bites" as the handlers call them — but Hobson, a rarity as a female handler, said she never saw that side of him. "I think he needed a woman in his life," she said. Fort Huachuca spokeswoman Tanja Linton said the fanfare at an Army dog's funeral is not quite the same as honors rendered for a human. Still, she said in a statement, the service aims to pay respects to "a different kind of soldier." "Britt served his country with loyalty and distinction," she said. submitted by Jim Cortina, Dir. CPWDA
---
In Loving Memory of
K9 BIER
November 16, 2008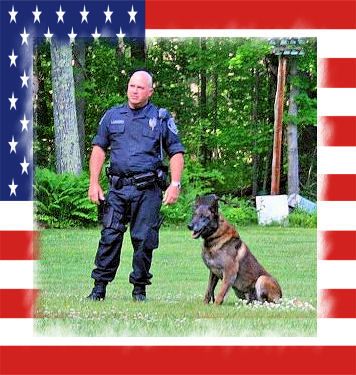 Handler: James Ljunggren
Auburn Police Department
416 Oxford St.
North Auburn, MA 01501
Ph: 508.832.777
Town police dog leaves his kennel and dies in hit-and-run on interstate
Auburn Patrolman James Ljunggren and Bier, the dog that died in a hit-and-run accident last weekend.
The Police Department is moving to get another police dog after 6-1/2-year-old Bier was found dead early Sunday morning near the intersection of Interstates 290 and 395. Police Chief Andrew J. Sluckis Jr. said the Belgian Malinois got out of his kennel on the property of his handler, Patrolman James Ljunggren, on Saturday night. Bier was hit by the driver of a vehicle who did not stop, killing the highly regarded tracking dog. Bier was frequently used in other communities to help apprehend criminals and people who were lost. Chief Sluckis said police are continuing their investigation into the accident. Bier also was one of the top finishers in a recent CIA tracking competition in Virginia, according to information from Patrolman Ljunggren. Chief Sluckis said Patrolman Ljunggren, an officer who has worked with what police call canine units since he came to the force from the Shrewsbury Police Department in 1993, has been talking with his contacts in Belgium this week in an effort to find another dog to use for police work. Bier also was one of the top finishers in a recent CIA tracking competition in Virginia, according to information from Patrolman Ljunggren. Chief Sluckis said Patrolman Ljunggren, an officer who has worked with what police call canine units since he came to the force from the Shrewsbury Police Department in 1993, has been talking with his contacts in Belgium this week in an effort to find another dog to use for police work. "We are in the process of looking for a replacement," Chief Sluckis said. "He spent a lot of time and effort with Bier," Chief Sluckis said, when asked how Patrolman Ljunggren was dealing with the loss of a dog he has had since it was a puppy. "To lose a dog under those circumstances is tragic." Since Patrolman Ljunggren joined the force, he and the dogs he has worked with have found five children who were missing in the woods, Chief Sluckis said. And earlier this year, Bier tracked down the suspected robber of a gas station near the Auburn Mall. Bier was also used in what Chief Sluckis said were countless drug investigations."We used Bier on a daily basis," he said. The use of the police dogs trained and handled by Patrolman Ljunggren proved there was a need for one in town, Chief Sluckis said.
The cost of a Belgian Malinois, bred primarily as a working dog for protection, police work, detection and search and rescue, is about $6,000, Chief Sluckis said. After a dog is bought, he said, other than the cost of training, the only yearly costs are for food and veterinary bills. Previous dogs under Patrolman Ljunggren's purview have been obtained through donations, the chief said. At the age of 6-1/2, Bier was looking at retirement from the force. Officers say police work can be stressful for dogs, and as a result, the police dog's life span can be shorter than those of other dogs. Chief Sluckis said efforts had been made to get a younger Belgian Malinois that would have worked with Bier for one or two years. While state police and the Worcester County Sheriff's Department have dogs for use in their work, many towns in Central Massachusetts do not, which is why Bier and Patrolman Ljunggren's other dogs have helped in other communities. Among communities in Central Massachusetts that have police dogs are Southbridge, Webster, Shrewsbury, Sutton, and Worcester.
submitted by Jim Cortina, Dir. CPWDA

---
In Loving Memory of
K9 BOSS
October 5, 2008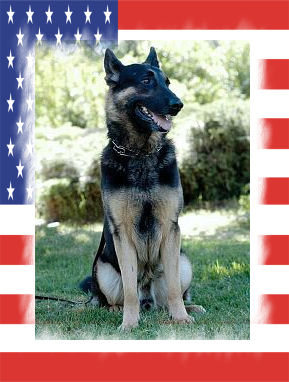 Handler: Officer Rhonda Tuscher
Fairfax Police Department
144 Bolinas Rd
Fairfax, CA 94930
(415) 453-5330
Boss, a Fairfax police dog, died Sunday.
Boss, an 8-year-old police dog working in Fairfax, died in his sleep Sunday, authorities said. One of two police dogs in Marin, the German shepherd had undergone emergency surgery four months earlier after doctors discovered a softball-sized tumor on his spleen. Boss was rushed to the emergency clinic after his handler, Fairfax police Officer Rhonda Tuscher, noticed his abdomen was distended during training exercises. "Boss was the best partner I could have hoped for," Tuscher said. "We were together 24/7, and I can't imagine not having him by my side." The dog was a member of the Marin Humane Society's K9 Care program, which depends on private contributions to cover the cost of routine and emergency medical care for Marin service dogs. submitted by Jim Cortina, Dir. CPWDA
---
In Loving Memory of
K9 BELLA
2008





Handler: Deputy Lisa Reynolds
Morgan County Deputy's Office
2380 Athens Hwy
Madison, Georgia 30650
Admin: (706)342-1507


Officers mourn loss of beloved drug dog
Bella was a black Lab approximately seven–years–old at the time of her death caused by internal injuries, and she was brilliant at her job: searching out and alerting her partner for narcotics in the area. She lived with Morgan County Deputy Lisa Reynolds, who acted as a handler, trainer, partner, and friend. Bella served the community for approximately a year and a half, but in her time here she built an impressive resume. In her work with the sheriff's department, Bella alerted to heroine, crack cocaine, methamphetamine, and marijuana. Bella and Reynolds were stationed at the high school and middle school. Daily tasks included walking the halls of the schools, checking lockers, classroom and vehicle searches, and demonstrations in classrooms. Bella completed 97 school searches in Morgan County and also searched schools in Social Circle, Putnam County and Newton County. Reynolds is not the only one who misses her friend. "I think every student in the middle school has sent me an 'I'll miss Bella' letter," said Reynolds.
"She really loved all the kids." Bella became a familiar fixture around the schools, bringing smiles to the faces of everyone, students and administrators alike. Many handlers of working dogs don't let people pet their dogs, but Reynolds never found a problem with that. Students loved spending time with Bella, and she loved them back. Bella was also on call 24 hours a day for Madison's police department. Reynolds and Bella responded to nearly 150 calls to search vehicles, homes, buildings, and even the county's detention center. When not on call or on duty at the school, Bella and Reynolds spent their time training. According to Reynolds, who documented Bella's efforts, she and Bella trained a total of 277 days when they were not on the job. Although Bella went through rigorous training before she came to Madison, Reynolds had to work with her daily to ensure that her techniques remained in top shape. Reynolds would constantly switch hiding places and types of drugs during the training sessions to make sure Bella was ready for anything. In order to better emulate real life situations, she placed distractors around the hidden narcotics. Krystal burgers and tennis balls, two of Bella's favorite things, were often put in her path. Bella, however, would not be deterred. She knew that if she wanted these rewards, she would first have to earn her keep. She was always able to keep her focus perform to the best of her abilities, and always found the "hide." According to Reynolds, "it was all a game to her." It was a game at which Bella was very adept. Bella found trace amounts of narcotics in 25 vehicles, over a dozen cases of prescription violations at schools, and even 10 rocks of cocaine during an open air search in which the suspect fled the scene and dropped the narcotics in the woods. Reynolds said one time during training, she led Bella to a line of cars and Bella could immediately identify which ones had the narcotics in them, without having to actually enter any of the vehicles. Her first day on the job, Bella responded to a call to search a vehicle and found seven or eight pieces of crack cocaine. "I was so proud of her," Reynolds gushed. Reynolds is not sure if she is prepared to take on the responsibilities of finding and training a new narcotics dog. "There is a lot of stuff that goes into it," said Reynolds. "That's your partner, that's your best friend." submitted by Jim Cortina, Dir. CPWDA
---

In Loving Memory of
K9 BOND
September 7, 2008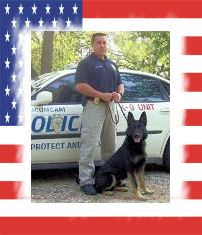 Handler: Officer Dennis Garcia
Tucumcari Police Department
215 E Center St
Tucumcari, NM 88401
(575) 461-2160
Police dog, Bond, dies
K-9 Bond with partner and handler Tucumcari Police Officer Dennis Garcia
The Tucumcari Police Department's police dog, Bond, died Sunday. "It's sad deal," said Police Chief Roger Hatcher. "That dog was a very good asset." Bond became sick earlier in the week and appeared to be getting better, but then relapsed, Hatcher said. The cause of death of the four-year-old German Shepherd is not certain, Hatcher said. Kidney failure is suspected, but the dog will undergo an autopsy to determine the cause of death, Hatcher said. "After that we'll know more," Hatcher said. Bond's handler, Officer Dennis Garcia, who the dog lived with and worked with on a daily basis, said he planned to take Bond's remains today to Albuquerque to a special diagnostic veterinarian clinic. Garcia said Bond had a good disposition. "I've got two young kids and they got along good," said Garcia, who had served as Bond's handler for a little more than a year. In May Bond assisted police officers and the Quay County Sheriff's Office in seizing of $118,902 in cash and a handgun by alerting officers that either drugs or currency was in a vehicle.
Garcia said the dog was trained to sniff out drugs and currency. In addition to assisting the Sheriff's Office, Bond also worked on cases with the New Mexico State Police and the New Mexico Department of Transportation, Garcia said. "I'm going to start looking for another one," Hatcher said. "They are a great tool." Depending on where a dog is trained and what it is trained for a dog can cost between $3,000 to $8,000. Bond, who had only one name, was purchased with the help of the local Crimestoppers which raised $6,000 to buy the German Shepherd and provide training for an officer handler and the dog.
Bond's first handler was former TPD officer Darrick Shaw who began working with the dog in April 2006. In five months Bond had assisted in the seizure of $30,000. Bond was certified at that time to alert to the locations of marijuana, cocaine, heroin and methamphetamines. In an alert, Bond scratched furiously to indicate he had smelled drugs. A police dog is very labor intensive for the handler and the handler should receive more money per hour, Hatcher said. The officer has to work with the dog and train dog, as well as taking care of the dog's daily needs, Hatcher said. On Monday, at Crimestoppers next meeting, Hatcher said he planned to talk to the group about assisting the department to get another dog. submitted by Jim Cortina, Dir. CPWDA
---
In Loving Memory of
K9 BONO
July 23, 2008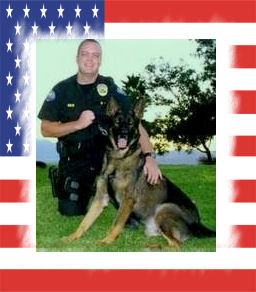 Handler: Officer Matthew Drew
Desert Hot Springs Police Department
65-950 Pierson Blvd.
Desert Hot Springs, CA 99240
(760) 329-6411
Retired DHS police dog "Bono" dies
"Bono," a retired K-9 who worked for the Desert Hot Springs Police Department from 2003 to 2007, died Wednesday, according to his handler. Officer Matthew Drew, who now works for the Indio Police Department, said the Czechoslovakian shepherd was 8 years old. Bono retired from police work in August 2007 and has been living with Drew, his wife and children ever since."He was a member of the family. ...He was a really good dog," Drew said. Bono was cross-trained in narcotics and apprehension, and found many criminals during his career, including a murder suspect who was wanted by the Cathedral City Police Department, according to Drew.
Officer Drew and Bono found the murder suspect hiding in the front yard of a home while conducting a yard-to-yard search. During Bono's career, he also was involved in many public demonstrations, and children took pictures with Officer Drew and Bono. "Bono was a great partner and a great friend and always gave his all right up until his death," Drew wrote. Drew said he's not sure why the dog was named "Bono." "He had it when I got him. I don't know if he was named after Sonny Bono," Drew said. Bono will be cremated, Drew said, and a plaque will be made in his honor. submitted by Jim Cortina, CPWDA Dir.
---
In Loving Memory of
K9 BOY
July 1, 2008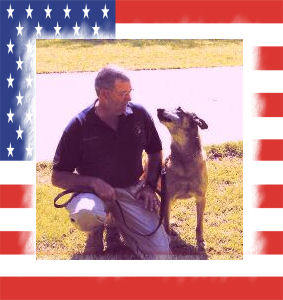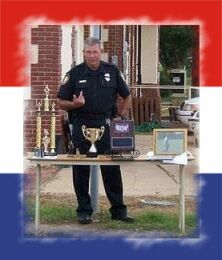 Handler: Don Carmack
Coleman Police Department
P O BOX 592
Coleman, TX
Phone: (915) 625-4114 - Fax: (915) 625-4524
Coleman honors faithful servant, Boy the police dog
Coleman Police Officer Don Carmack speaks of Boy, his police working dog and companion for about nine years, during a memorial service for the dog Wednesday. On the table are items that Boy garnered for his faithful service. He died of natural causes.
Area law enforcement officers gathered here Wednesday to remember a hard-working police dog who was responsible for the capture of drugs, money and jail escapees during his career. Boy, a 12-year-old police working dog who died July 1 of natural causes, also helped find missing people. His last bite out of crime came just four weeks before his death when he searched a residence and found methamphetamine in two places. His memorial service at the Coleman police station was attended by about 25 representatives from area police departments, including from Brown, Young and other counties. His handler, Don Carmack, who serves with the Coleman Police Department, said Boy was a Belgian Malinois. The breed's high energy is said to make them ideal for police work. Carmack and Boy teamed up in 1999. They first worked for the Brown County Sheriff's Department. The pair trained for and completed a 40-hour course put on each year by the USPCA for top police K-9 units in Texas. They placed second in 2002-03. "Boy took care of me many times and prevented me from getting hurt while on duty," Carmack said. Carmack, a former Bangs police chief, went to work for the Coleman Police Department in February, and Boy continued working with him. Officers who knew Boy said the dog never knew the word "quit" no matter how much pain he suffered or how old he got. Carmack was presented a plaque from area canine handlers in honor of Boy. The plaque denoted the years of service Boy performed with the Brown County Sheriff's Department.
submitted by Jim Cortina, Dir. CPWDA
---
In Loving Memory of
K9 BALOO
June 30, 2008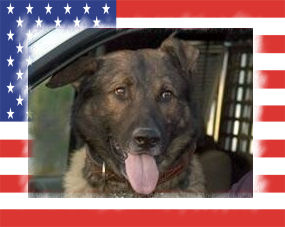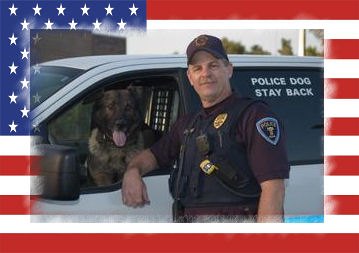 Handler: Ofc. John Holdinsky
Tempe Police Department
120 East 5th Street
Tempe, AZ 85281
(480) 350-8306
A Tempe K9 officer died on Monday night after being injured during a pursuit inside a construction site.
Baloo, a 5 year-old male German Shepherd, was assisting in the search for a pair of alleged burglary suspects when he fell nearly 40 feet. He was transported to a nearby animal hospital where veterinarians worked to save him but his injuries were two severe. Officer Brandon Banks says witnesses reported seeing two men inside the Farmer Street Lofts Project. It's believed that the two were trying to steal copper from the construction site. Banks says Baloo's handler, Ofc. John Holdinsky, was a 22 year veteran of the force and had worked with Baloo since 2004. Baloo was a patrol-trained and narcotics-trained police dog.
No public service or memorial has been planned yet.
**********
The following is a press release from the Tempe Police Department:
Tempe Police Dept.
Baloo was searching a construction site for suspect when he fell 40 feet.
TEMPE -- It is with heavy hearts that the Tempe Police Department announces the loss of 'Baloo,' a 5 year-old male German Shepherd that passed away after sustaining critical injuries while searching for burglary suspects. Around 6:40pm yesterday evening (Monday, June 30th) the Tempe Police Department responded to a report of suspicious activity at the Farmer Street Lofts Project at 450 S. Farmer. Information provided to police indicated that 2 males were seen running into the fenced construction site and may be hiding inside the building. It was believed these subjects may have been trying to steal copper.
Several patrol officers along with Tempe Police Canine Handler Officer John Holdinsky and his partner Baloo responded to the call and began searching the area for these suspects. During the search of the construction project Canine Baloo fell approximately 40 feet and was rushed to an emergency animal hospital where he was treated for injuries sustained in the fall. Baloo remained in critical condition while every effort was made to save his life. His injuries, however, were so severe that veterinarians could not save him.
Baloo's dedication, drive, and his courage were of the highest caliber. He will be missed tremendously and his contributions to the Tempe Police Department and the citizens of Tempe will never be forgotten.
Officer John Holdinsky has served with the Tempe Police Department for 22 1/2 years and his partner Baloo had been part of our ranks since November of 2004. Baloo was a patrol-trained and narcotics-trained police dog. Several photographs of Officer John Holdinsky and Baloo are attached to this news release. Information regarding any public services/memorial will be made available at a later time. The suspects in this incident were not located. submitted by Jim Cortina, Dir. CPWDA

---
In Loving Memory of
K9 BREK
June 23, 2008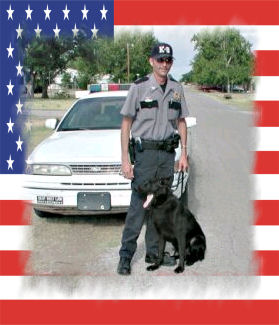 --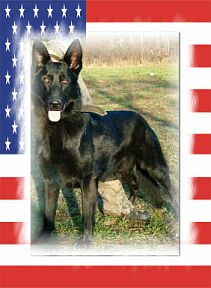 Handler: Chief William Jones
Grandfield Police Department
P.O.BOX DRAWER L
Grandfield, OK
Phone: (580) 479-3133
The Press Release came in from Sheriff Bobby Whittington of the Tillman County Sheriff's Department early Monday morning and then the calls began. "Brek" the Grandfield K-9 officer drug canine had been shot and killed. Several parents called because their children had heard about it and were distressed. In the two years this month that "Officer Brek" had been on duty he had been up close and personal with just about every school child in Grandfield, from the Headstart youngsters to the high school students. Weekly visits to classes made "Brek" a popular icon to the students and he was a big attraction during the D.A.R.E. week activities and readily identifiable during the "Meth Walk". He was frisky, like any other pet, when it came to catching a red ball from Chief "Chip" Jones, but his extensive training of voice and silent commands came to the forefront and he was all business, when it came to finding drugs, no matter how well they were hidden. Was he a deterrent in the War on Drugs? Randy Clark, Grandfield City Manager, said, "Yes, definitely". Henry Koranda, D.A.R.E. Officer echoed with a resounding, "Absolutely." There will be other K-9 officers, I am sure, but "Brek" was our first and our hearts go out to Chief "Chip"
in the loss of a friend.
MORE:
Canine officer's killer sought
The Tillman County Sheriff's Department is investigating the fatal shooting of the Grandfield Police Department's canine officer. Officials say Brek, a 2-year veteran of the police department, was shot by an unknown person or persons between midnight and 7 a.m. Monday. Sheriff Bobby Whittington says the German shepherd wasn't on duty at the time of the shooting. Brek's handler, Police Chief William Jones, says Brek stayed at his house and rode with him whenever he went to work. Jones said Brek was used extensively when search warrants were being executed, at traffic stops and at Grandfield schools. Whittington says Brek was only 1 of 4 canine units in the county. Anyone with information on the crime is being asked to call the Tillma
n County Sheriff's Department at (580) 335-3013.
Brek was submitted by Jim Cortina, Dir. CPWDA
MORE:
Lulu,
We just came from heart wrenching memorial for Brek. For such a small community it was wonderful to see the support for Chief Chip and for Brek. There were almost 2 dozen law enforcement officers from Tillman county, including the Sheriff and his family, reserve officers, a couple retired Oklahoma Highway Patrol officers and EMT's. I noticed our Animal Control Officer had her flag at half staff today. Our Methodist pastor, David Gardner (who is also our mayor) did a most awesome memorial, thanking Brek for his service to the community. Chief Chip Jones is so well loved in Grandfield we wanted him to know how much he is supported. He had a lady from Wichita Falls Texas who said for him to pick out a dog and she will pay for it. One of our ranchers said he will have a contractor come in a build a new kennel for a new dog. As I say almost every week in my newspaper column....."I love living in the Big Pasture area....it just don't get any better than this".
Louise, you (and your hubby) are to be commended for all the wonderful work you do and we thank you from the bottom of our hearts.
Sincerely,
jb
Judie Bright (580) 479-5757 bpnews@pldi.net
www.bigpasturenews.com
A century ago...a century to grow

---
In Loving Memory of
K9 BOOKER
January 16, 2008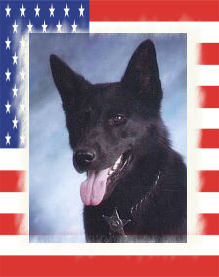 Handler: Deputy Chris Newton
Huntington County Sheriff's Department
332 E. State St.
Huntington, IN 46750
Non Emergency (Dispatch) 219-356-8316
Huntington Remembers K9 Officer
Wednesday night, Huntington police officers and members of the community gathered together to mourn the loss of one of their own. They met to honor the memory of a partner, friend and six year veteran of the force: a police dog named Booker. "He was a member of the department; he was a brother in brown. He had the full rights and privileges of an officer and he was part of our family," explains Deputy Ron Boxell with the Huntington County Sheriff's Department.
Deputy Chris Newton was Booker's partner. "When your and your dog are in the car eight hours a day, you take that dog home with you, you're really together 24 hours a day, there's a huge bond there, a trust. That's something my dog and I had is a trust," says Newton. Newton worked closely with Booker closely from the very beginning of the K-9 program. As a big dog lover, Newton pushed to bring a K-9 program to Huntington County several years ago.
During Booker's time on the force he helped find lost kids and criminal suspects. He also helped make nearly 200 drug arrests, helping to keep thousands of dollars of drugs off the street. "He was an excellent tracking dog. He was an excellent drug dog and when he needed to turn up the heat and the muscle of the department he was there," says Boxell. Deputy Newton and his wife Jenny also got to see a softer side of Booker. He was a playful companion to their two young daughters and a much loved family pet.
"When he came home, he turned off the work dog attitude. When he came home, he was a pet, he was just like any other dog," says wife Jenny Newton. But in a lot of ways, Booker was not just another dog. For his family and fellow officers, his loss is big one. "I couldn't ask for a better partner and it would be real difficult for me to replace him with another dog right now," says Newton.
"He's going to be missed by everyone and I don't think Chris will ever have another dog like him, I don't think you can have another dog like that," says Jenny. Booker was 12 years old. He died of natural causes. Officer Newton says there are no immediate to plans to replace him.
submitted by Jim Cortina, Dir. CPWDA
---
In Loving Memory of
K9 BLACKJACK #33
April 16, 2008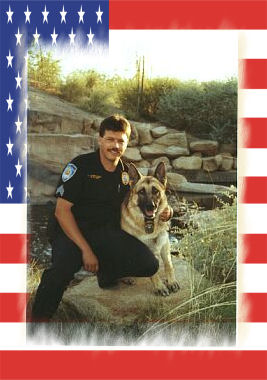 Handler: James Zarzyczny #11
A/Commander
Gila River Police Department
Field Operations Patrol Division - K9 Unit
Gila River Indian Community
525 W. Gu U Ki
Sacaton, AZ 85247
E-mail: gricinfo@gric.nsn.us
Telephone: (520) 562-9500 - Fax: (520) 562-9849
I have been a K9 handler for over 9 years and currently have 2 K9 partners. My original partner is a 9 year old German Shepherd named Blackjack. He is a dual purpose narcotics patrol K9 and has served with me for 7 years. He was diagnosed with a degenerative spinal disease.
submitted by: Tracy Klett
The Gila River Indian Community is also increasing its industrial economic base. The community has developed three industrial parks that are home to a variety of light and heavy industries, and offering businesses with easy access to the Phoenix metropolitan area. One of the Parks, Lone Butte Industrial Corporation, is nationally acclaimed as one of the nation's most successful Native American industrial parks.
But the community's recent and most evident economic development is its three casino properties, Wild Horse Pass, Lone Butte and Vee Quiva. Upon signing a compact with the state of Arizona in 1993, the gaming facilities have helped the tribe slowly gain economic strength, providing nearly 2,000 jobs, 60% of which are secured by community members.Even with such growth, the community recognizes the value of partnerships as we continue to look for innovative ways to diversify our economic development and community activities. For example, managed by Troon Golf, the Whirlwind Golf Club offers a distinct southwest golf experience. The overall design of the championship golf courses, clubhouse, and teaching center illustrates the rich cultural heritage of the Community and highlights the local landscape that includes saguaros, palo verde, mesquite, and cottonwood trees.
Police Department
Department Description:
The Gila River Indian Community Police Department provides Law Enforcement services to the Community and it's members in the areas of criminal investigations, preventative patrol and directed patrol functions. It is committed to the protection of personal property and preservation of life and the overall improvement of the Community's quality of life.
Contact Information:
* Name: Commander Rey Nejo
* Phone Number: (520) 562-7123
* Address: P.O. Box 568
* Sacaton, AZ 85247
* Fax Number: (520) 562-7051
* E-Mail: reynolds.nejo@gric.nsn.us
---
In Loving Memory of
K9 BUBBA
May 22, 2008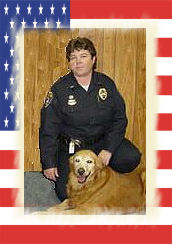 Handler: Lieutenant Lyla Robbins
Fulton Police Department
510 Market
Fulton, MO
Phone: (573) 592-3100 - Fax: (573) 592-3139

Fulton Mourns Police Dog
The police department gathered on Thursday to remember the life of canine officer Bubba. The dog was an 18-year veteran of the Fulton Police Department. "He was our drug dog number one, he found a lot of drugs through out his career for not only our department, but for other deptartments throughout mid-Missouri," explained Police Chief Steve Myers. Veterinarians put Bubba to sleep last week because of painful arthritis and old age. While the entire department is having a tough time with Bubba's loss, no one has it worse than his handler.
"I was with him 24 hours a day 7 days a week, and I didn't exactly follow the rules. He stayed with me, indoors slept on the floor beside my bed. From the time I had him he wasn't in a cage, he was right there with me, and we were best friends," said Lieutenant Lyla Robbins. Bubba not only had an impact on the police department but the entire Fulton community. "We used him in the classroom. He's a friend to all the kids, literally. There have been thousands, literally, that touched this dog and he touched a lot of them," stated Deputy Police Chief Roger Rice.
While Bubba was a friend to everyone in the classroom by day, when he got home at night he was definitely a "momma's boy," said Robbins. Bubba will be remembered for his work on the police force, but more significantly, his service to the community. Fulton police say they are going to look for another drug dog to replace Bubba.
submitted by Jim Cortina, Dir. CPWDA

---
In Loving Memory of
K9 BIZ
aka; Canine Officer Bismarck Von Charnock
May 5, 2008
----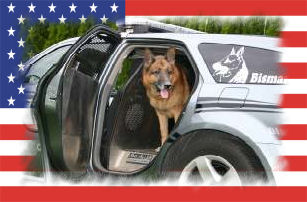 Handler: Master Patrol Officer Tom Osendorf
Monroe Police Department
806 W Main St
Monroe, WA 98272
(360) 794-6300
Monroe police dog dies of meningitis
Monroe police are remembering Biz, a German shepherd police dog who died of meningitis, officials said. The dog was laid to rest Monday, Monroe police spokeswoman Debbie Willis said. Canine Officer Bismarck Von Charnock – nicknamed "Biz" – joined Monroe police in 1999 and worked for many years with courage, confidence and stellar tracking abilities, Willis said. The dog was one of four used by Monroe police. Bismarck is a purebred male German Shepherd dog from German lines. He enjoys catching bad guys, finding evidence, and playing fetch. Bismarck competed in the 2000 BCPCA Police Service dog trials earning a third place in Tracking. He is Officer Osendorf's first canine and has proved to be a superb dog. Officer Osendorf has been with the Monroe Police Department since 1994 and is a field training officer and EVOC instructor. He is also a member of the Monroe Police Special Emergency Response Team and a forensic artist.
submitted by Jim Cortina, Dir. & Ryan Irving

---
In Loving Memory of
K9 BONZO
April 25, 2008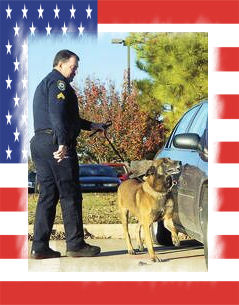 (Midwest City police Cpl. Randy Neal demonstrates how Bonzo uses his sense of smell to search a vehicle
in this 2004 photo.)
Handlers: Cpl. Randy Neal , Lacky Harkins, & Jake Doles
Midwest City Police Department
100 N. Midwest Blvd - Ph?
Midwest City, OK 73110
Midwest City police lay canine officer to rest
DIED - 4/25/08 ( HIP AND SPINAL PROBLEMS, EUTHANIZED )
Bonzo died Friday. Bonzo, a Midwest City police dog, was known around the squad room as "the old man" with a lot of heart for his job. Bonzo was buried Monday afternoon in Precious Pets Cemetery in Spencer, alongside several of his canine comrades in law enforcement. The funeral service was well attended by Midwest City police members, along with canine officers and their handlers from Guthrie, Del City, Ponca City and Logan and Oklahoma counties. Bonzo died Friday surrounded by fellow officers, said Jerry Kennedy, supervisor of the police department's K-9 unit.
The 12-year-old Belgium Malinois had hip and spinal problems, and at the advice of a veterinarian, a decision was made to end his suffering, Kennedy said. "He was a good officer, but he got where he couldn't work anymore," Kennedy said. "That for him was probably worse than the pain." Bonzo was born and trained in Holland and brought to the United States by a trainer in Muskogee, Kennedy said. His expertise was drug detection, but he had extensive tracking and patrol experience too, he said. Bonzo recently assisted Choctaw police in tracking a home invasion suspect through a mobile home park. He helped find the suspect in an abandoned car, Kennedy said. "He's helped us find a lot of drugs through the years, but he was more than a tool for law enforcement," Kennedy said. "He was a partner to our officers." In 1999, Midwest City purchased Bonzo from the Muskogee trainer. Cpl. Randy Neal was his handler for about eight years and Bonzo worked a short stint with officer Lacky Harkins, Kennedy said. Six months before his death, Bonzo was partnered with officer Jake Doles. "Everyone always knew when I was on the radio, because they'd hear him barking in the background," Dole said. "He was an old man, but he loved the job." The night before his death, Bonzo went out on one last patrol with Doles. Bonzo was one of two police dogs with the Midwest City Police Department. There are plans to recruit another dog, Kennedy said. submitted by Jim Cortina, Dir. CPWDA

---
In Loving Memory of
K9 BRUNO
June 20, 1999 - March 30, 2008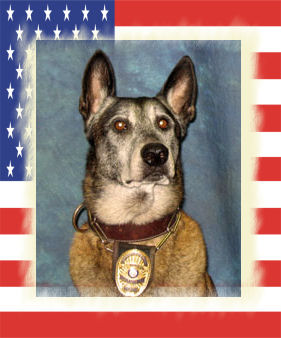 Handler: Sgt. Greg Ernst
Savannah-Chatham Metro Police Department
201 Habersham Street
Savannah, GA 31412
Phone: (912) 651-6675- Fax: (912) 651-6683
Savannah-Chatham K-9 Bruno Laid to Rest
One of Savannah-Chatham Metro Police Department's fleet-footed K-9 crime-fighters was laid to rest Monday night. Bruno, the first of five Belgian Malinois to start the department's K-9 Unit in 2001, was diagnosed with an untreatable form of cancer in February. The diagnosis forced an early retirement for the K-9, ending nearly seven years of loyal and dedicated service to the agency and our community . With more than 265 arrests and assists, 78 evidence searches, 96 tracking missions, 525 narcotic searches and 216 building searches, Bruno retired as an honorary K-9 Sergeant on Feb. 27.
Bruno's handler, Sgt. Greg Ernst, made a tough - but humane - decision to have his partner and pet of more than seven years euthanized. He wanted to prevent his partner from suffering. Ernst and the rest of the department's K-9 family assembled Monday for a private burial at the horse stables on Dean Forest Road . Bruno was born on June 20, 1999 and received his certification after graduating from Beck's Canine Training school in 2001. Since joining the department , Bruno has served as a force multiplier in the department's crime-fighting mission. Whether scaling six feet fences, wading through marshes or hiding in attics, few criminals have managed to elude Bruno's tenacious spirit and compelling bite.
During his tenure, the local Humane Society heralded Bruno as "Top Dog" after he managed to capture a suspect who tried to drown him in a Wilmington Island waterway. The department also has recognized him for his tenacity, discipline and textbook K-9 apprehension and life-saving skills. In 2006, he was credited with saving the life of Ernst after an armed suspect tried to shoot the officer at the corner of Atlantic and Gwinnett streets. In 2003, Bruno tracked and located a missing 5-year-old who was on the verge of climbing into a refrigerator. A headstone befitting an outstanding K-9 crime fighter has been ordered for Bruno's grave site. It will be installed at a date to be announced.
Submitted by Jim Cortina, Dir. CPWDA.

---
In Loving Memory of
K9 BENY
February 7, 2008
Handler: Cpl. John Surowiec
Lawrenceville Police Department
PO Box 2200 - 20 South Clayton Street
Lawrenceville, Georgia 30045
Phone: (770)339-2400 - Fax: (770)339-2415
Lawrenceville police say goodbye to canine
Retired German shepherd helped catch about 160 criminal suspects
Police dogs always seem to fidget at funerals. Four pallbearers in crisp uniforms carried the tiny flag-draped coffin of Beny, a retired dog from the Lawrenceville Police Department, to a place of honor Thursday at Oak Rest Pet Gardens. The coffin passed between a line of police dogs and their handlers. Some of the German Shepherds looked up at the men standing beside them as Beny passed by, apparently confused. A couple dogs whined a bit. One officer started scrunching a furry ear to calm his dog. Another grabbed a snout.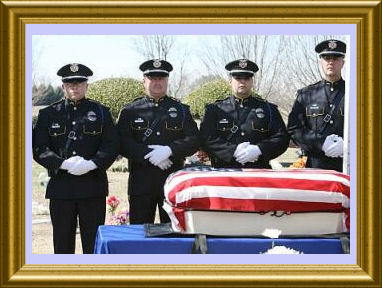 Officer Jimmy Inlow; Officer Steve Hall; Officer Doug Schad and Officer Shane Pierce
stand over the small casket containing the remains of 'Beny.'
Seats at the funeral were offered to those in attendance, twice. Silently, everyone indicated their intent to stand through the service. Beny helped catch about 160 criminal suspects, said Cpl. John Surowiec said through sniffles to a small group of well-wishers. Surowiec told them how "Mr. B" had worked for the police in Gwinnett County and the city of Lawrenceville for more than five years, and was an ace tracker. He helped catch a gang member wanted on murder charges by the FBI, said Officer Emory Griffith, Beny's first trainer. He once chased a Tec-9 machine gun pistol -toting car-jacker into a tree, then climbed the tree like a cat to bring him down, Griffith said. At about 65 pounds Beny was a bit undersized for a police dog, but he was tough, Griffith said. An officer handed Surowiec's son Luke the tiny folded flag, pressing it close to his heart before saluting. Just as the four pallbearers lifted the coffin again to its grave, a police dog taken to a carrying crate a football field away began barking. submitted by Jim Cortina, Dir. CPWDA