In Loving Memory of
K9 ASTOR
2008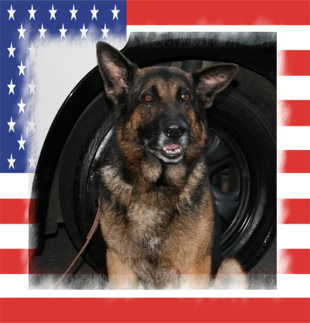 Handler: Officer Neil Martin
Edmond Police Department
23 E. First Street
Edmond, OK 73034
Ph:
Edmond K9 dies of cancer
Astor, a Edmond Police Department drug and tracking dog, died during cancer surgery He was 7. His handler was Neil Martin. We interviewed one of Astor's former handlers, Sgt. Tony Hill, in early 2007. He spoke with us about his work with Astor and the bond between handlers and their animals.
Listen here
. Astor will be missed.
submitted by Jim Cortina, Dir. CPWDA
---
In Loving Memory of
K9 ATOS
2008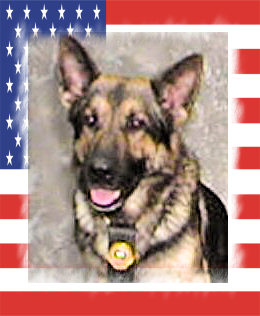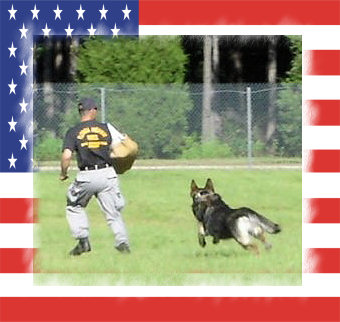 Handlers: Trooper Chet Tomlinson, and Trooper Timothy O. Strickland
Troop B Contraband Interdiction Program
Florida
FHP K-9 Atos began his career in 1997 with Trooper Chet Tomlinson as his handler. K-9 Atos was Trooper Tomlinson's second assigned K-9. During this time K-9 Atos was responsible for the seizures of approximately $500,000 in narcotics, $200,000 in U.S. currency and had two tracks with apprehensions. Trooper Tomlinson was promoted to Corporal in 1999. In October 1999, K9 Atos was reassigned to Trooper Timothy O. Strickland and CIP Team B-2 with Trooper Robert C. Roux as the Felony Officer. K9 Atos was Trooper Strickland's third assigned K9. During his assignment with Trooper Strickland, K9 Atos was responsible again for the seizures of approximately $500.000 in narcotics, $150,000 in U.S. Currency and vehicles and had two apprehensions on an area search and a building search.
K9 Atos retired in December 2006 after serving the citizens of Florida with honor and distinction for nine years. K9 Atos lives with the Strickland
family and enjoyed his retirement. K9 Atos is missed by all of the members' of the Troop B Contraband Interdiction Program. He passed away in 2008 and will be missed as a faithful companion and friend and will be truly missed by the Strickland family. submitted by Bobby Earl
---
In Loving Memory of
K9 AUSTIN
February 16, 2008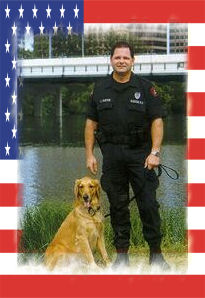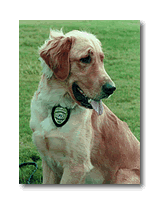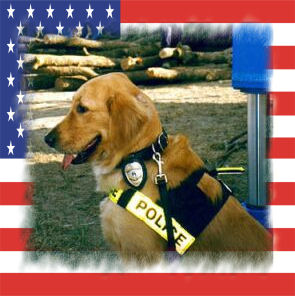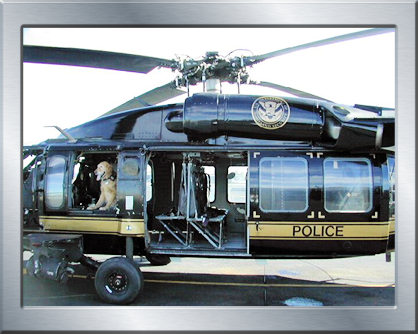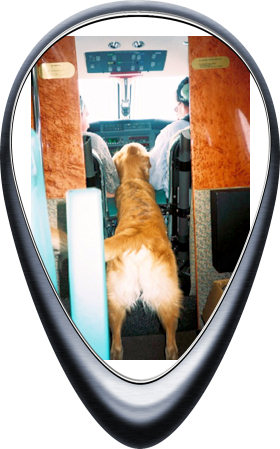 Handler: Officer Jim Minton
Austin, Texas-Search & Rescue
When the AKC has announced the winners of the first Awards for Canine Excellence (ACE) in 2000, Golden Retriever Austin, owned by Officer Jim Minton, of Austin, Texas, was their Search and Rescue recipient.
A classic Cinderella story: A bedraggled stray is turned in to the Greater Houston Golden Retriever Club's rescue program and, after a few twists of fate, becomes an honored search-and-rescue dog. Austin's inspiring story culminates in his work at the site of the Texas A&M bonfire collapse that killed 12 people and injured 27 others. According to his handler, Officer Jim Minton, Austin was one important working Golden. Austin has been on overseas assignments three times and one trip involved us being evacuated out of the region by the U. S. Customs and DEA air wing. This was after thugs had placed a $30,000 price tag on Austin to kill or kidnap him. This is nothing unusual. Drug dogs working the border often face the very same threat.
Austin himself was found and rescued as a puppy from the woods east of Houston, Texas, by hunters. He was then turned over to a Greater Houston Golden Retriever Club's rescue program , where Texas Hearing and Service Dogs purchased him and provided testing and training before donating him to the Austin Police Department in January 1999. Austin has since been trained to rescue people. On October 28, 2000 Mayor Kirk Watson proclaimed that date "K9 Austin Day" for the City of Austin. On November 11, 2000 Austin was inducted into the Texas Animal Hall of Fame.
Austin was certified in Tracking, Cadaver, and Chemical Biological Detection. After Jim retired from the
Austin Police Department, where Austin was on the job from 1999 to 2004, he and Austin began working
at the Federal Level specializing in Chemical-Biological Detection (2004-2008). Jim Minton, a Senior Law Enforcement K-9 Handler/Instructor and Senior K-9 Chemical-Biological Specialist for U.S. Govt. and U.S. Military Response only.
A Very Sad Ending.
Police K9 Austin died on February 16, 2008 in his loving handler's arms. He had been rushed into emergency surgery due to having developed bloat, and managed to survive the procedure. However, shortly after waking up his vitals deteriorated and as Jim so desolately said: Austin looked at me, wide awake and alert, took a deep breath, exhaled, laid his head down, I kissed him, monitors started sounding, and Austin left this cruel world. submitted by Jim Cortina, Dir. CPWDA
UPDATE
MEET JORDAN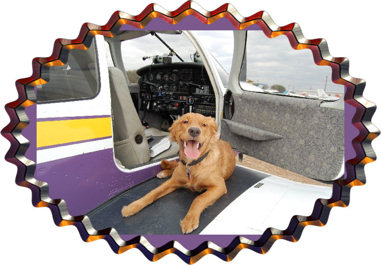 I retired from the Austin Police Department, but stayed in law enforcement somewhat. My primary function is corporate pilot HOWEVER, I also manage the K-9 chemical biological and explosives canine training with Signature Science, LLC in Austin. I just got a new Golden and he will soon learn to find explosives. Until he gets a little older he's been my co-pilot on a couple of flights. His name is Jordan and he's my new pride and joy!
---
In Loving Memory of
K9 ARKO
August 26, 1997 - November 7, 2008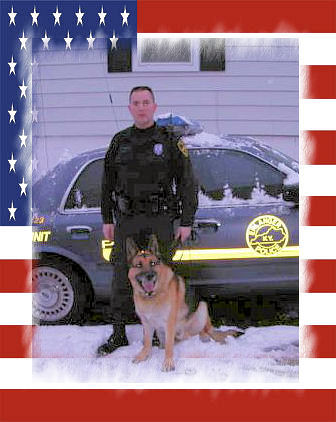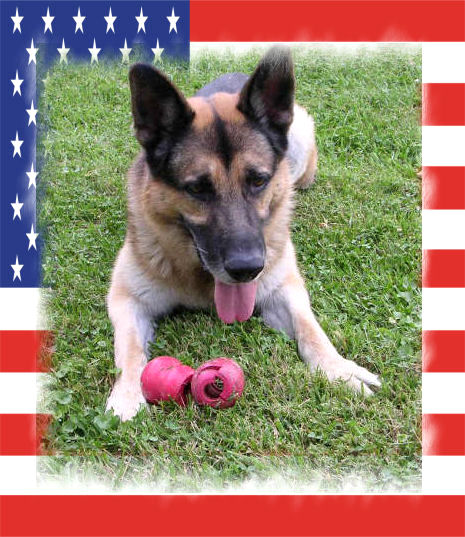 Handler: Eric Love
Erlanger Police Department
Erlanger, KY
Arko was from Gladbeck Germany. He retired in 2005, but passed just recently on 11-07-2008. He had degenerative myelopathy. He was born on 08-26-1997. We worked for the Erlanger Police department in Northern KY, just a few miles south of cincinnati Ohio. He made some great drug arrest during his career and caught several suspects during tracks. He was both a patrol dog and a drug dog, what they call Dual purpose. He lived with me when we were off from work and loved to go for drives in my truck or play ball.I started to work for the police department in 2001. I had transferred from another department where I worked since 1998. I first met Arko when his current handler was doing a track of a suspect and I assisted him. I knew at that point that I wanted to work a police dog and felt a certain almost strange drawing toward Arko. Most officers were scared of him but I wanted to spend time with him. A short time later there was a promotion for a detective. the current handler of Arko got promoted and I expressed interest in working him. I was picked and in May of 2002 I was assigned to the K9 division. I went through my training and in no time I was certified by NAPWDA and we were on the road.
We had many great catches. We once tracked for over 1 mile through neighbor hoods after a suspect had stolen a car, had a pursuit and then bailed. Arko did such a great job I still can't believe it to this day. we tracked through yards, streets and woods and we ended up stopping at a house where the suspect had entered. Officers located him and placed him under arrest. Arko was certified in drug detection, and patrol work (searching, tracking, obedience etc). we had many great drug arrest as a team and of all of his skills I was often told by other handlers that his drug detection was second to none. Arko and me arrested approximately 90 individuals during our time together. When we were off work he loved to play in the back yard. I was blessed to have a very large back yard, and we could run and play kong. His favorite toy was a kong. Arko retired in 2005. He was getting slow and was about to turn 8, the typical age for retirement. He didn't take to retirement that great in the beginning. He still wanted to go to work and it was hard on me as well. For after years of having my partner in the car with me, to go to work without him was difficult. I still miss the kisses he would give me as we drove on patrol. The years past and he adjusted to being retired. He would guard the house and was a great watch dog. I would walk him daily, a thing he loved. I would take him for drives and to different parks. He was still a major part in my life. I took him on vacation in June of 2007. We went to North Carolina. I wanted him to see the beach before he passed.
Arko started to have problems walking around this time. I associated with his age and didn't worry too much about it. ut as time passed he was having more problems walking. The vet diagnosed him with degenerative myelopathy in February of 2008. I was devastated. Health wise he was great. His liver kidneys etc. were fine, but the diagnoses of DM was one that would make him paralyzed sooner rather than later. I took him to the vet on 11-07-2008. The vet said I should have him euthanized because he was having more problems walking. I knew he was having problems, but I didn't want to make this decision. Although after further consultation with the vet I did. My partner, beloved friend, laid his head in my lap and passed from this earth after a few short kisses to me. He left me with great memories but also a hole in my heart that I know will never be filled. I know one day I will be with him again, just not now.
submitted by Eric Love
---
In Loving Memory of
K9 ANDY
October 22, 2008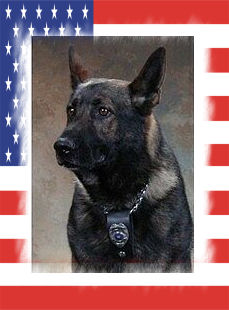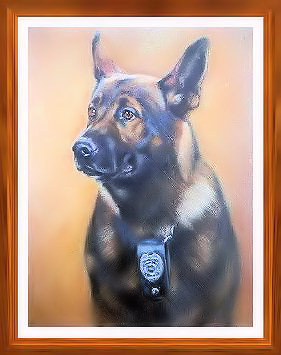 Handler: Louis Layfield
Plymouth Township Police
700 Belvoir Rd
Plymouth Meeting, PA 19462
(610) 279-1900
Plymouth Twp. Police Dog Killed In Line Of Duty
A Plymouth Township K9 was shot and killed by another officer while investigating a robbery in Lower Gwynned Wednesday afternoon. Police say Lower Gwynned Police requested assistance of Plymouth Township Police and other surrounding municipalities to aid in the search for robbery suspects who were wanted for holding up the Abington Bank on Bethlehem Pike. Sources say during the search, Andy, the Plymouth Township K9, bit a member of the Montgomery Township Police Department who had his gun drawn on a suspect. The K9, trained to go after the suspect with the gun, was accidentally shot during the incident. At 10:35 a.m., K-9 Andy was fatally wounded and Officer Layfield sustained a gun shot to the chest. Andy's handler was also struck by the same bullet. The handler's bullet proof vest stopped the bullet from penetrating and the officer escaped serious injuries. The Montgomery Township Police Officer's injuries were non-life threatening. Ofc. Layfield was treated and released from Mercy Suburban Hospital. He was wearing a ballistic vest. The department says Officer Layfield and K-9 Andy have been partners since January of 2005. Plymouth Township police say their K9 officer was doing his job and the circumstances surrounding the shooting are under investigation. The three bank robbery suspects were arrested.
submitted by Jim Cortina, Dir. CPWDA
UPDATE
Service to be held for police K9 accidentally shot
PLYMOUTH MEETING, Pa. — A memorial service will be held for a police dog accidentally shot by friendly fire during a search for bank-robbery suspects in suburban Philadelphia. Police say the dog, a German shepherd named Andy, was tracking a suspect Wednesday when he was fatally wounded by an officer from Montgomery Township. Andy's handler, Plymouth Township Officer Louis Layfield, was shot in the chest but was wearing a bulletproof vest. Plymouth Township Police Chief Joseph Lawrence says the department has bulletproof vests for dogs. But he says they are useful only in limited circumstances, which do not include suspect searches. The chief says the department is treating Andy's death like that of an officer killed in the line of duty. The memorial service will be held Wednesday, Oct. 29, 2008.
Service: October 29, 2008
Philly cops hold memorial service for K-9 - By Kathleen Brady Shea - Philadelphia Inquirer
PHILADELPHIA — Andy, the Plymouth Township police dog accidentally shot this week during a search for bank-robbery suspects, will be remembered at a memorial service on Wednesday. Plymouth Township Police Chief Joseph Lawrence said yesterday that hundreds of condolences had come in from the public, the Secret Service, the Drug Enforcement Administration, law-enforcement agencies from the area, and police departments in Ohio, Virginia and Connecticut. "Basically, we are treating this as an officer killed in the line of duty," said Lawrence. "He was one of us." Lawrence said a service would begin at 10 a.m. at the Plymouth Community Center Band Shelter, 2903 Walton Rd. He said agencies that plan on having people in attendance should have them there by 9. The service will include readings by the police chaplain and the three other Plymouth Township officers with K-9 partners. "Officer [Louis] Layfield may or may not speak, depending on how he feels," Lawrence said of Andy's handler. "It's totally up to him." Lawrence said more than 100 officers had notified the department that they would attend; he said attendance would likely exceed that number. He said a woman from Cape May, who heard about Andy from an officer in Connecticut, is setting up a memorial page online for Andy and plans to distribute memorial cards at the service. She and her husband are retired funeral directors and are dog lovers, Lawrence said. After the service, a procession is planned through the township, to end at the township building; a reception will follow at the police station. The dog's remains will be placed in a small park at the building, Lawrence said. Andy, trained in patrol operations and narcotics detection, was tracking a suspect Wednesday when he was fatally wounded by an officer from Montgomery Township, Lawrence said. Layfield was shot in the chest but was wearing a ballistic vest. Lawrence said that Andy, a German shepherd, joined the department in January 2005, quickly becoming a valuable member of the force. "This is a big loss," the chief said. He said the department had received many offers to help purchase bullet-proof vests for the police dogs. He said that the department already has them and that they are useful only in limited circumstances, which do not include suspect searches. "They restrict airflow and cause the dogs to overheat very quickly," he said. "Then you have to stop, which hinders the operation." Lawrence said he had suggested that people make a contribution in Andy's memory. He said checks should be payable to the Plymouth Township Police Association and sent to it at 700 Belvoir Rd., Plymouth Meeting, Pa. 19462. The donations should be marked for the memorial service or the dog-training fund. "These dogs have training twice a month," he said. "It's an ongoing expense." submitted by Jan Everett, Customs, California.
MORE
Video http://cbs3.com/video/?id=67391@kyw.dayport.com (click to play video)
A Montgomery County community is set to honor a police dog killed in the line of duty during pursuit last week. Over 100 officers attended a memorial service for Andy, a Plymouth Township Police K-9, at the Greater Plymouth Community Center on the 2900 block of Walton Road at 10 a.m. Following the service, a procession headed to Bicentennial Park where Andy's ashes will be laid to rest. Andy was accidentally shot and killed by Montgomery Township Police Officer Robert Johnson during a search of suspected bank robbery suspects on October 22. The fatal bullet also struck Andy's handler, Officer Louis Layfield, in the chest. The officer escaped serious injury as he was wearing a bulletproof vest. Funds from those making donations in Andy's memory will go towards training Plymouth Township police dogs. submitted by Jim Cortina, Dir. CPWDA
**********
Funeral Service for K9 Andy - October 29, 2008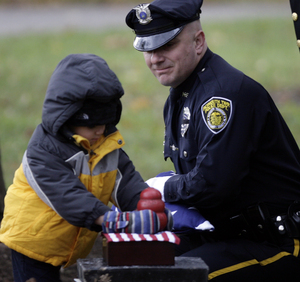 -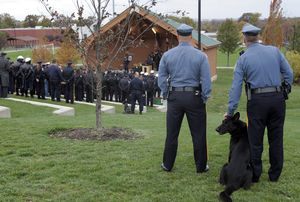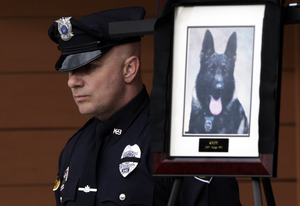 LAURENCE KESTERSON / Staff Photographer
Rocky, a police dog from Mantua, attends the memorial service for Andy, the Plymouth Township Police K-9 dog who was accidentally shot and killed last week. With him is his partner, Sgt. Jeff Ferry, and Mantua Police Officer Kyle Riemen (left).

Funeral held for K-9 dog killed in Plymouth Township
Rocky, a police dog from Mantua, attends the memorial service for Andy, the Plymouth Township Police K-9 dog who was accidentally shot and killed last week. With him is his partner, Sgt. Jeff Ferry, and Mantua Police Officer Kyle Riemen.
Plymouth Township Police Officer Louis Layfield and his son, Dominic, at the grave of his K-9 dog, Andy. Nearly 400 members of police and fire departments attended services.
Plymouth Township Officer Louis Layfield with a photo of his K-9 dog, Andy, buried yesterday. A program with a photo of K-9 dog Andy on the cover at the memorial service at the Plymouth Community Center Band Shelter. Andy, a Plymouth Township K-9 dog who died in the line of duty, was memorialized yesterday with all the pageantry typical of the police brotherhood. Uniformed officers saluted en masse and a bagpiper played "Going Home" as Andy's ashes were carried by his human partner before the service. "People think it's only a dog," said Robert Krause, a retired funeral director who traveled from Cape May for the memorial service. "This opens up their eyes," Krause's wife, Louise, said. Andy the dog was also Andy the partner and Andy badge No. 913 of the Plymouth Township Police K-9 Unit. He tracked down bad guys and sniffed out narcotics. The German shepherd, who had served as a police dog for seven years before he died in the line of duty last week, was remembered yesterday as a laid-back partner who only turned into a "fireball" when necessary. Nearly 400 officers, firefighters and emergency service personnel from more than 50 departments around the region attended the outdoor services at the Plymouth Community Center Band Shelter. The procession to the burial site - a ceremonial last ride around the township - was 100 cars long. Andy was shot accidentally when he and his partner, Officer Louis Layfield, answered a robbery call at an Abington Bank office in Lower Gwynedd. Andy had been let off his leash to search for suspects when he came upon Robert Johnson, a Montgomery Township officer who also answered the call. Johnson was pursuing the suspects with his gun drawn, said Plymouth Township Chief Joseph F. Lawrence. When Andy spotted the gun, he leaped for the officer. K-9 dogs are trained to go after the gun, Lawrence said, and Andy was trying to protect his partner.
When Layfield attempted to pull Andy off Johnson's leg, Johnson's gun accidentally discharged. The bullet went through the dog and hit Layfield, who was wearing a bullet-proof vest. "This was an accident," Layfield said during the memorial service. "I have no malice in my heart." Layfield and Johnson, who did not attend the service, have spoken since the shooting, said Robert Hart, who leads the Montgomery Township K-9 Unit. Johnson was traumatized after the incident; before the shooting, he had wanted to pursue a career with the K-9 Unit, Hart said. After the service, Layfield, 39, of Lower Providence, said he isn't sure that he'll return to the Plymouth Township K-9 Unit when he returns to work after some time off. Layfield and Andy were part of a four-team K-9 Unit in the township. German shepherds Brix, Judo and Bosko, along with their officer partners, were at graveside during Andy's burial service adjacent to the police headquarters on Valley Road. The ceremonies were attended by mourners from area police departments including Cheltenham, Darby Borough, Philadelphia and Burlington, as well as local residents and animal lovers from around the region. Ardis Lukens of Plymouth Township came to pay her respects because a Plymouth Township officer had once given her two old dogs he found tied up and abandoned in a junkyard. The dogs became her beloved Freddie and Ethel. The Krauses, who traveled from New Jersey, have an unusual calling. Louise Krause makes memorial cards for deceased military, and search and rescue dogs. She also creates memorial pages for the dogs on her Web site. Andy is now among the 500 that she has memorialized in 10 years.
(yes, we were there also with tears) Copyright 2008 Philadelphia Inquirer

---
In Loving Memory of
K9 AJAX
August 11, 2008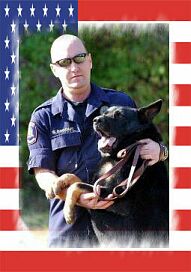 --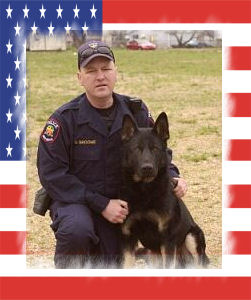 Handler: Officer Scott Broome
Greer Police Department
101 W Poinsett St
Greer, SC 29650
(864) 848-2194
Greer police K-9, Ajax, passes away
A Greer police dog passed away last night after nearly three years with the department, the Greer Police Department is reporting. Lt. Jim Holcombe said Ajax became ill last night and was rushed to the animal hospital by his handler, Officer Scott Broome. Ajax died while being transported to the hospital, Holcombe said. Ajax and Officer Broome were not on duty at the time. Ajax was certified as a drug and tracking canine, and was also used for public presentations. He was about 3 and 1/2 years old, Holcombe said. Greer resident Harriet Thompson had donated the money to buy Ajax for the department.
MORE:
The Greer Police Department welcomed its two newest officers to the force amid much fanfare last September, as a battalion of news reporters witnessed Mayor Rick Danner administer the oath of office.
The officers raised their paws and barked. Atos and Ajax, a pair of two-year-old shepherds, officially joined GPD's K-9 Unit and displayed their agility and drug sniffing skills at the city's police range. The dogs will be used for tracking and drug detection, according to Capt. Jolene Vancil. "They're called out several times a year. If an officer has a suspicion about a car, the dogs will be called to come out and do a sniff around it," she said. "We don't do a lot of tracking, but they're there if we ever need them. Of course they go along (with the Emergency Reponse Team) on any raids or search warrant work." Through the oath of office, Atos and Ajax have sworn to protect and serve the citizens of Greer; to assist their handlers in enforcing the law; to search for lost children; to find illegal drugs; to track suspects; to be goodwill ambassadors for the Greer Police Department; and to always be the best dogs possible. As the dogs barked their affirmation under handlers Jim Williams and Scott Broome, video cameras captured the smiles of those in attendance. While the ceremony may have appeared to be a made-for-television event, it actually served an important purpose. "The dogs are now classified as police officers and anyone who does any injury to them would receive a very similar penalty as if they assaulted a human police officer. We consider them to be just as much of the department as the humans are," Capt. Vancil said. The city's K-9 unit was formed more than 15 years ago when a black labrador retriever named Murray joined the force. The department once boasted four patrol dogs at one time, but Atos and Ajax have been professionally trained specifically for tracking and drug detection and are used accordingly. Their ongoing training includes agility work in Greer on the certified course built by Williams for the dogs. submitted by Jim Cortina, Dir. CPWDA

---
In Loving Memory of
K9 ASTRO
August 6, 2008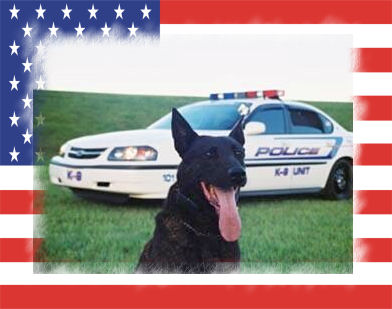 Handler: Officer Jeff Nickle
Palm Bay Police Department
City of Palm Bay - 120 Malabar Road
Palm Bay, FL 32907
Phone: (321) 952-3400

Palm Bay Police Department patrol dog dies
After serving the Palm Bay Police Department for 7 dutiful years, Astro the patrol dog was put to rest on Wednesday. K-9 Astro was twelve years. The patrol dog was assigned to the Palm Bay unit and Officer Jeff Nickle in 1998. Nickle, Astro's handler said He was by far the best dog this department ever had. He was a man stopper and drug finder. He was a great partner. Astro was also the first Palm Bay Police dog to receive certification as a Police Utility dog which included drug detection, handler protection, obedience, building search, area search, tracking and evidence search. During his years with the team, Astro assisted in locating missing and endangered persons and also saved the life of an injured suspect. He also worked closely with the SWAT team. Sgt. Nelson Moya, a SWAT team member said Weve missed him for quite some time. He served us well.
submitted by Jim Cortina, Dir. CPWDA

---
In Loving Memory of
K9 ALI
July 30, 2008
Handler: Officer Kirby DeLoach
Longview Police Department
302 West Cotton
Longview, TX 75601
(903) 237-1199
Canine officer dies after years of bad health
Officer Kirby DeLoach poses with Ali, a German shepherd police dog, in 2000. Ali died recently after years of deteriorating health. Ali, a German shepherd who served the Longview Police Department for eight years, died earlier this week after several years of deteriorating health. "He was a good partner," said Officer Kirby DeLoach, Ali's former handler. Ali was DeLoach's first canine partner. DeLoach said hip problems led to Ali's retirement in 2006. The police department has three police dogs. After retirement, Ali lived with DeLoach and his children. DeLoach and Ali spent their career partnership on a midnight shift, being called out to assist on patrol or narcotics work as needed. Sometimes Ali's talents would not be used for days, and sometimes he was called on several times in a single shift. "Ali was always ready to work," DeLoach said, adding they were always up for a challenge. Ali's teeth captured the attention of many children and city employees, DeLoach said. The canine's canines were the first animal teeth on the police force to be crowned. "Everyone thought he had steel teeth," DeLoach said of the crowns Ali received after his canines wore down. The dog also had a great temperament. DeLoach said Ali was always sociable and enjoyed interacting with children. Even after Ali's retirement, DeLoach said many people asked about how Ali was doing. While DeLoach has many work memories of Ali, one day stands out above the others. Several years ago, he and Ali were called to a wrecked vehicle on Texas 31. Three suspects had committed a robbery and driven away. The suspects wrecked on Texas 31 and fled into the woods. Another police dog was already on the scene and had found one suspect, but the dog needed to rest. DeLoach and Ali went into the woods and found another suspect as the first dog rested. When Ali needed to rest, the first dog went back in, and all three suspects eventually were found. The entire manhunt lasted about seven or eight hours. "It was one of the most tiring, but most rewarding, instances I can recall," DeLoach said. When Ali retired, DeLoach got a new canine partner, Joost (pronounced like toast but with a "y" sound at the beginning). The DeLoach family, though, will always remember Ali as one of its own. "He was family," DeLoach said.
submitted by Jim Cortina, Dir. CPWDA

---
In Loving Memory of
K9 ANDY
July 13, 2008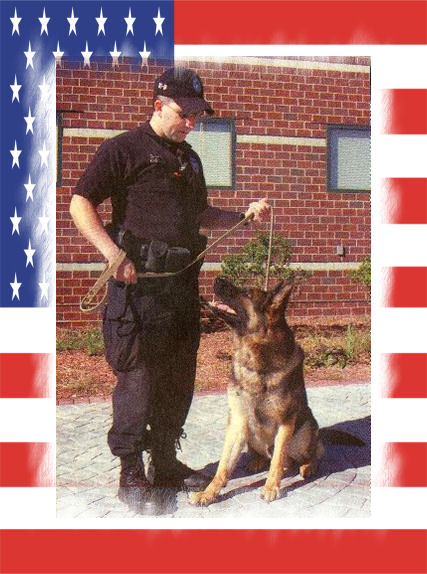 Handler: Dave Leo
Chelmsford Police Department
2 Olde North Road
Chelmsford, MA 01824
978-256-2521 - 978-256-6872 (Fax)
Email-ChiefMurphy@TownofChelmsford.us
SUbele@TownofChelmsford.us
Police department loses its canine - By Kevin ZImmerman/Staff Writer
Unlike most police dogs, Andy knew when he was "on the clock" and when he was kicking back with his family.
"He was a great police dog and at home he was a great pet," said K-9 Officer Dave Leo. "He knew if I came out of the house dressed in my uniform we were going to work." Over the weekend, Andy, who had served with the police department since September 2004, died. It was business as usual Friday night, when Leo and Andy, a 6-year-old German shepherd, were called to the China Mountain restaurant on Tyngsboro Road after a reported break-in. Andy tracked the suspect into a swampy area behind the building. When the alleged robber refused to surrender, Leo sent Andy in after him. One bite from Andy and the suspect was out of the swamp. "We never would have found the guy without Andy," said Police Chief Jim Murphy. It was another suspect collared by the K-9 pair, but while in the swamp Andy may have caught something else. On Saturday, Andy started to act strangely and Leo suspected something was wrong. Leo took his partner to a veterinarian in town. There, doctors discovered Andy's vital signs were weak and his intestine was enlarged. They advised Leo to take Andy to Nashua, N.H., where he could be operated on. But doctors in Nashua told Leo the infection had progressed too far and there was nothing they could do for Andy. "There's a lot of bad guys who are probably happy to hear that Andy is gone," said Leo. With drug dealers, merchandise is usually stashed in an electronic hide — a spot somewhere on the vehicle that can be opened only through the flick of a switch or push of a button. Andy always seemed to locate the cache. Leo and Andy were involved in hundreds of searches and were extremely successful in locating suspects and drugs, said Murphy. But area police departments also praised Andy for his work when called on to help locate a missing child, said Murphy. "We got accolades from every department in the area where he assisted," said Murphy. "He was well respected as a canine dog. A lot of that credit goes to Officer Dave Leo." Murphy and Leo have already talked about finding a new dog for the force.
A second dog would be less of an investment, said Murphy, because Leo's vehicle is already equipped for K-9 work. "Hopefully the next dog will be as good as the last one," said Leo. "He was a good dog from day one. He's going to be missed."
Kevin Zimmerman can be reached at chelmsford@cnc.com.
another incident:
Chelmsford -A loud tailpipe piqued a police officer's interest and led to the driver's arrest after a short chase to his Lowell apartment Saturday. Sgt. Paul Cooper noticed the noise coming from 32-year-old Mark Napolitano's car, and ran a check on the vehicle's license plates, according to Deputy Police Chief Scott Ubele."The listing came back showing that the motor vehicle plates were revoked for lack of insurance," said Ubele. So Cooper followed Napolitano's car into the parking lot for D'Angelo Sandwich Shop in Drum Hill, and pulled him over, Ubele said. As backup arrived, police received word there was a warrant for Napolitano related to a plea he made in a 1999 rape case, Ubele said. "He apparently did not live up to his part of the bargain," said Ubele. Officers at the scene opened the door to the car and tried to get Napolitano out, but he fled, Ubele said. He put it in drive and left the scene," said Ubele. Dispatch sent for K-9 Officer Dave Leo and his dog Andy.
Leo arrived at the scene after a short car chase that ended when Napolitano's white, roughly 20-year-old Chevrolet Celebrity slid across the slippery parking lot and into a Laundromat, Leo said. "From what the guys told me, he was driving like a horror show," Leo said. After the crash, Cooper's cruiser slid into Napolitano's car and officer Edward Quinn scuffed the bumper of another parked car in the parking lot. Napolitano, who lives next to the Laundromat ran up the stairs to his third floor apartment, said Deputy Ubele. Police followed him up with the landlord and tried to use a key to open the door, Leo said. "Every time they tried to turn the deadbolt, he would turn it back, locking it," Leo said. When police had enough of that exchange, they gave the man warning and kicked in his door, Leo said. Napolitano was arrested and charged with failure to stop for police, operating an uninsured motor vehicle, operating a motor vehicle after license revoked, operating a motor vehicle reckless to endanger, failure to keep left while passing and failure to stop for a stop sign. Icy conditions were responsible for the car crashes, which ended the pursuit, Ubele said. A few hours later, around 6:30 a.m. Sunday, a man driving a 2006 Chevy pickup ran a stop sign and crashed into Lt. Dan Ahern just outside Chelmsford High School, Ubele said. That driver was cited for failure to yield, said Ubele.
Staff Writer Andy Metzger can be reached at 978-371-5745 or at ametzger@cnc.com. submitted by Jim Cortina, Dir. CPWDA
---
In Loving Memory of
K9 ARS
December, 2008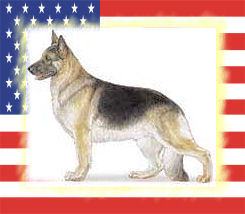 Handler:
William (Dick) Dudley

Border Patrol
Llano County Sheriff's Department
2001 North State, Hwy. 16, Suite A
Llano, Texas 78643
Phone: 325-247-5050 - Fax: 325-247-3273
Email: lcso@co.llano.tx.us
John Neff, Chief Deputy
2003 National Champion K9 Ars Passes
Written by Terry Uetrecht
In December 2008 K9 Ars, the 2003 NNDDA National Champion in Texarkana, past after a short illness. He served 7 years with the Sonora Police Department with William (Dick) Dudley. The Team transferred to the Llano County Sheriff's Dept. in September 2006 and worked in Llano County till March 2008 with several good busts. Ars would have been 10 in February 2009.
In Sonora he had a great career working with the P.D., S.O., DPS, and the Border Patrol. He is credited with several large amounts of cash, 100's of pounds Marijuana, several kilo's of cocaine, some meth, several small amounts of heroin, and numerous small personal amounts. He was good at what he did. He will be missed every day.
Handler Dudley wanted to say a very special big THANK YOU to all the people in NNDDA, who helped him and Ars for all those years.
---
In Loving Memory of
K9 AJAX
April 21, 2008





Handler: Deputy John Cook
Spokane County Sheriff's Office
Valley Precinct
12710 E Sprague
Spokane WA 99216
PH: (509) 477-3300 (509) 477-5980
email: sheriff@spokanecounty.org
Public Safety Building
1100 West Mallon
Spokane, WA

Need info
submitted by Jim Cortina, Dir. CPWDA
---
In Loving Memory of
K9 AXEL
June 2008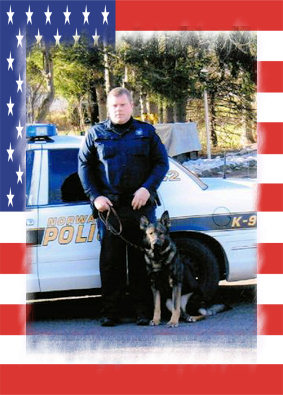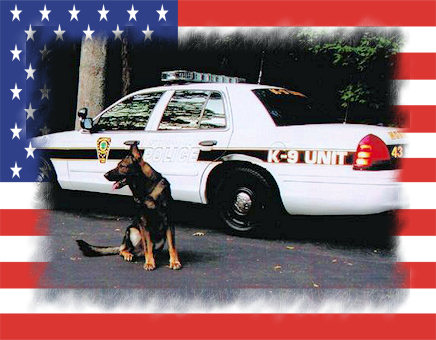 Frank & K9 Axel
Handler: Gregg Scully & Frank Holland
Norwalk Police Department
One Monroe St.
Norwalk, Connecticut 06854
Tel # 203-854-3000

Requiem for a crime dog (SLIPPED DISC EUTHANIZED)
After sustaining a spinal injury during a mid-May training exercise, Axel still wanted to go to work. When his handler, police officer Gregg Scully, got ready to drive to work, the 6-year-old German shepherd would pop his driver's side door open by shoving his snout under the handle. Then the 90-pound dog, trained for patrol and narcotics duty, would use his long nose to swing the door open and jump in. Despite Axel's willingness to work and ability to mask his pain, Scully said he knew his dog, which he began living with last October, was hurting and may have to be put down.
"I knew he would let me know when it was time," Scully said. That time came faster than he imagined. On June 14, Axel, who spent almost five years as a certified Norwalk police dog, was euthanized, Sgt. Andre Velez said. Axel came to Norwalk from the Czech Republic without training, said Velez, who commands the department's K-9 Unit. With the loss of Axel, the unit now has four police dogs. Axel was trained by Norwalk police officer Frank Holland, a master trainer with the North American Police Work Dog Association, who kept the dog until Holland's disability retirement last year.
Axel also was set to retire, but Holland told Velez that the dog really wanted to work, and offered him to another handler. When Axel was turned over to Scully, they made an immediate connection. "From the first day I got him we bonded," Scully said adding, "The way Axel was trained, you will never see another dog like him." Right after the two were certified to work together near the end of December, they were put on a drug investigation with another law enforcement agency.
In a rural area - Scully wouldn't say where because the case is under investigation - Axel found a stash of crack cocaine worth $50,000. On the job, Axel was "phenomenal," Scully said. "There was no off switch for him." Axel would do his commands at "100 miles per hour." Many times before he finished uttering a command, Axel was already doing it, Scully said. At home, Scully said, Axel was "comical" and at times, including when he would sit down and watch television, seemed almost human.
"Whatever you were doing, he wanted to be a part of," Scully said. Axel's police career ended during a Hamden training session, Velez said. On May 12, Axel was training to chase down a suspect with a large head start. Being an energized dog with explosive speed, Axel hit a trainer hard, spinning the man around. While Axel was in mid-air with his teeth locked on the man's arm, he slammed into a vertical metal beam, Velez said. A short time later, Scully called Velez to tell him Axel was dragging a hind leg and both rear paws were turned down, indicating he was hurt.
A veterinarian found that he had an acutely slipped disc. During a second examination, a veterinary specialist also discovered that Axel was suffering from an unrelated degenerative disease, which would probably have limited his career to only two or three more years, Velez. With a positive outcome through surgery far from certain, the specialist recommended euthanizing the dog, Velez said. Once full of energy and playfulness, Axel soon was doing little more than laying down next to Scully or in his own bed.
And when Axel began yelping in pain, Scully knew it was time for him to be put out of his misery, he said. Velez said that he wants to replace Axel, but the funds are not available. The past three police dogs have been paid for using money forfeited from drug dealers and other criminal enterprises. Those accounts are budgeted and there isn't enough left over to get another dog, Velez said. Velez said that he hopes to raise the $12,000 needed to buy and train a new dog through the department's K-9 Donation Fund. "The public has always been extremely supportive and generous when they see we have needs," Velez said. - Anyone interested in donating to the K-9 fund can
call 854-3197. submitted by Jim Cortina, Dir. CPWDA , photos by Frank Holland

---
In Loving Memory of
K9 ARRAS
July 17, 2008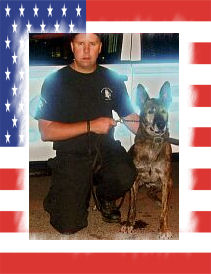 Handler: Lt. Brad Chism
Southaven Police Department
8691 Northwest Drive
Southaven, TN
Phone: (662)393-8652 - Fax: (662)393-7138
Southaven police dog was working until the very end
Southaven Police patrol and narcotics dog Arras, an 8-year-old Dutch Shepherd, died of cancer last week.
The first day Arras was a member of the Southaven Police Department, he captured a suspect. That was six years ago, and since then he helped nab 50 to 60 criminals. "He was a real pro from day one and would just help us hunt down bad guys and sniff out drugs," Lt. Brad Chism said. "He was great."Arras, a patrol/narcotic dog, died last week from cancer complications. The Dutch Shepherd was 8 years old. "It happened so suddenly," said Chism, Arras' handler. "The good thing is he didn't suffer. We are still in shock that he is gone. Everybody is upset."
Chism said even on the day he died, Arras was ready for work. "We had a call in Horn Lake to catch two suspects, and Arras went out there and in 15 minutes caught them," Chism said. After the suspects were arrested, Chism said he noticed Arras wasn't himself. "Last Saturday, we took him to the vet and they said he had a liver infection and was given some medicine," Chism said. "Monday, when we took him back, they found the cancer. It had spread to his liver and spleen, and he had to be put down."
This is the second police dog Chism has lost. Bach, a 4-year-old German Shepherd, died on the job from a heart attack after he ran down a robbery suspect. "Bach died on April 11, 2002," Chism said. "I remember it like yesterday." Chism said Bach is buried at Saucier Park near City Hall. Arras was buried Monday on a plot at the Southaven Police Department gun range in an area that has been designated as a memorial for police dogs. "We are planning a memorial service for Arras and will get him a headstone and everything," Chism said. "I have two other dogs and they are looking for Arras to come home. Everybody in my family is grieving for him." Chism said Arras was one of four in Southaven's canine unit. The department has begun the process of looking for a new dog. "It is hard to replace him, because he was more than just a pet," Arras said. "We had a bond that will be hard to duplicate." submitted by Jim Cortina, Dir. CPWDA
call: 662-393-8654 heard from : Linda Taylor

---
In Loving Memory of
K9 ALAK
March 2008





Handler: Officer John Griffin
Jamestown Police Department
(emailed NY)
(help with information please....) submitted by Jim Cortina

---
In Loving Memory of
K9 ANOUSKA
March 15, 1998 - May 20, 2008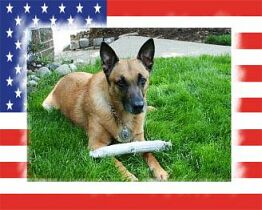 Handler: P/O Dave Szlachta
SEPTA Transit Police
1234 Market St. - 4th Floor
Philadelphia, PA 19107-3780
Emergency: 215-580-8111
Non-emergency: 215-580-4487 - Administrative: 215-580-3641
police@septa.org
"The more people I meet, the more I like my dog."
Anouska came into our home during the summer of 2005. We were very excited because she was the "first female" Malinois of all the other "K-9 HEROS" we had over the years. She was not a young dog by any means. She was 7 years old. It turns out that her previous owner had abused her. We were the "fortunate" and "honored" ones who rescued her. I will never understand how anyone could do that to such a loving and caring dog, or any dog for that matter. In the beginning, it was very difficult for Anouska or "Nushy" as my wife and I called her, to accept the love and praise that we gave her, but we never stopped and never gave up. Anouska and I attended 17 weeks of Patrol and Explosive School together. There was one advantage in her favor. Of the 16 other dogs in our class, Anouska was the only female. The other dogs loved her….and all of the other handlers did also. After graduation, I met many people who knew Anouska years before and I can't tell how many said, "No way is that the same dog... she looks so happy!" She was a happy and loving partner. Anouska loved going to work every day....sometimes even more than her partner. She was the only dog I ever had that didn't bark at anyone who asked for directions. I know how many of you can relate to that....and she will never know how much I appreciated that too. "Nushy" was always such a good little girl at home. She was always so well-behaved and added so much joy and happiness into our lives. She was a "perfect pet" and was definitely a very important part of our family. We will miss her so much, but we know that she is in a better place now waiting at the Rainbow Bridge. submitted by handler, Dave & Wendi

---
In Loving Memory of
K9 ARCO
May 17, 2008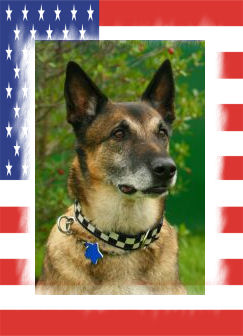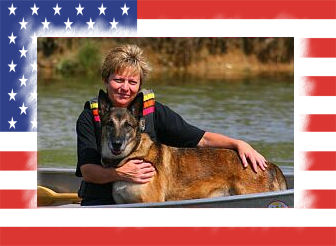 Handler: Karen Makowski
Chicago Police Department
3510 South Michigan Avenue
Chicago, IL 60653
(312) 746-6000
I am numb as I type this...8 years ago I walked into the K9 Training Center not knowing how my life would be changed. As I looked over all of the possible K9 Partners I saw you and our eyes met. I felt from that moment that we looked into each others souls and I knew in my heart that we would be a great team. We had a bond like no other. You excelled in all you did and gave it your all. You were brave, never hesitating to protect me. You stood tall after 9-11 as we stood for hours at our Command Center protecting all who entered. You made me proud as we stood to Honor Fallen K9 Heroes. You made me proud as we stood Guard by The Presidential Helicopter. You made me proud when we received a Department Commendation for your work. You searched so others would be safe. City wide you were known, from the FBI to School Children who thought it was so cool to pet a Police Dog. I was known too...as Arco's partner You were loved by many and touched many lives. But when we came home at night you were my sweet lovable boy. A part of the family..a part of me..my "Velcro Dog." You made me laugh and you stood by me through good times and bad. This last year I was blessed to be retired with you and enjoyed every moment together.
Karen & Arco~Forever In My Heart
14 Feb 1998 ~ 17 May 2008



You looked into my eyes last night on the way to the E-Vet and you again looked into my soul. You knew it was time to go and wanted me to know it was OK. And now I look down by my feet and I don't see you, I turn to touch you and you're not there. A piece of my heart is gone. Your Grandpa misses you too,and when I looked out the window and saw him watering it was not the same without you at his side.
But even though I can't touch you or see you, I know you are at my side. "Partners Forever"..just temporarily separated by a Rainbow. Be Brave again Arco until I am once again at your side. I love, miss you and you are...
FOREVER IN MY HEART. AND ALWAYS AT MY SIDE - submitted by Karen

---
In Loving Memory of
K9 AULF ( aka K9 ULF)
May 6, 2008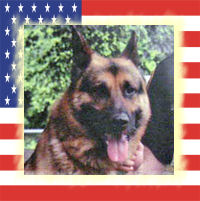 --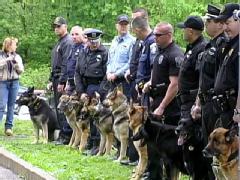 Handler: Christian A. Sciulli
Pittsburgh Police Department
1203 Western Avenue
Pittsburgh, PA 15233
Ph: 412-323-7800
Officer kills man during run-in with K-9
A Pittsburgh police officer shot and killed a 19-year-old Allentown man who shot and killed a K-9 dog during a confrontation in Mount Oliver last night. A crowd of angry onlookers, including the victim's family, quickly gathered at the scene in the 1600 block of Arlington Avenue. Dozens of officers also arrived on the scene, some with K-9 dogs, to help keep the crowd under control. The victim's parents identified him as Justin Jackson of the 1500 block of Arlington Avenue. A spokesman for the Allegheny County medical examiner's office confirmed Mr. Jackson had died but said the cause and manner of death would be determined in an autopsy today. The K-9 dog, named Aulf, was 6 years old and was assigned to an officer who is a 12-year veteran of the police bureau, said Chief Nate Harper. Chief Harper, appearing at a news conference last night at police headquarters, gave this account of the shooting, which occurred shortly before 7 p.m.: The officer, who is a member of the police bureau's street response unit, spotted a man walking down Arlington Avenue with his hand concealed under his jacket. Believing the man was holding a gun, the officer stopped and told him to pull his hand from his pocket. The officer reported that he saw a gun and released the K-9 to subdue Mr. Jackson. Mr. Jackson shot the dog and the officer immediately fired his weapon at the suspect. Both men fired several rounds, Chief Harper said. The officer, who was not identified, was not wounded in the shooting. At the time of the shooting, Mr. Jackson was on the sidewalk and the officer was standing in the street, Chief Harper said. The spot where the shooting occurred is just over the city line in the borough of Mount Oliver. Two blocks of Arlington Avenue were closed by police as they investigated. The victim's father, Donald James Jackson, said a police officer told him "our dog got shot so we killed him." "They killed my son execution-style, not in the leg," the older Mr. Jackson said. "I understand things go wrong but I'm sure there's a better way to handle it." Chief Harper said Allegheny County police and the district attorney's office will investigate the shooting. When asked, he said early indications are that the officers acted appropriately. Chief Harper said he met with family members of the victim after the shooting. "It's a very unfortunate incident. Any time a life is lost, it's unfortunate." The chief said it was "a shame the dog also had to sacrifice its life." "The K-9 did what it was trained to do," he said. Police departments have gone to great lengths to protect their dogs, some even buying them bullet-proof vests, which can cost more than $1,000 each. Pittsburgh police have estimated that each year three or four dogs are injured in scuffles with suspects. In the 1970s, two police dogs were shot when they tried to disarm a hostage taker. They both survived; one retired, the other returned to duty. In November, Aucy James Andrews, 59, of the Hill District, was shot twice by an unnamed K-9 officer near the intersection of Fifth Avenue and Van Braam Street. Police said Mr. Andrews stabbed a fellow tenant in the throat after an argument at his apartment complex, then tried to stab a police dog before approaching the K-9 officer with his folding knife. In September, Steelers quarterback, Ben Roethlisberger began giving grants for police departments to purchase dogs in each town where the football team played. "It's something we decided to do, my foundation is doing, after the police dog in my hometown [of Findlay, Ohio] got shot and killed," Mr. Roethlisberger said at the time. Investigators hope to review the incident on videotape from security cameras placed in the area by UPMC.
submitted by Jim Cortina, Dir. CPWDA & Renee Konias
update:
Police say Knoxville man fired first - By Jill King Greenwood and Michael Hasch- TRIBUNE-REVIEW
Police plan to review surveillance footage of a fatal encounter between two Pittsburgh police officers -- one of them a K-9 officer -- and a Knoxville man with a history of arrests. Cameras outside a University of Pittsburgh Medical Center facility on the border of Knoxville and Mt. Oliver might have captured the Tuesday evening shooting that left Justin James Jackson, 19, dead. Jackson died from a gunshot wound in the head and one in the chest, the Allegheny County Medical Examiner's Office said. The K-9 officer's dog, a 6-year-old German shepherd named Aulf, died of chest wounds at a veterinary hospital. "This needs to stop. The police are using excessive force and killing young black men," said the victim's father, Donald Jackson of the West End. "It doesn't make sense. This is terrible, and I want answers." Fellow officers identified the K-9 officer as Christian A. Sciulli, 34, an 8-year veteran. Police spokeswoman Diane Richards refused to confirm his identity and would not identify the second officer. Both officers were placed on paid administrative leave while authorities investigate, which is standard procedure in police-involved shootings. "They had a horrendous night. They have taken a life and lost a partner," police Chief Nate Harper said during a late-afternoon news conference Wednesday. Sciulli had never shot anyone on the job before, fellow officers said. The District Attorney's Office and county police are investigating. Donald Jackson said witnesses told him his son did not have a gun, and family members said Justin Jackson was not known to carry one. Court records show Justin Jackson had an arrest record on offenses including firearms violations, simple assault and criminal conspiracy. His last arrest was in April 2007, when he was 18, accused of simple assault and a firearms offense. In that case, he pleaded guilty to simple assault and was sentenced to six to 18 months. Records do not show whether he served any jail time. Donald Jackson said his son was trying to turn his life around.
"He was a good kid," he said. "He had some trouble as a juvenile, but he was trying to change things.
Everyone makes mistakes when they're young, but he didn't deserve this."
Justin Jackson was working in construction and studying for his driver's license exam, his father said.
"Justin was a happy, normal kid," said his aunt, Scheryl McCoy, 32, of East Liberty. "I'm speechless that this happened. I just don't know what to say. They shot him because of a dog." The flag outside police headquarters in the North Side flew at half-staff, and some officers wore a black band over their badges to signify they are mourning a fallen officer. Police are planning a memorial service and burial for Aulf on Saturday. Harper called the shooting "an unfortunate" but justifiable action. "The officers acted within the guidelines of policy and procedures," he said. Sciulli and another officer, both in uniform, were driving on Arlington Avenue in a marked police car to respond to a report of shots fired when they spotted Justin Jackson, police said. They stopped because they believed he was carrying a gun, Harper said. Sciulli ordered Aulf to attack after Jackson pulled a .357 Magnum handgun from under his shirt, police said. Harper said Jackson began "firing at the officers, and the police officers returned fire."
Investigators initially believed that the officers opened fire after Jackson began shooting at the dog.
"They did not realize that the dog had been shot" until Jackson and the dog lay mortally wounded, Harper said. The officers and Justin Jackson fired several shots, investigators said. Aulf was shot in the front legs and chest and pronounced dead on arrival at a veterinary hospital. "The bullet retrieved from the K-9 was consistent with a .357 (Magnum)," Harper said. The gun Jackson was carrying had been reported stolen in a 2006 burglary in Elliott, the chief said. The department has 17 dogs and 12 protective bullet-proof vests that are rotated among the dogs, said K-9 Sgt. Chris Micknowski. Aulf, a 75-pound dog, was not wearing a vest because the dogs normally are outfitted with them only when being sent into situations the officers know are dangerous. A vest weighs about 15 pounds, Micknowski said. "The vests are very heavy and generate a lot of heat on the dogs," Micknowski said. "They aren't something we put on the dogs and leave on them because it wouldn't be practical. If we know we're sending the dog into a situation that is high-risk, we'll put a vest on them. That wasn't the case here. This happened so quick. There was no warning." Richards said Aulf had been with the city police department for about five years. His first handler had him for about two years and Sciulli since then. update:
K-9 Killed In Line Of Duty Remembered
More than 200 police officers from numerous communities gathered to remember a Pittsburgh police K-9, Aulf, a 6-year-old German Sheppard. Aulf was shot and killed in the line of duty Tuesday when city police said Justin Jackson, 19, shot Aulf in Mount Oliver. The dog's handler and another officer returned fire, killing Jackson. As bag pipes played, Aulf was carried in a small white casket into the police academy in East Liberty -- the place where he once trained to be an officer. Funeral services for Jackson will be held in Mount Oliver Tuesday morning. submitted by Jim Cortina
update:
The Pittsburgh police department is getting a new police dog to replace the one killed in the line of duty last week. On Monday, Sen. Jim Ferlo announced the department will receive a $10,000 grant. Last week, 6-year-old "Aulf" was shot and killed by a suspect in Mt. Oliver. That same suspect was later shot and killed by officers. submitted by Bobby Earl
---
In Loving Memory of
K9 APACHE
February 16, 2008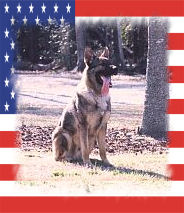 ----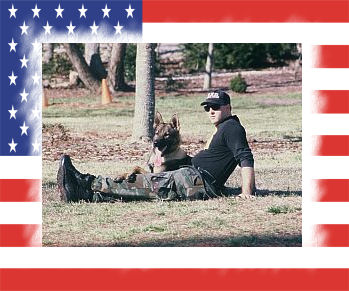 Handler: Lt. Brian Rudick
Patrol Divison Commander
Hartsville Police Department
135 W Carolina Ave
Hartsville, SC 29551
(843) 383-3011
candy.johnson@hartsville.org
Department honors police dog
Hartsville Police Department K-9 Apache's badge and leash are placed with his urn Tuesday as the honor guard prepares to drape his remains with an American flag during a memorial service at St. Luke Methodist Church in Hartsville. A small crowd gathered at St. Luke's Methodist Church at sundown Tuesday to mourn the loss of Apache, the first canine officer to join the Hartsville Police Department. Apache died Feb. 16 at his home after a brief illness. His body was cremated. Apache joined the force in May 1997 and was assigned to work with Hartsville Police Lt. Brian Rudick. The two were inseparable until his death, Rudick said.
Even though his partner has been gone for more than a month, Rudick still clings to the things and the memories he left behind, he said. Every evening, Rudick said he finds himself wanting to go outside and feed Apache. He still has all of Apache's toys, as well as his water and food bowls, he said. "This is his lead," Rudick said, clutching Apache's leather leash. "This is the same lead that we used the entire time we worked together." Officers wanted to have a memorial service for Apache because he was with the department for nine years and he was an important part of the force, he said. "I want them to remember how much of a friend he was. You take for granted their service, but an animal chooses to serve. He could have been the worst dog on the planet, but he chose to serve," Rudick said. The Rev. Tony Medlin, pastor of St. Luke's, said Apache was greatly appreciated by the Rudick family and the police department. "They (animals) are a part of God's creation ... we show appreciation in the same way we show appreciation for all life's blessings," Medlin said. Humans have a few things to learn from such service animals as Apache, Medlin said. "I think loyalty is the big thing," he said. "It's unconditional loyalty (and) the unconditibrian.rudick@hartsville.orgonal part is what we need to learn for ourselves. (Animals) don't hold grudges. They just love."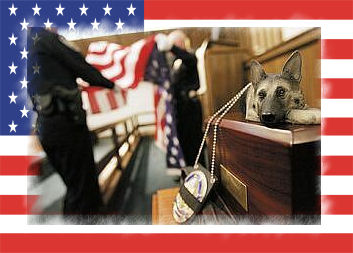 Uniformed officers saluted Apache during the service with poems and presented a flag to Rudick. The flag and Apache's urn will be kept in his office at work, Rudick said. "His (Apache's) whole drive was to be at work," he said. "It's just appropriate to take him to work and leave him there." Apache, under Rudick's instruction, won awards at the National Field Trials in 1999 and 2003.
Apache also visited schools, churches and civic clubs to demonstrate his expertise in crime fighting, Hartsville Police Chief Tim Kemp said He also said Apache's work helped forge a better relationship between the police department and the community. Apache retired from the force Feb. 14, 2006, because of arthritis and hip problems. submitted by Jim Cortina

---

K9 Veterans Honored With Their Own Veterans Day
Veteran's Day has gone to the dogs literally as Thursday marks the first K-9 Veterans Day.
K-9 veterans truly have no say about being drafted yet they serve with honor.
Former Marine John Johanson of Edgewater says the dogs deserve the recognition.
He was a war dog handler and now works for a company that provides trained canines and handlers
under private contract. About 120 dogs have been deployed to Iraq and Afghanistan through
American K9 Detection Services. Johanson says dogs are screened to see if they enjoy the work,
can put in long hours and are enthusiastic. The burdens of war affect the canines too, though.
Johanson says one out of 50 dogs will just shut down because of the heat or other
factors and are sent home. According to the Website K9veteransday.org, "K9 Veterans Day"
will honor all the dogs of all our wars, to include the present war on terror. It will be a day when many breeds, plus mix breeds are celebrated, as all have served in times of war. And because of 9/11
this day will also celebrate the honorable service of Search and Rescue Dogs, Police Dogs, Customs Dogs, Border Patrol Dogs, Secret Service Dogs, ATF Dogs, FBI Dogs, and more, as all are now involved
in guarding our precious freedoms against terrorists."
---
In Loving Memory of
K9 AXEL
February 28, 2008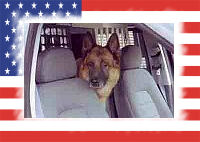 Handler: Ofc.Terry Foley
Wayne Police Department
33701 E. Michigan Ave
Wayne Michigan
PH: 734-721-1414 FAX - 734-721-5760

Axle retired from the Wayne Police Department in 2005 after 10 years of loyal service.
He died from natural causes recently at age of 14.
The City of Wayne lost a legendary part of their police department recently. Axle, a German Shepherd that faithfully served the city for more than a decade, died at the age of 14. "He was more than a dog," said Police Chief John Williams. , Axle's partner, agreed. Foley trained Axle and gave him a home when he retired in 2005. "He set the standard high for other dogs to follow," said Foley, who has trained police K-9 for two decades. "He had a great impact on the community."Axle's bloodline extended to Germany, but he came to the Wayne department from Ontario, Canada. He started with the City of Wayne in November, 1995. He was Foley's second K-9 partner. Axle was 11 years old when he retired. Throughout his career in Wayne, he handled 1,798 canine cases, checked more than 1,200 vehicles for narcotics and assisted with 120 search warrants. He checked out more than 120 buildings, performed 45 separate locker searches for the school district and performed more than 200 tracks for the department.He was credited with 88 felony arrests and 198 misdemeanor arrests. He only had to get physical a handful of times—biting four suspects who resisted arrest. Axle's strong nose proved to be a boon to Wayne and surrounding departments, too. The many currency checks he performed netted more than $129,000 in forfeited narcotics funds. Through work with the Western Wayne County

SWAT

team, he helped find several key pieces of evidence along with virtually every type of illegal narcotic and drug paraphernalia.He was also a big part of the public relations aspect of the department, with more than 229 public and school demonstrations under his collar. "He was a big part of the department," said Foley. "He was a part of the family."Axle shared a home with Cain, his successor, after his retirement. "He still let Cain know who was in charge at home," Foley said. Fourteen years is a long, productive life for an dog that made his living sniffing out narcotics and chasing down and cornering criminals, said Foley, who often his put his life in Axle's capable paws. He rarely showed it, though, even when he finally succumbed to natural causes. "Even up until the end, his mind was sharp," said Foley. "He was just a great dog, but old age finally caught up to him. We're all going to miss him." submitted by Jim Cortina Dir. CPWDA
---
In Loving Memory of
K9 AKIM
February 13, 2008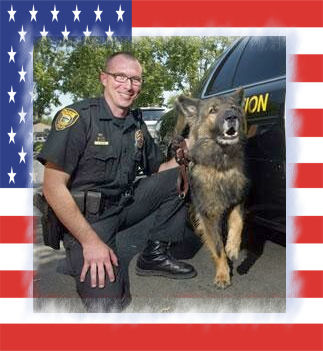 Handler: Officer Aaron Dillon
Dixon Police Department
201 West A St.
Dixon, California 95620
(707)678-7070
Akim, former Dixon K-9 officer dies
Former Dixon Police Officer Aaron Dillon kneels next to Akim his K-9 partner of 4 1/2 years. Akim, a Czechoslovakian Shepherd, died of unknown causes on Wednesday. Dillon who now works with the Solano County DA's office, purchased the dog for $1 after it retired. Former Dixon K-9 officer Akim, a fluffy Czechoslovakian shepherd, died of unknown causes Wednesday at his owner's home. The owner, former Dixon police officer Aaron Dillon, said the dog's death is shocking. "Everything was fine when I went to work," Dillon said. "But when I wasn't greeted at the door I knew something wasn't right." Dillon, who now works at the Solano County District Attorney's office, found Akim lying in his kennel. Akim retired from the police force five months ago to a have leisurely life at the Dillon residence. Akim celebrated his eighth birthday last month.
"At least he had five months of an easy life," said a heart-broken Dillon at work Thursday afternoon. "I thought I would have at least another four years with him." Dillon and Akim have been inseparable since being paired up five years ago. "I've spent more time with him than my family," Dillon admitted. "I'm still in shock." Dillon said the rest of his family, especially his 5-year-old son, have taken Akim's death very hard. Through the years, Dillon and Akim were an instrumental team on Dixon's police force.
Together, Dillon and Akim help crack down on narcotics and helped find evidence in certain cases, sometimes spending 13 to 14 hours together each day. In September, Dillon recalled that one of the most memorable times that Akim was helpful in a case was after a robbery of one of the local Dixon bars. Apparently Dillon and Akim didn't start their shift until six hours after the incident occurred, but within minutes, Akim sniffed out and located the loaded handgun used in the robbery. Nonetheless, Dillon said Akim had been enjoying his retirement. In an interview a few months ago, Dillon said Akim was enjoying "laying on the deck and sleeping in the sun." submitted by Jim Cortina, Dir. CPWDA

---
In Loving Memory of
K9 APOLLO
February 3, 2008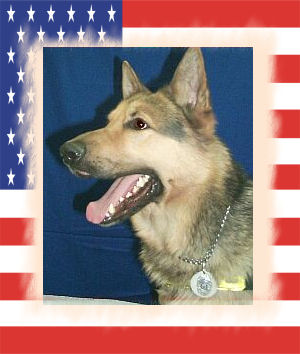 Handler: Police Officer Paul Hess
Hillsboro Police Department
250 SE 10th. Ave.
Hillsboro, Oregon 97123
(503) 681-6190
Retired Hillsboro police dog dies
Apollo, a retired Hillsboro police dog died Sunday at home. He was 11. A German shepherd, Apollo lived with his handler, Hillsboro Police Officer Paul Hess, and was buried at Hess' family farm. The dog died in his sleep from a previously undisclosed heart condition, officials said. Apollo gained fame in law enforcement circles. He and Hess had more than 200 captures in the five years he worked as a Hillsboro Police K9, which is still a record number in Hillsboro. In fact, Apollo appeared in The Oregonian more frequently than Hess, who often made the paper only as Apollo's partner. "The most interesting thing about him is that he was just a big, goofy dog," said Lt. Michael Rouches, official spokesman for the Hillsboro Police Department. "He had a different personality. Anything you threw at him, he'd find a way to drag it back. Most dogs will do that, but he'd drag back anything. It could be an old tire. "He had the personality of a lab, which is unusual in a German shepherd," Rouches added. "He was just a delightful, playful dog. He loved going to work. To him, work was like play." Apollo went by the nickname, "Hollywood," and was known for his tracking skills. He retired from the Hillsboro police in 2006. submitted by Jim Cortina