In Loving Memory of
K-9 ZOLTAN
August 8, 1998 - 2007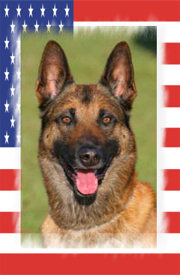 Handler: Matthew Stanley, CIA
CIA
Zoltan was born in Hungary on August 8 th 1998. He was purchased by Von Liche Kennels in 2000 and was trained for explosive detection. During his training K9 Zoltan was assigned to the Cincinnati Bengals Organization and also worked at Ground Zero post 9/11. In December 2001 he was purchased by the CIA and was assigned to me. We attended a 3 week explosive class, a 2 week patrol class, and we graduated from school with the Top Dog award in April of 2002.
During Zoltan's short 5 year career he traveled to 15 different countries to include the war zone areas. He certified three times regionally with his highest score of 199 coming in 2006 and a National appearance in 2007. He participated in 4 Iron Dog events to include the most recent this past August. Although Zoltan was a phenomenal working dog, he was also my best friend and a part of my family. He will never be forgotten.
---
In Loving Memory of
K-9 ZENA (SAR)
April 9, 2000 - January 26,2007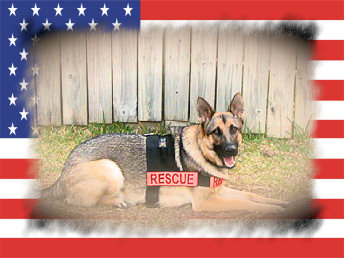 Handler: Angela M. Batten
K-9s Zena,(DeDe & Mick)
Dogs South K-9 Search and Rescue
http://www.orgsites.com/ga/dogs-south/index.html

This has to be one of the worse days of my life I am writing this with many tears…….we had to put Zena to sleep around 7:00 pm tonight, Jacob met us at our vets and did this for us and she will be cremated. Zena was at the North Florida Neurology Clinic for the past 2 days and her MRI today showed Zena had a brain infection Encephalitis or meningitis, they could not do the Spinal Tap because they did not think she would survive it she could also have had possibly a tumor, she had a lot of fluid on the brain and brain swelling. Her brain was just starting to push through the bottom of her skull, we could have let them put a shunt in to try and relieve the fluid, but her prognosis to survive that was poor. She did not seem to know us at while at the Neuro Hosp, but when we got to our vets she perked up and while I was holding her on the table before Jacob gave her the injections she pulled back from me and turned her head and licked me several times in the face. I feel like a part of me is missing, I can't explain it she would have been 7 this April. The vet said this brain infection could have been as a result of working during Katrina or something in the many times we have worked in swamps. I have to go thanks for all the prayers, I will miss her so much………..Angie & K9s DeDe & Mick
submitted by Anne Lowatchie

---
In Loving Memory of
K-9 ZEUS
MAY 26, 2007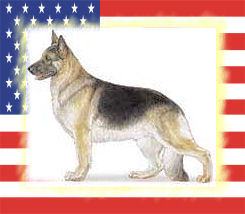 Handler: Officer Rob Corner
Fairfield Police Department
5230 Pleasant Avenue
Fairfield, Ohio 45014-3555
Phone: (513)867-6015 - Fax: (513)867-6009
Zeus,A canine member of the police department,
retired in June, 2005 after serving since 1999.
First canine on Fairfield police put to rest
Health problems, many of which were linked to demanding work, led dog to be euthanized.
Zeus was a bit of a Grinch when it came to Christmas light displays. He just didn't like them. "At Christmas time, I couldn't drive by the residential neighborhoods until after midnight because Santa and Frosty were lit up in the yards," said Zeus' handler and partner Fairfield Police Officer Rob Corner. "The first time I drove through (residential neighborhoods), he was going bonkers." But most lights were turned off after midnight, and Zeus could concentrate on his work. Zeus was the police department's first canine, but he had to be euthanized May 26 because of deteriorating health problems, many of which were a result of the demanding work of police dogs. "He was having more and more difficulty walking because of his age. He was just having more and more difficulty moving around," Corner said. "If you compare it to the life of a running back in football, he's only got so many years until his body can't take a beating anymore." Zeus joined the force in April 1999 and began patrolling the streets that June. "You can say he was successful. We found dope. We found bad guys. We didn't find every bad guy, but nobody ever does," Corner said. The canine units work the department's second and third shifts and are used for tracking, searches and drug intervention. Zeus helped lay the foundation for the current two canine units, Chief Mike Dickey said. "It was a positive learning and growth experience," Dickey said. During the course of his career, Zeus tore two anterior cruciate ligaments in his legs. The second was the cause of his retirement in June 2005. "He had a great personality," Corner said of his partner. "He wasn't super aggressive. He could sit there all day long and let kids pet him." But when it was time for business, Zeus was ready to work, and after his retirement, Corner said he could tell he missed working. In August 2003, Zeus and Corner were the U.S. Police Canine Association's "Patrol Catch of the Month" for a track. That month seemed to be Zeus' "prime time," Corner said. "It seemed like every time the dog got out of the car, somebody was going to jail," Corner said. "We had four or five catches in a week that month." submitted by Jim Cortina