In Loving Memory of
K-9 YOURIE
April 12, 2007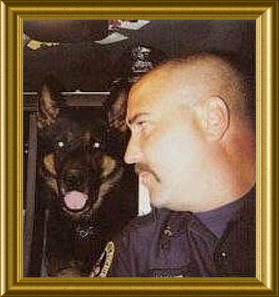 Handler: Det. Richard K. Lite
Harrison Police Department
Special Investigation Unit
650 North St.
Harrison, NY 10528
914-813-7571
My partner was K9 Yourie who I recently retired after 8 complete years of service. Its well deserved and
I wanted him to enjoy life as a dog not a work dog for a while.
Basic Facts:
We are both members of the Harrison Police Department, New York.
Yourie and I completed a 10 week K9 training course in 1997 at Gold Shield Kennels, Camden New York.
A big thank you goes out to Dan Bowman owner of Gold Shields for his patiences and Sal Piazza
for his decoy work and expertise with training Police K9's. Yourie and I are certified in Criminal Apprehension
and Narcotic Detection by both NAPWDA and New York State BMP. He did his last Patrol in MS. We were sent down there after Katrina and stayed 10 days. He was scheduled prior to that to retire on 9/14/2005 it just happened that his last tour was helping in Gulfport,MS. Yourie was a fighter right up till the end. The Vet's couldn't believe that he had less than 10% lung compacity. today at the office in front of the vet he ran over to me with his tail wagging and then went in for xrays.
It is with great sorrow that I advise you that today 04/12/2007 12:50 PM K9 Yourie passed away after battling cancer for the past several month. K9 Yourie retired from the Harrison Police Dept. after completing his last tour patrolling in Gulfport, Ms in Sept. 2005. We were partners for 8 years and Yourie has recieved numerous awards from Federal, State, County and Local Police Departments. He was the best partner that I could have ever had, so if you could just say a prayer for him. thanks Richie

---
In Loving Memory of
K-9 YAKSHA
1999 ~ May 8, 2007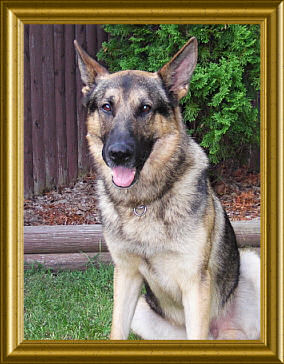 Handler: Kevin J. Buckley
Union County Sheriff's Office
196 Glenside Ave.
Summit, New Jersey 07901
(908) 527-4450 (908) 527-4471 (908) 527-4440
SEARCH & RESCUE UNIT
It is with a very heavy heart that I must announce the passing of my partner, police service dog K-9 Yaksha. K-9 Yaksha was a member of the Union County Sheriff's Office Search and Rescue Unit and was the partner of Sheriff's Officer Kevin J. Buckley. K-9 Yaksha was a proud member of the law enforcement community and will be dearly missed by his peers. K-9 Yaksha died on May 8th, 2007 after suffering from an "Intestinal Volvulous", translated to a twisting of the large and small intestines. This disease, also called a "mesenteric torsion" can be classified as a silent killer. All of the diagnostic testing performed on my friend that awful day came back negative. In other words, even the veterinary doctors from two different hospitals could not find the cause of the problem until it was too late. This disease carries a 99% mortality rate in dogs. K-9 Yaksha began his service for the Union County Sheriff's Office in 2002 as a patrol and narcotics detection canine and served well. During his career, he was credited for the tracking and recovery of lost persons, apprehension of fleeing felons, the detection of numerous quantities of illegal drugs and the confiscation of over $150,000.00 of illegal drug money. Recently, on March 4th, 2007, K-9 Yaksha was honored by the New Jersey Veterinary Medical Association as an inductee into the 2006 NJVMA Animal Hall of Fame in the "Hero" category. This honor was bestowed upon him after he miraculously recovered from a life threatening back injury in 2004 that he suffered while in the line of duty. K9 Yaksha also received on April 19, 2007, a Resolution from the Union County Freeholder Board, presented by Freeholder Chester Holmes, honoring Yaksha's remarkable recovery and honor from the NJVMA.
I can't put into words what an empty feeling I have.
My wife, Jacqueline, and children, Brendan and Gabriella
are all very heartbroken at the passing of their pal and my loyal partner.
To: K9 Yak
Your fierce determination at work
Was equaled by your kindness at rest
A gentle giant among all others
You died when you were
At your very best
You were my loyal partner and
My most special friend
You did some of your best work
While you were on the mend
I will never forget the time we spent together
when we played, when we fought
I will honor your memory
every day of my life
I'll never understand… Why were you taken away from me so soon?
The Search & Rescue Unit was established in 1983 by Sheriff Ralph Froehlich. This unit functions as a backup and support service to all Union County Law Enforcement Agencies, the State Police and Federal Agencies in the
Northern Jersey area. Search & Rescue Teams are called upon to perform specialized task. These functions
include, searches for missing persons or fleeing felons, searches of burglarized buildings, narcotics detection and interdiction, bomb searches, weapons searches, crowd control and searches of arson scenes for the detection of accelerant. The unit is also involved in community relations work and gives demonstrations to schools, civic organizations and senior citizen groups. The Union County Sheriff's Office Search & Rescue Team is highly regarded for its professionalism and expertise. The Secret Service has requested our assistance during Presidential visits to the Union County area. This expertise is a skill that requires constant retraining and schooling for both the dogs and handlers. Each dog and his handler must undergo 16 weeks of intensive training before certification is granted. This is supplemented by at least one hundred hours of in-service training in tracking, article and field searches. Arson and bomb dogs take additional training in chemical recognition. Search & Rescue Officers have been qualified as expert witnesses in New Jersey Superior Courts. Under the Attorney General Guidelines in New Jersey, The Union County Sheriff's Office is a Regional Training Center for Northern New Jersey. The unit conducts semi-annual re-certification programs for our own officers and officers from local state and federal agencies. The K-9 Unit is commanded by Sergeant John Gillespie, who along with Officer Brian Way are certified K-9 instructors.
submitted by John Gillespie and Kevin Buckley