In Loving Memory of
K-9 TOZER
2007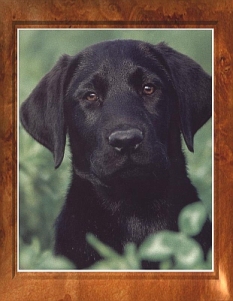 Handler: Deputy David Petrie
Saratoga County Sheriff's Department
James D. Bowen, Sheriff
6010 County Farm Road
Ballston Spa, NY 12020
Telephone: (518) 885-2450 & 518 885-6761 - Fax: (518) 885-2453
( UNKNOWN CAUSE )
update:
Three more dogs join Saratoga County K-9 ranks June 13, 2008
Deputy David Petrie is now partnered with Kyle, who completed his training last month.
Petrie said he worked with his first police dog, Tozer, for four years, but last year the dog suddenly
became sick and died. He said the loss was personal as well as professional.
"They bond with you and after a while they seem to read your thoughts," he said.
"We give our commands in English, but often just a look or a movement tells the dog what you need."
Kelley said the dogs see work as a game, and a job well done will end with a reward of a treat or a toy.
He pulled a heavily padded sleeve onto his arm to demonstrate Kyle's ability to latch onto a suspect,
and the dog jumped to duty when Petrie gave the command.
"Dogs feed on scent," Kelley said. "They know if you are fearful or if the handler has some
raised sense of excitement." Petrie said his dogs also know when they are off duty.
"They have a badge on their collar and when we get home and the collar comes off,
they go find a stuffed animal to play with and just relax," he said.
So far all of the dogs used in the department have been male and German shepherds.
The last 18 dogs were donated by individuals or found at the county's animal shelter.
Kelley said the county saved about $135,000 through the donations because it costs
at least $7,500 to purchase an untrained police dog, He said his certification to train
the dogs also saves the county money. "I'm paid by the county, whether I'm on patrol or
training the dogs," When the dogs are trained in tracking, searching and protection of
their partners, some are taken to the state police narcotics training center in Cooperstown
to specialize in sniffing out drugs. Not every dog is fit for K-9 duty.
"We give the dogs a temper test to determined whether they can be trained,"
"The youngest dog we've had was 11 months, but most of them are a year and a half to
two years old when we start." The dogs have to be able to concentrate on the job at hand even
if there is gunfire or other loud noises. They have to be sociable animals, as well,
because much of the daily routine for the patrol dogs involves visiting schools
and other public relations work. The human police officers are tested for the K-9 program as well.
"It's a lot of responsibility. We look for officers who are motivated in their job and
understand the care and maintenance of having a dog," he said.
Petrie said he finds the job of living and working with a dog very rewarding.
Often the dog's presence is enough to stop a suspect. He and his four-legged partners
have often been called to assist another officer in serving arrest warrants.
"The other officer will go to the front door with the warrant and I'll wait by the back door
with the dog," he said. "I had a guy open the door to flee and when he got a look at the dog,
he threw his arms up and said he was ready to go."
Petrie and Tozer found and captured an escaped inmate from the Mount McGregor Correctional Facility
in Wilton two years ago. "We found him in a wooded area near the Northway. He offered no resistance," Petrie said. "He held up his hands and in broken English said, 'No run, no dog."?"
Kelley said he has been involved in numerous searches for small children who are reported missing.
"We start a search like that by going through the house," he said.
"We had one recently where we found a 3-year-old child had curled up and gone to sleep
and the parents panicked when they couldn't find her. It took about three minutes
for the dog to find her." Similar case a few years ago involved a small child that had
wandered away from home and fell asleep just off a foot path in the neighborhood.

submitted by Jim Cortina, Dir. CPWDA
---
In Loving Memory of
K-9 TANNER
2007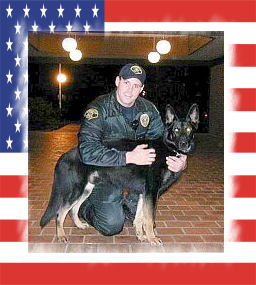 Handler: Officer Cole Langdon
Lynnwood Police Department
19321 44th Avenue West - PH: 425 744-6900
Lynnwood, WA 98036
K-9 dog dies - 12/28/07
Lynnwood Police dog "Tanner" passed away recently after a good life of tracking bad guys and recovering evidence. He was 7 1/2 years-old. Tanner spent his last years, after he retired in March 2005, living with his handler, Lynnwood Police Officer Cole Langdon and his wife Kim. "Tanner had 95 captures and put a lot of bad guys in jail," said Langdon." He was a great partner - my first love in law enforcement." Tanner was forced to retire in 2005 after he sustained a serious in-the-line-of-duty leg injury. After his retirement he continued to live with Langdon and his wife. The quality of Tanner's life was very good up until recently. "He was part of our family and it's a tough loss," Langdon said.
submitted by Jim Cortina

---
In Loving Memory of
K-9 TYSON
December 22, 2007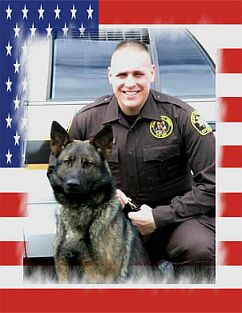 Handler: Deputy Jeremy Osbun
Ottawa County Sheriff's Department
Ottawa County MI
12220 Fillmore St. - Phone: 616 738.4000
West Olive, MI 49460
Ottawa canine cop dies of medical problem
Ottawa County Sheriff's Deputy Jeremy Osbun and canine partner, Tyson. Tyson died Saturday.
A police dog, Tyson, which worked for the Sheriff's Department the past two years, died on Saturday from medical complications. The 3 1/2-year-old German shepherd worked with Deputy Jeremy Osbun. "Deputy Osbun and Tyson had formed a close association with one another and were considered to be every-day partners in providing law-enforcement services within Ottawa County," Undersheriff Greg Steigenga said Saturday. They were one of four canine teams in the county. Tyson's main responsibilities were tracking and apprehending suspects, and locating missing people. The dog was trained in drug detection, and "very instrumental in locating illegal drugs and other contraband items," Steigenga said.Steigenga said that "Tyson will be sorely missed by Deputy Osbun and the department as a whole."
submitted by Jim Cortina & Eric Ridout
---
In Loving Memory of
K-9 TYSON
Tuesday, February 13, 2007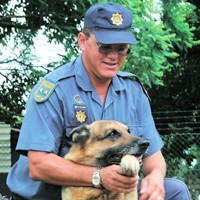 EMPANGENI, South Africa
Top police dog Tyson made 200 arrests
The 11-year career of a brave police member who made over 200 arrests and survived stabbing and gunshots has come to a sad end. But Tyson, the dedicated SAPS patrol dog leaves behind a legacy that will never be forgotten. The medal-winning Alsatian, literally a life-saving member of the uMfolozi Dog unit, retired this week. Sadly, not only has Tyson's career come to an end but also his life. He has unfortunately become debilitated due to a crumbling spine and cancer, and on 15 January he will be sent to what the SAPS Dog School refer to as 'Rainbow Bridge.'
Proud record
He was born in 1995 and started his police training in 1996.The following year he finished his course with Inspector Johan Stapelberg and joined the uMfolozi Dog Unit.
Although Stapelberg has not always been Tyson's handler, fate brought the two back together in 2003.
"He has made over 200 arrests in his career; he has been stabbed; shot at and hit with a cane knife, but he overcame these odds and had a terrific 11 years," said an emotional Stapelberg.
Some of the highlights of Tyson's career are:
In 2005, when partner dogs - Wolf and Buddy - were shot and killed, Tyson went on to avenge his friends and apprehend the suspect.In the same year he apprehended yet another 'baddie' who had shot fellow police dog - Mickey."He has covered everything from rape to murder, hijackings and robberies in his job," Stapelberg said.
"This was his calling. May he rest in peace. He will suffer no longer and be reunited with Wolf and Buddy."
A message from Tyson
"The day has come to say good-bye to everyone in the uMfolozi area. I served the SAPS Dog Unit for 11 years and now I'm old and taking pension. I am going to miss you all".
"To my Police colleagues and my four-legged friends, I'll meet you all at the Rainbow Bridge. "And last but not least, to my best friend and handler - Inspector Johan Stapelberg: you have been my best friend for years and we were seen as one team all over the uMfolozi area. "Without you I would never have been the successful police dog I have been. "I will miss you forever, 'til we meet at the Rainbow Bridge." Source: Zululand Observer


---
In Loving Memory of
K-9 TOP
March 20, 2007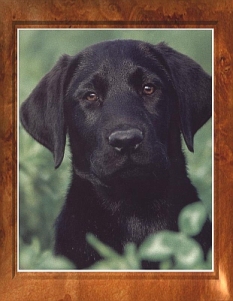 Handler: Detective Mark Green
Phoenix Police
620 W. Washington Street, Phoenix, AZ 85003
Information Desk (602) 262-7626
Phoenix police Detective Mark Green parked in the back of a south Phoenix police station and ran in to do a few errands. Inside the car the entire time was Green's K-9 partner, Top. "He had gotten tied up to do a few things that a supervisor had given him when he went in." said Phoenix police Comdr.. Robert Handy. "He ended up being a little longer than he thought." Top, a 5-year-old black Labrador with an outstanding record on the Phoenix police force as a narcotics dog, was in a kennel in the back of a pick-up for about 2 hours. The engine was on, but the air conditioner was not, and the windows were up. The temperature outside during that time was hovering around 80 degrees. "Detective Green came out to the vehicle and noticed that top was suffering from some heat related symptoms and immediately started some first aid, took the dog to an animal clinic." Veterinarians and detectives decided it was best to put top to sleep. Green, who lives with Top and has been on the force for more than 25 years, lost a partner and a member of the family. "It was a very difficult time for him as well as the other K-9 officers," Handy said. "The dogs are a part of their family and such a tragedy hits them pretty hard." There was another dog in the truck with Top that survived. But that dog was in the back under a camper shell with the windows open. Green could face disciplinary action for the death of his dog. But at this point the investigation is still going on and nothing has been decided.
submitted by Jim Cortina

---
In Loving Memory of
K-9 THOR
March 6, 2007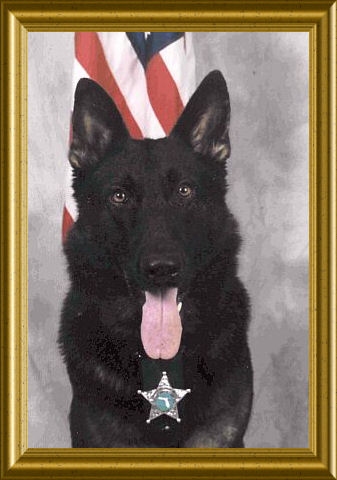 --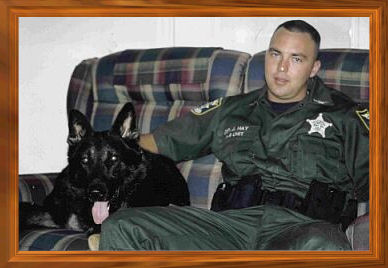 Handler: Jason Hay
Hillsborough County Sheriff's Office
2008 E. 8th Avenue P.O. Box 3371
Tampa, FL 33601
My name is Jason Hay. I work for the Hillsborough County Sheriff's Office here in Florida. I started working Thor in 2001 and earlier this year, he had to be put to rest due to cancer. We discovered this in the end of December of 2005. He went down hill fast over a three month period. It was extremely hard for me and my especially my wife. He was about 5 1/2 years old. We apprehended a lot of bad guys over the past 4 12 years. He was an outstanding explosive K9 as well.
IS THERE A PHYSICAL ADDRESS I CAN SEND YOU A PIC OF THOR BECAUSE I THINK MY WIFE WOULD REALLY LIKE THE MEMORIAL CARDS YOU OFFER. PLEASE FEEL FREE TO CONTACT ME AT ANYTIME AT THIS EMAIL OR MY CELL IF YOU HAVE ANY QUESTIONS. THANKS AGAIN, JASON HAY -
submitted by Jason Hay