In Loving Memory of
K-9 NYLA

August 16, 2007


Alberta, Canada

Police dog shot because it chased cat
An Alberta man who fatally shot an RCMP breeding dog says he fired his shotgun because the German shepherd was chasing his cat. Robert Adams of the Caroline area was on trial on charges of causing death or injury to an animal and unauthorized possession of a firearm. Adams admitted to police that he shot the dog named Nyla on August 16, 2007. He said he thought Nyla, a breeding dog for the RCMP's Police Dog Training Centre near Innisfail, was a dangerous stray. His lawyer said in rural Alberta farmers have the right to shoot animals, such as dogs, if they are harassing livestock. Judge Darrell Riemer said he would issue his verdict at a later date. submitted by Jim Cortina, Dir. CPWDA
---
In Loving Memory of
K-9 NIKO
December 31, 2007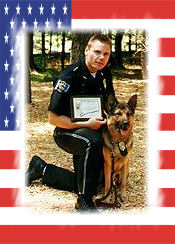 Handler: Officer Jeff Angell
Windsor Locks Police Department
4 Volunteer Dr.
Windsor Locks, CT 06096
(860) 627-1461
K9 Niko of Windsor Locks Police Department, CT. He was the departments first K9 and served with his handler, Officer Jeff Angell, for almost a decade. During Niko's career with the Windsor Locks Police Department, he and Jeff won the honorable Daniel Wasson Award along with other well deserved awards. Jeff has also been retired due to a work related injury that occured approximately three years ago. Niko was 13 years old. update:
The Police Department lost one of its finest New Year's Eve when Niko, the town's first police dog, died of old age after a long and successful career serving the community. His handler, retired police Officer Jeff Angell, who started the program in Windsor Locks with Niko in 1994, said the German shepherd worked faithfully for the town until he retired in 2005, and was living with his family until the end. "I bought him when he was 3 months old, and he was my partner and the family pet," Angell said. "He made it through 13 years - almost to his 14th birthday in February." From the day he started training Niko, Angell said it was clear he had a special dog who loved his job and was fully committed on duty, but off duty was loving and extremely tolerant with children. "Niko was one of those dogs who was public-friendly," Angell said. Angell recalled that after one of many public demonstrations, about 180 children came rushing up to touch Niko, pulling at his fur and grabbing him in the hot sun without incident. "All of them rushed forward. There had to be 10 to 15 hands petting him at once, and he was fantastic," Angell said. Once he was on duty, however, Niko was all business. "We used to say he could turn into demon dog once he was in the police car on the way to the scene," Angell said. "But off duty he would roll over and scratch his belly, and the kids could pull his ears and never have any problem." When the Windsor Locks program began in 1994 with Niko and Angell, few departments in the region had police dogs, so the two would often assist other towns tracking suspects, lost children, and missing elderly, as well as searching for evidence and narcotics. "We did a lot of traveling," Angell said, explaining that he and Niko went to Cromwell, Middletown, Hartford, Manchester, West Hartford, Bloomfield, East Hartford, Suffield, among other towns. Through the years Niko had seen his share of action and had three surgeries for replacement teeth, as well as other surgeries, plus many small injuries for cuts, scrapes, and bruises. One time Angell said while they were tracking a bank robbery suspect Niko fell about 15 feet through a drop ceiling straight to the floor of a bank. He was bruised and sore for a few weeks, but didn't break any bones. To stay in shape for what Angell calls the toughest job, but the best and most rewarding job on the police force, Angell said he and Niko would run between three and five miles a day. "I could trust him to do the worst case scenario and not have any concerns," Angell said. In 1995, early in Niko's career, they won the Daniel Wasson Memorial Award for successfully tracking an Ellington woman who had attempted suicide by overdosing and running into the woods in the winter, Angell said. About 90 percent of the calls they went on were at night, Angell said, and its seemed the weather was invariably awful - usually forcing the two to contend with snow, rain, and sleet. Angell said there was a robbery incident during an ice storm in the 1990s where he and Niko successfully tracked and apprehended three suspects in snow about 3 feet deep in East Granby. Niko would disappear in the snow and pop up like a rabbit, only to disappear again in the next snowdrift, Angell said, smiling at the memory. There are many more stories of the accomplishments the two shared over the years. In the end, Angell said he would never forget Niko. "He was a fantastic dog. He was my partner for 10 years," Angell said. "He is going to be sorely missed." submitted by Jim Cortina
---
In Loving Memory of
K-9 NERO
December 12, 2007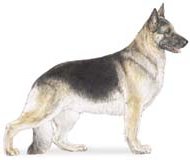 Handler: Cpl. Bryan Ray
Malvern Police Department
305 Locust St.
Malvern AR 72104
501-332-3638 - Fax: 501-332-7607
Malvern Police Department loses family member
The Malvern Police Department lost a respected officer at 11 a.m. on Wednesday. His partner, Cpl. Bryan Ray, referred to him not only as such, but also as a member of the family. Nero, the recently retired K-9, had to be put to sleep after medical problems kept him from not only working, but from living a comfortable live. "He could barely move," Ray said of the German Sheppard's condition. Nero suffered from hip dysplasia, even before Ray obtained him three and a half years ago. According to Ray, Nero's condition continued to worsen until he could no longer jump in and out of police vehicle, causing Ray to have to retire his partner six months ago. Nero, however, stayed with the Ray and his family even after he no longer could work, loyally serving them. "He was the protector of the house. He wouldn't let anyone else in that house unless I let them in," Ray said, lamenting on how Nero use to follow him around the home. Nero has had health problems since the time Ray received him. Having worked since 2001, and being between 6 or 7 when joining Ray, Nero had to be fed six to seven pills a day for three months until he was healthy. He even under went surgeries to tend to his ears. A veteranary clinic near the police station offered free services to Nero, cutting the cost for the MPD. Cost is what will factor into if Ray ever receives another K-9. While Ray intially said he didn't want another dog, he recanted to say he'd take another dog, but the MPD didn't have the budget. A dog like Nero would run $8,500, so for the time being, Plato, the other K-9 is the sole four-legged partner on the force. However, Nero will be missed. "Nero served this department well. He was always ready to work, even when it was painful," Asst. Chief William Ross said. "He was like a member of the family." Ray especially believes in that statement. "He was just the biggest hearted dog I've ever seen," Ray said. submitted by Jim Cortina

---
In Loving Memory of
K-9 NERO
2007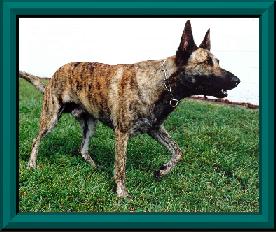 Handler: Sergeant Dave Guest
Guelph Police ( CANADA )
15 Wyndham St S.
Guelph, Ontario
N1H 4C6
Tel: 519.824.1212 - Fax: 519.763.0516 - TTY: 519.824.1466
Award-winning police dog, Nero passes away
Guelph police-dog Nero, who joined the force in 1998, has died. He was instrumental in a number of busts, including helping to take down eight suspects in one night from three separate incidents, and once nabbing a suspect that had assaulted a police officer. The award-winning German shepherd, handled by Sergeant Dave Guest, participated in over 700 calls and 120 community events over his seven-year career in policing. He had a paw and a jaw in apprehending over 200 suspects, and was retired at the time of his death from natural causes. In 2004, Guest and Nero were named Guelph Police "Members of the Year," and the team placed first on two occasions at the U.S. Police Canine Association Region 17 Dog Trials. Nero was about nine years old when he died. The police force is saddened by the dog's death, and say their four-legged friend will be greatly missed. for more information go to: http://www.police.guelph.on.ca/unitsanddivisions/files/CanineInfo.pdf
submitted by Jim Cortina

---
In Loving Memory of
K-9 NERO
August 25, 2007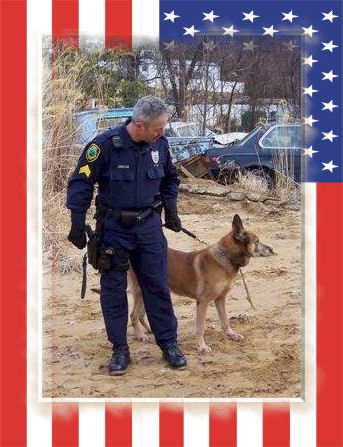 Handler: Lt.Joe Johnson
Asheville Police Department
100 Court Plaza,
Asheville, NC, 28801
(828) 252-1110
P.O. Box 7148, Asheville, NC 28802
~ Location: 70 Court Plaza ~ (828) 251-1122
Asheville Police dog Nero with his partner, acting Lt. Joe Johnson, earlier this year. Nero died Saturday
following a long illness. Nero, an Asheville Police dog who tracked down suspects and sniffed out drugs for 10 years, died Saturday after a long illness, according to a news release. Nero worked alongside acting Lt. Joe Johnson since 1997. The Belgian Malinois started working at APD when he was about 3 years old. One of Nero's most notable achievements was the tracking of Vince Gilmer of Fletcher, who had a first degree murder warrant for the strangulation and mutilation of his father, Dalton Gilmer. In other cases, Nero tracked a kidnapping, armed robbery suspect, and was also keen in narcotics work. He once located a hidden compartment in a vehicle that contained five kilos of heroin, according to the news release. Johnson said Nero, "was probably the best 'man tracking' dog in the state." Nero also helped track down Alzheimer's patients and children to return home to their families. "I am very proud of him, and his accomplishments," Johnson said in the news release. "Nero and I didn't always see eye to eye, but he has been the best working dog I have had. "I will miss him." submitted by Jim Cortina, Dir. CPWDA
---