---
In Loving Memory of
K9 MARCO

November 11, 1995 - September 11, 2007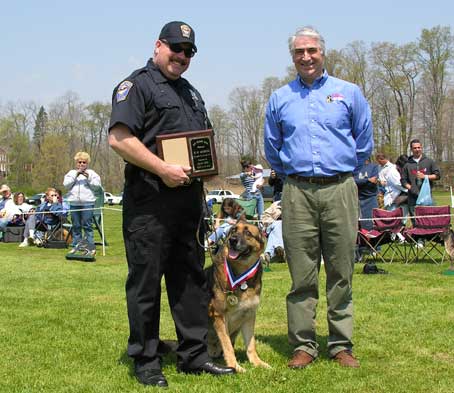 Handler: Patrolman Richard Greer
East Lake Police Department
35150 Lakeshore Boulevard

Eastlake
, OH 44095
http://www.eastlakeohio.com/police/
Our TOP HONOR for VETERAN for 2004 is K-9 MARCO of the Eastlake Police Department
with his Handler, Patrolman Richard Greer
Our dog, K9 Marco, although primarily a Narcotics K-9, also does tracking and community service. His most notable track in 2004 was of a suicidal male missing from Eastlake. His car was found in the North Chagrin Reservation of the Cleveland Metroparks System. Initially, a search conducted turned up nothing, when this K-9 was called in (the Metroparks K-9 was out-of-town). Within 30 minutes, Subject was found by K-9, unfortunately too late. This Honoree has even managed to make arrests even when not on duty – just by reputation. Many officers have learned to call for him on the radio, in the presence of people suspected of having drugs in the vehicle. On hearing the K-9 being called, they immediately surrender the drugs. Meanwhile, this K-9 officer is sound asleep on his couch at home. He is 8 years old, showing no signs of being ready to retire, and has just completed state certification good for the next two years. (retired)
---
In Loving Memory of
MWD K9 MARCO
January 19, 2007


Handler: SSgt. Alissa Jones
Tinker AFB Oaklahoma
MWD MARCO 26 April 2007 Services
Marco was Electrocuted in Line Of Duty Death 20 Jan 2007 while on a Mission. A display stands in memory of Marco, a military working dog killed Jan. 19 while on patrol in Baghdad, Iraq, during a recent memorial ceremony at Tinker Air Force Base, Okla. Marco was assigned to the 72nd Security Forces Squadron at Tinker. (U.S. Air Force photo by Dave Faytinger)
Staff Sgt. Alissa Jones salutes as she passes the memorial display for military working dog Marco during a recent memorial ceremony at Tinker Air Force Base, Okla. Sergeant Jones and Marco were deployed to Iraq when the dog was electrocuted Jan. 19 while patrolling for bomb-making materials and weapons in Baghdad. Following Sergeant Jones are: Staff Sgt. Brent Reimers with MWD Bratling; and
Staff Sgt. Arthur Dennis with MWD Jambo. (U.S. Air Force photo by Dave Faytinger)
A display stands in memory of Marco, a military working dog killed Jan. 19 while on patrol in Baghdad, Iraq, during a recent memorial ceremony at Tinker Air Force Base, Okla. Marco was assigned to the 72nd
Security Forces Squadron at Tinker. (U.S. Air Force photo by Dave Faytinger)
Staff Sgt. Alissa Jones holds back tears as Col. Dean C. Jackson, 72nd Mission Support Group commander, passes Marco's remains to her during a recent memorial ceremony at Tinker Air Force Base, OK. Marco, a military working dog assigned to the 72nd Security Forces Squadron, was killed Jan. 19 in Iraq while on patrol with Sergeant Jones.
(U.S. Air Force photo by Dave Faytinger)
submitted by Jim Cortina
---
In Loving Memory of
K-9 MURPHY
December 23, 2007



Handler: Donnie Vallery
Jefferson Police Department
102 N Polk St
Jefferson, Texas 75657
(903)665-2432

Canine Murphy passed away unexpectedly on 12-23-2007. Murphy had a very successful career in Narcotics Enforcement. Both he and Jefferson Police Department K9 Handler Donnie Vallery were instrumental in the seizure of hundreds of pounds of marijuana, kilos of cocaine and meth as well as hundreds of thousands of U.S. Currency. He was 10 1/2 years old and currently still working. Murphy lived doing what he loved to do until the end. submitted by Jim Cortina
---
In Loving Memory of
K-9 MONTE
November 14, 2007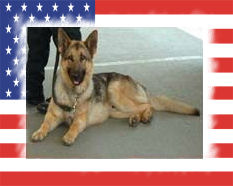 -----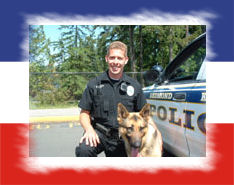 Handler: Officer Sam Hovenden
Redmond Police Department
8701 160th Ave NE
Redmond, WA 98052
(425) 556-2500
425 556-2500 or email us at:425 556-2500
or email us
mailto:police@redmond.gov
It is with great sadness the Redmond Police Department reports the sudden passing of our K-9 Monte. PD Monte became ill a short time ago and the veterinarian determined there was no treatment for the illness. Monte peacefully passed away on November 14, 2007 with Office Same Hovenden at his side. Monte and his handler, Officer Sam Hovenden, began serving the City of Redmond in March 2001. Officer Hovenden and Monte received their generalist certification in July 2001 through the Washington State Police Canine Association. In May 2004 they also received their Narcotics Certification at the Pacific
Northwest Police Detection Dog conference. Officer Hovenden and Monte have been a highly productive K-9 team, receiving several commendations for their efforts to capture fleeing suspects, locate narcotics and identify drug funds. Officer Hovenden and Monte have over 800 K-9 applications resulting in over 125 captures. They also have conducted over 300 narcotics searches with over 225 resulting in narcotic finds. The fruits of their efforts have been the seizure of over $570,000 in narcotics and over $85,000 in identified drug money. On an equally important level is the community outreach conduced by Officer Hovenden and Monte. They provided several ride along for community members and were always a great hit at local schools. One parent wrote a letter to Chief Harris expressing their sincere thanks for the positive experience their son had on a ride along with Officer Hovenden and Monte. This experience will be a life long memory for their child.
Monte was always a highlight at community events, such as Derby Days, and local fundraising efforts for Special Olympics, such as Tip-A-Cop. Police dog Monte was a special K-9, who was equally successful in tracking and narcotics applications. He also had a playful personality. Police Dog Monte was an integral part of the Redmond Police Department and will be deeply missed. submitted by Renee Konias

---
In Loving Memory of
K-9 MIRANDA
October 16, 2007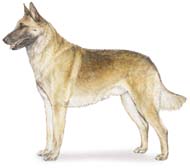 Handler: Mike Ennis
McComb Police Department
501 Beech Street
McComb, Ms 39648 - Phone: 601-684-3213
Ex-McComb K-9 cop Miranda dies at 16: Belgian Malinois was one of the first dogs put on city's police force
By John Surratt | Enterprise-Journal Posted: 10/22/07 - 11:43:56 am CDT
Miranda, one of the McComb Police Department's first two police dogs, died Oct. 16 at the age of 16 at the home of her partner, Mike Ennis, a retired McComb police officer. Ennis said Miranda, a Belgian Malinois, was purchased by the city on Jan. 7, 1992. "She was purchased by the city at a puppy age from a trainer," he said. He said Miranda and another dog named "Ugly" were the department's first two dogs. He said Ugly was donated to the city after it broke its leg. "He (Ugly's trainer) didn't think he could sell him, and gave him to the city," he said, adding that Pike County Sheriff Mark Shepherd, then a police officer, was Ugly's partner. "We were McComb's first K-9 officers," Ennis said. While Miranda was trained in narcotics detection tracking and apprehension, her strength was tracking. "She had a high prey drive, and when a dog has a high prey drive, they are better at tracking and apprehension," Ennis said. He said that after the city acquired another K-9 several years ago, police decided to retire Miranda and gave her to him.
Submitted by Renee Konais

---
In Loving Memory of
K-9 MARCO
September 3, 2007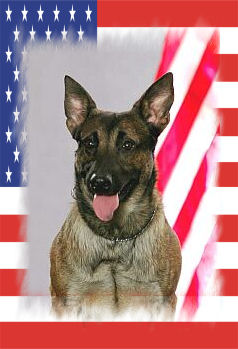 Handler: Lt. Curtis Endicott
Acworth Police Department
4400 Acworth Industrial Blvd
Acworth, Georgia 30101-5655
Phone: (770)974-1232 - Fax: (770)974-7515
Acworth police dog left in hot patrol car dies
Marco, a narcotics-detecting dog, died after being left in an Acworth police officer's patrol car. Acworth police are mourning one of their own: a narcotics detection dog, who died of heatstroke in a patrol car Monday. Capt. Wayne Dennard, a spokesman for the Acworth Police Department, said the dog's handler was "just torn up" about the death. Marco, a 6-year-old Belgiam Malinois was trained to track and detect narcotics. In his five years with the department Marco had found thousands of dollars' worth of drugs, Dennard said. It was the second police dog the officer had worked with. The first one retired, became the officer's household pet and died of old age, Dennard said. Dennard declined to give the officer's name while police investigate the incident. He said Marco's handler, a 13-year veteran of the department, was switching out electronics equipment from one patrol car into another when he was called into police headquarters. The officer, who was on his second shift, forgot the dog was in the car, Dennard said. When he came back to the car, Marco was dead. The death hit members of the Police Department hard, Dennard said. Marco was a hit whenever he made public appearances. Marco "was our pride and joy," Dennard said. "Everyone knew him."
More about Acworth P.D.
The Acworth Police Department K-9 Unit is responsible for supporting field units in the apprehension of criminals and detecting concealed narcotics. The K-9 partners receive extensive training at Kennedy Space Center with the NASA security forces in Titusville Florida. Currently the Acworth Police Department has 2 K-9 teams. Both dogs are trained to detect the most common encountered narcotics, track suspects and track missing/endangered adults and juveniles. Our K-9 units also conduct building and article searches. Both K-9 teams are nationally certified through North American Police Work Dog Association (NAPWDA) and National Narcotic Detector Dog Association (NNDDA). Sergeant Curtis Endicott is assigned to the A.C.E. Unit and
handles K-9 Marco. Sergeant Endicott has been with the Acworth Police Department since 1994 and assigned to the K-9 unit since 1997. Officer Jason LaRocque is assigned to Evening Watch and handles K-9 Bosco. Officer LaRocque has been with the Acworth Police Department since 2003 and assigned to the K-9 Unit since 2006. The K-9 handlers take their dog's home at the end of their shift, and the dog becomes a part of their family. In addition to their scheduled shifts, our K-9 teams are on-call 24 hours a day and are ready to respond to assist not only Acworth, but the needs of neighboring law enforcement agencies. Our K-9 teams interact with the community with demonstrations at local elementary and middle schools. They also complete demonstrations for city functions and numerous civic organizations. If you would like to schedule a K-9 demonstration with your school, civic group, or other function, please contact Sergeant Curtis Endicott at the Acworth Police Department (770) 974-1232.
Contact Information: Sergeant Curtis Endicott - submitted by Jim Cortina, Dir. CPWDA
---
In Loving Memory of
K-9 MAX
August 25, 2007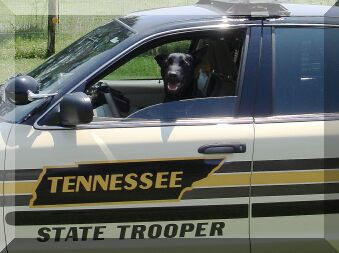 Handler: K-9 Officer J.D.Beil
Lebanon Police Department
403 W. St. Louis Street
Lebanon, Illinois 62254 - (618)537-6134 ext 107
With the passing of Max, the Lebanon police K-9, the department and the community have lost one of their finest. Max, an 8-year-old German shepherd, died Friday at the animal hospital at the University of Missouri in Columbia, MO,after being diagnosed with cancer earlier last week. "Absolutely he will be missed, especially by the department, " Lebanon Police Chief Ron McLemore said. "Everyone gets attached to the K-9, he becomes one of the officers and one of the guys." The dog's handler, Officer J.D. Beil, said Max had become well known, not only in Lebanon, but also in surrounding communities. "He was the best partner I've ever had," Beil said. "He was a beloved family member." Unfortunately, I just lost my K-9 partner,
companion, and friend, MAX. He succumbed to a brief but fierce battle with cancer. He had been a patrol dog since he was 8 months old. Max was 7 years old at the time of his death. Currently, I am in the process of raising funding for the purchase and training of a new patrol K-9. I would like to thank you for your interest in our department and our K-9 program. If there are any questions or information needed, please feel free to contact me. submitted by : Sincerely,J.D. Beil

---
In Loving Memory of
K-9 MISSY
(aka"Missy" Cara Vom Moritz-Bergurg)
August 3, 2007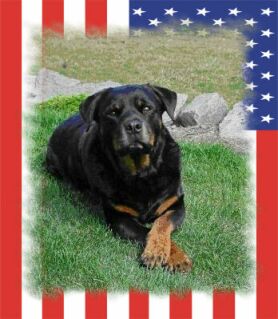 Handler: Mark Apeland
Jefferson County Sheriff's Office
79 Elkins Road, Port Hadlock, WA 98339
Telephone: (360) 385-3831 | FAX: (360) 379-0513
info@jeffersonsheriff.org
Quilcene's police dog, Missy, dies
In May of 2001, Jefferson County Sheriff's Office acquired Missy as their first Narcotic Detection K-9. She was donated by a private breeder. Missy and her handler, Deputy Mark Apeland, attended training at the Washington State Department Of Corrections K-9 Narcotics Detection Academy. Missy served with the Jefferson County Sheriff's Office as a Narcotics Detection Dog from June 2001 through December 2006, retiring due to health issues. She continued residing with her handler and his family. On August 3rd, 2007, Missy passed away at her home in Quilcene. She was 9 years old. Missy will be dearly missed by her handler, the Jefferson County's Sheriff's Office, and those who knew her.
*******
Missy, the police dog is dead. She was 9. Missy joined the Jefferson County Sheriff's Office in 2001 as its first narcotic detection K-9. She was donated by a private breeder. She and her handler took training at the state Department of Corrections K-9 Narcotics Detection Academy. Missy served with the Sheriff's Office from June 2001 through December 2006, retiring due to health issues. She lived with her former handler and his family in Quilcene - and died there on Friday. "Missy will be dearly missed by her handler, the Jefferson County's Sheriff's Office and those who knew her, " a statement from the Sheriff's Office."
submitted by Jim Cortina, Dir. CPWDA & Mark Apeland

---
In Loving Memory of
K-9 MICK
July 27, 2007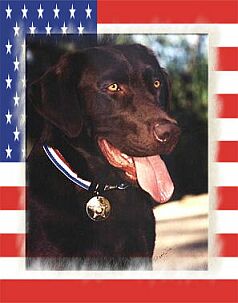 Handler: first handler, Officer George Finch
second handler, Officer Kristina Knox
Salem Police Department
555 Liberty St. SE
Salem,OR 97301 - TEL (503)588-6123
email: police@cityofsalem.net
Retired Salem Police Narcotics Canine Mick Passes
The Salem Police Department lost a loyal and valuable member of the team on Friday. Mick, a 14-year-old Chocolate Labrador Retriever that worked narcotics detection for five years, first with handler George Finch, then on the streets with Officer Kris Knox. Mick joined the department in 1995 with the help of the community, including several schools that sold Hershey Kisses in a campaign called "Kisses for Mick." Funds raised in that campaign assisted the Salem Police Department in purchasing nd training Mick to be an outstanding narcotics detection asset. Mick assisted in detecting narcotics while on patrol, during search warrants, at the Department of Corrections, at the Marion County Jail and in numerous surrounding jurisdictions. Mick was
a very playful dog with an outgoing demeanor and friendly disposition and was frequently called on by our community do demonstrations at schools and service organizations. Mick was an excellent ambassador for our agency and he will be greatly missed. submitted by Jim Cortina

---
In Loving Memory of
K-9 MAX
January 19, 2007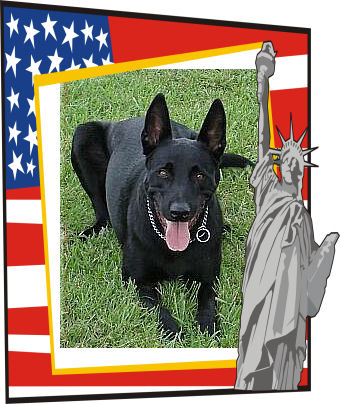 Handler: Trooper John B. Allen Jr.
Tennessee Highway Patrol
1150 Foster Avenue
Nashville, TN 37243
(615) 251-5175 - Fax: (615) 532-1051
My name is John Allen Jr. I'm a State Trooper with the Tennessee Highway Patrol. On January 19th 2007 Max was struck by a vehicle on Interstate 75 in McMinn County TN. He got away from me after getting into fire ants. Max was a 2 year old, 95 pound black Malinois drug detector. We had just made a case when we pulled into a huge wooded interstate median to give him a break. submitted by Jim Cortina, Dir. CPWDA

---
In Loving Memory of
K-9 MARKO
June 20, 2007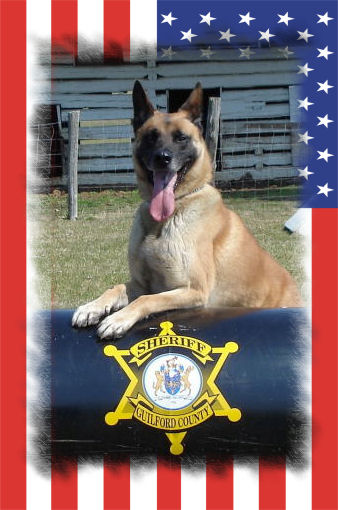 Handler: Cpl. David Thompson
Guilford County Sheriff's Office
400 W. Washington St. - P.O. Box 3427
Greensboro, NC 27420 - PH: 336 641.3694
sheriff: BBARNES@CO.GUILFORD.NC.US
Police dog with cancer is euthanized
"Marko," a police dog with the Guilford County Sheriff's Office, was euthanized last week after a bout with cancer, officials announced Friday. The Belgian Malinois started with the county in April 2002 and worked in the High Point jail with his handler, Cpl. David Thompson. The dog was used to search for drugs and other contraband, according to a news release from the sheriff's office. Marko died June 20. "K9 Marko's five years of dedicated service are greatly appreciated," the office stated in its release. "His spirit and enthusiasm will be sorely missed."
**** more info....****
Sheriff's Office Mourns Loss of K9
With much regret the Sheriff's Office announces the death of K9 Marko, Corporal David Thompson's partner. He was euthanized Wednesday June 20 after a brief bout with cancer. Marko, a Belgian Malinois, began his career with the Sheriff's Office in April 2002,having been trained at Southern Police Canine. Marko was certified by the North American Police Work Dog Association. He was assigned duty in the High Point Jail, and could often be seen with Officer Thompson circling the outside several times per day, checking for drugs and other contraband. He proved himself an invaluable member of the team, finding drugs, protecting Detention Officers, and preventing violence in jail. At the end of each day, K9 Marko made his home
with Officer Thompson. In June 2005, K9 Marko, his handler, Officer Thompson, K9 Kimo (Greensboro Detention), and his handler Officer O'Connor were featured on an episode of "Sheriff's Beat." The K-9 Detention units were shown performing drills and functions besides jail work. They typically work inside the courthouses several times per week, escorting inmates for the Bailiffs, and assisting with disturbances. Both K9 Detention Units also share duties at the County Prison Farm. K9 Marko's five years of dedicated service are greatly appreciated. His spirit and enthusiasm will be sorely missed. submitted by Jim Cortina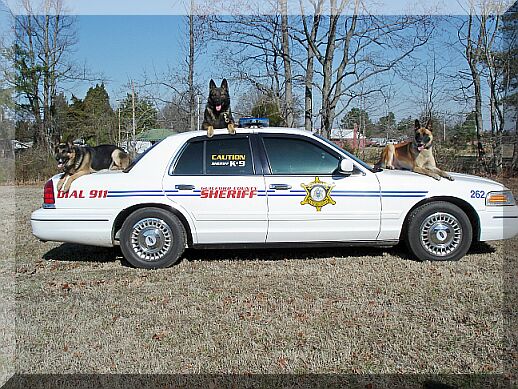 Looking at the car: Kimo is on the trunk, Marko is on the hood and Brek (explosives K9) is on the roof because it's his car, (smile). I m now in training for the next 3 weeks with my new partner Argo. I have adopted Kimo from the Sheriff and he will live out his days in luxury......or at least very comfortably. David lost Marko and is in school with me now and is doing great with his new (female) partner Zenia...(The Warrior Princess). It's funny, if you know Dave, to see him adjusting to his first female K9 Malinois. His praise voice has gone up 3-4 octaves.
Regards, O'C - associate - Kevin O'Connorkevin oconnor <koconnor7@triad.rr.com>

---
In Loving Memory of
K-9 MAIK
June 2007
(served 1996 - 2003)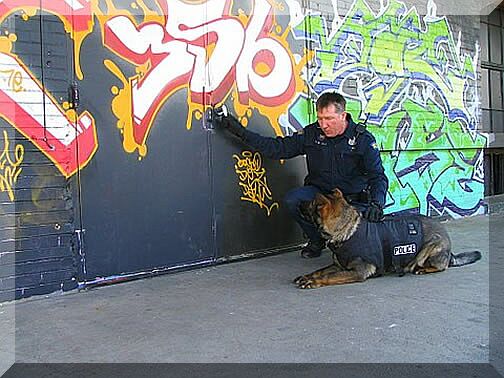 (above photo ... Officer Lally with his current K-9, Oreo)
Handler: Officer Mike Lally
335 W. Third Street
Dayton, OH 45402 - (937) 333-COPS
Officer Mike Lally had to put his retired K-9 Maik to sleep this week.He lived to be 14 years old.
submitted by Dusty Simon
---
In Loving Memory of
K-9 MAX
February 12, 2007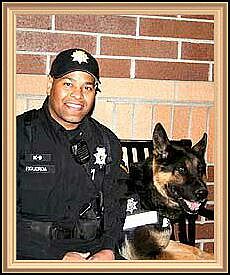 Handler-Deputy Kevin Figueroa
Washington County Sheriff's Office
15 SW ADAMS, MS 32
Hillsboro, OR 97123
A police dog suffering from an incurable form of canine cancer was euthanized Monday after only 4 years of life. In late January, Deputy Kevin Figueroa learned that his companion, Max, was suffering from acute lymphocytic leukemia. The cancer is very aggressive and treatments have shown to be unsuccessful in curing the disease. Deputy Figueroa kept Max as comfortable as he could until the end. The pair have been working the streets of Washington County for 3 years. Police say that Max was an extraordinary police dog. He made his 100th capture in half the time it takes most K9 teams. Max and Deputy Figueroa worked tirelessly to capture
criminals and find evidence, but they also spent time educating the public on the training given to police canines. On occasion, Deputy Figueroa and Max would also search for lost or missing people. The last instance was in the
winter of 2006 when Max found an elderly man suffering from Alzheimer's disease who had become lost after walking away from his home. The sheriff's office says that deputies who work with a canine companion often become attached to their dog as they are incorporated into their home life. They also spend much of their time working and training together. Deputy Figueroa is performing his regular duties and
wishes to thank the public for their support during this difficult time.
submitted by Jim Cortina