In Loving Memory of
K9 LOBO
November 2007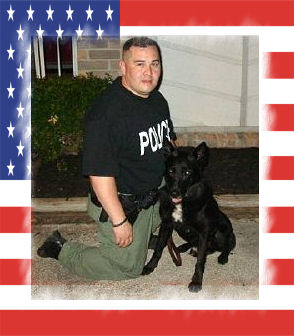 Handler: Val Tang
Pasadena Police Department
207 N. Garfield Ave.
Pasadena, CA 91101
Ph: 626 744.4501
Pasadena officer remembers late K-9 counterpart
It is a universal truth that a dog is a man's best friend. To Val Tang, the statement could not be any more accurate. Tang, a Pasadena police officer with the department's K-9 unit, had a special relationship with his partner in fighting crime, Officer Lobo. He and Lobo worked together in a year's span catching elusive suspects and busting drug dealers. Despite that short time, the pair became inseparable. Sadly, though, Tang had to say goodbye to Lobo last month when the European breed dog passed away from health problems at age 10. Tang remembers Lobo as a great partner. "He did a wonderful job for the city," said the officer. Lobo came into Tang's life in April 2006 when Tang was assigned to the K-9 unit. They became full partners later that summer. A law enforcement veteran in his own right, Lobo previously worked with the League City Police Department before its K-9 unit was disbanded. He was given to Pasadena police in 2004, two years prior to meeting his human counterpart. "He was an experienced dog," said Tang. "He already knew the job and helped me learn it a little bit quicker." The officer explained Lobo was a dual-purpose dog, specializing in patrol and narcotics detection. His responsibilities included searching buildings, sniffing out illegal substances, and nabbing criminals. "He definitely did his job well," said Tang. "I had some good apprehensions with him. He made me a better handler in the long run." Tang recalled an arrest he and Lobo made in a domestic violence case over the summer. "Without even setting up a perimeter like we normally do to contain bad guys, I basically told Lobo to track the suspect," said Tang. "He took me from one trailer, down the street, and across two streets into a totally different trailer park. We found the guy hiding in a shed." The arrest ranks as the highlight of the tandem's career. "That was our biggest deal together," said Tang. Lobo stood out among his fellow patrol dogs appearance-wise, sporting an all-black coat with a white patch on his chest. A great personality complemented his loyalty and service, said Tang. When quitting time came, Lobo went home to a loving household. "My wife and children loved him to death," said Tang. Lobo knew how to differentiate his two roles. "It was like he had a switch," said Tang. Lobo acted like a typical dog off-duty. He would eat, play, and clamor to be petted to the delight of his family. "He was loving and gentle," said Tang. But it was all about business as soon as Tang summons him to get into the truck. Lobo's passing proved painful to his loved ones. Who it hurt the most was hard to discern. "I do not know who it hurt worst - me or my family," said Tang. "It was very difficult." One thing is certain: Lobo will never be forgotten. "When it came down to it, he was our dog," said Tang.
submitted by Jim Cortina, Dir. CPWDA
---
In Loving Memory of
MWD K9 LEE - Marine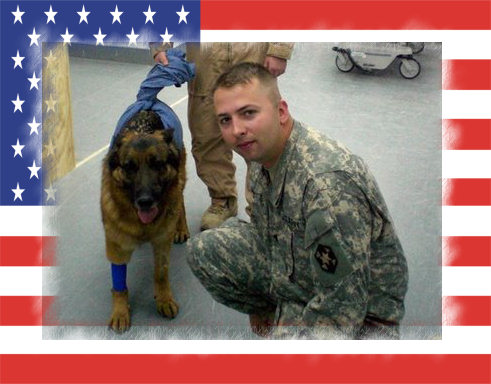 K9 LEX's handler
Marine Corporal Dustin Jerome Lee
Jerome and Rachel Lee of Quitman, MS
more info http://www.retirelex.blogspot.com/

Law Enforcement: "Lex" owned by Jerome and Rachel Lee of Quitman, MS.Lex, a 7-year-old German Shepherd Dog, is a retired military dog who served in Iraq with young Marine Corporal Dustin Jerome Lee. Cpl. Lee was a renowned dog handler due to his extraordinary ability to work an explosives detection dog and narcotics detection dog simultaneously. Under the skilled guidance of Cpl. Lee, Lex dutifully searched for roadside bombs to keep the roads safe and open for American troops in Iraq. Tragically, Cpl. Lee was killed in a mortar attack in Falluja in early 2007. As he lay bleeding, Lex, although injured himself, was at his partner's side to comfort him. Their bond was so strong, the loyalty so deep, that medics had to drag Lex away so they could attend to Cpl. Lee. He succumbed a short time later and Lex was reassigned to the Marine Corps Logistics Base in Albany, Georgia.
Cpl. Lee's parents, Jerome and Rachel, who knew about the special relationship that existed between their son and Lex, petitioned to adopt the dog. North Carolina Congressman, Walter Jones, heard about the Lee's request, and led a successful campaign to retire Lex, so that he could finally have a home with the Lees. Since his retirement, Lex has been awarded a Commemorative Purple Heart, but he has not rested on his laurels. The Lee's bring Lex to VA hospitals and retirement homes to offer solace to the veterans who have so honorably served their country.
******
The Lee family hasn't seen the dog since Marines brought him to the funeral in April. Marine Corps command is "extremely sympathetic to the Lee family's desire to adopt the military working dog after the tragic incident
that claimed the life of his handler," said Colie Young, a base spokesman. "The command will continue to support the Lee family in he adoption process at the appropriate time, if and when Lex is found unfit for duty and appropriately screened for adoption." Marine Corps Headquarters is aware of the family's request, and is "working the situation at their level," according to 2nd Lt. Caleb Eames, a public affairs officer in Albany. Lee was the third of four military dog handlers killed since 2003. The laws covering adoption of military dogs have evolved in recent years. During the Vietnam War, thousands of dogs were abandoned or euthanized when U.S. troops withdrew. Virtually none came home. For decades, the military considered the dogs to be "equipment" and had no process for adopting them after they "retired." That changed in 2000, when President Clinton signed a law allowing adoptions once the dogs could no longer perform their duties. In 2005, Congress heard the story of Air Force Tech. Sgt. Jamie Dana, who suffered nearly fatal injuries and asked to adopt her bomb-sniffing dog. President Bush signed a law permitting early adoptions for the individual troops who have worked with the dog. The case of the Lee family may be the first instance of a deceased handler's family seeking to adopt a military dog. The Lee family has begun a petition drive and created a Web site to chronicle their efforts to adopt the dog. Lex is one of about 170 dogs in the Corps, and the canines are in intense demand. Lex "is potentially saving lives by performing his mission," Eames said. The relationship between a dog and its handler in a combat zone is unique, said John Burnam, author of "Dog Tags of Courage: The Turmoil of War and the Rewards of Companionship." "When that bond finally clicks, you just sort of become one. Once the handler draws down into the level of the dog's world and learns what the dog knows, he can really communicate with the animal," Burnam said. "You can see, in the case of Dustin Lee, the dog didn't get startled by the explosion and run away. The dog was wounded and bleeding, but he crawled over and pawed to get his handler's attention."
---
In Loving Memory of
K9 LIBERTY
October 16, 2007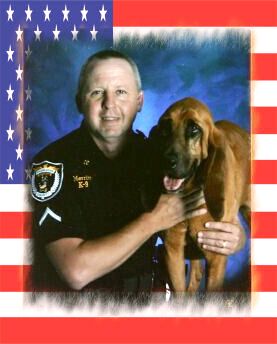 Handler: Deputy 1st Class Emmett Merritt
Charlotte County Sheriff Office
7474 Utilities Road
Punta Gorda, FL 33982
Ph: (941) 639-2101
Members of Sheriff's Office remember canine colleague Liberty, a bloodhound, sniffed out children, the elderly and the wanted.
East Elementary School Resource Officer Wendy Merritt consoles son Spencer, 8, during a special service in Punta Gorda to say goodbye to Liberty, a Charlotte County K-9 bloodhound who passed away Tuesday. Liberty lived with the Merritt family. Liberty was only about two months into her new job as a Charlotte County Sheriff's Office K-9 when she went to the Triangle Motel south of Punta Gorda on June 2, 2004, to find a woman who had stabbed her 7-year-old daughter. Using only the scent from a hair tie found outside a half-opened window, she led law enforcement half a mile into the woods to Ruth Ann Burns, who is now serving a 25-year prison sentence for second-degree murder. It took Liberty 15 to 20 minutes to find her. Deputy 1st Class Emmett Merritt remembered the bloodhound's service as a tracking dog Friday when Liberty's memorial service was held at Royal Palm Memorial Gardens Pet Cemetery. He couldn't even begin to estimate the number of people they found, he said, and they looked for all kinds -- from those wanted by the law, like Burns, to confused elderly people and lost children. Liberty tracked children with particular intensity. "Our main goal was keeping children safe," Merritt said. "When we went to find somebody, she wouldn't quit." Liberty was donated to the CCSO by 832 K-9's Deputy Dogs of Homosassa, FL, which raises bloodhounds for police work. She got her name from a class of Liberty Elementary School students who participated in a naming contest in 2003. Liberty was recognized for her work a number of times -- in 2004, she and Merritt won a first-place award as the Florida Missing Children's Trailing Team of the Year. The pair were runners-up in 2005, and they received the first-place award again in 2006. By the time Liberty attended the award ceremony in Tallahassee on Sept. 10, she was ill with an autoimmune disease. On Tuesday, she and Merritt were together when she died. Merritt told officers, who hugged him and expressed their condolences, how she had passed. He had called to her, but she didn't get up from where she lay. "She just kind of looked at me, then put her head back down," he said. Police dogs live with their handlers. Liberty's memorial service was attended by about 50 members of the CCSO as well as by those with whom she lived: Merritt; his wife, East Elementary School Resource Officer Wendy Merritt; and their children, Shelby, 13, Sydney, 12, Skyler, 9, and Spencer, 8. The children cried while Chaplain Dennis Postell spoke, and then as other K-9 pairs filed past, the human officers hugging the kids while the dogs stood alongside.

submitted by Jim Cortina, Dir. CPWDA
---
In Loving Memory of
K9 LANDO
August 4, 1997 ~ September 4, 2007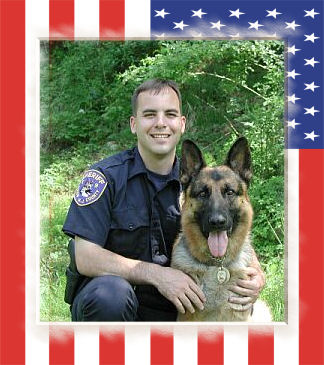 Handler: Officer Christopher P Aversa
Union County Sheriff's Office
10 Elizabethtown Plaza
Elizabeth, NJ 07207
908-527.4450
My Lando, where do I begin !!!!!
Lando began service with the Union County Sheriffs Office in October 2000, as the partner to Sheriff's Officer Chris Aversa. K-9 Lando responded to Ground Zero following the attacks of September 11th where he and Chris worked 12 hour shifts. K-9 Lando had many felony tracking finds as well as a missing child. In March 2004 after alerting to the presence of narcotics in a motor vehicle, a search produced over $800.000 in cash in a garbage bag in the trunk. Lando will also be missed by Chris's wife Joana, who became very close to Lando after he retired on July 27th 2006. He will also be missed by Tyler and Meghan who have only known him as their loving pet and playmate since they were born. Lando was euthenized on September 4th 2007 after a brave 3 week fight with cancer. He will never be forgotten. Lando was born August 4th 1997 in Holland. He was the only male in a litter of 6. His given name was Orlando VonhausKalbach. I have spoken to Foeke Tienstra who owns the kennel in Holland where Lando was bred and began his training. He was very saddened by the news.
notified by John Gillespie, submitted by Chris
---
In Loving Memory of
K9 LUKE
August 10, 2007





Handler: Deputy Casey Switzer
Mercer County Sheriff's Office
906 SW Third St
Aledo, Illinois 61231
(309)582-5194

The Mercer County Sheriff's Office is mourning the loss of a member of its team. A police dog, Luke, had been suffering from a terminal illness and was euthanized this week. "Luke had been with us for five years," Mercer County Sheriff Tom Thompson said. "We got him back in 2002." Deputy Casey Switzer had served as his handler. "It was tough to see him go," Thompson said. "He had cancer in his abdominal organs. We had to put him down Wednesday." Luke was 8 years and 7 months old. He was a utility dog trained in drug detection and building, article and area searches along with providing officer protection. Not only did he serve the Mercer County Sheriff's Office, but he also assisted many other law enforcement agencies in and around Mercer County and often performed at demonstrations for area schools and organizations. The department will get a new dog in September through a company in Michigan. "Deputy Switzer will be attending classes up there for four weeks in September," Thompson said. "After those four weeks he should be ready to come out and work the street."
******
Friday, August 10, 2007--The Mercer County Sheriff's Department mourning the loss of one of it's officers. The K-9 unit--Luke, was euthanized this week says Sheriff Tom Thompson. He was suffering from cancer. Luke was 8 years and seven months old. He was a utility dog trained in drug detection and building, article and area searches along with providing officer protection. The department will be getting a new dog in September. County will replace K-9 unit. Tuesday, August 28, 2007 --The Mercer County Sheriff's Department will replace its K-9 unit. Luke, the department's K-9 unit since 2002, was put to sleep recently after a fight with cancer. Mercer County Sheriff Tom Thompson said the department is in the process of securing another K-9 unit for the county. The initial investment for the animal of about $10,000 will be paid for out of the department's forfeiture fund. The new K-9 should be on the street's in October. Mercer County Deputy Casey Switzer will train with the animal for four weeks prior to bringing the dog on board. The dog and officer will be trained by Northern Michigan Canine Inc. in Harrison, Michigan. Thompson said they pick a dog to go with the handler. Mercer County's dog is a Belgian Malanois which has become a popular breed for police dogs. Thompson said,"It's a smaller dog than a German shepherd. They are also faster and more social. German Shepherds are also known for having hip displacement."
submitted by Renee Konias
---
In Loving Memory of
K9 LASER
1996-April 28, 2007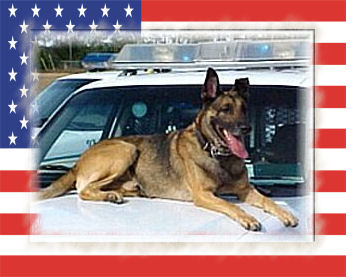 Handler: Deputy K. Pond
Okaloosa County Sheriff's Office
1250 North Eglin Parkway
Shalimar, FL 32579
(850) 651-7410
The Okaloosa County Sheriff Office regrettably announces the passing of Retired Deputy Sheriff Canine Laser. K-9 Laser proudly served the citizens of Okaloosa County, beside his life long partner Deputy K. Pond, for well over seven years before being retired with an unequalled service record. Always the first in, K-9 Laser was responsible for countless criminal apprehensions and narcotics arrests, while protecting the lives of his fellow deputies and the citizens of Okaloosa county. K-9 Laser will be missed by all who had the honor of serving with him. K-9 Laser passed away April 28, 2007 at the age of 11 where he always remained faithful in service to his beloved partner Sgt Pond. The Okaloosa County Sheriff's Office Canine unit, the entire Sheriff's Office, and the citizens of Okaloosa send our deepest sympathy to Sgt. Pond and her family. We will always remember Laser for his faithful service to the Unit and the people he so proudly defended.
submitted by Renee' Konias
---
In Loving Memory of
K9 LLOYD
April 1, 2007




Handler-Constable Richard Keloloa
New Guinea


Lloyd is laid to rest, Dog onc shot and stabbed dies of old age.New Guinea
In February last year the two daily papers published stories about 11-year-old German Shepard Lloyd, who had
retired from the Police Force and was going to be put to rest through lethal injection. The story raised concern from animal organizations and readers who did not want to see such a valiant member of the force put down. So Lloyd's life was spared and he was adopted by the family of his handler Constable Richard Kelola to live out his retirement. On April 1 Lloyd passed away at the Port Moresby Veterinary Clinic due to old age. A week before Lloyd died he developed severe complications in its lungs, liver, heart and esophagus. Constable Kelola rushed the dog to the clinic but nothing could be done to save him. Lloyd died at the age of 13. Lloyd had lived beyond the life expectancy for its breed German shepherds - which is 10 to 12 years. Lloyd and Constable Kelola met when Liord was just a year old after arriving from Australia to join the eight-member 1996 police dog intake at the RPNGC Dog School at Bomana, Port Moresby. Constable Kelola from Trobriand Island in Milne Bay province was assigned to handle Lloyd. The black German shepherd - with patches of faded brown fur - a typical color of the breed - quickly responded to training and handling tactics. Const Kelola had said it took him only six weeks to train him while the other dogs took about 12 weeks. "I have been with him. We have worked together...we have gone through difficult situations and risky situations too and he at some time saved my life," Mr Kelola had said. According to policies covering service dogs in the RPNGC, Lloyd was to be put to rest through lethal injection on January 28, last year but this was delayed because the vet clinic was out of stock of the euthanasia drug. The policies also disallows police dogs to be leased out or given to civilians because the dogs would not be given the same treatment and care they receive at the institute. Police dogs also died of loneliness when they found that they could no longer be close to their handlers on a daily basis and also putting former service dogs to rest, the RPNGC sees that it is the honourable way for dogs who have achieved a lot while serving the force. But the newspapers' publications drew concerns over the animal's life from the public and organisations and forced the Dog School to bend some of its policies regarding retired service dogs and allowed Const. Kelola to take the animal home. As a result Const. Kelola and his family were able to spend at least another year with Lloyd. "I'm going to miss him. For almost 10 years I have been with him. Losing him is heart breaking for me. He is like a best friend to me," soft-spoken Const Kelola had said back in 2006. Like most German shepherds who had gone through the Dog School, Lloyd was trained as a general purpose dog to specialise in tracking, crowd control and in disarming, disabling and apprehending law offenders. The 13-year-old almost clocking 10 years in the Police Force from 1996 to 2005 served with loyalty and dedication to orders from the RPNGC hierarchy, which were imparted to it by its handler. Some of these orders were given during search and rescue operations when Lloyd was needed to help track criminals,especially those involved in armed robberies, hold-ups,abduction and rape.And during the operational duties both the dog and its handler took risks. Lloyd faced a near-death ordeal four years ago when it went ahead of its handler at Laloki in search of an escapee who was serving time for murder at the Bomana Correctional Service Institute. The search led to them crossing the Laloki River three times. Lloyd was cut across the face - an attack which the escapee admitted was meant for the human companion of the dog. Const. Kelola carried his partner back to the main road and rushed it to the vet clinic. Lloyd could have died then from loss of blood. This attack resulted in a six months off-duty for Lloyd to recover, while the escapee was returned to Bomana. In 1999, on the night of January 27 at Goroka in East Highlands province Lloyd was shot at with a .38 pistol by some armed suspects when a rustling was heard in the bushes after the canine and Const Kelola went after four men who had previously abducted a woman into the bushes along Gonix Street. Lloyd then disarmed the gunman and his companions who were armed with bush knives. Lloyd could have been shot but its black fur blended with the darkness of the night and hid it from the men. This successful operation earned the partners their first recognition for a job well done. Lloyd was the dog that got involved in tracking down suspects for abduction, rape and murder of a woman along the Porebada road on the outskirts of NCD, several years ago. The suspects were then convicted and imprisoned, one serving life sentence whilst the other two each serving 15 years respectively. Lloyd also took part in controlling the crowd near the Waigani Government offices' area in 2001 during the UPNG student-led unrest over issues relating to privatisation. But Const Kelola would remember Lloyd even more when the dog was entrusted with the task to find a way out of the wilderness in the mountains of Goroka when both were lost after tracking for 12 hours for men suspected of robbing the Lahani club. Lloyd stumbled off a cliff almost pulling its handler with it, but Const Kelola managed to save both their lives when he tied the leash to a tree which supported him as he pulled Lloyd up. Lloyd then started tracking out of the wilderness as it led its handler who was picking wild berries for both to eat. Const Kelola also allowed Lloyd to rest several times because he realised that they were lost and knew that he relied on the dog to sniff their way out. Tired Lloyd led the way while Const Kelola kept whispering reminders, saying "take us back...you can do it...I am relying on you." They reached the old Highlands Highway and a motorist gave them a ride back to Goroka town. Another highlight was back in 2005 during a mass prison breakout from the Bomana Correctional Service prison where Lloyd tracked the terraneous Laloki Mountains. Dehydration prevented Lloyd from climbing further and the police Eye In the Sky airlifted Lloyd and Const Kelola back home. Lloyd succumbed to old age at about 7pm on April 1 and was laid to rest near the Kelola home at Bomana Police College on Monday,
April 2. submitted by Jim Cortina Dir. CPWDA
---
In Loving Memory of
K9 LEON
February 6, 2004 - March 20, 2007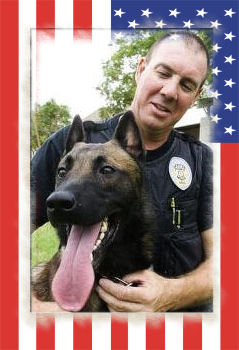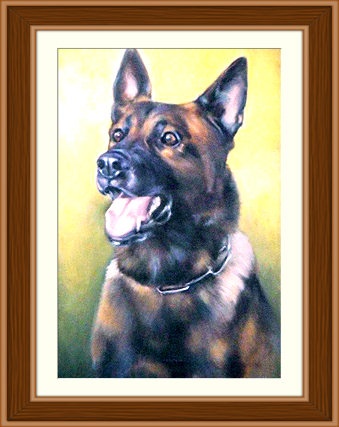 Handler: Officer John LaFontaine
MESA Police Department
130 North Robson
Mesa AZ 85201-6697 - 480-644-2324
Police dog dies on duty; made news in August
Mesa police officer John Lafontaine and Leon helped apprehend a suspect in August, making national news.
One of the finest K-9 Officers in the Mesa Police Department dog who made national news in August when he took down a suspect, died on duty Tuesday night in the line of duty trying to apprehend a felony warrant suspect. The suspect was caught a while later. The elderly driver who struck Leon, left the scene and is still outstanding. Leon, a Belgian Malinois, died about 11:30 p.m. as he ran across a major roadway in pursuit of a man who had just struck an officer. He was transported to an emergency animal hospital where he was pronounced deceased. Leon is the first Mesa police dog to die in the line of duty, Mesa Police spokeswoman Holly Hosac said. Leon, who joined the force in January 2006, received national attention last August after helping police detain a 350-pound man in a dramatic standoff on the U.S. 60. It was business as usual for the dog, Officer John LaFontaine told reporters, but because of television coverage of the canine being thrashed around by the man.Mesa police held a press conference to assure the public of Leon's fit condition. LaFontaine said it was probably the most dramatic incident the service dog had been involved in. "Leon's doing fine. He's ready to keep going," LaFontaine said. For a reward, Leon got an hour-long bath. Mesa's Police K-9 Unit was formed in 1989 and has 11 police service dogs.
submitted by Jim Cortina
---
In Loving Memory of
K9 LYOX
January 9, 2007





Handler - Officer Dwane Foisy
Pittsfield Police Department
Police Chief Anthony Riello
39 Allen Street
Pittsfield, MA 01201
Phone: (413) 448-9717 Fax: (413) 448-8394

Pittsfield Police Officer Dwane Foisy remembers his partner of almost 10 years as having a head like a bear's, with thick ears and a dark face. Friendly with children, he could also be a criminal's worst nightmare, once helping catch a serial burglar after tracking him for two hours in a snowstorm. Iyox — Foisy's partner since October 1997 — was a male German shepard, whom the Police Department believed to be at least 12 years old. On Tuesday, Iyox — who received top police awards during his career — died peacefully of natural causes at Foisy's home. Foisy, who works the midnight to 8 a.m. shift, found Iyox (pronounced EYE-ox) lying in his kennel early Tuesday evening. Losing Iyox is the same as losing a police officer, said Police Chief Anthony J. Riello. "It really hurts," Riello said. "He's been a huge part of the department. ... He's gotten bank robbers, felons, drugs. He's done it all." The Police Department is planning a memorial service, Riello said. Foisy said Iyox was cremated, and the dog's ashes won't be available until next week. The service details will be announced soon. No one knows exactly how old Iyox was because he was born in the Czech Republic, and arrived in Pittsfield via a broker in New York state who is no longer in business. His name, which is Czech, was spelled as Ajax by his handlers. But Foisy said he changed the spelling to make sure his colleagues pronounced it correctly. Cross-trained in patrol duties and narcotics detection, Iyox was the dog that Foisy has partnered with the longest during his 16 years as a canine officer. Foisy's first dog died after they had spent four years together, while his second dog was taken out of police work after two years. "It didn't work out," Foisy said. "He was content to sleep in the back of the (patrol) car." Iyox, however, was different. Foisy said the canine had a feel for police work even at an advanced age. Last November, Iyox helped Foisy track down a 19-year-old burglary suspect who was found hiding in the woods behind a McAllister Street residence. "He's one of the oldest dogs I know of who continued to do the job right up until the end," Foisy said. Foisy and Iyox received the Police Department's Distinguished Service Award last year, Riello said. They had previously been awarded the department's Gallantry Star after Iyox helped Foisy and several other officers apprehend a serial burglar in Kirvin Park on Dec. 10, 1997, after tracking him five miles in the snow. "Every dog isn't a police dog," Foisy said. "They have to have common drives. If this dog had been in the wild, he probably would have been a pack leader as are most police dogs. Those are the drives we capitalize on. If you get lucky enough as I did, you have a dog who is good in all areas. "My experience is that a lot of (police dogs) don't last that long or they do narcotics stuff," Foisy said. "But we continued him on patrol. He was still chasing people down alleys. Probably over the last year or so, his agility wasn't what it used to be,but it had been better since we put him on joint supplements." Foisy said Iyox had not been sick and that the joint problems were his partner's only concession to age. Although his death was sudden, Foisy said the manner in which he died was a blessing considering the suffering that his first dog went through. "When my first dog got sick, it was terrible to watch him," Foisy said "You're with him eight hours a day. I consider myself a great father, and I'm not with my family eight hours a day. You watch him come down with a terminal illness, and you can't do anything about it." With Iyox, "we had a great last day together," Foisy said.
submitted by Jim Cortina
---
In Loving Memory of
K9 LEO
November 17, 2007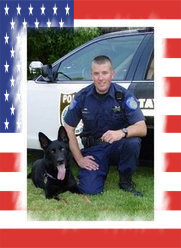 Handler: Sgt. Dennis Joy
Sacramento Police Department
5770 Freeport Blvd Ste 100
Sacramento, CA 95882
(916) 808-0800

www.sacpd.org
In Sacramento, we were saddened to hear of the passing of Leo, a Sacramento Police K-9 who has been on the job for 5 years and is responsible for the apprehension of hundreds of violent felons during his career. Sgt. Dennis Joy and Leo were working their last scheduled shift together on November 16th before Leo's retirement when Leo began behaving strangely. Sgt. Joy took Leo to a vet where he was diagnosed with cancer. Tumors had burst in his spleen and invaded his blood stream. While Leo could have survived for a few months, he would have been in constant pain. With every member of the K9 Unit present, Leo was euthanized at 1:00am on November 17th. The Sacramento Police Canine Association, a non-profit organization which provides for the care of retired Sacramento Police K-9's, handled the funeral service and burial costs for Leo.