In Loving Memory of
K9 KING
2007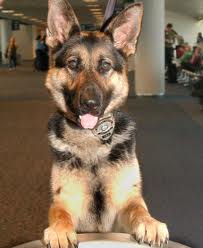 Handler: Deputy Sean Pursifull
Bell County Sheriff's Dept.
Pineville, Kentucky
Here is a story I think you might want to look into. The story is from 2007 A Deputy and a police dog where laid to rest together. It was in the Daily news and the Deputy's name was Sean Pursifull, the dog name was King they where from the Bell County Deputy department in Kentucky. Killed when fleeing teens hit officer's cruiser.
---
In Loving Memory of
K-9 KATIE
2007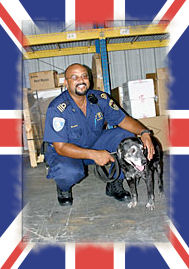 Handler: Malachi Powery
Royal Cayman Islands Police Service
Customs K9
Tel: 949-4222 ext 2950/926-2902
Email Address: kafara.augustine@gov.ky
CAYMAN ISLANDS
Katie with handler Malachi Powery in hap–pier times.
Custom's K–9 Katie was put to rest Sunday after a long and distinguished career in crime fighting. The 15–year veteran Labrador retriever was buried with honour and commendation in the yard of West Bay handler Malachi Powery. Katie – responsible for three generations of dogs, some of which now work for the K–9 unit – served the Customs Department from July 1993 until she was retired in November 2002. During her tenure with the department she was instrumental in detecting several drug finds. She was also responsible for bringing in revenue of over $30,000 from fines. She was also one of the first dogs brought to Cayman to work with the department and used by the Custom's Department in many drug sniffing narcotics raids and firearms detection cases with the Royal Cayman Islands Police Service. Katie was also involved in schools and civic organisations anti–drug demonstrations. "Because she was such a playful dog she interacted very well with the children," said Mr. Powery. Mr. Powery a trainer, partner, friend and family to Katie, said his dog was fearless and courageous in the line of duty. He loved Katie so much that when she became ill, he took her home to care–– for her during her final days. "'Everyone gets attached to their dogs. They become one of the officers and one of the guys. "Katie was the best dog a partner could have. She was a faithful partner and will be hard to replace. She was special and deserved the best of care during her illness. Although I have another dog called Scooby, Katie will always have a special place in my heart," he said. Katie was buried alongside her offspring Tracker, which died in the line of duty. K–9 handlers and friends gathered Sunday in a tribute to Katie, which died of complications due to old age; she was 108 in human years. "Some people might not understand why we saw it fitting to give Katie a burial of acknowledgement but to officers that work with these dogs they are faithful partners," said Mr. Powery. "We depend on them as much as they depend on us. I hope by taking this step, K–9 dog burials will be taken to another level. Also I am hoping that some sort of emotional counselling or compassionate leave and time to relax be put in place. After all, sometimes we have to put our lives in the hands of these dogs who sometimes take a bullet for us." submitted by Jim Cortina
The Royal Cayman Islands Police Service is the standing police force of the British overseas territory of the Cayman Islands. The police force was formed in 1907 and currently (as of 27 October 2006) stands at 366 enlisted officers, with 54 civilians.

---
In Loving Memory of
K-9 KIZMET
September 10, 2007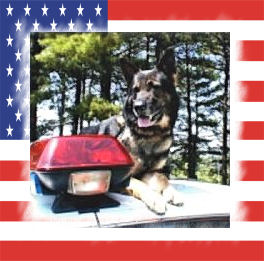 Handler: Officer Jessie Shaver
Waynesboro Police Department
250 S. Wayne Avenue
Waynesboro VA 22980
540-942-6703
The Waynesboro Police Department reported that Kizmet, the department's lone canine, succumbed to cancer on Monday. The male German Shepherd joined the force as a 4-year-old in 1999. "It's definitely a loss for us," said Sgt. Kelly Walker. "Kizmet was a great dog." Waynesboro police will rely on other area law enforcement canine units until Kizmet is replaced.
*****
Deputy Chief William R. Maki - submitted the below information.
Waynesboro Police Department
540.942.6684
His career here was exceptional. An example is in the second quarter of 2003 Kizmet was given an award by
the USPCA for the top case. I have attached two documents. One describes the case and was the nomination letter. The second is an internal commendation for Kizmet's handler, Officer Jessie Shaver. The award in 2003 was just one of his exceptional finds. By far, Kizmet and Officer Shaver were the best drug detection team I have observed in my 27 years in law enforcement.
*******
Officer Jessie H. Shaver, Specialist II August 1, 2003
Waynesboro Police Department
Dear Officer Shaver:
I am pleased to recognize your receipt of the United States Police Canine Association's Region Three Quarterly Case Award for Detector Dogs. This award comes as the result of your hard work to ensure the Waynesboro Police Department has a highly trained canine to assist us. After being nominated by me, the USPCA selected the actions of you and Kizmet as the Top Case for the Second Quarter of 2003.
I can only echo the facts in the nomination letter and appreciate that you have worked so diligently and effectively to provide the police department with a canine of the highest abilities.
Sincerely,
Major William R. Maki, Acting Chief
********
The United States Police Canine Association, Inc. April 11, 2003
Region Three Awards Committee
20 Hickory Ridge Drive
Falmouth, Virginia 22405-1440
Dear Sir:
This letter is to inform you about a case you may wish to consider for the Top Case for the Quarter.
It involved a narcotics search by Waynesboro PD's canine handler Specialist Jessie Shaver and Kizmet.
On Tuesday, April 8, 2003 Specialist Shaver was requested to assist with a narcotics search warrant being served jointly by the Augusta County Sheriff's Department and Waynesboro PD. The area to be searched was suspected to contain methamphetamine and was unusual because the suspect ran a car repair and towing business. The area to be searched contained around fifteen junked cars and the area had been used as a junk yard for years. The grounds were contaminated with spilled automotive fluids, broken glass, old auto parts, household trash from the residence and three other dogs were running at large. In addition to the residence, a garage where mechanical work was done occupied the property along with several storage buildings.
Once the search warrant was executed and all the parties were secured the search began. Specialist Shaver and Kizmet began the search on the west side of the property and worked their way eastward. While doing so, Kizmet showed no interest in any of the vehicles until he got to a junked Ford Taurus. As Kizmet approached the Taurus, he showed a change in behavior near the right front of the vehicle. Kizmet kept sniffing the car and then gave an aggressive alert on the passenger's door handle. Specialist Shaver opened the door and Kizmet went inside. The car was full of junked auto parts. Kizmet began to search the front area and then went to the back floorboard area. He placed his head and nose under some car parts and then gave an aggressive alert on a black bag that was hidden under the parts. Kizmet was then rewarded and taken out. A search of the black bag found over two pounds of marijuana, over one pound of methamphetamine and several other eight balls of methamphetamine. Some of the methamphetamine and marijuana were in vacuum sealed bags. I think this case is noteworthy due to the contamination, size and difficulty of the search area and offer it for your consideration. If I can be of further assistance, please feel free to contact me.
Sincerely,
Major William R. Maki
Deputy Chief of Police
submitted by Jim Cortina, Dir. CPWDA & Major Wm. R. Maki
UPDATE:
Waynesboro, Va.
Last Updated: 6:01 PM Jun 27, 2008
Reporter: Meg Gatto - Email Address: mgatto@whsv.com
Waynesboro Police have a new K-9 dog to assist them with crimes in the field. The department got the dog, named Xareta, following the loss of their old K-9, Kizmit, who died of cancer last year.
During an awards luncheon Friday, officers paid tribute to Kizmit, while welcoming the new addition to their unit.The dog will help the department in various ways because it's so highly trained. Officer Jesse Shaver says, "She's trained in narcotics, search and rescue tracking and evidence or article search as they call it."Shaver says the only way the department was able to purchase Xareta was through two generous donations by Waynesboro residents. update -submitted by lulu

---
In Loving Memory of
K-9 KONIG
August 22, 2007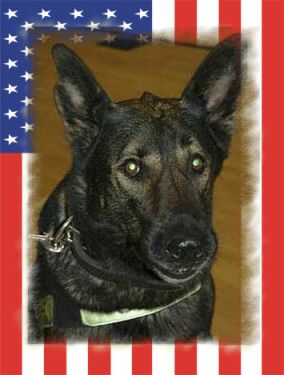 Handler: Officer Ezra Padgham
Fort Meyers Police Department
2210 Peck Street
Fort Myers, FL 33901
Phone: (239) 332-6386 - Fax: (239) 334-2539
FM police mourn passing of police dog
The traditional purple and blue bunting won't be hung on Fort Myers police headquarters. Flags will remain at full staff and badges won't be draped with mourning bands, dogs don't rate such honors. Yet, officers said, there is a void in the department left by the death of police dog "Officer Konig." Described by police spokeswoman Shelly Flynn as one of the most productive and hardworking of the department's six dog K-9 unit, "Officer Konig" responded to 1,130 callouts during his six years with the Fort Myers police. In that time he searched 185 buildings, 413 vehicles and was credited with 157 apprehensions, with 46 of them literally feeling the law's bite. "Officer Konig" died of an infection related to an aggressive cancer, Flynn said. He died on duty with his partner, Officer Ezra Padgham, she added. Police and K-9 units from area departments will gather Sunday at 5 p.m. at the Riverside Community Center, 3061 E. Riverside Drive, Fort Myers for a memorial service.
++++++++++
A memorial service for Officer Konig will be held this Sunday, August 26 at 5:00 p.m.
at the Riverside Community Center located at 3061 East Riverside Drive.
K-9 Konig Deployment Statistics
• Patrol K-9 Training Hours: 1668
• Narcotic K-9 Training Hours: 623
• K-9 Deployments: 1130
• Tracks: 296
• Building Searches: 185
• Public Demonstrations: 50
• Narcotic Vehicle Searches: 413
• Narcotic Finds: 77
• Total Criminal Apprehensions: 157
• Apprehensions without bite: 111
• Apprehensions with bite: 46
The growing population of Southwest Florida is leading to an increase in crime. The Lee County Sheriff's Office, the Fort Myers Police Department and the Cape Coral Police Department are all getting help in the fight against crime. "If a criminal decides to come to Fort Myers to commit a crime and decides to run, his chances of getting caught are going to go up a lot," said Officer Ezra Padgham of the Fort Myers Police Department.
The size of the department's K-9 unit will double when the new dogs graduate. The dogs are in their third week of a twelve week course. They have already mastered the art of apprehension. The population grows at about five percent a year. The number of arrests in Fort Myers went up four percent last year. Both those statistics highlight a greater need for k-9 units day and night. Each K-9 will make the city safer for officers on patrol. "It's dangerous for the dogs, it's dangerous for the handlers, but if the choice is unfortunately, a person or the dog, the dog is going to have to be the one that sacrifices himself," said Corporal Frank Glover of the Lee County Sheriff's Office. Fort Myers will get three new dogs, Lee County will get two and Cape Coral will get one.
submitted by Jim Cortina, Dir. CPWDA
---
In Loving Memory of
KIKI
July 27, 2007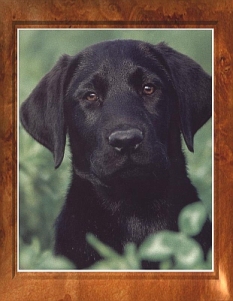 Owner/Handler: Chris & Chika Litwin
Stamford, CT
Stamford family mourns death of celebrity canine 8/4/07 Connecticut

Kiki, a black Labrador retriever who became a world champion dock jumper and national celebrity, died last week after escaping from his fenced-in back yard in Stamford and getting struck by a car. Kiki was 8 years old. "We're absolutely distraught," said owner Chris Litwin, who, with his wife Chika, trained and managed the dog since he was a puppy. "But we're fortunate for a couple of things. He didn't see it coming and he didn't suffer." Kiki helped popularize dog jumping competitions with his ascendancy in the sport. He won the Purina Incredible Dog Challenge and set a world record twice - first in 2001 when he jumped 25 feet, and in 2002 when he jumped 26 feet, 9 inches. He held the record for four years. During the height of his fame, Kiki appeared on the "Late Show with David Letterman," Animal Planet, and ESPN. He flew coach on American Airlines, drew sponsors and launched a T-shirt line. His two appearances at the Norwalk Oyster Festival drew huge crowds. The Litwins purchased Kiki, a purebred, when he was 8 weeks old. When the Litwins began taking Kiki to Mianus River Park to play three weeks later, they discovered the puppy's jumping skills as he leaped off a ledge and into the water. "We were shocked at how far he could jump," Litwin told the Advocate in 2002. Kiki died July 27, while the Litwins were away for a day on a business trip in New Hampshire. Litwin called his next-door neighbor on his way home to inform him that they were running late and that Kiki's offspring, Luna, may start barking as she tended to do at nightfall when they weren't home. He suggested his neighbor take a toy over to the dogs to pacify them if the barking got out of control. The Litwins returned to an opened gate and a voicemail message from the neighbor that the dogs had escaped. The neighbor had tried to put the dogs downstairs and close the dog door. But when he opened the gate, Kiki and Luna darted out. A woman on Cedar Heights Road found Luna. But a different fate awaited Kiki. Police called Litwin at about 11:30 p.m. and told him that Kiki had been fatally struck by a car and was lying on Long Ridge Road near Xerox Corp. Litwin, 43, cried when he heard the news. "I'm still in shock, a week later, that my boy is not here," he said. With help from his neighbor, Litwin buried Kiki in his back yard where Kiki had already dug a 3-foot hole. "We figured he started it," he said, "so we finished it." News of Kiki's death has spread through the community of dog enthusiasts. "It was a heartbreaker because this was a dog who grew up in our store," said Andy Avigdor, general manger of the Norwalk-based Choice Pet Supply, one of Kiki's sponsors. Mourners are posting comments on www.dockdogs.com. "I am at a loss for words," Tom Dropik wrote. "The first thing that comes to mind when something like this happens is the events, the scores, and all that, seem a bit insignificant. "It's about our relationship with our dogs. It's about the time we spend with them." "The loss of Kiki is Devistating (sic)," wrote Angie, Nestle and Mercy. "Kiki was one of the great pioneers of the sport, probably the best at snagging the Frisbee out of the air and always exciting to watch." Kiki's legacy will live on through the annual Kiki Classic, a dog jumping competition. Litwin plans to turn the competition into a national event honoring all dogs that have died each year. Litwin also plans to raise money for Stamford Animal Control; Lab Rescue of the Labrador Retriever Club of the Potomac, a nonprofit animal placement group based in metropolitan Washington, D.C.; and Chase Away K9 Cancer, a charity that raises money for animal health studies. This year's fourth annual classic will be held on the weekend of Sept. 7 in Millerton, N.Y.
- Donations can be made to Kiki Company, 57 Redfox Rd., Stamford CT, 06903.
submitted by Jim Cortina, DIR CPWDA
---
In Loving Memory of
K-9 KA'OSZ
July 21, 2007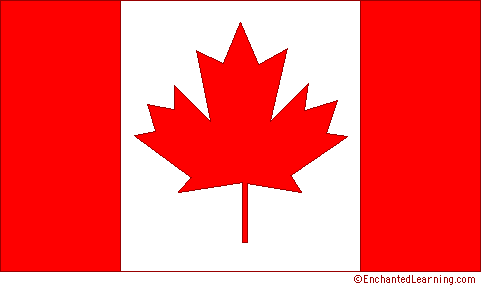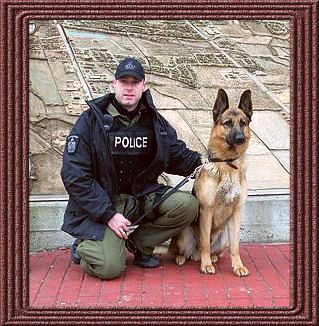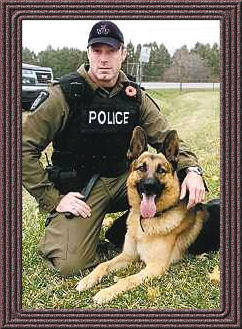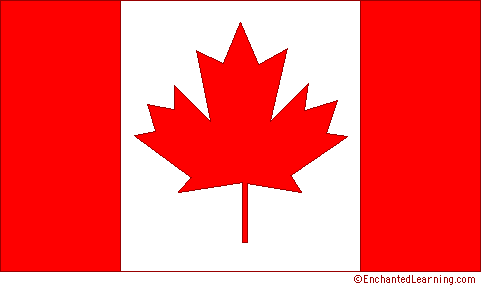 Handler: Const. Brad Molnar
Chatham-Kent Police
Crime Unit - 519-436-6616 Police (519)352-1234
CANADA
Death of Police Service Dog
This morning the Chatham-Kent Police is mourning the loss of Police Service Dog Ka`osz who died suddenly of a yet undetermined cause late Saturday night. More information may be available from the treating veterinarian this up coming next few days but it appears there may have been some kind of devastating infection. The Police Canine had worked very hard of the last few days. On Saturday the dog became ill and despite the best efforts of all involved nothing could be done to save him. As you might expect the Handler is upset and the entire Service is saddened. Obtained in June of 2005, PSD Ka`osz had become a valued part of this Police Service.
Mystery illness claims loyal K- 9
Chatham-Kent police have lost their only service dog to a mysterious infection. Police dog Ka'osz died suddenly late Saturday after he was taken to the vet by his handler, Const. Brad Molnar. "The dog wasn't feeling well, wasn't acting like himself, so (Molnar) took him to the vet yesterday," said Chatham-Kent police Staff Sgt. Don Vitek. "The vet said it was some kind of infection, and it wasn't long after that, that the dog died." The dog had worked very hard in the last few days, police said. It's not known if Ka'osz picked up an infection while on patrol or if it was a genetic problem, Vitek said. "He was in his prime," he said. "As you can imagine, (Molner) is quite upset." Ka'osz, who joined the force in 2005, was bought from a broker in Buffalo and was imported from Hungary. Police dogs cost about $5,000 to purchase and then go through intensive 16-week training with their handler. Ka'osz was the Chatham-Kent police's only service dog, and he and Molnar last year came in second during their first police dog competition in June 2006 in the novice category.
More info
The Chatham-Kent Police Dog Service is deployed on patrol both during the day and night shifts. These officers with their K-9 partners respond to calls for service similar to any other police officer within the municipality. Additionally they are called upon for high-risk suspect apprehension, tracking both suspects and missing persons as well as article or evidence searches. The police dogs also assist officers with building clearing for possible suspects during an alarm or actual break and enter. Currently the Police Dog Services Unit is Constable Molnar and his partner Ka'osz (from Hungary). http://www.ckpolice.com/newsrelease.asp
*******
UPDATE:
Ka'osz will be missed; and replaced
Const. Brad Molnar and partner Ka'osz are pictured in this November 2005 file photo shortly after joining the
Chatham-Kent Police Service canine unit. When police dog Ka'osz died suddenly Saturday, Const. Brad Molnar lost more than just a partner - he lost a friend. "Not only was he my partner for the last two years at work, he was also part of the family at home," Molnar told The Chatham Daily News. "We brought the best out of each other, on the job and at home." Molnar said Ka'osz was fine Friday after finishing an open search of a corn field and bush around 4 p.m. However, on Saturday the dog was lethargic and kept to itself. "He just wasn't his self," Molnar said. "I'm usually tripping on him at home because he won't leave me." The constable rushed Ka'osz to the veterinarian and learned that he had an infection. Less than an hour after leaving the dog at the animal hospital for treatment, the officer got the call that he had died from septic shock. Molnar and his girlfriend visited the veterinarian's office Sunday to say goodbye to their beloved pet. "He will definitely never be replaced, he was a one and only," Molnar said. "I'll always have a special bond with him." Ka'osz
also left his footprint on the local police service. He loved his job and lived to work. The pair worked together since June of 2005. Molnar and Ka'osz were the Chatham-Kent Police Service's only canine unit for nearly a year. Chief Carl Herder said Ka'osz and Molnar had been doing "double duty" since Usko was retired due to behavioural problems in late 2006. He said both dogs will be replaced as they provide a much-needed function to the service. "The dog is called out too often not to fill that position," he said. "Call volume is large enough that we need two." On average, the canine unit is called out 50 to 75 times a year, Herder said. He said there is a policy in the canine unit that a handler is done when their dog dies or is retired. "Because of the shortness of this dog's life, the present handler is being considered for a position with a new canine," the chief said. "Brad's very committed to the unit and showed a tremendous amount of dedication by being the only handler on call for the past months." Molnar said it is too early for him to say if he would stay in the canine unit. Molnar recalled Ka'osz was the envy of other police dog handlers during the intensive training program. "His learning curve was just second to none," he said. "He was fabulous at what he did." Herder said a memorial plaque will be dedicated to Ka'osz and his service to the community.

submitted by Jim Cortina, Dir. CPWDA
---
In Loving Memory of
K-9 KAISER
July 1, 2007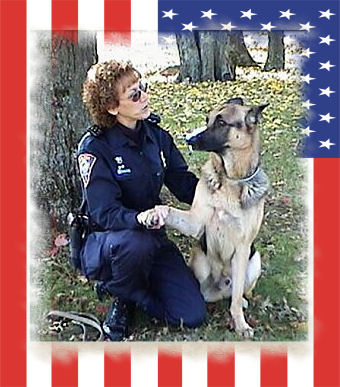 Handler: Cathi Schneider
Shelton Police Department
85 Wheeler Street
Shelton, Connecticut 06484
Main Number 203.924.1544
Many thoughts in my head,
Times when you were the only one there,
Moments that made me want to pull my hair.
I look to the sky as the stars gaze down.
All moments are a thought,
But one will never be…it is a dream.
Everyone will fly,
They will all fly higher than the sky.
High enough to sit on the stars,
The stars stare down at the living,
Staring down at those they love.
As the night nears and the stars appear,
Wishes are made on the stars,
A wish on a star,
It is a message to the ones that we lost,
As they sit on a star, they can hear us.
One day, we will all sit on the stars,
Join the ones that we love,
And view from spectacular heights.
"Believe you can fly"
Julia Aldridge
July 1, 2007
In memory of K9 Kaiser
***********
It is with deep regret that I have to announce the passing of my retired K9 partner, Kaiser, of the Shelton Police Department. Kaiser passed early this morning, at home, peacefully in his bed, he was 13 years old. I have made arrangements for a funeral for him in Glastonbury at Candlewick Kennels, but the date has not been set yet. I will keep you informed on these as soon as I know. Kaiser was the best partner I have had in my 23 years of police service 8 of which we spent together on the road. We miss him greatly. Cathi Schneider
(this part submitted by Cathi)
Retired Shelton Police Canine passes away
Shelton – Canine Officer Kaiser entered the Connecticut State Police Canine Academy on March 3, 1997 along with his partner/handler OFC Cathi Schneider. Kaiser was adopted from a family in Branford but soon became a regular member of the Schneider household. Schneider along with her two sons, Justin and Joshua, helped Kaiser adapt to their normal routine in a matter of hours. Kaiser followed Schneider around the house like he had been there all his life; Kaiser was 1 and a half years old at the time. They entered the Academy shortly after the adoption. Kaiser soon learned the tracking, obedience, and patrol techniques and graduated with a Top Dog honor in the Obstacles class. Kaiser retired from the force in April 2005 and lived at the Schneider home. K9 Kaiser, beloved partner of OFC Cathi Schneider passed away on Sunday, July 1, 2007, peacefully with his family at his side. K9-Kaiser and Schneider hit the streets in June of 1997 and Kaiser showed that his 16 weeks of intensive training had paid off when he located a missing teenager within 15 minutes of her disappearance. Kaiser and Schneider were both given a commendation for their efforts. During his 8 years of working on the Shelton Police force Kaiser located numerous missing persons, both young and old. He was also instrumental in locating dozens of suspects from burglaries. Kaiser was even called to testify in one of those cases, but was called off when Schneider found out through the court that the suspect had changed his mind and was going to plead guilty rather than have the canine and his handler come to testify. Kaiser was called out for various tracks including suspect and missing persons. He was also instrumental in locating lost and missing items. He once ran a track to attempt to locate a missing chain saw that had been stolen from a home in Shelton. The chain saw was in the woods for well over a week and Police Detectives had received word that it was in a wooded area off of Nells Rock Rd. At the time it seemed that the item would not be located because it had been there for so long and there was a slim chance that human scent would still be present. Usually the scent is overcome by the scents of the woods. There was no specific area that was given as to where police could look and the area was over three acres of woods. Kaiser entered the wooded area and began to "sniff' around. He located the chain saw; still in it's case, under a large pile of brush. The saw would not have been seen with the naked eye because there was too much brush covering it. Kaiser was instrumental in solving a long running vandalism in a Shelton neighborhood. The canine unit was called upon the day after a home had been vandalized for the third time. This time the suspect had thrown a large rock through the front picture window during the night. The vandalism had occurred 12 hours before the unit was called on. Kaiser was given the rock the suspect used to "scent" off of and he began to track the suspect, locating him within 100 yards of the crime scene. Kaiser identified the suspect and the person was arrested and convicted. Kaiser was also good at quelling loud parties and domestic disturbances. Kaiser and OFC Schneider would roll up to the scene and all of a sudden everyone would get extremely quiet, probably due to Kaiser's very loud bark. Kaiser bark and presence was enough to stop all fighting and arguing in almost every case where they were sent for a disturbance. People would say that they could hear Kaiser two blocks away when he was barking, inside a police cruiser. Kaiser was extremely intelligent. One time they were assisting Detectives who were following a murder suspect. The Canine cruiser was second in line. When Detectives pulled the suspect vehicle over Kaiser came from the back area of the cruiser to stand across Schneider's lap, in readiness to leap from the vehicle to apprehend the suspect should he run. Of course this did not happen, because Kaiser was barking so loudly and the suspect must have figured that it would have been worthless to try an out run the dog. Guess he was right because he came out of the vehicle on command and surrendered to police immediately. Kaiser not only worked for the citizens of Shelton, but also assisted the neighboring Valley towns. They would handle calls when Seymour and Ansonia's canine Units were unavailable. They also worked in Bridgeport, Stratford, Milford, Cheshire, Newtown and Hartford answering the call for canine assistance. Along with the numerous police calls that Kaiser was called for there was also a great demand for Canine Demonstrations. Kaiser and Schneider worked all the DARE graduations in the town of Shelton, along with performing dual demonstrations with Ansonia. They gave numerous talks for the Boy Scouts and Girl Scouts along with Senior Citizen facilities in the Valley. Everyone knew who Kaiser was and the children loved him. They would give a talk for the children and occasionally have a child hide in a closet or behind a bookcase and the have Kaiser find them. There was always a long discussion on who would be the one to hide, as all of the children wanted to be the one to hide for Kaiser to find. He was as friendly as he was business-like and always knew which was which. He never confused the two. Schneider never had to worry that he was going to take a nip at someone. Kaiser was a highly trained police dog and proved his worth every time he was called for either work or to give a demonstration. Kaiser has been the best partner that Schneider has had in her 23-year police career and he will be sadly missed. He was not only a partner, but also her very best friend. He never complained on her choice of lunch spots and always was agreeable to do whatever she wanted to do, especially to train. Kaiser was in excellent shape when he was working and never tired of tracking a suspect or missing person and was always ready to go no matter the hour or the weather. The department has not had a patrol canine officer since Kaiser's retirement in 2005, but the department is looking to add a new dog to the force in the next year.
update: 7/21/07
The city's police department recognized the passing of one of its own recently, after Kaiser, retired K-9 dog, partner of Officer Cathi Schneider, died July 1 peacefully with his family by his side. Canine Officer Kaiser entered the Connecticut State Police Canine Academy on March 3, 1997, along with his partner/handler Officer Cathi Schneider. Kaiser was adopted from a family in Branford but soon became a regular member of the Schneider household. Schneider, along with her two sons, Justin and Joshua, helped Kaiser adapt to their normal routine in a matter of hours. Kaiser retired from the police force two years ago after Schneider underwent back surgery and resigned from the K-9 unit. Today Schneider is a school resource officer at Shelton High School, and while she very much enjoys her position, she still attributes the best years of her career to the years she spent with Kaiser as her partner. "The eight years I was with him were the best of my career, without a doubt. He took me places I never would have gone, and I learned things I never would have learned," said Schneider, who also said that the 16 weeks of training she underwent with Kaiser were the "best, hardest training" she has undergone as a police officer. "I had no idea what to expect from him, and you learn everything together," said Schneider of the training. "By the end of the 16 weeks you are amazed at what the dog can do, and for them, it's all fun and games." In June of 1997 Officer Schneider and K-9 Kaiser began hitting the streets and the weeks of intensive training proved to payoff when Kaiser located a missing teenager within 15 minutes of her disappearance. During his eight years of working with the Shelton Police Department, Kaiser located numerous missing persons, both young and old. He was instrumental in locating dozens of suspects from burglaries, and was even called to testify in one of those cases, but was called off when Schneider found out through the court that the suspect had changed his mind and was going to plead guilty rather than have the canine and his handler come to testify. He was also instrumental in locating lost and missing items. He once ran a track to attempt to locate a missing chainsaw that had been stolen from a home in Shelton. The chainsaw was located in the woods for more than a week in a wooded area off of Nells Rock Road. He located the chainsaw, still in its case, under a large pile of brush. Kaiser was instrumental in solving a long-running vandalism case in a Shelton neighborhood. The canine unit was called upon after a home had been vandalized for the third time. This time the suspect had thrown a large rock through the front picture window during the night. he vandalism had occurred 12 hours before the unit was called on. Kaiser was given the rock the suspect used to 'scent' off of and he began to track the suspect, locating him within 100 yards of the crime scene. Kaiser identified the suspect and the person was arrested and convicted. Kaiser not only worked for the citizens of Shelton, but also assisted the neighboring Valley towns. Together Kaiser and Schneider would handle calls when Seymour and Ansonia's canine units were not available. They also worked in Bridgeport, Stratford, Milford, Cheshire, Newtown and Hartford, answering the call for canine assistance. Along with the numerous police calls that Kaiser was called for, there was also a great demand for canine demonstrations. Kaiser and Schneider worked all the Drug Abuse Resistance Education graduations in the town of Shelton, along with performing dual demonstrations with Ansonia. They gave numerous talks for the Boy Scouts and Girl Scouts along with senior citizen facilities in the Valley. "He had an excellent disposition for a police dog," said Police Chief Joel Hurliman, who said that while the force has not had a canine patrol officer since Kaiser, the department is looking to add a new dog to the force this budget year While Kaiser was "all business" when he was on command, when given the signal, the 90-pound German Shepard was all about having fun. "He was like a big Marmaduke," said Schneider, likening him to the lovable cartoon dog. Schneider said she feels "awful" about losing her greatest partner, one who never complained about where she went for lunch or what coffee spots she chose. Kaiser died of natural causes in Schneider's home; he was 13 years old. A memorial service was held for Kaiser at Candlewicke Kennels in Glastonbury, where his remains have been buried, alongside many other service dogs from around the state. "He did things I didn't think animals could do. He was above and beyond," said Schneider. submitted by Jim Cortina, Dir. CPWDA

---
In Loving Memory of
K-9 KODA
June 13, 2007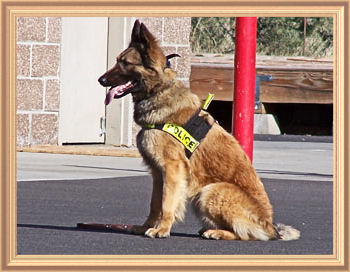 Handler:
Deschutes County Sheriff's Office
63333 West Hwy 20
Bend, OR 97701
Monday - Friday 8-5 pm
541-388-6655
Non-emergency after hours 541-693-6911
Email
Deputy's Dog Eats Cruiser Seats, Dies
The Deschutes County Sheriff's Office on Wednesday announced with sadness the death of "Koda", a police dog who has served with the agency since February of this year. According to Captain Tim Edwards, Koda, a Belgian Malinois (pronounced MAL-in-wah), and his handler were off duty and visiting out of the area when the dog forced his way out of a portable kennel in the handler's personal vehicle, consumed a large amount of dog food stored in the car, then began eating the car seats. "The combination of the large amount of dog food and the foam from the car seats apparently caused an airway blockage or respiratory distress," Edwards said. An investigation determined that there was no negligence on the part of the handler, the Captain reported, adding that leaving the dog kenneled in a vehicle is not an uncommon practice. The K-9 Unit consists of teams of officers and dogs trained in tracking and narcotics detection. Dogs are trained to locate suspects who have walked or run away from crime scenes or have barricaded themselves in a building/house. They are also trained to protect the handler and to hold a violent or dangerous person from escaping. The K-9 team members are on-call 24 hours a day.
submitted by Jim Cortina
*******
Deschutes County Sheriff's Office K-9 Koda has died in an unfortunate sequence of events, the agency reported Wednesday. The 2-year-old dog, a Belgian Malinois, died earlier this week while Koda and his handler were off-duty, visiting out of the area, said sheriff's Capt. Tim Edwards, who announced the news "with great sadness" in a press release.Koda, which joined the force in February, had been left in his portable kennel in the handler's personal car, a situation Edwards said "is not uncommon." While his handler was away, Koda forced his way out of the kennel and consumed a large amount of dog food being stored in the car, Edwards said. Koda then proceeded to eat the seats of the car, ingesting foam from the car seats, Edwards said. The combination of the large amount of dog food and the foam from the car seats apparently caused an airway blockage or respiratory distress, leading to his death, the captain said. "An investigation determined that there was no negligence on the part of the handler," Edwards said. "He was a high-drive dog," the captain said. "It was just one of those tragedies." By Barney Lerten, KTVZ.COM - submitted by Renee` Konias

---
In Loving Memory of
K-9 KAYO (AKA "Wojo")
April 27, 2007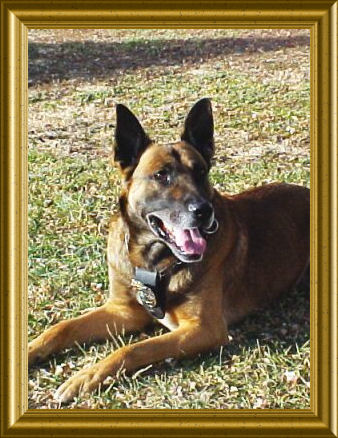 Officer Ed Burmood
Hastings Police Department
317 S. Burlington Ave
Hastings NE 68901 - 402-461-2380
AKA; Kayo was known to the public as "Wojo" short for Wojohowicz, which was picked by a school contest to name the Police Dog. Kayo a dual purpose K-9 for the Hastings Police Dept. In Nebraska died on 04/27/07. Kayo served with his handler Officer Ed Burmood from April 10th 2000 until his death. Kayo has many accomplishments for his short career. They include many drug bust, several apprehensions, including those of armed suspects. He was also credited with saving officers lives and preventing them from being harmed by their attackers. During a seminar Kayo competed with about 40 other teams and brought home a couple of trophies. Kayo was loved by his community and those that hepreformed demo's for. He will be greatly missed.
UPDATE>>>>>>> 5/1/07 - Nebraska
The following is a press release from the Hastings Police Department:
The Hastings Police Department sadly reports the death of Hastings Police Canine Wojo. Wojo was found dead in his kennel at approximately 7:00 a.m. Friday, April 27, 2007. A postmortem examination was conducted Friday afternoon. At this time, the cause of death has not been determined. Wojo, a nine-year old Belgium Malanois was a 7-year veteran of police service. Wojo and his handler, Officer Ed Burmood were very active in the community.The team conducted numerous public service demonstrations. In 2000, the Hastings Police Department involved school students in selecting the name of the newly acquired police canine. Wojo was selected. He was named after Detective Stan 'Wojo' Wojciehowicz from the Barney Miller television series. Wojo was valued member of the organization and will be missed. Submitted by Brenda Burmood & Jim Cortina