In Loving Memory of
K-9 IVON
May 9, 2007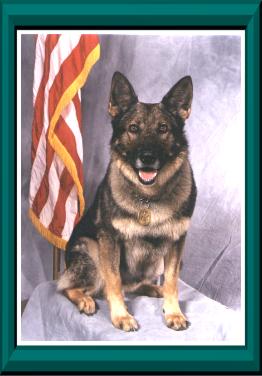 Handler: Sgt. Darrell Wood
Salem Police Department
555 Liberty St SE - Room 130
Salem, OR 97301 - 503-588-6123
Police dog sent on 800 cases in 7-year career dies in retirement -
Ivon was called out of retirement twice for temporary duty


Ivon served the Salem community as a police dog for many years, twice coming out of retirement to fill the need for skilled K-9s on the police force. During a nearly seven-year career in law enforcement, this police officer was sent out to chase more than 800 suspects and was pulled out of retirement -- twice -- before settling down. Salem Police dog Ivon died May 9. The black German shepherd was 13 years old.
Salem Police Sgt. Darrell Wood remembers his four-legged partner as a calm, majestic animal who kept his temper easily and loved to work. "Since he was almost totally black, he could quite imposing at night, just the sight of him," Wood said. Ivon retired most recently in 2004, after being pulled back onto patrol on two separate, temporary stints. Wood remembered the last major capture Ivon made before he retired for good. During a SWAT sting in Stayton, a man with a rifle had barricaded himself in a dark sub-basement of a home. SWAT teams had gassed the man twice and shot him with two baton rounds, but he still hadn't moved, Wood said. So Ivon was sent in. "My dog was an old pro at it," Wood said. "And he never saw (Ivon) coming, and Ivon was able to drag him away from his gun, still alive. None of the police officers were hurt."Wood said he's proud that Ivon helped keep other police officers safe during his career. Wood recalled Ivon's ability to locate suspects even in tough spots. Wood and Ivon were responding to a burglary of a mechanic's shop on Portland Road NE. Wood and another officer arrived and heard voices inside. They also could see where the burglars broke in. Suddenly, the doors sprang open, and two men ran out. Ivon immediately detained one man, and the other suspect climbed over a car and escaped over a chain-link fence. Other officers surround the area. Ivon scrambled into a thick, thorny briar patch. "All of the sudden, I hear this voice say, 'Good dog. Good dog,' and then I hear a scream, clear as anything," Wood said. After Ivon retired, Wood began working with Gino, his current police dog. Wood said it hurt at first to leave Ivon, who would leap up at the sight of Wood in uniform. "He never realized he was 12 years old," Wood said. "He was always energetic. And seeing us go, he was seeing less of me, until my family stepped in." Ivon became attached to Wood's wife, Dianne, and son, Devin, now 14. Vacations to Lincoln City were among Ivon's favorite activities. The family planned a private ceremony with Ivon's
remains. After Ivon retired for good, Wood decided to keep him as a family dog because of the trust established between them. "No way I would give him up. He saved my hide a number of times," Wood said.

submitted by Jim Cortina
---
In Loving Memory of
K-9 IROX
March 22 or 29, 2007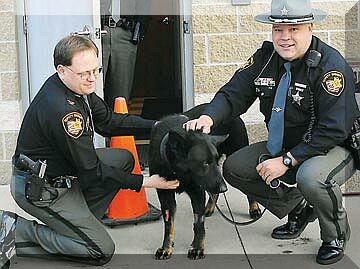 From left, Col. Brian Prickett and Deputy Danny Wood with Irox the day before his death.
Handler - Deputy Danny Wood
Clinton County Sheriff's Office Ohio
645 Davids Drive
Wilmington, Ohio 45177
937 382.1611 fax 937 382.7530
E-mail: ccso@clintonsheriff.com
A friend, a partner and a member of the family. They played together, and they worked together. They bonded from the beginning. And the love they shared was easy to see.Danny Wood and his canine partner Irox, both deputies with the Clinton County Sheriff's Office, had only five short years together, but they were quality years. That partnership came to an end last week with the death of Irox who died Thursday of lymphoma (cancer). Danny had only one week to say goodbye. After Wood found a lump under Irox's chin, he was taken to a 24-hour veterinarian hospital in Blue Ash. After undergoing tests, Irox was diagnosed with lymphoma, which is incurable in dogs. "We wanted to do everything we could to save him," said Clinton County Sheriff Ralph D. Fizer Jr. "They gave me two choices. They said they could give him radiation treatments over the next 12 months. The radiation treatments would make him sick and weak each time he got one." With the treatments, they'd give Irox 12 months to live. "She (vet) didn't know if he would survive to complete his treatments," Wood said. Neither Wood nor Fizer wanted Irox to suffer. "They said they could give him a shot and some medication to make him comfortable, then he would probably have a couple of weeks," Fizer said. "They said he would not be in any pain and the medication would help him breathe. They said he would get to the place where he couldn't breathe again. When that happens, then we would have to put him to sleep." Danny and the sheriff together made the decision to make Irox comfortable. "As the sheriff, I didn't want him suffering and I didn't want Danny to have to go through that for 12 months of not knowing what day." Wood said it was a decision that he and the sheriff made together. "Like the vet said, he may not have survived those treatments. He would have been suffering through the treatments. I didn't want to put him (Irox) through suffering in any way." Wood and Irox were on duty together the day he died. They left home that morning to work the day shift. As always, they worked, trained and played together. But Wood did not expect to lose his partner that day. "We were out playing ball and about a half hour later his breathing became very labored. The sheriff asked me where I wanted to have him taken . I said to Jill Thompson. She has such a love for animals, I wouldn't want anybody else to do it." Thompson is a veterinarian and owner of the Country View Pet Hospital on state Route 73 West. "I took him in and she felt his lymph nodes," Wood said. "They were so swollen on both sides. His esophagus was more or less being crushed. She said it was time. That's probably the hardest thing that I've had to do in law enforcement, but I didn't want him suffocating in the middle of the night." Danny said he was holding Irox in his arms when he died. "I'm the last thing he smelled and felt. That was a little comforting to me. But it was hard. I spent more time with him every day than I did with my wife and kids. He worked with me every day, plus he'd go home with me." Fizer said Irox loved to work. "That's what he liked to do." Irox had an almost unbelievable track record during his five years working as a sheriff's deputy. He had countless successful tracks and apprehensions as well as numerous positive drug detections. His track record was 96 percent. "This is rare for canines," said Fizer. "They've always told me if your canines catch 50 percent of the people they track, that's a good dog. I think most law enforcement officers in the county knew that too." Fizer said Irox has tracked "bad guys" for the Warren County Sheriff's Office, Wilmington Police Department and Sabina Police Department - for all law enforcement in the county. "He went out and did his job." Wood said Irox put hundreds of people in jail. "I lost a great partner. He was my friend. That was rough. It's hard on my little boys. My 2-year-old keeps going out to the kennel and looking for Irox. My wife (Jennifer) is taking it hard, too. I know they say never make them your pet, but it's hard. They're part of your family." Danny and Jennifer's sons are Jarrod, 5, and Caleb, 2. Irox, a full-blooded Czechoslovakia shepherd, loved to work and was always ready to go with Wood. "He'd just sit in there (his kennel) and spin and spin until I picked him up. He'd jump up and down." Wood made the decision to have Irox cremated. "If I move, I want him to go with me," he said. "Mike Storer of Pet Dignity has been terrific," Fizer said. "He's taken care of everything. He, along with the cemetery people who did the cremation, will not take a dime for anything. We owe them a lot of gratitude." Through the years, the sheriff's office has had eight canines. "I've been here almost 25 years and there's none that would compare (to Irox). "I told Danny, we'd give him some time, but just as long as I'm sheriff, we'll always have canine teams. They are very, very valuable. He will have 100 percent input to a new canine." Fizer said it worked well having two canines. "They were rotating shifts so the availability of a canine, whether it's the sheriff's office or the local police department, we'd have a canine available most of the time." Irox was shipped from Czechoslovakia to a trainer, Dave Johnson, a member of the Southern Ohio Police Canine in Brown County. "He's one of the best (trainers) and we will consult with him when we get another canine," Fizer said. Johnson trained Irox for a week, then Wood participated in the training. Irox was trained in narcotic detection, patrol, tracking, handler protection and was proficient in detection of marijuana, cocaine, heroin and ethamphetamine. After eight weeks of training, the handler and dog completed the Ohio Peace Officer Training Commission Canine Certification. "I'd just like to thank everybody that's been so supportive," Wood said. "Not just this department, but other departments. The support's just been overwhelming," he said.
submitted by Jim Cortina