In Loving Memory of
K-9 FLICAH
May 4, 2007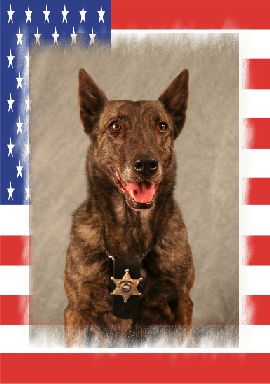 Handler: Allen Kinsley
Linn County Sheriff's Office
Kansas
"Flicak" passed away on Wednesday, January, 30, 2008. "Flicka" spent the last five months with handler Allen Kinsley, of the Linn County Sheriff's Office. "Flicka" served with the Linn County Sheriff's Office since 2004. "Flicka" apparenty succombed to complications from emergency surgery which she had on January 4th.
""The greater love is a mother's; then comes a dog's; then a sweetheart's."
- Polish Proverb
submitted by the Kansas Police Dog Association
---
In Loving Memory of
K-9 FOX
August 3, 2007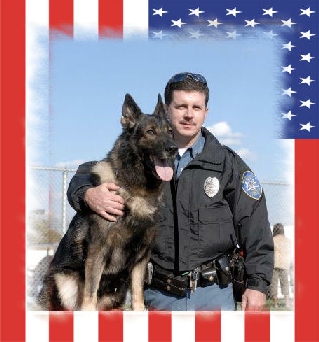 Handler: Officer Gerry Dougherty
Montgomery Township Police
1001 Stump Road
Montgomeryville, PA 18936
215 362 2300 (V) - 215 362 6383 (F)
Email: police@montgomerytwp.org
Montgomery Township Officer Gerry Dougherty knew his partner wasn't himself when he noticed he wasn't standing up in the back of the patrol car like he usually did during their seven years patrolling the streets together. When he checked on Fox that Aug. 3 afternoon, Dougherty's fears became real. His partner, a German shepherd K-9 officer, was dead. "He passed away while on patrol," Dougherty said. "The vet thinks he had a tumor that burst. He didn't feel any pain, he just went to sleep." The sudden and unexpected death of one of their own has saddened
the ranks of the Montgomery Township Police. They have lost a colleague who was ready to work at the snap of the fingers. "With the heat, I was thinking Fox was a little slow that day, but there was an unexpected thing going on," Dougherty said. "He was absolutely my partner. When it's unexpected it's a shock, but he did his job the way he was supposed to." Dougherty has been a township officer for 18 years, 13 of them as a K-9 officer. Fox was his second partner. His first, Bandit, died in 2000 after six years of service with the department. Fox was donated to the department by Dr. Gregory Paul Bach and his wife Debra Lynn Bach, along with two K-9 bulletproof vests. "Fox was pretty popular in the community," Dougherty said. "He did a lot of K-9 demos and a lot of tracks and apprehensions over the years. He had a fantastic nose, and during the K-9 school we were at, he earned a tracking certification." It was Fox's temperament that will be missed the most. He had the ability to be docile and petted by grade school children one second and be ready to apprehend a felon and go to work the next second. "That's the incredible thing," Dougherty said. "Fox had such a great temperament. On one side he could be very gentle with a great disposition, and on the other hand, we could have him apprehend someone right away if we needed to." Lt. Mark Houghtaling, of Montgomery Township police, said Fox was one of the best dogs the department's ever had for public relations. "He was almost like a light switch: you could turn him on and off," he said. "He knew to be well behaved during a demo and when the job went down, Fox was all business. He's part of the family." Fox was simply a patrol dog, and not trained in narcotics or bomb detection. In his seven years on the force, he had his share of running with the big dogs. He was key in a successful tracking of a robbery suspect in Whitpain a couple of years ago. Fox located several items of clothing and evidence, including a bank note used during the robbery, which led to the prosecution of the suspect. There was an incident in New Britain where a subject broke into a gun safe and stole several guns. The subject threatened police and Fox was used to apprehend the subject and thereby prevent anyone from getting hurt. Fox also assisted recently in Lansdale with tracking a subject who was involved in the stabbing of a relative. He led police to where the suspect was living in order to be taken into custody. "One of the things you can't do is ever measure the level of deterrent that occurs because dogs are there," Dougherty said. "If someone fights with an officer, the dog is there to protect us. A dog can be trained to apprehend a person on command and release on command. Training is paramount in everything we do with the dogs."
The Bachs brought Fox from Germany. Debra Bach is an expert in Schutzen canine training, a sport where dogs are trained in obedience, tracking and protection. The Bachs have donated dogs to FEMA and employed two dogs to help find the missing at the World Trade Center collapse. They also trained the dog that guards the Capitol in Harrisburg. The Bachs also work toward Lyme disease awareness, something Debra suffers from. It makes her unable to have children, so the Bachs see their dogs as their children. "Fox had an incredible career," Gregory Bach said. "We're lucky this police department is such a good department and very kind to enlist him." The Bachs honored Fox's memory with a small candlelight vigil. "It's like your child," he said. "We are so proud of him. A local joke on the force was Fox was the smartest policeman there." Gregory Bach said he was glad to see he and his wife's benevolence had benefited the community. "It was hard for us to give up one of our children," he said. "It's just like giving up your sons to war. The reason why this country is wonderful is because of the sacrifices to make this country great. Sometimes that means giving up your children, even the four legged ones, to protect and serve." Dougherty said he wouldn't have a problem going through it all again with a new partner. He finds it very rewarding to work with the dogs. Still, losing a partner is a difficult thing. "When it's sudden, that's the thing that affects you more," he said. "He did a great job for the public and for the department and he will definitely be missed.
He wasn't just my dog; he was a community dog."
The township K-9 unit, along with the U.S. Police Canine Association Region 6, will conduct the annual canine field trials Sept. 7 to 9 at Windlestrae Park. The event is open to the public Sept. 8 and Sept. 9 from 8 a.m. to 3 p.m.
submitted by Jim Cortina, Dir. CPWDA

---
In Loving Memory of
K-9 FALCO
May 4, 2007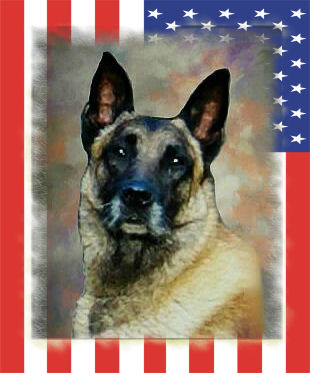 Handler: Greg Turney
Leawood Kansas Police Department
9617 Lee Blvd
Leawood, Kansas 66206
(913)642-5555
May 4, 2007: "Falco" passed away on Friday, May 4, 2007 in the presence of his handler, Greg Turney. "Falco" spent 7 years on the street with Greg Turney of the Leawood, Kansas Police Department. "Falco" was brought into the K-9 Unit in December 1999 and was partnered with Officer Turney. He performed 50 public demonstrations, made 465 narcotic searches, 89 tracks, 27 building searches, located 16 felony suspects, and located more than 100 pounds of hidden narcotics in two separates searches alone. The Leawood Police Department's police canine unit was started in 1994 by Officer Greg Turney and his partner Zorro. The unit now includes two canine/handler teams. Both are cross-trained and certified as patrol dogs, capable of tracking and - upon command - apprehending a fleeing suspect, and as narcotics odor detection dogs, able to sniff out illegal substances. In 2006, the department welcomed Rocco and Duke. After they completed their initial training in April,
the department's K9 teams completed:
* 93 narcotic searches
* 28 suspect tracks and area searches
* 8 building searches
* 3 article searches
* 8 public demonstrations
Their work culminated in the arrest of more than 50 persons for illegal narcotic possession and they located 5 felony suspects on tracks. The two teams, who work four 10-hour days, averaged a call for K9 specialty assistance 2 of every 3 shifts.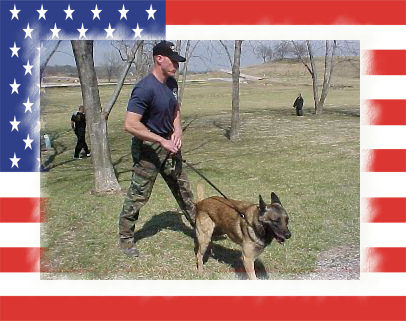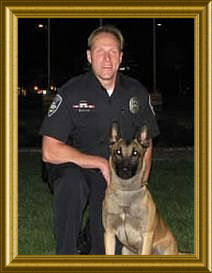 K-9 FALCO & now K-9 ROCCO
Rocco, a Belgian Malanois, is Officer Greg Turney's current partner. Rocco is the third canine that Officer Turney has handled, following Zorro , who was retired in 1999, and Falco, retired in 2006 after seven years of service. submitted by Renee' Konias

---
In Loving Memory of
K-9 FOSTER
July 23rd @ 1730 hours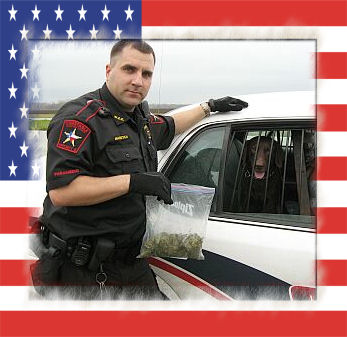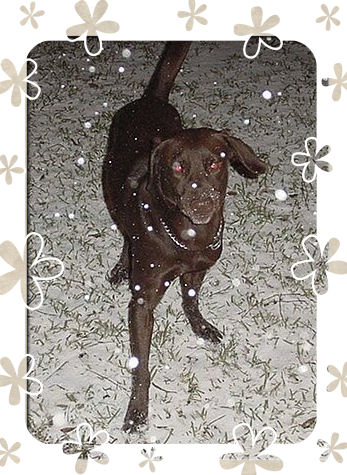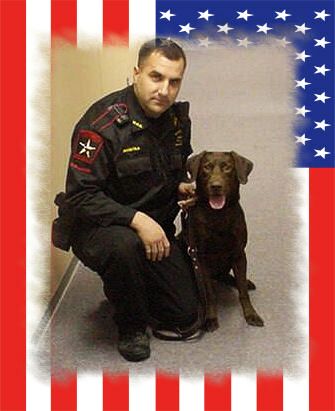 Handler: Daryl Maretka
Wharton County Constable's Office, Precinct Two
736 Clubside Drive/P.O. Box 780
East Bernard, TX 77435 PH: 979-335-6210
Foster and I were assigned to the Wharton County District Attorney's Narcotics Task Force.
PH: 979-532-8051
STATS:
Here are some rough figures for Foster's stats and I over the last 3 years.
These are solely our stats and do not include other agency/task force assist.
Over 265 pounds of Marijuana
Approximately 1 pound of cocaine
Over $38,000 in U.S. Currency
Approximately 4 grams of Meth
Numerous prescription pill related arrest (xanax and such)
The above stats led to numerous arrest and vehicle seizures
We placed 2nd in the Narcotics competition at a 2007 NNDDA school
NNDDA Certified to detect (Marijuana, Cocaine, Heroin, Meth, and Ecstasy)
We have also assisted other agencies with:
Vehicle searches
Search warrants
K-9 demonstrations to several groups
K-9 officer was more than just a partner - Foster - killed in a traffic accident - was part of deputy constable's family
He started life as the dog nobody wanted. Too wild and too hard to handle. Unless he was adopted, he would be put down. But Foster's fate changed when a trainer stumbled across the hyper-active Labrador at a local animal shelter. That began the transformation of Foster from a dog described as so crazy he could never be placed in a home, into a savvy, highly trained, obedient police dog. "Only one in 50 dogs have the right stuff to do this kind of work," dog trainer Jack Richard's of Privileged Pets in Katy said about the dog he found in a shelter. "And I've heard people say that it's more like one in 100."
On Friday, the Wharton law enforcement community will gather at a special service to remember the K-9 officer who died in a tragic accident earlier this week. Foster was hit and killed by an 18 wheeler Monday evening when he and his partner, Wharton County deputy constable Daryl Maretka, were at a routine traffic stop on U.S. Highway 59, near the Colorado River in the Wharton area. "It kills me to relive the event to each person that I talk to," Maretka said in an e-mail to the Advocate. The officer had just opened the door to his cruiser when Foster pushed his way out through his bailout door. Maretka watched helplessly as Foster stepped into traffic. A passing 18 wheeler swerved and tried to miss the chocolate colored Lab, but the police dog was hit. Maretka said Foster had never left the car like that before during their partnership. Successful K-9 units rely on a strong teamwork. Richard's said that Maretka and Foster had one of the best working relationships he's seen between a handler and dog. "Those two were 'jammed up," he said. "They wanted to be the best, and they trained a lot. Some handlers just want the extra privileges that come from a K-9 assignment." Maretka and Foster had been paired since Thanksgiving of 2004. "I co-owned him with the county," Maretka said. "We were together 100 percent of the time. You build up a relationship more than just being a pet owner. They are a partner and a member of the family." In addition to Maretka and Foster, there are three other K-9 units in Wharton County. DPS Trooper Mike Hubenak is partnered with Eric, Precinct 2 Constable John Szymanski works with Roshawn and El Campo police officer Mike Biskup is paired off with Apache. Apache is his second dog. His first dog, named Boeff, died four years ago of cancer.
Maretka said that they are hoping to limit the service to law enforcement and immediate family. "He is going to be buried at the Wharton Police Department Firing Range where two previous K-9 officers were buried after dying of natural causes," Maretka said. "Foster is the first dog I'm aware of that died in the line of duty here. "Marekta said he plans to replace Foster and continue to concentrate on criminal interdiction work, mostly involving narcotics. Part of replacing Foster will be the cost, with Richardson estimating the cost at $3,500 to $6,000 for a dog trained just for narcotics sniffing.
This is to help offset expenses, the nonprofit Wharton Police Officers Association is accepting donations.
Donations should be made out to:
Wharton Police Officers Association
P.O. Box 986
Wharton, Texas 77488
The bank will not accept checks made out in any other manner.
Follow up: Farewell, faithful K-9 Officer Foster - About 40 attend service for Wharton drug interdiction dog - 7/28/07 Texas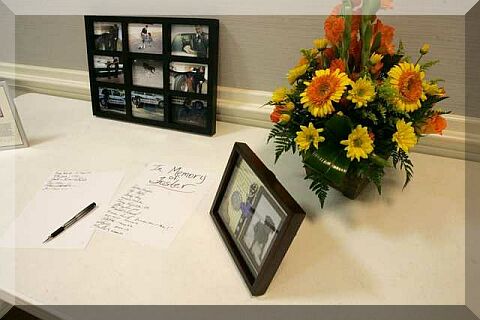 Constable John Szymanski pays tribute to Foster at his memorial service. (:34)
Download this audio clip (to download audio clips later)
Jeanette Hall, a volunter for Citizens for Animal Protection, tells how she rescued Foster. (:50)
Download this audio clip
Jack Richards, Foster's trainer, says that Foster will remain alive in everyone's memory. (:20)
Download this audio clip
The Rev. Mickey Reynolds--who also is Wharton County Precinct 1 Commissioner--says the memorial service is appropriate. (:20)
Download this audio clip
The law enforcement community on Friday laid to rest one of its K-9 officers, Foster, a chocolate Lab killed Monday when struck by an 18-wheeler after bolting from his partner's patrol unit during a traffic stop on U.S. Highway 59.Foster's partner in fighting crime was Wharton County Precinct 2 Deputy Constable Daryl Maretka. He said losing Foster was like losing a human partner and that he was comforted by the service and burial at the Wharton Police Department's firing range. "A big piece of my heart has already been closed up," he said. "Foster is in a very nice place." K-9 Officer Eddie Pereira of Deer Park said he was attending because there also is a special bond among handlers. "Trying to put myself in Daryl's shoes, it would be like losing a child. So I can't image the agony he's been going through," he said. Randall Branecky, an investigator with the Victoria County Sheriff's Office and the Victoria Housing Authority, described the relationship that develops between a dog and its handler. "We're together 24/7," he said. "When I walk out of a room, he walks out with me. He wants to do everything I do. If I leave the house to go to the store, he jumps in the car and is going to want to go with me." The Rev. Mickey Reynolds hinted the dog might also enjoy an afterlife in his eulogy. "On the way here, I was thinking about if dogs go to heaven," the Wharton County Precinct 1 Commissioner said. "The Bible doesn't say anything about dogs, but if a dog is important to us in this life, I think there is a connection that will last for eternity." Paraphrasing Genesis, Reynolds added, "on the seventh day God rested - with his dog." The service was held at the Wharton Civic Center due to the rainy weather and damp grounds.
Those speaking included Jeannette Hall, the person who rescued Foster, once thought to be an incorrigible pup, and Jack Richards, who trained the dog. Both said they knew right away there was something special about the dog that came close to being put down. Hall said that she crossed paths with the then unnamed chocolate Labrador as a volunteer at Citizens for Animal Protection on the day he was scheduled to die. She was told the dog was too wild to be placed, but she refused to accept that. "I went and got a leash and told everyone I'm taking him home," she said. "I said, 'Come on, Foster,' since I was just planning to foster him and that's where he got his name." A week and a half later she gave him to Richards who wanted to train him.
"Those 10 days were memorable," she said. "Yes, he was unruly, but he was also the leader of the pack. When I turned him over, I told Foster I knew he was destined for good." Told of the dog's high energy, Richards, a trainer with Privileged Pets in Katy, said that attitude was the most appealing thing about Foster. "The dog thought he was 10 feet tall and bullet-proof," he said. "He lived to play the game of criminal interdiction."
About 40 people turned out for the service, including representatives from a number of law enforcement agencies, friends of the family and others with a close connection to Foster. Among the departments represented were the Wharton County Precinct 2 Constable Office, Wharton County Sheriff's Office, Wharton County District Attorney's Office, the Department of Public Safety and the Wharton, El Campo, Victoria, Deer Park, Burton, Pearland, Tomball and Missouri City police departments. "I'm very happy with the show of support," Maretka said. "It was different than what I had in mind beforehand, but it is a great honor. I knew a lot of people that were here, but there were several I didn't know other than having maybe exchanged e-mails or phone calls."
submitted by Daryl and Jim Cortina
---
In Loving Memory of
K-9 FANTO
March 11, 2007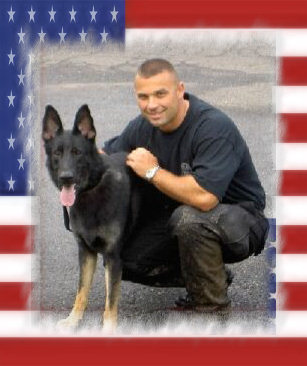 Handler: Officer Chris Heycock
Readington Township Police Department
507 Route 523
Whitehouse Station, NJ 08889
908-534-4031 FAX: 908-534-1266
Readington police dog killed in accident Township used $37,000 grant to purchase Fanto
Hunterdon County's sole police dog.
Hunterdon County's only police dog died Sunday in what police are calling a tragic off-duty accident. Readington Township police announced Wednesday the death of Fanto, who died Sunday afternoon during a trip to Virginia with his handler, Officer Chris Heycock. Police said Heycock, who was visiting his father, was with the dog in a fishing boat as it was being pulled from the water attached to a trailer. Without warning, police said, Fanto jumped from the boat and landed directly in the path of a trailer wheel, resulting in his death. "The chief of police authorized the trip to Virginia as K-9 trainers recommend that officers have their K-9s with them, even when off duty," Readington authorities said in a statement. "Officer Heycock and Fanto had received training to ride on all means of conveyance from boats to helicopters. Officer Heycock does not know why Fanto chose to jump from the boat at that time." During his short, two-month career, police said the K-9 assisted in more than a dozen investigations resulting in numerous arrests and drug seizures. Last fall, the Readington Township Committee authorized the police department to pursue a $37,000 grant to establish its K-9 unit and purchase the drug-sniffing dog. Township Committee members later denied a second request by police to use a $45,000 grant to purchase a bomb-sniffing dog, pointing to the availability of state police K-9s. Heycock and Fanto -- a German shepherd that graduated from the Union County Sheriff's Office K-9 Training Academy in January -- were an "excellent" team, said Sgt. John Gillespie, supervisor of Union County's K-9 Unit. Gillespie said Heycock and Fanto, who completed the academy's scent class, were a month into the academy's 16-week patrol class. "They were doing outstanding work," Gillespie said of the pair. "The team had done every task that was asked of them. There was no doubt they would have graduated." (John's K9 Git Anders is on cover of my first book - Heroes All Without Question.) Readington police said they plan to use Law Enforcement Trust Funds and 'Fanto Memorial' donations to replace Fanto with another K-9 as soon as possible "so that Chris can continue training" at Union's academy. Readington police are now accepting donations for the Fanto Memorial Fund, which will be used to pay for Fanto's replacement, as well as to "erect a memorial in his honor." To contact the Readington Township Police Department, call (908) 534-4031.

submitted by: Jim Cortina and John Gillespie