In Loving Memory of
K9 CINTA
December 18, 2007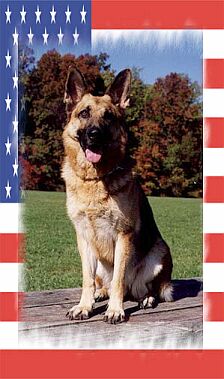 Handler: Cpl. Terrance O'Connor
New Castle County Police Department
Chief of Police Colonel Rick Gregory
3601 N DuPont Highway (Route 13)
New Castle, Delaware 19720
(302)395-8171

K-9 Cinta dead after long career with NCCO police By TERRI SANGINITI, The News Journal
A former New Castle County police K-9 dog who served the department for nine years died this week of medical problems. Fifteen-year-old K-9 Cinta, who was Cpl. Terry O'Conner's canine partner, was put to rest Tuesday six years to the day after retiring from the force, county police spokesman Cpl.Trinidad Navarro said. The German shepherd was born in the Czech Republic and was later trained as a county police dog. During her career, Cinta was responsible for the apprehension of many missing adults and children and wanted persons. In the first four years of her police career, she made more than 60 tracking apprehensions, which was a record in the department until being surpassed by her police canine colleague Nike. Her actions contributed to the seizure of several kilos of cocaine and several hundred thousand dollars in suspected drug money. Prior to her retirement on Dec. 18, 2001, she placed on the second team in a triathlon sponsored by the Virginia Police Work Dog Association. After she retired, Cinta became O'Conner's house pet. 70-year-old neighbor often took her for walks when her handler worked patrols with his new canine. submitted by Dawn Lanhan & Jim Contina, Dir. CPWDA
Update:
When Terry would bring Cinta into RECOM, the radio dispatch area, Cinta would know which drawer we kept her tennis ball. She would go to that drawer and then want us to throw the ball so she could fetch. She would never tire of this game and we all looked forward to seeing Terry and Cinta play. She was a wonderful K9. She and Terry made a fantastic team. She was a very beautiful K9 and we all will miss her. Dawn Lanham, Dispatcher
---
In Loving Memory of
K9 COSMO
December 26, 2007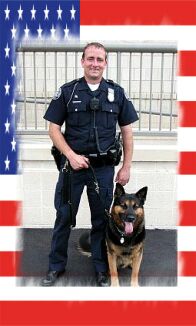 ---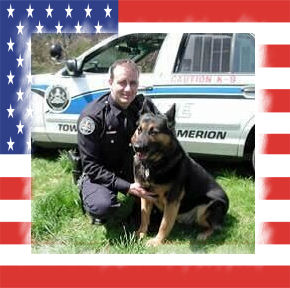 Handler: Officer Steve Salera
Lower Merion Police Department
71 E. Lancaster Ave.
Ardmore, PA 19003
610-649-1000
Lower Merion Police Department from 1998 until 2005 when he was retired. He passed away in December of 2007. He was trained in basic patrol and narcotics detection.
K-9 Cosmo was acquired by our department in 1998. Attended Philadelphia Police K-9 Academy. He graduated from Narcotic Detection School on March 19, 1998 and graduated from Basic Patrol School on May 22, 1998.
He attained the United States Police Canine Association PD 1 Field Trials at the Delaware County Prison Facility on September 19-21, 2003. He has had 13 drug finds, including one in which he assisted the Drug Enforcement Administration in which he located several bundles of marijuana in a camper in Bala Cynwyd, totaling 700 lbs. Successful tracks for two burglary suspects, one from the Philadelphia Country Club, in which the suspect was tracked through the woods and was found hiding and one in an assist to Springfield Police Department, in which a burglary suspect was found hiding in a wooded area in Upper Darby Township, after fleeing a getaway vehicle. Located a runaway juvenile hiding in a wooded area near her home in Penn Valley in 2000. Successful track of a vehicle theft suspect in an assist to Radnor Township Police Department.
Recovery of stolen property on at least two occasions, the most recent in May in which he recovered the victim's stolen wallet after a lengthy track. Successful track of a female subject, suspected of writing bad checks, that bailed out of a vehicle after a pursuit. Arrest of a burglary suspect hiding in the Lower Merion High School after a burglary was discovered there in 2001. Numerous building searches, saving countless man hours of searching. Numerous public appearances at schools, community groups, cub scouts, church groups, raising thousands of dollars of donations to the Police Department K-9 Unit. Involved in over 400 incidents during his career. submitted by Sgt. Sharon Luciane

---
In Loving Memory of
K9 CARTS ~ Police Dog #23
September 23, 2001 ~ December 9, 2007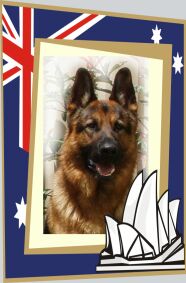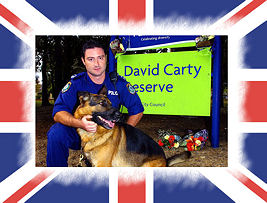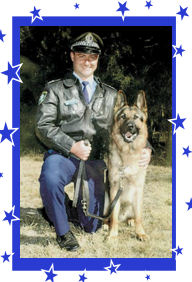 Handler: Snr. Const. Dave Williamson & Snr Const. Brett Williams
NSW Police Dog Unit
Ph: Australia 02 4683 0845
45 Hilton Park Road, Tahmoor, nsw, 2573, Australia
email beychief@bigpond.com
Early morning on December 9th, 2007, NSW Police were called to a break-in at Corrimal Surf Club, south of Sydney, NSW, Australia. Two youths had stolen a quad bike and used it, causing damage, before returning to the surf club. Police arrived and the teenagers bolted. One stopped when police ordered them to, the other fled into scrub and Carts was deployed to catch him. Carts seized the youth by the leg and sustained a severe stab wound to the neck and then another, this time through the rib cage near the spine, collapsing a lung. The offender escaped. Carts was rushed to a Wollongong Veterinary Hospital but the veterinarian was unable to do the surgery required. The dog was then taken to the Animal Referral Hospital at Strathfield, many miles away. This beautiful dog died on the operating table. Police Dog Carts was Beychief Will Cody, half brother to Police Dog Titan (Beychief Magic Return), who was also stabbed to death.
Carts was born September 23rd, 2001 and initially sold as a pet to people in the Snowy Mountains. When a family member was taken seriously ill, Christine Anderson, the breeder was contacted. As a result, the dog was donated to NSW Police Dog Unit where he soon graduated as a General Purpose Police Dog with handler Snr Constable Dave Williamson. (This same officer raised PD Titan to 7 months of age before he went to Snr Const Sean McDowell). Several months before his death, Carts was reteamed with Snr Const Brett Williams, an experienced dog handler. His call number became Police Dog 23. The reteaming was due to Dave Williamson being promoted to Sergeant and becoming involved more with the puppy raising and training of Police Dogs. Both of these officers were distressed at the slaying of this much loved partner. Originally named Cody, as a PD the dog was renamed in honour of a murdered police officer, David Carty, who was stabbed to death at Fairfield, Sydney, in 1997. Nemanja Vukadinovic,18, was on a good behaviour bond when he killed Carts. He entered a plea of guilty to several charges, including the stabbing death of Carts. He was released on bail, much to the distress of all who knew the dog. On December 27th it is alleged the youth offended again and appeared before the same magistrate, Paul Johnson, on January 8th on five charges. These include steal, larceny, giving a false name and assaulting a police officer. Magistrate Johnson refused bail on this occasion and Vukadinovic remains in custody. The remaining brother, Police Dog Bronx (Beychief Bronco), is still serving. Only two Police Dogs have been slain by offenders in NSW but others have died in the line of duty, one in an horrific hit and run, the other in a serious fall pursuing an offender. For those interested in 'numbers', 23, 3, 6 and 9 are prolific with both Carts and Titan. Their mother is Tracking Champion Damauren Lyrical Appeal TDX, Therapy Dog (Leada 2). Titan's sire was Champion Dellahund Justa Crusader. Cart's sire was Champion Freevale Task Force.
Ph Australia 02 4683 0845. address 45 Hilton Park Road, Tahmoor, nsw, 2573, Australia.
P>S> Another of my donated Police Dogs saved a man's life today - it is Police Dog, "Bronx," litter brother to slain dog PD Carts and half brother to PD Titan. Bronx is in a veterinary hospital. I just received a phone call from a retired Det. Chief Inspector who heard it on the radio. He rang and asked if I knew Police Dog Bronx. I don't know exactly what Bronx did other than he's been injured going down a cliff face to rescue somebody. I just hope he's okay. Regards, Chris A. up date soon)...... submitted by Christine Anderson
update:
Police are honouring Carts the dog after his stabbing death.
A police dog stabbed on the NSW south coast last year will be honoured with a posthumous bravery award. Carts died at a veterinary hospital from wounds he received when he cornered a fleeing suspect at Corrimal Surf Life Saving Club, north of Wollongong, in December. He was named after the late David Carty, a police officer who was shot dead on duty. Carts' trainer, Senior Sergeant David Williamson, will travel to Adelaide tomorrow to accept a special bravery award from the German Shepherd Dog Council of Australia. Carts joined the NSW Police Force in 2002 and during his career found missing people, including a man in bushland suffering hypothermia. He also helped track numerous criminals such as sexual assault offenders and armed robbers. update: May 3, 2008
Brave Carts gains reward
Carts, the police dog killed after a Corrimal break-in, with handler Snr Const Brett Williams.
A police dog stabbed and killed during a break-in at Corrimal was posthumously honoured with a bravery award today. German shepherd Carts is being recognized by the German Shepherd Dog Council of Australia for his diligent service, including apprehension of a Balgownie teenager after a break-in at Corrimal Surf Life Saving Club on December 9 last year. Carts, named after Constable David Carty who was stabbed in an off-duty incident in 1997, died at a veterinary hospital from his wounds. The loss devastated the state's police, particularly those of the State Protection Group Dog Unit. A police spokesperson said Senior Sergeant David Williamson, Carts trainer since 2007, would travel to Adelaide to accept the award. He said Carts was missed, especially by Snr Sgt Williamson and his original trainer, Snr Constable Brett Williams. Carts joined the force in 2002 and was responsible for locating missing persons and tracking numerous offenders, for crimes such as sexual assault, armed robbery and break and enter. He attended public order incidents, including the Cronulla riot. Carts consistently placed among the top NSW Police Force dogs in annual accreditation, in the areas of tracking, searching, obedience, agility and criminal apprehension, and in 2006, he received a perfect score for agility and obedience. In March, a Balgownie teenager faced Wollongong Local Court, accused of killing Carts. The 18-year-old pleaded guilty to breaking into Corrimal surf club and stealing an all-terrain bike. He is yet to enter pleas to charges of killing an animal used for law enforcement and of using a weapon to prevent arrest.
submitted by Jim Cortina
---
In Loving Memory of
K9 CHITO
October 22, 2007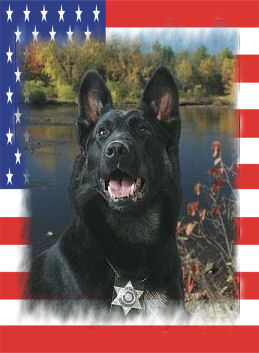 Handler: Jeff Jaeger - Sheriff
Lincoln County Sheriff's Dept.
Jeff Jaeger - Sheriff
Phone: 715-536-6272 - Fax: 715-536-6206
1104 E. First Street
Merrill WI 54452
MOSINEE — There will be a memorial service at 10 a.m. Friday at Peaceful Pines Memorials, 168 Lois Lane, Mosinee, for Lincoln County's K9 deputy Chito.The local VFW will be present to honor Chito. His handler, Mark Gartmann, will lower the flag. Chito's remains will be placed in the Honor Garden for service dogs.
*****
People from all over Northern Wisconsin gathered today to pay their final respects to a Lincoln County Sheriff's Deputy. Mosinee - Today colleagues, friends and family came out to say good bye to a member of the community that was sworn to protect and serve. For five-years Chito, a pure breed German Shepard served as an officer of the law in the K-9 unit. Today at Peaceful Pines Memorial in Mosinee folks got the chance to say goodbye to Chito. According to his handler Sargent Mark Gartmann he is credited with multiple arrests and rescues. He says, " Chito was an excellent officer. One of the things that I was really amazed with him was when it was time to go to work he did his job and he did it extremely well and when it came to giving him commands he obeyed them to the letter." Gartmann says a few months ago he took Chito to the veterinarian where he was diagnosed with cancer. Chito was 12-years old at the time of his passing.

---
In Loving Memory of
K9 CEZAR
September 11, 2007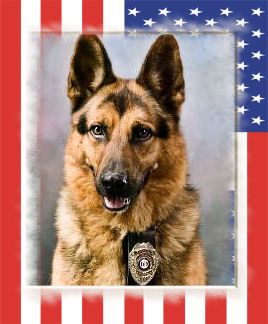 --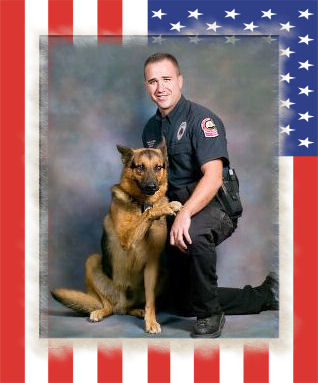 Handler: Officer Gabe Allen
Joplin Police Department
602 S. Main St.
Joplin, MO 64801
(417) 623-3131 ext. 403

2009 see update below article.......

A police dog shot in the head early Tuesday by a robbery suspect ultimately died, a Joplin police officer said. Officer Travis Walthall, supervisor of the Joplin Police Department's K-9 unit, said by telephone Tuesday afternoon that the dog, Cezar, was expected to survive the gunshot wound unless complications arise. Lt. Geoff Jones said Tuesday night that the department had been informed by Mark Storey, the Joplin veterinarian for the department's police dogs, that Cezar had died. "The bullet that hit Cezar struck him above the right eye, slightly to the left of his right eye," Walthall said. "It did not penetrate the skull although it did fracture it in a couple of places."
The officer who works with Cezar, Gabe Allen, was off duty and unavailable Tuesday after the shooting to talk about the ordeal or about Cezar's work record, said Jones. Jones said Cezar was nearly 8 years old and had been with the department since 2001. Jones said he did not have Cezar's records immediately available to say how many apprehensions the dog had made or other details about the dog's background. Walthall was attending a canine training session. He was at the session with another of the department's four officers who work with police dogs. Walthall said they were notified by telephone at 4 a.m. Tuesday of the shooting. "We were both actually sick to our stomachs," Walthall said of his and his co-worker's reaction to learning that Cezar had been wounded. "We work together so much, there's obviously an unbelievable bond between an officer and dog." He said the bullet that struck the dog fragmented. Storey declined to speak to reporters Tuesday afternoon because he was tending the dog, which was described as being in a semi-conscious condition, Jones said. Walthall, who is training a new dog after retiring his canine partner of six years, Max, said the JPD dogs are trained to bite and hold rather than bark and hold a suspect. Cezar is among about 450 police dogs at work in the state of Missouri, said Gary Smith, a retired Raytown police officer who is president of the Missouri Police Canine Association. Smith said Tuesday afternoon that even if Cezar survived, he likely would be sidelined by the injuries, but he did what police dogs are trained to do. "I'm saddened they're going to lose a member of the department in the dog, but it probably would have been an officer" shot if not for the dog. "That's one of the main reasons to have dogs," he said. "I can replace a dog. I can't replace a father or a brother or a mother. It sounds to me this dog did his job for the handler."
Jones said he does not remember another JPD dog being injured in the line of the duty, although one of the department's dogs died of heat exhaustion when it was left in a police cruiser about 15 years ago. Smith said that is the most common cause of K-9 deaths. "We lose more due to heat than we do line-of-duty injury or death," Smith said. The Joplin Police Department has three other police dogs: Ricky, Ikar and Bullit. Bullit is in training to replace Max, a dog that was retired from service about two weeks ago at the age of 10. Max is to be kept by his handler, Officer Travis Walthall.
UPDATE:
Officer recalls Joplin police dog's final moments on duty - 10/7/07 - Missouri
Joplin police officer Gabe Allen said he had no idea what he and his K-9 partner Cezar were in for when they responded to an emergency call in the early morning hours of Sept. 11 at Buffalo Wild Wings. "The call came in, 'Unknown trouble at Buffalo Wild Wings, get the cops here now,'" recalled Allen, an eight-year veteran of the police force. Allen and Cezar were the first to arrive on the scene. They took a position to observe the front of the store. "As I'm standing there with my dog I saw a guy take off across the parking lot to Target," he said. "That's when it occurred to me that this is a robbery."
Unsure if the suspect was armed, Allen said he yelled for him to stop, and gave chase up Geneva Avenue with Cezar on a leash. When the suspect refused to stop a second time, and instead ran across Seventh Street, Cezar was unleashed. "When I released the dog, I slowed down a little bit, which is what we do," he said. "We let the dog make the apprehension, take the fight out of the suspect a little bit." As Cezar was about to apprehend the suspect, Allen heard two gunshots ring out. One round struck the dog in the head, stopping him in his tracks. "It's hard to put it in words," Allen said of his reaction to seeing his partner and friend of six years go down. "I wanted to take a shot and defend myself, but the house was the backdrop so I couldn't take the shot." Instead, Allen said he took the dog to cover and tried to keep his eyes open for the suspect, who had fled behind a house. "I was just talking to him, 'I love you. You're a
good boy,'" he said. Cezar was taken to Academy Animal Hospital in Joplin, where he underwent surgery, but died that night. Police eventually apprehended a suspect, Paul C. White, 22, of Joplin. White was charged with three counts of first-degree robbery, three counts of armed-criminal action, and a single count of killing a police dog. Two of the robbery charges stem from similar robberies that took place in August at two local Taco Bell restaurants. White has pleaded not guilty to the charges. Cezar and Allen were both awarded the Medal of Valor for their actions. Cezar was also awarded the Medal of Honor for having lost his life in the line of duty, and inducted as an honorary member of the Joplin Lodge of Fraternal Order of Police. About 300 people and at least 100 members of area law enforcement and firefighting agencies, including more than a half-dozen police and search dogs, attended the memorial service for Cezar last month. The officers and agencies represented came from as far away as Warrensburg and Fayetteville, Ark. Eleven-year-old Ashlynn Tyler, who attended the memorial service with her mother, said she had met Cezar a couple of times and was sad about his death. "He seemed like a really nice dog," said Tyler, who has five dogs of her own. "I wouldn't be able to get another dog because I'd miss the other one so much." Joplin resident Debbie Powell said she had met Allen and Cezar at the Emancipation Day Celebration in Joplin several years ago and was shocked to hear what happened. "He was just a loving dog; he'd lick you on the face," Powell said. "And Gabe's the type of officer that you don't mind talking to." During their six years together, Allen and Cezar made more than 500 arrests, including more than 100 narcotics arrests. They also confiscated more than 270 pounds of marijuana, 432 grams of methamphetamine and 76 grams of cocaine. While he was not afraid to chase after "bad guys," Allen recalled the only thing Cezar seemed to be afraid of was rain.
"He was like a cat in the rain," he said. "If it was raining, I'd get out and open the door, and he'd look at me like I was stupid, like 'I'm not getting out there.'" Considered "a part of the family," Allen said Cezar's death has been just as hard on his wife and two kids. The dog lived with the family. "At home, the kids played with him and threw the ball with him just as much as I did." But knowing that "he died doing what he needed to do" has eased some of the pain, Allen said. "He loved to apprehend criminals. He loved to be there by my side," he said. "And when he was given that command to go, it's not like a person where there's second thoughts or anything like that. He just goes."
STATS:
Car Searches 1431
Building searches for narcotics: 65
Narcotics finds: 805
Building searches: 127
Tracks: 138
Suspects located on tracks: 32
Marijuana seized: 131,079.5g (270.27 lbs.)
Meth seized 432.96g (just under a lb.)
Power cocaine: 51.01g (almost 2 oz.)
Persons apprehended by force: 10
Total time out of the car working: 27,623 Minutes (460.38 Hrs.)
submitted by Jim Cortina, Dir. CPWDA & Officer Gabe Allen
Began training in Elkart, IN with Faus K9 8/27/01
First day on the job with Cezar 9/29/01
UPDATE: May, 2009
Police-dog shooter sentenced to 14 years for robbery
A Joplin man was assessed a 14-year sentence for armed criminal action after he pleaded guilty to threatening workers at a local restaurant during a hold-up in 2007. Paul C. White, 24, also received an 11-year sentence for robbery in connection to an aborted hold-up at Buffalo Wild Wings in Joplin in September of 2007. Jasper County Circuit Judge David Mouton ruled that the sentences be served concurrently.
White previously pleaded guilty earlier this year to killing Cezar, a Joplin police K-9 officer, after he attempted to flee the restaurant on foot. He received a four-year sentence on that charge. He will get credit for time served and that sentence will also be served concurrently. As part of a plea agreement, prosecutors dropped two additional counts of first-degree robbery and armed criminal action against White for robberies at local Taco Bell restaurants.
---
In Loving Memory of
K9 CHARLIE
August 31, 2007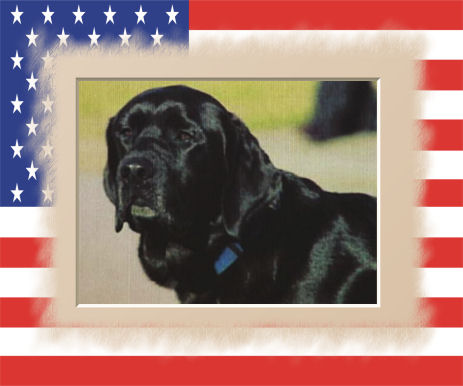 Bureau of Alcohol, Tobacco, Firearms & Explosives
More info........
Connecticut
ATF Mourns Death of "Charlie" Explosives-Sniffing Dog
"Charlie" a 14-year-old black lab who became the Bureau of Alcohol, Tobacco, Firearms & Explosives'
first bomb-and gun-sniffing dog was put down this week. Since graduating from the Connecticut State Police Training Academy in 1995, Charlie had worked many high profile cases with federal law enforcement,
including the Atlanta Olympics bombing in 1996. He "retired" from active duty with the ATF in 1999. For the past several years, Charlie lived the life of leisure with ATF intelligence analyst Mike Sours. ATF officials say Charlie's many successes helped paved the way for a canine corps that now numbers 205 within ATF ranks. Agent Grace Reisling, Charlie's handler throughout his career, says he had a couple of love's: eating and sleeping. His passion for eating resulted from his training and work. "He was food-reward," says Reisling, "His motivation was very strong. He ate a lot!" Mike Sours says he's received many calls and e-mails from ATF colleagues in recent days conveying their condolences on Charlie's passing.

submitted by Jim Cortina, Dir. CPWDA
---
n Loving Memory of
K9 CHASE
August 13, 2007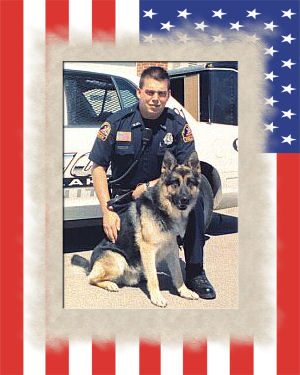 Handler: Officer Robert Strand
Detroit Lakes Police Department
106 Holmes St. East
Detroit Lakes, MN
phone: 218 56501
We are very saddened to report that our K-9 "Chase" had passed away this last week of May from unknown medical reasons. He was only four years old. Chase was a just as much a member of our agency as other people and will be greatly missed.
Detroit Lakes K-9 Dog Dies
The Detroit Lakes Police Department's K-9 dog (Chase) died suddenly while being treated for an ongoing ailment at the Detroit Lakes Animal Hospital Tuesday. Police officer Robert Strand, who was Chase's handler, is unsure why the four-year-old dog died. Since January, Chase has had periodic bouts with diarrhea, but would recover with treatment. Chase was sick again Tuesday, so Strand took him in for examination and treatment. About an hour after leaving Chase, the hospital staff contacted Strand to say Chase had died shortly after being X-rayed. The X-rays indicated the dog's stomach had flipped. While doing a necropsy, the staff discovered the stomach had returned to its normal position, but the chest cavity was filled with air, which may have led to sudden heart failure. Organ tissue samples were taken and sent to North Dakota State University in Fargo for examination. "We were just getting into the swing of things," remarked Strand Wednesday. "You learn something every day when you work with a dog, and I was getting comfortable working with him." Chase was a friendly dog, and enjoyed being petted by neighborhood kids living next to and near Strand and his family. His bark was always a familiar voice in the background for anyone who listened to a police scanner and heard Strand talking to the dispatcher or other officers. "When I was outside (at home), I could let him run around a little bit and not worry about him doing anything he wasn't supposed to," remarked Strand. Strand has two notebooks filled with the three years they worked together,
and there are some memorable incidents............
One was the assistance with the FBI and Paul Bunyan Drug Task Force on a narcotics search at a Mahnomen County farmstead. Chase found an aerosol can hidden in the grass that contained 100 grams of cocaine, with a street value of over $10,000. In another incident, Chase found a driver who had crashed his vehicle into the side of a Detroit Lakes bank and then ran from the scene. The driver was located several blocks away. Strand credited Chase for always watching his back and never questioning what he was asked to do. "He saved my butt on several occasions, where people were likely to fight or run. I told them, 'if you don't cooperate, I'm going to release the dog,' and people became compliant," said Strand. Since they started working together in May of 2004, Chase was involved in 47 vehicle searches, 52 building searches, 18 area searches, 19 instances of searching for suspects or lost/missing persons and three apprehensions without bites of suspects. Chase also discovered $11,530 in U.S. currency that was contaminated with a controlled substance during a search for the Becker County Sheriff's Department. Chase was purchased by the department after his predecessor, Quincy, died of cancer. His handler, Sgt. Tim Eggebraaten, decided to pursue other police interests, which opened the K-9 position for Strand. After attending a 12-week school in St. Paul, Strand and Chase began their duties with the department. The public — individuals, businesses and organizations — donated $24,000 to the program, with approximately $3,000 still in the fund. Strand said Central Market continued its pledge to provide Chase's food. Strand would like to continue the K-9 program, and will discuss that with Police Chief Kel Keena. "If the city didn't have a canine program it would be taking a step back," said Strand. "They are a real asset to us. It's just a matter of having the funding to continue the program." He thinks the department could get a trained police dog for field and narcotics work without having to return to the 12-week school taught by the St. Paul Police Department. "I've put the word out with the canine guys that are well known throughout the state that if they hear of something to keep us in mind," noted Strand. Friday, Keena said he would like the K-9 program continued. He said a determination will be made whether to finance it with a public fund-raiser or seek city funds. Also, the department will determine whether to find a trained dog, which will require a minimum amount of schooling time by Strand and the new dog, or to go through the 12-week St. Paul school again. In the meantime, Strand must adjust to police and off-duty time without Chase. He vividly recalls many of Chase's habits, especially wagging his tail when it was time to go work, even Tuesday when he took the animal to the hospital. "If it was up to him, I wouldn't have had a day off," said Strand.
************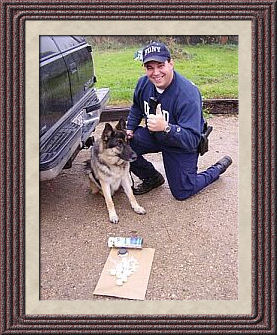 Strand and Chase in Mahnomen County. You can't hide from the nose of a good K-9. Shown at the bottom of this photo, a aerosol can that was hidden with 100 grams of cocaine. That's 100 grams and subsequent drug money and violence off our streets.
NEW K-9 PROGRAM FOR DECEMBER 2006
Officer Robert Strand attended a special school down in North Carolina in the late fall of 2006 to get paired with another dog. "Macho" is a three year old German Shepherd imported from England and was purchased from Ocard Knoll Kennel in Angier, NC. The school Strand attended was two weeks long. Strand trained with Macho and observed many of the things he has already been trained to do. Macho has extensive training from overseas and has been raised for sport. The sport done overseas is almost identical to what K-9 Police dogs do. Macho is currently certified to work the street for patrol and narcotics duty. His commands are all in Dutch.
submitted by Renee' Konias & Jim Cortina

---
In Loving Memory of
K9 CEZAR
June 21 1998 - EOW - June 8th 2007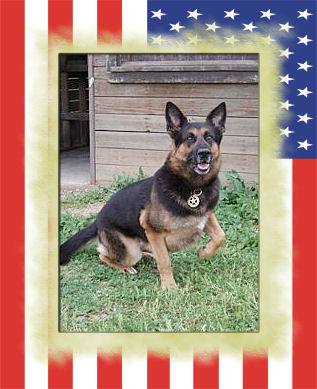 Handler: Deputy Rick Kemp
Sacramento Sheriff Department
address and phone?
Retired K9 Cezar Passes
Today I lost a friend, a partner and a family member. My retired canine Cezar passed away this morning at the veterinarian. Cezar was nine years old. Yes, this seems young for a dog and it is, but Cezar's body was tired. He worked hard and played hard most of his life. He enjoyed his work and he enjoyed people. Cezar was a friendly police dog. Everyone liked him. Cezar would always amaze me how he could chase down and stop a fleeing felon one minute and dance happily around people the next. When Cezar was called upon he would do whatever it took to keep someone from escaping. After the incident and the suspect was in custody Cezar was back to being a friendly dog. He truly had the preverbal on/off switch. This personality trait made him a joy to be around. Cezar made many felony arrests during his career. Cezar's first apprehension was a high profile arrest. Cezar captured a crazy man who fought with a Greyhound bus driver while the bus was in motion. The man pulled hard on the steering wheel causing the bus to slide out of control and crash into a large drainage ditch. The collision injured many people on the bus. The suspect was thrown through the front windshield of the bus and landed on the road where he then fled on foot. The suspect ran off into a large field of tall grass to hide. Cezar and I arrived on scene and began our search for suspect. Cezar searched into the wind. He quickly picked up on the suspects scent and located him. The suspect was taken into custody within minutes. There are many fond memories of Cezar. Some of which are from work but most of all I have the memories of him at home. At home Cezar was very much a pet. We had a routine. Each night after our shift I would remove Cezar's collar and rub his ears for a bit. Once the collar was removed he knew it was time to relax and not be a police canine. At home Cezar loved his family. He loved to play keep away his Kong toy with my children. Well, it was mostly Cezar keeping the Kong away from the kids. Many of Cezar's traits were natural. No one could teach the kindness he had. His loyalty will be unsurpassed. His eagerness to please unmatched and his kindness greatly missed. I'm not sure his death has really hit me yet. Cops have a coping mechanism of moving on "getting the job" done, but I know when I wake in the morning and walk out to his kennel to check on him it will hit me. Cezar you will be terrible missed.
Good-bye partner.
By Deputy Rick Kemp - submitted by R. Konias

---
In Loving Memory of
K9 C-ZR
July 10, 2007
Handler: Deputy Joshua Underwood
St. Johns County Sheriff's Office
4015 Lewis Speedway
St. Augustine, FL 32084
Main Line: (904) 824-8304 • Toll Free: (800) 346-7596
K-9 C-zr started his career with the St. Johns County Sheriff's Office in 2001 with Deputy Rich Michaux and worked patrol until March 2005 when Deputy Michaux changed positions within the agency. At that time I put in for K-9 handler and was selected to receive C-ZR. From the moment I got him in March 2005, I knew this dog was going to be my best friend and the best partner I could ask for. C-ZR and I completed patrol school with the Volusia County Sheriff's Office for FDLE certification, then Explosives Detection School certifying by the USPCA. C-ZR also completed ATF's NORT Explosive K-9 certification. July 2005 C-ZR and I were assigned to patrol Alpha-shift. C-ZR's accomplishments in his career include:
• 30 September 2005 we responded to Deep Creek to assist with the location of an escaped homicide suspect who rammed another deputy's vehicle and jumped over the bridge heading towards a swamp. C-ZR tracked the suspect to the creek bank and when the suspect attempted to swim away, C-ZR entered the water and engaged the suspect. The suspect then attempted to drown C-ZR but he refused to disengage making it possible for the suspect to be taken into custody. C-ZR received the Meritorious Service Award. • 15 June 2006 we responded to 1129 Ponte Vedra Blvd. where a deputy performing a routine patrol rolled up on a burglary in progress causing the suspects to flee on foot. C-ZR was able to track one of the suspects to a wooded area where he engaged the suspect taking him into custody. C-ZR received the Meritorious Service Award.• 6 October 2006 we responded to a report of an aggravated Domestic Violence call where the suspect was reportedly armed with a handgun and fled the residence on foot after shooting his wife. C-ZR gained a track leading us to a nearby shed. The suspect was hiding underneath and refused to comply with commands at which time C-ZR engaged the suspect bringing him out to us to be secured - and the weapon was located. C-ZR received the Meritorious Service Award. C-ZR was an excellent work dog and I couldn't have asked for a better partner to work with and protect my life day in and day out. In February of 2006 C-ZR was diagnosed with a tear in his colon. An intense surgery was performed and C-ZR was back to work in April. But in March of 2007 C-ZR began to show the same symptoms a second time. He was re-examined by a Vet and it was determined that the surgery failed - the tear was still there placing his life in danger. C-ZR was immediately rushed to Shands Vet Hospital in Gainsville, FL where he received excellent care (there is great respect for police working dogs at the hospital) - but it was decided that C-ZR would have to retire and live through medication. March 3, 2007 C-ZR began retired life of lying around and sitting at the window whining when I would leave for work without him. Slowly the medication was no longer helping C-ZR, giving him good days and bad days and a lot of time with no energy. On the night of July 10, 2007 the pain progressed and as the night continued, the medication was no longer having any effect on him. I lost my best friend, my partner that night. C-ZR was telling me he was now living in pain... I did not want that to happen... C-ZR did not have to live in pain after the life he gave to deputy Michaux, the St. Johns County Sheriff's Office, and to me. All C-ZR ever wanted was to go to work and catch bad guys or sniff for explosives. On the Morning of July 11, 2007 at 0957hrs C-ZR was humanely euthanized at 9 years old where he now lives pain-free protecting others in his youthful life. That was the morning I lost a piece of my heart. I didn't just lose a partner - I lost a friend and a family member. C-ZR will be missed not only by me but my family and my co-workers. He was a hard-charging work dog. St. Johns K9 5017, St. Johns K9 5017, St. Johns all Units K9 5017 is 10-7 July 11, 2007 at 0957hrs. God Speed and thank you for all your hard work and dedication to this agency.
submitted by Renee' Konias

---
In Loving Memory of
Army Cpl. Kory D. Wiens & K9 Cooper
Oregon,USA - July 6,2007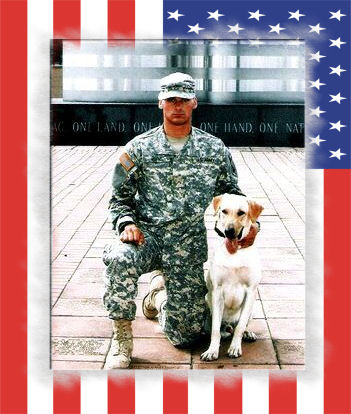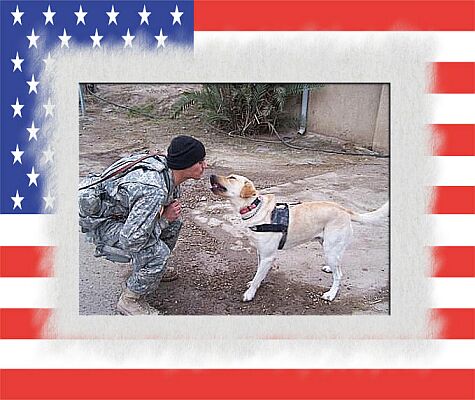 Oregon soldier and canine killed in Iraq
Army Cpl. Kory D. Wiens loved animals and automobiles. But what Ashley Soto remembers most about her friend and fellow 2005 graduate of West Albany High School is the way he helped others. "He really cared for his family and his friends, and he was willing to do anything he could to help them in any way," Soto said. She said she last saw Wiens about nine months ago, before he was sent to Iraq. Wiens, 20, of Independence was killed by an explosive Friday in the town of Muhammad Sath in Iraq, according to a U.S. Department of Defense announcement today. At the time, he was on patrol with his dog, Cooper, who also died.
He was the 108th service member with ties to Oregon or Southwest Washington to die in conflicts since Sept. 11, 2001. Wiens was assigned to the 94th Mine Dog Detachment, 5th Engineer Battalion, 1st Engineer Brigade,
Fort Leonard Wood, Mo. The day before Wiens died, two other service members with ties to Oregon were killed in Iraq. Spc. Michelle Ring, 26, was killed by mortar fire while on guard duty in Baghdad. Ring was born in Portland and went to school in McMinnville before her family moved to Alaska in 1992. She had been in Iraq about eight months, assigned to the 92nd Military Police Battalion out of Fort Benning, Ga. Lance Col. Steven Stacy, 23, from Coos Bay was shot in the town of Karma. He was in the 1st Marines, 3rd Battalion, based in Camp Pendleton, CA.
July 6, 2007 - Muhammad Sath, Iraq - Age 20 (Obituary)
Army Cpl. Kory D. Wiens and his K9 "Cooper" were killed while on patrol on July 6, 2007 by an explosive in the town of Muhammad Sath, Iraq. Wiens was assigned to the 94th Mine Dog Detachment, 5th Engineer Battalion, 1st Engineer Brigade, Fort Leonard Wood, Missouri. Wiens and his dog were trained to find materials such as TNT, detonation cords, smokeless powder, mortars, weapons, tools and explosive residue used to make explosives. Kory enlisted into the Army to gain experience for pursuing a career in law enforcement. He attended canine school at the 341st Training Squadron, Lackland Air Force Base in San Antonio, Texas, where he met his partner, a yellow Labrador Retriever named " Cooper ". The two deployed to Iraq in January. Their abilities to detect TNT, C4, detonation cords, smokeless powder and mortars saved countless lives by taking explosives and other IED manufacturing materials off the streets of Iraq. He is survived by his father Kevin; mother Judith ( also known as Laura ); brothers Kevin and Kyle; and sister Lindsey. Cpl Kory D. Wiens and his K9 "Cooper" were escorted back to his home town of Independence, Oregon by his older brother Kevin who was also serving on
a second tour in Iraq as a military police officer for the Army.

submitted by Jim Cortina, Dir. CPWDA & submitted by Jim Fitch
************************************************************
K9 Military Funeral - Dallas Oregon
Posted by: "Bruce Kelley" brucek@ci.hillsboro.or.us
Fri Jul 13, 2007 3:09 pm (PST)
Army Cpl. Kory Wiens and SSB K9 Cooper were killed in action July 6, 2007 by a roadside bomb while serving their country in Iraq. The two have the unfortunate distinction of being the first dog team killed
during this war. Cpl Kory Wiens was from Dallas Oregon, but was based out of Ft Lewis Washington and was assigned to the canine unit. I have been told that the two were inseparable and the family has decided to bury the dog team together during the military ceremony. Today I was contacted the group coordinating the funeral services. Surviving family are inquiring if it would be possible to have canine teams from around the north west attend the services in support of Cpl Wines, SSD K9 Cooper and our military. I in turn, am requesting your assistance by sending any available canine teams to attend the service. The Funeral will be held in Dallas Oregon on Wednesday, July 18th 2007. Services will be starting at 10:00 am. Currently the preparations for the service are moving quickly but I felt that we could meet as a group at the Dallas (Oregon) Police Department
at 9:00 am on the day of the services. Thank you for your assistance and if you have any additional
questions, please feel free to contact me.
Bruce Kelley President Oregon Police Canine Association
---
In Loving Memory of
K9 CHEVY
2007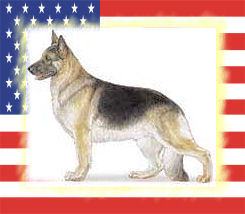 Handler: Officer Frank LaPorta
Riviera Beach Police Department
600 W. Blue Heron Blvd.
Riviera Beach, FL 33404
TEL 561-845-4123 Fax: 561-845-7868
EMAIL - police@rivierabch.com
DIED INTESTINAL DISEASE Riviera police dog given a final salute
Chevy was a 6 1/2-year-old German shepherd. He was officer Frank LaPorta's partner, best friend and family pet - a buddy who helped him catch about 15 bad guys, about half of those by taking a bite. Once, when LaPorta was in a scuffle, Chevy jumped from the back seat of the patrol car and pulled the suspect off. Chevy died of intestinal disease after five years of service with Riviera Beach police. His funeral was Friday afternoon at the Port of Palm Beach. About 50 people attended the short ceremony. No dogs were in attendance. Chevy's family was there, including LaPorta, his wife, Margi, and 13-year-old son, Quin. They also live with four cats and another dog, a pointer, that is more cut out for sniffing out lizards than drug stashes. There were a few speeches, and a moment of silence was observed. "It's emotional, but it was a good feeling to have all that support," Frank LaPorta said. submitted by Jim Cortina