In Loving Memory of
K9 ANDY (MWD)
Australian Army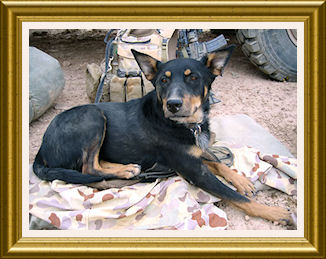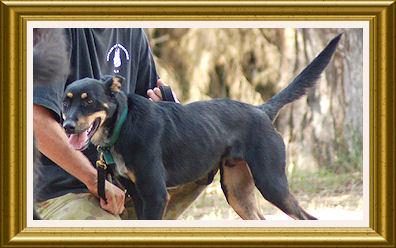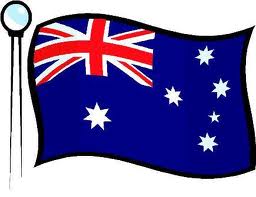 Australian soldiers serving in southern Afghanistan are mourning the death of Explosive Detection Dog 'Andy' – a two-year-old Kelpie-cross.
'Andy,' a member of the Special Operations Task Group (SOTG), was accidentally killed when struck by a vehicle within the Kamp Holland complex at Tarin Kowt. 'Andy' was laid to rest near the Kamp Holland kennel complex alongside fellow fallen Explosive Detection Dogs 'Merlin' and 'Razz'. Defence Spokesperson Brigadier Andrew Nikolić said 'Andy' was a recently qualified Explosive Detection Dog. "His death will be keenly felt by the soldiers in Oruzgan Province and the wider Royal Australian Engineers, particularly their specialist dog handlers."
submitted by Jim Cortina, Dir. CPWDA
---
In Loving Memory of
K9 ATOS
2007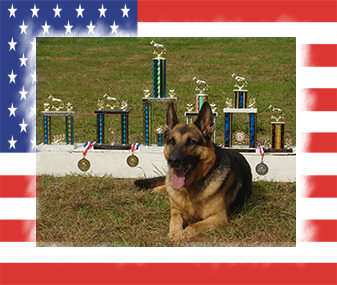 Handler:
Atlantic City Police Department
New Jersey
---
In Loving Memory of
K9 ALFRED
January 2007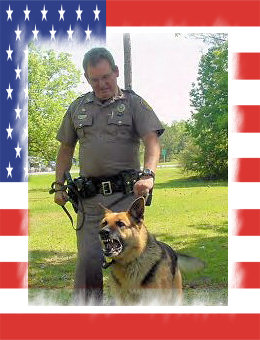 Handler: Trooper James Burnham
Walton County
Florida Highwy Patrol
K9 Alfred began his career with the Florida Highway Patrol in 1996, with his first handler Trooper James Burnham. They were assigned to Walton County. In 1999, K9 Alfred was reassigned to Trooper Marvin Wagner Jr. The team graduated from theFlorida Highway Patrol, Patrol Dog and Drug Detection academies in 2000 and was assigned to Washington County. K9 Alfred was known for his social behavior making many lifetime impressions as he performed his duty. K9 Alfred was retired from active service in January, 2005. In January, 2007, K9 Alfred died in his sleep from natural causes. He was a loved partner to Trooper Wagner and will be missed by those who knew the mighty K9 known as Alfred.
submitted by Bobby Earl
---
In Loving Memory of
K9 AHREN S. Fox
May 21, 1992 - December 8, 2007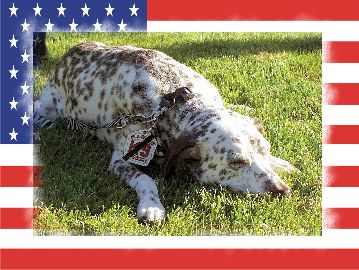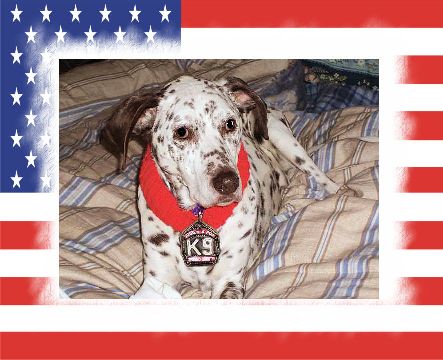 Fire Safety K9
Metro Dade Fire & Rescue
Dade County, FL
Fire Safety K9 Passes Away. Dalmatian served CAL FIRE for eight years
By Gordon Winningham, Fire Caption, CAL FIRE Academy
By Gordon Winningham, Fire Caption, CAL FIRE Academy Brothers and Sisters, Friends and Family,
I
t is with great sadness that Catherine and I write to let you know of the passing of Ahren S. Fox, Fire Safety K9 on Sat., Dec. 8, 2007, at 1 p.m. She was 15 ½ years old.
I write to you because all of you knew Ahren as more than a pet. Catherine and I realized what a blessing she was the day, at six weeks old, she came to work to visit me at Twain Harte FFS. Before long the neighborhood kids were at the station to visit the "Fire Dog". This was the beginning of the Ahren S. Fox Fire Safety K9, Fire Prevention program. Ahren's "scootchie" command and her "stop-drop-and roll" not only madechildren laugh, but gave me the opportunity to teach them free safety. Ahren's program was one of the first three programs of its kind in the nation. The others were at FDNY in New York and Metro Dade Fire and Rescue in Dade County, Florida. Ahren was the last surviving Fire Safety K9 of the original three. In her eight-year career as a Fire Safety K9 she visited with over 50,000 children of all ages, had newspaper and television exposés done about her, raised money for burn survivor camp, and went to burn camp to play, swim, and comfort burned survivors. She even did a radio inter view. Ahren had numerous articles about her in local newspapers, television and radio stations. She was in our Department 's Communiqué' magazine and was on the cover of the October 1997 edition. Ahren was featured in a 2002 firefighters calendar, which raised money and put thermal imaging cameras in ser vice with Fresno County Fire Protection District, Fresno and Clovis Fire Departments.
In 1999, Ahren joined CAL FIRE Firefighters Honor Guard, becoming the only canine Honor Guard member in the nation. In 2001, at the CAL FIRE Firefighters' convention in Fresno, then Union President Tom Gardner accepted a motion from the delegation to vote Ahren an honorary CAL FIRE Firefighters' Local 2881 member. IAFF General Secretary, Harold Schaitberger was the first to congratulate her. That same weekend Ahren was a part of the 9/11 memorial dedication at Pelco in Clovis, CA. As an Honor Guard member, Ahren participated in many events from Line of Duty Death funerals to parades and dedications. She was a part of CAL FIRE's 100-year celebration at the State Capital in 2005.
Katherine and I write to you not only to share the pride we have in the accomplishments of Ahren S. Fox, Fire Safety K9, but also to thank all of my Brothers and Sisters for your support and commitment to her Fire Prevention and Honor Guard careers. Union Presidents, Department Directors, General Union Members, Engine Company Fire fighters and everyone in between supported Ahren. Ahren slept in the Director's office and in firefighter's beds. Union Officers took her for walks and Deputy Directors and corporate presidents carried her water dish. Our words can't come close to the heart felt thanks we owe to all of you. Nor can words convey the anguish in our hearts. So I leave you with a quote from our localnewspaper. This is a letter-to-the - editor written by another proud and grateful dog owner.
Union Democrat, Sonora CA. January 2006
For Lumpy - To the Editor:
Putting to sleep "my wonderful retriever, Lumpy O 'Mulligan," while my wife, hugging Lumpy and sobbing,
bid him goodbye as the life - ending fluid entered his veins.Having eulogized many departed relatives and friends, I could do no less for Lumpy, and found the perfect tribute. George Vest, a 19th century US Senator and Lawyer from Missouri, concluded a canine wrongful-death trial by telling jurors, in part:
" The one absolutely unselfish friend that a man can have in this selfish world,
the one that never deserts
him and the one that never proves ungrateful or treacherous is his dog.
A man's dog stands by him in prosperity and in poverty, in health and in sickness.
He will sleep on the cold ground, where the wintry winds blow and the snow drives fiercely,
if only he may be near his master's side. He will .


Communiqué25 - kiss the hand that has no food to offer, he will lick the wounds and sores that come in encounters with the roughness of the world. He guards the sleep of his pauper master as if he were prince. When all other friends desert, he remains. When riches take wings and reputation falls to pieces, he is as constant in his love as the sun in its journey though the heavens.
If for tune drives the master for then an outcast in the world, friendless and homeless, the faithful dog asks no higher privilege than that of accompanying him, to guard against danger, to fight against his enemies, and when the last scene of all comes, and death takes the master in its embrace, and his body is laid away in the cold ground. No matter if all other friends pursue their way, there by his grave-side will the noble dog be found, his head between his paws, his eyes sad but open in alert watchfulness, faithful and true even in death."
John Woods Sonora
Yours in Brotherhood,
Gordon and Catherine Winningham 12/9/2007
---
In Loving Memory of
Military K9 ARRAS
September 25, 2007


Handler: Staff Sgt. Marcus Reaves
78th Security Forces Squadron
Military working dog dies defending freedom
10/22/2007 - ROBINS AIR FORCE BASE, Ga. (AFPN)
When warriors deploy together to fight the war on terrorism, one doesn't imagine coming home without his partner, but a Robins Air Force Base NCO had to.Staff Sgt. Marcus Reaves, a military working dog handler in the 78th Security Forces Squadron's military working dog section here, was deployed to Iraq with his canine partner, Arras, when his dog was killed Sept. 25 in the line of duty.Arras, a 5-year-old Dutch shepherd explosives detector and patrol dog temporarily assigned to the 447th Expeditionary Security Forces Squadron and Joint Operations at Sather Air Base, Iraq, died when he was electrified by power cables during a search for weapons and explosives in a building. The unit honored Arras with a memorial service at the deployed location Oct. 19, and officials at Military working dog dies defending freedom. The unit honored Arras with a memorial service at the deployed location Oct. 19, and officials at Robins AFB plan to host a memorial service for Arras later this year.
********
78th Air Base Wing
The wing provides physical, military and community operations and business infrastructure processes for Robins AFB and its 39 associate units. Responsible for logistics readiness, medical, civil engineer, security, comptroller activities, contracting, morale and welfare, mission support, public affairs, legal civilian personnel and environmental management for the installation.
Vision
World-class warfighter support...anytime, anywhere!
Mission
To deliver global support to the warfighter by providing and deploying trained, combat-ready Airmen and to provide world-class base operating support to Robins Air Force Base. Staff Sgt. Marcus Reaves, a handler in the 78th Security Forces Squadron's Military Working Dog Sections, sits with Arras. Electrocuted in the line of duty while performing a search mission with Army Personnel (Iraq). A shadowbox containing the badge, choker chain, medals and flag for Arras, Robins military working dog, will be displayed in the Security Forces building. U. S. Air Force photo by Sue Sapp Handler http://www.robins.af.mil/main/contactusemail.asp injured but recovering. Robins Air Force Base is the home of Warner Robins Air Logistics Center, the 78th Air Base Wing, and more than 60 other units that make up a vital part of the Air Force war fighting team. It is the largest industrial complex in Georgia, employing a work force of over 25,584 civilian, contractor, and military members. We are proud of our greater community we call Team Robins Plus that includes the remarkable support and friendship we receive from the people of Middle Georgia.

submitted by Jim Cortina, Dir. CPWDA
---
In Loving Memory of
MWD K9 ALEX
March 19, 2007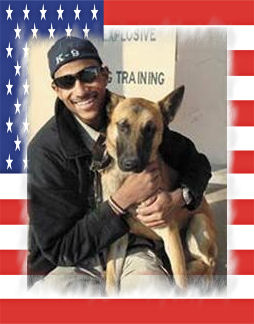 Handler: Shawn Parker
CSF 3rd Group
Dog's Best Friend - War Injury Doesn't Stop Man's Desire To Train K9 Unit Dogs Shawn Parker has always had a dog by his side. The 29-year old Laurens County man says when he was just five, he was raising
a wolf/German Shepherd mix. So in 2006 when Parker found himself in Afghanistan leading a Canadian Special Forces unit (CSF), he was glad to have Alex, a Belgian Malinois Shepherd, by his side. Alex was the elite K9 explosives dog in the unit. Of the four war dogs and their handlers stationed with the CSF 3rd Group, Alex was the favorite. "Everyone wanted my dog!," said Parker. "He was the best. He was trained to detect the faintest odor - even from the smallest particle of explosives buried in the ground. I trained him to be better than the others. He had to be. Even my commander wanted him. But he was my dog, and he was going to come home with me after our tour." But Alex didn't come home with Parker. On March 19, 2007,
while searching for IEDs (Improvised Explosive Devices), Alex stepped on a pressure plate which had been wired some distance from the odor he was alerting towards. Alex was killed instantly, and Parker was maimed so severely no one expected him to survive the night. My dog had to be the best Parker grew up with two influences - dogs and the military. The son of a soldier, Parker decided to join the Marine Corps at the age of 18. After the corps, he went to Louisiana to enroll in a three-month long K9 certification course. Instructor Roger Abshire of US Canine was impressed that Parker completed the course about two months ahead of schedule. Needing to earn an income, Parker decided to enlist with the Army for a combat tour in Iraq. At the end of the 11-month tour with the 48th brigade-2121 infantry, Parker again faced a career choice. He became certified as a bounty hunter, but it still wasn't the dutyhe knew he was intended to do. "I knew two things, dogs and combat," said Parker. "I thought how do you become good at killing? I didn't enjoy the killing...I enjoyed the work. So when I got out, I found Roger again and worked with him in Texas
training dogs as well as the K9 handlers. "
Training dogs for K9 service
Training dogs for K9 service involves four basic elements Parker explained. "Tracking, narcotics, explosives and patrol," said Parker. "You look for a dog that is attentive, focused and obedient. The training appears intense, but it's not about aggression. It's about that dog learning what is expected of him and waiting for my command." Parker considering combining his knowledge of K9s and the military, so he applied to become a handler through several K9 war dog organizations. "I wanted to redeploy to take care of my family," Parker said. It would be good money. A two-year tour as a certified K9 handler with a war dog would earn Parker just under $250,000. However since he was no longer active military, he was passed over.
"I applied with
American K9 and had listed Roger Abshire as a reference," Parker recalled. "After he talked to them they called me up. They were having trouble by that time keeping enough certified handlers. They weren't suppose to hire me, but Roger told them I have three years experience, combat service and that I knew exactly what I was doing. So they waived their own rules and told me to report to Ft. Benning where I got my CRC (civilian certification) and I was on my way."
When Parker arrived in Afghanistan, he was assigned as a civilian handler to a Canadian Special Forces unit.
Three handlers and four dogs were on site.
"When I first met Alex I didn't like him. I thought he was too 'cracked out'," Parker recalled with a smile.
"He was full of himself. He was still a puppy. So the commander brought me another dog to consider,
but he didn't have it, and I was partial to Belgians, so I said, 'give me Alex, I'll work with him.'
"I pushed him, just like I've always pushed myself," Parker said. "My dog, like me, had to be the best."
As Parker began training Alex, all day, every day, he began to see the dog's natural talent. The other handlers had a jump start with their K9s, but with Parker's intensive training, he felt Alex had surpassed the other K9s. Still, the men in the CSF group didn't trust Parker. They questioned his creditability, his dedication and his dog. "The called us out to a test field and the commander had buried a tiny little piece of residue in the field. We were suppose to find it. I released Alex and he worked the field, but he didn't pick up on anything. I felt like a fool." The commander and some of the guys watching began to leave, when suddenly Alex alerted on the odor. "I called them back and held up a one inch piece of deck cord," Parker said.
"Is this what you were looking for?," Parker asked. "One time they had us test searching," Parker said, "Alex hit on a IED outside of the field they didn't even know was there," Parker laughed. Alex had proven Parker was right, and together they won the trust of the unit. "From then on every mission we worked outside the wire (home base), they wanted Alex over the other K9s," Parker said. "They all wanted my dog, even the commander! But I told them 'no way'. We were a pair." Parker even made plans to bring Alex home with him after his contract ended. "It's dangerous work, but when you have a K9 like Alex by your side, you know you're with the best," Parker said, "and the money was good." Parker planned to stay in Afghanistan
for two years, earning good money and gaining Alex as his partner in the process.

The fatal mission
"The woke me up about three a.m. that morning, March 19, 2007, and said we had a mission outside the wire," Parker recalled. "I went through our routine: check weapon, ammo, gear, water for me and Alex, and I got my dog. He saw me with my gear on and he was ready to go.
"In the mission briefing, the commander asked me what route I wanted to take. We planned it and headed out. Alex alerted on three or four IEDs and we concluded our mission, "Parker said.
"When we returned, they askedif I still had my Alex with me. One of the unit's vehicles had hit an IED and overturned about 60 ft. away. They wanted us to check the surrounding area for more IEDs before they went in to get it," Parker said. "I always followed our routine, starting the Three handlers and four dogs were on siteim on a two ft. lead...back and forth...called him back and put him on a six ft. lead...back and forth again, then an eight ft. lead. When I knew we had an eight ft. clearance, I'd release him. That's what we did that day."
But Parker doesn't recall what happened after they headed toward the vehicle. He's learned what happened next from Cpl. Josh Anderson, a Canadian airborne medic on duty.
"He said we took three or four steps and Alex alerted on an odor. He said Alex was still on a very short lead, so it must've happened just as we started."
Alex was heading toward his target, the strongest odor as Alex had trained him to do. That's when Alex stepped on an anti-personnel pressure plate - wired to an IED buried a few feet away.
The explosion was so severe, Parker was thrown 50 ft. away. The soldiers 60 ft. away were also thrown back, some taking shrapnel. There was nothing left of Alex.
A battle to survive
The first memory Parker has is realizing he was in an ambulance somewhere between Macon and Atlanta. After the explosion he had emergency surgery just to stabilize him, then he was airlifted to Germany, fast-tracked stateside and hospitalized in Washington, DC, before his family had him transferred to Georgia.
"Apparently, I was so bad off that when I got to Macon, the nurses were told not to bother even drawing blood. They thought I would be dead in a couple of hours, but somehow I stayed alive," Parker said. "I was in a medically induced coma for a long time, and they told my wife if I came out of it, I may wake up in two or three weeks, but I'd likely be a vegetable. I woke up the next day! Always pushing myself, even then." Parker laughed. Arker had suffered a closed-head trauma. The left side of his body had taken the brunt of the blast. His left ear virtually melted and left him with total hearing loss in that ear. His face lined with scars, his eye left partially blind. His left hip and thigh had a gaping wound the size of a dinner plate. He would have multiple surgeries in the weeks ahead. They removed 38 pieces of rock from me, shrapnel, dirt, everything you can imagine," Parker said, "even some of Alex's remains."
He was admitted to Atlanta's Shepherd Center, which specializes in brain injury and rehabilitation. The once active, avid reader who enjoyed writing had to learn to walk again, as well as to speak and read. Today, he must still focus when
reading and finds he becomes very frustrated. For three months, Parker remained in intensive medical care. Through it all, he kept asking where Alex was. "Finally a friend I knew since we were in the Marine Corps together told me what happened to Alex," Parker said. "The doctors got mad at him thinking it would send me over the edge. It did send me over the edge, but he knew I would want to know rather than wonder any longer." Near the end of his three month hospitalization, Parker received a gift that may have been the best therapy yet: a 7-year old retired American K9 war dog named Rex.
An old dog teaches new tricks
Driving past Parker's West Laurens County home, one may see what appears to be a dog attack. However, it's Parker 'working' Rex. When Parker pulls out a K9 bite bar protective arm sleeve, Rex, now an old dog of 8 years, still knows it's time to jump into action. Parker's face turns from stern trainer to a warm smile as he settles Rex down to sit by his side." I work him and he thinks he still has it," Parker jokes, " but he lets me know when he's had enough." Neighbor Shane Lackey comes by to work his shepherd, Doc. The former military medic is also a K9 handler." I was out working my dog one day and Parker came over and said 'what are you doing?'. Just so happens there's two war dog handlers on this block." Lackey and Parker talk about
organizing K9 demonstrations in Laurens County, and would like to host the first regional Schutzhund competition and exhibition for tracking, protection and obedience. However, Parker hasn't had his fill. He hopes to continue to train K9s athis home. He says he has ample property and he's still current on his training certification.
"I just need about five kennels, 8x10 or 10x10 and the funds to buy the training gear, which runs about $2,500, and of course I need some good dogs to start with," he says. "I'm looking for a few Belgian Malinois at least a year old. Know where I can find one?" he asked." I am certified to train K9s for police, search, drug, explosives and patrol, just like before...and I can train a personal pet quicker than most anyone," Parker says with humble confidence." I've still got some medical issues, like they say I have PTSD (post traumatic stress disorder) and I've had a couple of seizures. They still don't know what all may
be wrong in here," Parker said pointing to his head. "But the psychiatrists are amazed. They all say I shouldn't be where I am mentally or emotionally only a year after the incident." Parker says the government is paying for his medical care: daily medications he must take the rest of his life, therapy and what he says is "the least amount monthly they can get by with." He says he's been told since he was under a civilian contract, he may not be eligible for a settlement from the government. But Parker says since the government waived their requirements and contracted him, he feels he should be entitled to a 'big worker's compensation' and loss of potential income as a K9 war dog handler. "That day I lost more than Alex. I lost my job and I lost my family," says Parker who is facing the life of a single man again. "The only peace I've found is with the dogs. So I do what I know best. The best therapy for me is with the dogs. "

07/11/08 - Terry Wolf
---
n Loving Memory of
K9 APOLLO
February 7, 2007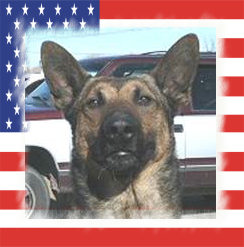 Handler: Deputy John Trevor-Smith
McKinley County Sheriff's Department
K-9 Division
Sgt John Trevor-Smith (K-9 Spike)
Deputy Christopher Escamilla (K-9 Doc)
2105 E Aztec Avenue
Gallup, New Mexico 87301
It is with a heavy heart that I relay the news that K-9 Apollo has been euphemized in order to eliminate any
further suffering after multiple seizures suddenly came upon him. This comes in the prime of his life at just over 5 years old and on the eve of recognition by the state legislature for community service. We had the privilege of working and training with this K-9 team from the day that Apollo arrived here in New Mexico.
He just kept getting better and better, working the streets ever-ready for a criminal apprehension, providing drug interdiction on the interstate or competing in Police Dog trials across the country. Just this past Friday Apollo was used to discover a dope load trying to cross the port of entry at the New Mexico-Arizona border.
Photos of just a few finds by this K-9 team may be seen on the website
http://www.co.mckinley.nm.us/sheriff/sheriff.htm.
Apollo and his handler Deputy John Trevor-Smith from the McKinley County Sheriff's Department were the winners of the Top Dog award in our 1st Annual Southwest Regional Police Dog Trials this past December.

Deputy Trevor-Smith must now start the long process of replacing Apollo as his K-9 partner. It is not an easy task to find a dog capable of both patrol and narcotics detection. Once he is found and probably imported from Europe, the task of training will begin. It will be some number of months before a new K-9 is ready to hit the streets. Since Apollo was owned by John personally and not the department, he must purchase his new
dog with his own money. Friends of New Mexico K-9 (http://www.FriendsOfK9.com/NM)
has started a fund to help support Deputy Trevor-Smith in his efforts to obtain a new K-9 partner.
We are asking for community support in order to reach our goal of supporting K-9 units across the state and in this case McKinley County.
---
In Loving Memory of
K9 ALEC
December 12, 2007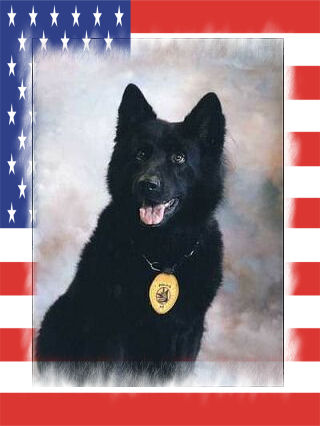 Handler: Officer Gregg Myers
Monroe Police Department
233 South Main Street
Monroe, Ohio 45050
(513)539-9234
Procession planned for K-9 - 12/19/07
Officers and about 30 police dogs from all over Greater Cincinnati will gather today in a procession to Pine Pet Cemetery for a final tribute to Monroe Police Department's last remaining K9 that died unexpectedly after finishing his shift last week. Alec, a 9-year-old black German Shepherd, suffered a seizure and stroke on Dec. 12. His handler, Officer Gregg Myers, decided to have his partner euthanized after tests determined Alec had an aggressive type of cancer. About 50 police cruisers are expected in the procession that starts around 11:30 a.m. from the Warren County Fraternal Order of Police lodge on Ohio 122. A graveside service is scheduled to begin at noon following a viewing.
update: A police dog's stirring goodbye 12/20/07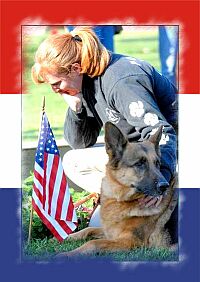 ------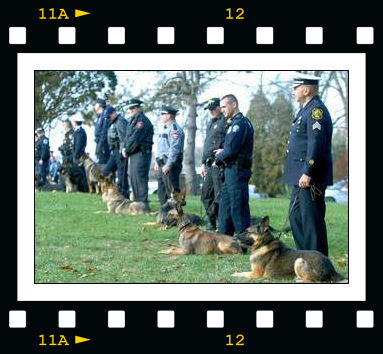 Norwood Police Officer Joe Dipietrantonio (right) and his dog line up with other K-9 units from the area during Wednesday's funeral for Alec, a Monroe police dog. Capt. Lynn Moore of the U.S. Department of Veterans Affairs, with her retired dog Burk, cries at the gravesite of her dog Britta. Alec, who died last week, will be buried near Britta. Before the long line of visitors started through the door to the tiny white chapel, Monroe Police Officer Gregg Myers said goodbye to his partner. He lifted the lid to the dark-stained rectangular pine box and petted the 80-pound black German shepherd. He told Alec he would miss him, and slipped the police badge inside. Then he carefully added Alec's favorite things - the piece of yellow plastic pipe that was used as a drug-detection training toy, and a piece of the jute bite sleeve that trainers use to protect themselves from the jaws of police dogs like Alec. "He loved to work," Myers said. "That's all he wanted to do. It was like Disneyland for him." With almost all the pomp and circumstance befitting an officer's funeral, Alec, Monroe's last remaining police dog, was buried Wednesday at the Pines Pet
Cemetery on Riley Wills Road. The unusual service drew officers and about 19 police dogs from all over Greater Cincinnati and Dayton. The 9-year-old canine, known not only for his ability to find drugs and nab criminals, but also for his scary dark looks, died a week ago after suffering a seizure Dec. 12. He had just finished his shift with Myers. Coincidentally, City Council had just voted to retire the department's other police dog, Tango, that night. Myers, Alec's handler for more than 7 years, had Alec euthanized the following day after tests determined the dog had an aggressive type of cancer. Until recently, he hadn't shown any clear signs of being sick, and he was supposed to work until late spring, then retire. Myers, who is training another dog for the department,felt he needed to do something special as a final tribute to Alec. "He's no different than any other officer," Myers said. Cemetery managers said they had never seen anything like Wednesday's funeral at the Pines. People often hold services for their pets. But they've never had a stream of more than 20 cruisers, a 21-gun salute and teams of police canines and their handlers, owner
Shannon Wood said. "It's the first time we've had one die in service here," Monroe Police Chief Greg Homer said. "It's unusual to have a dog die in service. They usually retire and pass away, so there isn't the hoopla.
The fact is that he was in service the day before he died. Police dogs are members of the department."
The $200 it cost for the cemetery plot and a one-time $100 cemetery upkeep fee was paid through donations that Monroe receives to support the canine unit, Homer said. After the casket was shut, four police officers carried it out of the chapel. The Mason Police Honor Guard led a procession of officers, police dogs and Myers' family about 150 yards to Alec's gravesite. Poems about the bravery and loyalty of police dogs were read at the graveside.
Alec's casket was draped with the American flag. Another flag flew at half-staff in the cemetery's special section for service dogs, where Alec was buried. Stories were shared about some of Alec's best qualities. Then, an honor guard fired a 21-gun salute. The Rev. Brad Olson, pastor of Monroe United Methodist Church, ended the service with a prayer. He thanked God for creatingAlec and prayed that Alec would make it to heaven. "We pray you will welcome him into your eternal kingdom," Olson said. Myers
wiped his eyes with a handkerchief. His three children wept. They had known Alec as a family pet. "He was my backup," Myers said. "He was there to give his last breath to get me home at the end of the night."
submitted by Jim Cortina, Dir. CPWDA
---
In Loving Memory of
K9 Alfred
January 2007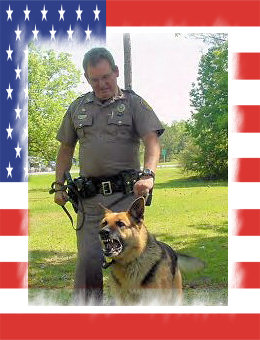 Handler: Trooper James Burnham
Florida Highway Patrol
Walton County

K9 Alfred began his career with the Florida Highway Patrol in 1996, with his first handler Trooper James Burnham. They were assigned to Walton County. In 1999, K9 Alfred was reassigned to Trooper Marvin Wagner Jr. The team graduated from the Florida Highway Patrol, Patrol Dog and Drug Detection academies in 2000
and was assigned to Washington County. K9 Alfred was known for his social behavior making many lifetime impressions as he performed his duty. K9 Alfred was retired from active service in January, 2005. In January, 2007, K9 Alfred died in his sleep from natural causes. He was a loved partner to Trooper Wagner and will be missed by those who knew the mighty K9 known as Alfred.
submitted by Bobby Earl
---
In Loving Memory of
K9 ARCO
November 9, 2007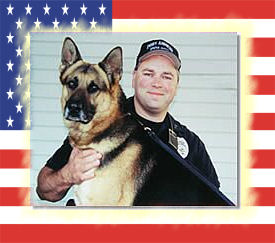 --

Handler: Cpl. Kevin Miller
Port Angeles Police Department
321 E. 5th St.
P.O. Box 1150 - PH: 360 452.4545
Port Angeles, WA email: police@cityofpa.us

On October 15th, 2007 at 0113 hours Port Angeles Police Officers were dispatched to a vehicle prowl in-progress in the 100 block of West 7th Street. Witnesses saw the suspects flee the area in a passenger car and provided a description. When officers arrived in the area, two suspects were seen in a vehicle matching the suspect vehicle description. A short pursuit ensued for several blocks. Ultimately the suspects abandoned their vehicle in the middle of a resident's yard. The vehicle contained the stolen audio equipment. The area was quickly contained for a K-9 track of the suspects. K-9 Handler Cpl. Kevin Miller and his K-9 partner, Arco, were deployed to track the suspects. A short time into the track, Arco collapsed. It was later determined that he had suffered a stroke. He was rushed for medical treatment, and Arco appeared to have rebounded and was back on his feet. However, over the next week it was evident that he was not the same.
On October 18th, 2007 he was taken to the veterinarian for a further exam. X-rays revealed that Arco had an enlarged heart and was officially retired the following day. Arco's condition rapidly deteriorated and he was put to rest on November 9th, 2007, only sixteen days before completing 11 years of service for the City of Port Angeles. Arco sustained numerous injuries over the years. The most significant was the loss of two canine teeth and a fractured rib from various confrontations with suspects. In almost 11 years of work he never missed a day. During the course of his career, Arco recorded 362 felony apprehensions as well as locating evidence that lead to both felony and misdemeanor convictions. Arco was cross-trained for narcotics and was responsible for hundreds of drug finds. He was deployed throughout the entire Olympic Peninsula and rendered K-9 support for various law enforcement agencies. His accolades include the apprehension of a murder suspect, numerous accreditation, certifications, and "Top-Dog" awards. Arco was the Port Angeles Police Departments first K-9 team, established in 1996, largely in part to a generous donation by the Atlantic Richfield Corp. (ARCO) and the strong support of City Councilman/former Mayor Gary Braun and former
Police Chief Stephen Ilk. The unit was expanded to a second K-9 team in 2002, K-9 Handler Allen Brusseau and K-9 Kilo. The financial support for the second team came from a generous contribution from a private donor. Anyone wishing to make a contribution to help support the Port Angeles Police K-9 Unit can contact Liz Zenonian, Port Angeles Police Department Records Supervisor at 360-417-4910. The service of K-9 Arco will be recognized by special proclamation at the November 20City Council Meeting. submitted by Jim Cortina
more:
In 1998, Cpl. Miller and Arco attended Narcotic Detection Training at McNeil Island in Washington State. K9 Arco earned the coveted "Top Dog" aware for finishing first in the class. Later that same year, the Washington State Police Canine Association granted a letter of accreditation to Arco in the discipline of narcotics detection and general work, making him an official state accredited "Dual Trained" police dog.
---
In Loving Memory of
K9 ANDY
October 31, 2007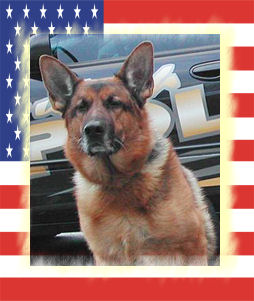 Handler: Lt. Tim Harvey
Duluth Police Department
3276 Buford Hwy.
Duluth GA 30096
770-476-4151
Duluth's K-9 passes away
With a heavy heart, the Duluth Police Department announces the loss of one of its finest on Wednesday, October 31st. Duluth's K-9, "Andy" who retired in June of this year passed away from a brief illness of gastric dilatation-volvulus (GDV). This illness occurs when the dog's stomach fills rapidly with gas, and then twists. Andy, a purebred German Shepherd, died from complications of the surgery he had to correct the GDV about two months ago. The 11 ½ year old dog was purchased in 1998 through donations provided by AGCO, Inc. of Duluth. He was specially trained and received certifications in marijuana and narcotics detection from several state and national agencies. While at the DuluthPolice Department, Andy was used for a wide array of tasks including drug detection, locating fleeing suspects, missing persons, and even evidence.

submitted by Jim Cortina, Dir. USPCA
---
In Loving Memory of
K9 ASTOR
October 16, 2007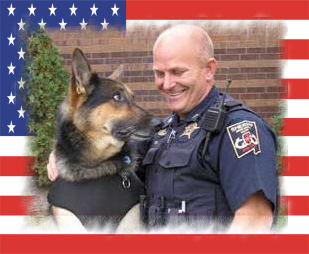 Handler: Deputy George Foy
DuPage County Sheriff's Office
501 N. County Farm Rd.
Wheaton, IL 60187
(630) 407-2400
Email: sheriff@dupageco.org
Astor, a 10 1/2 year old bomb-sniffing German shepherd who worked at the DuPage County Courthouse, has died. Astor was put to sleep after undergoing emergency surgery Monday night. He wore Badge 480.
"Astor was happiest when he was walking through the courthouse and county complex
sniffing for explosives," Sheriff John E. Zaruba said. "He was tenacious when it came to doing his job but was one of the calmest and gentlest dogs in our canine unit; he loved people as much as
he loved his job. We will all miss him."
Astor and his handler Deputy George Foy was a fixture around the county courthouse for the
last eight years where he spent countless hours protecting the public doing explosives sweeps. He was also available to any law enforcement agency in the region to search crime scenes, respond
to bomb threats and often served as security at public events. When the PGA golf
tournament was held at Medina Country Club, Astor was responsible for making sure the site was
secure. He also did bomb sweeps for law enforcement agencies from the United States Marshals
to local police departments. Another bomb sniffing dog, Utah and his handler, Deputy Ken Diebert,
will take over Astor's duties.

submitted by Jim Cortina, Dir. CPWDA
---
In Loving Memory of
K9 ANDOR
June 27, 2007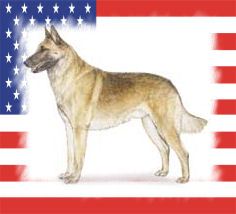 Handler: Deputy Robert Wann
Bexar County Sheriff's Office
200 North Comal - San Antonio, TX
78207-3505 - ph: 210 335.6000
K-9 honored - - 07/07/07 - Farewell to a canine officer
Bexar County sheriff's Deputy Robert Wann and his wife, Karen, grieve for K-9 Andor, Wann's partner and a part of their family. K-9 Unit Deputy Steve Benoy, holding his dog Blitz, salutes as taps is sounded for K-9 Andor. At 6-foot-1 and nearly 300 pounds, Bexar County sheriff's Deputy Robert Wann does not cry often, certainly not easily or in front of strangers. But when his partner of three years, a soulful-eyed Belgian malinois named K-9 Andor, died two weeks ago, Wann wept for days. "I didn't think it would affect me like this," Wann said. "But he would listen to my problems. He was my partner." Losing Andor, he said, "broke my heart." So Wann sought help from his supervisor, whom he knew to be a dog lover, and the two planned the
department's first canine funeral service, complete with a three-volley salute, a lone bugler and all the other traditionaltrappings of a law enforcement officer's funeral. Friday, deputies escorted a solemn funeral procession to the Sheriff's Officeraining academy, headed by a grey limousine holding Wann's family. "It may seem unusual," said Sgt. Tammy Burr, who helped organize the service. "But we wanted to make sure we do the proper thing. The dog deserves the same respect, per se, as any other law enforcement officer." Jim Watson, secretary of the North American Police Work Dog Association,said full-honors funerals for police dogs are increasingly common because "not only is it like an officer, but it's like a member of that officer's family." "It's just as hard as losing a human partner," he said. Described as a "light switch" because of his ability to shift from friendly pet to snarling terror ,Andor was put down June 27 after suffering cervical spinal cord compression, a degenerative genetic condition that his veterinarian said may have been aggravated by his work. In her eulogy, Burr told the crowd of mostly uniformed law enforcement officers and several four-legged colleagues that Andor had a history of "unselfish service." "While he didn't receive one red cent for his service, he never complained about his working conditions, lack of time off or his benefits package," Burr said. "He was content to work for the pure joy of the job and a small amount of praise." Hailing from Holland, Andor was acquired by the Sheriff's Office from the Hill Country Dog Centerin 2003. Deputy Steve Benoy, who trains the department's canines, said Andor had "one of the best personalities as far as
being a police dog." "It was like working with a 5-year-old kid that's excited all the time," he said. A patrol and narcotics dogwho received his commands in Dutch, Andor signaled a find by sitting down. One of his most notable was 9 kilograms of cocaine under a panel in the back seat of a Kia. Another time, he sniffed out $130,000 in cash on a Drug Enforcement Agency sting. Deputy Nadia Ben Kacem, who worked with Andor while she was on the gang detail, said," I had no fear when I was with him."
She recalled trying to arrest and handcuff two gang members by herself and telling them: "I'm not a sprinter. But guess what. My partner in the back is." At home, Andor was sweet-tempered and docile. He had an especially close bond with Wann's father, who was then in a wheelchair and who died in the past year, and would often rest his head in the man's lap. But as soon as Wann puton his uniform, "it was serious stuff, it was business," said his wife, Karen Wann. "I tried to give my husband a kiss one time, and he was snapping his teeth. He wanted a part of me." After Andor was diagnosed in October, Wann planned on keeping him. But over the past month, the 67-pound "freight train" rapidly lost strength. His physical motor skills deteriorated to the point that he fell into Wann's pool while setting off on a urinating trip. "I just couldn't watch it," said Wann, who plans to
add Andor's ashes to the glass cabinet holding his father's remains in the living room. Friday, after a bugler sounded taps and Wann was handed a Texas flag, a sheriff's dispatcher called repeatedly for K-9 Andor over the radio. Hearing no response, she set off the beeping tone that typically indicates an officer is in trouble. "K-9 Andor has successfully completed his final duty," the dispatcher concluded. "Badge number 007 is officially retired, never to be used again."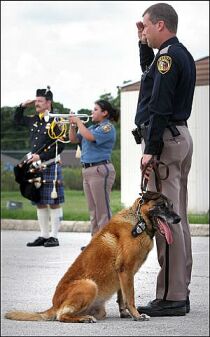 submitted by Jim Cortina, Dir. CPWDA
---
In Loving Memory of
K9 AR-PART
June 13, 2007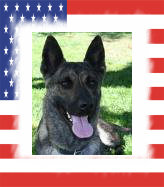 Handler: Patrolman Bruce Keffer
North Huntingdon Police Department
11279 Center Hwy
Huntingdon, PA 15642
(724)863-8800 - County: Westmoreland
North Huntingdon mourns death of veteran police dog,K-9 Officer Ar-Part, a Dutch Malinois service dog
who found missing children and hidden drugs during his seven-year tenure with North Huntingdon's police department, died Wednesday afternoon. He was 9 years old. The cause of death was gastric torsion, a condition where the stomach partially flips because of excess fluid, North Huntingdon Patrolman William Sombo said. Ar-Part, or, as he was known around the office, "Part," joined the North Huntingdon police force in 2000 when he was 2. Joining forces with Patrolman Bruce Keffer, Ar-Part was a dual-purpose canine in patrol and narcotics. When he wasn't nabbing criminals or sniffing out drugs, Ar-Part visited local
schools, where his "extremely approachable" demeanor was a hit with kids, according to Sombo. Ar-Part came to America from Holland when he joined the North Huntingdon force. There, he was trained by Sombo, who found Ar-Part "very easy to train because of his drive." Sombo said Ar-Part heeded commands spoken in Dutch, and no one in the department knows the story behind Ar-Part's unusual name. Ar-Part lived with Keffer. Ar-Part and Keffer were preparing to leave for a week-long training session in North Carolina next week, and Ar-Part worked his shift before dying at 5:30 p.m. Wednesday. The dog was treated at veterinary facilities in North Huntingdon and Monroeville. The North Huntingdon community has rallied around Ar-Part in his passing. Local businesses already have adorned their signs with Ar-Part tributes, Sombo said. Following police protocol, Ar-Part will be honored with a public memorial service because he died while
in service.
Memorial service arrangements are being planned.
By Erich Schwartzel TRIBUNE-REVIEW
submitted by Renee' Konias
---
In Loving Memory of
K9 AKS
March 28, 2007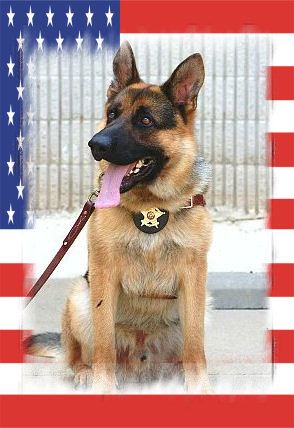 Handler: Sgt. Rickey Wheele
Grayson County Sheriff's Office
200 S. Crockett
Sherman, TX 75090
903.813.4200.ext.2229

County drug dog killed by former county judge
K9 Aks, the Grayson County Sheriff Office police dog that partnered with Sgt. Rickey Wheeler for the past 6 years received a gunshot wound late Wednesday that sent him to his grave. Wheeler's near neighbor and former Grayson County Judge, Tim McGraw fired the fatal shot. Aks was a German shepherd from in Holland and responded to his handler's commands spoken in Dutch. Private, corporate and organization donations, including some from the Grayson County Sheriff's Office Citizens Sheriff's Academy alumni group, purchased and transported the K9 here. Aks and Wheeler began working together in April 2001, 6 months after
Wheeler buried his first K9 partner, ARTIE, who died of natural causes Oct. 31, 200. McGraw was serving as Grayson County Judgewhen K9 Aks joined the Sheriff's Office force. Both Wheeler and McGraw said they let their dogs out when they arrived home from work that day. Grayson County S.O. investigator, David Sikes report stated that Aks had come onto McGraw's property about 9:15 PM and fought with his two dogs in the backyard. Grayson County Sheriff Keith Gary, who went to the scene later, said there is about 200 yards distance through a wooded area between Wheeler's & Mcgraw's homes. McGraw went inside, got his 9MM handgun and went into the backyard. The report continues to say he said he kicked at the other dog trying
to get his dogs back into the house. When they were safely inside, he went back outside to chase the intruding dog away.He fired 2 shots into the ground, the report stated, then fired the 3rd shot at K9 Aks when he turned and was acting aggressively. The dog yelped, turned around and ran away. McGraw spoke about the incident, adding a few more details. He said there havebeen 4 coyote attacks on his property, one of which killed a pet a year earlier and another that attacked animals twice on his property. Because dark had settled in, he said Aks looked like any other large dog. He said he had only seen Aks in passing over the years, and didn't recognize the dog. When he turned and came at me, I shot him. I understand now,
but at the time I didn't think I could make it back to the house before he made it to me, McGraw stated. Gary said earlier that dogs such as Aks are trained to respond to gunfire. Wheeler said he was working in his backyard with Aks playing around with neighborhood dogs and children, as the dog usually did. Wheeler said he looked up and saw that Aks had gone out of sight. About that time, he heard the 3 shots. He got into his vehicle and drove around searching for Aks. He and the police report both stated that when he got to McGraw's residence, McGraw met him at his vehicle asking if he was searching for a dog. Yes, Wheeler stated, McGraw told him he had just shot one. and that it was headed back behind his house when he last saw it. According to the report, McGraw stated he thought the dog might have been rabid. Somehow Wheeler found Aks and returned home with him which is where Gary and several higher ranking deputies met him.
Aks lay dead on the pickup's tailgate. Wheeler had made the call to the Sheriff's Office. Gary said Thursday afternoon that he spoke with Grayson County District Attorney, Joe Brown, who said there would be no charged filed against McGraw. Texas Health & Safety Code 822.013 states that a dog or coyote attacking, about to attack or recently attacked....domestic animals may be killed by (1) anyone witnessing the attack or (2) any representative of the attacked animals owner. It adds that in such a situation, the person who shoots the attacking animal is not to be reliable liable for any damages. Texas Penal Code 38.151(6) & (7) make it a third degree felony for anyone to kill a police service animal. However the health & safety code also states that if there is any contradiction between it and other laws, its law prevails. Brown said he hadn't
seen the official report yet, but spoke at length with Sheriff Gary about it. From what he said told, Brown said, there wasn't a need to file charges. He said he had been told 4 determining factors that he considered before telling Gary, (1) Aks was a German shepherd, which he said is known to be aggressive animal, (2) there was no evidence to suggest that McGraw knew the animals was a police service animal (3) the dog was on McGraw's property and (4) the dog was aggressive toward him. Gary said it was too soon for him or others to decide on whether or not they would purchase another police service dog. McGraw said that he was sorry to have killed the K9, as he would be if he killed any animal. This is all a terrible tragedy.
---
In Loving Memory of
K9 ARYN
January 24, 2007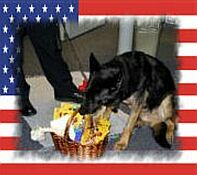 Handlers: Officer Rick Garner & Cpl. Mike Waddell
Gwinnett County Police Department
75 Langley Dr.
Lawrenceville, GA 30045
Phone: 770-822-7916 & 770-822.8000
Death of Retired Police K-9
Date: Wednesday, January 24 @ 12:32:04 EST -Topic: Gwinnett County Police Related News
Retired police K9 Aryn #612A was euthanized early this morning (Wednesday 01-24-2007), due to complications from ongoing health issues. K9 Aryn had a long, distinguished, and heroic career that spanned 7 years. K9 Aryn was born in 1995, and began his service with the Gwinnett County Police Department in 1997 being handled by Officer Rick Garner. K9 Aryn retired, finishing his career with handler Corporal Mike Waddell in early 2004. K9 Aryn is most remembered from when he was shot in the line of duty on
January 13, 2004 while trying to apprehend a double-homicide suspect in Lilburn. This selfless act most assuredly saved the lives of the officers that were with him at the time. As a result, K9 Aryn received several commendations including two Medals of Valor, a Purple Heart and lifetime membership from the local Fraternal Order of Police, as well as being named one of the Officer's of the Year for 2004 by the Gwinnett County Police Department. For more information on K9 Aryn visit: http://www.rayallen.com/K9Pride.htm
Funeral services will be closed to the public and open only to the law enforcement family. In lieu of flowers,
donations can be sent to the following:
The Cody Fund c/o Community Foundation for Northeast Georgia
6500 Sugarloaf Parkway, Suite 220
Duluth, Ga. 30097.
Visit their website at: http://gfi.actx.com.
=======
The service will be held on Wednesday 1/31/07 at 2PM, at the Oak Rest Pet Gardens, which is located
at 2691 Harbins Road, Bethlehem Georgia 30620. There will be a special area designated for the general
public if they wish to attend. If you have questions about the service, please call Oak Rest Pet Gardens at
770-995-8862.

More on K-9 ARYN - 1/25/07
Gwinnett County Police are mourning the loss of one of their own. K-9 Aryn, who spent seven years with the department,was put to sleep Wednesday morning because of complications from health issues, said Gwinnett County Police spokesman Cpl. Darren Moloney. Aryn, who began with the force in 1997 with handler Officer Rick Garner, retired in 2004 after he was shot in the line of duty, Moloney said. Upon retirement, his handler was Cpl. Mike Waddell, who was "pretty torn up" by the dog's death, Moloney said.
"For the department, we lost an officer; for Cpl. Waddell, he lost a partner and a friend," Moloney said. "This dog literally saved his life." Aryn, born in 1995, was considered a hero in 2004 after he helped officers find a double-homicide suspectin the shooting deaths of William "Bill" Venable, a Tucker High School teacher and coach, and his 17-year-old son,William "Bill" Jr. The two were shot in their home the night of Jan. 13 during a home invasion. The suspect, later identified as 19-year-old Terry James Chaney, fled the home and was hiding in a nearby wooded area when officers arrived. Waddell, Aryn and other officers were searching the wooded area, and that was when Chaney shot Aryn. The officers then fired back at Chaney, who was shot multiple times and killed at the scene. Aryn retired shortly thereafter, but received awards for his heroism, including two medals of valor, a Purple Heart and a lifetime membership from the local Fraternal Order of Police, Moloney said. He was also named as one of the department's officers of the year in 2004.
Aryn's funeral service will be closed to the public. In lieu of flowers, donations can be sent to:
The Cody Fund,
c/o The Community Foundation for Northeast Georgia,
6500 Sugarloaf Parkway,
Suite 220,
Duluth, GA 30097