In Loving Memory of
K9 YORK
February 24, 2006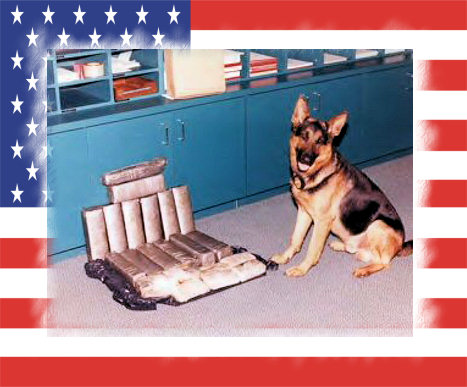 Handlers:
Trooper Jimmy Davis
Trooper Pat Earp
Trooper Jason Lemery
Florida Highway Patrol
K-9 York began his eight years of service with the Florida Highway Patrol in July 1995. During his service "York" was in part responsible for the arrest of over 400 individual felons that transported drugs on the highways of Florida. "York" was retired in July 2003 due to health reasons. His handler was Trooper Jimmie Davis and they were assigned to Central Florida's I-75 corridor. "York" and Trooper Davis were partnered with Trooper Pat Earp for two years and then with
Trooper Jason Lemery for the remainder of "York's" career."York" was involved in thousands of vehicle searches that resulted in the discovery of over 5,000 pounds of Marijuana,
136 pounds of Cocaine, 3,000 doses of Ecstasy, and 22 pounds of GHB (Date Rape Drug). Additionally "York" was instrumental in the seizure of significant amounts of U.S. Currency, Methamphetamine, Heroin, LSD, Anabolic Steroids and other dangerous drugs. All of these Florida Highway Patrol seizures started with just a traffic stop and totaled over $10 million dollars, resulting in over 2,000 criminal charges. In addition to his highway patrol duties, "York" assisted other agencies to further their investigations, resulting in seizing drugs and other contraband worth over $150,000.00. K-9 York died February 24, 2006, and is remembered and missed by all that had the pleasure to know him.
submitted by Bobby Earls
---
In Loving Memory of
K-9 YURI
September 2006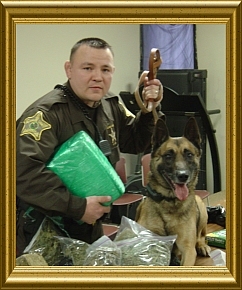 Handler: Deputy Lenny Popp
Delaware County Sheriff's Dept.
100 W. Washington St.
Muncie, Indiana 47305
(765) 747-7885
We are saddened to report that one of our most active and beloved K9 Officers "Youri" died recently. Youri and his human partner, Deputy Lenny Popp worked together to affect over 500 arrests. Here Youri is picturedwith over 60 lbs of marijauna seized during a raid. Youri will be greatly missed and almost impossible to replace.However through a very generous grant from the Delaware County Coordinating Council to Prevent Alcohol and Other Drug Abuse, Deputy Popp will soon begin training with a new K9 officer. Youri died while still in active duty therefore he was
afforded a memorial service complete with all the "pomp and circumstance" offered an office who dies while still actively serving as a police ;officer. Youri was honored with a flag draped casket, a flag ceremony, the playing of taps and a 21 gun salute. A fitting tribute to an outstanding member of the Delaware County Sheriff's Office. Funeral set today for local police dog 9/15/06 Indiana MUNCIE --
Memorial services for Yuri, a Delaware County Sheriff's Department dog who died of cancer last week, will be 3 p.m. today at Elm Ridge Funeral Home and Memorial Park, 4600 W. Kilgore Ave.
Yuri's cremains will be placed atop a bomb squad truck, leading a processional from Elm Ridge Funeral Home to the Heroes Garden section of Elm Ridge Memorial Park. The Heroes Garden is designed to honor public servants, including police officers, firefighters, emergency medical technicians and veterans. The memorial service will include an honor guard, bagpipes, a 21-gun salute and Taps. Yuri also served with the Elwood and Muncie police departments in the past eight years. He placed first overall in the 2004 Police Canine Olympics, competing against 60 dogs from six countries.

submitted by Jim Cortina, Dir. CPWDA