In Loving Memory of
K9 XERXES
February 3, 2006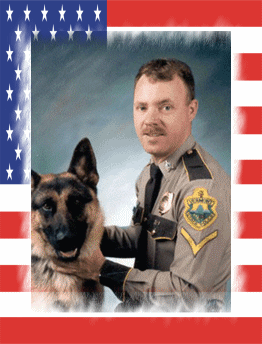 Handler: Cpl.ED Hunter
Vermont State Police
103 South Main Street
Waterbury, VT
05671-2101
802-244-7345
Waterbury, VT 05671-2101
. Ed HXerxes was 14 years old when he died. Xerxes came to the Hunter family as a young puppy. He quickly became a member of the family, a loyal friend, and a partner eager to always go to work even up to the final days before his passing.
During his career Xerxes had a great record of successful tracks. Ed and Xerxes graduated from Basic Patrol Dog School on Nov 1, 1996. Basic Narcotics Detection School just 1 year later on Nov 21, 1997, and the Advanced Tracking School on May 21, 1999.
Recognition:
Drug Dog of the Year Award - 1999, by VPCA
Canine and Handler of the Year Award - 2000, 2002, by the VPCA.
Meritorious Service Award - Vermont State Police.
Professional Dog of the Year - 2003, by the VT Veterinary Medical Association

---
In Loving Memory of
K9 XIRO
April 5, 1992 ~ April 10, 2006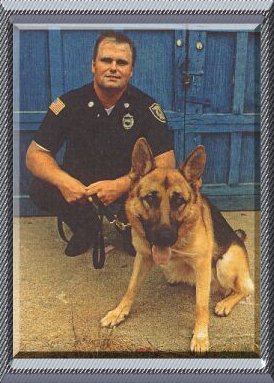 Handler: Deputy Chief Timothy Sheehan
Tewksbury Police Department
918 Main St.
Tewksbury, MA 01876
(978)640-4381

Dates of service are 08/20/93 - 06/07/2002
I would like you to know that XIRO (ZIRO) was the first Tewksbury Police K-9. He was well respected and highly decorated. XIRO and his handler Tim Sheehan went anywhere anytime. It didn't matter if a community needed help twenty minutes away. If they got the call, they answered it. XIRO made the news quit often, weather it was for catching an armed suspect; sniffing out large amounts of narcotics or community service he and his partner Tim Sheehan were there to answer the call for service. XIRO served the Town of Tewksbury Massachusetts and many other surrounding cities and towns in the area for close to ten years. He has done a great service to the town and made us all proud to call him a brother officer. Deputy Sheehan has set the standard for K-9 handlers and will always be regarded as one of the best.

Police Dog Prayer
Oh almighty God, who's great power
and eternal wisdom
embraces the universe, watch over
my handler while I sleep.
Protect my handler from harm while
I am unable to do so.
I pray, help keep our streets and
homes safe while my handler
and I rest. I ask for your loving care
because my handler's duty
is dangerous. Grant my handler your
unending strength and
courage in our daily assignments,
dear God, Protect my brave
handler, grant your almighty
protection, united my handler
safely with the family after the tour
of duty has ended.
I ask nothing for myself. Amen
(Unknown)