In Loving Memory of
K9 UNO
November 2, 2006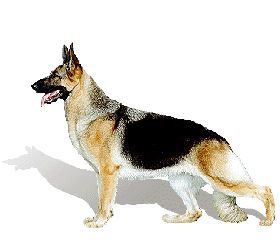 Handler: Jason Buckley
Peoria County Sheriff's Department
301 N. Maxwell Road, Peoria, IL 61604
(309) 697-8515, Fax: (309) 697-3734
Deputy injured, K9 dog killed, in two-car crash Illinois
A Peoria County deputy was injured and his K9 dog killed while en route to a call tonight when a car hanging lanes smashed into the driver's side of the squad car. Jason Buckly, 28, was headed north on Adams Street in Peoria's North Valley about 6:50 p.m. when a car in the immediate left lane, also going north, veered right into the squad car. VEHICLE ACCIDENT, EUTHANIZED Buckley initially complained of neck and back pain. He was transported to OSF Saint Francis Medical Center, where his injuries were being described as non life-threatening at 9 p.m. Uno the German Shepherd, the newest of the Peoria County Sheriff's Department's three police dogs, received massive injuries. He was euthanized at a local animal clinic Thursday night. Neither the driver of the other car, Jason Coyne, 21, of Lakeville and nor his passenger, Allison Gates, 22, of Decatur, were injured.
---
In Loving Memory of
K9 ULAN
Dec. 9, 1997 ~ Jan. 4, 2006
Handler: Deputy Chuck Jones
Hancock County Sheriff's Office
225 Main Cross St
Hawesville, Kentucky 42348 (270) 927-6247
It is a with a heavy heart that I am informing you that I have lost my K-9 Partner Ulan. He passed away the evening on Jan 4th. we beleive he was suffering from Spinal Degenerative Molopothy. Ulan Was born on Dec. 9th in Holland. He began service with our department in July of 1999. Since then he has been an invaluble asset to our small community and a cherished member of my family. Ulan's service record was impeckable, and was eager to go to work , even in his last days. Ulan will be sorely missed by me and my fiancÚ, Kari, and my children Ashley, Derek Ryan and Samantha. I am attaching a picture to this post in hopes of possibly receiving some memorial cards. we are having a service for Ulan Friday the 13th of January.
ON JANUARY 4TH 2006, YOU WERE SUDDENLY TAKEN AWAY FROM ME
FROM THIS DAY ON i'M NOT SURE HOW MY LIFE WITHOUT YOU WILL BE
YOU BROUGHT SO MUCH HAPPINESS TO MY HEART
I CAN'T IMAGINE US BEING APART
YOU DONE YOUR JOB ON EARTH SO WELL
AT THIS TIME, BEING WITHOUT YOU IS LIKE LIVING IN HELL

I AM SO PROUD THAT YOU WERE MY BEST FRIEND
WITHOUT YOU MY HEART MAY NEVER BE ABLE TO MEND
GOD ONLY KNOWS WHY YOU WERE TAKEN AWAY
IF I HAD ONE WISH, IT WOULD BE FOR YOU TO STAY
BECAUSE I NEED YOU BESIDE ME TO MAKE MY LIFE WHOLE
I LOVE YOU WITH ALL MY HEART AND SOUL
ON THE DAY YOU LEFT YOU DID NOT GO ALONE TO HEAVEN ABOVE
A PART OF ME WENT WITH YOU AND SO DID MY LOVE
NEXT TIME WE MEET AGAIN, WE'LL WALK THE GOLDEN STAIRS TOGETHER
AND I PROMISE THIS TIME ULAN, IT WILL BE FOREVER.
~~CHUCK JONES