In Loving Memory of
K9 TOON
October 20, 2006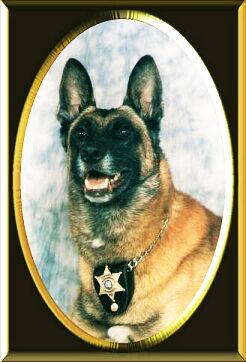 Handler: Randy Howell
Rockingham County Sheriff's Dept.
http://www.co.rockingham.nc.us/Sheriff/
Law & Order Bldg., NC Hwy 65, Wentworth, NC 27375
Phone: (336) 349-1011 Fax: (336)634-3230
"Toon" a 12.5 years old Malinois, who had obtained KNPV Metlof status while in Holland, crossed over the rainbow bridge on October 20, 2006. Toon's final journey came after his years of training, certifying, demonstrations of K9 skills and service to the citizens of Rockingham County as one of the Sheriff's finest. Toon's limbs could no longer support the weight of his body. After cremation, K9 Toon's remains were returned to his home where they will remain. K9 Toon's most memorable contribution during his time with the Sheriff's Department was the Demonstrations that he provided. Toon was estimated as being seen by over 10,000 students in most of the city and county schools. Career days, Dare Classes, Vacation Bible Schools and Day Cares all were witness to Toon's representation of how canines assist Law Enforcement. Toon was featured in an article in the Winter 2002 / 2003 Dogs Against Drugs magazine about his accomplishment in this area and his retirement ceremony which took place at a local school with all students and staff in attendance. The Poem below was written by one of the 5th grade students that had come to know K9 Toon. K9 Toon will be remembered for his assistance in helping remove drugs from the streets of Rockingham County by assisting in locating over 450 Lbs. of Marijuana, at the time one of the largest drug seizures in Rockingham County. Last but not least, K9 Toon will always be remembered by his handler and family who loved him dearly. ........ Thank You, Randy
My partner and friend who had to cross the rainbow bridge on October 20, 2006 due to his joint pain from years of tracking, demos and certifications where agility was performed. He was one of the best and I loved him dearly. If possible please advise what I need to do. I made a submission several years ago on behalf of another Handler who's partner was included in your book "Heroes Without Question" K9 Toon" until his retirement was with the Rockingham County Sheriff's Department in North Carolina. Toon was my first K9 and extra special to me because he fulfilled a dream that I had always had of being a K9 Handler.
IT SHOULD BE
If it be I grow frail and weak,
And pain should wake me from my sleep,
Then you must do what must be done,
For this last battle can't be won.
You will be sad, I'll understand,
Don't let your grief then stay your hand,
For this day more than all the rest,
You love and friendship stands the test.
We've had so many happy years,
What is to come will hold no fears,
You'll not want me to suffer, so,
When the time comes, please let me go.
I know in time you too will see,
It is a kindness you do me,
Although my tail its last has waived,
From pain and suffering, I've been saved.
Do not grieve that it should be you,
Who has to decide this thing to do,
We've been so close, we two, these years,
Don't let your heart hold any tear
Author Unknown
The most recognized section of any law enforcement agency is the uniformed patrol division. The Rockingham County Sheriff's Office is proud to serve the citizens 24 hours a day, 7 days a week. The Rockingham County Sheriff's Office is unique in its jurisdictional structure. Jurisdiction is held anywhere within the county. However, responsibility is shared with the Cities of Reidsville, Eden, Madison, Mayodan, and Stoneville. If you live within the city limits, then you will most likely receive law enforcement services from those agencies. The field operations division, more commonly known as the uniformed patrol, is the backbone of the Sheriff's Office. It is composed of four squads working 12 hour shifts. Their primary function includes answering all calls for service, enforcement of all criminal laws, preliminary criminal investigations and the service of criminal and civil process. The Sheriff's Office K-9 officers, animal control unit, staff duty are assigned to the uniformed patrol.
---
In Loving Memory of
K9 TUCKER
July 15, 2006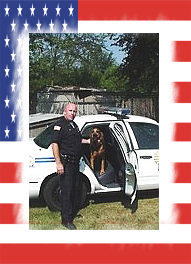 Handler: Officer Tracey Summers
Beloit Police Department
100 State Street
Beloit, WI 53511 - Phone: (608) 364-6807
Floppy-eared cop laid to rest Tuesday, July 18, 2006
By Jen Scherer- Daily News staff writer
A floppy-eared brother in blue passed away after 12 years of service Saturday. Tucker the bloodhound, who was handled by Beloit Police Officer Tracey Summers, died at his kennel in Beloit of natural causes. "We were all surprised," Deputy Chief Norm Jacobs said. "There was no report of illness or problems with the dog." Jacobs said Summers reported Tucker's hearing was getting poor, but Tucker was still on active duty at the time of his passing. He hadn't worked much in the last several months simply because there weren't a lot of circumstances that called for his use. Tucker most often was called on to follow a warm suspect trail. "(He would) go to a scene of a crime that had just occurred and there was a suspect who we believed may have fled on foot," Jacobs said. "That's one of the best times when we used a bloodhound. They have a fabulous ability to track individual persons." Jacobs said they didn't track Tucker's success rate the way they do with the new dogs on the department. However, two of Tucker's more memorable tracks occurred Aug. 24, 2004 and May 12, 2006. In the August 2004 incident, Tucker and Summers helped find an elderly person suffering from dementia who had wandered into a Rock County cornfield. In the May 2006 incident, Tucker and Summers helped Janesville police establish a possible bank robbery escape route. "Tucker was good at what he did and he was very enthusiastic," Jacobs said. "Often times the dog would have more left in him than the handler did on a track." Tucker and Summers were also favorites at demonstrations throughout the community; Tucker was very friendly with children. "He was a great slobberer," Jacobs said. Summers, who will remain on day shift, did not take Tucker on patrol with him. Instead, Tucker was kept kenneled at Summers's home until he was needed. "(Summers) is sad about the passing of the dog, but he also recognizes that he's had a great partnership with the animal and appreciates everything he's done for the community and (Tucker's)companionship over the years," Jacobs said. There is no special funeral or ceremony planned for Tucker, but he will be greatly missed by the department. "He was a floppy-eared brother," Jacobs said. "(He was) always welcome at the department." Tucker and fellow bloodhound, Scarlett O'Hara, were 9 weeks old when they came to Beloit in May, 1994 from Kansas. They were activated at seven months of age after both handlers received 40 hours of training. Tucker was predeceased by Scarlett O'Hara. The police department currently has one tracking dog in service. Max, a Belgian Malinois, is handled by Officer Bryan Hasse. A second Belgian Malinois, Nick, will go into service in August. Nick will be handled by Officer Brian Daugherty. Max, the department's golden retriever, retired when Dan Molland was promoted to sergeant in 2004. In a release, the police department offered thanks to Greater Beloit Community Trust, Stateline Community Foundation, Crime Stoppers, Wal-Mart, Prairie Animal Hospital, and the many Beloit Area service organizations which have supported and continue to support the canine program.
submitted by Jim Cortina
---
In Loving Memory of
K9 THOR
2006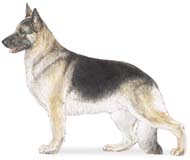 Handler: Jason Hay
Hillsborough County Sheriff's Office
Hillsborough, FL

Hello, I was just told about your website and I have been searching through observing all the things you have for Fallen K9's & K9 handlers. My name is Jason Hay. I work for Hillsborough County Sherifff's office here in Florida. I started working K9 Thor in 2001 and earlier this year he had to be put down due to cancer. We discovered this in the end of December, 2005. He went down hill fast over a three month period. It was extremely hard for me and especially for my wife. He was about 5.6 yrs. old and we apprehended a lot of bad guys over the past 4 1/2 years. He was outstanding with explosives as well. Is there a physical address I can send you a pic of Thor because I think my wife would really appreciate memorial cards that you offer. Please feel free to contact me at anytime .. this is my email address. If you have any questions,.... thanks again, Jason Hay.
---
In Loving Memory of
K9 TAZ
May 19, 2006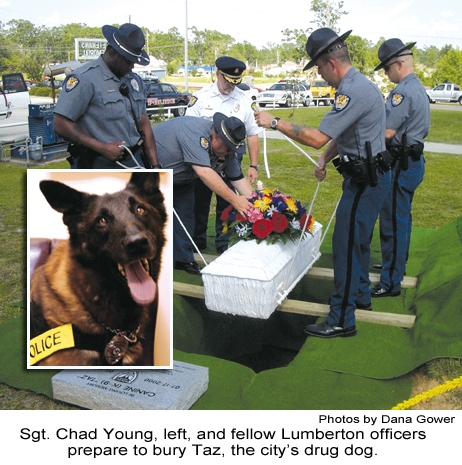 Handlers: Officers Timothy Daughdril, Emille Mistretta,
& his current handler, Sgt. Chad Young
Lumberton Police Department
PO Box 211 - 102 East Main Ave
Lumberton, Mississippi 39455
Office of the Chief: (601)796-7001 -Fax: (601)796-4405
E-mail the Chief: chiefchildress@bellsouth.net or chiefchildress@usacops.com
Lumberton mourns loss of canine officer
Lumberton police officers will hold a memorial service Thursday for the department's 6-year-old drug dog, Taz, who died Friday. Chief Mike Childress says the dog's handler stopped by the police department to fill out some papers, and left Taz in the patrol car with the air conditioner running. But sometime during the 15 to 20 minutes the officer was inside the station, the car's air conditioner failed. Efforts to revive Taz were unsuccessful.
Remembering Taz... 6/2/06
Lumberton bids farewell to four-legged friend, officer By DANA GOWER
A week after law enforcement officers across the country gathered to honor officers who had lost their lives in the line of duty, members of the Lumberton Police Department were joined by area agencies in remembering one of their own. Taz, a Belgian Malinois who joined the police department on Nov. 21, 2001 as the department's only canine officer, was buried during a memorial service behind City Hall Thursday. Police Chief Mike Childress said Taz was waiting in a patrol car while his handler stopped at the police department when the car's air conditioning failed. When the handler returned, estimated at about 15-20 minutes later, Taz couldn't be revived, Childress said. Rita Pickering, who was serving as Lumberton's police chief when Taz joined the department, said she had solicited donations "from business to business and door to door" to raise funds for a drug dog. "The board at the time would not vote for us to get a drug dog," she said of the need to collect private donations. "Local businesses and citizens donated the money. Everyone was really great." The name Taz came from Tasmanian Devil, Pickering said, adding that he was actually a very gentle dog. "He was a very well-mannered and loving dog. He was really fabulous," she said. "He was awesome. He made some very big cases." In his eulogy, Childress noted that, "Taz was not just a dog, but he was a police officer due the respect given to any law enforcement officer. He was also a family friend to all who were responsible for him." During Taz' time with the police department, Childress said, "he was responsible for numerous drug arrests and drug cases...His death and passing will have an effect on all who knew him." In the time he served with the police department from 2001 to May 19, 2006, Taz was assigned to three partners: Officers Timothy Daughdrill and Emille Mistretta, and his current handler, Sgt. Chad Young. During the funeral service, which included a 21-gun salute and the playing of Taps, Young was presented with the flag that had been draped over Taz' casket.
submitted by J. Cortina
---
In Loving Memory of
K9 TAYLOR
January 7, 2006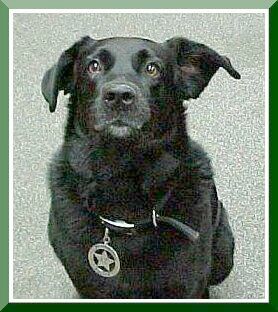 Handler: WPD Narcotics Detective Chris Sallee
Wickenburg Police Department
155 N. Tegner St. #C.
Wickenburg, AZ 85390
928-684-5411
It was with sadness last week that the Wickenburg Police Department (WPD) said goodbye to Taylor the drug dog, a trusted and loved member of the force. Taylor died of cancer on Saturday (Jan. 7) at the Wickenburg Veterinary Clinic. He was 10-years-old.Taylor was a member of the WPD for the past eight years and was going to officially retire in early 2006. He was a nationally recognized certified narcotic canine and had an impact on the police department as well as many in the community.His handler, WPD Narcotics Detective Chris Sallee was with Taylor when he died. Sallee expressed sadness for the loss of his closest companion."It has been an honor and a pleasure to work with such an intelligent, loyal and amazing dog who is not only my partner but my best friend," Sallee wrote in a memo to WPD Chief Tony Melendez. "Taylor has warmed my heart and he gave more than 100 percent every day to me and to this department." Sallee said that Taylor located several million dollars worth of illegal drugs as well as several hundred thousand dollars in U.S. currency while on the job. "It will be a lot quieter in my patrol car now without Taylor, but his spirit will always be with me," Sallee said. "I know that Taylor not only enjoyed coming to work, but he loved his job. He loved going to all the schools. I will never forget him or the memories we have shared in the past eight years."
The police department is planning a memorial dedication for Taylor in the near future.
submitted by Jim Cortina, Dir. CPWDA
---
In Loving Memory of
K9 TROY
November 4, 2006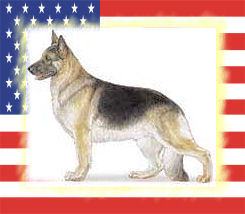 Handler: Officer J. Tatam

Former Handler: N. Nunez now with USCBP.
El Paso Police Department
911 North Raynor Street
Phone: (915) 564-7000
El Paso, TX 79903
El Paso ISD K-9 Troy Passes After Seven Years of Service
K-9 Memorials K-9 Troy with the El Paso ISD Police Department for the past 7 years passed away Saturday 11/04/2006.The Department is dedicated to the safety of the community and strives to provide quality services with great integrity. With a sworn staff of 1,091 officers and 350 civilian employees, the Department has worked diligently and successfully to maintain El Paso's ranking as the 2nd Safest City in the United States. Troy will be missed by his fellow officers, the children and adults of the El Paso Independent School District that he served. Troy will be missed most by his handler Officer J. Tatam and former handler N. Nunez now with USCBP.
---
In Loving Memory of
K9 THUNDER
April 12, 2006




Handler: Constable Yancy Eddie
Chatham-Kent Police Department
Chatham Ont. N7M 5K5
PH: 519 436 6653
P.O. Box 366 - 24 Third St.
CKpolice@chatham-kent.Canada
Police dog served in two area forces - Wed, April 19, 2006
A beloved member of Chatham-Kent's police department, who was instrumental in sniffing out drug caches and tracking down fugitives, has died. Thunder, the police dog who arrived in Chatham with his handler in 1998, was put down last Wednesday after a long illness. He served Chatham and Haldimand-Norfolk for more than 10 years. As the Chatham force's first canine, Thunder was big news when he arrived. "Thunder helped track criminals and (missing) people during his career and assisted the police in helping solve many cases," a police statement read. "Thunder will be missed by those who got to know this hard-working canine." Along with his handler, Const. Yancy Eddie, Thunder made headlines several times in his career, including: - April 1999:
A police chase ended when Thunder picked up the scent and caught a driver who had abandoned his car and run into a field. - February 2000: Const. Eddie stopped a speeding car and Thunder found 55 grams of crack cocaine, worth about $13,000.
submitted by Jim Cortina, Dir. CPWDA ----- Constable Doug Gutteridge Chatham-Kent Police Service
---
In Loving Memory of
K9 TOPPER
June 25, 1998-October 29,2006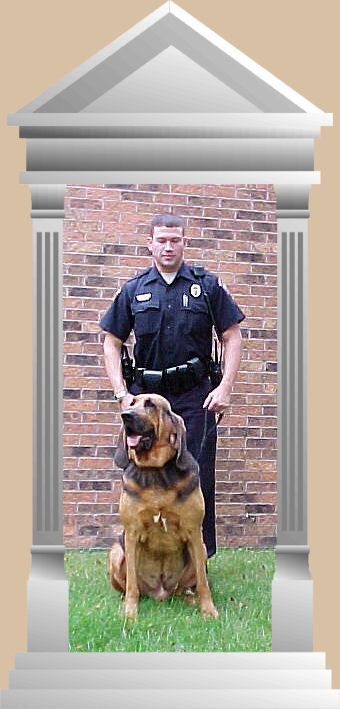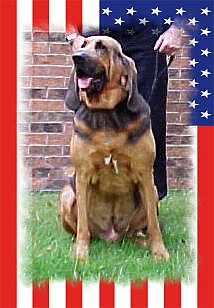 Handler: Officer Rob Burdess
Newton Police Department
101 W 4th St. S
Newton, Iowa 50208
(641)791-0850 - Fax (641) 791-0721

K-9 Topper, who was euthanized in the fall of 2006 due to cancer. I was Topper's owner/handler and we worked together for over 8 years. His DOD was Sunday -Oct. 29, 2006. He was born June 25, 1998. He was euthanized after discovering he had cancer. He was still working at the time of his death. We actually discovered his medical problems while working a missing persons case, when he began to limp really badly. Through it all he continued working, but I eventually stopped him because of the pain he was in. I appreciate you thinking about us and posting a memorial. Feel free to crop the pic. as much as you want. Please give me a call or email me should you have any questions. Thank you.
(UPDATE: K-9 TOBY)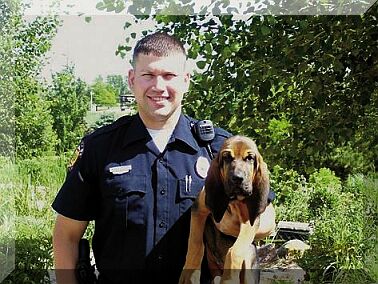 Newton Police Department gets new K9 officer
The Newton Police Department has announced the continuation of a partnership with Officer Rob Burdess with his new bloodhound, Toby. Toby is a 12-week-old bloodhound belonging to Burdess. Toby is replacing K9 Topper, who was euthanized in the fall of 2006 due to cancer. Topper was instrumental in solving numerous cases for the Newton Police Department and agencies throughout the State of Iowa and was found to be a valuable resource. Toby was purchased as a result of a number of public donations from Newton and Jasper County residents. The use of Toby by the police department is a public/private partnership, with the department providing Burdess' time off to attend annual training and pay overtime during K9 call outs. Burdess owns Toby and provides for his care, food , veterinary bills and continued training. Burdess conducts all of the training himself, but the team will attend annual training for certification, legal updates and the newest training methods. Toby began training 3 weeks ago and is expected to be ready for full duty in early 2008. Upon completion of training Toby will be used to locate missing persons, fleeing suspects, escapees from
correctional facilities and criminal evidence. Toby will be only one of two police bloodhounds in the State of Iowa.
---
In Loving Memory of
K9 TAILEY
June 12, 2006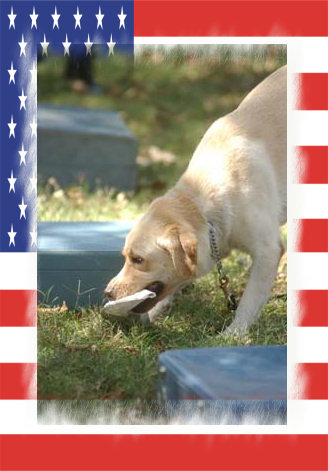 Handler: Police Officer Rick Elliott
South Hutchinson Police Department
210 W 1st Ave., Hutchinson - (620) 694-2821
South Hutchinson, KS
Police dog dies of 'heat exhaustion' in garage - By Mary Clarkin The Hutchinson News 6/16/06
A hot garage contributed to the death Monday of South Hutchinson Police Department's narcotics-sniffing yellow Labrador retriever, Tailey, officials said. A hot garage contributed to the death Monday of South Hutchinson Police Department's narcotics-sniffing yellow Labrador retriever, Tailey, officials said. The 7-year-old dog died in a garage kennel at the home of her handler, Police Officer Dustin Cooke. The dead K-9 was brought Monday to Purple Wildcat Animal Clinic in South Hutchinson, and veterinarian Dr. Dan Naiman said the death "was due probably to the heat stress." City authorities did not request an autopsy, he said."We attribute it to heat exhaustion," said Lt. Detective Tim Skomal, second in command at South Hutchinson Police Department's. He noted that Tailey became especially nervous during stormy weather - managing to escape from kennels - so Cooke put the dog in a kennel in his garage. A spokesman for the National Weather Service in Wichita said the weather turned stormy Sunday night. On Monday, temperatures reached a high of 82 degrees in Hutchinson. Cooke lives in the Pretty Prairie area, about 25 miles south of Hutchinson. Efforts to contact him Thursday were unsuccessful, but Skomal said Cooke was "hit hard" by Tailey's death. Police headquarters was informed of the dog's death at about 4:30 p.m. Monday, Skomal said. Skomal said Cooke "took precautions" to get air to Tailey, by placing a fan and water in the garage. Besides the heat, Skomal said, stress exacerbated by the dog's reaction to the weather also led to its death. South Hutchinson Police Chief Scott Jones will conduct an internal review of the matter. Skomal said Cooke wants another drug dog, but that decision involves approval by the South Hutchinson City Council. Acquiring a trained narcotics dog can cost from $5,000 to $15,000, Skomal said, with another $1,000 to $2,000 to train the officer. The Reno County Sheriff Department owns a Malawa named Daisy that is trained to sniff for narcotics and conduct article and people searches, Undersheriff Dennis Stofer said. Hutchinson Correctional Facility also has trained dogs. In this photo, South Hutchinson Police Department's drug-sniffing dog, 'Tailey,' demonstrates her abilities during a press conference in September 2003. Tailey was born in El Dorado and trained by Rick Elliott, the master trainer and head K-9 handler for Hutchinson Correctional Facility, who died May 24. The Hill City Police Department bought Tailey, and Officer Cole Presley became her handler in 2002. The Kansas Army National Guard deployed Presley in spring 2003, and the Hill City Police Department loaned Tailey to the Reno County Sheriff's Department. Reno County Sheriff Randy Henderson had hoped to buy Tailey. Statistics show that between Tailey's arrival in the department in August 2003 and the end of 2003, she participated in 40 searches, including 27 vehicle searches and 13 building and schools searches. She worked in drug seizures that netted marijuana, meth amphetamines, cocaine vials and crack cocaine pipes. But Hill City wanted Tailey back when Presley returned in 2004. He later became Undersheriff for Graham County, and Hill City wound up selling Tailey to South Hutchinson. "What was she doing in a garage?" Hill City Police Chief Russ Ingle asked upon learning of Tailey's death. Storms "really bothered her quite a bit," Ingle said. Presley estimated Tailey was roughly at "midcareer" for a police dog. He noted she was eager to work, but in a small town he couldn't spend all his time doing drug work."She was an excellent dog," Presley said.
*****************************
Robert Marin KWCH 12 Eyewitness News Tuesday, June 6, 2006
Severe storms leave a path of damage across several Kansas counties early Tuesday morning. The hardest hit areas were in Stafford and southwest Reno Counties. The town of Turon in southwest Reno County was without power since early Tuesday after high winds whipped power lines and snapped utility poles. The winds also knocked down numerous tree limbs and destroyed a grain bin at an elevator in Turon. Wind gusts measured at 80 miles an hour were reported near St. John in Stafford County. There were also reports of numerous tree limbs and even damage to a home southwest of St. John. The storms weakened by the time they hit the Wichita area. Count on Storm Team 12 for complete coverage anytime severe weather strikes.
submitted by Jim Cortina, Dir. CPWDA