In Loving Memory of
K9 PIPER SAR
September 28, 2006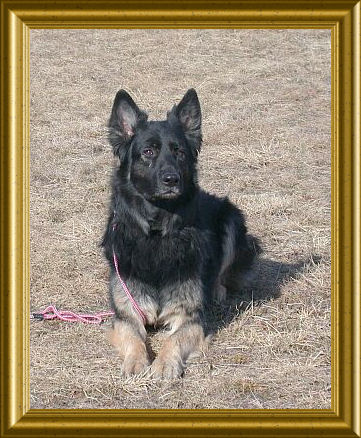 Handler: Sonny Whynman
NJ-TF1
355 Greenbush Rd.
Blauvelt, NY 10913

It is with deep regret that NJ-TF1 announces the passing of former NJ-TF1 Canine Piper on 9-28. Piper was handled by owner, Canine Search Specialist Sonny Whynman and served NJ-TF1 well for several years, including our deployment on 9-11. Sonny and Piper were a great team, and were very active in while on NJ-TF1, and also representing NJ-TF1 at many public functions. Additionally they were members of the New Jersey Search & Rescue Council, taking part in searches for missing people. If you would like to contact Sonny, his e-mail is Dogman@bestweb.net Thanks Jim Bastan
********
Piper was a huge, long-hair GSD. He was a member of New Jersey Rescue and Recovery K-9 Unit as a wilderness search dog and a member of New Jersey Task Force One as a Disaster Dog. We deployed to Ground Zero in NYC on Sept. 11, and he worked there with me tirelessly for 10 days under the most horrible conditions. He was super smart, gentle, wise, and one of the best friends I have ever had. Like you, I am a dog person, and I have never been without several in my life and in my house. I believe, however, that everyone is graced with one special K-9 in his or her life who is an extension of the person, who is his true partner in every respect. For me, this was Piper. We worked together, we ate together, we often slept together, and we were content. He worked tirelessly, never complaining, always leading the way. Sometimes he was hurt or sick, but he never quit. In my next life I would like to be that good. I hope to have many other fine dogs before I go, but there will never be another Piper.
---
In Loving Memory of
K-9 PINTO
December 15, 2006


Handler: Sheriff Same Jones
Andrews County Sheriff's Department
201 N. Main, Rm 113
Andrews, TX 79714
432-523-5545
Andrews County sheriff's deputies plan to bury a three-year veteran of the office Thursday — memorializing the service of K-9 Pinto. Memorial services begin at 2 p.m. Thursday on the front lawn of the Andrews County Courthouse with Sheriff Sam Jones and County Judge Richard Dolgener presiding. Pinto was killed Friday night in a high-speed chase between sheriff's deputies a 19-year-old Odessa man, sheriff's reports said. According to sheriff's reports, Deputy Mark Greenhaw stopped a vehicle on Highway 385, north of Andrews, on a routine traffic stop. One of the passengers, 19-year-old Justin Eubank, had outstanding warrants in Ector County, so Greenhaw handcuffed him and secured him in the front seat of the patrol car, deputies reported. While Greenhaw and Texas Department of Public Safety Trooper Kelly McClatchy returned to the stopped vehicle, Eubank maneuvered his cuffed hands to the front and fled in Greenhaw's patrol car with Pinto, a K-9 unit, caged in the backseat, deputies reported. Greenhaw and McClatchy chased the patrol car into Andrews, where Eubank swerved and lost control striking an Andrews police car at North Main Street and Mustang Drive, reports said. Eubank continued across Northwest Mustang Drive, hit another vehicle and both Eubank and Pinto were thrown from the car, police said. Eubank was airlifted to Medical Center Hospital and is listed in critical but stable condition. Pinto died en route to Andrews Veterinary Clinic. Pinto was a 5-year-old German shepherd, which had been instrumental in many drug cases and seizures, UTPB Police Chief Mike Tacker said. Tacker, who was an Odessa Police Department narcotics officer for 15 years, said that in June 2004, Pinto was shot in the muzzle saving his partner and at least one other officer. Tacker said he borrowed the dog several times. "There's a lot of drugs off the street because of that dog," Tacker said. "…You can call the dog a hero, because he's done his share of duty." Andrew's drug dog died Friday - Police dog to be buried following Thursday - Odessa American submitted by?
---
In Loving Memory of
K-9 PECCO
July 17/or/24, 2006


Handler: Chris Felder
Baytown Police Department
3200 N. Main St.
Baytown, TX 77521 - (281) 420-0421
J. Lee Hendricks Sergeant K-9 Unit Coordinator
Baytown PD, TX (281) 420-0421 ofc (281) 914-9202 cell
Baytown Police K9 Pecco passed away this Tuesday morning, apparently from pneumonia. We're suspecting this to be a complication of the ehrlichia and rocky mountain spotted fever he was diagnosed with two months ago. Since that point, his health had been a rollercoaster ride and he wasn't eating well, despite Chris cooking for him. It seemed Pecco was on the road to recovery but, last week, he started with a hacking cough and the vet Lipps saw some stuff in his lungs she didn't like and took a biopsy.oddly enough, the next day the danged dog ate several chicken breasts and fooled everyone into thinking he was feeling better. But Monday he got worse again and couldn't breath and the vet sent him to the emergency clinic downtown again (his third visit in two months) where they insisted on keeping him overnight after doing a lung wash. Apparently the valves in his heart were swollen and the infection had made its way there also. The hospital called Chris Tuesday morning around 0900 to tell him Pecco had lost his final battle. Both the hospital and our local vet have insisted on a necropsy to find out if there is any threat to the area and, hopefully, to learn something for next time. Not only was Pecco an outstanding patrol dog (who also did narcotics detection if he HAD to ) but he was known for his all-out flying hits amongst those who had seen/caught him in training.Seeing him do a car extraction or a muzzle hit at Bob's Houston conferences usually drew a crowd! ;-) He was a helluva dog, a good friend, and he will be sorely missed. As you can imagine, Chris and his young son Ty are devastated - and the rest of us are saddened and just kinda numb. We knew Pecco was sick, but I guess no one realized just how sick he was. Other than being really thin and not completely himself, he seemed fine last week at training. Heck, up until 2 months ago, this was a very healthy 9 1/2 year old dog whose only medical problem had been tender paws! DIRECTIONS FOR SERVICE
Services will be held for K-9 Pecco at the K-9 Cemetery located at Baytown Police Department Range located at 3307 McLean Road (the entrance is to the right of the dead-end on McLean) at 10 AM on Wednesday, 7/26/06. From I-10E, take the Spur 330 exit, then the Wade/Baker Road exit then turn left onto Wade immediately after crossing the railroad tracks (Wade only goes left from there). Once you pass the stop sign at Cedar Bayou-Lynchburg Road, McLean Road is then the next right and only goes to the right. From Hwy 146, take the Spur 330 exit, then the Baker/Wade Road exit. After the light at Baker Road, Wade is the 3rd right, immediately before the railroad tracks and only goes to the right from there.
submitted by Dusty Dusty Simon