In Loving Memory of
K9 KILO
November 20, 2006



Handler: Officer David Dewey
Colchester Police Department
Post Office Box 37
Colchester, VT 05446 - Phone: 264-5555
e-mail ddewey@dps.state.vt.us -Police 'hero dog' Kilo dies
The Colchester Police Department grappled Tuesday with the loss of one of its most well-known members. Kilo, the black German shepherd that gained local fame as a police canine, died Monday night during orthopedic surgery at the Vermont Veterinary Surgical Center in Colchester. Kilo was 8 years old. Kilo underwent surgery because of a swollen leg, and doctors discovered a widespread infection, said Officer David Dewey, Kilo's handler. Kilo had undergone a previous surgery. Police did not know the origin of the infection on Tuesday. "He was my best friend. As far as a partner to work with. He smells a little, drools a lot, barks a lot, but I could not have asked for a better partner," Dewey said. "You just can't compare." Trained for canine police work since he was a 6-week-old puppy in Winooski, Kilo came to Colchester with Dewey in 2002 and became a regular fixture in felony arrests, drug searches and missing-person investigations in Chittenden County. Dewey said Kilo was on hand for a recent burglary, in which the suspect ran out the back door before being apprehended by police."He said he remembered Kilo and did not want to get bit by him," Dewey said. "That's why he ran." The dog also was a much-loved fixture at Special Olympics Vermont and Colchester schools, appearing regularly at career events, winter carnivals and drug education programs. Colchester Police Sgt. Jeff Fontaine described the connection Kilo helped forge between students and police as "awesome." "The barriers certainly came down. It was an awesome bridge between the school kids and police," Fontaine said. Police were often stopped on the street by students and Colchester residents, who asked how the dog was doing. Fontaine said he knew that news of Kilo's passing would come as a shock to community members who were allowed to stop and interact with the dog as long as he wasn't working. A 2004 inductee into the Vermont Veterinary Medical Association Animal Hall of Fame as a "hero dog," Kilo and Dewey were named the 2006 Patrol Team of the Year by the Vermont Police K-9 Association. The pair were still out, working together, within the last week, Fontaine said."I never heard anybody complain about Kilo," Fontaine said, "other than the bad guys."
submitted by Jim Cortina
---
In Loving Memory of
K9 KARR
February 26, 2006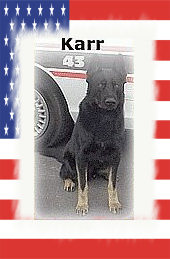 Handler: Officer Vince Bertossi
Schereville Police Department
25 E Joliet St
Schererville, IN - (219) 322-5000
Police canine served Schererville community for 7 years
Post-Tribune staff report March 2, 2006 IN
K-9 Karr, a Schererville canine officer since 1999, died Sunday. His handler, Officer Vince Bertossi, said Karr weighed between 90 and 100 pounds, but could calm a restless group of people just by his presence. He could attack on command,but he was gentle with children. Bertossi misses him deeply. "I spent more time with that dog than with any other living creature over the past seven years," he said. Karr died after surgery to remove a tumor on his spleen. After the operation, the surgeon told Bertossi that Karr also had tumors on his liver and his time was limited; Karr died a few hours later. A German shepherd, Karr was born in the Netherlands and was brought to the United States to be a police dog. He was almost 2 years old when Bertossi trained with him at the Landheim Training Center near St. John. Karr was certified annually by the North American Police Work Dog Association. "He was an excellent dog," Bertossi said. "He never failed to qualify." A multipurpose dog, Karr was trained for tracking, narcotics detection and crowd control and he did all those tasks for Schererville and neighboring police departments. He and Bertossi also demonstrated their skills at schools. After the work day, they returned to Bertossi's family. Karr's outstanding attribute was his attention and devotion. "He really listened," Bertossi said. "The obedience was incredible." The Schererville Police Department now has one police dog team — Lt. Larry Mysliwiec and his partner, Boss, a 101Ú2-year-old German shepherd. The department is looking at its options now for replacing Karr, Cmdr. Randy Reno said. The department will also commemorate Karr during a Police Memorial Week ceremony in May. K9 Karr was purchased from breeders in the Czech Republic by the Landheim Training Center in Dyer, Indiana.
submitted by Jim Cortina
---
In Loving Memory of
K9 KUFKEY
August 7, 2006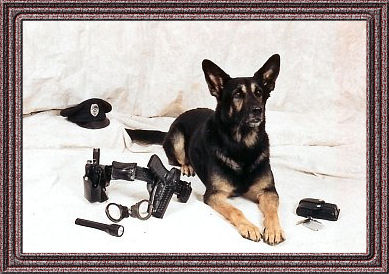 Handler: Beth Eilers
Lakeville Police Department
20110 Holyoke Ave.
Lakeville, MN 55044 - (952) 985-4800
e-mail: policeinfo@ci.lakeville.mn.us
Kufkey was born in the Czech Republic and began his career with the LPD in 1996. He was the City's third police canine, protectingLakeville citizens for almost seven years. Kufkey's work, along with handler Beth Eilers, resulted in numer­ous arrests and drug seizures, along with the ap­prehension of many criminals. He also participated in many public demonstrations and was well known throughout the community. In addition to his success on the street, Kufkey earned many titles in competition, including Top Rookie Dog in 1997,4th Place overall in 1998 and Top Dog Overall in 2000. In 2000, Kufkey was also the recipient of the prestigious Tim "Nipper" Jones and Laser Spirit Award. In 1999, Kufkey achieved national ranking at USPCA National Field Trials as a member of the 5th place regional team and the 6th place team in the National Narcotic Detector trials. Kufkey retired in 2003. He enjoyed his retirement years, taking long walks and swimming at his favorite lake up north. He will be sadly missed by those who knew him.
---
In Loving Memory of
K-9 KIMON
September 8, 2006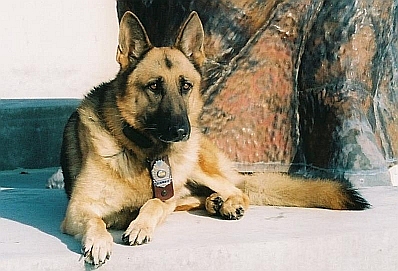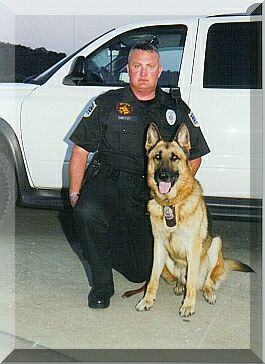 Handler: Officer Rodney Rimstidt
Rising Sun Police Department
300 South Poplar Street
Rising Sun, IN 47040
KIMON'S STORY
K9 Kimon was born in Ascha, Germany, August 10, 1999. At the age of one year and ten months, he began his journey from Europe to the United States. He arrived in Denver, Indiana, at Vohne Liche Kennels to begin narcotics imprinting in July 2001. Close to this time, Rising Sun Police Chief, Frank McIntosh's K9 partner, Arthur, was diagnosed with cancer and passed away a short time later. Out of Frank's loss of Arthur, and his generosity, Rodney was chosen to be the next K9 handler for the Rising Sun Police Department. And so, Kimon's life with Rodney began. On September 4, 2001, Frank took Rodney to Vohne Liche Kennels to select a new K9. What actually happened was that a K9 chose Rodney. After being shown several dogs and narrowing it down to two, one dog took the initiative to care that Rodney was there. Sitting on a picnic table after a walk, Rodney was surprised as this dog, Kimon, stepped right up into his arms. Kimon had made his choice and at that moment Rodney knew this was thedog. Arrangements were made to purchase Kimon on that day.Rodney returned home to make preparations for Kimon's journey to Rising Sun. On September 10, 2001, Rodney poured the concrete foundation for Kimon's kennel floor. Rodney's daughter, Abbey placed handprints into the concrete along with the date. The following morning, Rodney continued preparations to assemble the kennel. During a trip to Aurora with Frank McIntosh to get supplies, Rodney received a phone call from his wife, Angi, telling him to get to a television. We all know and remember that day, September 11, 2001. It was a day that changed the lives of Americans forever. Little did Rodney know how this event, in time, would be of significance to his relationship with Kimon. Frank and Rodney returned to the kennels in Denver, Indiana, on September 14, 2001, to bring Kimon home. Before leaving, Rodney had to give Kimon a bath to start the bonding process. Once back in Rising Sun, Kimon met Angi and Abbey Rimstidt and members of the Rising Sun Police Department for the first time. Kimon and Rodney began their K9 basic training course at Vohne Liche Kennels on September 24, 2001, and graduated on October 26. K9 Kimon and Rodney hit the streets of Rising Sun October 31, 2001. Over the next fifteen months, Kimon and Rodney worked and trained as a team. On one specific night, Kimon and Rodney were called to assist with a burglary in progress at a local bar in Rising Sun. They conducted a building search for a suspect who was hiding inside. The suspect, hiding in the dark behind a door with a knife, was apprehended by Kimon. This was Kimon's first bite. Kimon would go on to have two more apprehension bites during his career. Kimon was Rodney's partner on the job, but he also became a family pet as well. Kimon, Rodney, and Abbey enjoyed spending time together. They played ball, played in the snow, took walks, and spent many evenings on the front porch together. Abbey would spoil Kimon with lots of dog biscuits. It was not unusual to find all of them curled up together watching television, Kimon's large paws resting on Abbey. February 17, 2003, was a typical winter's day. Kimon, Rodney, and Abbey were enjoying the day playing in the snow. Rodney was interrupted with a phone call from his National Guard unit. The phone call was an order to report for active duty the following day in support of Operation Enduring Freedom. Operation Enduring Freedom was the name given by United States military to the response of the terrorist attacks on September 11, 2001. Rodney was torn between his responsibilities as a National Guard career soldier and his responsibilities to the Rising Sun Police Department as a police officer and Kimon's partner. Over the next two years, Rodney was stationed at Camp Atterbury, Columbus, Indiana. His duties required him to live away from home. This was a blessing in disguise because he was only two hours away and it gave him the ability to travel home during his time off. This, in turn, allowed him to maintain his bond and friendship with Kimon. This kept the family bond with Kimon intact also. During this time, Kimon was cared for by Frank McIntosh at his home. During Frank's absence, Kimon went back to the Rimstidt residence where Angi and Abbey kept him fed, watered and his kennel cleaned. In February 2005, Rodney was released from military service after two years of living apart from his family. Kimon and Rodney returned to Vohne Liche Kennels for several days of training and re-certification. Kimon performed his duties as if he had never missed a day. Kimon and Rodney were soon back on the streets. Over the next eighteen months, it was back to business as usual conducting narcotic searches and answering patrol dog calls in Rising Sun and calls for assistance from any agency. In June of this year, Kimon accompanied his family on vacation. It was an enjoyable trip and Kimon loved roaming through the log cabin and spending quality time with the Rimstidts. This trip would be the setting for the last photos of Kimon with Rodney and Abbey, taken by Angi at the entrance of the Great Smokey Mountains National Park. On August 22, 2006, Kimon and Rodney assisted the Grant County, KY Sheriff's Department with a narcotics search on a high school campus. Kimon alerted to a motor vehicle which led to the arrest of a juvenile for possession of marijuana. This was to be his last arrest. Kimon and Rodney participated in a thirteen-dog demonstration at the Muscatatuck Urban Training Center on August 24 and 25, 2006. This was to help train military police heading for duty in Kosovo. This was to be his last demonstration of his abilities. On the evening of September 6, 2006, Kimon and Rodney trained with Doug Taylor and K9 Rico of the Lawrenceburg Police Department and Mike Prudenti and K9 Cib of the Aurora Police Department. The following morning Rodney went to Kimon's kennel to find him in obvious pain. Rodney rushed him to the Grady Veterinarian Hospital in Hamilton County, Ohio, were he asked for an officer to assist in getting through morning rush hour traffic. Surprisingly, as they neared the hospital, they were escorted by police officers from numerous departments blocking off streets to allow them to go through. Kimon underwent emergency surgery for GVD or stomach bloat, a common killer of deep-chested dogs. Kimon passed away at 12:18 a.m., Friday, September 8, 2006, with Rodney by his side. He was seven years old. It is ironic and poetic that Kimon should leave this world at this time,the fifth anniversary of the September 11th tragedy. It is a time to remember those who were lost, the sacrifices made, the hope and all the good we witnessed from the American people. Kimon came to us at the time of 9/11, was separated from his partner due to 9/11, and left us as we remember 9/11. We find serenity knowing he is now in a better place with those who lost their lives that day and those who have given their lives since that day. It is most likely Kimon has chosen a police officer to walk along side in Heaven, continuing to be the loyal companion he was to his partner and friend, Rodney Rimstidt, here on Earth. submitted by Jim Cortina, Dir. CPWDA
---
In Loving Memory of
K9 KAZAN
January 11, 2006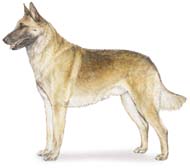 Handler:
Montgomery County Sheriff Fred Shortridge
Montgomery County Sheriff
Montgomery County, Alabama Sheriff's Office
115 S. Perry St. Montgomery, Alabama 36103
(334) 832-4980

Information regarding dog food, not stating that this was what killed Kazan.
Update: Diamond Pet Food Recalled Due to Aflatoxin By fc Jan 9, 2006, 14:09

Diamond Pet Food on Dec. 20 issued a recall for the products manufactured at its Gaston, South Carolina facility where a product has been found contaminated with aflatoxin. Aflatoxin is a group of toxic metabolites of the fungus Aspergillus flavus, commonly found in or on corn, peanuts, nuts and other crops. The company recommended distributors hold the sale of all Diamond Pet Food products formulated with corn that were produced in the Gaston facility. Products removed from sale included Diamond Low Fat Dog Food, Diamond Hi-Energy Dog Food, Diamond Maintenance Dog Food, Diamond Performance Dog Food, Diamond Premium Adult Dog Food, Diamond Puppy Food, Diamond Maintenance Cat Food, Diamond Professional Cat Food, Country Value Puppy, Country Value Adult Dog, Country Value High Energy Dog, Country Value Adult Cat Food, Professional Chicken & Rice Senior Dog Food, Professional Reduced Fat Chicken & Rice Dog Food, Professional Adult Dog Food, Professional Large-Breed Puppy Food, Professional Puppy Food, Professional Reduced Fat Cat Food, Professional Adult Cat Food. Diamond Pet Food said products manufactured at facilities in Meta, Missouri and Lathrop, California were not affected. The Gaston facility date codes are unique from other Diamond facility codes in that either the eleventh or twelfth character in the date code will be a capital "G" (in reference to Gaston). The range of date codes being reviewed are "Best By 01-March-07" through Best By " 11-June-07". Diamond's quantitative analysis records substantiate that Diamond's corn shipments were definitively clear of aflatoxin after December 10. As such, "Best By 11-June-07" date codes or later are not affected, according to the company. States affected by the products include Alabama, Connecticut, Delaware, Florida, Georgia, Kentucky (eastern), Maine, Maryland, Massachusetts, Mississippi, New Hampshire, New Jersey, New York, North Carolina, Ohio, Pennsylvania, Rhode Island, South Carolina, Tennessee, West Virginia, Vermont, and Virginia. Symptoms of aflatoxin induced illness include sluggishness or lethargy combined with a reluctance to eat, jaundice (yellowish tint to the eyes and/or gums), and severe, persistent vomiting combined with bloody diarrhea and fever. When a pet shows any of such symptoms, it should be taken to a veterinarian immediately for diagnosis and treatment, the company suggested. Later on Dec 30, the Food and Drug Administration (FDA) issued a consumer alert on the contaminated pet food after learning that 23 dogs died and another 18 dogs became ill. As of Jan. 6, more than 100 dogs have died from the illness caused by the contaminated pet food, according to Cornell News Service. According to the FDA, the contaminated pet food was exported to 28 countries including countries in Europe, which have been notified of the safety issue. The FDA has established action levels for aflatoxin present in food or feed to protect human and animal health. According to the Food Safety Research Information Office, an agency of the Department of Agriculture, Aflatoxin levels must not exceed:
- 20 ppb - For corn and other grains intended for immature animals (including immature poultry) and for dairy animals,
or when its destination is not known;
- 20 ppb - For animal feeds, other than corn or cottonseed meal;
- 100 ppb - For corn and other grains intended for breeding beef cattle, breeding swine, or mature poultry;
- 200 ppb - For corn and other grains intended for finishing swine of 100 pounds or greater;
- 300 ppb - For corn and other grains intended for finishing (i.e., feedlot) beef cattle and for cottonseed meal intended for beef cattle, swine or poultry.
Facts about aflatoxins
* Aflatoxins are naturally occurring toxins that are metabolic byproducts of fungi, Aspergillus flavus, and Aspergillus parasiticus,
which grow on many food crops under favorable conditions.
* Aflatoxin is an mycotoxin literally means poison from a fungi and are named on the basis of the fungus that produces them, thus "Aflatoxin" uses the "A" for
Aspergillus and "fla" for the species "flavus" along with the word toxin.
* Adverse impact on animal and human health with acute toxicological effects such as liver damage and cancer can occur.
* The major types of aflatoxins are B1, B2, G1, G2, and M1, with aflatoxin B1 being the most toxic, and usually predominant. Aflatoxin B1 is a very potent carcinogen to humans and animals.
* Aflatoxins can invade the food supply at anytime during production, processing, transport or storage. * Conditions that contribute to fungal growth and the production of aflatoxins are: a hot and humid climate, kernel moisture, favorable substrate characteristics, and factors that decrease the host plant's immunity
(insect damage, poor fertilization, and drought).
* Food and food crops most prone to contamination are corn and corn products, cottonseed, peanuts and peanut products, tree nuts (pistachio nuts, pecans, walnuts, Brazil nuts) and milk.
Aflatoxicosis and health effects:
Aflatoxicosis is a condition that results from ingestion of aflatoxin-contaminated food or feed. It is primarily a hepatic disease affecting animals and humans.In animals the condition occurs worldwide. The condition can be found on animals worldwide. The health impact is usually only seen in third world countries, and there have not been any cases of aflatoxicosis reported in the United States.
MORE:
Tainted Food May Have Killed Police Dog - 1/13/06 KY
It has already killed more than 100 dogs across the country, and now it appears that a batch of contaminated dog food has claimed the life of a Montgomery County police dog. Montgomery County Sheriff Fred Shortridge says his office's K-9, Kazan, died Wednesday. And while he waits for test results, Shortridge says he thinks the dog may be the latest victim of food made by Diamond Pet Foods that was contaminated with a corn fungus. "That's all we fed our dog," said Shortridge. "I'm not saying that this is what caused Kazan's death. I don't know. But it's odd that we got a healthy dog, and all of a sudden, in a two or three week timeframe, that he's dead." Kazan's body has been sent to the University of Kentucky for an necropsy. Shortridge says the crime-fighting pooch will be missed. "He is a police officer, and you get attached to him," he said. Shortridge says he bought the Belgian Malinois a little more than a year ago with the help of donations from the community. The sheriff's office even received a grant recently to buy Kazan a bullet-proof vest. Shortridge says Kazan served as a tracking and narcotics dog for his department, but also helped other neighboring counties and towns.
submitted by Jim Cortina, Dir. CPWDA