In Loving Memory of
K9 GUIDO
2006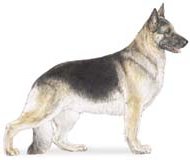 Waiting for photo of Guido
Guadalupe County Sheriff's Office
2611 N. Guadalupe St

Seguin, Texas 78155
(830)379-1224



In 2006, local deputies buried their first K-9, Guido, who died from cancer.
Sheriff's department remembers K-9 unit
- By Melissa Johnson The Gazette-Enterprise - Published August 18, 2006
GUADALUPE COUNTY — The Guadalupe County Sheriff's Office paid its last respects to the department's first K-9 deputy in a formal ceremony Wednesday. "There were a lot people there — more than I'd expect at my funeral," said deputy and original handler Scott Mossinger. "Each person has their own story about the dog." Deputy Guido, a 10-year-old German shepherd, died on the operating table from a tumor in his abdomen Saturday. Guido, said Sheriff Arnold Zwicke, will be missed by the entire department. By all accounts "the perfect police dog," Guido was not only a pioneer, but an exemplary tracker and narcotics dog. After just eight days on the job, Guido landed a 110-pound marijuana bust when he sniffed out a van stopped on a highway. Officers tore apart the van's headliner at Guido's insistence but started to question his nose and their judgment when nothing immediately turned up. "This was the first time we used the dogs. We were worried when we didn't find anything. We just tore apart this van." Mossinger said. "But when we ran a density check [back at the station], we found all of it." When Guido wasn't protecting the community by sniffing out bad guys or drugs, the police dog was helping the sheriff's office connect with the community at school district events and local demonstrations. "He had a light switch," Mossinger said. "He knew when to be aggressive or not." "At PTA day at Marion, there were about 500 little kids running around and about half were riding him like a horse and the other half were pulling his tail and he didn't think nothing of it," Zwicke said. About a month ago, Guido was formally retired from duty by the county commissioners court. Hip degeneration, common in big dogs like Guido, and his more than a decade on this earth convinced the department of the decision. "But it was a tough choice," Mossinger said. "He hated me going to work without him. That's the thing about a working dog like that. Their life expectancy isn't that long after retirement." Guido spent his last weeks at Mossinger's place, guarding his handler's patrol car. Guido was laid to rest in a memorial canine park created in his honor behind the office building. He served the sheriff's office from May 2001 to July 2006.
write up submitted by:(Ron Maloney) ron.maloney@seguingazette.com - with BIG thanks...
K9 Guido's loss was submitted by Jim Cortina, Dir. CPWDA
---
In Loving Memory of
K9 GINO
October 13, 2006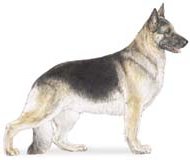 Handler: Officer Dave Dominguez
Chico Police Department
TEL (530) 897-4911
WEBSITE - http://www.chico.ca.us/Police/Home_Page.asp
Retired police dog 'Gino' dies
By GREG WELTER - Staff Writer-10/17/06 -California
Chico police surround the house in an alley between Fourth and Sixth avenues in October 2004. Here, keeping a watch on the front door is Officer Dave Dominguez and his K9 "Gino." The K9 passed away Friday at age 11. "Gino,"a police dog who retired in 2004 after eight years in the Chico Police Department's K-9 program, died Friday. The beloved German shepherd was 11. His handler, Chico police officer Dave Dominguez, said Gino died in his sleep. In 1996, Gino became the second dog chosen to train with the department's newly formed K-9 unit, and was the first selected specifically for narcotics detection. Partnered with Dominguez throughout his years of service, Gino participated in 425 incidents. Fifty of those led to the arrest of a suspect. The dog also participated in 245 building sweeps and 184 searches for narcotics. While performing drug searches, Gino once located narcotics hidden in a pair of in-line skates buried inside a car trunk. In another instance, Gino was asked to search a large area of Bidwell Park for the ammunition clip from an officer's pistol, lost during a tactical operation. To the amazement of everyone watching, Gino emerged from a tangle of berry bushes with the clip in his mouth. In 1998, the dog located and apprehended two men suspected of killing Chico resident Lloyd Brown. Both were tried and convicted for the crime. In 2003, Gino flushed a burglar from the Olive Garden Restaurant in Chico, then caught the suspect as he ran through the parking lot. Gino was born April 25, 1995, in Eastern Europe. His first day on the job with Dominguez was Sept. 18, 1996. His first assignment required him to track down a hit-and-run driver who ran from police. He found the suspect hiding under a tarp a short distance from the collision. Trained in Riverside, Gino was the first among five dogs the city of Chico has obtained from Alderhorst International Inc. The outstanding performance of Gino, and his successors "Toko" and "Bak" led police in 2005 to sign an exclusive contract with Alderhorst for future canines. Gino, and all dogs since, have been commanded using the Czech language. "Gino's search and tracking ability made him a one of a kind," said Canine Unit Sgt. Dan Fonseca. "He was a special canine that has been loved by the community, but feared by the criminal, "Fonseca said.
Correspondence concerning Gino should be directed to:

Chico Police Department
Attn: Canine Unit.
1460 Humboldt Road,
Chico, CA 95926