In Loving Memory of
K-9 EIKO
April 1, 2006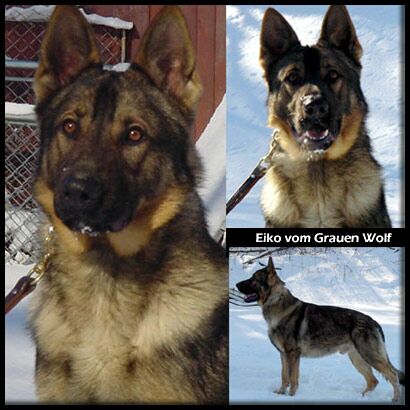 Handler: Officer Chuck Gray
North Andover Police Dept.
566 Main Street
North Andover, MA 01845 - 978-683-3168
Police dog dies of mouth infection contracted during river search - By Jim Patten THE EAGLE-TRIBUNE
NORTH ANDOVER, MA
Officer Chuck Gray and his police dog Eiko were inseparable on the job and off it. They had gone through a
grueling 14-week training course, which taught dog and handler how to work together. They were working together the night of January 28 after an armed robbery at the 7-Eleven on Winthrop Avenue in Lawrence, tracking a suspect along the banks of the Shawsheen River, when Eiko, going through piles of debris, suffered an injury that would end his life. Gray didn't notice anything unusual at the time and Eiko kept on tracking, but a day later, Gray noticed a trickle of blood coming from the 3-year-old shepherd's mouth, said police Chief Richard M. Stanley. The following day, the blood was worse and Gray took Eiko to the veterinarian immediately, Stanley said. Eiko had suffered a bad cut to the inside of his mouth which was infected, Stanley said. "They didn't know the cause. They felt the dog was exposed to an electrical current or corrosive material," he said. "There were multiple car batteries and buckets of chemicals and wires." After oral surgery, which left stitches in his mouth, Eiko was eager to get back to work. "He actually came back to work, but he started going downhill physically. A couple of weeks ago he became very lethargic and stopped eating,'' Stanley said. "For a dog who was extremely excited about working, he was just lying in his pen at home and he could hardly walk." Gray brought Eiko back to the veterinarian numerous times to try different medications. "Ultimately, they couldn't do anything more for him,'' Stanley said. The normally exuberant canine died aptly in the patrol car he loved getting into. Every time Gray would bring Eiko outside, even when he was sick, he would see the cruiser and try to pull toward it, hobbling up to it as if to say, 'Lets go to work,' until the last day when he had to be carried to the car, Gray said. Saturday morning, Gray placed the weakened Eiko in the back for the final trip to the vet. Rather than carry the dog into the veterinarian's office, the doctor went out to the dog. Gray crawled into the back of the cruiser with Eiko and held him as the veterinarian, Dr. Kim Ackerman of Lynnfield Animal Hospital, put Eiko to sleep. Eiko died in Gray's arms. "This has been an exhaustive and emotional ordeal for Chuck, who has taken this position as a K-9 officer seriously,'' Stanley said. "They depend on each other.'' He said the death of the dog left a void, not only for Gray, but for the whole police force. "This was a good dog. It is a great loss for the department,'' Stanley said. He said Eiko was the first police dog to die in the line of duty in Massachusetts in 15 years. "I've been a mess for two days,'' Gray said Monday, adding that a close bond is formed during training. Eiko and Gray had worked together for about 10 months, Stanley said. "You start from scratch and teach the dog everything he knows,'' Gray said. "Then you bring him into the real world. He did some other tracks even though he was hurt." Eiko was purchased from Commonwealth Dog Training of Everett for $4,500, using drug forfeiture money, Stanley said. He was trained for crowd control, building searches, area searches, article searches and was really enthusiastic on what Gray called "bite work," or criminal apprehension. The department has one other dog, Iris, a black Labrador retriever whose partner is Officer William Brush.

submitted by Jim Cortina, Dir. CPWDA
---
In Loving Memory of
K-9 EMILY
April 1, 2006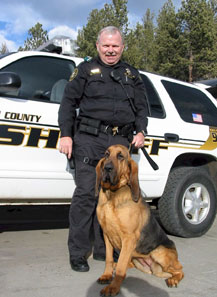 Handler: Deputy Al Nelson
Jefferson County Sheriff's Department
200 Jefferson County Parkway
Golden, CO 80401-2697 - 303-277-0211

Deputy Al Nelson, longtime member of the Sheriff's Office K-9 Unit, recently notified coworkers that K-9 Emily, a bloodhound who went on 134 missions on behalf of law enforcement, was put to sleep on April 1 because she was suffering from cancer. Deputy Nelson purchased Emily as a puppy in 1997. Emily worked alongside Marky, another bloodhound, and the two dogs traveled in the back of Deputy Nelson's patrol SUV whenever he worked. In the nine years of Emily's time with the Sheriff's Office, her skills were called into service for both criminal and non-criminal incidents for everything from locating the bodies of homicide victims to finding lost children in the woods. Emily was a multi-purpose dog, trained in tracking live people as well as detecting human remains. Of the many cases that Deputy Nelson worked with K-9 Emily, 38 were homicide cases and 10 were specifically for NecroSearch International, a nonprofit organization that specializes in the search for hidden gravesites. "At the latest count, there are at least 10 homicide suspects serving time in prisons because of some of the work that Emily did," Deputy Nelson said. In 2003, Emily helped investigators to find the bodies of two slain women buried in a backyard in the Park Hill neighborhood of Denver. The suspect, self-proclaimed serial killer Richard Paul White, told Denver police that he had killed those two as well as several others. "We got there, and she found them within seconds," Deputy Nelson said. A dog's confirmation rate reflects the accuracy of its work. In Emily's case, 94 of her 134 cases were "confirmed," meaning that she was a factor in helping to solve those cases. Deputy Nelson's expertise, along with Emily's reputation among the law enforcement community, meant that the team was called upon many times by agencies throughout Colorado and the West. The team also made frequent appearances over the years in the local news, and was featured by the History Channel, the Discovery Channel and National Geographic. In the Jefferson County community, Deputy Nelson and Emily made regular appearances at schools and community events where children and adults alike gravitated toward the duo. Deputy Nelson has worked with bloodhounds in law enforcement since 1984 and continues to do so. Emily's K-9 partner, Marky, still works alongside Deputy Nelson as he patrols the south area of Jefferson County, and is called into service for any incidents that require a bloodhound's skills. In 2005, Deputy Nelson bought a bloodhound puppy named Georgia. Georgia has spent the last year in training to develop the skills essential to any law enforcement bloodhound, and to try to fill Emily's big paws.
submitted by lulu