In Loving Memory of
K9 CORY
November 27, 2006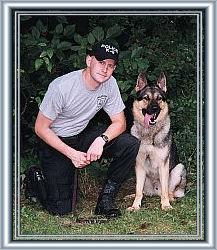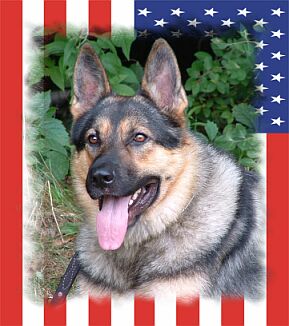 Handler: Officer Erick Ericksen
Bennington Police Department
118 South Street - Bennington, VT 05201
Phone: 442-1030 Fax: 442-1067
The police department has been forced to euthanize its K-9, Cory, after another display of aggressive behavior. Officer Erick Ericksen, the Bennington Police Department's K-9 handler, said the department euthanized the animal last Monday after it bit him. The incident came after Town Manager Stuart A. Hurd had appeared before the Select Board two weeks ago to inform the board that Cory had attacked two people, and the police department was looking to replace Cory with a different animal. On the first occasion, Hurd said the animal reportedly lunged at a department patrol officer. The second instance involved a intern who was bitten by the animal after the man disobeyed an order to stay away from the dog. Hurd said a conclusion had been reached that the animal must be relieved of its duty and sold to another organization for use in a less public arena. Since the Select Board Meeting, the police department had been looking for a new place to send Cory, and had found a search and rescue team, but Cory again showed an aggressive side. "We had a place all set up for him to go, but he had some more behavioral problems. He had actually gotten somewhat aggressive with me, his handler, and we determined he wouldn't be able to go to another place. ... It was too much of a situation to put him into," said Ericksen. "It's behavior that he has never shown towards me I got bit in the hand, not real bad or anything, it was just out of the ordinary." Police Chief Richard Gauthier said the department was left with no choice after the final incident. "It was the same sudden inexplicable show of aggression that we had before. When I talked to the trainer at the academy and a few other people that know dogs, we knew that we had to do it," said Gauthier. Ericksen said Cory's behavioral problems began after being diagnosed with Lyme disease at the end of summer. "Since we've had the dog, until about August, we had no problems whatsoever. He had been super friendly, been to schools, was just a big baby," said Erickson. "He had gotten diagnosed with Lyme disease right around August. We did some research and one of the effects was aggressiveness." Ericksen said Cory was not a vicious dog, just sick. "This wasn't the dog, it wasn't the breed. We pretty much determined it was a sickness," said Ericksen. Gauthier vouched for Cory as well. "This was a great dog with a neurological problem," he said. Parting with Cory, who was more than a pet, has been trying, said Ericksen, who has lived with Cory for the past year and a half. "It was probably one of the hardest things that I've ever had to go through. The one thing about K-9s ... is that they are not only a pet, per se, they are a partner. I had spent more time with him than anyone. ... He would have taken a bullet for me or done anything to protect other officers and the community," said Ericksen. The department has reviewed about six dogs to replace Cory, said Ericksen, who will go through a six week narcotic training program with the new K-9, and spend up to four months training for patrols. Ericksen said he is excited to meet his new live-in partner, but it will take time to get over Cory. "I'm looking forward to it. It's going to be hard, just dealing with the loss, for now," he said.
submitted by Jim Cortina
---
In Loving Memory of
K9 CARO
July 21, 2006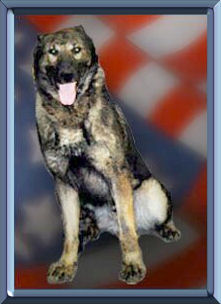 Handler: Pfc. Mark Burton
Ocean View Police Department
#1 Maintenance Road
Ocean View, DE 19970
Office: 302-539-1111 -- Fax: 302-537-3787
By MOLLY MURRAY The News Journal 07/29/2006 Died - 7/21/06 ( Heat Exhaustion )
Sussex police dog's death ruled accidental
Over the last three years, Caro, a German shepherd police dog, played a key role in deterring drug-related crime in Ocean View. But on July 21, the dog died from heat exposure, trapped inside an air-conditioned police cruiser after the engine had stalled. Delaware State Police conducted an independent investigation at the request of Ocean View Police Chief Ken McLaughlin and concluded the dog's death was an accident, said Cpl. Jeff Oldham, a spokesman for the state police. The investigation, whose findings were released Friday, determined the death occurred when the cruiser had a mechanical problem, according to police. "We've all had a real difficult time with it," McLaughlin said. He said the department's K-9 officer, whose name was not released," is really taking this hard." McLaughlin said the officer had made an arrest on the morning of July 21 and was processing a prisoner at the police department. The officer left the dog in his police cruiser, a 2001 Ford Crown Victoria, with the windows up, the engine on and the air conditioner running. McLaughlin said that it was a very hot day and periodically, while the prisoner was being processed, the K-9 officer would stop what he was doing, handcuff the prisoner to a bench and go out to check on Caro. Right before noon, the officer stepped into the parking lot and discovered the unthinkable -- the engine had cut off and Caro lay in the back seat unresponsive. The officer rushed Caro to a local animal hospital, but the dogwas pronounced dead when it arrived, McLaughlin said. The vet concluded Caro had died from heat stress, he said. On a hot, sunny day, the temperature in a closed-up vehicle rises rapidly. Dogs can succumb to heat exposure in 10 minutes and, in some cases, less. The American Society for the Prevention of Cruelty to Animals warns dog owners never to leave animals in a closed-up car because in summer, it turns into an oven. In winter, it becomes a refrigerator. But in Delaware, it is typical for police officers to leave their K-9 partners in the police cruiser with the vehicle running and the air conditioner going, Oldham said. Oldham said most K-9 officers have kennels at their homes and while the state police troops do have kennels, the officers often leave the dogs in the vehicle with the air conditioning running to keep the animals more comfortable. He said the Ocean View incident would likely prompt state police to review K-9 procedures. McLaughlin said his K-9 officer was so upset when he discovered the dog, "I thought someone had attacked him in the parking lot." McLaughlin said no one is sure why the police cruiser's engine cut off. On Friday, the vehicle went into the shop for service. In addition, McLaughlin said, he had asked that it be checked for a possible carbon-monoxide leak. Caro was the department's only K-9 member. She was not an attack dog. Instead, she was trained as a drug dog and was also trained for tracking. "This was a very, very valuable tool for the department," McLaughlin said. "It was a big deterrent for us also." The word on the street, he said, was "everybody knows to stay out of Ocean View because we've got this dog." McLaughlin said it was too soon to say whether the department will get another K-9 member because the department is too upset about what happened. "It's a tragedy," he said. Contact Molly Murray at 302-856-7372.
submitted by Jim Cortina, Dir. CPWDA MORE BELOW>>>>>>>>>
*****************
Caro, a 5-year old German Shepherd police dog, died July 21, 2006 from complications relating to heat exposure. On that date, the K9 Officer left Caro in his cruiser with the air conditioner running while he was processing a prisoner. The officer made several checks on Caro. During the officer's check on Caro that afternoon, he found that the cruiser's engine had stalled, and Caro was unresponsive. Caro was rushed to the local vetrinarian, where he was pronounced deceased. Chief McLaughlin contacted the Delaware State Police, who launched an investigation into the Caro's death. At the same time, Chief McLaughlin launched an internal investigation. Both investigations returned results that Caro's death was accidental. At the time, the Ocean View Police were using a temporary barracks while their new station was being constructed. Due to their not being any kennels inside, or outside, Caro had to be kept in the cruiser with the A/C on, which was more comfortable for Caro. In addition, with narcotics evidence being stored inside the barracks, continuous exposure would have desensitized Caro's ability to properly search. Caro will be missed by everyone at the Ocean View Police Department, and the community. During his three years on the force in Ocean View, Caro had been used for searching for illegal drugs, tracking criminals, and assisting to find lost children and alzheimer's patients. Caro's presence made the Ocean View community feel safe, knowing that his presence deterred drug dealers and other criminals from staying in the Ocean View area.
---
In Loving Memory of
K9 CORA ( RET)
2006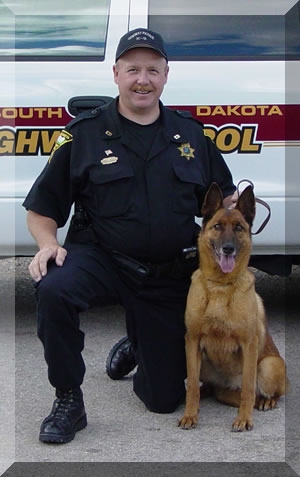 Handler: Randy Hofeldt
South Dakota Highway Patrol
118 West Capitol Avenue
Pierre, SD 57501
Phone: (605) 773-3105 Fax: (605) 773-6046
For the second time in two weeks, the South Dakota Highway Patrol has laid one of its police service dogs to rest. Cora, a Belgian Malinois, was put down this week because of cancer. Cora was one of the first police dogs brought into service for the Highway Patrol. Cora joined the Highway Patrol team in 1995. She and her handler, Randy Hofeldt, retired from the force together last summer. The two worked as a narcotics detection team in the Pierre area for nearly a decade. During their tenure, Hofeldt and Cora were regular faces at canine demonstrations throughout the central part of the state. "Unfortunately we've lost some very good service dogs recently. The Highway Patrol started its canine program in 1991. Many of the dogs we worked with for years are just getting to that age," said Lt. Scott Sheldon, Service Dog Unit supervisor. The South Dakota Highway Patrol has a strong system in place for training new service dogs and for maintenance training of veteran dogs. The Highway Patrol provides four statewide maintenance sessions a year. At the sessions, the teams are tested on detection and tracking abilities and techniques. Additionally, the detection dog teams must train for a minimum of four hours a week. Multi-purpose dog teams must train for eight hours a week.


s Cora is a female Belgian Malinois. Cora began her duties with the South Dakota Highway Patrol in September of 1995 at about 1 ½ years old. Cora came from Holland. Cora was purchased from and trained by Detector Dogs International, Inc. Trooper Randy L. Hofeldt was assigned as Cora's handler. After a month of training Randy and Cora were certified in drug detection. Trooper Randy L. Hofeldt and Cora have worked out of the Pierre duty station since 1995. Trooper Randy L. Hofeldt and Cora complete a drug detection recertification course annually.

submitted by J. Cortina
---
In Loving Memory
K9 CLlFF
September 8, 2006


Handler: Officer Mark Brayton
Ann Arbor Police Department
100 N. Fifth Avenue
Ann Arbor, MI 48104 - (734) 994-2875
Officer Brayton has been with the Ann Arbor Police Department since 1980. He has been a K-9 handler since June 1993. K-9 Cliff has worked with Officer Brayton since November 1994. K-9 Cliff was assigned to recover victims at the World Trade Center. K-9 Cliff is trained in tracking, drug detection, human and cadaver searches. K-9 Cliff is a Labrador retriever born on August 7 1993, donated by the New York State Police. Officer Brayton and K-9 Cliff attended the New York State Police K-9 Academy, where they return every year to re-certify. K-9 Cliff is named after the Ann Arbor Police Department's Officer Clifford Stang, who was killed in the line of duty in 1935.
Cliff, the beloved police dog, dies
Black Lab had a long career and a onetime role at WTC ground zero Monday, September 11, 2001. He sniffed out drugs. He found buried bodies. And in the most difficult assignment of his 11-year career, he searched for survivors or bodies amid the rubble at ground zero in New York after the 2001 terrorist attacks. Cliff, an energetic black Labrador retriever police dog who won numerous awards, died Friday at the age of 13. Cliff and his handler, Officer Mark Brayton, had retired together from the Ann Arbor Police Department in July 2005. Brayton said Sunday that Cliff had been suffering from hip problems - likely a result of climbing over fences and into cars during his career - and was unable to move after he fell down the stairs Friday. He stayed on the police force longer than most dogs are able to work. "He still had the mind of a young dog with an old body,'' Brayton said. "We went on a lot of walks, and he had a lot of energy until the end.'' The bond between Brayton and Cliff was born in November 1994 when the officer met the 13-month-old pup in New York. Cliff was donated to the Ann Arbor Police Department and was the only dog in the area to be trained in finding cadavers. In 1999, during annual training in New York, Cliff located a body that had likely been buried for 14 months. Two days after the Sept. 11 terrorist attacks in 2001, Brayton and Cliff headed to New York City for an intense and exhausting week of work, attempting to find survivors and bodies. They found numerous body parts in the rubble. "He did great,'' Brayton said. "He was never trained to be in conditions like that - working when there's fires and damage - but he got used to the noise and the environment.'' In 2003, Cliff and Brayton received a national award from the United States Police Canine Association for finding the body of a 17-year-old Belleville girl - wrapped in an airtight casket that had been buried months earlier.
submitted by Jim Cortina & Robin Sykes
---
In Loving Memory of
K9 COPPER
2006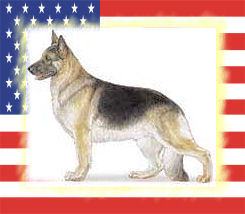 Handler: Thomas Affeldt
Maryland Division of Corrections
300 East Joppa Road
Suite 1000
Towson, Maryland 21286
(410) 339-5000 (877) 379-8636
My name is Thomas Affeldt. I was a Region Three member until I left Maryland last year. I was a K-9 Handler with Maryland Division of Corrections for seven years and took part and competed in many events that Region Three hosted with my drug dog Copper. I left Maryland and relocated to Florida but my drug dog stayed was reassigned to Sgt. Jerry Whitmore with MD Div of Corrections who is also an excellent handler. This saddens me to advise you that last week Copper died of cancer. He worked for Maryland's taxpayers until his last day on Earth. He was a good dog and in detector certifications, he achieved 1st place team, 2nd place individual. In the years past he took 5th, 4th and always certified. This dog was a good dog as well as a friend. I'll miss him. Thank you, Tom Affeld
---
In Loving Memory of
K9 CHAMP
June 19, 2006 -Cremated
1980-1988
Served March,1982 to December,1986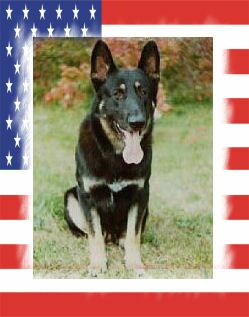 Handler: Officer Clay Rushford
Orange Police Department
400 E River St
County: Franklin
Orange, MA 01364
(508)544-2129
Champ died in 1988 and was buried on the lot occupied by the Orange Police Department. When Clay Rushford, Champ's handler, heard of a possible police department expansion that would disturb the spot where Champ is buried, he felt compelled to exhume Champ's body and find a means to bring him home for final resting. Champ came to White Rose for cremation on June 19, 2006. Champ began his career after he was adopted from the local pound and impressed his new owner with his intelligence and temperament. Rushford said Champ was a quick learner and just perfect for the job. Champ participated in more than 20 arrests, most involving felonies. In March of 1983 he helped capture three suspects after chasing them through four miles of woods, thicket and waist-deep water. He also saved the life of an elderly man who was lost for approximately five hours, and he helped to apprehend an armed burglar who had attacked a resident with a knife. Champ retired after four years of service with the Orange Police Department. He was a faithful companion to coworkers on the force, a friend to many residents, and a great partner to Rushford. Cremated June 19, 2006.
submitted by Jim Cortina, Dir. CPWDA
---
In Loving Memory of
K9 CHIEF
January 16, 2006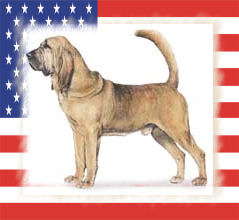 Handler: Deputy Don Hodges
Anderson County Sheriff's Dept.
K-9 Unit 305 Camson Rd.
Anderson, SC 29625
PH 864 260.4400

I am writing this to pass along some sad news. On 01/16/2006 my friend and partner of 6 years died. His name was Chief. I first got Chief when I began working on the Anderson County Sheriff's Office Bloodhound/Tracking Team in June of 2000. Chief was a mix of Bloodhound and Treeing Walker Hound. The very first time I was called out with Chief was on Mother's Day. A 4 year old had followed her own dog in the woods and got lost. The dog came back but without the little girl After getting a good sniff of the little girl's pajamas, Chief took off into the woods. After about 20 minutes, Chief led myself and another officer to the little girl. We came out of the woods and reunited mother and daughter for a good Mother's Day gift. I was speaking with a local reporter after putting Chief in the car and I had my back to the car. The next thing I knew the people on the scene were pointing at my car. I turned around and started to laugh. Chief had gotten into the front and turned on all of the lights and was sitting behind the wheel as if to say, "Come on Daddy, let's go to the next call." Over the 5 years we spent together I have returned to the car and saw my lights going more than once.
In October of 2003 Chief retired and I started working with my new partner, K9 Luke. I let Chief stay in his usual spot on my carport. Every time I took Luke out to train, it was like Chief was saying that he should be going out instead of Luke. In December of 2005, Luke had a sore leg and I decided to use Chief instead of calling out the other bloodhound. We started tracking a burglary suspect that had jumped and ran from a car stop. About 1 1/2 mile into the track, the track was called due to having no perimeter and also having enough evidence to identify the suspect. When I tugged on the leash and started up to unharnessed Chief, he began to bark and continued looking up at an opening of a clear cut area. That was the first time since I had him that I heard him bark on a trail.
On 01/16/2006, Chief had an appointment with his vet because he had not been eating well for the past week and did not have his usual level of energy. The vet did some blood work and the results were not good. Chief's kidneys had all but shut down. Chief had been treated in the past of kidney problems and was on a special diet for it. At this time, Chief was operating on only 5 to 10 percent of kidney function. Due to age of 14, I made the hard decision to ease his pain. I had my friend and partner put down. When he was given the shot I had my arms around him and told him that there would never be another like him. Chief, I will see you again one day, my friend and partner. When I do, I'll have your harness ready and we will go track somebody down. "Well done my friend and partner" Rest easy, your work on earth is done. Don Hodges, Anderson County Sheriff's Office.
---
In Loving Memory of
K9 CIRO
July 26, 2006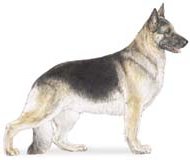 Handler: Deputy James Hildreth
Niagara County Sheriff's Department
5526 Niagara Street Ext., P.O. Box 496
Lockport, New York 14095-0496
(716) 438-3393, Fax (716) 438-3302

A sad day for the Niagara County Sheriff's Department as they mourn the loss of one of their police dogs. Ciro, a ten year old German Shepard, died suddenly of congestive heart failure while on duty Wednesday. Ciro was brought over from Slovakia back in 1997 and was the department's first full-time police service dog. He was trained and certified for patrol, tracking and narcotics detection. Besides his police work, the K-9 also excelled as an ambassador for the department through the many demonstrations he took part in with his handler, Deputy James Hildreth.
submitted by Jim Cortina
---
In Loving Memory of
K9 CHIPPER
April 12, 2006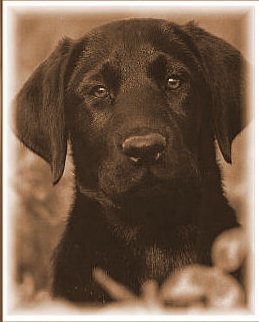 Handler: Don Hale, M.S.
Assistant Vice President, Risk Management - PHT Services, Ltd.
Post Office Box 21099
Columbia, SC 29221-1099
dhale@phts.com
Phone: 803.731.5300 x 517 - Phone 2: 800.849.8010 x 517 Fax: 803.731.2849
http://www.phts.com
and.....
Handler: Trooper Stephen J. Pearrow
Dir.-S.T.A.R.R. (Search Tactics & Rescue Recovery)
P.O. Box 87 Swansea, SC 29160
803. 7071955 - mobile - 803 654.0054 - pager

It is with sadness that I report that "Chipper", a four year old chocolate Lab belonging to Stephen Pearrow of Columbia, SC has passed on to the Rainbow Bridge due to cancer upon his return home from NOLA. Stephen is a Trooper with the South Carolina State Police and the Director of S.T.A.R.R. (Search Tactics & Rescue Recovery) Stephen along with his K-9 partner and Jeff Jordan and his K-9 partner, "Fritz" did a rotation here in NOLA. Condolences can be emailed to Stephen at sjpearrow@aol.com
Godspeed Chipper! Chipper recovered 11 people in his short life. He was born in 2002 and died 4/12/2006. He was my best friend, and he will be missed. He was land and water cadaver and worked very hard the two weeks that we were in NOLA. Thank you again and may God Bless Wayne Buford IC K-9 Operations.