In Loving Memory of
& K-9 ZACK
October 5, 2005 & K-9 Magnum
2003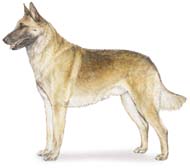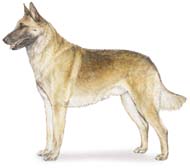 Handler: Det. Sgt. Rod Passuello


Ironwood Public Safety Department


&
Handlers: Officer Robert Erspamer
& Officer Andy Leiphart
Ironwood Public Safety Department

123 W. Mcleod Ave.

Ironwood, Michigan 49938

Police Calls: (906) 932-1234

Zack goes to big kennel in the sky -
October 5, 2005 By RALPH ANSAMI Globe News Editor
It was a sad day in the coffee room at the Ironwood Public Safety Department building today as veteran officers reminisced about Zack, the city's last police dog that passed away at age 12. Ironwood Public Safety Department director Robert Erspamer said Zack had been semi-retired for about six months. Erspamer first handled the dog, followed by officer Andy Leiphart. Erspamer said his department has no plans to obtain another police dog because the Hurley Police Department, Gogebic County Sheriff's Department and Michigan State Police Post at Wakefield all have dogs available for investigations. "When our K9 unit was established in 1992 with the purchase of Magnum, we had the only dog in the area," Erspamer said. In fact, Erspamer said there were no police dogs in northern Wisconsin, either. Magnum was handled for the department by Det. Sgt. Rod Passuello on his farm in Ironwood Township. Two years later, the department added Zack to the force. Both dogs were Belgian Malinois, and were extremely dedicated to the tasks at hand, Erspamer noted. The dogs were trained in narcotics detection and tracking both lost people and criminals. They also provided handler protection. "Together, the dogs assisted in many area drug investigations and were responsible for locating several missing and wanted people," Erspamer said. Magnum passed away two years ago at the age of 14.
submitted by Jim Cortina M.P.T.N.
---
In Loving Memory of
K-9 ZACH
June 5, 2005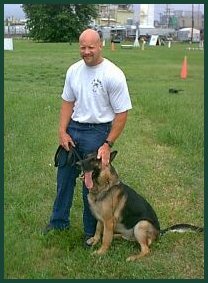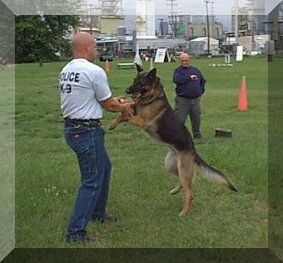 Handler: Curt Jackson
Collinsville Police Dept.
130 S. Clinton St.
Collinsville, IL 62234
618 344.2131
One of our retired dogs passed away Sunday night. The cause is believed to be a tumor that ruptured. The handler's name is Curt Jackson of Collinsville, IL police department. Please add K-9 Zack to your website of fallen k-9's if you still do that. Also let me know if you need any pictures. I told him to write something up for our group k9 page.
submitted by: Eric Bailey