In Loving Memory of
K-9 USO
(Uso vom Lachenerweg)

December 16, 2005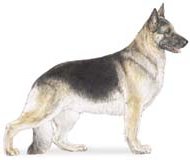 Partner: Officer Marc Raymond
Vacaville Police Department
660 Merchant St.
Vacaville, CA 95688
707 449.5200

Successful K-9 officer dies after retirement
By Kimberly K. Fu/Staff Writer - 12/22/05
Barely two months into his retirement, a Vacaville Police Department canine officer has died. Uso, a well-respected and much-loved German Shepherd, suffered the debilitating effects of cancer and was put to sleep on Dec. 16. His handler, veteran Officer Marc Raymond, was crushed, said Lt. Jan Makowski, but made the best decision possible for his four-legged partner. "It was excruciating for him," Makowski said. "Everyone is close to their pets, but those who work with them in the capacity of law enforcement ... they feel it ten-fold. The bond and the commitment to each other ..." The German-born dog, whose full name was Uso vom Lachenerweg, was 2 years old when he joined the Vacaville force on Oct. 16, 2000. A month later, Uso and his human partner, Raymond, completed basic training. The pair were inseparable for the next five years. During his tenure, Uso was deployed 150 times and located 16 suspects who were in hiding, tracked eight suspects and physically brought in five suspects. About 16 suspects gave up without a fight when they realized Uso was on scene, Makowski said. The dog was also trained in detecting narcotics. Memorable finds include multiple pounds of marijuana and cocaine and numerous ounces of methamphetamine. He reportedly also identified more than $10,000 in cash as illicit drug money. The dog's handler, in a prepared statement, recalled his partner's softer side - his love of children and the dog's extreme loyalty to him and to other officers. "He could often be found with children crawling on and around him during public demonstrations," Raymond said. "He would just sit in the middle of a group of children touring his patrol car and calmly watch as they played with the lights and siren." In August, Raymond reportedly realized Uso was ready for retirement. "Marc said Uso was tired, his stamina was decreased, jumping and other rigorous things he was unable to do," Makowski said.
On Oct. 23, Uso officially was retired. At that last shift briefing, Makowski said, the Team One, Watch Two patrol shift gave their furry co-worker a rare treat - "a tasty filet mignon steak, which he quickly devoured and thoroughly enjoyed." Soon after, Raymond discovered his former partner-turned-pet had cancer. And last week, the dog was humanely put down. "Uso is gone, but not forgotten," said Makowski in a prepared statement. "He is greatly missed." Raymond has since become the coordinator of the K-9 Unit, and the team is in the process of expansion. The growth of the community necessitates adding more dogs to the team, which began 20 years ago with two dogs and two handlers, Makowski said. Slated to join veteran K-9 Officer Dave Spencer and Vito are officers Julie Hayes and Cir, and Cary Ballard and Hexer. Officer Kelli Gottlieb is slated to meet her canine partner in March or April. Makowski said the support of the community has been integral to the team's growth and resulting successes, and hopes they will continue to aid the department. The new dogs, plus their training, cost about $7,000 each, he said, and officials are considering hosting fundraisers in coming months to help defray costs.
---
In Loving Memory of
K-9 UKE
September 24, 2005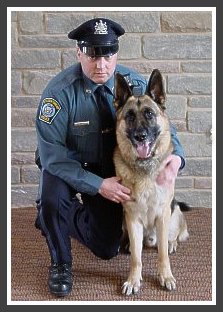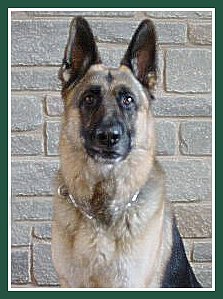 Handler: Officer Lester Smith
Police Department Township Of Bethlehem
4225 Easton Ave.
Bethlehem, PA 18020
610-814-6410 - fax: 610-814-6408
Uke was born January 26, 1999. After a long struggle with cancer and three operations, Uke died at home. He was first diagnosed with cancer in February, 2005. He was so weak and had lost so much weight, I decided to take him to veterinarian to have him euphemized. I had called the vet on Friday afternoon and had planned to take him on Saturday morning at 8:00 A.M. I kept telling Uke, I did not want to do this. At 6:30 A.M. Saturday, an hour and a half before he was to be taken to the vets, he died in the back of my truck. I will never forget the last night my wife, Claudine and I spent with Uke. He will be missed greatly by my wife and daughter. Uke loved me and worked for me, but he really, really loved my wife, Claudine.
Since 8 weeks old, K-9 Uke has been going through training to become the successor for K-9 Andy. For nearly 2 years of constant training, Uke was prepared to take over the role as police canine. At nearly 2 years of age, K-9 Uke was put to the test. In the end of November 2000, K-9 Uke was certified to go out on patrol. Canine Uke became a dual purpose canine. Uke is able to detect narcotics and also is able to perform the normal duties as a patrol dog. In just over a year of being on patrol, Uke has made several arrests and has assisted other departments.



Former Bethlehem Township police dog dies after seven-month cancer battle K-9 handler is suing municipality for cost of medical treatment. By Manuel Gamiz Jr. - Of The Morning Call 9/28/05 PA
Uke, the Bethlehem Township police dog who took over after his father retired as the township's first police dog, died over the weekend after a seven-month fight with cancer. Lester G. Smith, Uke's handler and the creator of the township's canine program, said the dog's condition worsened in the past two weeks and he was taking him to the veterinarian Saturday morning, but they never made it. Uke died in his arms inside his truck. ''He was a sweet dog to my family and a great police dog on the streets,'' Smith said. Uke is Smith's second dog to die this year. Uke's father, Andy, died in April. He said he is both saddened and angry about Uke's death. Smith has a pending civil lawsuit against the township over payment of Uke's medical costs and said he is hurt that the dog could not live to see the issue resolved. After being diagnosed in February with fibrosarcoma, an aggressive form of cancer, Uke, a 6-year-old German shepherd, had several surgeries, including the removal of a cancerous toe, kidney, spleen and a large tumor in his leg. Uke began taking alternative chemotherapy treatments three weeks ago and stopped eating a week later. He dropped about 15 pounds and didn't walk much, Smith said. Smith said he planned on taking the police dog to the veterinarian on Saturday morning to end his suffering. Uke slept with Smith and his wife Friday night, but he died before they could make it to the hospital. ''Police dogs do not show pain,'' Smith said. ''He never cried or barked.'' Both Smith and Uke have been on leave from the department for almost two years since Smith suffered a work-related injury. Smith called Uke the perfect police dog, ''the kind of dog you want if you are walking down a dark alley into a fight with a bunch of guys.'' Uke was trained in drug detection and placed second in the Pennsylvania Chiefs of Police Association K-9 Trials in narcotics detection in 2003. Must be the genes, Smith said. Uke's father, K-9 Andy, was the township's first police dog in 1993 and Uke took over when his father retired in 2000. Uke had been training to be a police dog since he was 8 weeks old. It was a rare accomplishment, according to Smith, who said only 5 percent of police dogs' puppies become police dogs. The total cost of Uke's treatments was $4,847.06, which Smith paid. According to court documents, Smith claims that the canine medical expenses fall under the financial responsibility of the township under the police department's rules and regulations. Township Manager Jon Hammer said the township is ''committed to pay the medical costs of the dog,'' but would not discuss the issue further, citing personnel matters. However, Smith said he has had little communication with township. ''They didn't even send a $2 card to tell me they are sorry to hear of Uke's death,'' Smith said. ''It's not about the money. It's about the principle.'' His attorney, Melissa Rudas of Bethlehem, said Smith and the township had offered a settlement but it was unacceptable and they will proceed with lawsuit. submitted by Jim Cortina, Chelle, and Lester, his handler.



K-9 History
K-9 Uke is a male German Shepherd born in the United Sates. His father, K-9 Andy, retired from Bethlehem Township Police Department in September 2000. K-9 Uke's mother, Llana Von Boerstler was German and K-9 Uke's father, K-9 Andy, is from Czechoslovakia. K-9 Andy was the first police canine in Bethlehem Township. K-9 Andy served in the Bethlehem Township Police Department for 7 ½ years and paved the way for future police canines in Bethlehem Township. K-9 Uke performs demonstrations for schools and other civic organizations. While off duty, K-9 Uke enjoys playing "kong" in the yard with K-9 Andy and our daughter Uke sent a message to all--remember "COPS." CANINES OFFER PROTECTION AND SAFETY