In Loving Memory of
K-9 ROCKY
November 22, 2005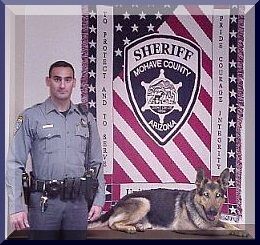 Partner:

Deputy Raja Karim


Mohave County Sheriff's Dept.


P.O. Box 1191
600 West Beale St.
Kingman, AZ 86402


800-522-4312

Raja Karim has been employed with the Mohave County Sheriff's since 2002. Deputy Karim and K9 partner "Rocky" are assigned to the Kingman-Golden Valley area. Deputy Karim and "Rocky" have worked together since 2004 after receiving training from Zauberger K9 Academy in Arizona. Deputy Karim is also a Field Training Officer.




It is with great sadness that we announce the passing of Rocky (Big Rock). Rocky died during surgery for a broken leg. There was an freak accident during a training session when after a building search in a two story building Deputy Karim and Rocky were leaving the building. They were walking down the stairs when Rocky suddenly started to howl and hold up his right leg. There were no signs of injury during the scenario and Rocky had a great bite. Deputy Karim attended to Rocky and took him to the vet. It was determined that he had a broken leg and surgery was needed. Rocky passed away during the surgery. Rocky will be greatly missed by his family, the Mohave County Sheriff's Office, and all that knew and loved him. submitted by Scott Cramer
---
In Loving Memory of
K-9 RUSTY
November 8, 2005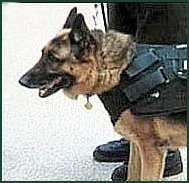 Partner: Officer Derrick Davis
Atlanta Police Department
Atlanta Police Department
675 Ponce De Leon Ave
Atlanta,GA 30308
Phone: (404) 853-3434

Since joining the Atlanta police force, Rusty the police dog had one partner -- his handler, Senior Police Officer Derrick Davis. Rusty has lost his fight with cancer, leaving Davis and a grateful police department to mourn his loss. "He was pretty much a massive dog, but he was gentle. He was a beautiful dog. He just had a sense about him that commanded attention," said Davis. During Rusty's seven-year tenure, he responded to more than 900 police calls and participated in more than 100 "Say No to Drugs" presentations at schools around Metro Atlanta. "He loved kids, and I can remember all the kids surrounding him, and can see his tail wagging back and forth, and to see all the kids just petting and loving on him," Davis said. Rusty even competed as a law enforcement Olympian in the World Police and Fire Games held in Indianapolis in 2001. Davis says now that Rusty has passed, he'll always be remembered as a champion. "He worked up until it was time for him to pass on. He never did waver away. He never said 'Daddy, I'm tired, I'm ready to stop working,'" said Davis.

Atlanta police will hold a funeral service to honor Rusty, a narcotics K-9 dog. It will be Thursday, November 10 at the Oak Crest Pet Cemetery on Harbins Road in Bethlehem, GA.

(thanks Jim, great job with all the details for me)

s

ubmitted by Jim Cortina, Dir. CPWDA
---
In Loving Memory of
K-9 RANGER
October 3, 2005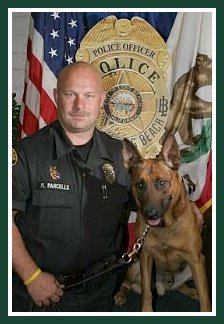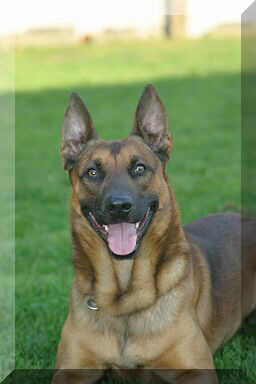 Partner: Officer Mike Parcells
Long Beach Police Department
400 W. Broadway
Long Beach, CA 90802
(562) 435.6711
Officer Israel Ramirez
Public Information Officer
Long Beach Police Department
(562) 570-7032
Mail cards to: Officer Mike Parcells - Long Beach Canines Officers Association -
P.O. Box 17366, Long Beach, CA 90807
Late-night gunfire claims life of parolee, K9 By Karen Robes and Kristopher Hanson, Staff writers
LA County Coroner officials remove the body of Agustin Murguia, who was shot and killed by police after an officer involved shooting at the 1300 block of Cedar Ave. in Long Beach. During the shooting a LBPD K9 Dog named "Ranger" was shot and killed.
(Stephen Carr / Press-Telegram)
LONG BEACH — A parolee who ran from police and then hid under a porch began a shootout with officers that ended in his death, and that of a police dog early Monday, authorities said. Agustin Murguia, 22, of Long Beach shot at police, who returned fire at about 2:50 a.m. in the 1300 block of Cedar Avenue, officials said. The dozens of bullets fired during the shootout rattled the neighborhood where the alleged gang member was hiding. "We heard police helicopters and sirens, then all of a sudden our house got hit with lots of bullets," said a 16-year-old resident of the house whose porch Murguia was hiding under. "The bullets went through our windows and tore up a sofa and some candles. We hid until (police) pulled us out a window a few minutes later," she said, on condition she not be identified. The 3-hour incident began at about 11:15 p.m. Sunday when Gang Enforcement officers attempted to make contact with Murguia at his home in the 1200 block of Loma Vista Avenue, said Officer Israel Ramirez. Murguia, who lived with an older brother and his mother, Ignacio Murguia, ran into the house after he saw police, and when officers followed him inside, he bolted out the back door, said Sgt. David Cannan. Three gang officers chased Murguia, who headed northbound on Cedar, crossed Anaheim Street and ran down an alley. Murguia then allegedly turned around and shot at officers, who returned fire. No one was hurt in the exchange. When Murguia headed eastbound, police quickly set up a perimeter along Magnolia and Cedar avenues and Anaheim and 14th streets and called in the department's SWAT Team and K-9 unit, who began searching for Murguia around 12:30 a.m. At 2:50 a.m., SWAT officers carrying light-mounted guns found him hiding beneath the porch of a house on Cedar Avenue. Officers asked him numerous times to surrender, but he refused. Officers then sent a police dog, a 4-year-old Malinois named Ranger, after Murguia. Moments later, police said Murguia shot at officers, who fired back, Cannan said. Cannan did not know how many officers fired and how many rounds were used. He said there were about seven SWAT officers but he did not know if all of them fired. The officers were about 20 to 25 feet away from the suspect, Cannan said. During the shootout, Murguia and the dog, Ranger, were hit. Cannan did not know whether Ranger was shot by the suspect or by police. Asked if other options to subdue the suspect were considered, Cannan said police were forced to respond accordingly. "In this scenario, deadly force was answered with deadly force," Cannan said. Heroic Police Dog Laid To Rest -Oct. 12, 2005.

MORE:
(CBS) LOS ANGELES A well-loved Long Beach Police dog was remembered this week by his human partner, who gives the canine credit for saving his and his fellow officers' lives after a shootout.Three-year-old Ranger was the first canine officer to be shot to death in the city of Long Beach and will be buried Wednesday night at the Long Beach Police Department's Academy, next to three other Long Beach Police dogs, KCAL 9's Michele Gile reported.On Oct. 3, Mike Parcells, Ranger's handler, and other officers were trying to flush out a parolee hiding under a porch. The suspect apparently shot as he saw Ranger pass in the light. "I know that one of us would have gotten shot that night," Parcells said, choking back tears. "I don't think he saw the dog. I can almost guarantee he didn't see the dog." A news camera recorded Parcells cradling the mortally wounded Ranger as he arrived at an animal hospital. Ranger died three hours later.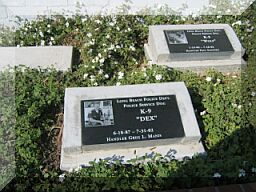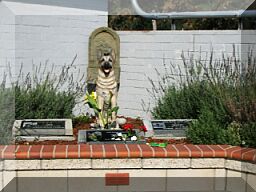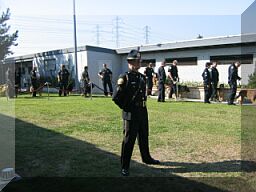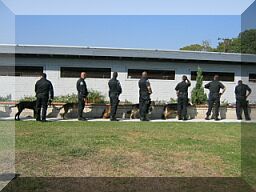 Photos of K-9 Ranger's memorial service - compliments of Roger Niccoli with thanks.
Ranger was rushed to a Tustin emergency animal care center, where he died in surgery around 7:30 a.m. Murguia was on parole for assault with a deadly weapon and making criminal threats, Ramirez said. Monday evening, more than 100 friends and family members gathered at the shooting scene for a memorial service overseen by Father Angel Velandia of St. Jude's Catholic Church in Huntington Beach. "I don't know why they had to shoot him when he was stuck under the house like that," said friend Jose Alvarez. "They keep talking about the dog, but what about him. He was a human being. They keep switching the story around and we don't even know if he really did kill the dog." One of Agustin's three sisters, Monica, said her brother had been suffering from leukemia for the past year. She didn't know what prompted him to run from police. "It just seems like overkill," said another sister, who spoke on condition she not be identified. "They should have used tear gas or waited it out." Earlier Monday, as neighbors and bystanders watched police pick up the bullets and shell casings littering the street, they expressed anger over Murguia's death and the medical attention paid to the dog. "They should have took the man to the hospital, not the dog," said Ever De Los Reyes, a neighbor. But Murguia was already dead at the scene, Ramirez said. Lisa Sedilo, who knew Murguia for eight years, said she is trying to raise funds to help offset funeral expenses. She said Murguia was a lifelong resident who grew up in the neighborhood. "He made wrong decisions in life, but he wasn't a bad kid." Ranger is the first K-9 to be killed in the line of duty since 2001, when Rocco, a 2-year-old patrol dog, broke his back while investigating a possible break-in at the Museum of Latin American Art. Since the department initiated its K-9 Division in the late 1970s, at least three dogs have been killed in the line of duty, including Ranger. Like all Long Beach police K-9s, Ranger will be laid to rest at the department's K-9 cemetery, a tiny sliver of land located next to the Police Academy in East Long B
e
ach. For Ranger's partner, 11-year veteran Officer Michael Parcells, the canine's death Monday is especially hard. Barry, Parcells' former four-legged partner, who retired last year, died in May.
Parcells, who grew up in Cypress, is a decorated officer who has received various awards and has been working with canines for several years. In 1995, he was credited with helping save several people trapped in a burning apartment in Long Beach. Police ask that donations in Ranger's name be sent to the Long Beach K-9 Officers Association, P.O. Box 17366, Long Beach 90807.
****************************

On Sunday, October 2, 2005 at approximately 11:15 p.m., officers from the Long Beach Police Department's Gang Enforcement Section were conducting a residence search in the 1200 block of Loma Vista Avenue, of a known parolee. While searching the residence the suspect ran out the rear of the residence and officers pursued him on foot. During the pursuit the suspect ran into an alley in the 1300 block of Cedar Avenue, were he turned on the officers and using a handgun, shot at the officers. A perimeter was immediately established and Long Beach Police SWAT members conducted a systematic search of the area. At about 2:50 a.m., the suspect was found hiding under a porch at a residence in the 1300 block of Cedar Avenue. The suspect was ordered numerous times to surrender before a Police K-9 was sent in after him.
T
he suspect fired at SWAT members who, fearing for their safety engaged the suspect in gunfire. The suspect who was pronounced dead at the scene was a Long Beach resident, identified as a male Hispanic in his 20's who is a known gang member and was on active parole for assault with deadly weapon at the time of this incident.
Police K-9 "Ranger" was struck once by gunfire and was transported to an emergency animal care facility in the city of Tustin. Unfortunately, Ranger, a 4 year-old Malinois succumbed to his injuries during surgery from a gunshot wound to the chest. Ranger, who was born in Holland, had been with the Police Department for two years. Anyone who has information regarding this incident is asked to contact the Long Beach Police Department's Homicide Detail at (562) 570-7244.
**********************************************
UPDATE
LBPD prepares for a new addition to their K-9 unit, Knight. By Kristopher Hanson, Staff writer - -11/14/05
LONG BEACH — Sleek, powerful and capable of sending a 250-pound hardened criminal to his knees in fear, this crime-fighting canine is eager to hit the streets of Long Beach. but like all bright-eyed police rookies, Knight has valuable lessons to learn before entering the modern world of urban law enforcement, where desperate criminals aren't hesitant to shoot at cops, as was tragically evident with this pup's predecessor, a scent-sniffing pro named Ranger. Five weeks after Long Beach K-9 Officer Mike Parcells watched Ranger be fatally wounded in a police shootout with an armed suspect, the veteran officer is bonding with his new dog, Knight, a German-born, 70-pound beast with an 1,800-pound-per-square-inch bite and an uncanny ability to track down hiding criminals. "He's a hunter, and strong, probably one of the strongest police dogs we've ever had on the force, but he's still got a lot to learn," Parcells said of Knight, a 3-year-old Belgian Malinois. "He has a strong personality, which is a good thing for the line of work he's going into." Knight was purchased just days after Ranger suffered a fatal gunshot wound while attempting to flush out a hiding parolee who had taken refuge under the front porch of a home. The suspect, Agustin Murguia, had engaged police in a running gunbattle after officers approached his home just north of downtown. In the end, Murguia and Ranger were both killed, shattering the lives of two local families. Still, despite Parcells' sense of loss, he's thankful that Ranger's death likely spared the life of a fellow human officer.
'As hard as it is to go through this, I would rather lose my K-9 partner than one of my human partners," Parcells said shortly after the dog's death on Oct. 3. "I know (Murguia) wasn't shooting at the dog, he was shooting at us. If it hadn't been for Ranger, we would have had an officer killed that night."
Healing wounds
While Knight can never replace Ranger the friend and partner, he is replacing Ranger the police officer. Just as importantly, he's helping heal the wounds of that tragic October morning, when stunned viewers across the nation watched television news footage of Parcells tearfully carrying the mortally wounded Ranger into an emergency animal hospital in Orange County.
"Knight's making it easier for us, especially my little (children), who really bonded with Ranger and didn't understand when he was suddenly gone," said Parcells. "People sending us stuff, I received about 1,000 letters from people around the country, and all the donations to our K-9 fund, really made a huge difference. It was an overwhelming reaction." In the weeks since Ranger's death, the Police Department's K-9 fund has received thousands of dollars in donations and several hundred condolence cards. Since donations fund the department's K-9 operations, including purchase of the dogs, which cost about $8,000 each, the recent cash infusion has allowed officers to purchase two new dogs to replace Ranger and Drago, another Belgian Malinois who died a few weeks before Ranger.Drago, who belonged to K-9 Officer Ernie Wolosewicz, suffered heatstroke when the air-conditioning unit failed in the police cruiser he was waiting in.
Response touching
K-9 officers said the public response following the dogs' deaths was overwhelming. "It was more than we ever imagined," said Long Beach K-9 Officer Joe Valenzuela, whose partner Winston will work alongside Knight in the future. It rejuvenated us to go out there and do our job knowing that there are so many people who support us. You forget that sometimes and can get a little jaded dealing with bad guys everyday." Drago's replacement will be purchased in the next week or two, with training to begin shortly after. Knight, currently training at the Long Beach Police Academy, is expected to start patrolling the streets before the end of the year. His regimen includes running around on outdoor obstacle courses and through abandoned buildings in search of a hidden suspect. The canine's extraordinary olfactory system allows him to locate bad guys with relative ease — whether they're in a closet, attic, under a porch, in a shed or stowed away in a container or trunk somewhere. Parcells and the other trainers are honing those skills now, teaching Knight to bark loudly when he hits his mark, and if a suspect moves, sink his sharp canine teeth into the perpetrator's arm or leg. "Biting is their reward for a successful find," Parcells explains. "They live for that." Parcells also plans to cross-train Knight for narcotics detection work, something Ranger never did. While the eight officers who comprise the K-9 unit are moving forward since Ranger and Drago's unexpected deaths, the transition hasn't been without its difficulties.
Seasoning needed
First, while Knight is bigger and more powerful than Ranger, he's not street-tested, and it may take up to a year on the job before Parcells knows he can fully trust him and his detection abilities. Then there are the memories. Parcells family has dozens of pictures, sketches and even a large painted portrait of Ranger around their home. Last week, an Orange County tattoo artist who read about Ranger's death needled a life-like portrait of the canine cop onto Parcells calf muscle. The two will be together forever. "Dogs are trustworthy to the point of flawlessness," Parcells said. "They're there for you always, no matter what's going on in your world."
---
In Loving Memory of
MWD K9 RONNY #A331
April 11, 1997 - 2005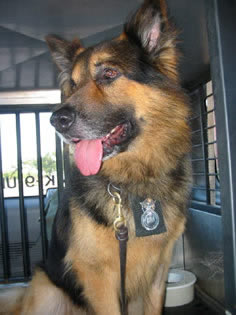 Handlers:7th Security Forces-Squadron
7th Support Group, 7th Bomb Wing and the USAF
Lackland Air Force Base

Military Working Dog Ronny, brand #A331, was a longhaired German Shepherd, who was whelped on 11 April 1997. He was accepted into military service in 6 January 1999. He completed his initial training in handler protection, explosives detection and was certified as a Patrol/Explosive Detector Dog at Lackland AFB, Texas. Ronny was assigned to Dyess AFB, Texas, in May 1999 where he went through two months of acclimation to his new environment and numerous training scenarios. Ronny was locally certified for operational duties in July 1999. He quickly established himself as a stellar Military Working Dog both on and off duty. On several occasions Ronny was used to perform at bomb threat situations not only on Dyess, but also in the surrounding communities. His actions were instrumental in providing these communities with a sense of security from criminal and terrorist activities. On five separate occasions, Ronny and his handler were requested to perform U.S. Secret Service support missions. While on these missions, Ronny ensured visits by the President of the United States were safe and incident free. He was an integrated part of our country's force protection mission during his three deployments to Southwest Asia. His presence and extreme hard work provided an invaluable blanket of security for thousands of deployed service members and millions of dollars in Department of Defense Resources. During his distinguished career, Ronny participated in over 50 public demonstrations, witnessed by over five thousand citizens. These demonstrations helped solidify the already strong ties Dyess AFB shared with the Abilene community and provided a sense of security. Ronny dedicated his life serving the needs of his handler, the 7th Security Forces Squadron, 7th Support Group, 7th Bomb Wing, and the United States Air Force. In return we pay him this honorable tribute.
You will be truly missed.
---
In loving Memory of
K-9 ROSCO
August 24, 2005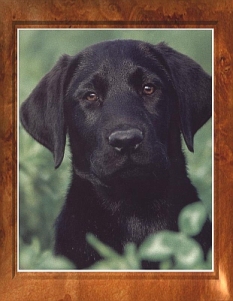 Handler:Det.Bill Endicott
Bremerton Police Department
239 4th Street
Bremerton, Washington 98337
360.478-0011

Two Police Dogs Die, One Injured
By Derek Sheppard, DSHEPPARD@KITSAPSUN.COM August 26, 2005

Wednesday was a tough day for the county's police canines. Two retired police dogs died Wednesday and one active dog suffered an injury at the Kitsap County Fair during a public demonstration. The Bremerton Police Department's recently retired drug sniffing dog, Rosco, a black lab, died Wednesday after a bout with a degenerative blood disease. "Rosco was a family member, a friend and a partner in the fight against crime," wrote Rosco's handler, Detective Bill Endicott. In Rosco's five-year career, cut short by the illness, he was credited with taking more than $300,000 of drugs and more than 120 criminals off the streets.
---
In Loving Memory of
K-9 RJ
(Rusty Junior)
August 13, 2005


Partner: Officer Bryan Hanani
Phoenix Police Dept.
620 W. Washington Street
Phoenix, AZ 85003
(602) 495-5003

A Phoenix police K-9 was killed in the line of duty last night when he was run over by a suspected car thief. K9 R-J and his handler, Officer Bryan Hanania, were assisting patrol officers near 21st Place & Garfield Street trying to catch a suspected car thief. Phoenix Detective Tony Morales said R-J and Hanania followed the driver into an alley, and the suspect accelerated backward and ran over the dog. R-J had a broken spine and severe internal injuries. He was euthanized at a veterinary clinic. Morales said that for K-9 officers, "It's like losing a brother." The suspect, whose name was not released, was arrested.
---
In Loving Memory of
K-9 REX
May 26, 2005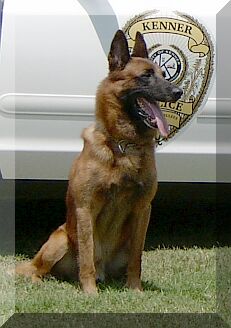 Handler & Partner: Officer Louis Linn
Kenner Police Dept.
1801 Williams Blvd.
Kenner, LA 70062
(504) 712-2222 or 911
Chief of Police Nick Congemi 504 712-2200
I am sad to advise you of the untimely death of one of our canines (K-9 Rex) on 5/26/05. Officer Louis Linn of the Kenner Police Department in Kenner, La was his handler. Officer Linn and K-9 Rex attended the NPCA 2004 Nationals in Pasadena Tx and placed in Narcotics Detection. The cause of death is unknown at this time. I am still waiting on the report from Louisiana State University. I ask that all of you keep Officer Linn, his wife and two young boys in your prayers. As canine handlers, we all know how our partners become part of our family. In addition to that, Officer Linn's 7 year old son is the one that discovered Rex in his kennel. If you would like to drop Officer Linn a line his e-mail
address is tlinn1@cox.net.
submitted by: Ron Labarrie
---
In Loving Memory of
K-9 REX
October 21, 2005


Handler: Officer Jeff Wilson
Helena Police Department
City County Building
316 N. Park
Helena, Mt 59623
442-3233
Senior Officer Jeff Wilson and Rex:
Rex is a three-year-old Belgium Malinois who came to the U.S. from Holland in November of 1999. He is trained in patrol work and narcotics detection. I have been working with Rex for over a year. He was trained at Southern Police Canine in Spring Hope, SC. I have worked with the Helena Police Department for four years, working in the patrol division for the first three. In December of 1999, I began work on the K9 program and in April of 2000 went to North Carolina to be trained with Rex, who is the narcotics detection canine.

HPD dog put down after injury -
by CAROLYNN BRIGHT - IR Staff Writer 10/27/05 - MT

Helena Police Officer Jeff Wilson is patrolling alone for the first time in five years. On Friday, veterinarians euthanized his K9 partner, Rex, following an injury to the dog's legs and back. "Due to his age, he wouldn't have recovered," Wilson said, explaining that Rex was basically immobile in his final days. Wilson doesn't know exactly what caused the injury, just that Rex's health had been declining for the past month. Wilson said HPD officials intend to host a memorial service for the drug-sniffing dog, but a date has not been set. Rex was one of two dogs purchased in 1999 through community donations to form the HPD's first K9 unit. Officers Wilson and Shane Moos were selected by the department to be the dogs' handlers. Throughout his career with the police department, Rex, who was 10 years old at the time of his death, participated in numerous suspect apprehensions, drug searches and more. Earlier this year, Rex and the department's other K9s were honored with the Red Cross' hero award for their contributions to the community. Wilson said he didn't know quite what he was getting into when he volunteered to participate in the K9 program five years ago. "It was probably one of the hardest things I've ever done," he said, explaining that caring for Rex was a 24-hours-a-day, seven-days-a-week job. "But it was rewarding to have a dog partner." Wilson explained that he appreciated Rex's loyalty, work ethic, and ultimately, his willingness to sacrifice his own life to protect his handler. The officer said it has been encouraging for him to see the success of the K9 program, and he knows that Rex played an integral role in that. "We've seen a lot of support for something people told us was never going to happen," Wilson said. In Rex's lifetime, the K9 unit grew from two dog/handler teams, to four. Earlier this year, the department's other original K9, Urlich, had to be euthanized due to health problems. Urlich's specialty was the detection of explosives. Today, the HPD has one drug-sniffing dog, and one bomb-sniffing dog, and their handlers on staff. Wilson hopes he will be considered for the job of handler should the department decide to solicit funding for a dog to replace Rex. Such a venture would cost the department between $12,000 and $15,000 to purchase a dog, and finance training and travel for a handler. "I'm going to miss having him in the car with me, knowing he's there if I need him," Wilson said.
submitted by Jim Cortina, Dir. CPWDA
---
In Loving Memory of
K-9 REX
April 18, 2005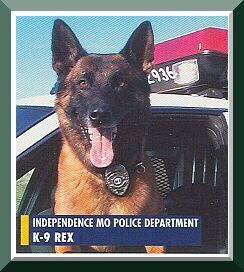 Handler: Officer Frank Bunney
Independence Police Department
21101 E. M-78 Hwy
(M-78 and Terry Foster Memorial Drive)
Independence, MO 64057
On Monday, April 18, 2005 K-9 REX suffered a heart attack and died while at Independence Animal Hospital. K-9 Rex was recovering from minor surgery last week and recovering very well, however apparently the stress of the surgery was too much for a weakened heart. Dr. Becker, Dr. Weingert and the staff of the Independence Animal Hospital are to be commended for their heroic efforts in an attempt to save Rex. K-9 Rex started serving the Independence Police Department in September, 1998. Further details of K-9 Rex's service to the community and his memorial service will be forthcoming.



The Independence Police Department will honor K-9 Rex at a memorial
service to be held on Thursday, May 26th beginning at 1600 hours.
The service will be held at the Independence Police Department Canine Unit's Memorial and Training facility at 21101 E. M-78 Hwy (M-78 and Terry Foster Memorial Drive). The memorial service is to show our appreciation for K-9 Rex's and Officer Frank Bunney's teamwork together for the last seven years. The Memorial Service will include comments by Chief Fred Mills, Diane Hays (President of Coins for Canine, Inc.) and a Proclamation from the City Council. The members of the Canine Unit will also take this time to recognize other organizations for their support of the Memorial and Training facility. If you have any questions please feel free to contact me either by e-mail or cell phone (#564-7949). On behalf of Frank and Michelle Bunney and the rest of the Independence Police Canine Unit I would like to thank you for your calls, letters and e-mails of support during this difficult time. We look forward to seeing you on the 26th, if you can make it.
Rex wasn't just a dog .... he was a fellow officer
by David Tanner - The Examiner
Police dogs are known for their keen senses of sight, smell and sound. Those paying tribute on Thursday to Independence Police Dept. K9 Officer Rex, who died of a heart attack April 18, at the age of 10 were thankful for the canine's diligent work. "He should be remembered as a hero of this community," said Sgt. John Bullard. No one is more thankful for Rex's keen senses than his handler, Officer Frank Bunney and wife Michelle. "I knew nothing was going to happen to my wife when I was gone as Officer Bunney is also a member of the National Guard. He also remembers Rexy leading the way when law enforcement searched for a suspect in the Sav-A-Lot shooting in August, 1999 at U.S. 40 & Blue Ridge Blvd. We had min on a 20' lead, he led the SWAT team through there. Rex led police in that case to a locked door in the store where the suspect was hiding. Tributes came in many way, including poems and proclamations, songs and stories. Michelle Bunney, a gifted singer began the program with the national anthem and received applause. The independence Police Dept. Honor Guard flew the flag at half mast for the ceremony, and then presented the flag to the Bunney family. As if to sense the ceremony's peak emotional moment, dogs from visiting department barked loudly when Office Mike Kline piped "Amazing Grace." The barking brought a sense of calmness and reflection in the crowd even helping along a few tears. Rex, Belgian Malinois born in Holland is now memorialized at the canine unit's memorial garden at the training facility, a garden conceived and built by the Master Gardeners of Greater Kansas City. Officer Bunney will soon have a new canine partner, but will not be a replacement. He will be another rookie to give him a hard time. That rookie, a Malinois from the Czech Republic should arrive soon for final grooming at the training facility. The life of a police dog is filled with training, people and drug searches and public education. Officer Bunney and Rex answered 981 calls for service. Rex apprehended 39 suspects and made 196 narcotics find in his career. They also gave 99 public demonstrations to more than 7600 citizens, many of them school students. The number only reinforces the sense of duty the officer and their dogs have. The community responds in way like the Master Gardener did with the memorial gardens, as well as the local hospital auxiliaries recent donation of $10,000 and a growing Coins for Canines Foundation. Sgt. John and Connie Bullard's son, Jared Levitt, acted quickly when Bullard's dog, K9 Officer DARO was looking ill only a week after Rex died. Jared called for help and Daro was rushed to the vet with a serious stomach condition that required immediate surgery. If it had not been for Jared's quick action, Daro would not have made it. Chief Mills said presenting Jared with his own police scanner. Like the Bunney family's love for Rex, the Bullards and the other canine handlers know the importance of the dogs in the family household. They become so much a part of the family, they are more than just pets.
submitted by John Bullard
---
In Loving Memory of
K-9 REXX
October 24, 2005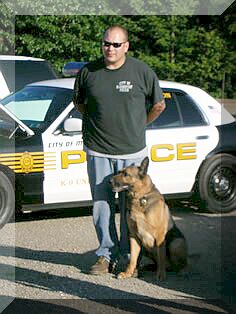 Partner: Officer Conner Craig
McKeesport Police Department
Police Department Chief of Operation Joe Pero
201 Lysle Blvd
McKeesport, PA 15132
Warden: (412)675-5015 - Detective Bureau: (412)675-5016 - General Inquires: (412)675-5020

My name is Connor Craig. I am a police officer employed with the City of McKeesport Police Department and I'm currently assigned to the K-9 unit. On Monday the 24th of October at 9:00 AM, I lost my partner "Rexx" to an unknown neurological problem with complications, including bloat.In the spring of 2000 I was assigned to the city's K-9 unit and there I met my partner. With the help of NAPWDA master trainer William Sombo we began patrol/narcotics training. During this training I learned that Rexx knew more about his job than me — I then became the "dummy" at the end of the leash. Throughout his career Rexx never ceased to amaze me, whether he was performing socialization drills with children during our school programs, locating fleeing suspects, finding narcotics, tracking missing children or ultimately saving my life.During a traffic stop conducted directly after an assault involving firearms, the passenger of the suspect vehicle I had stopped exited with a Tec-9 pistol and attempted to bring that weapon to bear against me (not being aware that Rexx was directly outside his door). Rexx, without hesitation, apprehended the suspect, causing him to drop the firearm and allowing me to take him into custody.Now as I await word on funding for a new K-9, I can't help remember the nights of working third shift with him snoring in his kennel, or the multitude of fur flying around in the car during a pursuit. I can only hope that my next K-9 partner has just some of the bravery and un-wavering dedication that Rexx had. Rexx was more than just a partner he was a friend... and he will be missed.
submitted by Ken Konias