In Loving Memory of


K-9 QUINTO


September 4, 2005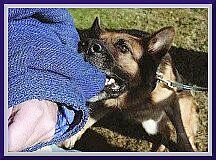 Partner: Reserve Deputy Colleen Neubert
Morrow County Sheriff's Office -
Sheriff Ken Matlack
Emergency Operations Center
325 Willowview Drive - P.O. Box 159
Heppner, OR 97836
(541)676-5317


10/22/2005 12:36:00 AM



Morrow County Sheriff's drug enforcement dog, Quinto was poisoned last month according to a recent autopsy.


By Casey White - of the East Oregonian


HEPPNER — The Morrow County Sheriff's Office is investigating the death of its drug dog, Quinto. The death appears to be suspicious after an autopsy revealed poison as the cause of death. On Friday, the sheriff offered a reward out of his own pocket to whoever can lead police to a suspect. According to Sheriff Ken Matlack, the 6-year-old German Shepherd was found dead September 4 by his handler and owner, Reserve Deputy Colleen Neubert. An initial post-mortem examination by Veterinarian Brent Barton of the Oregon Trail Veterinary Clinic in Hermiston indicated Quinto had ingested the poison, Brodifacoum, commonly found in rat poison. Mattack said samples were sent to the University of Michigan for testing because Barton found a significant amount of internal bleeding and heart problems, consistent with poisoning."The quantity of poison in his system was so large that he would have had to have swallowed half a dozen (poisoned) rats or twice that many mice (to have poisoned himself)," Matlack said. "We cannot think of any other method other than intentional poisoning." Barton was unavailable for comment. Quinto was closely monitored by Neubert, who kept him in a kennel when she wasn't by his side. Matlack said Quinto had no access to rodents or poisons. "But of course, that's not always 100 percent," Matlack said. Matlack said Quinto was an "active" drug dog and has "spoiled a lot of people's days," and speculated whoever may have intentionally killed Quinto did so as a sort of revenge. So far, there are no suspects. "It's frustrating," Matlack said. "He had been a wonderful asset to the sheriff's office." Matlack's frustrations have led him to offer a $1,000 reward on Friday from his own pocket to the person who leads the sheriff's office to the arrest and convict the person responsible. "If we can get someone arrested and convicted, I would be happy to pay that reward," Matlack said. Quinto was trained to detect drugs from marijuana to cocaine and helped the sheriff's office with numerous arrests during his several years with the Morrow County department. He received his Oregon Police Canine Association Certification in narcotics detection and patrol with a certificate of mastery in tracking several years ago. Now that the Morrow County Sheriff's Office is without Quinto's services, Matlack said Neubert already has another drug dog in training. "Barbie" is "really close to receiving her certification," Matlack said. Deputy Adam Bridgefield also is training "Stevie" as
a drug dog for the department.

submitted by Jim Cortina, Dir. CPWDA