In Loving Memory of
K-9 NORM
May 21, 1994- Sept. 16, 2005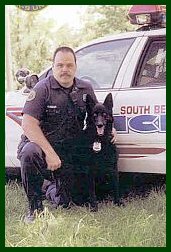 Handler: Cpl. Dan Demler
South Bend Police Department
701. W. Sample Street
South Bend, Indiana 46601
Phone: (574) 235-9201 Fax: (574) 288-0268
Email: SBPD@ci.south-bend.in.us
South Bend Indiana P.D. K-9s
SBPD's K9 unit is assigned to the uniform patrol division. It is comprised of seven teams. Each team consists of an officer and his loyal canine companion. The Canine Unit has become a great asset to the officers of the South Bend Police Department and the citizens of South Bend. Since it's simple beginnings in the early 1960's the unit has grown to seven teams. There are three teams assigned to the afternoon and midnight shifts. The seventh team is assigned to the day shift.
Canines and their human partners who pass the initial selection process undergo a full ten week training course before assignment to the unit. The starting age of the average police service dog is 15 months. The average career for our dogs is six years. Upon ending his career, the canine is allowed to live in "retirement" with his handler.
Our canines aid patrol officers in many aspects. These include: building searches, area searches, tracks and article searches. Some of the dogs are trained in narcotics and explosives detection. For information on a demonstration for your school or organization contact us at 574-235-5858 ext 2148 and you will be directed to the personnel responsible for scheduling these demonstrations.

submitted by:
Lt. Jeff Rynearson -
k

9 Supervisor South Bend Police
---
In Loving Memory of
K-9 NERO
August 23, 2005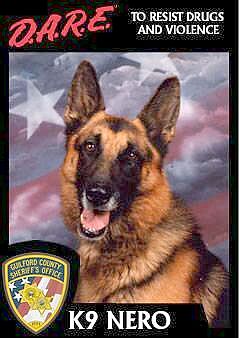 Partner: Cpl. Joe Sipe
Guilford County Sheriff's Office
Special Operations Div.
2814 Firestone Dr.
Greensboro, NC 27401
336.641.3690
email: info@guilfordcountysheriff.com


Sheriff's Office Mourns Loss of K9
K9 Nero, Cpl. Joe Sipe's partner, was euthanized with deep regret last night. Nero was an eight year old Hungarian Shepherd who worked with Joe from February 1998 until August 2005. Like most working law enforcement K9 dogs, Nero's home at the end of each day was with Cpl. Sipe. On Sunday morning, Joe's wife noticed something was wrong with Nero and he was taken to Carolina Veterinary Specialists for emergency surgery. He had a distended and rotated stomach. Several conditions existed from the surgery that K9 Nero's body could not overcome. Joe and Nancy were with Nero as he took his last breaths at around ten o'clock last night. Cpl. Sipe and K9 Nero have been frequent participants in late night 'Booze It and Lose It' DWI efforts. A recent Sheriff's Office video feature shows K9 Nero searching cars, locating drugs, and making the streets safe for Guilford County. The video is being made available to media, by calling 641-3126. Please keep the Sipe family in your thoughts and prayers.
---
In Loving Memory of
K-9 NANUK
(K-9 Nanuk Vom Wecklinger Weg)
Sept. 28, 1997 ~ June 9, 2005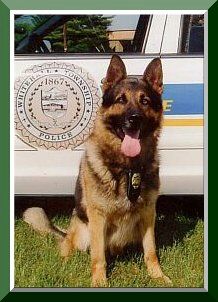 Handler: Officer Rich Garner
Whitehall Police Department
3731 Lehigh St.
Whitehall, PA 18052
610.437.3042, Ext. 113
Nanuk is remembered, honored at service
Nanuk was special. He didn't wear the dark navy blue uniform of a Whitehall Twp. police officer, but wearing a bulletproof vest, he entered crack houses where suspected drug dealers hung out. He was well known by the community, he assisted in road patrols and always he was a big hit with children. So with Nanuk's untimely passing on June 6, a township police force paused to remember his life last Friday, in a memorial service at the Whitehall High School auditorium. Assigned badge No. 54, Nanuk was a German Shepherd an active township police K-9 assigned to work with his partner, Patrolman Richard H. Garner. Nanuk who would have been 8 years old on Sept. 28th has truly left his mark in the history of the township police force, and most certainly in the Garner household where he resided with Garner's wife, Susan and their 3 children. Luke, Curtis and Jacqueline, who came to the memorial clutching a stuffed toy dog. Nanuk completed his assignment ship with Garner at 7 a.m. on June 9. Later at the Garner household, Luke and Curtis went to play with Nanuk, noting he was listless. Observing that the dog was seriously ill, the pair tended to Nanuk and summoned help, but it was to no avail. Nanuk died of natural causes resulting from an undiagnosed condition which had presented no prior symptoms. A sizable crowd attended the service where a granite memorial stone noted Nanuk's life and colorful bouquets of flowers surrounded pictures of the police dog. Eugene Kutzler's rendition of Amazing Grace on the bag pip, a police tradition, left some with moist eyes. Chief Kohurth said all in attendance can relate to Nanuk's life and passing. By Al Recker
+++++++++++
Born in Germany, Kohuth said Nanuk was assigned to handler Garner, a 14 year veteran on the township police force, and for the last five years, the two were inseparable. Nanuk was highly trained and certified in narcotics detection and patrol work, including tracking, apprehensions, obedience, agility, crowd control and building searches. Assigned to special events and a regular at area schools, scout troops and other similar organizations. Nanuk loved children and would bring a smile to most anyone with his gentle demeanor and layfulness. Announcing the police department will immediately get a replacement bringing the police K9 unit back to its compliment of two. A new dog will be trained and could be with Garner sometime in September. Township police chaplain, Rev. Michael Bodnyk read a poem in tribute to nanuk. Kohurth presented Luke and Curtis Garner with police patches, thanking them for their efforts in coming to the ailing dog's aid. Nanuk was more than just a dutiful dog. He was a K-9 police force member who would have given his life for his partner, one who was dedicated to police work and to the preservation of peace.



Canine officer recalled as loving work and play
Memorial ceremony for dog set for Friday.
Wednesday, June 22, 2005 - By JAMES S. YOUNG - The Express-Times
********
Responding to a burglary call, police canine officer Nanuk sniffed his way through the township for blocks. He was leading his handler, Officer Richard Garner, who wondered whether the dog was headed anywhere at all. But Nanuk knew the business end of his nose and successfully tracked the scent to where it ended a mile away, at a residence where juveniles were arrested, Garner said. The township police department lost this highly trained, widely loved member of its police force earlier this month. Nanuk, a 7-year-old German shepherd and 5-year member of the canine unit, died quietly June 9 at Garner's home, police Chief Theodore D. Kohuth said Tuesday. Nanuk and Garner, of Catasauqua, had just finished an overnight shift that ended at 7 a.m. Nanuk was known for regular appearances at schools, Boy Scout troops, demonstrations and events in and around the township. Children were especially enthralled with him. "He could certainly bring a smile to the face of an individual," Kohuth said. "While they are not humans (canines) are more or less part of the department." Friends and supporters are invited to attend an 11 a.m. Friday memorial ceremony for Nanuk in the Whitehall High School auditorium. Photos of officers' and community members' many experiences with Nanuk will be displayed in a collage there. Garner said his family, including children ages 6, 11, 12 and 25, has become attached to Nanuk since they got him five years ago. Garner described Nanuk as very motivated by play. "Even if we got together with some of the officers he'd always bring a toy up to them, wanting to play," Garner said. Nanuk was highly trained in narcotics detection and patrol work, including tracking, searching buildings, apprehension and crowd control. "We have to trust the dogs, even if they keep walking," Garner said. "I hope people realize how much of an asset they are." The department has one other canine, and Kohuth said he is working to fill Nanuk's place as soon as possible. He said the department usually deals with Kromerhaus Kennels in Bethlehem Township.
"He enthusiastically carried out his duties," Kohuth said of Nanuk. "I would characterize him as being best remembered for being a loyal and faithful member of the department, with great versatility, able to adapt to any incident."
notified by R. Garner
article submitted by Jim Cortina, Dir. CPWDA
p.s. Nanuk's handler is on the cover of my book,
K9's Are Human Too.
---
In Loving Memory of
K-9 NERO
May 3, 2005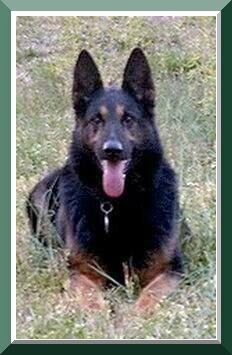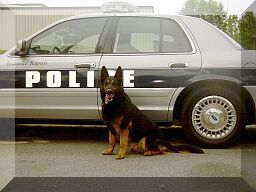 Officer Chris Woodruff
& 1st handler, Officer Agent Roy Ball
Roanoke Rapids Police Department
1040 Roanoke Ave.
Roanoke Rapids, NC 27870
252.533.2810

Nero remembered at memorial service
Todd Wetherington | Daily Herald Fellow members of the Roanoke Rapids Police Department console Officer Chris Woodruff, center in light shirt, at the close of Friday's memorial service for police dog Nero. Woodruff was Nero's handler.
Lance Martin/Herald Senior Staff Writer 5/16/05

Choking back tears, Roanoke Rapids Police Chief Greg Lawson explained what Nero meant to the department in the year he served. "I get a little emotional," Lawson said during a memorial service Friday for the police K9, which was hit by a car the afternoon of May 3. "Nero's pictures speak for themselves. He was loved by children and loved to do police work." That was Nero, Lawson said. "He wasn't just a dog, he was a police officer." While Nero's successor - Brando - will arrive later in the summer and looks just like Nero and has his temperament, Lawson asked, "Will Brando every really replace Nero? No. It's a special bond handlers have with their canines."
Speakers remembering the canine spoke behind a table holding an urn with Nero's remains, photos of the dog with school children and beside a patrol car, a special plaque and a floral arrangement designed as an American flag. The urn and plaque were donations from Massey and Wrenn, Clark and Hagan Funeral Homes, Inc., Lawson said, while Extra Touch Florists made the arrangement and Halifax Linen donated the cloth the memorabilia was placed on. City Narcotics Agent Roy Ball, who was Nero's first handler before he was assigned to Officer Chris Woodruff, said, "Having Nero was an honor for me." He said, "If you've never had a canine you will probably never know the bond. It's unbelievable, the camaraderie with your canine." Ball recalled when Nero tracked a little girl who had been kidnapped by her father and read a poem entitled "Guardians of the Night," a tribute to canine officers. Jim Meyer, a former lieutenant with the department and the city's earliest canine officer, told Woodruff, "Chris, I know how you feel. I know how your family feels." He explained that other officers don't understand the bond between a handler and the police dog. "It's not an insult. It's just a simple fact of life. It requires a lot of dedication and long hours. You've got to constantly be on your toes." Meyer said what happened to Nero was something officers call prey driving. Nero was hit by a car on West Tenth Street when Woodruff was exercising him and the ball he was chasing hit his snout and bounced into the street. Reiterating an earlier statement made by Sgt. Andy Jackson, Meyer said it is no coincidence that dog is "god" spelled backwards. "A dog is no less than God's reminder of unconditional love. Your dog will stand by you when nobody else will." Meyer praised the department's efforts to continue with the canine program. "It's a totally, absolutely necessary tool to police work. I appreciate the foresight of the city of Roanoke Rapids to look into another dog." Officer Terrence Tyler said even though Nero was a dog, his gentle nature should serve as a reminder, "To let us show compassion for each other." submitted by Jim Cortina, Dir. CPWDA
---
In Loving Memory of
K-9 NIKO
January 25, 2005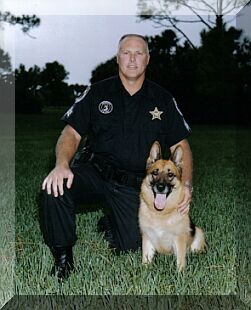 Partner: Lt. Wayne Nieberg
Charlotte County Sheriff Office
7474 Utilities Rd.
Punta Gorda, FL 33982
941.639-2101
The Charlotte County Canine Unit has seven cross trained patrol/narcotic teams, one patrol/explosive team and one bloodhound. Our goal is to provide support for the road patrol in all aspects of law enforcement. We are available to all members of the sheriff's office whether it be for patrol, narcotics, explosives or tracking with the bloodhound.

Retired CCSO K-9 "Niko" dies


Jan 25, 2005 - Retired Charlotte County Sheriff's K-9 "Niko" passed away today at the age of 13. His partner, Lt. Wayne Nieberg, said Niko had a distinguished career serving the citizens of Charlotte County from January 1994 until his retirement in January 2004 last year. Niko was born in 1992. Sheriff John Davenport said Niko will be long remembered as a valued member of our agency, especially the K-9 Unit and Lt. Nieberg. Just one of many Niko's accomplishments:NCEA Member 686 & K-9 Partner, Niko,
Charlotte County Sheriff's Office, FL - seized 51.8 pounds of marijuana.

**********************

Burial service will be at Pet Haven Cemetery - 27200 Jones Loop Road - (East of I-75 Exit-161) at 3:00 p.m.
Wednesday (Jan. 26) 2005\
submitted by Dusty Simon