In Loving Memory of
K-9 LEX
September 21, 2005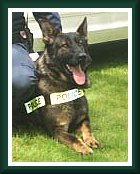 Partner: Scott Cunningham
Gresham Police Department
1333 NW Eastman Parkway
Gresham, OR 97030
(503) 823-3333
Gresham police dog that bit girl will be euthanized
Public safety - After three incidents, police won't allow Lex to stay on the force or become a pet - 9/21/05 - STUART TOMLINSON
A police dog that bit and seriously injured a 5-year-old girl -- and later bit the supervisor of Gresham Police Department's K-9 unit -- will be euthanized today, police said Tuesday. The news comes a week after the family's attorney filed a claim notice against the city, Gresham City Attorney Susan Bischoff said. The notice indicates the family will attempt to settle the matter out of court.
The German shepherd, Lex, bit the niece of the dog's handler, Officer Scott Cunningham, on Aug. 31 in the backyard of Cunningham's home. The girl had surgery to repair a gash that stretched from her mouth to her ear, and she will need additional surgery. The girl also received a puncture wound near her lip and a bite on the hand. It's unclear what caused the dog to attack, but officials said the incident occurred after the girl walked through an opening in the fence between two properties. "It's not uncommon for owners to make the decision" to euthanize a dog that bites, said John Rowton, manager of the Multnomah County Animal Shelter in Troutdale and spokesman for Multnomah County Animal Services. Rowton said a new state law will go into effect Jan. 1 that makes dog owners "strictly liable . . . if the dog causes physical injury to a person or damage to real or personal property." Capt. Tim Gerkman said the department couldn't run the risk of allowing Lex to return to duty or become a household pet. Gerkman said Adlerhorst International, a police dog training academy in Ontario, CA, agreed to give the department credit toward a replacement dog.
"This has been difficult for the entire department," Police Chief Carla Piluso said. "You never want to see this happen, but Lex could no longer reasonably be deployed for police services." The incident remains under internal review by the department, Piluso said. Dr. Emilio DeBess, Oregon's public health veterinarian, said because the dog was off duty when he bit the girl, the case was treated like any other dog that bites a person, which includes a 10-day quarantine for observation. The dog was placed in quarantine in a kennel at Gresham police headquarters following the Aug. 31 attack, and for another 10 days starting Sept. 8, after he bit Sgt. Mike LeDuc on the chin when the officer leaned over to interact with the dog during an exercise period at the station. LeDuc's wound required three stitches.
The incident was the third involving Lex, 3 years old. About two months ago, the dog snapped at a child's foot while on duty, causing a small abrasion. Testing afterward found no "trait" problem with the dog, and he remained in service. Officer Grant McCormick, a Gresham police spokesman, said the department usually has three dogs in service but is down to one. The department will buy another dog soon with the help of a $5,000 donation from the Milk-Bone Canine Heroes Program and Fred Meyer. The department bought Lex from Adlerhorst International in December 2003, and he started on the streets in March 2004.
The dog received 886 hours of training and was involved in 136 police incidents in and out of the city that resulted in 38 captures.
9/6/2005
Gresham Police Department Has Something To Bark About!
The Gresham Police Department's Canine Unit will accept a $5,000 donation from Fred Meyer and Milk-Bone® for the purchase of a new police dog. This ceremony will also include a canine unit demonstration. The donation will take place at the Fred Meyer located at 2497 SE Burnside Road, Gresham, on Thursday, September 8, 2005, at 10:00 AM. At the ceremony will be several City of Gresham dignitaries, Captain Tim Gerkman, Gresham Police Department, Gresham Police Department's K-9 Unit, a representatives from Fred Meyer, and a representatives from Milk-Bone. As part of the Milk-Bone Canine Heroes Program TM, Fred Meyer and Milk-Bone have teamed up to co-sponsor this donation. From the initiation of this partnership in 2003, three donations have been made to Fred Meyer communities. Since the first donation in 1997, Milk-Bone has donated over 500 police and service dogs. In 2005, Milk-Bone will be helping to sponsor a total of 64 police dogs to agencies across the country. The media and public are invited to attend the event, meet the Gresham Police Department's K-9 Unit, and view the dog demonstration.



submitted by Jim Cortinia, Dir. CPWDA & McCormick, Grant <Grant.McCormick@ci.gresham.or.us>
************************************************
GRESHAM POLICE DEPARTMENT
1333 NW Eastman Parkway
Gresham, Oregon 97030
News Release
Carla C. Piluso Chief of Police

"CANINE EUTHANIZED"
RELEASE DATE: September 21, 2005
CONTACT PERSON: Carla C. Piluso, Chief of Police
On September 21, 2005 Gresham Police Department canine Lex was humanely euthanized, as a result of several recent biting incidents and after consulting with Multnomah County Animal Control. Law enforcement agencies need reliable police dogs. Police officers are often forced to make split-second judgments about the amount and type of force that is necessary in a particular situation, in circumstances that are often tense, uncertain and rapidly evolving. With respect to police canines, a police officer is responsible for making the decision about deploying the dog as well as directing and controlling it. Law enforcement agencies and most law-abiding citizens have regarded police dogs as valuable detection and enforcement partners since the early 1900s. Today, police dogs are selected after careful consideration on a number of factors, including their physical health and social, search and aggression behavior. After selection, police canines receive many hours of closely supervised, standardized training involving bite procedures and obedience of commands. This is one part of their comprehensive instruction in many law enforcement activities including search, detection and detention.
The training of police dogs at the Gresham Police Department is conducted in accordance with national standards that have been developed in conjunction with hundreds of police agencies across the United States. One aspect of utilizing police canines is the ongoing evaluation of demonstrated aggressive behavior. Canine aggression has proven to be a complex matrix of genetic traits with variable levels of influence, including predation, dominance, possessiveness, protectiveness, punishment, pain-elicited response and fear.
Several recent biting incidents indicate that GPD canine Lex could no longer reasonably be deployed for police services. His pattern of behavior did not meet the high level demanded under modern training and deployment standards. Public safety is paramount, and taking into account all of the factors described above, the decision was made to euthanize Lex. This decision was not an easy one. It was only reached after careful and deliberate consideration of all possible options.
---
In Loving Memory of
K-9 LARRY
1994 - September 1, 2005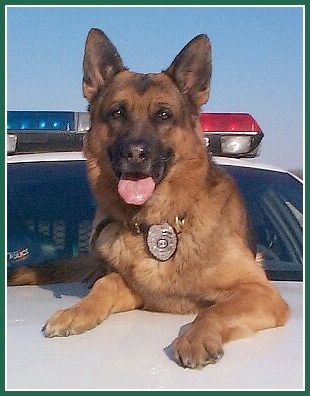 Handler: Officer Mike Onka
Independence Police Department
223 North Memorial
Dr. Independence, MO 64051
(816) 325-7259 On September 1st, 2005 at approximately 4:00 p.m. retired Independence Police K-9 Larry died of a heart attack. His handler and best friend, Officer Mike Onka, found K-9 Larry down after returning home from picking his son up from school. Officer Onka transported K-9 Larry to the Independence Animal Hospital where he was pronounced by Dr. Holder. He was soon surrounded by the entire Independence Police Department Canine Unit and family members. K-9 Larry left us with the same courage, dignity, humility and independence that he brought to us from the beginning. K-9 Larry turned 11 years old on April 18, 2005. K-9 Larry retired from active service with the Independence Police Department in August of 2002. He had a very long and beneficial career. K-9 Larry, a German Shepherd from Czechoslovakia, received his initial training at the K-9 Training Center in Kansas. He then worked a year with Officer Carl Harber, who was a retired Independence Police K-9 Handler and was then working as a Sugar Creek reserve Officer. In March of 1996 Officer Mike Onka became his permanent handler and they began what went onto to be a very successful canine team, working together as one to provide a better community for us all. Officer Mike Onka and K-9 Larry worked together as a K-9 team for 39 months with the Sugar Creek Police Department and for 23 months with the Independence Police Department. During this time this team was certified by both the North American Police Working Dog Association and the Missouri Police Canine Association. Here is just a brief summary of their career together:
Canine Calls - 1678
Canine Demos - 138
Citizen Contacts - 13284
Canine Apprehensions - 51
Building Searches - 310
Article Searches - 32
Narcotic Searches - 1005
Narcotic Finds - 451
Track/Field Searches - 259
Officer Protections - 72
Officer Mike Onka and K-9 Larry received Officer of the Month honors for a track they conducted in September of 2000. Officers pursued what was later determined to be a stolen auto to the wooded area near Lake City Circle. After an exhausting search, K-9 Larry made an indication on where the two suspects were hiding at which point they were taken into custody without further problems. Also in November of 2001 Officer Mike Onka and K-9 Larry received Officer of the Month honors for another track that they conducted in Blue Springs, MO. The team was called out to assist Blue Springs Police and Fire Department officers in locating a missing Alzheimer victim. Again Officer Onka's training and K-9 Larry's abilities put them in a position to locate the elderly man who would have surely perished in the inclement weather had it not been for this canine team. Even after his retirement K-9 Larry was still able to give back to the community. He was still utilized at many of the public demonstrations mainly because he was so cuddly and huggable. He loved kids and loved to show off his abilities to groups of people. K-9 Larry leaves behind his "dad', Mike, "mom", Carrie, "brothers", Mikey and Brenden and his protégée, K-9 Nux. He also leaves a hole in the heart of the members of the Independence Police Department, especially the members of the Canine Unit. K-9 Larry * Our friend, please do us the honor of watching over all of us, and our partners, from above. Walk the heavenly streets with those who have gone before us. Know you will always be loved and sorely missed by all who knew you, especially, your companion and friend, Officer Mike Onka.
REST IN PEACE, LOYAL GUARDIAN OF THE NIGHT
---
In Loving Memory of
K-9 LASLO
2005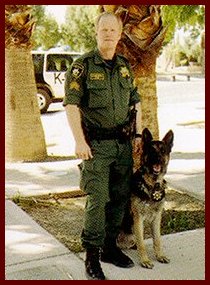 Partner: Sgt. Jay Carlson
Las Vegas Police Dept.
We have lost a few dogs fairly recently. Sgt. Jay Carlson's patrol dog, Laslo, had surgery recently and was on the mend, but during his recovery he suffered for lack of the correct terminology a twisted gut. It happens in horses and large dogs. Sad and unexpected.
His other dog, Moss, who had retired succumbed to cancer the following week I think it was. Hard time for Jay.
One other of our retired dogs, Ex, passed. He belonged to Officer Robert Johnson and had been living with him since his retirement.