Over one hundred local and out-of-town police and civilian onlookers attended the ceremonies to pay their last respects to the veteran police German shepherd that died Wednesday.
With Main Street blocked off with Torrington Fire Department ladder trucks from City Hall Avenue to St. Francis School, Monday's memorial service involved police from Torrington, Winsted, Thomaston, a bagpiper from Waterbury, State Police from area troops and local people with their dogs, Mayor Owen Quinn said. Half a dozen K-9 units from other departments in Connecticut were present at the memorial ceremony. In what handler and guardian Torrington Sgt. Joseph Locascio called a "freak accident," Jezy stumbled while chasing after a ball that had been thrown for him while training two weeks ago. In the fall, the dog essentially suffered a herniated disc, an affliction in which a spinal disc pushes against the spinal nerve, causing debilitation. Following surgery to repair the damage, Jezy's condition worsened, Locascio said. "Basically he had a rare neurological complication that just compounded and ended up taking his life," Locascio said. Jezy had been a working police dog for seven years, having graduated from the State Police K-9 Academy in Meriden in 1998. He was set to retire this coming October. Quinn offered a proclamation to Locascio citing the Jezy's exploits as a crime-fighting K-9. "Jezy was a certified member of the police department, a veteran," Quinn said. "He was a police dog that excelled at solving burglaries." "Everybody sees the cop-buddy movies where (police) are close and work together. This is it," Torrington Public Safety Commission member Mike Colangelo said. Jezy was the fifth K-9 officer that Torrington has used, Colangelo added. Other city public safety commission members in attendance included Carolann Kennedy-Pucino, Chris Cook and Doug Benedetto, Quinn said. "It was well attended," Quinn said. "There were very few dry eyes." Three riflemen of the Connecticut State Guard Reserve Military Final Honor Squad of Northwestern Connecticut under the direction on Sergeant Major Leonard Dube fired three volleys into the air as a salute to the fallen K-9. The flag in front of city hall, flying at half-mast, was lowered, folded by Dube and presented to the Torrington Police Department and Locascio along with the spent casings of the riflemen while a bugler played "Taps." "When Deputy Chief Maniago called me after the dog passed away and asked me if I thought it was proper I said absolutely.. Dube said of the rifle salute. "My position, personally, is that dog was just as much a police officer as his handler and he should've been treated with respect and dignity." Following a benediction by Police Chaplin Father Larry David of St. Maron's Church, attendants were invited to the City Hall auditorium for refreshments and to offer condolences to the Locascio family. "In our particular environment police K-9s are definitely a very important part of the force," Police Chief Robert Milano said Monday. "We cared for the dog, he was a working member of the department and he will be missed."
submitted by Jim Cortina, CPWDA Dir.
---
In Loving Memory of
K-9 DR. JEKYLL
2005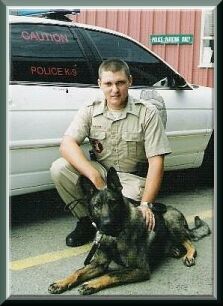 Partner: Officer Brandon Wilson
url: http://k9jekyll.tripod.com
Bald Knob Police Department
AR