In Loving Memory of
K-9 GEKO
December 12, 2005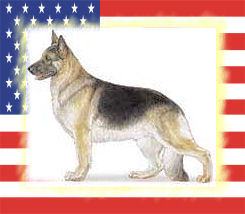 Baltimore County Police Department
Chief of Police James Johnson
700 E Joppa Road
Towson, Maryland 21286-5501-
Non-emergency: (410)887-2214 - Fax: (410)821-8887

Visit Department's Homepage
UPDATE: Feb. 1, 2006
Police canine facility is safe, officials declare Tests on soil, groundwater reportedly find no environmental links to deaths of 5 dogs who stayed there By Josh Mitchell - Sun Reporter - January 31, 2006,
*************************
Baltimore County officials declared the Police Department's canine facility safe Tuesday, saying tests found no environmental links to the deaths of five police dogs that spent time there. Tests on soil and groundwater showed that the site and surrounding area at Southwest Area Park poses no health risks to officers or dogs, county officials said. They vowed to reopen all portions of the park immediately and to try to move the canine unit back to its facility within six weeks. "There is no increased risk for humans and canines at this site," county environmental chief David A.C. Carroll told reporters at police headquarters in Towson. "This site is safe. Cole B. Weston, president of the Baltimore County police union, which has raised concerns about the facility, said he would not comment specifically on the findings until union-hired analysts reviewed them. The tests were performed by EA Engineering, Science, and Technology of Hunt Valley on a 70-acre parcel of the park that is the site of the canine unit, a playground and athletic fields. The athletic fields and other portions of the park were built on top of a former landfill. County Police Chief Terrence B. Sheridan closed the canine building in September after the deaths of two dogs and the health complaints' of some officers stationed there.
In all,
five dogs that had been stationed at the facility died last year.
The county police union said it believed that four of the animals died of cancer and raised questions about the site. The county sent the test results and the dogs' medical records to the American Society for the Prevention of Cruelty to Animals. The society's Animal Poison Control Center determined that two dogs died of cancer, a third died of a collapsed lung and a fourth died of bacterial infection. The police union is paying for the necropsy of the fifth dog, which died in December. Sharon Gwaltney-Brant of the ASPCA said the two cancer cases -- lymphoma and brain cancer -- were likely of a "hereditary nature than an environmental nature." She pointed out that older dogs and bigger breeds face increased risk of disease. The dogs that died of cancer were a 6-year-old bloodhound and an 8-year-old German shepherd. "None of the BCPD police dogs developed illnesses related to chemicals identified in the soil and water nor is there any evidence to
suggest that environmental conditions pose any health risk to dogs that work, exercise or are housed there," according to a report released Tuesday by the county. In September, about 30 employees of the canine unit filed injury reports with the department, some complaining of headaches, dizziness and respiratory problems. Tuesday, a county-hired physician said that medical tests on those employees and about 20 others that spent time at the park showed no serious medical problems or abnormalities.Weston, the police union president, predicted that some officers would be reluctant to return to the facility. "I keep reverting back to five dogs dying within 10 1/2 months," he said. "It's a huge concern for us."
Sheridan said that he would meet with the union to review the results, and that he hoped to have the 29-officer unit back at the facility within six weeks. County officials estimate that the tests cost $300,000.
**************
Fifth Balto. County police dog dies
by Josh Mitchell sun reporter Originally published December 24, 2005


The Baltimore County police union says it will pay for a necropsy for a retired police dog that was euthanized this week - the fifth animal that was stationed at the canine unit's now-closed facility and died this year. The 8-year-old German shepherd, named Geko, was euthanized Thursday after a veterinarian found signs of internal bleeding and determined the dog was suffering from a stomach tumor,
said Cole B. Weston, president of the Baltimore County Fraternal Order of Police. Three other dogs that have died since February were found to have cancer, Weston said. The body of a fifth dog, which died Dec. 2, has been sent to the University of Maryland for a necropsy to determine the cause of death.
All five dogs had been stationed at the department's canine center in Southwest Area Park in the Baltimore Highlands area. The park was built on top of a former landfill. Police, prompted by the first two dog deaths and health complaints from officers, closed the canine center in September until environmental tests could be done. The county expects test results in mid-January. "I can't emphasize
enough: Losing five dogs in a 10-month period from a unit that just has over 30 dogs, I'm absolutely very concerned about what's going on with that site," Weston said. "This is just unprecedented." But county officials have said they doubt there is a link between the site, which was in use for about two years, and the dogs' deaths. "There are a lot of assumptions being made, and the assumptions are countered by what we know about the site," said David A.C. Carroll, the county's top environmental official. In a December 2001 memo to Carroll, a county supervisor pointed out "elevated levels of Benzene and Benzene derivatives in the groundwater samples" at the park, and asked whether "some form of surface remediation be attempted to minimize any contact that the dogs might have with existing soil." Carroll said subsequent environmental tests showed the park posed no "undue risk" to humans or dogs. The latest dog to die, Geko, was retired from the department's canine unit in December 2004 because of hip problems, Weston said. The county gave the retired dog to the handler, as it typically does. The dog recently showed signs of internal bleeding and a veterinarian determined it had a stomach tumor, Weston said. "It's devastating to him to have to put the dog down," Weston said of Geko's handler, whom he
declined to identify. "The family is really struggling." The union is paying for necropsies of Geko and a 9-year-old German shepherd that was euthanized Dec. 12. That dog, Enno, was retired in March after it was found to have a brain tumor, Weston said, but the union wants to confirm the cause of death. The county is awaiting the results of a necropsy on an 8-year-old German shepherd named Harley, which died Dec. 2. The dog's body was sent to the University of Maryland. Veterinarians told the union that the necropsy results might end up being compromised because Harley's body was frozen over a weekend.
Ellen Kobler, a county spokeswoman, said the refrigerator in which Harley's body was stored had a "mechanical malfunction" that caused items inside to freeze. "But we're told that should not in any way compromise the results." The county has also sent two dogs that spent considerable time at the canine center to the University of Pennsylvania for physicals. "There's all sorts of unknowns at the moment on this," said Bill Toohey, a Baltimore County police spokesman. "We're just waiting for when we get medical
tests on the animals and scientific results on the facility before we can say anything meaningful about it." About 30 employees of the canine unit have filed injury reports with the department, some complaining of headaches, dizziness and respiratory problems. Weston said officers were tested at a county-contracted health clinic this fall. But the officers could not interpret the results because they came in the form of "raw numbers," Weston said. A county spokesman said this month that a Police Department colonel has asked the health clinic physicians to translate the blood test results in a
"more user-friendly format."
---
In Loving Memory of
K-9 GONZO
April 28, 2005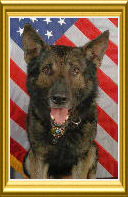 Handler/Partner: Lt.Toby Baker
Crestview Police Department Crestview, Florida 32536
(850)682-3544
On April 28, 2005 at approximately 1300 hours K9 "Gonzo" and Lt Toby Baker were returning home from a K9 demonstration. Lt Baker and K9 "Gonzo" stopped to take a break. While playing with his ball, the toy became lodged in his throat. Lt Baker transported K9 "Gonzo" to Southside Animal Clinic in Crestview where the staff was unsuccessful in removing it. K9 "Gonzo" passed away at 1322 hours. K9 "Gonzo" was six years old and had been in service with the Crestview Police Department for two years.

submitted by Jim Cortina
---
In Loving Memory of
K-9 GYPSY
December 3, 2005
(photo and breed)

Partner: Leah Sullens
Chattahoochee SARD

It is with heartbreak and deep sadness that I write of the loss of one of our team members. Gypsy died of apparent natural causes in her home this past Saturday. Many of you will remember Gypsy and her human partner, Leah Sullens. Gypsy was a veteran of many searches and will be sorely missed by all of us. Words can't describe the feeling of loss. Please join me in offering condolences to Leah Sullens and her family on their loss.
submitted by Anne Lowatchie via Cami Downey
---
In Loving Memory of
K-9 GUNNER
June 6, 2005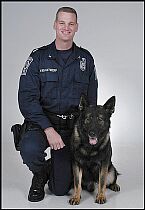 Partner: Officer William Van Antwerp
Prince County Police Department
1 County Complex Court (MA 475)
Prince William, VA 22192
703 792.6650
Woodbridge, VA
K9 GUNNER - Shot & killed 6/6/05 By DAVID STEGON 6/8/05 VA
A Prince William County police officer unknowingly shot and killed a police dog during the chase of a suspect Monday night in Woodbridge, a police spokeswoman said. Officers were chasing a 24-year-old Woodbridge man into a town house on Winslow Court after the man fled during a traffic stop in Woodbridge, said 1st Sgt. Kim Chinn. The police dog's handler was one of the first officers on the scene and followed the man into the home, police said. The handler pressed a button on his gun belt that opened a door of his police car to let out the dog, Gunner, so he could help in the pursuit, police said. However, when Gunner got out of the car, the door to the house was closed. Other officers arrived on the scene and saw Gunner outside the house. Gunner approached an officer, who then shot him, not knowing he was part of the police force, police said. Gunner was taken to a veterinarian but died. Police are doing an internal investigation of the incident, as is customary any time an officer fires a gun, police said. One of the gunshots ricocheted into an adjoining town house, but no one was hurt, police said. Gunner, a 7-year-old German shepherd, was with the Prince William County police department for six years. For the past four years, Gunner was assigned to officer William Van Antwerp and lived with his family."It's a sad day for all of us here," Chinn said. Gunner was one of five dogs the department used, primarily in tracking and apprehending subjects, search and rescue. Some, such as Gunner, are also used in drug detection, police said. The dogs typically cost around $3,500,
but some are donated to the force. The dogs undergo a 16-week K-9 school, along with nine weeks of drug training as well as monthly training, police said. "It is immeasurable to put a dollar figure on these dogs," Chinn said. "They are definitely an investment, but they are a very valuable resource for us." Gunner won first place at the U.S. Police K-9 Associationcompetition last year and has won several other awards. As a result of the chase, Jason Randolph Beer of 1945 Winslow Courtwas charged with driving under the influence, unreasonable refusal, felony alluding, possession of a concealed weapon and possession of marijuana in the case, police said.
submitted by Jim Cortina, Dir. CPWDA

UPDATE: July 23, 2013
---
In Loving Memory of
K-9 GOLDEN
August 3, 1996 - August 17,2005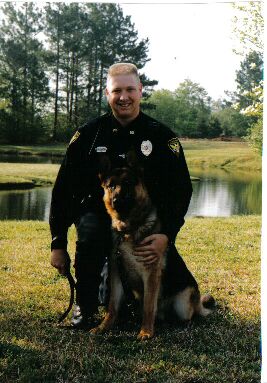 Partner: Sgt. Mark Chappell
Currituck County Sheriff's Office
407 Maple Road
Maple,NC 27956
252-453-0651
K-9 Goldon was struck and killed by a vehicle at the end of his shift in Currituck County on August 17, 2005. He is now resting peacefully at the Rainbow Bridge. Goldon was nine years old. He was born in Budapest, Hungary, he moved to Elizabeth City when he was just 18 months old. He is survived by his handler Sergeant Mark Chappell of the Currituck County Sheriff Office and wife Michele and their three sons,Anthony, Jared, and Will, along with two dog sibling, Sasha and Dobey and two cat siblings, Pumpkin and Midnight. Everyone in the family has been left with a whole in their heart, he will be deeply missed forever. 1. Goldon attended and graduated Mid-Atlantic Canine School at the top of his class. He was trained as a patrol dog, handler protection, narcotics, tracking, article searches and criminal apprehension. He was a member of the USPCA (United States Police Canine Association) Region
2. He re-certified annually at the USPCA Region 2 PD1, PD 2 and narcotics canine trials held throughout the states of North and South Carolina. Goldon has received numerous awards at these canine trials. He was first employed as an Elizabeth City Police canine from May 1998-May 2001. He then was employed as a Currituck County Sheriff Deputy from May 2001-present. Goldon has not only served the communities of Elizabeth City and Currituck but he has also help Camden, Pasquotank, and
Perquimans Counties as well as Hertford. He has been instrumental in many drug apprehension and arrest as well as article seizers and criminal apprehension. He also did many Canine demonstrations in his career making sure children and adults alike knew and understood his job. He was known to many school children, he has done presentations at JC Sawyer, Sheep-Harney, Central Elementary and River Road Middle
Schools in Pasquotank County as well as JP Knapp, Griggs and Central Elementary in Currituck. He also has done demonstrations for local civic organization such as 4-H and Girl Scoot troops, and church organization. A memorial to celebrate Goldon's life will be held August 31, at 1300 hrs. at the Veteran's Memorial Park in Coinjock, NC. All the communities that knew and loved Goldon are invited to attend.
The service was very nice and went well as much as possible. There were about fifty people at the service. We were by the Intercoastal Waterway which made it very breezy. Goldon love to run and play at that park. The Sheriff said Goldon must be there because the wind was so hard it keep knocking the picture colleague down and even the wreath. It was about 93 degrees today and with the heat
index it was over 100. The breeze was a blessing. Some handlers brought their K-9 but it was really too hot and they left them in the cars. We had our minister do the service. Mark spoke, the Sheriff spoke and Mark's brother spoke on behalf of the detective division. They are having a flag flown over the US Capital in honor of Goldon then the flag will be presented to Mark.
K-9 Goldon Memorial Fund
and it is set up at:
The Bank of Currituck
250 Caratoke Hwy, PO Box 6
Moyock, NC 27958
submitted by:
Michele Chappell
The handlers wife and sad "Mom"
---
In Loving Memory of
THERAPY K-9 GINA
06/05/96 - 05/06/05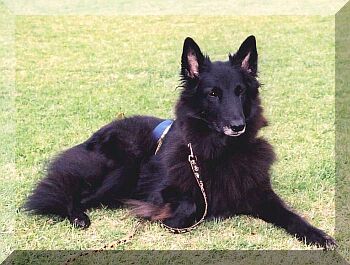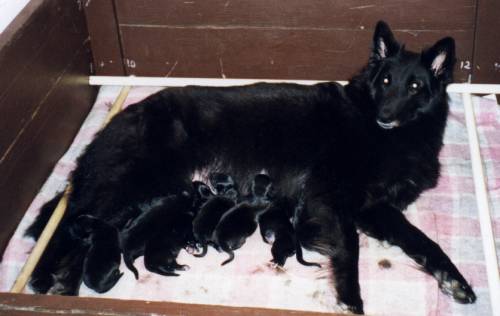 Handler: Helene
Australia
Therapy K-9 Belgian Shepherd bitch ( Gina) to the dreaded cancer. The loss of Gina is very personal to me as I once leased her from her owner and I had a litter from her to our boy Montanna (which you have on your tribute) which produced our lovely boy Tex who is now 4 years old and also a certified Therapy K-9. She was a certified Therapy K-9 who was too nice and too young to pass.



THE RAINBOW BRIDGE
There is a bridge connecting Heaven and Earth. It is called the Rainbow Bridge because of its many colors. Just this side of the Rainbow Bridge, there is a land of meadows, hills, and valleys with lush green grass. When a beloved pet dies, the pet goes to this place. There is always food and water and warm Spring weather. Those old and frail animals are young again. Those who have been maimed are made whole again. They play all day with each other. But there is only one thing missing. They are not with their special person who loved them on earth. So each day, they run and play until the day comes when one suddenly stops playing and looks up. The nose twitches, the ears are up, the eyes are staring and this one suddenly runs from the group. You have been seen and when you and your special friend meet, you
take him or her in your arms and embrace. Your face is kissed again and again. You look once more into the eyes of your trusting pet. Then you cross the Rainbow Bridge together, never again to be separated. author unknown.......
***********************
More about GINA
AUST CH LANAKEN MAKE A WISH (IID) CERTIFIED THERAPY DOG
D.O.B. 26-5-96 * Hips 4.0 Grade 1 * Elbows 0.0 * Eyes Clear 27/04/2001

Sire: RE Fandy Black de Condivicnum (Frn) - Dam: Shary del Castel Sardo (Imp Ndl)
Gina was a kind natured and gentle girl, born in Australian quarantine, she was the daughter of the gorgeous and famous French stud dog RE andy Black de Condivicnum. She liked to cuddle and was quite content to curl up on my (her) bed. In her younger days Gina's favorite pastime (when I wasn't home to follow around), was to run around barking, stirring up the other dogs. In her youth Gina's goals in life were simple - to get her paws on my bantam chooks (for her own devilish purpose), or, chase the cows. In maturity although she would still have liked to play chase the chook I suspect, she discovered there were other things more important like "FOOD" and "PUPPIES" .... anyone's puppies. We said goodbye to our sweet and gentle girl on the 5th June 2005 - given sleep due to cancer of the stomach.
My fondest memories of Gina;
Gina lying with her head on my pillow stretched across my bed, waiting for me to get in before she moved to her special foam basket by my bedside, where she slept each night from the time I was blessed with her. Looking into those beautiful and intelligent eyes. Gina retired from showing in 1997 mainly due to her boredom with it all ....... lol.My funny girl, who used to lie down in the show ring when she was bored, or the weather reached over 22 Celsius. Gina was the most wonderful mother, she loved and took the greatest of care of her own puppies and felt it was her duty to help take care of my other girls puppies when they had them as well. She would sit for hours starring longingly into the whelping box
or room of whoever had puppies, she'd help clean them if they let her. Gina loved everyone and she was loved by many people in return, she had/has some very special friends who will miss her nearly as much as I will. Your four legged family will miss you too, once again reunited with your best friend Roxie, God bless my beautiful girl....
---
In Loving Memory of
K-9 GEIST
Febraury 6, 1994 - December 8, 2005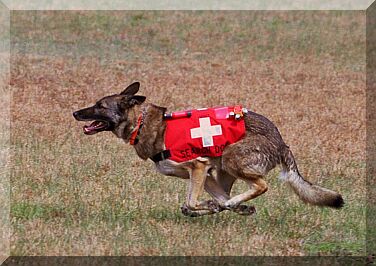 Tricia Heldmann,
President & Training Director TASK-9
http://task-9.org
Southern New England

Memorial to a SAR Dog
There has been "…a great disturbance in the Force…" By the "Force" I mean my own personal universe. Born February 6, 1994, Fidelco Guide Dog Foundation's "Geist", call name Geist, was destined for a "career change" job. Initially named Geist, which is "spirit" in German, he became Geitz to the children in the foster family who raised him. In puppy classes he was decidedly too vocal for guide work and was donated to the Connecticut State Police. There he was outstanding in his agility and trailing training but did not want to do the bite work. This happy guy was returned to Fidelco where he was offered to me as a Search And Rescue (SAR) dog prospect in January 1996. It was still early in my avocation as a SAR dog handler and I had another dog I was trying to train as a search dog so I tried to find a good situation for Geist. There were no takers so he stayed with me but I soon learned that he had far more to offer and greater potential than my current trainee. That same year Geist became one of the founders of TASK-9 and we became certified a Generic Air-scent Team a year or so later. From that point on he was never a pet but always my soul mate, partner, leader, teacher, big-hearted, full of joy, humor, love, and wisdom. Often called the Golden retriever in German shepherd dog clothing, he made all his finds with aplomb, a propeller tail, and happy full body wags. He was the standard to which we measured all SAR dog prospects; numbering more than two dozen Fidelco bred dogs, and others, placed around the world. He is pictured in the book "Dog Heroes" by Jen Bidner and is a SAR Dog Equipment model for Sue Ponder's Canine Clothiers, ccdogduds.com. SPIRIT, TEACHER, chow hound almost up to the end by begging junk dog biscuits, when he was then assisted to the Rainbow Bridge at approximately 1:30 a.m. on December 8, 2005. I will miss that wisdom forever and wonder if he still had more lessons to teach. Also missed by Cal Dufour, TASK-9 Vice President, and SAR Dogs Taiz & Timber.
---
In Loving Memory of
K-9 GORBY
Gorby vom Hochstadter Wappen
Oct.07,1993 - Jan.19,2005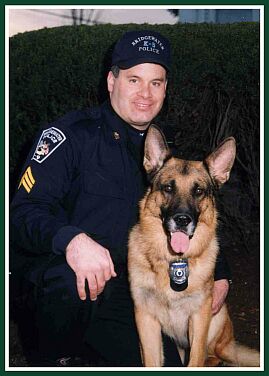 Partner: Det. Sgt Chris Delmonte
Bridgewater Police Dept.
220 Pleasant St.
Bridgewater, MA 02324
Bus. 508.697-6118
Det. Bureau 508.279-1111



On the back of the baseball cards I used to give to the kids was a poem:

THE POLICE DOG
My eyes are your eyes
to watch and protect you and yours,
My ears are your ears
to hear and detect evil minds in the dark,
My nose is your nose
to scent the invader of your domain,
And so you may live,
My life is yours.
- Anonymous
Gorby died on January 19, 2005 following the discovery of a tumor on his heart and spleen. He was 11 years old at the time,
and had served the Bridgewater Police Department for 8 years.
************
Born: October 7, 1993 in West Germany
Certifications
Titled SchH2 in 1995
Rated Korklasse 1
Graduate: Police Canine Patrol Academy
November 1996 - March 1997
Graduate:- Police Canine Narcotics Academy
October 1997 - December 1997
Handler: Sergeant Christopher Delmonte
Shift Assignment: 12:00 a.m. - 8:00 a.m.
Gorby is also a member of the department's elite
*************
Special Response Team.
K-9 Gorby began his service with the Bridgewater Police Department in October of 1996, after moving from his previous home in West Germany. We then started with 16 weeks of basic canine patrol training, under the direction of Capt. James Ballinger (Ret.) and Lt. Kenneth Ballinger at the Plymouth County Canine Training Center. Following several months of on-the-job experience, we returned to Plymouth for 8 more weeks of narcotics detection training in the fall of 1997. Over the course of the next several years, we supported patrol and detectives during the hours of 8am-4pm, 8pm-4am, and midnight - 8am. K-9 Gorby was assigned as a member of the Special Response Team to provide early
detection and perimeter control at critical incidents. He was also assigned as a member of the WEB Major Crimes and Drug Task Force, and provided narcotics detection services as well as unmarked criminal apprehension support. During his 8 years of service, K-9 Gorby participated in hundreds of area searches/tracks, crowd control disturbances, narcotics searches, public demonstrations/parades, building searches, criminal apprehensions/missing persons, arrest warrant services, and assisted over 20 different federal, state, county, and local law enforcement agencies from the area. At 11 years old, K-9 Gorby was actively working until the discovery of two advanced tumors on his heart and spleen on January 19, 2005. K-9 Gorby lived at home with his handler, and the rest of his family. He served with distinction at work, and was cherished at home. He will be missed. s
ubmitted by Kathy Hinds
---
In Loving Memory of
K-9 GARTH

April 22, 1992 - March 11, 2005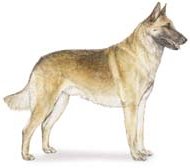 Handler: Trooper Jim Grant
Tennessee Highway Patrol
1150 Foster Ave.
Nashville, TN 37249-1000
Phone: (615) 251-5175
Garth was an outstanding Drug Detector Dog and served honorably with the Tennessee Highway Patrol, with his handler Trooper Jim Grant. As a team, Trooper Grant and Garth were responsible for many drug arrests and seizures of large quantities of drugs and vehicles. Even after Garth's retirement, he continued to serve by visiting hospitals and schools, and particularly enjoyed showing off for children.
Spreading the word of the dangers of drugs was like a second career to this noble animal. Garth will truly be missed by all, particularly his handler, Trooper Jim Grant.
Most of our dogs are labs, although I do have a few GSD's, Malinois and even an old sitting on the front porch, he haw looking bloodhound. We have a 40 dog section at the moment with an authorized strength of 50. The canine training section is part of Special Operations, which also includes aviation, divers, bomb technicians and the SWAT team.

submitted