In Loving Memory of
K-9 FORREST
Summer - 2007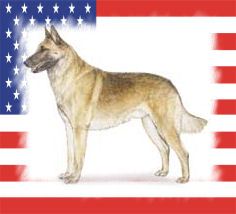 Handler: Officer Hubka
San Diego Police Department
City and county authorities are investigating the death of a San Diego police dog whose body was found in the back seat of a patrol car at his handler's home. The grim discovery was made Friday in Alpine, where temperatures had topped 100 degrees. According to the San Diego Police Department, the dog was a 5-year-old Belgian Malinois named Forrest. Forrest stayed with his handler at this house in Alpine, about 20 miles east of downtown San Diego. Sources familiar with the investigation identified the dog's handler as Paul Hubka, a 22-year veteran who's a director of the San Diego Police OfficersAssociation.Hubka returned from an overnight shift, went into his house, and came out a few hours later to discover Forrest's body
in the back seat of his patrol car. Police, sheriff's deputies and animal control officers converged on the neighborhood and began an investigation that's still awaiting necropsy results. Officials said Malinois are a deep-chested breed, susceptible to an often-fatal ailment known as gastric tortion. The San Diego Police Department said they have lost two Malinois to gastric tortion in the past couple of years. But the stifling weather and circumstances leading to Forrest's death have suggested the possibility of heat exposure.
Last summer, two police dogs -- one in suburban Phoenix, the other in suburban Atlanta -- died of heat exposure after being left for hours in their handlers' patrol cars. The police sergeant involved in the Arizona case goes to trial Friday on misdemeanor charges of animal neglect.
---
In Loving Memory of
K-9 FALCO
Aug/or/September 2005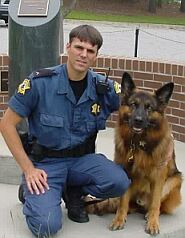 Partner/Handler: Deputy Mike Grazioso
The Richland County
SC Sheriff's Department
5623 Two Notch Rd.
Columbia, South Carolina 29223
(803) 576-3000 * (803) 567-3195 fax
Breed: Longhaired German Sheperd - Age: 3YRS. OLD - Weight: 90 LBS.
I have been in law enforcement for seven years. I have been on the k-9 team for one year. My k-9 partner is called Falco. Falco was a German military dog purchased from Germany. Falco is trained in narcotics detection, man tracking, building searches, and apprehension work.
*******
The Richland County, SC Sheriff's Department lost two dogs to cancer in August & September.
A German shepherd, named K-9 Falco service the department from 2000 to 2005 as a patrol-narcotic dog. He was handled by Deputy Mike Grazioso and a K-9 Cleo, a bloodhound and K-9 Falco. K-9 Cleo was a bloodhound trained for tracking and cadavers. She serviced the sheriff's office for almost four years.
She was handled by Jeanette Taylor and Sgt. Kevin Hoover, Russ Coleman, Derrick Horton and most recently was handled by Sgt. Kevin Hoover for the last serveral months.
FOR MORE INFO ON THE DOGS YOU CAN EMAIL
SGT KEVIN HOOVER or CPL TED XANTHAKIS
==========
The K-9 Division was established in 1996 and is currently staffed with four Belgium Malinois, four German Shephards, one Dutch Shephard, one Labrador Retriever, and two Bloodhounds. These police dogs provide assistance that cannot be matched by man or machine. The K-9 unit is not only utilized by the Richland County Sheriff's Department but also by several outside agencies for tracking, narcotics detection, building searches, and bomb detection. The K-9 units have patrol cars that are specifically adapted for K-9 use. The cars are equiped with remote control door openers to allow the dog to exit the vehicle if the handler needs assistance as well as a temperature monitor that will activate the siren and automatically roll down the back windows if the inside of the vehicle rises above 85 degrees. We do not keep our dogs in kennels when they are off duty. Rather, they go home and live with the handlers. You may click on any of the photos below to get more information about the dogs and their handlers.
SHERIFF@RCSD.NET submitted by Dusty Simon
---
In Loving Memory of
K-9 FOGAS
July 4, 2005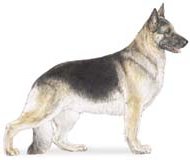 Handler: John Muhr
Nantucket Police Dept.
20 South Water St.
Nantucket, MA 02554
508 228.1212

DIED - 7/4/05 ( Bacteria Infection, Enlarged Heart ) submitted by Jim Cortina, Dir. CPWDA
---
In Loving Memory of
K-9 FALK
2005



Partner/Handler: Deputy Mike Gibbs
Delaware County Sheriff
100 W. Washington St.
Muncie, Indiana 47305
Sheriff's Office: (765) 747-7885

Falk served the citizen's of Delaware County as a K-9 partner for almost nine years. During his career with his partner, Deputy Mike Gibbs, he was involved in hundreds of drug arrests, drug siezures and Emergency Response Team call outs. He was one of the most reliable K-9 units to ever serve our community which is why his partner is quoted as saying, "Even when Falk was really ailing, he was always 100%." Falk's beautiful urn created by Ray Allen bears the inscription, "Always 100 %". Delaware County Sheriff, Indiana.