In Loving Memory of
K9 CIR0
December 22, 2005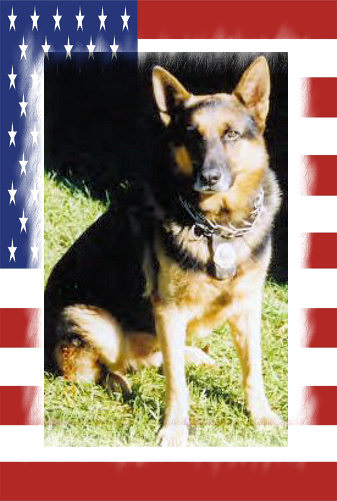 Handlers: Trooper Perkins,
Trooper William Tindle, Jr,
Trooper Traymond Pastrana
Troop C Lakeland District
Florida Highway Patrol

K-9 Ciro began his seven years of service with the Florida Highway Patrol in May, 1997, during which he was responsible for assisting his handler in the arrest of many felons who transported illegal drugs on the roadways of our state. K-9 Ciro was a loyal partner to his handler Trooper Jeffery Perkins in Troop C's Lakeland District. Trooper Perkins and K-9 Ciro worked with partners Trooper William Tindle, Jr. and Trooper Raymond Pastrana.
Throughout his successful career, K-9 Ciro was involved in hundreds of vehicle searches that resulted in the seizure of large amounts of methamphetamines and other illegal drugs. He also apprehended many felons in the line of duty, conducted prison searches, and even performed his duties for children during school demonstrations.
K-9 Ciro was retired from active duty in 2004 for health reasons. He died on December 22, 2005. K-9 Ciro will always be remembered for his loyalty to duty and will be in our hearts and missed dearly.
submitted by Bobby Earls
---
In Loving Memory of
K-9 CEZAR
Dec. 16, 2005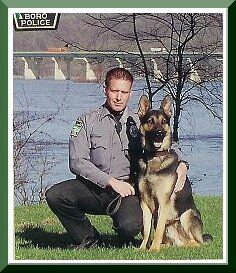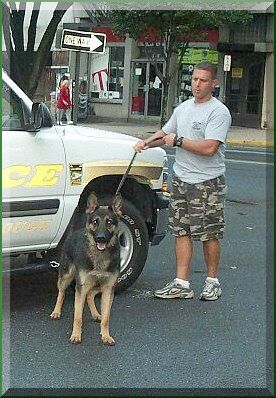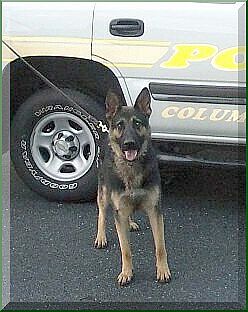 Partner: Officer Edgar L. Mann
Columbia Borough Police
308 Locust St.
Columbia PA 17512
717-684-7735

K-9 Cezar was at home when he became ill, and was rushed to the E.R. We are located in Lancaster County, next to York County. Cezar died on Friday Dec. 16th, 2005. A necropsy is being done.
His handler is K-9 Officer Edgar L. Mann with 8 years on with the department. He started in September of 1997 with Columbia Borough. Officer Mann met Cezar in in August of 2004 and Cezar was on the streets in October 2004. He has made several finds, drugs, articles etc. He was a German Sheppard from Hungary trained in narcotics detection, tracking, handler protection, and article finds. He will be dearly missed.

submitted by: Officer Austin Miller
---
In Loving Memory of
K-9 CHEYENNE
Oct. 2005



Partners: Deputy Ken Smith & Officer Ken Lovell
Branson Sheriff's Dept. - Branson Police Dept.
http://www.cityofbranson.org/police3.htm
MO

Steve Dalton - Lieutenant --- (417) 337-8534 --- Narcotics - Special Investigations - Special Operations Squad - S.P.I.R.I.T.
Canine cop remembered -- By Veronica Wallen - BDN Staff Writer 10/28/05 MO
Today, Branson and Taney County law enforcement officials are mourning the loss of a four-legged friend that helped sniff out crime.Funeral services are scheduled for 1 p.m. today at Lakeland Pet Cemetery in Springfield for Branson Canine Officer Cheyenne, a drug-sniffing golden retriever. The 11-year-old dog had been with the Taney County Sheriff's Department since June, and had also served with the Branson Police Department for several years prior to that. Handler Deputy Ken Smith said Cheyenne loved her work and served the department well during her time there. "Cheyenne was a single-purpose dog, certified for marijuana, cocaine, meth and heroine," Smith said. "She also assisted Taney County and other area agencies in finding several drugs." Smith said he and Cheyenne became close during the short time they worked together. "It's different now when I'm riding around," he said. "I look back still expecting to see her there in the back seat, but she's gone. I feel sad, but it's just something I have to deal with." Her previous handler, Ken Lovell, said since Cheyenne was a golden retriever, she was friendly and well liked by the public. "We had a good career at the Branson Police Department," Lovell said. "Everyone seemed to like her. Being a golden retriever, she was more approachable than other canine officers. Kids could pet her in schools and I often let her out of the vehicle to allow people to pet her." Cheyenne died from a spinal injury, according to Smith.
submitted by Jim Cortina, Dir. CPWDA
---
In Loving Memory of
K-9 CLEO
Aug/or/September 2005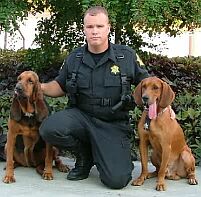 Handler: Deputy Horton and K-9s Cleo and Shady

The Richland County, SC Sheriff's Department
5623 Two Notch Rd.
Columbia, South Carolina 29223
(803) 576-3000 * (803) 567-3195 fax -
SHERIFF@RCSD.NET
Deputy Horton is the handler for both dogs and has been with the Richland County Sheriff's Department since November 2003. Cleo, a pure breed bloodhound, came to Richland County in 1999 and has been responsible for the capture of numerous felons and has successfully located several missing persons. Shady, a redbone/blue tick mix, came to us from the Department of Corrections in July of 2004. In the short time he has been part of the team, he has proven to be a tremendous asset to the department and community. In addition to their normal duties, both dogs actively participate in school and community activities that help citizens understand the importance of the K-9 team and its members. The K-9 Division was established in 1996 and is currently staffed with four Belgium Malinois, four German Shepherds, one Dutch Shepherd, one Labrador Retriever, and two Bloodhounds. These police dogs provide assistance that cannot be matched by man or machine. The K-9 unit is not only utilized by the Richland County Sheriff's Department but also by several outside agencies for tracking, narcotics detection, building searches, and bomb detection.The K-9 units have patrol cars that are specifically adapted for K-9 use. The cars are equipped with remote control door openers to allow the dog to exit the vehicle if the handler needs assistance as well as a temperature monitor that will activate the siren and automatically roll down the back windows if the inside of the vehicle rises above 85 degrees. We do not keep our dogs in kennels when they are off duty. Rather, they go home and live with the handlers. You may click on any of the photos below to get more information about the dogs and their handlers.
submitted by Dusty Simon
---
In Loving Memory of
K-9 CONDOR
September 12, 2005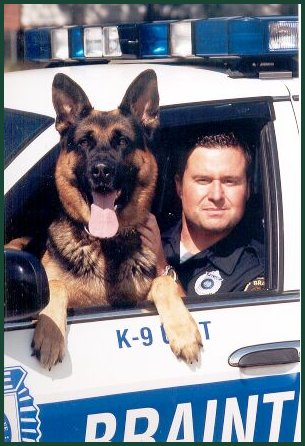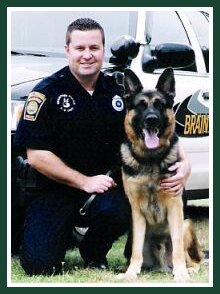 Partner: Sgt. Charles Bata
Braintree Police Department
K-9 Unit - 282 Union St.
Braintree, MA 02184
I regret to inform you of the loss of one of our working dogs. Sgt. Charles Bata's longtime friend and partner, K9 Condor, succumbed to an illness on the afternoon of 09-12-05. Sgt. Bata and Condor have worked the streets of Braintree, Massachusetts for over 5 years. Sgt. Bata and Condor were credited with the locating of missing persons, several arrests, and numerous illegal narcotics finds.Any memorial or dedication can be directed to:
Sgt. Charles Bata
Braintree Police Department
K-9 Unit
282 Union Street
Braintree, MA 02184
If you have any questions, you can contact me directly at:
Officer Tim Cohoon
Braintree Police Department
K-9 Unit
282 Union St.
Braintree, MA 02184
781-794-8768
"Have the courage to do the right thing
regardless of what others may think."
K9 Condor is a German Shepherd born in 1997 in Botha, Germany. He was brought to the US especially for
career in law enforcement. Condor is certified in patrol work, tracking, handler protection and narcotics detection, all of which he does very well. Condor resides with his partner/handler Officer Chuck Bata, a member of the Braintree Police Department, service since 1993.
---
In Loving Memory of
K-9 CHILI
September 14, 2005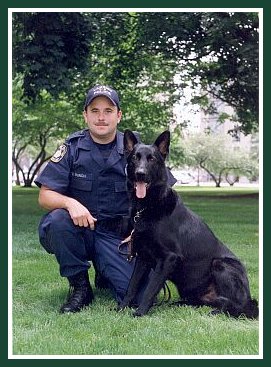 Partner: Dennis Bunch
Lansing Police Department
120 W Michigan Ave.
Lansing, Michigan 48933
(517) 272-7454
Chili was riding in the kennel of a patrol vehicle driven by his handler, Officer Dennis Bunch at 9:30 PM when the car collided with another car. The crash happened at the intersection of Martin Luther King Jr. Blvd. & Willow St. Chili was pronounced dead shortly afterward at the Michigan State University veterinary clinic. Bunch suffered minor injuries and no one from the other vehicle was injured.
A memorial service for K9 Chili is planned for 4 PM Friday, Sept. 16th at the Lansing Police Department
South Precinct gymnasium,3400 S. Cedar St. Lansing, MI. Lansing Police Department
submitted by Jim Cortina, Dir. CPWDA & Barb Houghteling <bhoughteling@ci.lansing.mi.us>
---
In loving Memory of
K-9 COLT Badge # 155
1998 ~ August 18, 2005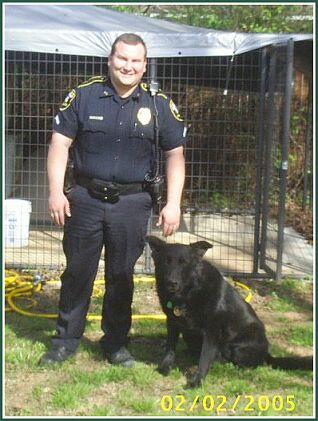 Partner: Officer Paul Hickey
Whitehouse Police Department
211 E Main
Whitehouse, Texas 75791
(903)839-2828

Officers in the Whitehouse Police Department bid farewell to one of their own Thursday afternoon
during a brief memorial service for the city's first canine officer. Colt, a 7-year-old black German shepherd,
died early Thursday morning. Police Chief Rick Waller said Colt began his career in law enforcement before he was 2 years old with Waller, who was then working with the Precinct 3 Smith County Constable's Office. Waller said Colt was trained to find narcotics, but was also used to track suspects, search buildings, apprehend criminals and locate evidence. The dog also assisted with public school programs. The police chief said Colt was a hard worker and trained just as hard. Colt joined Waller at the Whitehouse Police Department in 2002 when Waller assumed the position of chief. The dog was assigned to a new partner, Officer Paul Hickey, and the pair began fighting crime in Whitehouse. Waller said that in addition to Colt's work with local law enforcement, the dog also assisted the FBI, the Drug Enforcement Administration, the U.S. Border Patrol and the Texas Department of Public Safety, and was applaudedby all he served with. "Colt had the ability to make children laugh and bad guys cry, and to make every officer he knew wish they had a partner just like him," he said. Whitehouse police saluted their fallen comrade as taps played. Colt was laid to rest in a small grassy area by the patrol officers' entry into the police department. Colt, a black German shepherd, began his police service a the age of one and a half year in the service of the Smith County Constable's Office PCT #3. His handler was Rick Waller, now Chief of police in Whitehouse. In a short time, Colt achieved his certification from the National Narcotic Drug Dog Association and began to work in the community. Colt was trained not only in narcotics, but tracking, building searches, criminal apprehensions, handler protection, evidence location and assisted with public school programs. After a successful career with the constables office, resulting in the seizure of large quantities of illegal narcotics and numerous arrests, he was reassigned to the service of the city of Whitehouse Police Department. When Constable Waller retired in 2002, although he had been serving the police department through the constable's office, he would now become Whitehouse Police Department's first official K-9 officer. Officer Paul Hickey became Colt's new partner and the pair began to train. There was a lot to learn about K9 work, but Colt was a good trainer and he soon had Paul up and running efficiently, as with Waller.
The two were inseparable and began again to do what Colt loved , "Apprehending bad guys and finding illegal narcotics."During his service career, Colt assisted many agencies with his talents, to include the DPS Drug Interdiction Task Force, U.S. Marshall's Office, FBI Office, DEA, Sheriff's Office and other county law enforcement offices in our area. Colt and handler worked with the U.S. Boarder Patrol on the International Bridges in El Paso, TX. Colt's abilities were noted by all he serviced. Chief Waller has said of his old friend, "Colt had the ability to make children laugh and the bad guys cry! AND to make every officer he knew wish they had a partner just like him! Colt was a hard worker and trained like he worked. As it often is, the very thing we love to do becomes the thing that lays us to rest. Colt passed away today at 11:30 AM, August 18, 2005. He will be laid to rest in a small grassy area by the patrol officer's entrance here at the police department that he loved so much. He has retired from service, but will forever remain in our hearts.
details submitted by: Police Department -
James B. Stewart, CRO
Ph: (903) 839-4914 ext 122
Fax: (903) 839-4429
Officer Stewart helped provide photo and information .
Notified by Jim Cortina , Dir. CPWDA
---
In Loving Memory of
K-9 CAESAR & Officer Roy Nelson, Jr.
August 14, 2005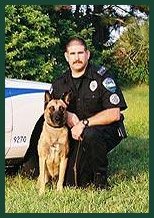 Partner: Officer Roy Nelson, Jr.
New Smyrna Beach Police Dept.
1400 North Dixie Freeway
New Smyrna Beach, Florida 32168
Phone: (386)424-2220
The city's first police officer killed in the line of duty was remembered Sunday as a dedicated husband,
father and law-enforcement officer
Officer Roy L. Nelson Jr., 36, and his police dog, Caesar, died late Saturday when Nelson, headed to the scene
of a reported burglary, swerved his car to avoid another vehicle and crashed just east of the South Causeway on
State Road A1A, investigators said. Both Nelson and the dog were pronounced dead at the scene. Investigators
said Nelson was traveling west in a 50 mph zone about 11:40 p.m. Saturday when, a witness said, a white pickup
pulled onto the road from Richmond Drive, on Bouchelle Island. The witness told the Florida Highway Patrol that the truck pulled out in front of Nelson and he swerved to avoid it, crashing into a guardrail and overturning.The truck left the scene.
Nelson did not have his lights and siren on at the time of the crash, said FHP spokeswoman Kim Miller, and it was not known how fast Nelson was driving. Investigators could not say Sunday whether Nelson was wearing his seat belt. Police are looking for a white, full-size pickup, possibly a 1990s Ford F-150. The truck is considered a factor in the crash, though the two vehicles do not appear to have made contact, Miller said, adding that the driver could face charges. Nelson, a nearly seven-year veteran of New Smyrna Beach police, was remembered by family, friends and co-workers Sunday as a dedicated husband, father and law-enforcement officer. "He was a great guy in my book," said Nelson's father-in-law, Howard Hiett, reached by phone at his home in Tiffin, Ohio. "He took care of business, family-wise and at work." Nelson and his wife, Angie Nelson, along with the Nelsons' two daughters, ages 2 and 13, had just visited the Hietts in Ohio for a few days of vacation and cookouts in July. Ceasar, a 3 1/2-year-old Belgian Malinois, trained more than 400 hours with Nelson and lived with the family. "Roy was with Ceasar everywhere," said Shannon Gintz, the wife of an Edgewater police officer and friend of Nelson's. "He was always smiling and happy and loved his job, loved his dog." Nelson had worked with Ceasar for more than two years, said Cmdr. Bill Drossman, a former K-9 officer. Ceasar was Nelson's first police dog, he said. "Everyone is feeling the loss of both police officers," Drossman said, noting that state law considers a trained police dog to be an officer. "Roy had a heart as large as -- as large as any large building you can think of." Explaining the bond between a cop and his dog, Drossman said, "Working with a police canine is like working with one of your own children. You give them the same amount of love, the same amount of attention. You love that animal."
Roy Bishop, owner of Bishop's Wrecker Service in New Smyrna Beach, was familiar with Nelson, who often called
the service at night to have cars towed. Bishop and his wife left silk flowers at the accident scene Sunday morning. "There's never a party out there, a parade for our police officers. And

most of them probably go unrecognized until something happens," Bishop said. "But this guy's out there protecting our families. We all lost a brother out there today."

Sgt. Mike Brouillette, spokesman for New Smyrna Beach police, said the department's first deaths in the line of duty touched everyone on the force of 53 sworn officers. Officers and employees will be talking with grief counselors during the next several days, he said. "You always chuckled when you got a chance to talk to Roy. You know, he had a heart of gold. If you needed something and you asked him, he'd do it for you."
Settle-Wilder Funeral Home is handling arrangements. A memorial service had not been set.



Investigators with the Florida Highway Patrol were back on the scene of a deadly crash Monday as they tried
to find out who ran a New Smyrna Beach police officer off the road and never stopped. Adding insult to injury,
police said someone vandalized the makeshift memorial to Officer Roy Nelson, Jr. overnight. Just when Nelson's
comrades thought their grief couldn't get any worse, it turned to anger Monday morning when they learned someone had walked away with a piece of the memorial they worked so hard to build.Nelson's colleagues are now using a staple gun to secure his ever-growing roadside memorial after they discovered a patch left in his memory had been stolen overnight. One sergeant called it a slap in the face to a department that's still very much in shock over its first-ever death in the line of duty. "We've never experienced this. I don't know. It's going to be one day at a time for every one of us," said Sgt. Mike Brouillette, New Smyrna Beach Police Department.
Nelson and his police dog Caesar were heading onto the mainland on the city's south causeway late Saturday night, responding to a burglary in progress, when eyewitnesses said a pickup truck turned into his path, sending him out of control and off the road. Neither Officer Roy Nelson, Jr. nor K-9 Ceasar survived. "Your heart is broken. It's not easy, it's not easy," said friend Donna DeGraff. Like many local cops, Nelson was a regular at the Pappas Drive Inn, a few blocks from police headquarters. It was there, just the other day, when Donna Walsh saw him for the last time. He ordered the regular, right down to the chocolate milk, and then he talked about his daughters, ages 2 and 13, and his other child, his K-9 Caesar, who went home with him every day. "He said his kids really loved him and he was part of the family," Walsh said. The Highway Patrol has taken over the crash investigation and, because the cars didn't actually collide, they're calling this a non-contact hit and run and are looking for a white pickup truck, possibly a late '90s model Ford F-150. However, because the truck had been traveling in the opposite direction from where the police car went off the road, troopers said it's possible the driver has no idea there even was a crash. They're asking him or her to step forward and take responsibility.
submitted by Jason Campbell



Man denies role in crash that killed officer, K9
By MARK I. JOHNSON Staff Writer November 08, 2005 - Daytona Beach News-Journal FL
NEW SMYRNA BEACH -- The Florida Highway Patrol is recommending a felony charge be filed against a New Smyrna Beach resident in the traffic death of a police officer and his K-9 partner. However, an attorney for Gordon Camp, 71, said while his client was in the area of the Aug. 13 fatality, he was not involved in the crash. The FHP traffic homicide report on the crash that killed New Smyrna Beach Police Officer Roy Nelson and his dog, Ceasar, recommends Camp be charged with leaving the scene of an accident involving death, state attorney spokeswoman Linda Pruitt said. "Our review of the report requires that additional investigation is needed before we make any decision whether or not to file charges," Pruitt said Monday. If charged and convicted of the second-degree felony, Camp could face up to 15 years in prison. The preliminary FHP accident report said the 36-year-old officer was driving his patrol car west on the city's South Causeway while responding to a law enforcement call when witnesses said a white pickup pulled into his path from Richmond Drive. When Nelson swerved to miss the truck, his car struck a guardrail and flipped. He was traveling in excess of 70 mph in the 50-mph zone and was not wearing his seat belt, according to the report. Reached at his home Monday afternoon, Camp declined to comment and referred questions to his attorney, Michael Lambert of Daytona Beach. Lambert said Camp was heading home from a party on Richmond Drive about the time of the 11:40 p.m. accident and was driving a white pickup. But, he said, Camp indicated he had safely crossed the causeway's westbound lanes and was in the median waiting to turn left when his wife saw a police car "shoot" behind them without emergency
lights or siren on. Camp turned the truck east and went home, never knowing an accident occurred, the attorney said. Once they learned about the accident, Lambert said, the Camps contacted him and he arranged for interviews withFHP investigators through the State Attorney's Office. "When they came to me, they realized they needed to come forward to police because at best they were witnesses and at worst they may have been the white truck law enforcement was looking for," he said. "They went above and beyond." FHP spokeswoman Trooper Kim Miller said she could not comment on what led investigators to recommend charges against Camp, citing the ongoing investigation. New Smyrna Beach police spokesman Sgt. Mike Brouillette also said he could not comment. Camp's next-door neighbor, who asked that her name not be used, described him as "a good neighbor and a good friend," she said. "I don't knowwhat to say." A review of court documents shows Camp was cited three times for traffic infractions in 2003 and 2004. One ticket was for failing to obey a traffic control device. Another was for failing to yield at an unsigned intersection,and the third for unlawful speed. He paid fines for each of the infractions. Nelson was the first New Smyrna Beach police officer to die in the line of duty.



follow up submitted by Jim Cortina, Dir. CPWDA
---
K-9 CISCO
K9 Cisco Vom Licher-Berg
June 10, 2005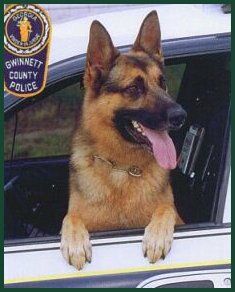 Handler: Emory Griffith
Lawrenceville Police Department
20 S Clayton St.
Lawrenceville, GA 30045-5745
770-339-2400

I was lucky to have raised Cisco from when he was seven weeks old. I cuddled him in my arms and knew one day he would be something special. By 12 weeks, I had taught him the sit, down, stay, and bark commands. He barked often so that one came pretty easy! By 6 months, he weighed 50 pounds and I had him running 300 yards tracks that were 30 minutes old. At one year, he was fighting with decoys in bite suits and had already taken on the look of nobility that distinguishes the German Shepherd breed. Cisco had boundless energy, nerves of steel, and a 'never quit' attitude. He was hard and courageous, and he knew it! K-9 trainers from around the US and Europe all gave testimony to Cisco's big heart. In 1994 I decided to leave a career with the fire department and join the Gwinnett County Police Department. I had one goal in mind -- Cisco was going to work as a police dog and I would be his handler. I had to wait to complete my probationary period before I could work with the K-9 Unit. In the meantime, I continued preparing Cisco for work on the streets.
In 1996, our big day came and Cisco and I started working with Sgt. Spanky Davis, Rick Garner, and soon after,
Rob Kenyon. I remember Cisco's first attempt at catching a bad guy as if it were yesterday. On a cool evening
around 10:00 pm, the City of Lawrenceville conducted a traffic stop. The driver fled on foot and they requested a canine. When we arrived on scene, Sgt. Davis gave me the words I had been waiting to hear, "Harness up Cisco, we've got a bad guy to catch". I harnessed up Cisco and took him to the area where the suspect was last seen. The years of training and hard work were about to pay off. Immediately, my big, powerful partner threw his head up and started air scenting a wood-line. He pulled into the woods, made a long sweeping turn to the left, traveled some distance, (all the time pulling hard in his tracking harness) and began to bark as we approached the suspect several feet away. Nothing can describe what an incredible feeling it was to be working my Cisco! This was the first of the many adventures we went on. K-9 Cisco fell easily into the role of police dog; catching criminals wanted for kidnapping, armed robbery, aggravated assault and other crimes. He also helped search for lost children and elderly persons who had become disoriented. He had a unique style of tracking -- he RAN! This quickly led me to coin the phrase "Fading Light Syndrome", which was caused when Cisco left our back-up officers way behind and their flashlights slowly went out of sight. Cisco's age and an injury to his leg began to limit his abilities but never his determination. He retired from active police work but still served as an ambassador to the police dog community. In August 2000, I was recommended for the Police Achievement Medal based on outstanding service to the Gwinnett K-9 Unit, to which I credit Cisco. After I took a position with Lawrenceville Police, Cisco continued to help educate countless members of our community about the value of a police dog. He gave thousands of puppy kisses to local children. He made regular appearances for civic and church groups. K-9 Cisco went on to help educate over 1000 psychology students at the Georgia Perimeter College in the various learning theories. He was proof that positive reinforcement from using a kind hand, food, or his prized toy 'kong' brought great training success. The dogs that followed in Cisco's footsteps greatly benefited from our experience together. He occasionally had his photo in the newspapers, almost always with children in his presence. Over the years, my wife Maura, our kids and I had a wonderful time with Cisco. He was family -- living in the house, vacationing with us, helping raise our children and protecting the family while I was at work. As he grew older, our public appearances started to decline. He was in his golden years and spent more and more time sleeping. In order to keep his spirits up, I took him out occasionally for practice tracks or to let him find decoys in buildings,but I noticed that he tired quickly and took a long time to recover. In 2003, K-9 Bojar was on sick leave so I called upon Cisco once again to work the streets. For a few shifts my old man rode shotgun and we loved every minute of it! On one night, an officer confronted two vandals who fled on foot. Within minutes I was on scene and had Cisco harnessed. He followed the scent of the two suspects that had fled, and that night my heart pounded as I once again had the pleasure of following behind Cisco as he located the bad guys. It would be Cisco's last call as a police dog, but he continued to entertain audiences of all ages at public demonstrations.
In May of this year, Cisco's health started to decline. We had to help him up the stairs and catch him as he came down. Weeks later he needed help just to walk. In his last few days, he could not stand on his own. As I helped him outside, I saw, for the first time in my life, a look of fear in his piercing brown eyes. I knew it must be devastating for a dog who was once so strong, powerful, and fearless to now be scared. I had long ago made a promise to us both that I would never let him be scared. Cisco's time was coming to an end. On Friday, June 10th I contacted Officer Dave Russell and asked him to take us to the vet's office. I had the heart-breaking task of telling my kids that Cisco would not be coming home; that the vet was going to give him some medicine to help him sleep and when he woke up he would be in Heaven. It was only fitting that I put on my uniform along with a t-shirt with his name and the Gwinnett County logo on it. The trip was short and Cisco rested until we got into Lawrenceville. I helped him up and supported him as he looked out the window and watched the cars go past. Dave and I both chuckled as he loudly barked at a person walking from his car. Sgt. Spanky Davis, Officers Rick and Denise Garner, and Officer John Surowiec met Dave and I as we got to the animal clinic. They were there with me as I held my dear partner in my arms as he took his last breath. With a kiss on the muzzle, a pat on the head and the words "I love you, Old Dog", my Cisco was off to Doggy Heaven. Thank you for the grand adventure Cisco. Until we meet again, may you always run fast, bite hard, and fear nothing.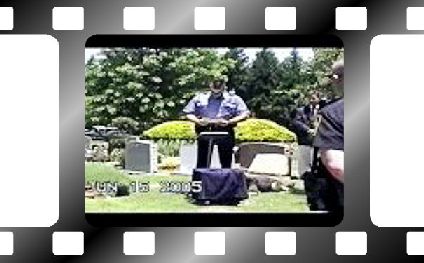 Officer Emory Griffith submitted by Jim Cortina, Dir. CPWDA
UPDATE Ptl. E. Griffith # 097 Now working with K-9 Bojar
---
In Loving Memory of
K-9 CASSIE
AKA; Cassie Mae
February 7, 2005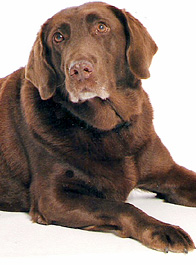 Partner/Handler: Ronda Thompson-Jordan
Prevention Education & Training Service
740 N. Airline
Gramercy, LA 70052
903.413.1615
17 YEARS OLD
DOD = FEB 7TH 2005
ACTIVE DUTY NARCOTICS CANINE = 15 YEARS
7 TIME NNDDA CHAMPION (National Narcotic Detector Dog Association)
THERAPY ASSISTANCE CANINE = 10 YEARS
"CASSIE WAS MY BEST FRIEND
AND SHE WILL LIVE ON IN MY HEART FOREVER!"
I'm always kind and gentle, so there's never a need to be afraid of me. I wear a special harness,
so young people know who I am when I visit. I work very hard to keep alcohol, other drugs, & weapons out of your schools and I also help teach drug education classes with my partner, Miss Ronda. She and I have been working together for 8 years and I am now her personal service dog! We make a great team but we think you're very special too!

K9 Cassie was 17 years old and served as a drug dog as well as my personal medical assist canine for 15 years.
She suffered from Congestive heart failure and fought it while insisting on working until her death. An NNDDA certified narcotics canine for 13 years and won 7 NNDDA private security places in competition.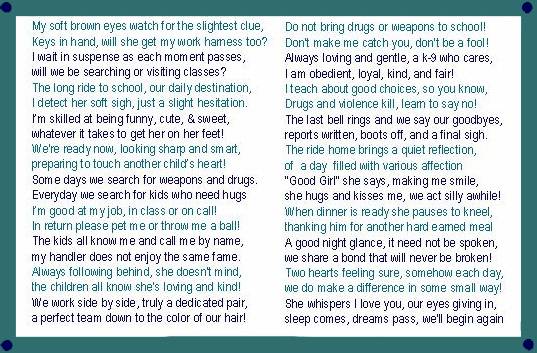 ---
In Loving Memory of
K-9 CARLO
April 2005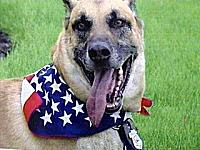 Handler: Officer Jeff Wells
Parma Police Department
5555 Powers Blvd
Parma, Ohio 44129
(440)887-7300
OH Police Officers Attend Funeral of K-9 Cop
On Friday, police from all over northeast Ohio gathered to pay tribute to a fallen comrade who was also man's best friend. K-9 officers came to show their support to Parma police Officer Jeff Wells at the funeral for his canine partner, Carlo. Carlo joined Wells on the force in 1998 and continued to serve Parma even after being diagnosed with cancer last May. Wells told the large gathering that Carlo made him not only a better officer but a better man, helping him to overcome his fear of public speaking. "Even kindergartners with Safety Town, I would (be) kind of shy and get nervous to what they thought, but having the dog taught me how to be a public speaker, get in front of people and connect with them," said Wells. Wells told the crowd on the day that Pope John Paul II was also buried that in his heart of hearts, he feels the pope now has a new guard dog. Because of Parma police budget concerns, there are no plans to bring another dog onto the force.
submitted by Jim Cortina, Dir. CPWDA