In Loving Memory of
K9 BISHOP
August 5, 2005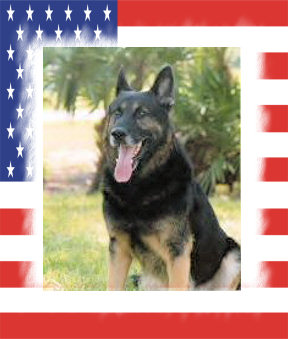 Handler: Sergeant Dan Hinton
Florida Highway Patrol
K-9 Bishop began his service with the FHP in 1995, where he served his fellow troopers and particularly his handler, Sergeant Dan Hinton, until he retired April 2003. During his career, he is credited with countless drug seizures, including one case when he alerted to 2500 pounds of marijuana and 328 kilos of cocaine. K-9 Bishop died on August 5, 2005 and will always be missed by those who knew him and remembered for his duty and service to the citizens of the State of Florida.
submitted by Bobby Earles
---
In Loving Memory of
K9 BILLY
2005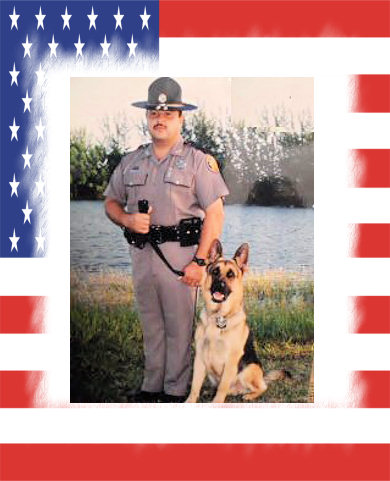 Handler: Trooper Orlando Saavedra
Troop E
Miami Police Department-Florida
On September 19, 1995, K9 Billy began his career with the Florida Highway Patrol assigned to Trooper Orlando Saavedra in Troop E Miami. Working in conjunction with the South Florida Money Laundering Strike Force (SFMLSF), K9 Billy was responsible for the seizure of $6,866,285 in US currency and a total of $19,160,300 in narcotics. K9 Billy was also responsible for seizures made by other federal and local law enforcement agencies; his searches were a key part of investigations that resulted in the arrest of countless targets. K9 Billy also performed a total of 13 tracks that resulted in the capture of five suspects. He was by his handler's side during a multiple assailant shootout in 1997. K9 Billy was a dedicated partner who only wanted to be with his handler and work. K9 Billy became ill after suffering bloat and was eventually retired from service in April 2000. He lived with his family until he passed away in 2005. All who came in contact with him loved K9 Billy. He was an asset to the Department and is missed by all.
submitted by Bobby Earles
---
In Loving Memory of
K9 BAMA
2005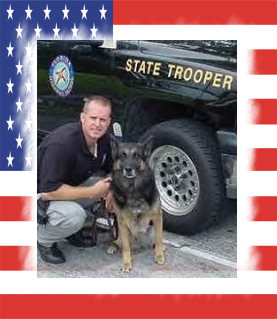 Handler: Trooper Mike Grider
Floriday Highway Patrol
Ft. Myers District
Florida

K-9 Bama was born on March 5, 1997 in the Netherlands. He began his career with the Florida Highway Patrol
in July 1998 and worked until retirement in January 2005. K9 Bama died on August 4, 2005. During his career, K-9 Bama is credited with finding over 10.6 million dollars in contraband. K-9 Bama also had eleven criminal tracking apprehensions.K-9 Bama was a loyal partner to his handler, Trooper Mike Grider and his other partner Trooper John Wilcox. K-9 Bama was assigned to the Ft. Myers district in Southwest Florida.
submitted by Bobby Earls
---
In Loving Memory of
K-9 BUSTER
March 12, 2005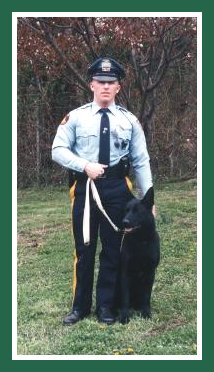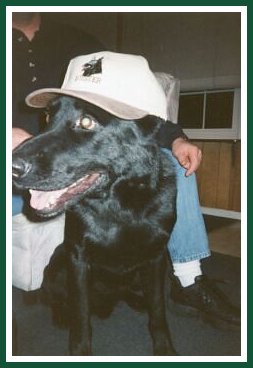 Handler: Ptl. Dan Eliasen Badge # 949
Glassboro Police Dept.
1 South Main St.
Glassboro, NJ 08028
Buster was a tough dog and hid his illness from me until just last week. He worked midnight shift on 3/9/05 and finished his tour of duty at 0800 hours. I brought him to our vet that evening and together we decided that he would need further treatment at the University of Pennsylvania Veterinary Hospital. There, Buster underwent several tests and on Thursday morning the Doctors had diagnosed him with inoperable and terminal cancer. I picked him up on Thursday afternoon and spent the rest of the day and all day Friday just hanging out with him. I couldn't help staring into his eyes feeling that I had somehow let him down. Saturday morning was a beautiful sunny morning. I let Buster outside and he laid on my back deck just taking it all in. It's so hard to explain, but when I let him back inside I knew that it was time to let him go. He just looked tired! I find comfort in the fact that Buster was not alone when he left this earth. Present and former K-9 handlers from my department were crowded in the room at the Pitman Animal Hospital. I'm forever in their debt for the compassion and support that they showed for Buster and me that day. Dr. Hallman and her assistant Kate were gentle and kind and helped Buster go to rest with all the dignity and respect that he deserved. I'm so grateful that I had the opportunity to be teamed up with Buster. He was my first Police dog and I'll never forget the times we had together. I hope that somehow he knew how much he really meant to me. He protected me every day for eight years and did so much good for the people of our town and in the surrounding towns. He was fearless to the end and gave me courage when I was unsure of myself. Part of me has gone with him but I am a better cop and a better person for having known him. There truly is no better assignment in police work than being assigned to the K-9 Unit!
UPDATE
This whole thing started a few weeks ago when I adopted a new puppy on a total whim from the Gloucester Co. Animal Shelter. They always help us out with supplies down there and on this occasion I was only there to get some towels so that I could give Buster a bath. Something made me ask to check out the dogs just to look around. I really had no intention of getting another dog right now. As soon as I walked in their kennel there was a 5 month old Black German shepherd puppy who was the spitting image of Buster sitting in one of the runs with his ears standing straight up almost in a triangle touching each other. They told me that he'd been there almost 1 1/2 months with no one interested. I adopted him and brought him home the next day. At first, I thought that Buster was jealous and had a hard time adjusting to the puppy, but he still played with him and tolerated the puppy jumping all over him. He just was acting "not himself." After about 3 weeks there was really not much change. This past week when he was passing up his food I got concerned and took him to the vet. Long story short, I'm thinking this puppy came to me for a reason. He has Buster's face and has really helped me through this time. I'm hoping that in the 3 short weeks that he and Buster were together, Buster was able to give him a few pointers. Who knows maybe one day I'll get to back to K-9 school. Wouldn't it be something if this dog got to be a Police Dog? By the way, I named him "Rizzo" in honor of the former Police Commissioner Frank Rizzo. When Frank Rizzo ran Philly P.D., everyone of the runs at the Philadelphia Police K-9 Unit was full. Their numbers have since been greatly reduced. My little tribute to the great guys who trained Buster and me.
submitted by Dan
In Loving Memory of
K-9 BLITZ
Highspire's Boreador Blitzen
Sept. 12, 1992 - April 4, 2005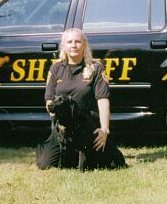 Partner: Kathy Wilmoth

Summit County Sheriff's Office
53 University Avenue
Akron, Ohio 44308
K-9Trainer/Coordinator: M. G. "Tim" Wilmoth 330-643-8618

It has taken me until now to write you about the passing of my retired Narcotics detection K-9 Blitz. She served 7 1/2 years as my partner and spent 11 years as my friend and companion. Blitz paved the way in our area schools for drug interdiction. Her demos were many and people as well as bad guys knew her by name. A British bred Labrador Retriever, her shorter, broader appearance was, at times, comical---until she started her search. I remember one time I went to the Summit County Jail to do a drug sweep. The inmates were ordered to sit at tables in the day room. As Blitz walked onto the pod, one inmate said "Who would be afraid of the little black dog?". The inmate sitting beside him stated, "Everyone should be, she's the reason I am in here"! Blitz certified as a Narcotics detection K-9 under the law set forth under the Ohio Administrative Code.
She certified under that code 5 times and at her death, even though retired, her certification was still good. Blitz served the Summit County Sheriff's Office (Ohio) with honor and pride. She was even made an honorary Dare Officer on her retirement for her contributions to the children of Summit County. She assisted most jurisdictions in Summit County, many surrounding counties, DEA , and anyone else who needed her special skills. There are many GOOD K-9's---only a few GREAT ones, and a GREAT one she was.
09/12/1992-04/04/2005 Highspire's Boreador Blitzen AKA K-9 BLITZ
Partner, Companion and Friend of Deputy Kathy Wilmoth
****************************
Happy was the word that described Blitz until her death. She survived three surgeries for cancer and all three times went back to the street. Each time when she was picked up at the vet's office, she came out to me with her whole body wagging. She never knew a stranger. She always made me and everyone else smile with her mannerisms. Even the last 6 months when I knew the end was near, there were days when I put my uniform on for work and she would run and find a dope towel and go and sit by the door as if to say, " I am ready, as always. How can I best serve you?". Sometimes "happy tears" would come when I saw her waiting. Her heart was bigger than she was! When I came home from work, though, her favorite spot became my side of the bed with her head on my pillow when I was not at home. I must say this is not something we normally allow, but for some reason it became OK for her to spent her retirement days "on the bed." One time we did a DARE graduation and we put a DARE t-shirt on her as we had a couple of children who had slight allergies. The shirt was a little large, so we tied it up so there was a large knot in front of her tail. Well, when she walked into the gymnasium and saw all of the children on the bleachers waiting for her entrance, she was wagging so hard that all one could see was the knot flapping back and forth in front of a wagging tail. The children all stood and clapped for her. She was in her glory! Thank you for Memorializing a truly GREAT Drug Dog and friend and companion. It truly means a great deal to me.
---
In Loving Memory of
K-9 BEN
2005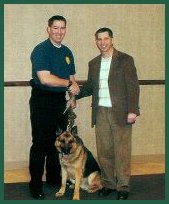 Partner: Officer Jason Lanier
Tuttle Police Department
4 S.E. 2nd St.
Tuttle, OK 73089
405.381.4467
Police buried one of their premier drug enforcement officers in a small, formal ceremony Tuesday. K-9 Ben, a police dog, who had served on Tuttle's police force since 2002, died last week of natural causes, said Tuttle Police Lt. Robert Felts. Police K9 Officer Ben joined the Tuttle Police Department in December 2001. Officer Jeremy Lewis raised the money to purchase Ben through donations from local business owners. Ben was certified to detect cocaine, heroin, hashish, methamphetamine and marijuana. He was also trained to track missing persons. Ben was about 7 years old and had assisted in more than 50 drug arrests during his tenure, Felts said. Ben was buried at Precious Pet Cemetery in Spencer.
Spencer Police Dept.
PO Box 660
Spencer, Oklahoma 73084
(405)771-3798
submitted by Jim Cortina, Dir. CPWDA & Bryan Trude
---
In Loving Memory of
K-9 BRONCO
April 2005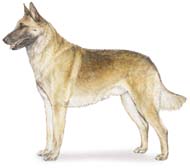 Handler: Sheriff's Deputy John Summey
Pima County Sheriff Department
Main Adm. Bldg.
1750 E. Benson Hwy.
Tucson, AZ
520.741.4600
An attack Tuesday by a retired sheriff's patrol and bomb dog - which cost an elderly man his arm - was the second time the dog bit someone after escaping from an enclosure, an official said. Alexander L. Dufour, 83, was taken to University Medical Center for treatment after the dog, Bronco, got out of a Northwest Side backyard and attacked him.
Speaking from his hospital room Thursday afternoon, Dufour said he was very weak and that his right arm had been amputated. He declined to describe the attack itself, saying police advised him not to talk about it. His daughter-in-law, Janette Dufour, also would not talk about the attack because her husband, she said, was talking to a lawyer. She did not know whether the family would file suit. "It's sad. It's a nightmare," she said. "It's a nice, quiet neighborhood. There's a bunch of kids. I have two kids. I didn't even know there was a threat."

Bronco was involved in a similar incident in December 2001 when he was in active service for the Sheriff's Department but off-duty, according to the Pima Animal Care Center. The dog, a 10- or 11-year-old Belgian Malinois, was euthanized Tuesday. Bronco's owner was also his handler at the Sheriff's Department. When he adopted Bronco in December, he signed a form accepting full responsibility for any harm or injury the dog might do and clearing the Sheriff's Department and Pima County taxpayers of liability. County Risk Manager, Dave Parker said similar forms have been signed for three or four other retired law enforcement dogs whose ownership was transferred into private hands. Whether such a waiver would hold up in court remains to be seen, Parker said. "It's not been tested yet." Sheriff's Department officials referred questions about the case to the Tucson Police Department, which has taken over the investigation. Sgt. Carlos Valdez, a police spokesman, would say only that the case has been assigned to the aggravated assault detail. "We're not commenting at this time, until we have had the chance to review the documents in the case," he said. Bronco worked with the Sheriff's Department from January 1998 to December 2004. Sheriff's spokeswoman Lt. Deanna Coultas said he had reached the age of retirement and had no behavioral problems. He was trained to sniff out explosive devices or components and to assist in searching for and apprehending suspects - what's known as agitation training, she said. But in the previous biting incident, "it was the same thing, he got away and bit someone," said Mark Soto, enforcement operations supervisor for the Pima Animal Care Center. The victim in the 2001 incident was attacked in his yard along the 7500 block of West Summer Sky Drive, Soto said. Bronco's owner, Sheriff's Deputy John Summey, was issued a citation for a biting dog and a leash law violation. Records from Marana City Court show the state dismissed 2001 charges against Summey for having a biting animal and failing to remove waste. Summey could not be reached Wednesday night or Thursday for comment. On Tuesday, Bronco escaped from a yard surrounded by a slump block wall and a wooden gate, according to the Sheriff's Department incident report. Summey told the responding officer he had let the dog roam out-of-sight in the back yard for three to four minutes while he went into the carport. When he returned to the yard, Bronco was gone. Summey told the officer he drove through the neighborhood calling for Bronco with no response, returned home and then set off on foot. He found Bronco about a block away, outside a home in the 1400 block of West San Lucas Drive, biting an elderly man. The area is near West Orange Grove Road and North La Caņada Drive. Summey ran to the area, took Bronco "off bite," tied him to a tree and called 911 for help. The Pima Animal Care Center took Bronco into custody. Soto said Summey immediately signed the dog over to be euthanized. Neighbors remain shaken. "There were no concerns at all. I never saw the dog prior to this incident," said Monica Brito, who lives diagonally across the street from the Dufours. "You don't expect something like that to happen. Everyone is in shock." Her 10-year-old son, she said, is traumatized. "He was crying. He was saying, 'I can't believe it.' " The boy is friends with the victim's grandchildren. "You know how kids are," Brito said. "They want(ed) the dog to be put to death."

Sgt. Joseph Locascio's


By Joyesha Chesnick ARIZONA DAILY STAR 4/22/05
In Loving Memory of
K-9 BACH
December 29, 2005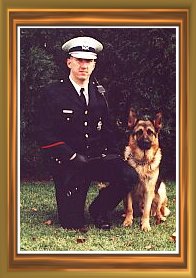 Handler: PS David Kennedy
Cincinnati PD K-9 Unit
5083 Colerain Ave
Cincinnati, OH 45223
(513) 352-4088
Fax (513) 681-1123

Retired Cincinnati Police K9 Bach passed away on 12/29/2005 having reached the ripe old age of 11. He left active duty in 2003 and enjoyed his retirement with Police Specialist David Kennedy, his handler, and the rest of his family. "Bach apprehended more than 100 serious criminals during his service, including rapists, bank robbers, burglars, car thieves, and drug dealers. Bach was also a USPCA National Top 20, and a Region 5 Top Dog, showing you can do both the street and the certifications well. Although I am feeling the loss of my partner, and words fail to describe the sadness Bach's passing brings to me, my heart is uplifted that such a great dog shared his world with me and taught me more than I ever taught him. My faith is placed in seeing him and all of my dogs again in Heaven as I rejoin my pack. In Bach's memory I ask that all of you love your dogs, pets and partners alike, just a little more. Cherish your time with them because it is so fleeting….Thank You, Bach, my partner, my friend, my teacher!"
Lost K9 Jarro earlier this year. submitted by: David Kennedy
---
In Loving Memory of
K-9 BOSCO
December 20, 2005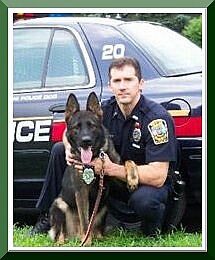 Handler: Officer Greg Blackinton
Bristol Police Department
131 N. Main St.
Bristol, Connecticut 06010
(860) 584-3000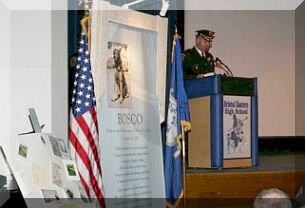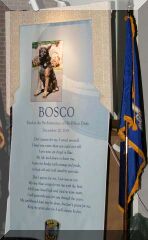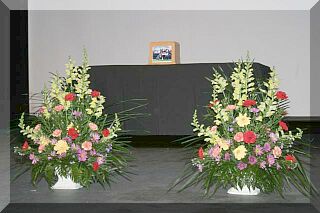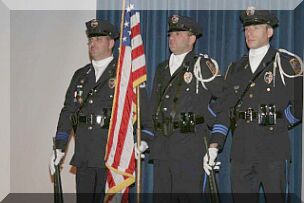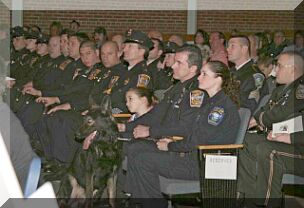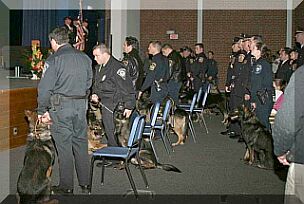 UPDATE:
Outpouring of concern follows shooting By AMY V. TALIT, The Bristol Press - 12/22/2005
The city's police department has received an outpouring of affection, condolences and concern from residents of the city, neighboring towns and other police agencies after the death of one of the most beloved members of the police department, police dog Bosco. Bosco was killed Tuesday when an officer, Brian Aleia, had to shoot him when attacked by Bosco while searching for a suspect thought to be inside a Sims Road home. The suspect allegedly stole loaded weapons Tuesday morning in a burglary at the residence. Since Bosco's death, Lt. Eric Osanitsch said the department has received "quite a few calls ..more than several," from people who want to make donations to the department's K-9 Fund in memory of Bosco. He said people are very upset over the loss of the police dog, and want to help the department get the money it needs to get another dog. "People recognize it was a loss," said Osanitsch. "They want to help." Police Chief John DiVenere had been looking for funding to purchase a third dog, but said at the Board of Police Commissioners meeting Tuesday night that he hopes to have the funds to purchase two new dogs by spring. Before Bosco's death, the department had two K-9s and DiVenere wanted a third so each of the three shifts would have a dog on duty. In the almost three years that Bosco worked with Officer Greg Blackinton, he assisted in drug raids by locating missing persons and suspects. The duo of Bosco and Blackinton was also instrumental in assisting special police units attempting to serve high-risk warrants by deterring suspects from running from officers. DiVenere has always supported the K-9 program and said he feels the program is very valuable to the community and department and wants to ensure it continues. According to Osanitsch, the department is thankful and "greatly appreciates the community's support."
To make a donation to the K-9 fund mail a check, made out to the
Bristol Police K-9 Fund
Bristol Police Department, K-9 Fund,
131 N. Main St., Bristol, CT 06010
submitted by: Jack Kilrain
*****************
Police dog memorialized
By AMY V. TALIT, The Bristol Press 12/31/05
CT

BRISTOL -- Nearly 200 police officers from Bristol and other departments and city residents gathered in the Bristol Eastern High School auditorium Friday morning to pay respects to police dog Bosco who was killed during a burglary investigation Dec. 20. The 3-year-old German shepherd who served the department for over two years with his handler, Officer Greg Blackinton, died after he was fatally shot when he attacked a city police officer, who the dog believed to be a burglary suspect. Mayor William Stortz said, "Some people may think it's unusual to have a memorial service for a dog, but I don't. Bosco was an unusual dog and he was family to Greg [Blackinton] and he was family to the police department." Seated at the front of the auditorium were approximately 10 K-9 units from departments such as Stratford, Monroe, West Hartford, Southington and the state police. East Hartford sent three of their K-9 teams to pay respects to the deceased police dog. Also present at the memorial service was Easton police officer Tamra French and her K-9 partner Chase. French and Chase went through the K-9 training program with Blackinton and Bosco. Chief John DiVenere told those gathered that the department and the city are committed to not only continuing the K-9 program, but also to expanding and improving it. He said "some people in the community are happy about his [Bosco's] passing, but those people should know ..the K-9 program will continue." DiVenere said despite the high cost, the department hopes to have two new police dogs by spring. Blackinton said when the new dogs are purchased he will accept another assignment as a K-9 handler because he feels it will be cathartic and he loves the work as a K-9 officer. After Bosco was killed, DiVenere said, several people sent donations to the department in support of the valuable K-9 program. He said one of those donations especially caught his attention. The card accompanying the $50 donation was written by a 9-year-old named Lisa who wrote: "I am donating $50 to Bosco because you [the police department] are always outside collecting money for juvenile diabetes. This helps me because I have diabetes. I collected this money walking dogs." Officer Bill Kenney opened the ceremony by calling on department chaplain, the Rev. Nick Melo of St. Anthony's Church, to make some remarks. Melo said Bosco was "dedicated to protecting and serving." He said the dog "did not think of his own safety, but did as he was trained" to serve the department. After Melo's comments, Kenney said police officers deal with tragic events on a regular basis, and over the years he learned the best way to deal with the emotional stress involved is to talk about it with other people. As he did so, in an attempt to deal with his emotions about Bosco's death, Kenney said he was shocked to come across a handful of people whose only remark was, "It's just a dog." Saying it's just a dog couldn't be further from the truth where Bosco is concerned, said Kenney before he read a poem appropriately titled, "Just a Dog." In his years of service to the department, Bosco was called upon to assist officers serving warrants to discourage people from fleeing. He helped to search for suspects and missing people and was occasionally called to assist other departments in performing functions too dangerous for a human officer. Kenney said a police dog will do whatever it takes to keep their human counterparts safe. They are asked to put themselves in harm's way and gladly do it, asking only for a scratch behind the ear, a belly rub or a romp with a favorite toy. Former five-term mayor and city council liaison to the Board of Police Commissioners, Frank Nicastro, said dogs play an important part in police work and have been known to save many lives every year. Not only the lives of police officers, Nicastro said, but also those of children and others and oftentimes the heroics of a dog go unnoticed. Stortz said the first time he met Bosco was at a Rotary Club function and he was immediately both impressed and proud of the dog, who always acted in a professional manner.
At the front of the auditorium there was a large banner with a photograph of Bosco and a poem written by city paramedic Sharon Kenney. Bill Kenney said the banner was donated by Ron Duhaime of Funk Funeral Home. Kenney said Duhaime assisted in setting up the memorial and transporting Bosco's ashes. "Without his help this wouldn't have been possible," Kenney said of Duhaime. As the ceremony drew to a close, Nicastro played taps as a slide presentation of Bosco was shown on a screen at the front of the auditorium.
Just before the slide show, Kenney said in closing, "Look into the eyes of a four-legged officer and you will see the soul of a warrior, ready and waiting. Officer Bosco was that warrior. Officer Bosco wore the badge and laid down his life as only a warrior could."
---
ARTICLE 2
Saying Goodbye To Bosco
Officials, Police, Friends Honor German Shepherd Who Died In Line Of Duty
December 31, 2005 By DON STACOM, Courant Staff Writer CT
BRISTOL -- Police from as far as Waterford and Easton attended in uniform, the pastor of St. Anthony's Church read from Scripture and former Mayor Frank Nicastro sounded taps on his trumpet. They had come to say goodbye to Bosco, the police dog. A crowd of more than 180 people, along with a dozen police dogs, gathered for a memorial service Friday morning at Bristol Eastern High School's auditorium for Bosco, the German shepherd killed outside a Sims Road burglary scene two weeks ago. "Bosco faithfully served the people of the Bristol community. He was dedicated to protecting and serving," the Rev. Nicholas Melo, the police department's chaplain, told the audience. "We ask God to heal our hearts that grieve our loss. May Bosco live forever in your loving arms." Twelve police dogs from around the state sat at the front of the auditorium with their handlers throughout the ceremony, and the audience was cautioned against applauding any speakers so the dogs would not be startled. The city police force's three-member color guard stood at attention beside the flag, and at least two TV news cameras recorded the scene. Floral displays were positioned on the stage, and sympathy cards covered a display board. "Some people may think it's unusual to have a memorial service for a dog. I don't," Mayor William Stortz said. "Bosco was an unusual dog. He was more than a dog - he was a police officer and a protector of us all." Speakers described Bosco as a "four-legged officer" who was fearless and devoted to his handler, Officer Greg Blackinton. Bosco had been sent to search for burglars in a Sims Road house when he raced out of a rear door and attacked Officer Bryan Aleia, who was standing guard in the backyard. After biting Aleia, the dog pulled away but turned to attack again, and Aleia fired his shotgun in defense. The blast killed Bosco. "Bosco was more than just a dog, as everybody knows," Chief John DiVenere told the audience. "There are people in our community who are happy with his passing. They should know that not only will we continue the [police canine] program, we will expand it." Melo and DiVenere read poetic tributes to dogs, and DiVenere thanked the community for donating thousands of dollars to acquire a new dog. DiVenere promised that the police department will review its training and procedures to prevent any similar incident in the future. "Officer Bosco laid down his life as only a warrior could," Officer Bill Kenney said after showing a series of photos of Bosco's work with the police force. Nicastro's performance of taps concluded the ceremony. Dog handlers from West Hartford, East Hartford, Newtown, Southington, Ledyard and other communities walked back to patrol cars marked "K-9 unit" and, in some cases, "Stand back." While most of the crowd moved toward the cafeteria for a small reception, more than two dozen people lined up to offer condolences to Blackinton.
Updates
of service submitted by Jim Cortina, Dir. CPWDA
Officer shoots police dog to death during attack
Associated Press - December 20 2005
An officer shot a police dog to death Tuesday when it attacked him as authorities searched for a burglary suspect, police said. Police surrounded a home on Sims Road after the owner reported that someone broke in and stole two handguns. The nearby Ivy Drive Elementary School was locked down for several hours during the search for the suspect. Officer Greg Blackinton sent police dog Bosco, a German shepherd, into the house to look for the thieves. Police said the dog then ran out of the house and bit Officer Brian Aleia on the leg. When the dog attacked Aleia a second time, the officer shot the dog with a shotgun, police said. The dog was taken to a veterinarian but died, authorities said. Aleia was treated for minor leg injuries at Bristol Hospital. It was not clear when he would return to work. Police arrested the suspect, Zachary Girardin, 22, about an hour and a half later at a gas station. Authorities said officers had to wrestle one of the stolen handguns out of his hands. Girardin was charged with several crimes and was held on $100,000 bond. He was to be arraigned in Bristol Superior Court on Wednesday. Blackinton was given time off because of the death of the dog, police said.

UPDATE

Memorial scheduled for police dog By AMY V. TALIT, The Bristol Press 12/28/05 CT

BRISTOL -- A special public memorial service for police dog Bosco, who was killed Dec. 20 while assisting in a burglary investigation, will be held Friday at 11 a.m. in the Bristol Eastern High School auditorium. Police department chaplain, the Rev. Nicholas Melo, pastor of St. Anthony Church, will officiate, according to a police press release. There will also be readings and a video of Bosco. The department asks that in lieu of flowers, donations may be made to the Bristol Police Dog Fund and sent to the police department at 131 N. Main St. Bosco worked with Officer Greg Blackinton for almost three years, according to department records, during which time he assisted in several drug raids. The German shepherd was also instrumental in searching for missing persons as well as tracking bank robbers and other suspects. The department acquired a second dog, Zeus, in late spring and Chief John DiVenere said he had hoped to have a third dog by spring 2006 so each of the three shifts would have canine coverage. DiVenere said the police K-9 program is very valuable to police, and often times departments will call in police dogs from neighboring towns' departments to assist in police operations. An officer killed Bosco when the dog attacked him while searching for a burglary suspect, DiVenere said he is hopeful the department will be able to purchase two new dogs by spring instead of the one. The total cost of the dog, including training for the dog and its police handler, food and modifying a cruiser for the dog is about $20,000, according to records. In the days immediately after Bosco's death, several members of the community sent donations to the department in an effort to assist with the funding needed to purchase another dog, said Lt. Eric Osanitsch. "People recognize it was a loss and they want to help," said Osanitsch, "The department is thankful and greatly appreciates the community's support."
above & below photos submitted by
Jim Cortina, Dir. CPWDA

The City of Bristol currently has two K-9 Unit, Ofc. Blackinton with K-9 Bosco and Ofc. Tavares with K-9 Zeus. Both dogs are cross-trained in narcotics, tracking and protection. The dogs and their handlers undergo extensive and rigorous training before becoming part of the K-9 Unit and must continue to train constantly to maintain the level of excellence required to work together on the street. Bosco and Zeus were born, raised and trained in Czechoslovakia, home to some of the greatest police dog trainers in the world. They were hand picked to be police dogs in the United States after being shown, completed and titling in competitions across Europe. Both Bosco and Zeus are IPO and Schutzhund certified dogs. Schutzhund is one of the highest measures of ability in the dog world. The purpose of Schutzhund (which is German for protection dog) is to demonstrate the dog's intelligence & utility. It measures, amongst other things, a dog's endurance, willingness to work, ability to scent and courage. Very few dogs meet the high standards of Schutzhund. The Bristol Police K-9 Units are proactive officers that work within the patrol division and are available to assist other patrolmen at all hours. Because Bosco and Zeus are valuable members of the Bristol Police Department, they both wear bullet-proof vests to protect them from harm.

above taken from Bristol PD website:
---
In Loving Memory of
K-9 BO
November 29, 1992 ~ November 22, 2005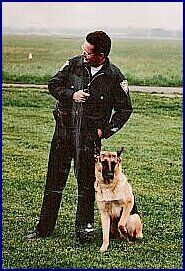 Handler: Jim Pettit
Kettering Police Department
3600 Shroyer Rd.
Kettering, Ohio 45429
(937)296-2567

Jim Pettit is retired from the Kettering Police Department in Ohio. His retired K9 partner, Bo was put down last Tuesday, Nov. 22, due to a tumor that could not be removed. He serviced the Kettering Police Department from January 1004 to March 1998. He would have been 13 on the day of his passing.
I retired as a police officer in 2003. BO went out of service in late 1998. I was activated in the National Guard for the war on terrorism and started a new dog program for the US Army. I turned it into a full time job for myself in the government. My dog did well for me and due to personal issues I sent him to live with my parents in early 2001. BO enjoyed his retirement and became a wonderful companion for my father.
submitted by Dusty Simon
---
In Loving Memory of
K-9 BART
October 17, 2005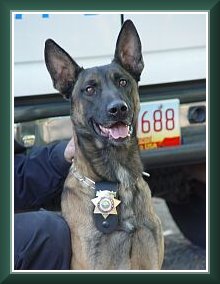 Handlers: Van Eldredge and Larry Harlan
Bernalillo County Sheriff's Department
Sgt. Terry Matthews
505 798-4100
400 Roma NW
Albuquerque, New Mexico 87102

Although not human, K-9 Bart was part of a team within the Bernalillo County Sheriff's Office that made the community a safer place to live. At only 6 years of age, Bart was in his prime when he was killed on the morning of October 17, 2005 doing what he was trained to do, searching for a dangerous fleeing felon. An unfortunate incident led to his shooting death by a fellow deputy. We will never know what really happened in the few seconds that Bart was out of sight of his handler. As the only law enforcement cadaver dog in New Mexico, Bart was deployed on a regular basis and had many successes. He brought closure to multiple cases as well as closure to the families of the victims. While providing years of school demonstrations to introduce this effective crime fighting tool to many local students, Bart was an ambassador for the department and he did his job well.
As a patrol dog on the streets of Albuquerque and Bernalillo County he had many other successful apprehensions.
Although another dog will eventually take his place he cannot be replaced. He was not a mechanical piece of equipment that rolls off a factory assembly line to be ordered from a catalog. The process is long and rigorous. Once the right dog is found it takes years of training to reach the proficiency level required of a fully operational police service dog. Remember BCSO K-9 Bart for the positive impact he had within the community over the 4 years of service he provided. He will be missed.
Friends of New Mexico K-9 http://www.FriendsOfK9.com/NM ,
Dave Farrell dave@MostWanted.com
---
In Loving Memory of
K-9 BULLET
October 14, 2005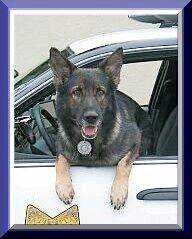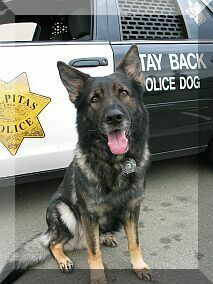 Partner- Handler: John Torrez
Milpitas Police Department
1275 N Milpitas Blvd.
Milpitas, California 95035
(408)586-2407
K9 - Bullet Euthanized - 10/14/05, neurological disorder that affected his spine and hips
By Ian Bauer - 11/03/05
A valued member of Milpitas Police Department has been laid to rest.
Bullet, an 8-year-old German shepherd, served as a Milpitas police dog for six and a half years. Bullet officially retired from duty earlier this year due to a neurological disorder that affected his spine and hips. "He retired in late August, because he was no longer able to do any running or jumping," Milpitas police Officer John Torrez said. Torrez, an 11-year police officer, was Bullet's handler and trainer. In turn, Bullet was Torrez's faithful in-field partner. Bullet was imported from Germany on Nov. 6, 1998. He began service as a police dog on Dec. 31, 1998. Bullet was trained in obedience, socialization, building and area searches, tracking, evidence searching, scouting and apprehension work, police records state. In June 1999, Officer Torrez and Bullet completed narcotic detection training. While in narcotics training, Bullet learned to detect the odor of illegal drugs such as marijuana, cocaine, heroin and methamphetamine. The pair responded to nearly 1,000 calls for service, conducting nearly 200 narcotics searches and appearing in 29 public canine demonstrations. Following his nose during searches, Bullet sniffed out more than $26,000 of illegal drugs as well as a total of $278,330 in U.S. currency. "He relied on me to brush him and feed him and take care of him. And I relied on him to do what he (was) trained to do," Officer Torrez said. Bullet also competed and took part in police service dog competitions in California, Idaho and Nevada. Bullet earned 78 medals and trophies in nearly 40 canine competitions. "He's got a lot of miles under his belt," Officer Torrez said. In addition, Bullet was used for dog safety demonstrations at local elementary schools. With Bullet as a willing participant, students learned how to approach and pet an unfamiliar dog. Bullet didn't mind mingling with young children. "He was a really social dog, very approachable," Officer Torrez said. "I had no problems. You wouldn't know he was a police dog." In his off hours, Bullet went home with his partner and handler. "When I went home he went home, when I went on vacation, he went on vacation," Officer Torrez said. The award winning German shepherd retired from police service Aug. 23 due to a debilitating neurological disorder, which affected his hind legs and ability to walk. Bullet's medical condition deteriorated rapidly. On Oct. 14, Bullet was euthanized, and later cremated. "I think Bullet was unique in that he had a good temperament a good on and off switch. Bullet could do a demo with kids and then go and find a suspect, and then go back and do another demo with kids," Officer Torrez said. "He enjoyed the work." Officer Torrez is expected to continue as a police dog handler. He is training his new dog, Wiley, a 2-year-old German shepherd City of Milpitas recently purchased from a breeder in Holland. Wiley and Officer Torrez are due to hit Milpitas' streets together later this month.
article submitted by: Jim Cortina, Dir. CPWDA
---
In Loving Memory of
K-9 BASKO
November 4, 2005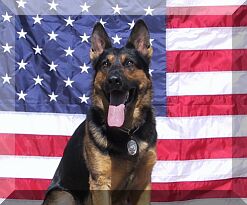 Handler: Ken Greenleaf
Redondo Beach Police Department
401 Diamond Street
Redondo Beach, California 90277
Tel. 310-379-2477
K9 Basko, a Redondo Beach, California canine for five years, lost his life when during a training exercise he ingested a fatal amount of cocaine. On Friday morning K9 Basko was training prior to a canine competition in Temecula, California when he located a cocaine aid under a refrigerator. K9 Basko put his face under the refrigerator and was able to grab the cocaine aid in the rear. K9 Basko pulled the aid out and dropped it immediately, but he was able to puncture the "puncture proof" bag before dropping the aid. At the time of the incident it did not appear that Basko ingested any of the cocaine. He did not lick his lips, have any residue on his nose or mouth or act strange in any other manner. Within 20 minutes of the incident K9 Basko was in full cardiac arrest. Officer Greenleaf immediately drove K9 Basko to an emergency clinic. While en route to the clinic K9 Basko moved beside Officer Greenleaf and then put his full mouth around Officer Greenleaf's arm and applied a small amount of pressure. K9 Basko then died in his lap. K9 Basko was a five year veteran of the Redondo Beach Police Department. K9 Basko was a "Cross-Trained" canine. During his first week on the street K9 Basko apprehended a murder suspect hiding in a garage.
Hundreds gather to honor fallen Redondo Beach canine.


An emotional officer Ken Greenleaf draws on support from other police canine handlers.
His dog, Basko, died from ingesting cocaine during a drug-finding exercise.

By Josh Grossberg

Daily Breeze

11/16/05

CA



Dozens of dogs wailed mournfully as the sun started to set and a bagpipe began its melancholy tune. The dogs -- and their handlers -- came from police departments across Southern California on Tuesday to say goodbye to one of their own, Basko, a Redondo Beach police dog who died earlier this month after eating cocaine during a certification exercise. With hundreds of well-wishers looking on during a ceremony in front of the Redondo Beach police station, the dogs marched past a small table covered with pictures of Basko and awards he had won, while their owners shook hands with his partner for the past four years, officer Ken Greenleaf. Holding back tears, Greenleaf uncovered a plaque honoring his partner that will join 15 other markers for Redondo Beach police canines who have died. "We did everything together," Greenleaf said. "He was always there." Basko was named after two dogs Greenleaf previously worked with: Boris and Asko. The past few weeks have been difficult, but Greenleaf said he has relied on the support of friends and colleagues. "It's been hard and easy," he said. "A lot of people have supported me." Police dogs are trained not to put things in their mouths, but Greenleaf said Basko tried to reach for a bag of cocaine hidden under a refrigerator during the Nov. 4 exercise. The bag was supposed to be puncture proof, but somehow the dog tore a hole in it. "He thought it was a toy," he said. Within 20 minutes, Basko had a heart attack and died as Greenleaf sped through the streets in his police cruiser with sirens blaring as he tried to find help for the 5-year-old dog. During the ceremony, city and police officials lauded the dog's contribution. We're here to pay tribute to a fallen hero," Redondo Beach Mayor Mike Gin said. "The fact that it has four legs instead of two should be of no consequence. We lost a member of the city family. It's been tough for all of us." Redondo Beach Police Chief Robert Luman hailed not only Basko, but Greenleaf, who has trained dogs for years for other agencies. "Handlers are not picked randomly," he said. "They must be patient, diligent and show an affinity to animals," he said. Although he died tragically, Luman said Basko died

with honor. "Basko died doing what he loved and with someone he loved the most. Perhaps that's not such a bad way to go." Police from as far away as Port Hueneme came to pay their respects. "It's a big family," said canine officer Shonn Rojas of the Tustin police. "He lost his partner and his friend."

In his few years on the force, Basko helped track down murder suspects and uncovered an untold amount of drugs. But Greenleaf said that it was the dog's impact on the community that he'll miss most. As he neared death, Basko did something that brought comfort to Greenleaf. He thinks that maybe his pal was trying to let him know that everything was going to be OK. "He reached up and grabbed my arm and went to sleep," he said.

A Memorial Service will be held on November 15 @ 5:00 pm Redondo Beach Police Department.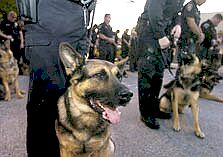 all submitted by: JimCortina, Dir. CPWDA
---
In Loving Memory of
K-9 BUDDY
October 4, 2005



Partner: (unknown)
George West Police Dept.
204 Bowie St
George West, Texas 78022
(361)449-1556
Police Dog Smothers in Police Car 10/4/2005 By: Jim Forsyth
A police officer in the small south Texas town of George West has been disciplined after a drug sniffing dog died in the back of his patrol car, 1200 WOAI news reported today. George West Police chief Ray Garza says the dog, a six year old golden retriever named Buddy, was in the back of the patrol car when the officer in charge of him went into his house. Garza says the officer apparently 'forgot' Buddy was there. "From what I gather from talking to the officer, he forgot he was there, he went inside the house, and got tied up doing something inside the house, and didn't realize what had happened until he got back to the car," Garza said. The chief said the dog apparently died of heat exposure. He says Buddy was in the locked car with the windows rolled up for a 'couple of hours' with the temperature in the area over 100 degrees. Garza says the officer, who he declined to identify, is 'taking it pretty hard.' The officer has been disciplined, although Garza declined to say what type of discipline was meted out. He says drug sniffing dogs are a critical part of police activity in a town like George West, which sits on major drug distribution routes from Mexico into the U.S. He says police are in the process of trying to obtain a new drug dog.
submitted by Jim Cortina, Dir. CPWDA
---
In Loving Memory of
K-9 BACH
March 31, 2005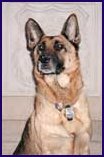 Handler: Patrol Officer Patrick Frezza
Yonkers Police Department
NYS Accredited Agency
104 South Broadway
Yonkers, New York 10701
914-377-7900

On March 31, 2005, retired Police K-9 Dog, Bach was put to rest. K-9 Bach was appointed to the Yonkers Police Department in 1995 and was retired in 2002. During his more than seven years of service, he and his handler P.O. Frezza were credited with twenty solo apprehensions and participated in numerous building and evidence searches with positive results. Bach was one of the first K-9 trained in narcotics detection and conducted numerous narcotics searches resulting in seizure of illegal drugs, vehicles and U.S. currency. K-9 Bach, rendered more than seven years of dedicated and efficient service to the department. The senior officer on patrol is Police Officer Frezza and his partner 'Bach'. Officer Frezza and Bach were trained in 1996 and have been on patrol since then. The team has been responsible for numerous arrests and for the seizure of large amounts of narcotics, US currency and vehicles. Bach is also cross-trained in narcotics detection. Police Officer Frezza has been in the unit since 1988 and his first partner 'Bear' was put to rest in 1996 from a spinal disease. During his more than seven years of service, he and his handler P.O. Frezza were credited with twenty solo apprehensions and participated in numerous building and evidence searches with positive results.
submitted by Yonkers website
---
In Loving Memory of
K-9 BANDIT
July 22, 2005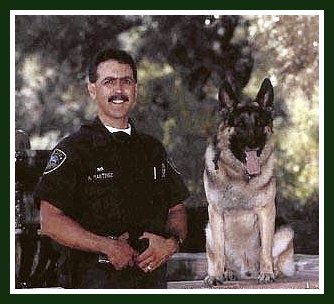 Handlers: Art Martinez & John Bailey
Lompoc Police Department
107 Civic Center Plz
Lompoc, California 93436
(805)736-2341
Santa Maria Police Department
222 E Cook St
Santa Maria, California 93454
(805)928-3781

Former Lompoc police dog dies By Shelly Ingram /Staff Writer Santa Maria Times 7/26/05
Bandit, the Lompoc Police Department's canine whose last year on the job was served under a cloud of controversy about his deteriorating physical condition, has died, apparently of natural causes, according to police. Officer Jon Bailey, who was Bandit's handler for the canine's final year of service and had kept the dog since his retirement, found the 11-year-old canine dead Friday morning. Contributed Officer Art Martinez is seen in a tribute photo to his former partner, police dog, Bandit. Bailey notified Officer Art Martinez of the Santa Maria Police Department, who was Bandit's handler and partner throughout most of the dog's career. "Jon Bailey called me," Martinez said. "After you've been with a dog for seven years - he's a partner. You couldn't have asked for a better dog. He was the love of my life, my partner and a family member in every sense of the word." The Chinese-born German shepherd was retired in July 2004 after a career that included more than 300 drug finds and more than 1,000 suspect apprehensions. "Bandit was an extraordinary police service dog who was loved by the members of the Lompoc Police Department and the community alike," said Lompoc Police Chief William Brown, in a press release issued Monday. Bandit was the center of controversy in 2003, during which Brown clashed at a public meeting with Santa Ynez veterinarian Carl Zaboly concerning the then 9-year-old dog's ability to continue his work on the Lompoc police force. "There were a multitude of problems that Bandit had," Zaboly said Monday. "Any one of them would have allowed a dog to be retired." If Brown had accepted Zaboly's assessment of Bandit's condition, the department then would have allowed the canine to be retired and live with Martinez at the time of his move to the Santa Maria force. Brown disagreed with Zaboly's assessment of the dog's condition and insisted he remain with the Lompoc force, retiring Bandit one year later. The decision forced an emotional separation, Martinez said, not only from him but also from his family, including his children who had grown up with the dog. Since Bandit's retirement in the summer of 2004, his duties have been taken over by Xito, a German-born German shepherd who is partnered with Officer Willy Francis. Xito is on medical leave because of a herniated disk. The Police Department press release said a ceremony to honor Bandit will be held at a later date.
---
In Loving Memory of
K-9 BRESTON
July 16, 2005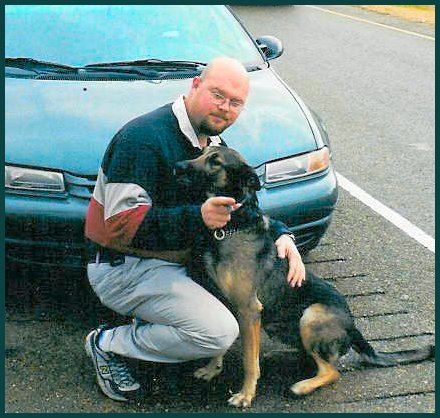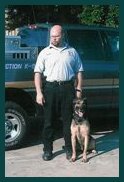 Partner: Deputy Chris McCain
Grenada County Sheriff's Dept.
35 Doak St.
Grenada, MS 38901
662-226.2721

Chris is the K-9 officer-handler for the Grenada County Sheriff's Department in Grenada, Mississippi. Saturday, July 16, 2005, he lost Breston. He died sometime Saturday morning at the Veterinary Clinic here in Grenada, after an exploratory surgery. They found that his pancreas was hard and deformed. He came through the surgery fine on Friday evening and seemed to be doing well. Saturday morning, he died. Breston was a wonderful K-9 who deserves more than what we could give him. He was a wonderful, loyal officer, friend. He was pet to two children that loved him, along with Chris's wife/mother, Amy. They all thought of him as one of the family. It has been hard on all of them. The burial will be a private one, since the family has not had enough time to notify everyone. A memorial service will be held later in Grenada. Chris is waiting for the pathology report. Breston was still a working K9 at the time of his death. submitted by: Amy
Meet new partner: K9 Jayne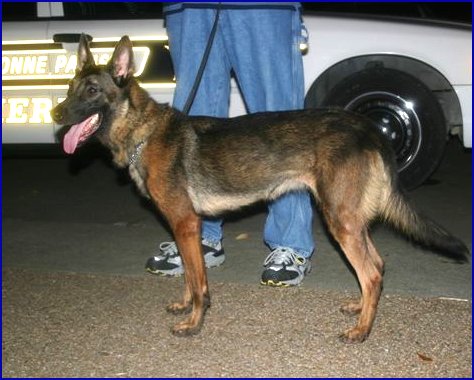 ---
In Loving Memory of
K-9 BANDIT
June 19, 2005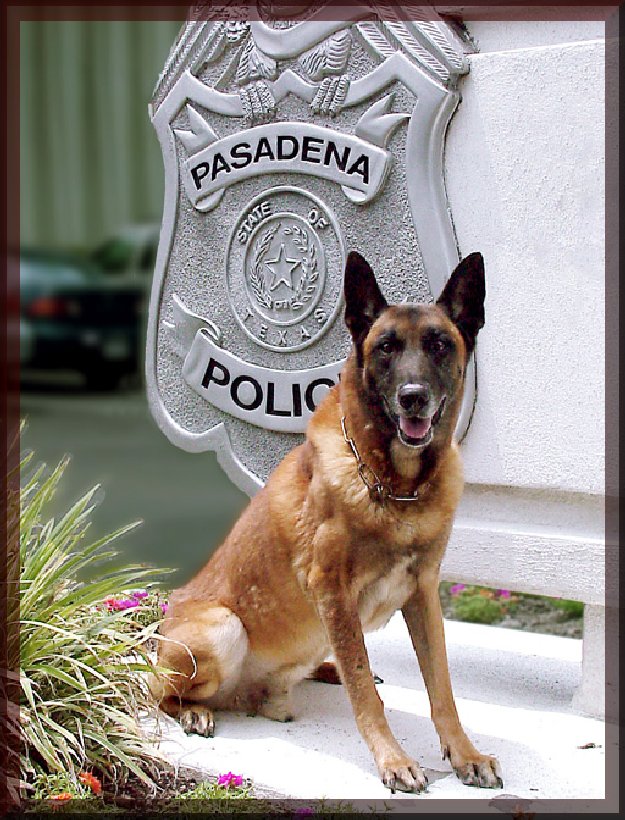 Partner: T. G. Anderson
Pasadena Police Dept.
1114 Jeff Ginn Memorial Drive
Pasadena, Texas 77506
713-477-1221
Just wanted to let everyone know that Bandit, my partner for 11 years, passed away yesterday, "Fathers Day."
He was 14 years old and as cantankerous as ever. He spent the last year living as a "normal" dog relaxing everyday in the backyard. I cannot say enough about his career and the fact that he taught me how to be a dog handler. He will always live in my heart and be a legend to those who knew him. Farewell my friend, until we meet again.
Terry
President of the
National Police Canine Association.

submitted by
Ron Labarriere
The Officers each handle dual-purpose canines and the entire unit trains together each week in order to maintain a high skill level of the K-9 teams.
CANINE ACTIVITIES
| | | | |
| --- | --- | --- | --- |
| ACTIVITIES | 1999 | 2000 | 2001 |
| Area Searche | | | |
| Business | 39 | 54 | 64 |
| Residential | 0 | 2 | 13 |
| Open Field Track | 24 | 45 | 31 |
| Other Searches | 8 | 3 | 11 |
| K9 Apprehensions | 10 | 17 | 10 |
| Narcotic Searches | | | |
| Vehicle | 50 | 52 | 67 |
| Residential | 19 | 13 | 30 |
| Building | 1 | 6 | 9 |
| Other | 8 | 3 | 4 |
| Narcotic Detection | | | |
| Marijuana | 46 lbs. 21 oz. | 236.50 lbs. | 280.614 lbs. |
| Cocaine | 6.8 lbs. | 1 kilo, 38gr. | 551.71 lbs. |
| Heroine | 1 gr. | | |
| Money Seizures | $170,361 | $273,216 | $145,979.53 |
| Mutual Aid Requests | 36 | 33 | 35 |
| | | | |
| --- | --- | --- | --- |
| K-9 Demonstrations | 6 | 27 | 10 |
---
In Loving Memory of
K-9 BAK
Search & Rescue
Dec. 28, 2001 ~ June 8, 2005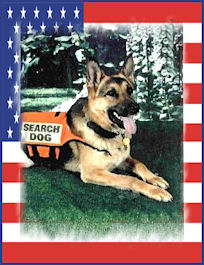 Handler: Sue Keenan
Dover Brick First Aid Squad
P.O. Box 172
Normandy Beach, NJ 08729
732-793.1334

Previously: I brought BAK home from North Carolina (GSD imported from Czech Republic), we have been training many hours sot get certified in tracking and wilderness air scent. I am also training a Belgian Malinois, RENO who is 10 months old for cadaver work.
June 9, 2005 - Sue Keenan
Bak was born in Czech Republic on 12/28/01. He was a 75 lb. German Shepherd. Bak started SAR training in May 2003. He was trained to be certified in Trailing and Wilderness Air Scent. His drive combined with strength and agility provided the tools needed to be an outstanding Service Dog. His favorite toy reward wa a ball on a rope. Susan is also a police officers with the Elizabeth Police Department in Elizabeth, NJ
---
In Loving Memory of
K-9 BARRY
May 17, 2005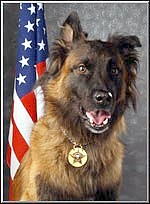 Handler: Officer Marty Lepird
Arizona Department of Public Safety
6401 S. Tucson Blvd.
Tucson, AZ 85706
602 223.2000
TUCSON - On Tuesday morning, May 17th, DPS K9 "Barry" was found deceased in his kennel before his shift was to begin. "Barry" was assigned to K9 officer Marty Lepird in Tucson. "Barry" was one of 3 DPS bomb dogs assigned throughout the state. "Barry" will be missed by all who knew and worked with him. Autopsy results are pending.
submitted by:
Scott Cramer
---
In Loving Memory of
K-9 BIR
January 15, 2005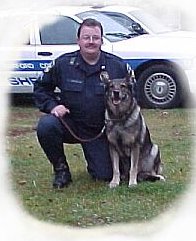 Handler: Cpl. Don Hindenlang
Harford County Sheriff's Office
45 S. Main St. P.O. Box 150
Bel Air, MD 21014
410.838-6600
Tough weekend, one of our retired K-9s had to be put down. He had been retired since June of 2002 when his handler got promoted out of the unit, and had lived to a ripe old age of over 12 1/2 years old. Unfortunately, he started to go into cardiac failure towards the end of the week and yesterday, Saturday, 15 Jan 05 at about 1300 hrs, he had to be put down. How lucky we are to be blessed with this job, to have such an attachment to these dear animals. Sigh. Don came down and stood with me when Ranger died, so it is a privilege to have returned the favor.

submitted by John Seilbach
K-9 BIR
died 01/15/05 at age of 12 1/2 years retired from HCSO in June 2002 served 7 years in K9 cross trained in both Patrol and Narcotics detection served with then Dfc Hindenlang K9-2
---
In Loving Memory of
K-9 BRUNO
2005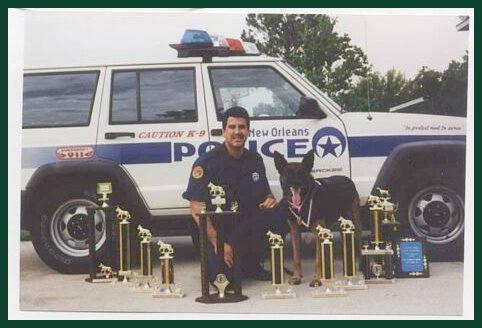 Handler: Rudy Fascio
New Orleans Police Department
Harrison & Marconi Streets
Louisiana 70124
504 483.2040
Canine Bruno is a Belgian Malinois, with over ten years of service with the New Orleans Police Department. Canine Bruno was the first dual purpose Belgian Malinois used by the department. Canine Bruno is trained in Narcotics Detection and Patrol Work and has ranked as the "Top Dog' in the South for over eight years. Canine Bruno has made the single largest Narcotics find, 36 Kilos of Cocaine, and well over 500 Felony arrest in patrol work. Bruno was trained by Officer Rudy Fascio of the Canine Division, a Certified and Master Trainer.
---
In Loving Memory of
K-9 BLITZ
February 9, 2005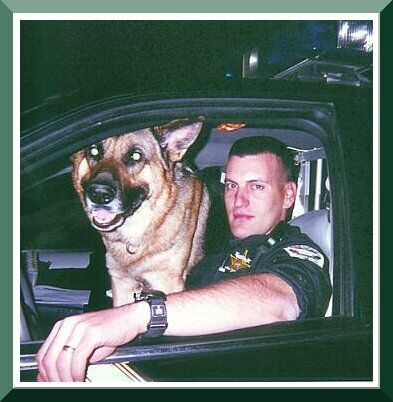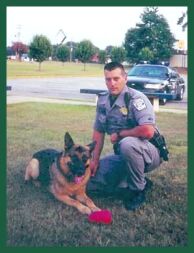 Partner: Deputy John Chandler
The Anderson County Sheriff's Office
305 Camson Rd. - Anderson, SC 29623
8864.260-4400

It is with great sadness that I write to you. The Anderson County Sheriff's Office K-9 division has lost one of our original members. K-9 Blitz passed away recently. Blitz along with Dux were the first two patrol dogs that were used at the Sheriff's Office. Blitz's partner and friend was Deputy John Chandler. John was the only handler/partner that Blitz ever had. Together they made arrest, seizures and performed at many demonstrations. Blitz recently retired due age. John had just started to work with his new partner Inka. Blitz stayed at home. Johnny once told me it was hard on Blitz to see Inka going to work in his (Blitz's) car. Blitz passed away due to cancer. It is always hard to lose a friend that has been your companion on lonely nights working the third shift. To close I quote lines from a poem -----

Don't cry for me, because I'm still here
Sometimes I whisper that in your ear.
A K-9 partner for you, a friend for me
What a match we had begun to be.
So many times with you I'll never forget
You made me a Deputy and also a pet.
I worked hard for you all the while
Nose to the ground, tracking for miles.
I wore my badge with a sense of pride
Waiting to find the perfect hide.
A love for the job through and through
I would've laid down my life for you.
Training together day after day
Work for you, for me just play.
I was invincible with you at my side
A strong personality I couldn't hide.
The sickness that took me, I tried to fight
Who would ride with my partner at night?
I'm sorry to leave you and take a final fall
You tried to save me, you gave it your all.
Don't cry for me, because I still roam
It was just my time, God called me home.
Author: Jennifer Boujoukos
submitted by Officer Don Hodges
---
In Loving Memory of
K-9 BRITT
January 4, 2005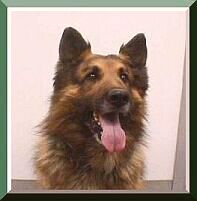 Partner: Deputy John Hinton
Morrow County Sheriff's Office
P.O. Box 359
Mt. Gilead, OH 43338
419-946.4444
They were almost inseparable for 2 years, tracking criminals and hunting drugs. On duty and off, they protected each other. Now, the empty cage in the back of Deputy John Hinton's cruiser is a daily reminder that his partner Brit is gone. The 10 year old German shepherd died Jan. 4 and was memorialized yesterday at the Morrow County Sheriff's Office. More than 50 mourners most in uniform, gathered in the cold to salute their friend and fellow officer. A stone statue in Brit's likeness stood watch over the crowd. Above them, the American flag flapped in the wind at half mast. His death was sudden. The dog collapsed at Hinton's feet while on duty. After test revealed an inoperable brain tumor, Hinton made the difficult decision to put him to sleep. The news of his death prompted some in the community to send sympathy cards, letters and donations. Such trained dogs are expensive to replace. Sheriff's budgets are tight everywhere and Sheriff Steven R. Brenneman said he was unsure how to county would have afforded the roughly $7,500 for a new dog. Darron Sparks of the nonprofit Dogs Against Drugs/Dogs Against Crime drove from Anderson, IN about 30 miles northeast of Indianapolis, to attend the service and deliver a donation to cover the cost of replacing Brit. The dog is a brother officer, I realize they're more than just a dog. Community donations will go toward veterinary care, food and training for new dog. Honoring a K-9 isn't uncommon. The Fairfield County Sheriff's Office this week assigned the ran of sergeant to a newly retired dog, Rex, a Belgian Malinois, ended his career Tuesday. His spot will stay empty until funding becomes available. The relationship between K-9 officer and handler is a unique one. It is more than a partnership, it is family. They share successes and failures and at the end of the day, they go home together and keep the bond tight for survival depends on it. Some Morrow County sheriff's employees say they'll welcome a replacement but Brit will be missed. He was John's dog and John's partner. Brit was a big part of our office. Hinton and Brit's former handlers, Sgt. Troy Landon are still adjusting to the loss. Brit was the only dog on the force for 6 years. Hinton said that when he patrolled with Brit, the dog attracted all the attention. They always remembered his name, but they could never remember mine.
submitted by: Lori J. Epling