In Loving Memory of
K-9 ANGUS
December 7, 2005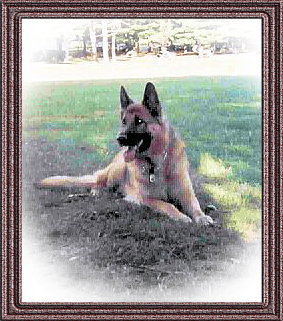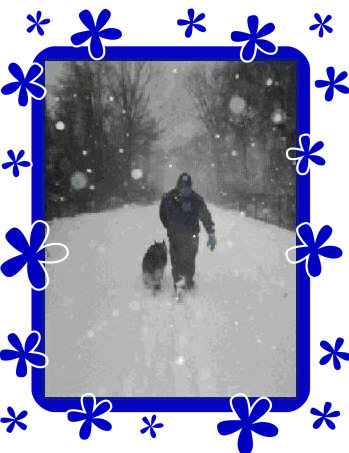 Handler: P.O. Nick Tartaglione
Briarcliff Police Department
507 North State Road
Briarcliff, NY 10510
(914) 762-6007 - fax (914) 762-6900
topd@OssiningTownPolice.com
K-9 Angus was almost 12. He retired 4 years ago, but still every bit my partner. He died of a cancerous tumor and was put down in my arms. A part of my heart is gone, but I'll get it back one day. One day we will be side by side again. Until that day comes, I'll carry him inside my heart. A day will not pass that I will not whisper his name, and remember what it feels like to have him at my side. Thank you, Angus for everything. I love you gusser! submitted by Nick Angusnbeau@aol.com
*********************************
P.S. - update 2007
Nick Got Taz's Back"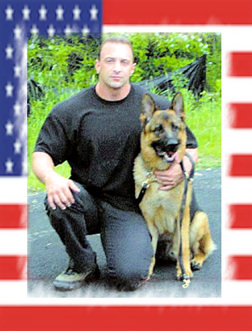 9/11/2007 12:59:15 PM
When we discovered that our sweet Taz has a congenital condition that is causing him to gradually lose his vision, our spirits fell. Here was a sweet, young, handsome dog, so eager to be someone's special boy, yet Fate had dealt him a cruel blow. Taz's eyesight is diminishing little by little, and it is causing Taz much frustration and confusion. Naturally, he is startled and on guard when new people approach him, as he can't quite make them out until he can sniff them for a familiar scent. Taz has visited several eye specialists who shook their heads sadly and said that Taz will eventually lose what's left of his vision. Just when our own hopes were growing dim, something incredible happened for Taz....

Far across the country, a compassionate New York K9 Officer had quietly taken note of Taz's situation. Officer Nick Tartaglione of the Briarcliff Manor Police Department was touched by Taz's hardship and wanted to help. Nick felt a special connection with Taz because our little pup reminded him of his for Angus.
---
In Loving Memory of
K-9 ASTRO
2005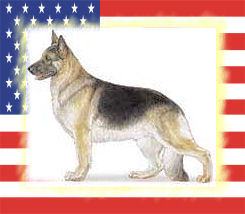 Handler: Robert Hart
Montgomery Township Police
1001 Stump Road
Montgomeryville, PA 18936
215 362 2300 (V) - 215 362 6383 (F) Email: police@montgomerytwp.org

K9 Astro passed away suddenly in 2005 after completing a midnight shift.
Astro was 8yrs and the vet. suspected that he bloated.
New working partner K-9 Jammer.
submitted by R. Hart
---
In Loving Memory of
MWD K9 AKKI
October 2, 2005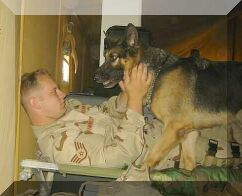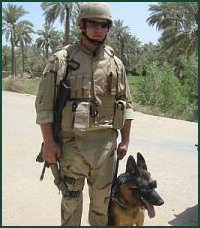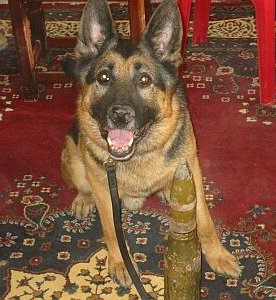 Handler USAF SSgt.Luke Plemons
62nd USAF Security Forces Squadron
McChord AFB , Washington



In Loving memory of Military Working Dog, "Akki",
who served our country with undying devotion

The leather leash and chain hanging from the kennel represents
the everlasting, eternal bond between dog and handler.

The empty kennel where he once slept represents the life that
he gave to protect us, our brothers, and our freedom.

The inverted bucket reminds us that he is no longer here for
us to fulfill his needs of food and water, for which in life he asked
for no more in return than our companionship and affection.
Rest in peace my friend.



I have been supporting USAF SSgt. Luke Plemons and his MWD "Akki" since February of this year with care packages and correspondence. Over this period we've developed quite a relationship with this team. Regrettably, Luke informed me that Akki died on October 2 from smoke inhalation resulting from a fire in their quarters in Iraq. Luke lost everything including his best friend. Akki was an 8 year old German Sheppard from Norway. They were members of the 62nd USAF Security Forces Squadron from McChord AFB, Washington. Luke and his partner were scheduled to return home in late November. Sadly, Luke will be returning home without his faithful partner. I would appreciate any recognition you could give Akki. I've attached some photos this fallen airman.
submitted by Ray Thornton Kennedale, TX
In Loving Memory of
K-9 ANDY
Dec. 1, 1993 - Sept. 3, 2005


Handler: Cpl. Scott Ross
South Bend Police Department
701 W. Sample Street
South Bend, Indiana 46601
Phone: (574) 235-9201 Fax: (574) 288-0268
Email: SBPD@ci.south-bend.in.us
I lost my Police K9 partner Sunday the 18th. We buried him with Police Honors Tues. the 20th. K-9 Arko died September 14, 2005 from health complications. He had been on the force with me and worked 12 years. He died at the age of 13. He was retired for only 5 weeks. He was a dual purpose k9 with all the duties of a dual purpose k9. His accomplishments cover 4 states and he was Nationally known. I'll spare you all the details on that. He left behind his older sister (Carey-Beth Hendley) a grand-daughter , and a very lonesome handler. I miss him daily. He was also this Department's 1st. ever k9 and is buried here at the city hall.
---
In Loving Memory of
K-9 ARKO
September 14, 2005


Handler: Capt. Steve Hendley
City of Mayfield Police Department
215 East Broadway 270-247-1981
Mayfield, Kentucky 42066
---
In loving Memory of
K-9 ANDOR
August 24, 2005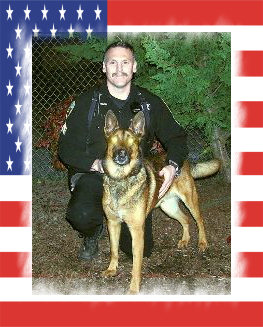 Handler: Sgt. Jon Hytinen
Kitsap County Sheriff's Office
614 Division St. MS-37
Port Orchard WA 98366
Phone:(360)337-7101

The Kitsap County Sheriff's Office canine, Andor, a 10-year-old Belgian Malinois, died Wednesday as well after suffering from cancer. Andor, the office's senior dog, worked with handler Sgt. Jon Hytinen for more than nine years, and was credited with helping arrest more than 200 suspects. He had been in semi retirement, working only when needed until his illness was diagnosed. On Wednesday, during an exhibition at the county fair, the Sheriff's Office canine Ryker suffered a minor paw injury and was taken to an animal hospital. Sheriff's spokesman Deputy Scott Wilson said several citizens had inquired Thursday if the German Shepherd was
OK, and he said he is expected to recover from injury in 10 to 14 days. John has been in K9 since September of 1993, Andor began as John's K9 partner in October of 1996. The Kitsap County Sheriff's Office K-9 Unit was established in 1980. The mission of the K-9 Unit is to locate suspects and/or evidence at or near crime scenes and to provide protection and/or backup of the line officers when possible and practical. We also participate in public education and demonstrations. Call or come see us at the Kitsap County Fair. The Unit consists of two tracking/protection dogs and one narcotics detection dog. A call out schedule provides for 24 hour a day response capabilities. The K-9 handlers and their partners undergo an exhaustive training regimen upon entrance to the program, and continue to train on a weekly basis to maintain a high level of proficiency The county's police canine community has suffered its fair share of loss in recent years. Bremerton Police Officer Mike Davis lost two dogs who were killed in the line of duty. In 2001, Buddy was shot and killed, and last year, KG was drowned. Both dogs were chasing suspects at the time. In 2003, a Sheriff's Office dog, Canto,
was put to sleep following medical complications. He had retired from duty the year before. Buddy was replaced recently with Lance, a Rottweiler. His handler is Officer Billy Renfro. Andor was replaced last year by Elco, a German shepherd. His handler is Deputy Alan Langguth.
submitted by Jim Cortina, Dir. CPWDA
---
In Loving Memory of
K-9 ARCO
July 8, 2005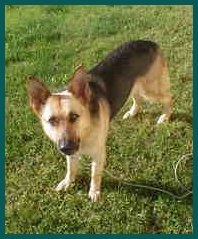 Handler: Cpl. Mark Archer
Marian County Sheriff's Dept.
50 S. Alabama St.
Indianapolis, IN 46204
317. 231.8200
A Marion County Sheriff's Department dog and a man being chased by officers were killed in an exchange of gunfire Monday
afternoon on the Southside. The gunfire ended a 40-minute search through a residential neighborhood, dotted with weeds and woods, for a man police were trying to arrest. The man's name was not immediately released. He died inside a small shed behind a residence in the 3600 block of Carson Avenue. Police on Monday night were still trying to determine where the officers were standing when the shots were fired. Initial indications were that the man being sought fired first, followed almost immediately by return fire from the officers.
The dog was only the second to die by hostile fire, said Lt. Benny Diggs, the commander of the department's K9 unit. For the animals' handlers, who train with the dogs and care for them at their homes, it's like the loss of a human partner. "For the eight hours a day you spend with that dog, you develop almost a family like bond with them," Diggs said. The dog, an 8-year-old Belgian Malinois named Arco, was handled by Cpl. Mark Archer, an 11-year Sheriff's Department veteran. Archer was seen leaving the scene of the shooting in tears. The shooting was reported by frenzied police radio calls at 5:40 p.m. People in the vicinity said they heard several shots. "We were in the back yard and heard five, six pops," said Rick Bowman, of Iowa, who was visiting friends in the 1800 block of Norton Avenue. "It sounded real close." That location is a few hundred feet from the shooting scene. Police were called about 5 p.m. by residents in the 3600 block of Randolph Street. "A call came in that there was a person with a gun that police were looking for," said Sgt. Judy Phillips, a police spokes woman The man was wanted on several criminal arrest warrants, including ones for a parole violation, burglary, battery and resisting arrest, Phillips said. She said the man also previously was involved in an incident in which shots were fired at police. When police arrived on Randolph Street, the man ran, and police called in extra officers to search the neighborhood. The sheriff's deputy was involved because the deputy's dog was needed to assist with the search, police said. The area is on the outer fringe of the IPD South District, where the sheriff's jurisdiction begins. Residents of the house on Carson Avenue then called police to report a man was in their back yard. Police went to the house, and the exchange of gunfire followed. The dog was carried to a patrol car and rushed to the VCA Southeastern Animal Hospital, 4960 S. Emerson Ave., where it was pronounced dead. Police at first could not say who fired shots at the man, although it was likely that more than one officer returned fire. Indianapolis police procedure allows officers involved in shootings to consult with attorneys from their union, the Fraternal Order of Police, before they are questioned by homicide detectives. Officers could not say whether that procedure was a factor in the pace of the investigation. The dog was turned over to the Marion County coroner's office. Officials will need to recover evidence, especially any bullets fired in the shootout. As a deputy coroner carried the dog's covered body out of the animal hospital, "one of the deputies took his badge and pinned it to the cover" as a show of respect, Diggs said. "It was all I could do to keep from tearing up." Sheriff's dogs and their handlers train at least once a month. Belgian Malinois puppies typically cost $400 to $1,000, but months of training are necessary to make a new dog ready for active patrol. Diggs said a memorial service will be held for Arco.
Marion County Sheriff's Deputy Ryan Archer fights back his emotions after a police dog called Arco was killed Monday during a Southside shoot-out with a man wanted by police. The man, whose name hasn't been released, also died
. -- Matt Kryger / The Star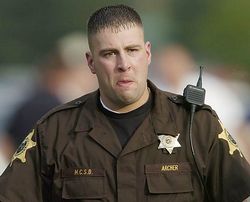 Community Rallies For Fallen Canine
July 16, 2005, 08:10 PM IN Support for a fallen police dog is coming from an unusual source. A gun store and shooting range is stepping-up to help a Marion County Sheriff's deputy get a new partner. The people at the gun shop say, human or canine, it doesn't matter. Backing-up all public safety officers is what's important. Corporal mark archer's partner "Arco" was killed last Monday while backing-up police officers during a shootout. "One of the lowest paid officers. I mean, they'll work for kibbles. What else can you do," Mike Hilton of Popguns said. Hilton is supporting law enforcers and animal lovers by helping raise money to find Corporal Archer a new canine officer. He's accepting donations at Popguns, his gun shop and shooting range on the city's east side. "They're loyal. They give a 110 percent to their trainers. It's a shame," Hilton said. Just like their human handlers, police dogs receive little attention during routine patrols. But at the end of a 2003 police pursuit in Indianapolis, it was a canine officer brought-down a suspect running from the law. "That's what catches these guys when they run. We don't need to have a human officer to go into it. We can send a canine," Hilton explained. The police investigation following the Monday night shooting confirmed the connection between human police officers and their canine counterparts. Hilton hopes city officials are paying attention, while they debate the cost of public safety. He hopes they recognize the key role police dogs play. According to Hilton, it takes $16,000 to raise a dog from a pup to become a canine officer. Hilton believes that's significant, when the city's trying to save money by combining its law enforcement resources. You can make donations for the new canine officer at Popguns and any Fifth-Third Bank. And there's another company getting involved, too. Capitol City Metal will present a $2,000 check to the Marion County Sheriff's Department for replacing Arco, and to buy bulletproof vests for canine officers.



In memoriam: Gift honors slain dog
A local scrap metal business is donating money to replace Arco, the police dog killed in the line of duty last week, as well as $2,000 for bulletproof vests for canines. General manager Matt McKinney of Capitol City Metal will present a check today during a ceremony at his business at 331 S. Shelby St. Arco and his handler, Cpl. Mark Archer of the Marion County Sheriff's Department, were helping chase a suspect when Arco was shot and killed. Officers fatally shot the suspect, Jerry L."Big" Stephens, 29, Indianapolis, moments later. Capitol City Metal will give $2,000 to the Sheriff's Department to find a successor to Arco and to buy protective vests, and $1,000 to the Indianapolis Police Department canine unit, also for vests. submitted by Jim Cortina, Dir. http://www.cpwda.com & Jenny Parrish
---
In Loving Memory of
K-9 ALEX
July 29, 1992 ~ June 26, 2005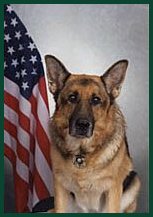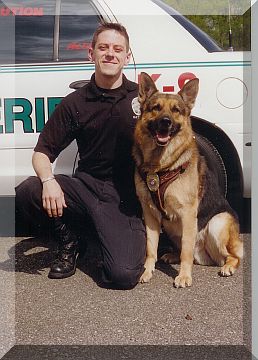 Handler: Deputy Rusty Borden
Blount County Sheriff's Office
940 E. Lamar Alexander Parkway
Maryville, TN 37804
(865) 273-5000

K-9 Alex (7/27/92 to 6/26/05) had been working with his partner, Rusty Borden, at the Blount County Sheriff's Office since 1995.
Alex and Rusty were the first full time K-9 team the Blount County Sheriff's Office had. They did such an outstanding job, we now have eight K-9 teams. During the last few years, Alex had been enjoying retirement. He had had some hip problems, but seemed to be doing OK. We were all saddened to hear he had died in his sleep early Sunday morning. Alex was the ideal working dog. He loved going to work, he was outstanding at his job, and he was great with children. He'd patiently pose for pictures for hours at different kid's day events.
Sheriff's Office retired K-9 passes away
Blount County Sheriff James Berrong announced today that retired Sheriff's K-9 Alex passed away for unknown health reasons early Sunday morning. Alex, a Czechoslovakian Shepard, who was partnered with Cpl. Rusty Borden, was the first dual purpose K-9 to join the Sheriff's Office. Alex was used for patrol purposes as well as for narcotics. After the Sheriff's Office purchased Alex, he was so successful in his duties that surrounding law enforcement agencies started their own K-9 teams because of his successes. Alex was born in 1992 and joined the Sheriff's Office in April 1995. He was a certified National Detector Dog and Police Dog through the United States Police Canine Association (USPCA). During his service with the Sheriff's Office, Cpl. Borden and Alex won several awards through USPCA, including the following:
• 5th place, Narcotic Detector Dog – E. Tennessee, June 1999
• 5th place, Police Service Dog 1 – E. Tennessee, June 2000
• 8th place, Police Service Dog 1 – E. Tennessee, June 2001
• 1st place, Narcotic Detector Dog – E. Tennessee, Jan. 2002
• Patrol Dog Case of Quarter – E. Tennessee, 1st Qtr. 2002
• Detector Dog Case of Quarter – E. Tennessee, 2nd Qtr. 2002
Alex also racked up impressive statistics during his service to the
Sheriff's Office, including making 117 apprehensions, finding 329 grams of cocaine, 37 grams of crack cocaine, 317.8 pounds of marijuana, and 29 grams of methamphetamine. He also conducted 1,259 narcotic's sniffs, 84 tracks, and 13 building searches.
He was instrumental in seizing $406,796 and 36 vehicles. He retired in January 2003. He was also a favorite among school-age children because of his friendly demeanor.
Submitted by Pam Hammond
---
In Loving Memory of
K-9 ATILLA
May 16, 2005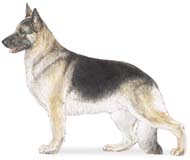 Handler: Deputy John Paul Baker
Richland County Sheriff's Dept.

5623 Two Notch Rd.
Columbia, South Carolina 29223
(803) 576-3000 * (803) 576-3195 fax
EMAIL - SHERIFF@RCSD.NET & LLott
By LAUREN LEACH 5/18/06 SC
A police dog was found dead inside a patrol car and his handler, a Richland County sheriff's deputy, has been suspended pending an
investigation into animal cruelty. Atilla, a 17-month-old German shepherd, died Tuesday, Richland County sheriff's spokesman
Lt. Chris Cowan said. Atilla's handler, Deputy John Paul Baker, was suspended without pay until the Humane Society finishes its criminal investigation, Cowan said. "It's very disappointing," he said. Cowan said Baker was observing other K-9 handlers during drug detection training at the state surplus building off Boston Avenue on Tuesday. Atilla was in Baker's patrol car, a normal procedure while the handler is observing other handlers, Cowan said. When Baker returned to the car, "the dog was unresponsive," Cowan said.
Patrol cars used by Baker and other K-9 officers are equipped with safety devices to prevent this type of occurrence. Each K-9 patrol car has remote control door openers to allow the dog to exit if the handler needs assistance. The car also has a temperature monitor that will activate the siren and roll down the back windows if the car's inside temperature gets above 85 degrees, according to the Sheriff's Department's Web site. The devices were not activated in Baker's car, Cowan said. Atilla had been with the department's K-9 unit for a few weeks and was placed with Baker, a veteran K-9 officer who has worked for the department since 2002.It is unknown how much Atilla cost but according to the Rhode Island Vest-A-Dog Web site, a dog accepted for K-9 training can cost between $3,000 and $10,000. Earlier, Baker had been paired with Rose, a black Labrador retriever that died of bone cancer earlier this year, Cowan said. The department's K-9 Division has 11 dogs — four Belgium malinois, four German shepherds, a Dutch shepherd and two bloodhounds, the Web site said. The Sheriff's Department and other law enforcement agencies use the dogs for tracking, drug and bomb detection and building searches. "I am very disturbed about this incident," Richland County Sheriff Leon Lott said in a press release. "These dogs are a vital part of the Sheriff's Department and the unnecessary death of one saddens us all."
---
In Loving Memory of
MWD K-9 "ANGEL"
(don't know real name)
May 2005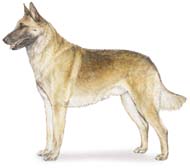 Partner & Handler: Chief Warrant Officer Peter Zorba
Squadron HMM-764 "The Moonlighters"
Sent: Sunday, May 29, 2005 1:53 PM
Subject: FW: K-9 Killed in Combat
(a must read)
Marine's Take Care Of Their Own

This is a great read sent via email (via Seamus) from a Marine Chief Warrant Officer in Iraq:

**********************

Dear Friends and Family,
Weather is beginning to climb up into the 100s now. With the heat comes the dust and sandstorm season here, so many of
our days are spent working and living in an orange haze of diffused sunshine, wind, heat and dust that gets everywhere and covers everything (aircraft, equipment, skin, teeth, weapons, even the food in the chow hall). We're all glad to be at the two-month mark, though it feels more like our ninth. Hard to believe we were home at all sometimes * that we haven't been here, doing what! we do, day after day - night after night - all along. Still, morale is high and both the Marines and the helicopters we're flying are doing well, in spite of long hours and high operational tempo.

It must go hand in hand. The busier you are, the faster time goes. The faster time goes, the happier you are. Needless to say, most everyone tries to stay as busy as possible. The days are long, but the weeks are flying (no pun intended). Last time I wrote, I described the Marines, in particular the young men and women here with me that I am so proud to serve with. Many of you responded that you were touched by the knowledge, or at least depiction of those kids * those heroes, for that is what they! are. But, I digress.

A couple weeks ago I flew a night mission into Baghdad. Baghdad is a big city, and where we actually flew into, whether it would be a name you'd
recognize from the news or not, doesn't really matter. Suffice to say that I fly into Baghdad almost every night, but this night's mission was a special ASR (assault support request). A Marine K-9 had been killed and another dog wounded earlier in the day and we were going there to pick up the dead K-9, the wounded K-9 and their Marine handlers. How these Marines were attacked, whether in contact with insurgents, a sniper or an improvised explosive device (IED), we never knew.
I want to tell you all a quick story, and if any of you know me at all then you know I love a good story! But I think this story says something about the organization that I am a small part of here.
We took off from our base and flew through the dark, star-clustered Arabian night in an open combat spread. Radios crackled and disembodied voices rolled through my helmet. The lights of small towns scattered across the desert floor, illuminated w! with a green glow through my NVG's (night vision goggles) passed below us and in and out of my gun sights.

At about midnight we were on short final into a small LZ with battle-scarred concrete walls, and a hardened outpost with a bullet-riddled watchtower. As we touched down, I hopped out the back of our helicopter and watched as our "dash 2" landed about 40 feet to our 7 o'clock. The LZ was dark and no one was around. Through my NVG's I could see the Marines in the tower, and the bunker at its base, watching us, not really thrilled to see us there, two phrogs spinning on the deck inside their perimeter. And why would they be, as we presented a wonderfully enhanced target for indirect fire (IDF) in their position. Not that they don't take IDF often enough, just that we were now an added bonus to any one already predisposed to 'throwing' a few mortars or RPG's our way * and theirs!
We waited. Five minutes. Ten minutes. After 15 minutes, with still no sign of anyone, or any dogs, the crew began to grow a little uneasy: "We're here, where the hell are they?" "Goddamnit. Who the * is running this place." "Do you see anybody, gunner?" "Negative, sir." "* If we don't see anybody soon, let's get dash 2 out of here, so at least there's only one of us on the deck here in case we take incoming. You copy that (call sign)." "Roger that. Copy all." Just then a door of a small industrial looking building about a hundred meters away, opened and I could see Marines moving awkwardly towards us. They were carrying their rifles with their outside hands and with the inside hand, each held the edge of a body bag. Behind them followed another Marine with a shouldered rifle, MOLLIE pack, and his hands were on the back of the bag. But this Marine's hands held the trailing edge of the body bag more like a priest would grasp a holy cloth or a child, his mother's hem, not really supporting any weight, just holding on. As they loaded the body bag into our bird, I took the young Marine's pack and stowed it and then got him buckled in. The wounded K-9 and his handler were loaded into dash 2, and I sat back down behind my .50 cal and called us clear of wires and trees as we lifted into the night sky.

Once airborne, and on the go, out of the cultural lighting from over the town, I looked back to see a big Marine, head in his hands, sitting in darkness, bent over the body of his dog. That was a long flight. My pilot, a battle-hardened colonel, kept asking me "How's our boy doing?" as if he were a worried parent checking on his child. He handed me back a small package of chocolate chip cookies he'd been saving for the return to base. "G! ive 'em to our boy. He's had a rough day of it." I unhooked my gunner's belt and walked back to the young man. I put my hand on his shoulder, handed him the cookies and patted him on the back, smiling some compassionate, but dumb, smile there in the dark, 300' somewhere over Iraq. What else can you do? When we touched back down at our base, the passenger/cargo terminal sent a vehicle out
for the dogs. I helped the Marine with his gear, out away from our rotor arc, and then ran back up the ramp and into our bird just in time to grab one of the terminal guys as he was reaching for the body of our Marine, thinking it was just another piece of gear. "Hey man - what the * are you doing?!" I yelled over the engine noise. "Leave him alone. We'll get him." The crew chief and I reverently bent over and gently lifted the body bag and carried it out of our plane. I have carried body bags before here, and I was sur! prised by how light this one was. I placed my arms under the dog's body and gently set him down in the vehicle. And then, out of sheer habit, I petted the poor pup on the shoulder * or maybe it was his hip. His body was still soft, even inside the thick black polyethylene bag.

As I turned to head back to my plane, I was face to face with the fallen Marine's master. The young corporal looked at me, he had seen me pet his dog, and I like to think he saw how reverently we carried his fallen comrade's body out of the plane, but maybe not. Red eyes and a sad, exhausted face were eclipsed by a smile of gratitude as he shook my hand and mouthed the words "thank you." Then he was gone and we were back on the plane and set to lift.

Once back on our line after we had shut down, we all sat down in the back. It was quiet and no one really spoke until the colonel asked, "Did you take care of our boy?! Was he hurting too bad? Did you do right by the pup? Did we treat them both with the respect and honor they deserved?" "Yes sir." I replied last year while we were here, the brevity code for friendly KIA was "Angels." I don't know what it is this time for OIF III, but it is a very fitting term. So I told the colonel "Yes, sir, the 'Angel' was carried with respect, and treated with dignity and compassion, as was his handler." The colonel liked this and we all agreed that the dog was a Marine * as much as any of us. But on another level, that kid had not only lost his partner, but he'd lost his dog, a dog that I am sure he loved and that loved him back. That had touched us all deep down somewhere, where you're still a kid yourself. We were proud to have been able to do what we did for this fellow Marine, this 'Angel', and each of us would willingly do it again any time. That's what Marines do. I guess what I am saying is that we continually hear the question asked, "Why we are here?" I heard a Marine say yesterday, "Don't ask me why I am here. I don't make our country's policy, I execute policy." I guess to me "why" is not really that important. What is important is 'how' I am here. To me, this story illuminates that "how," by showing the nature of the Corps that makes Marines what they are, and in turn, is made what it is by the Marines devoted to it and to each other. I am part of an organization that believed it was important enough to send two helicopters and their crews, into harms way in order to retrieve the body of one of its fallen. It made no difference that the Marine killed in action was a dog and not a man, what does matter is that each one of us involved felt the same. To us, not only was it a warranted and reasonable utilization of Marines, Marine Corps ! assets and resources, but the risk to eight Marines and two aircraft was far outweighed by a pervading sense of honor, commitment and espirit de corps. Why else am I here, if not to go get a boy and his dog - both of whom are fellow Marines. Few things here have been as important as that mission to me, and to my crew as well. That's "how" we are.
Semper Fi, Peter
********************************
FOLLOW UP:A Fallen Marine:
BlackFive has a story about a fallen K-9 Marine, and his escort out. When a Marine dog dies, he isn't buried in some shallow ditch, as a dog might be.
I am part of an organization that believed it was important enough to send two helicopters and their crews, into harms way in order to retrieve the body of one of its fallen. It made no difference that the Marine killed in action was a dog and not a man, what does matter is that each one of us involved felt the same.
To us, not only was it a warranted and reasonable utilization of Marines, Marine Corps assets and resources, but the risk to eight Marines and two aircraft was far outweighed by a pervading sense of honor, commitment and espirit de corps. Why else am I here, if not to go get a boy and his dog - both of whom are fellow Marines. Few things here have been as important as that mission to me, and to my crew as well.

The Air Force treats its dogs well, too. I would be surprised to discover that any American military unit did not. It is a high demonstration of the civilization we defend, and of why it is worth defending.
submitted by Dale Warke
---
In Loving Memory of
K-9 ANDY
Andy Od Petrinky #634
April 17, 2005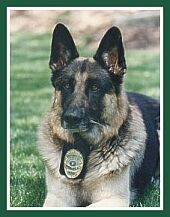 Partner: Ofc. Lester Smith
Bethlehem Township Police Dept.
4225 Easton Ave.
Bethlehem, PA 18020
610.814.6410
Andy, the German shepherd who paved the way for the Bethlehem Township K-9 Unit and whose offspring later followed in his paw-steps to become the township's second police dog, died last weekend next to his partner and handlers in their Moore Twp. Home. Andy was 14 years old. He was more than just my partner, he was Lester Smith's best friend. He was Andy's handler since 1993. He was a once in a lifetime dog. Smith, who is on leave from the department because of a knee injury, said he was outside his home with Andy on April 16 when the dog inexplicably began to walk into the house alone. Something that he never does. The next day, Andy became ill and died, and was cremated during the week. He was an outstanding dog. His cremains (ashes) were placed along side of his favorite orange rubber ball. He was part of my family. Andy, whose full name was Andy Od Petrinky, arrived in the township in 1993 from Czechoslovakia where he was born, bred and trained. Smith paid $3,900 for Andy and trained with Randy Kromer of Kromerhous Kennels in Bethlehem Township so he and the dog could be certified for duty. At the time, Andy and Smith became the township's first K9 unit and the township agreed to pay for Andy's insurance, but Smith paid for medical bills, food and ongoing off duty training with the help of donations. In his 7.5 years with the force, Andy made 33 arrests, worked on hundreds of building searches, assisted many neighboring departments and conducted about 100 public demonstrations for civic and school organizations. He retired in November of 2000.During his years as a police dog, Andy earned 2 prestigious German police dog titles, the DPO-I in 1993, and the DPO-II in 1994 warded by a German judge for obedience and protection. The 89 pound Andy was the father of 7 puppies in 1999 and one of them, Uke eventually replaced him on the force. Uke began training to become a police dog when he was 8 weeks old and took over as the Bethlehem Township police dog when Andy retired, a rare accomplishment according to Smith who said only 5% of police dogs' puppies end up becoming police dogs themselves. Uke is a duel purpose dog certified in patrol and drug detection, also is out on injury leave with Smith. Both dogs receive their commands in Czech. The township has one active police dog, Barry, a Belgian Malinois who came to the township in 2000. Andy reached an exceptional age for a German Shepherd. He paved the way for police dogs in Bethlehem Township.



submitted by: Chelle & Lester Smith
More about Andy
After graduating with a Degree in Criminal Justice, Office Smith was hired by the Bethlehem Township Police Department in 1987.
In 1993 Officer Smith became the township's first and only K9 handler. His partner K-9 Andy, is a 7 year old German shepherd
imported from Czechoslovakia. K-9 Andy and officer Smith hold several German police dog medals and titles. K-9 Andy has proven
himself over and over as a loyal partner and friend. In his spare time enjoys playing "Find the orange ball."
---